Acuña has 3 hits, Harris scores the winning run on a close call at the plate as Braves top Bucs 6-5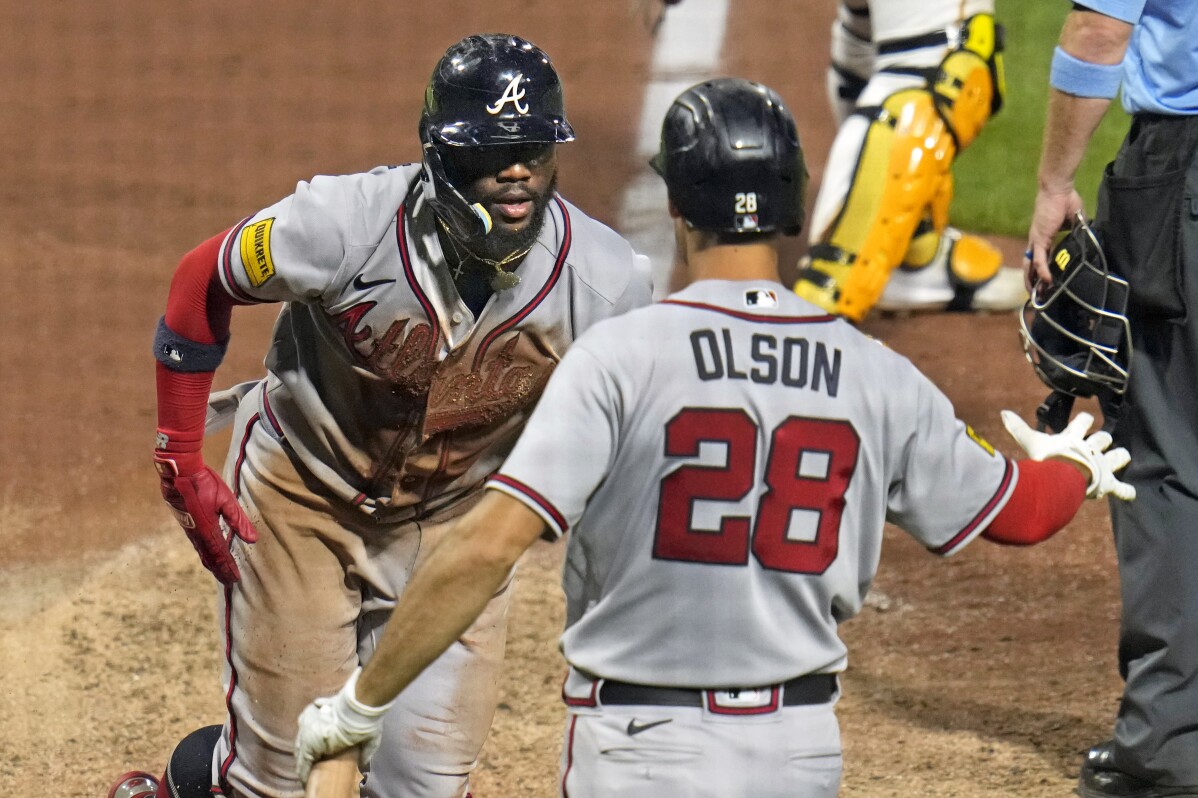 1 of 6

|
Atlanta Braves' Michael Harris II, left, scores on a popout by Austin Riley against the Pittsburgh Pirates during the eighth inning of a baseball game in Pittsburgh, Wednesday, Aug. 9, 2023. (AP Photo/Gene J. Puskar)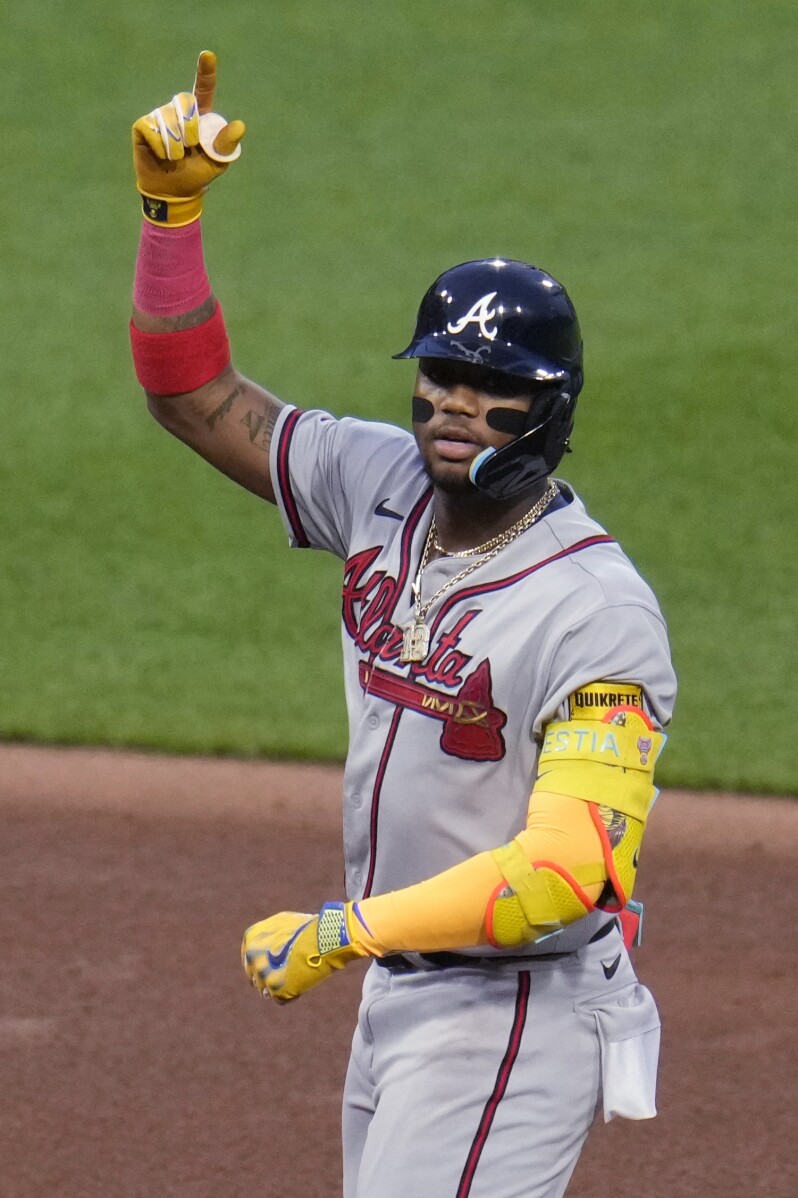 2 of 6

|
Atlanta Braves' Ronald Acuña Jr. celebrates as he stands on second base after driving in a run with a double off Pittsburgh Pirates starting pitcher Quinn Priester during the fourth inning of a baseball game in Pittsburgh, Wednesday, Aug. 9, 2023. (AP Photo/Gene J. Puskar)
3 of 6

|
Pittsburgh Pirates' Ke'Bryan Hayes his a two-run single off Atlanta Braves starting pitcher Max Fried during the fourth inning of a baseball game in Pittsburgh, Wednesday, Aug. 9, 2023. (AP Photo/Gene J. Puskar)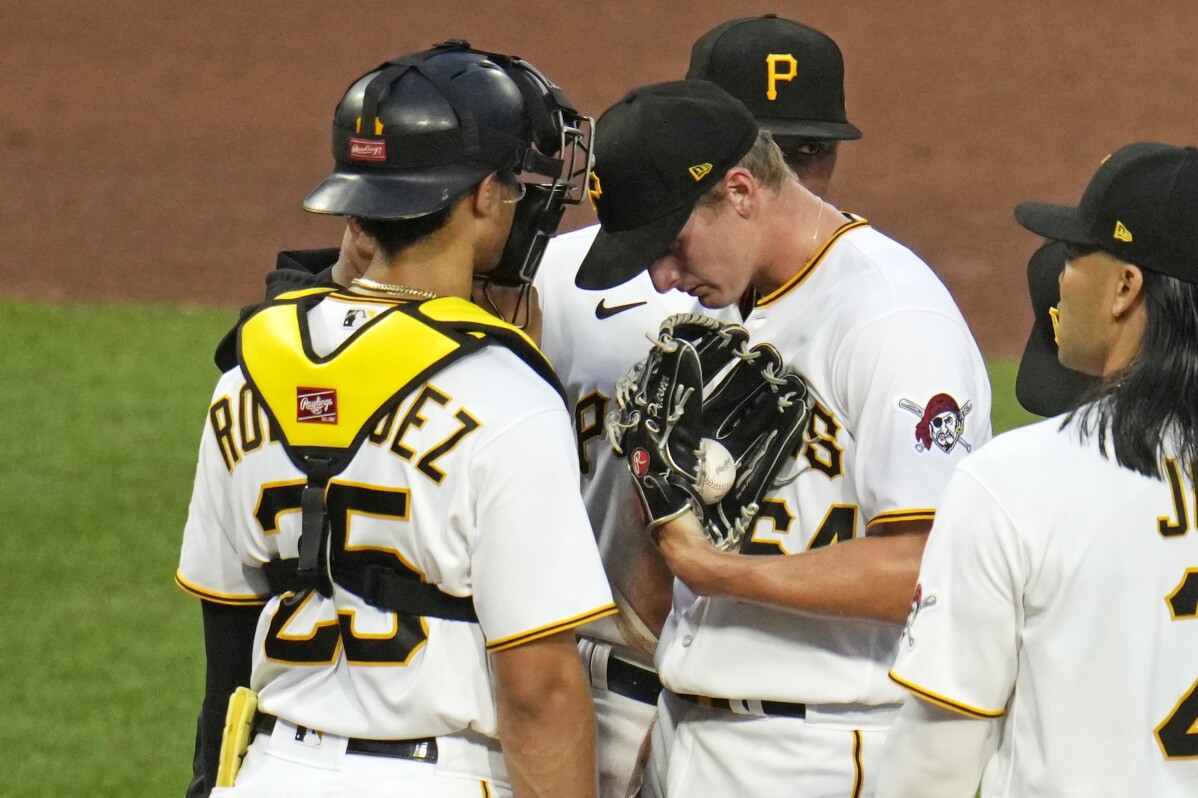 4 of 6

|
Pittsburgh Pirates starting pitcher Quinn Priester, center, waits on the mound for a visit from pitching coach Oscar Marin during the fourth inning of the team's baseball game against the Atlanta Braves in Pittsburgh, Wednesday, Aug. 9, 2023. (AP Photo/Gene J. Puskar)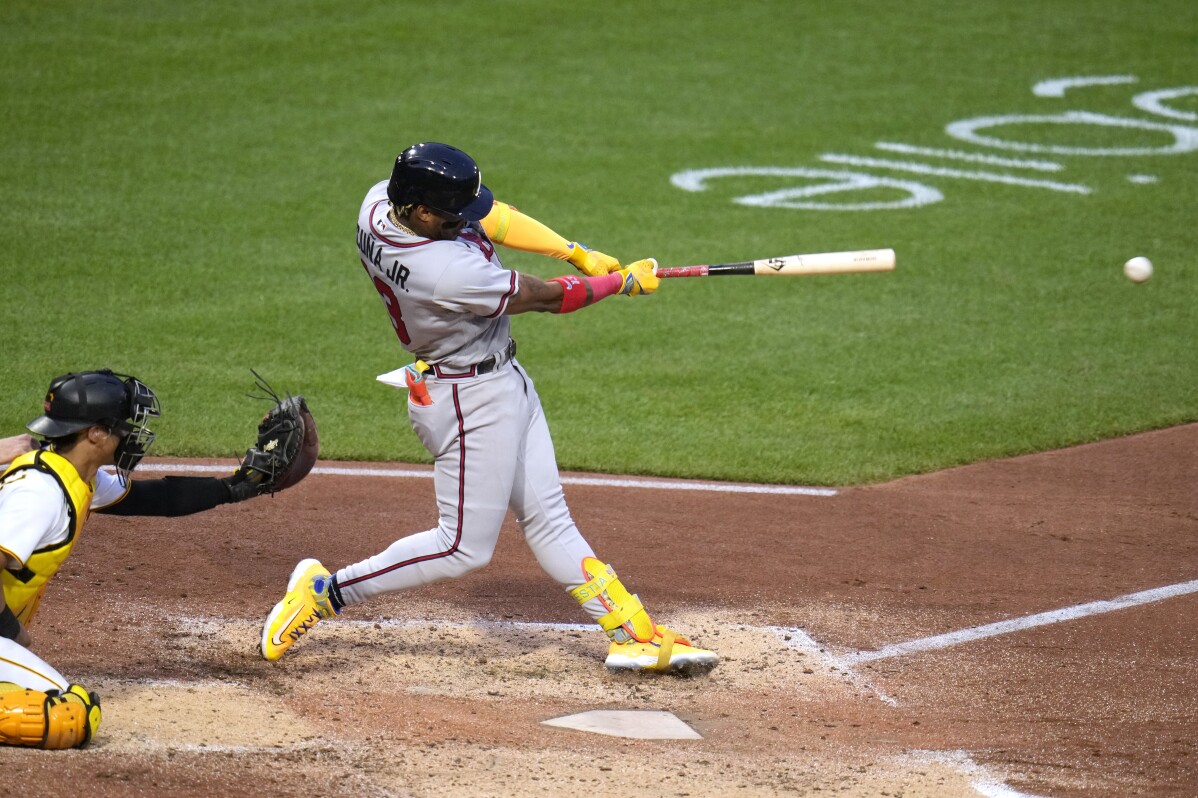 5 of 6

|
Atlanta Braves' Ronald Acuña Jr. hits an RBI double off Pittsburgh Pirates starting pitcher Quinn Priester during the fourth inning of a baseball game in Pittsburgh, Wednesday, Aug. 9, 2023. (AP Photo/Gene J. Puskar)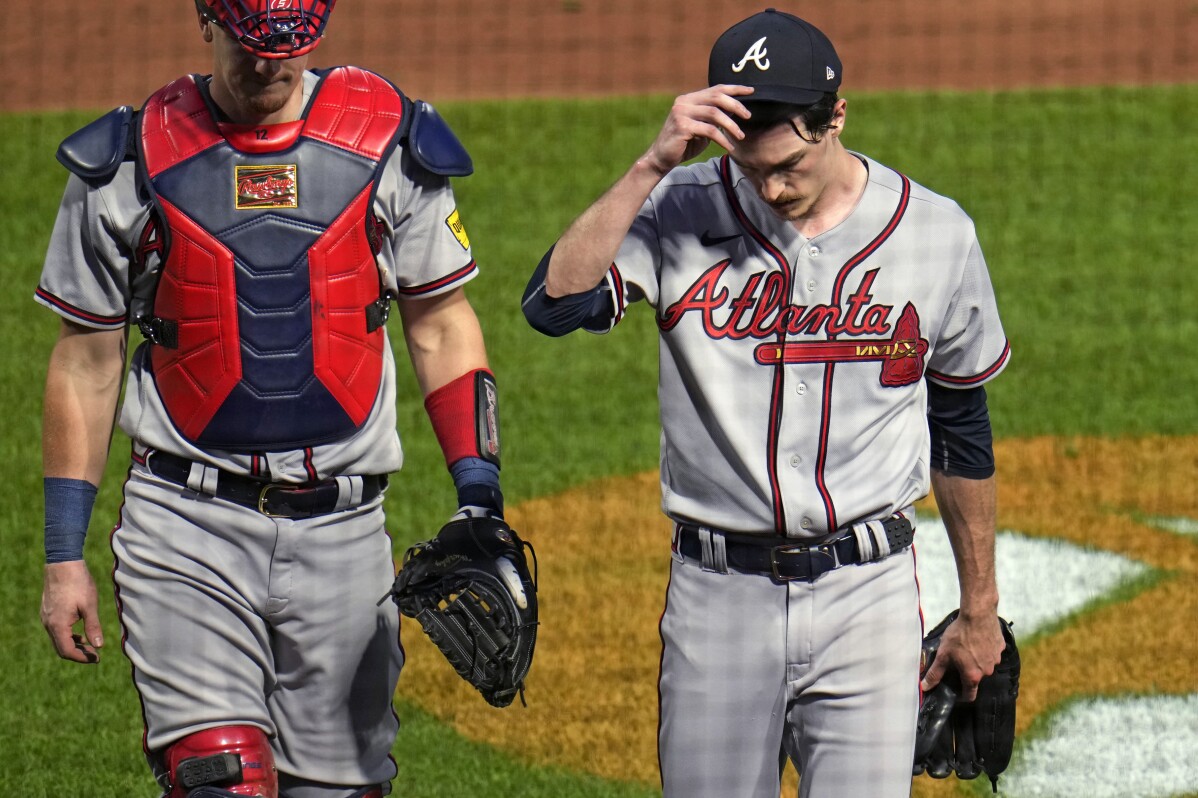 6 of 6

|
Atlanta Braves starting pitcher Max Fried, right, walks to the dugout with catcher Sean Murphy after the fourth inning of the team's baseball game against the Pittsburgh Pirates in Pittsburgh, Wednesday, Aug. 9, 2023. (AP Photo/Gene J. Puskar)
Acuña has 3 hits, Harris scores the winning run on a close call at the plate as Braves top Bucs 6-5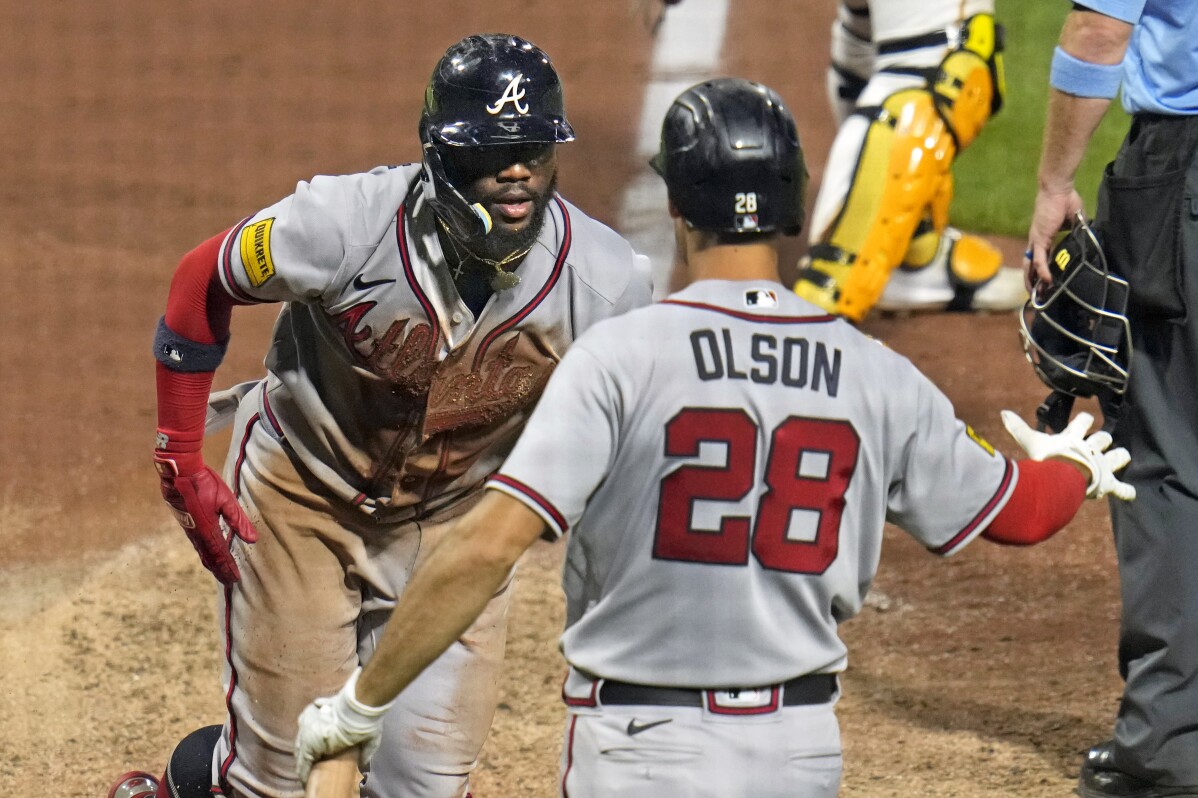 1 of 6

|
Atlanta Braves' Michael Harris II, left, scores on a popout by Austin Riley against the Pittsburgh Pirates during the eighth inning of a baseball game in Pittsburgh, Wednesday, Aug. 9, 2023. (AP Photo/Gene J. Puskar)
1 of 6
Atlanta Braves' Michael Harris II, left, scores on a popout by Austin Riley against the Pittsburgh Pirates during the eighth inning of a baseball game in Pittsburgh, Wednesday, Aug. 9, 2023. (AP Photo/Gene J. Puskar)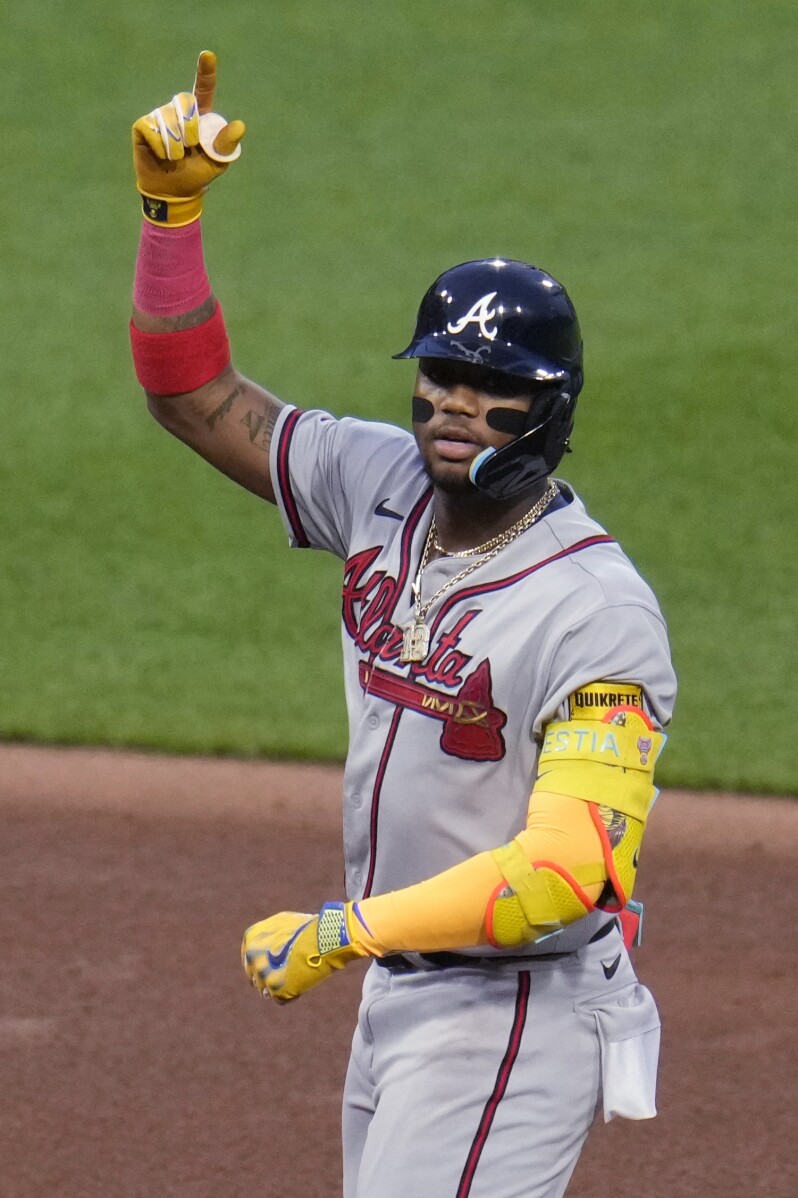 2 of 6

|
Atlanta Braves' Ronald Acuña Jr. celebrates as he stands on second base after driving in a run with a double off Pittsburgh Pirates starting pitcher Quinn Priester during the fourth inning of a baseball game in Pittsburgh, Wednesday, Aug. 9, 2023. (AP Photo/Gene J. Puskar)
2 of 6
Atlanta Braves' Ronald Acuña Jr. celebrates as he stands on second base after driving in a run with a double off Pittsburgh Pirates starting pitcher Quinn Priester during the fourth inning of a baseball game in Pittsburgh, Wednesday, Aug. 9, 2023. (AP Photo/Gene J. Puskar)
3 of 6

|
Pittsburgh Pirates' Ke'Bryan Hayes his a two-run single off Atlanta Braves starting pitcher Max Fried during the fourth inning of a baseball game in Pittsburgh, Wednesday, Aug. 9, 2023. (AP Photo/Gene J. Puskar)
3 of 6
Pittsburgh Pirates' Ke'Bryan Hayes his a two-run single off Atlanta Braves starting pitcher Max Fried during the fourth inning of a baseball game in Pittsburgh, Wednesday, Aug. 9, 2023. (AP Photo/Gene J. Puskar)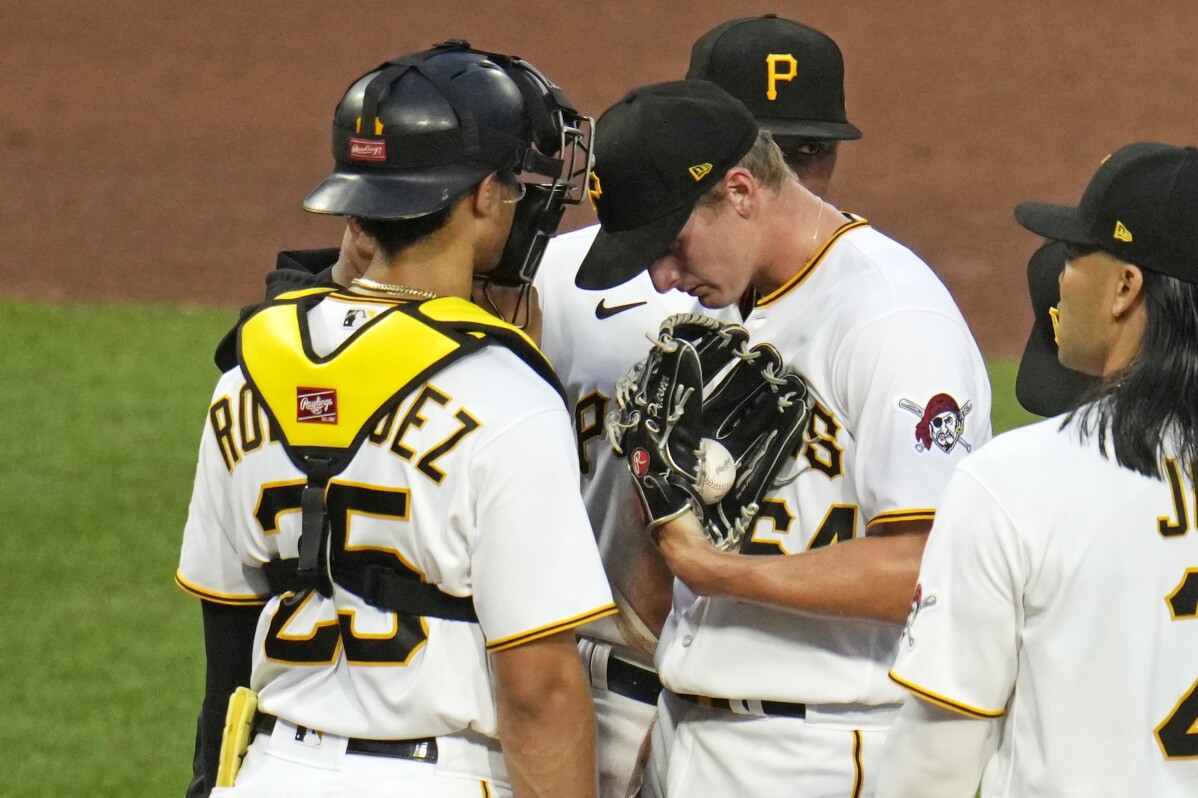 4 of 6

|
Pittsburgh Pirates starting pitcher Quinn Priester, center, waits on the mound for a visit from pitching coach Oscar Marin during the fourth inning of the team's baseball game against the Atlanta Braves in Pittsburgh, Wednesday, Aug. 9, 2023. (AP Photo/Gene J. Puskar)
4 of 6
Pittsburgh Pirates starting pitcher Quinn Priester, center, waits on the mound for a visit from pitching coach Oscar Marin during the fourth inning of the team's baseball game against the Atlanta Braves in Pittsburgh, Wednesday, Aug. 9, 2023. (AP Photo/Gene J. Puskar)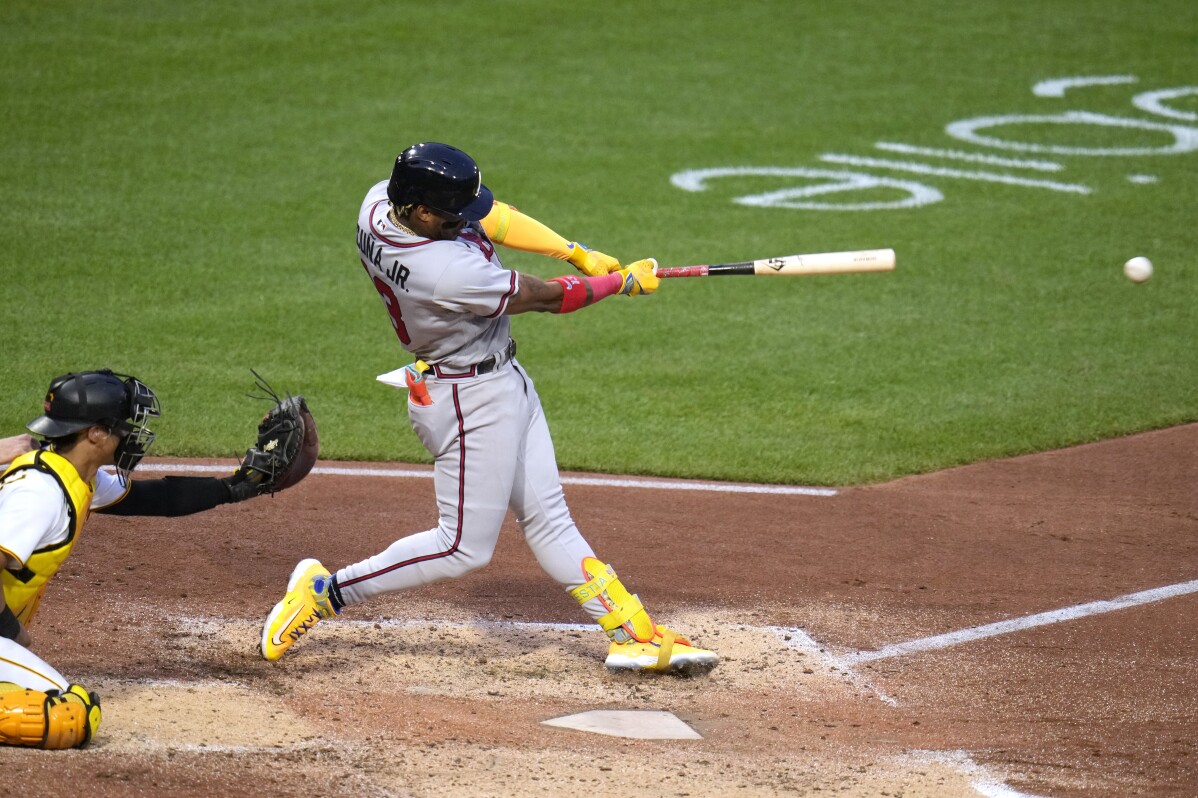 5 of 6

|
Atlanta Braves' Ronald Acuña Jr. hits an RBI double off Pittsburgh Pirates starting pitcher Quinn Priester during the fourth inning of a baseball game in Pittsburgh, Wednesday, Aug. 9, 2023. (AP Photo/Gene J. Puskar)
5 of 6
Atlanta Braves' Ronald Acuña Jr. hits an RBI double off Pittsburgh Pirates starting pitcher Quinn Priester during the fourth inning of a baseball game in Pittsburgh, Wednesday, Aug. 9, 2023. (AP Photo/Gene J. Puskar)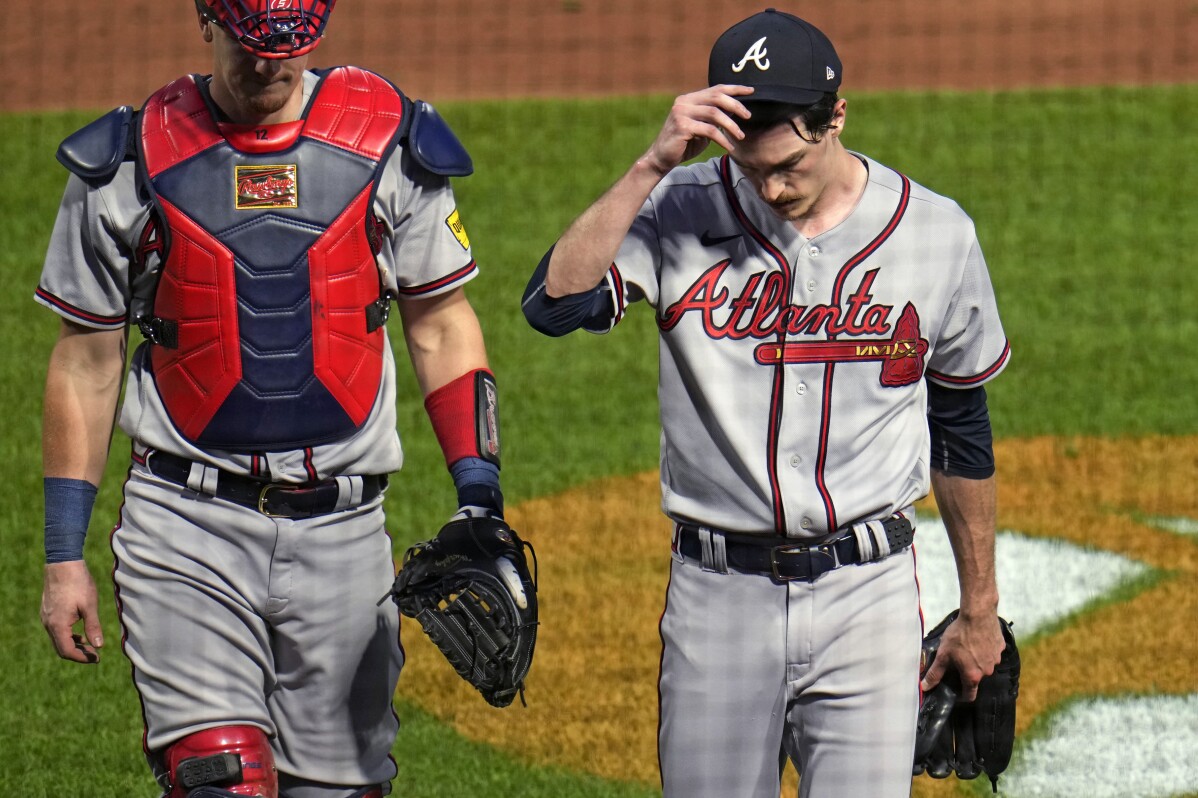 6 of 6

|
Atlanta Braves starting pitcher Max Fried, right, walks to the dugout with catcher Sean Murphy after the fourth inning of the team's baseball game against the Pittsburgh Pirates in Pittsburgh, Wednesday, Aug. 9, 2023. (AP Photo/Gene J. Puskar)
6 of 6
Atlanta Braves starting pitcher Max Fried, right, walks to the dugout with catcher Sean Murphy after the fourth inning of the team's baseball game against the Pittsburgh Pirates in Pittsburgh, Wednesday, Aug. 9, 2023. (AP Photo/Gene J. Puskar)
PITTSBURGH (AP) — Ronald Acuña Jr. slugged three hits and Michael Harris II tagged on a popup to right field and scored on a close call in the eighth inning, lifting the MLB-leading Atlanta Braves to a 6-5 victory over the Pittsburgh Pirates on Wednesday night.
Harris raced home on Austin Riley's fly into shallow right off Carmen Mlodzinski (2-3) that was fielded by backpeddling Jared Triolo. Harris slid in ahead of the throw to home by the second baseman. He was originally called out for possibly having left third before Triolo caught the ball, but the call was reversed following a review and the Braves moved ahead 6-5.
"I turned around and they're running off too. I'm confused as to what's going on," Harris said. "I knew I didn't leave early. I get back to the dugout and (Braves manager Brian Snitker) is asking me if I left early. I was like, 'No, no no.' He challenges it and, I guess, the rest is history."
Harris got on with a leadoff single, his final of three hits before walking in the ninth.
"It was a great, instinctual, good read by Michael," Snitker said. "When the infielder makes a play like that and their momentum is taking them behind, it's hard for them to set and throw. That's just a great read and a great baseball play."
Acuña was 3 for 6, including an RBI double in the fourth, one day after leaving in the sixth inning of Tuesday's 8-6 win after being hit on the left elbow by a pitch from Colin Holderman.
The Braves, with a majors best record of 72-40, won their second straight against the Pirates after losing three in a row, including the first game of this four-game series on Monday.
Atlanta's Pierce Johnson (2-6) struck out one, walked one and gave up one hit in 2/3 of an inning. Raisel Iglesias allowed two singles with two outs in the ninth before striking out Henry Davis for his 22nd save.
The Braves' first four runs came with two outs in the second, third and fourth innings.
Harris dropped an RBI single into center, putting Atlanta ahead 1-0 in the second. Sean Murphy doubled the lead an inning later with a bloop single.
Acuña made it 3-0 on his double to left in the fourth. He took third on a wild pitch and scored on Ozzie Albies' single off Quinn Priester, who surrendered four runs on nine hits in four innings.
Pittsburgh then tagged Max Fried for four runs in the bottom half.
Triolo beat out a slow rolling groundball to short for an RBI single with the bases loaded before Endy Rodriguez scored on Alika Williams' groundout. Ke'Bryan Hayes capped it with a two-run single up the middle, tying the game at 4.
"It still stings because you want to win the game," Pirates manager Derek Shelton said. "They continue to play against the best team in the National League and maybe in baseball. I think the biggest thing that our guys have to take away from it is there's no letup."
Fried lasted just four innings, allowing four runs on six hits. It was his second start since sustaining a left forearm strain May 5 and returning on Aug. 4 to give up three hits in six scoreless innings against the Cubs.
"I think, for me, personally, being able to go out there and not have to worry about anything with my arm and knowing it's feeling good, the ball is coming out good, it's really relieving," Fried said.
Albies put the Braves ahead 5-4 in the sixth with his second RBI single, but Hayes pulled the Pirates even the next inning with his seventh homer of the season, sent 405 feet to center off a sweeper from Collin McHugh.
UP NEXT
RHP Bryce Elder (8-3, 4.43) will take the mound for the Braves on Thursday afternoon and face Pirates LHP Bailey Falter (0-7, 4.87) in the series finale.
___
AP MLB: https://apnews.com/hub/mlb