Tucker, Astros rout Orioles 8-2; Baltimore's streak of not being swept is on the line Thursday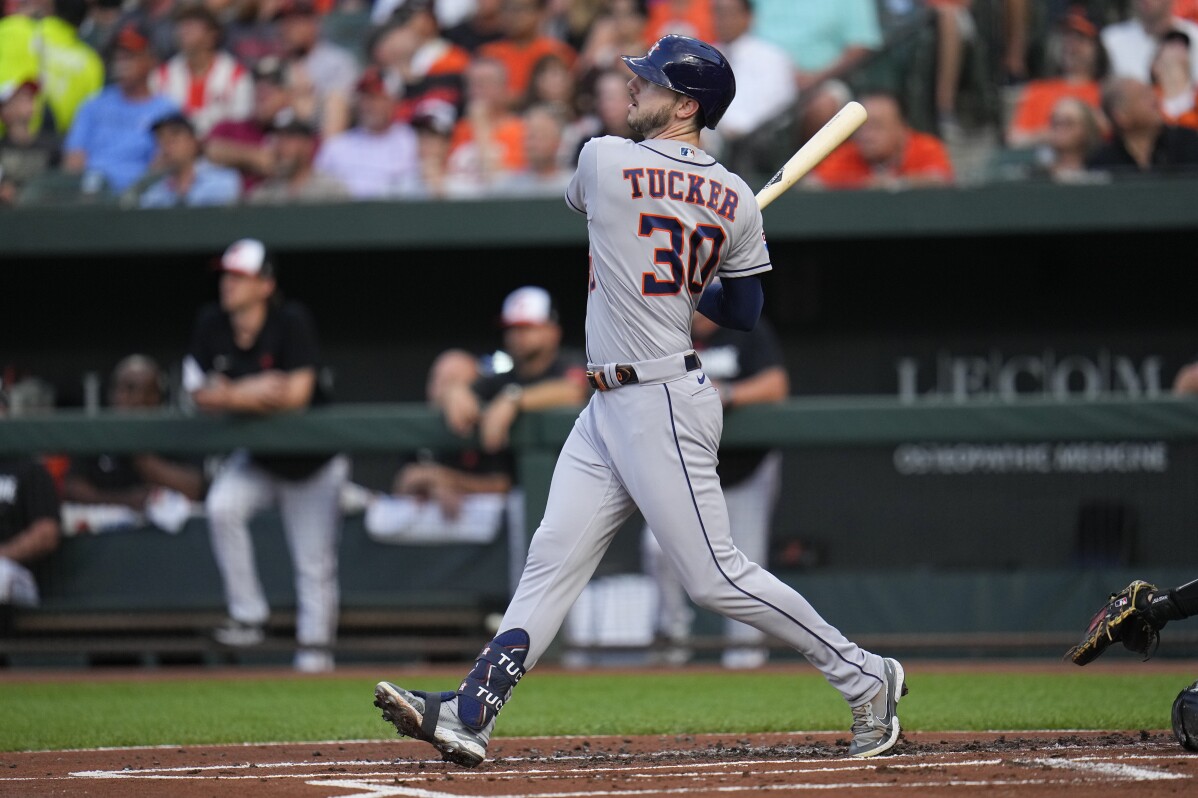 1 of 5

|
Houston Astros' Kyle Tucker follows through on a swing as he connects for a two-run home run off Baltimore Orioles starting pitcher Jack Flaherty in the first inning of a baseball game, Wednesday, Aug. 9, 2023, in Baltimore. Astros' Jose Altuve scored on the home run. (AP Photo/Julio Cortez)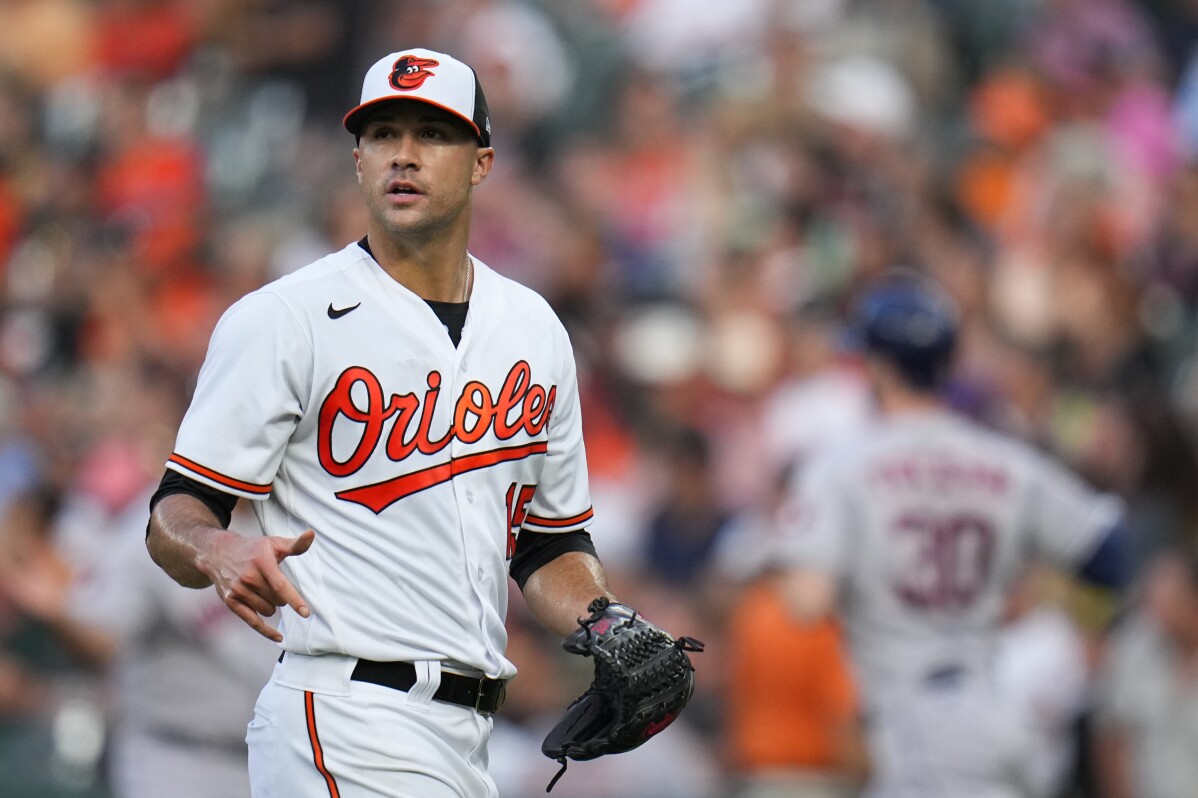 2 of 5

|
Baltimore Orioles starting pitcher Jack Flaherty looks on as Houston Astros' Kyle Tucker (30) runs the bases after hitting a two-run home run off him in the first inning of a baseball game, Wednesday, Aug. 9, 2023, in Baltimore. Astros' Jose Altuve scored on the home run. (AP Photo/Julio Cortez)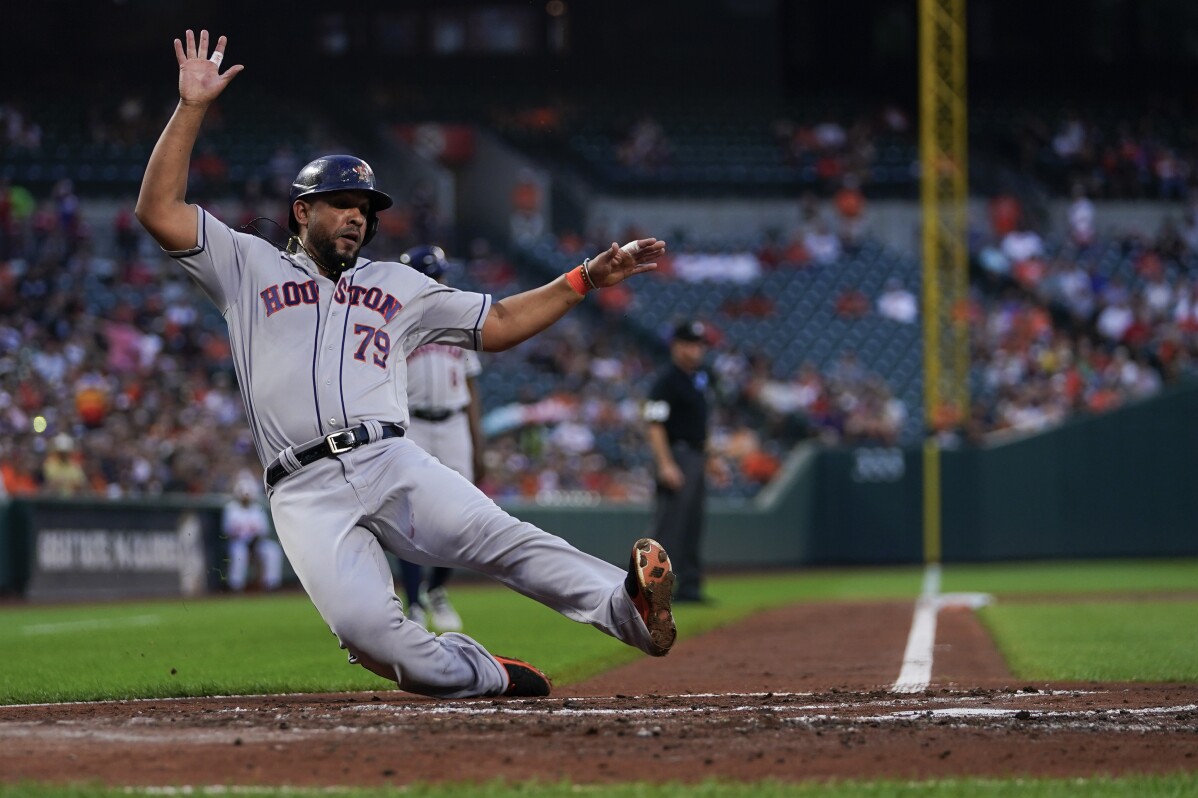 3 of 5

|
Houston Astros' Jose Abreu scores on a single by Jose Altuve in the second inning of a baseball game against the Baltimore Orioles, Wednesday, Aug. 9, 2023, in Baltimore. (AP Photo/Julio Cortez)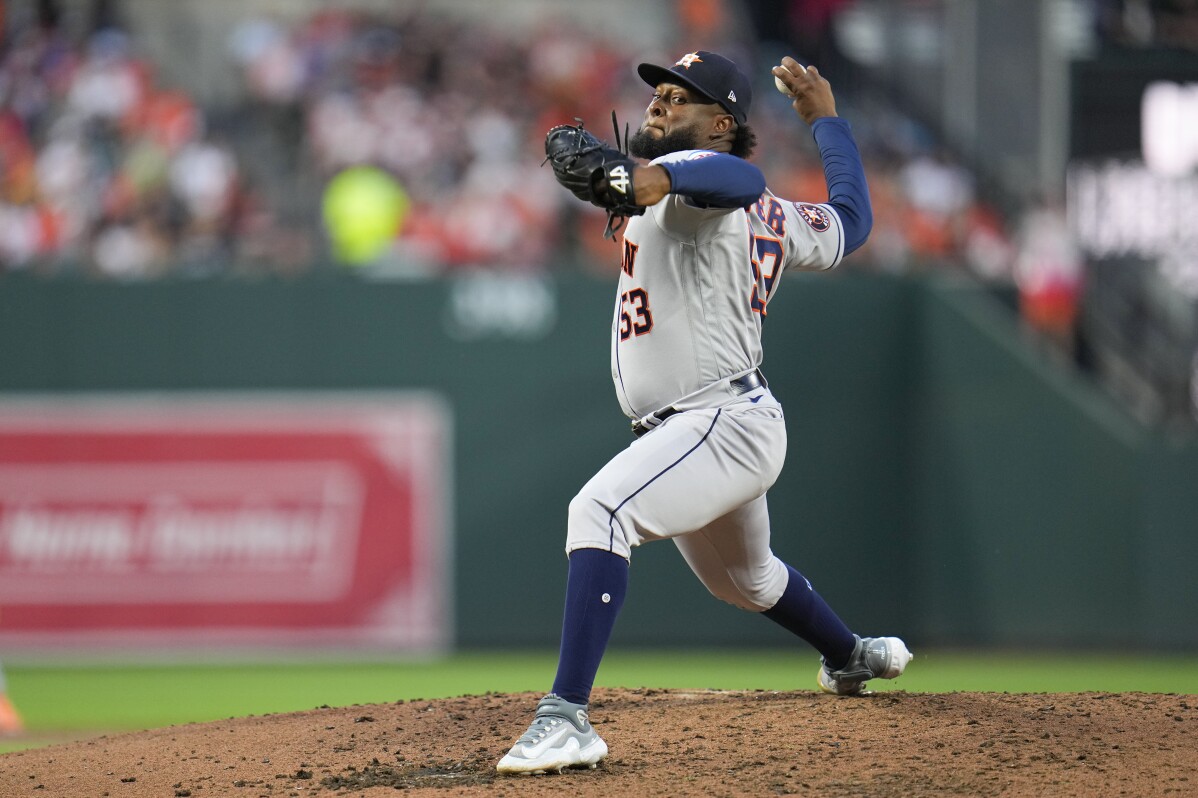 4 of 5

|
Houston Astros starting pitcher Cristian Javier throws to the Baltimore Orioles in the second inning of a baseball game, Wednesday, Aug. 9, 2023, in Baltimore. (AP Photo/Julio Cortez)
5 of 5

|
Baltimore Orioles second baseman Adam Frazier dives but is unable to get to a single by Houston Astros' Jose Abreu in the second inning of a baseball game, Wednesday, Aug. 9, 2023, in Baltimore. (AP Photo/Julio Cortez)
Tucker, Astros rout Orioles 8-2; Baltimore's streak of not being swept is on the line Thursday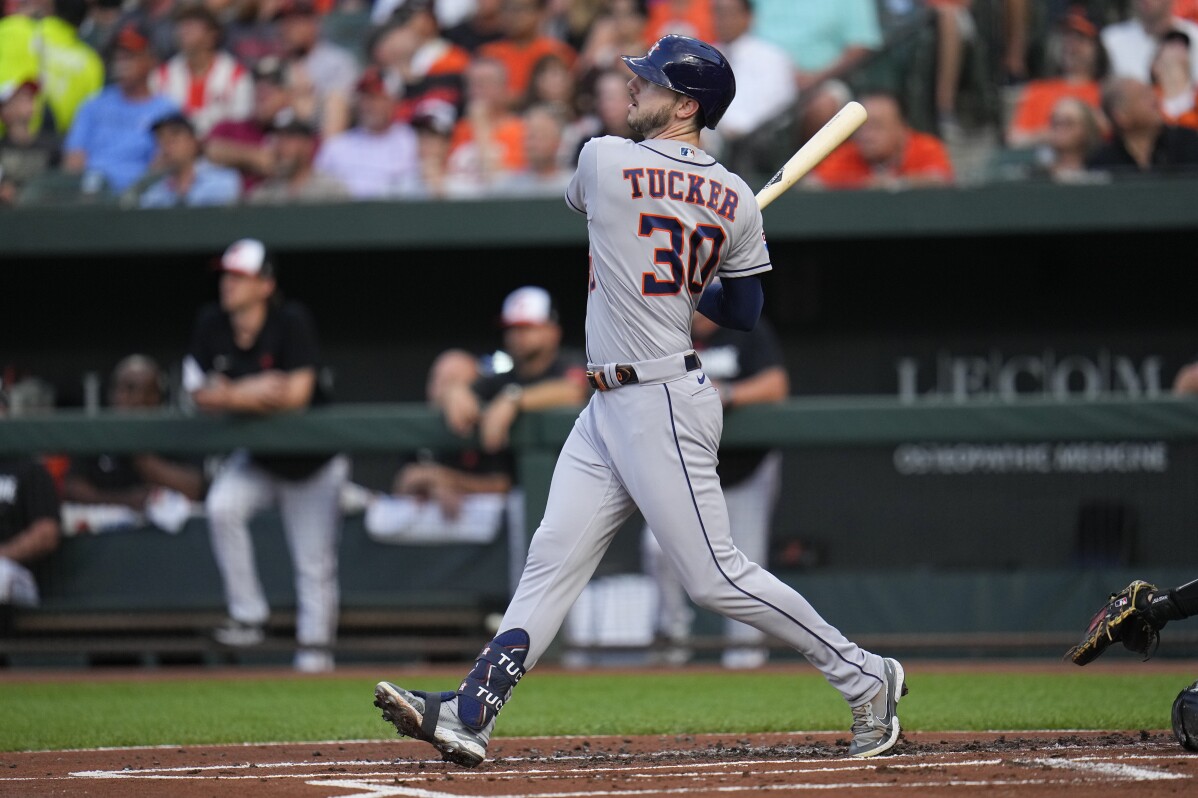 1 of 5

|
Houston Astros' Kyle Tucker follows through on a swing as he connects for a two-run home run off Baltimore Orioles starting pitcher Jack Flaherty in the first inning of a baseball game, Wednesday, Aug. 9, 2023, in Baltimore. Astros' Jose Altuve scored on the home run. (AP Photo/Julio Cortez)
1 of 5
Houston Astros' Kyle Tucker follows through on a swing as he connects for a two-run home run off Baltimore Orioles starting pitcher Jack Flaherty in the first inning of a baseball game, Wednesday, Aug. 9, 2023, in Baltimore. Astros' Jose Altuve scored on the home run. (AP Photo/Julio Cortez)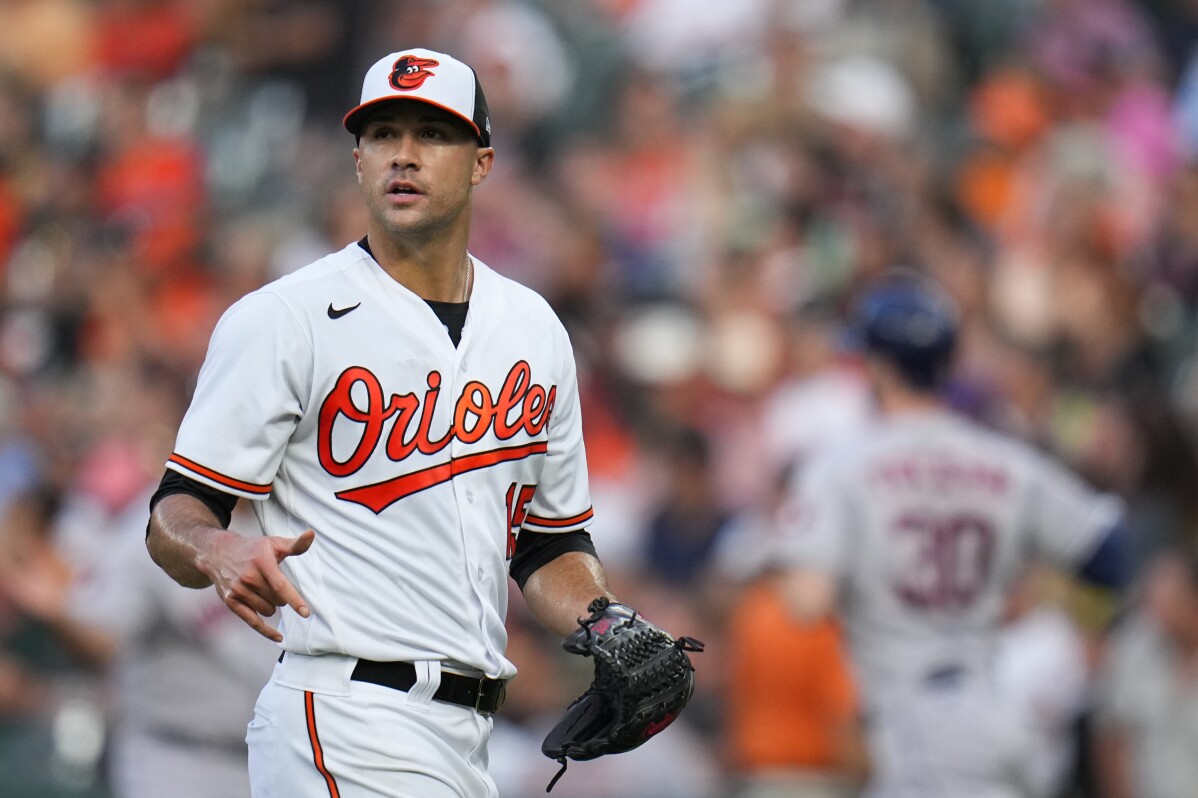 2 of 5

|
Baltimore Orioles starting pitcher Jack Flaherty looks on as Houston Astros' Kyle Tucker (30) runs the bases after hitting a two-run home run off him in the first inning of a baseball game, Wednesday, Aug. 9, 2023, in Baltimore. Astros' Jose Altuve scored on the home run. (AP Photo/Julio Cortez)
2 of 5
Baltimore Orioles starting pitcher Jack Flaherty looks on as Houston Astros' Kyle Tucker (30) runs the bases after hitting a two-run home run off him in the first inning of a baseball game, Wednesday, Aug. 9, 2023, in Baltimore. Astros' Jose Altuve scored on the home run. (AP Photo/Julio Cortez)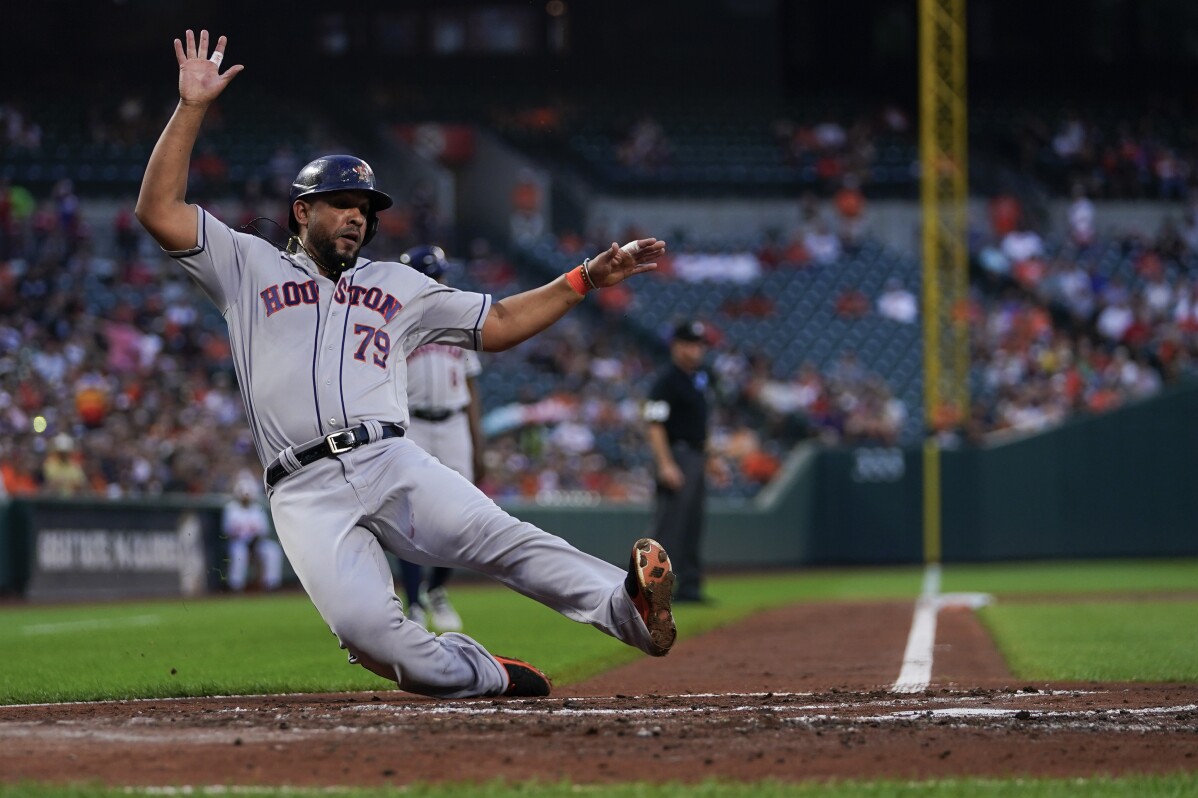 3 of 5

|
Houston Astros' Jose Abreu scores on a single by Jose Altuve in the second inning of a baseball game against the Baltimore Orioles, Wednesday, Aug. 9, 2023, in Baltimore. (AP Photo/Julio Cortez)
3 of 5
Houston Astros' Jose Abreu scores on a single by Jose Altuve in the second inning of a baseball game against the Baltimore Orioles, Wednesday, Aug. 9, 2023, in Baltimore. (AP Photo/Julio Cortez)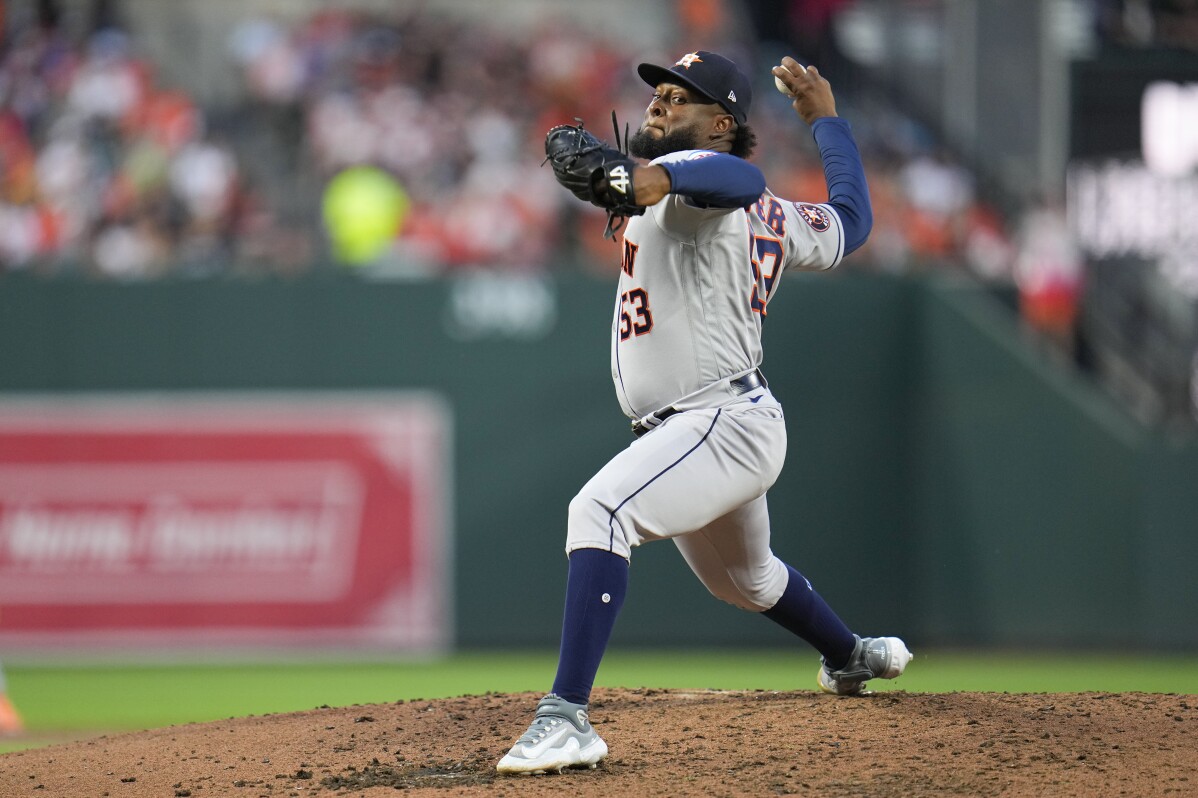 4 of 5

|
Houston Astros starting pitcher Cristian Javier throws to the Baltimore Orioles in the second inning of a baseball game, Wednesday, Aug. 9, 2023, in Baltimore. (AP Photo/Julio Cortez)
4 of 5
Houston Astros starting pitcher Cristian Javier throws to the Baltimore Orioles in the second inning of a baseball game, Wednesday, Aug. 9, 2023, in Baltimore. (AP Photo/Julio Cortez)
5 of 5

|
Baltimore Orioles second baseman Adam Frazier dives but is unable to get to a single by Houston Astros' Jose Abreu in the second inning of a baseball game, Wednesday, Aug. 9, 2023, in Baltimore. (AP Photo/Julio Cortez)
5 of 5
Baltimore Orioles second baseman Adam Frazier dives but is unable to get to a single by Houston Astros' Jose Abreu in the second inning of a baseball game, Wednesday, Aug. 9, 2023, in Baltimore. (AP Photo/Julio Cortez)
BALTIMORE (AP) — Kyle Tucker, Jose Altuve and Alex Bregman helped Dusty Baker reach another milestone.
Tucker homered for the second straight night to give Houston an early lead and the Astros added four runs in the eighth inning of an 8-2 victory over the Baltimore Orioles on Wednesday. It was the 2,159th managerial victory for Baker, which moved him past Bucky Harris into sole possession of seventh place on the career list.
"He deserves everything good that is happening to him," Altuve said. "Great guy, great manager. He cares about the team. He's not only playing to win, he cares about us, how we're feeling. We're just happy for him and happy that we can help him to keep moving forward."
Austin Hays went deep for Baltimore, which has gone 75 consecutive series of at least two decisions without being swept. Houston can end that streak Thursday after taking the first two games of this three-game set.
"Obviously, we knew coming here that they are probably one of the best teams in the big leagues right now," Altuve said. "So I'm happy that we won the first two games."
The AL East-leading Orioles remained two games ahead of Tampa Bay thanks to St. Louis' victory over the Rays. The Astros pulled within two of first-place Texas in the AL West.
Tucker, whose grand slam in the top of the ninth gave Houston a 7-6 win Tuesday, hit a two-run shot off Jack Flaherty (8-7) in the top of the first. Altuve added an RBI single in the second.
Hays' two-run homer in the fourth brought the Orioles within one, but Baltimore's bullpen couldn't keep it close. Shintaro Fujinami retired the first two batters of the eighth before walking the next three. Mike Baumann relieved him and allowed consecutive two-run singles to Altuve and Bregman.
Jeremy Peña added an RBI single in the ninth.
Cristian Javier (8-2) allowed two runs and four hits in five innings.
Flaherty yielded three runs and six hits in five innings in his second start since the Orioles acquired him in a trade from St. Louis. He struck out eight with two walks.
Adley Rutschman led off the bottom of the first with a triple for Baltimore, but the Orioles couldn't get him home. Baltimore also loaded the bases with one out in the eighth and didn't score.
OLD SCHOOL
Baker guided Houston to a World Series title last year, and he's remained successful during an era in which some traditional stats have fallen out of favor, but that doesn't mean he ignores them completely.
Javier threw 105 pitches but was able to finish the fifth and pick up the win.
"He's been trying to get that eighth victory forever, and I was like, 'I've got to give him a shot,'" Baker said. "Everybody just puts importance on ERA, but if you're out there doing the work, you might as well get the win."
It was Javier's first win since June 3. He's had a loss and eight no-decisions since then.
QUITE AN IMPRESSION
RHP Jacob Webb, claimed off waivers by Baltimore earlier in the week, struck out the side in the sixth in his first appearance for the Orioles. Baltimore optioned RHP Joey Krehbiel to Triple-A Norfolk.
UP NEXT
Dean Kremer (10-4) starts for the Orioles on Thursday against Hunter Brown (8-7).
___
Follow Noah Trister at https://twitter.com/noahtrister
___
AP MLB: https://apnews.com/hub/mlb