Blue Jays use Springer's solo homer and Gausman's 6 strikeouts to beat Guardians 1-0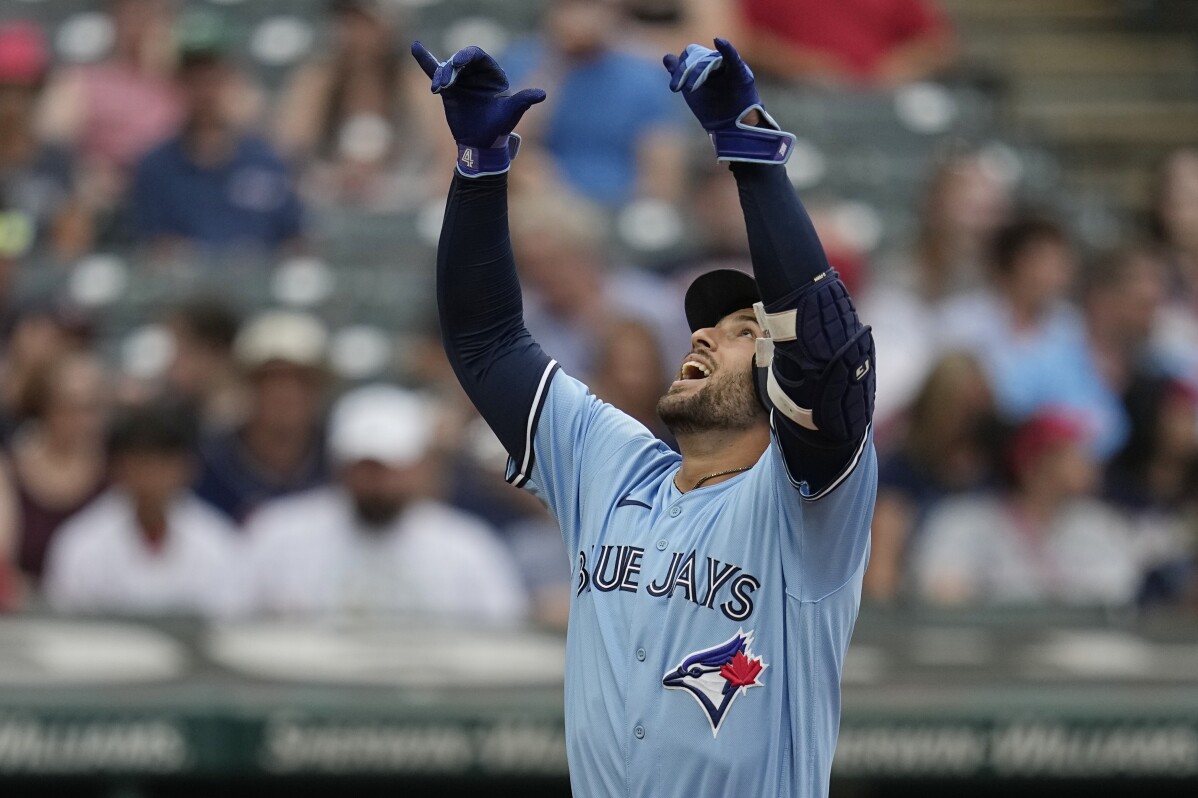 1 of 8

|
Toronto Blue Jays' George Springer gestures as he crosses the plate on a home run against the Cleveland Guardians during the first inning of a baseball game Wednesday, Aug. 9, 2023, in Cleveland. (AP Photo/Sue Ogrocki)
2 of 8

|
Toronto Blue Jays' Kevin Gausman pitches to a Cleveland Guardians batter during the first inning of a baseball game Wednesday, Aug. 9, 2023, in Cleveland. (AP Photo/Sue Ogrocki)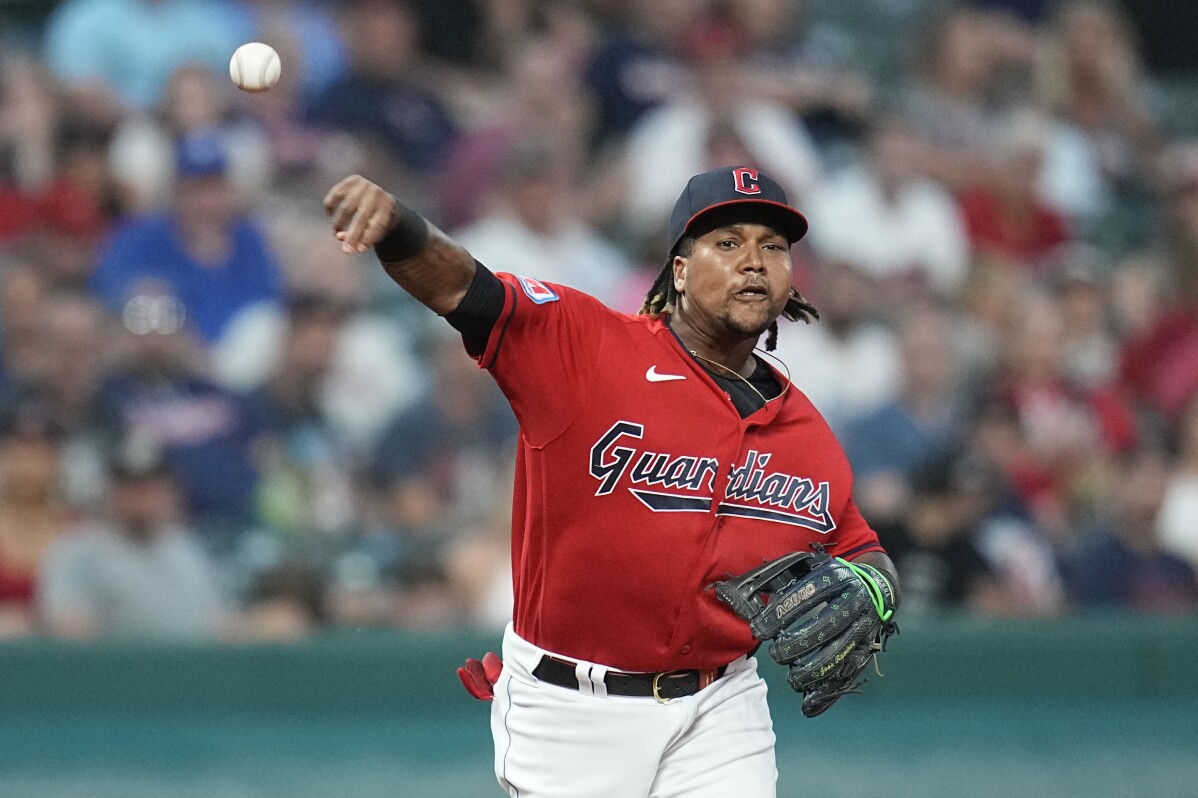 3 of 8

|
Cleveland Guardians third baseman Jose Ramirez throws out Toronto Blue Jays' Danny Jansen at first base during the sixth inning of a baseball game Wednesday, Aug. 9, 2023, in Cleveland. (AP Photo/Sue Ogrocki)
4 of 8

|
Toronto Blue Jays left fielder Whit Merrifield slides to catch a fly ball hit by Cleveland Guardians' Andres Gimenez during the third inning of a baseball game Wednesday, Aug. 9, 2023, in Cleveland. (AP Photo/Sue Ogrocki)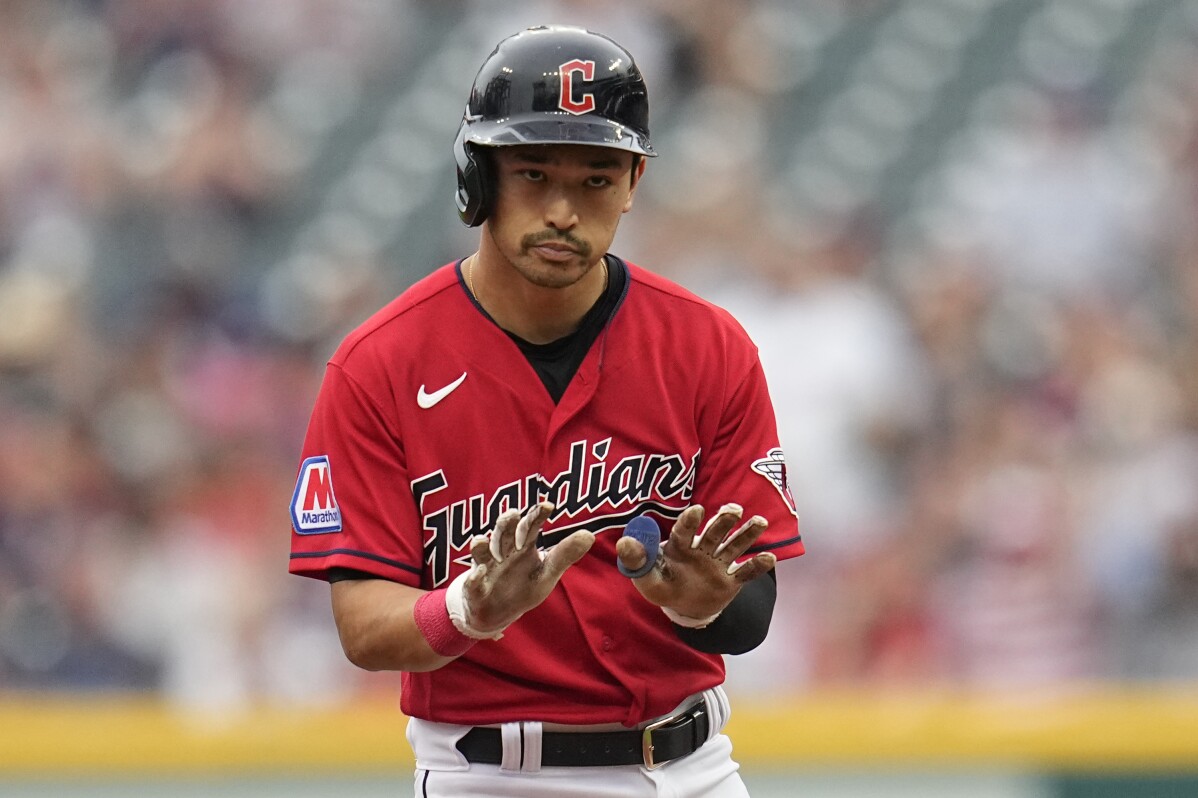 5 of 8

|
Cleveland Guardians' Steven Kwan gestures at second base after hitting a double against the Toronto Blue Jays during the first inning of a baseball game Wednesday, Aug. 9, 2023, in Cleveland. (AP Photo/Sue Ogrocki)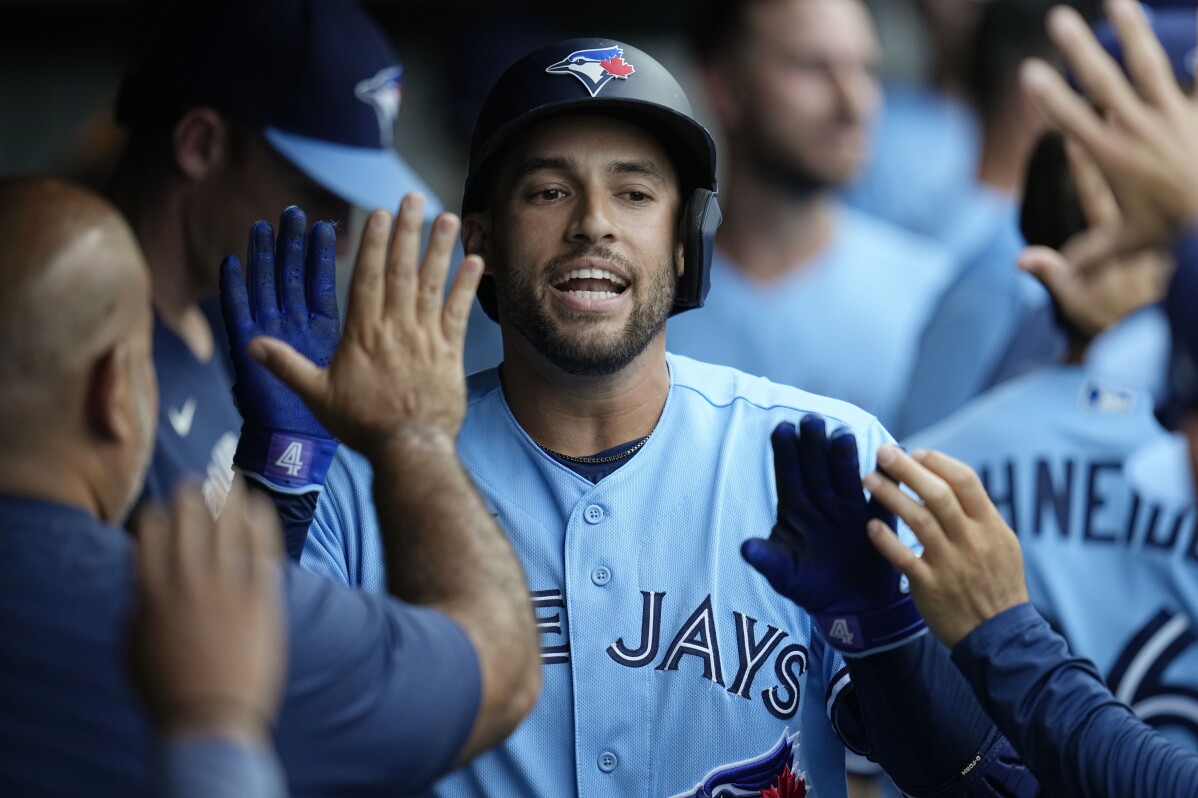 6 of 8

|
Toronto Blue Jays' George Springer celebrates in the dugout following a home run against the Cleveland Guardians during the first inning of a baseball game Wednesday, Aug. 9, 2023, in Cleveland. (AP Photo/Sue Ogrocki)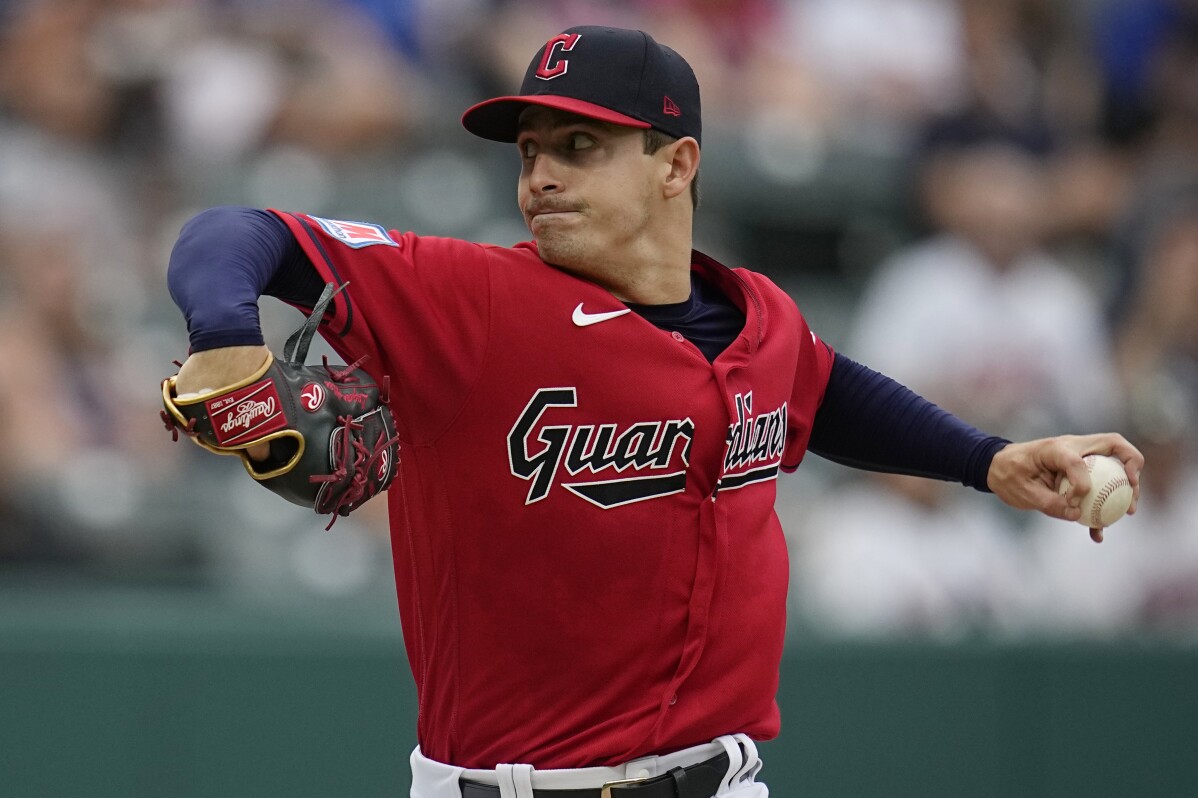 7 of 8

|
Cleveland Guardians' Logan Allen pitches during the first inning of the team's baseball game against the Toronto Blue Jays on Wednesday, Aug. 9, 2023, in Cleveland. (AP Photo/Sue Ogrocki)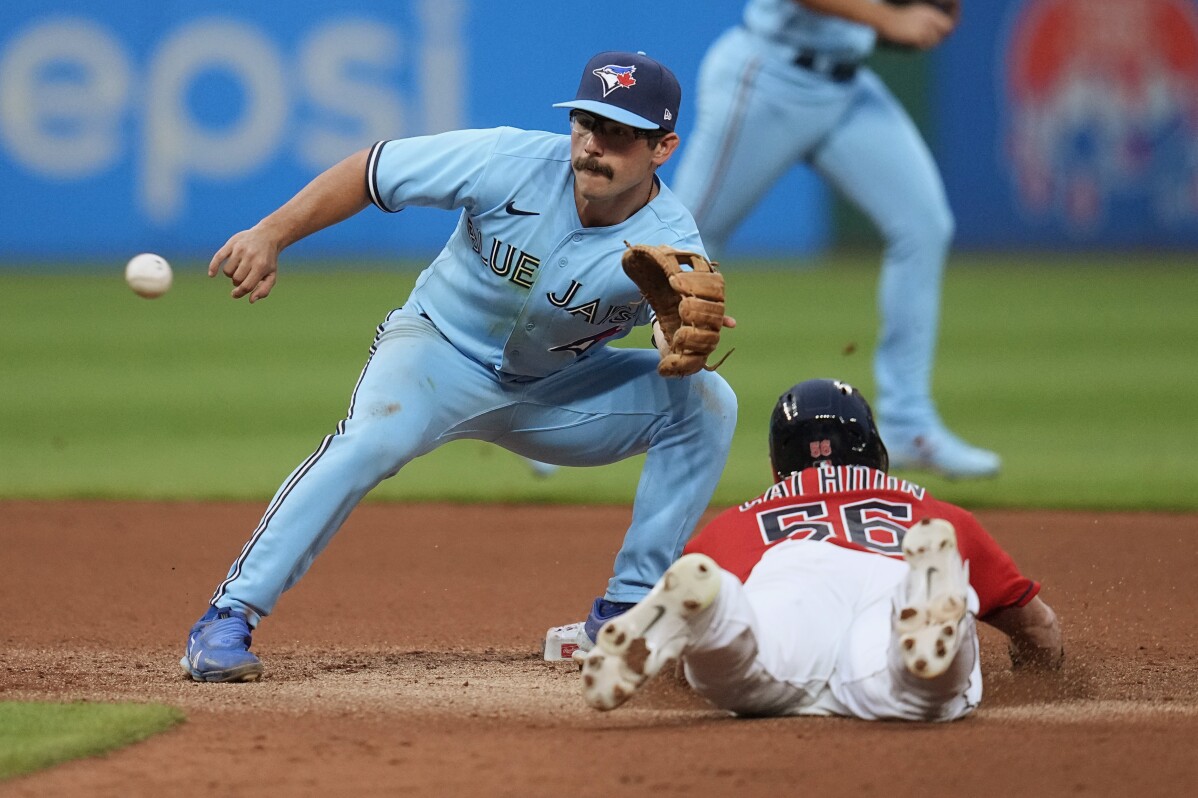 8 of 8

|
Toronto Blue Jays second baseman Davis Schneider waits for the throw, before tagging out Cleveland Guardians' Kole Calhoun on an attempted steal at second base during the fourth inning of a baseball game Wednesday, Aug. 9, 2023, in Cleveland. (AP Photo/Sue Ogrocki)
Blue Jays use Springer's solo homer and Gausman's 6 strikeouts to beat Guardians 1-0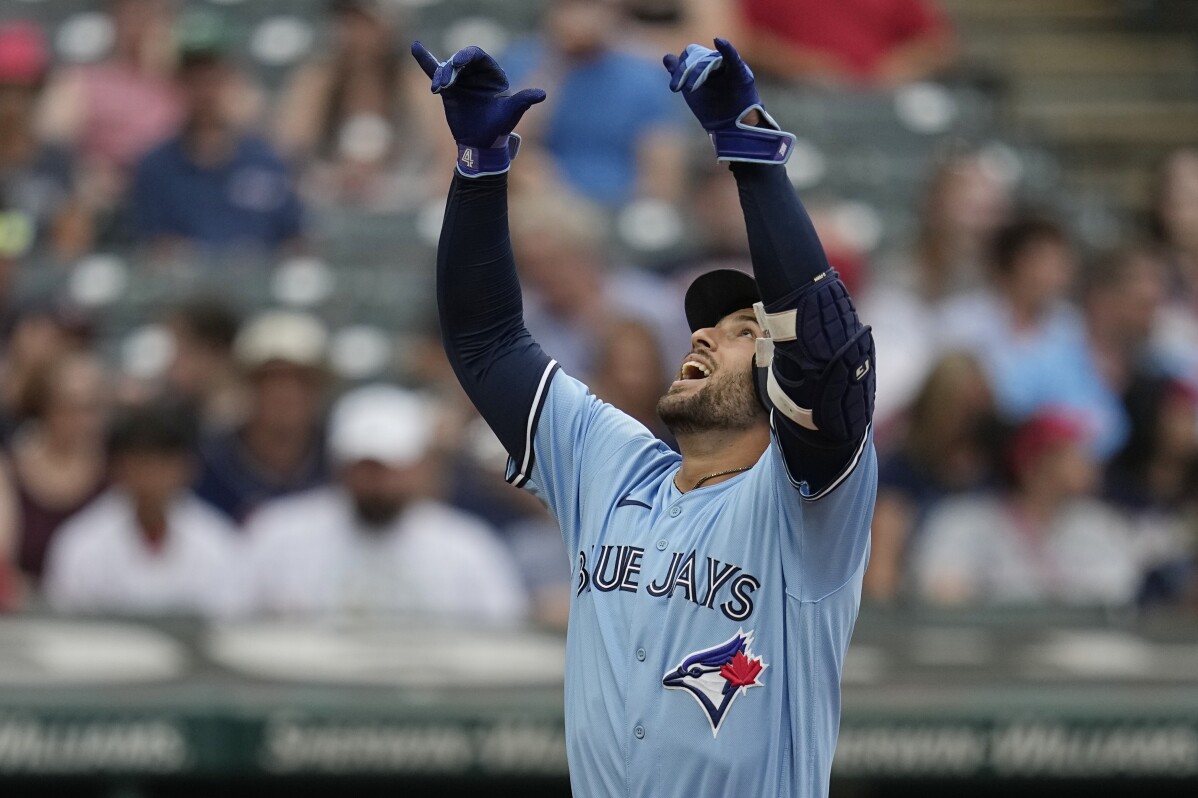 1 of 8

|
Toronto Blue Jays' George Springer gestures as he crosses the plate on a home run against the Cleveland Guardians during the first inning of a baseball game Wednesday, Aug. 9, 2023, in Cleveland. (AP Photo/Sue Ogrocki)
1 of 8
Toronto Blue Jays' George Springer gestures as he crosses the plate on a home run against the Cleveland Guardians during the first inning of a baseball game Wednesday, Aug. 9, 2023, in Cleveland. (AP Photo/Sue Ogrocki)
2 of 8

|
Toronto Blue Jays' Kevin Gausman pitches to a Cleveland Guardians batter during the first inning of a baseball game Wednesday, Aug. 9, 2023, in Cleveland. (AP Photo/Sue Ogrocki)
2 of 8
Toronto Blue Jays' Kevin Gausman pitches to a Cleveland Guardians batter during the first inning of a baseball game Wednesday, Aug. 9, 2023, in Cleveland. (AP Photo/Sue Ogrocki)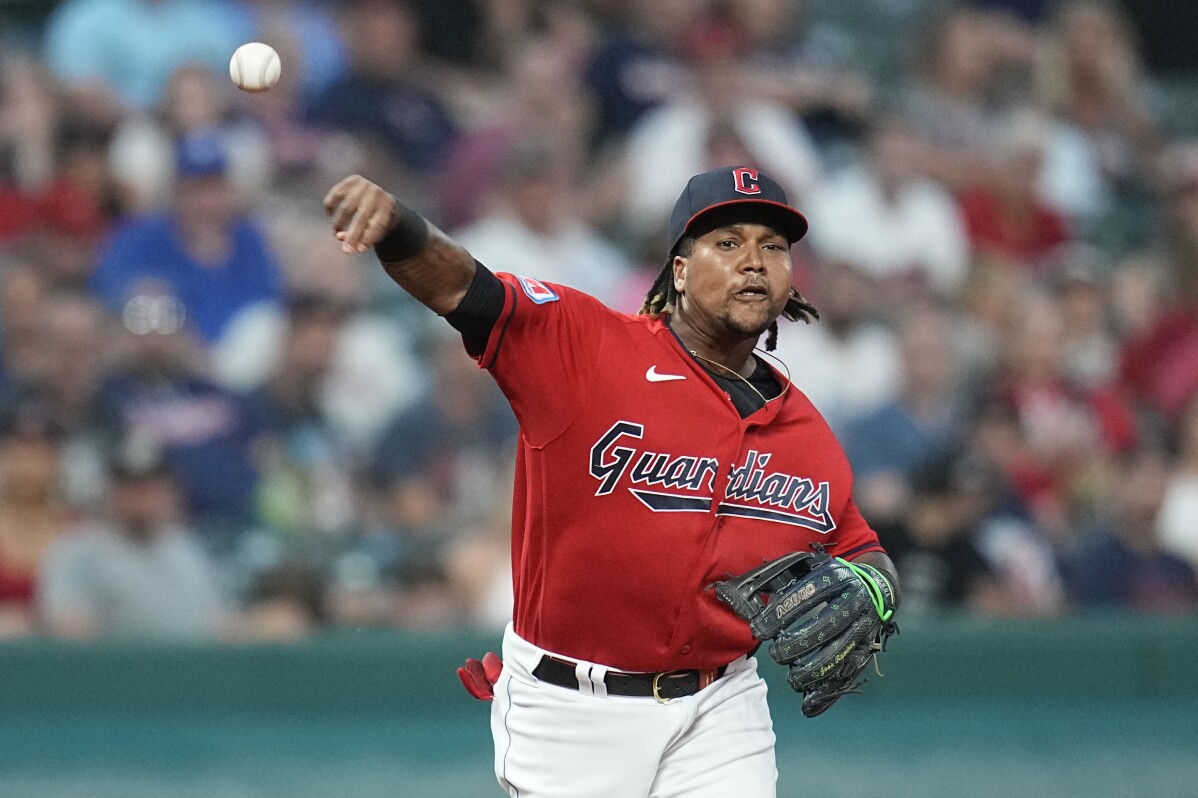 3 of 8

|
Cleveland Guardians third baseman Jose Ramirez throws out Toronto Blue Jays' Danny Jansen at first base during the sixth inning of a baseball game Wednesday, Aug. 9, 2023, in Cleveland. (AP Photo/Sue Ogrocki)
3 of 8
Cleveland Guardians third baseman Jose Ramirez throws out Toronto Blue Jays' Danny Jansen at first base during the sixth inning of a baseball game Wednesday, Aug. 9, 2023, in Cleveland. (AP Photo/Sue Ogrocki)
4 of 8

|
Toronto Blue Jays left fielder Whit Merrifield slides to catch a fly ball hit by Cleveland Guardians' Andres Gimenez during the third inning of a baseball game Wednesday, Aug. 9, 2023, in Cleveland. (AP Photo/Sue Ogrocki)
4 of 8
Toronto Blue Jays left fielder Whit Merrifield slides to catch a fly ball hit by Cleveland Guardians' Andres Gimenez during the third inning of a baseball game Wednesday, Aug. 9, 2023, in Cleveland. (AP Photo/Sue Ogrocki)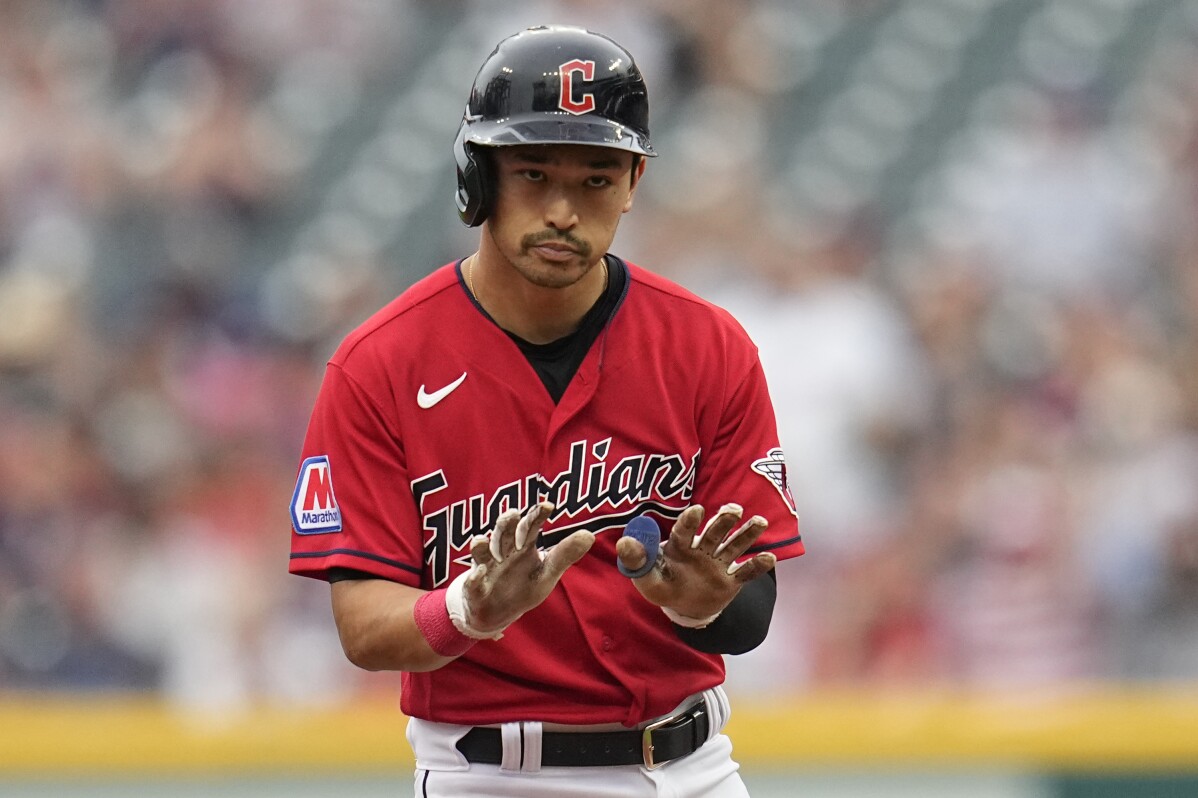 5 of 8

|
Cleveland Guardians' Steven Kwan gestures at second base after hitting a double against the Toronto Blue Jays during the first inning of a baseball game Wednesday, Aug. 9, 2023, in Cleveland. (AP Photo/Sue Ogrocki)
5 of 8
Cleveland Guardians' Steven Kwan gestures at second base after hitting a double against the Toronto Blue Jays during the first inning of a baseball game Wednesday, Aug. 9, 2023, in Cleveland. (AP Photo/Sue Ogrocki)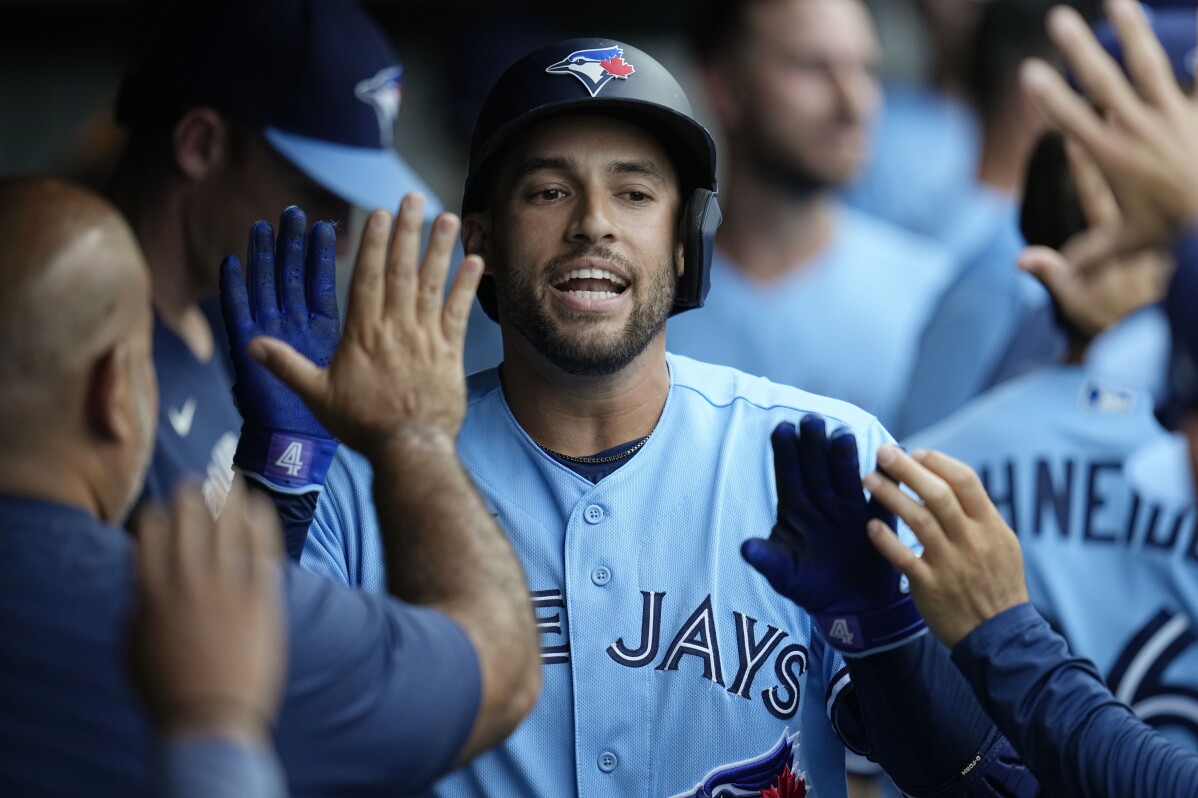 6 of 8

|
Toronto Blue Jays' George Springer celebrates in the dugout following a home run against the Cleveland Guardians during the first inning of a baseball game Wednesday, Aug. 9, 2023, in Cleveland. (AP Photo/Sue Ogrocki)
6 of 8
Toronto Blue Jays' George Springer celebrates in the dugout following a home run against the Cleveland Guardians during the first inning of a baseball game Wednesday, Aug. 9, 2023, in Cleveland. (AP Photo/Sue Ogrocki)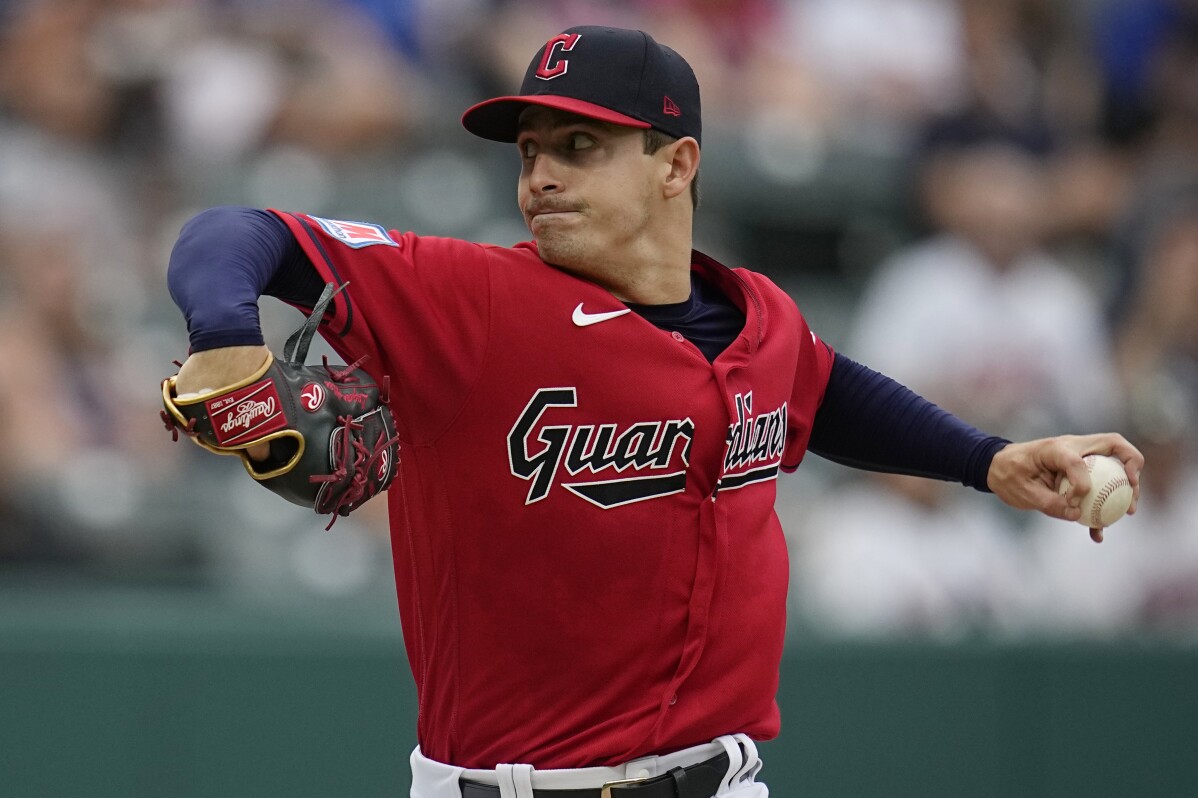 7 of 8

|
Cleveland Guardians' Logan Allen pitches during the first inning of the team's baseball game against the Toronto Blue Jays on Wednesday, Aug. 9, 2023, in Cleveland. (AP Photo/Sue Ogrocki)
7 of 8
Cleveland Guardians' Logan Allen pitches during the first inning of the team's baseball game against the Toronto Blue Jays on Wednesday, Aug. 9, 2023, in Cleveland. (AP Photo/Sue Ogrocki)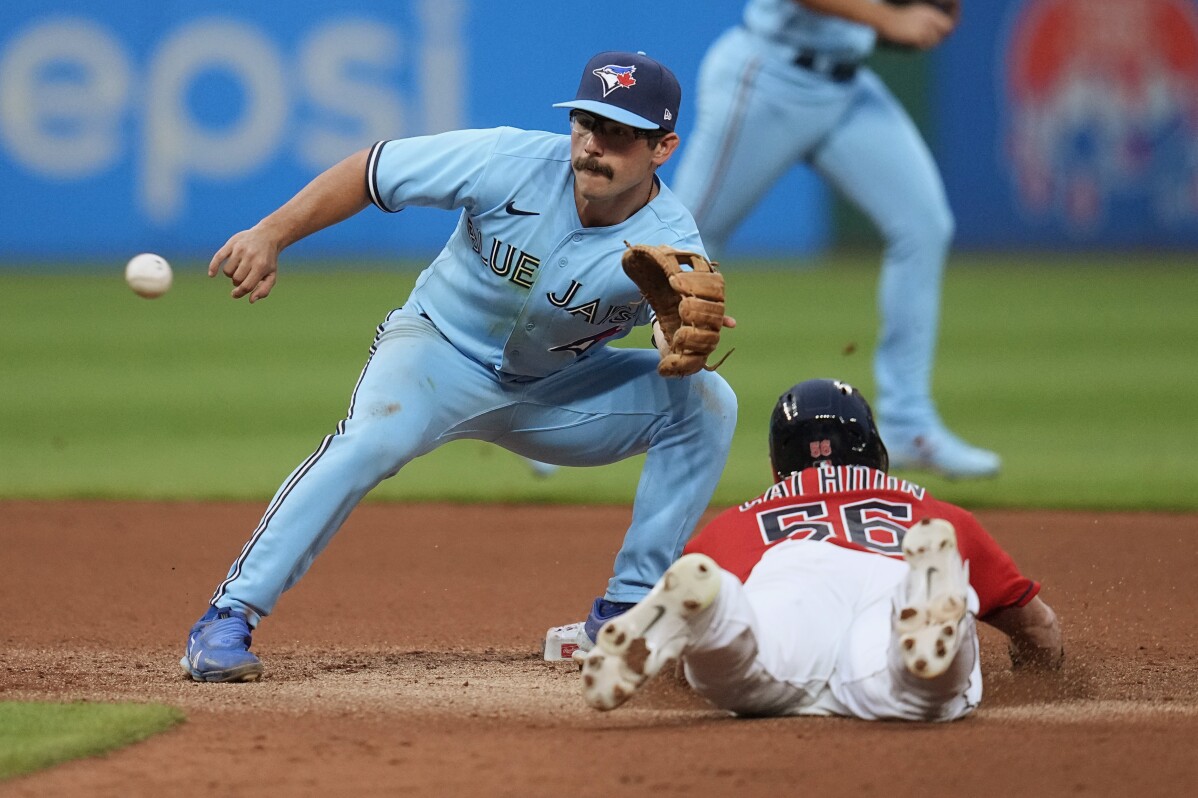 8 of 8

|
Toronto Blue Jays second baseman Davis Schneider waits for the throw, before tagging out Cleveland Guardians' Kole Calhoun on an attempted steal at second base during the fourth inning of a baseball game Wednesday, Aug. 9, 2023, in Cleveland. (AP Photo/Sue Ogrocki)
8 of 8
Toronto Blue Jays second baseman Davis Schneider waits for the throw, before tagging out Cleveland Guardians' Kole Calhoun on an attempted steal at second base during the fourth inning of a baseball game Wednesday, Aug. 9, 2023, in Cleveland. (AP Photo/Sue Ogrocki)
CLEVELAND (AP) — George Springer homered in the first inning and Kevin Gausman struck out six in a combined six-hitter, helping the Toronto Blue Jays to a 1-0 victory over the Cleveland Guardians on Wednesday night.
Springer belted a 393-foot shot to left-center on the 13th pitch of his at-bat against Logan Allen (5-5), delighting the boisterous Blue Jays fans who occupied most of the lower bowl at Progressive Field.
"Neither he nor I wanted to quit, so you have to essentially grind out that at-bat," Springer said. "And when you hear our fans throughout a game like tonight, it's awesome and doesn't go unnoticed.
"It's always special because their support spans from coast to coast and as far north as you can go."
Gausman (9-6) worked seven innings, scattering four hits without a walk and increasing his AL-leading strikeout total to 183. Erik Swanson, Tim Mayza and Jordan Hicks followed as Toronto posted its 12th shutout, tying for the most in the majors.
Hicks earned his 11th save by retiring the only batter he faced, Oscar Gonzalez, as the Blue Jays remained in the third and final AL wild-card position.
"With the way Allen was pitching, Gauzy almost had to be perfect -- and he was," Toronto manager John Schneider said. "Just another example of why he's a Cy Young candidate this year."
Gausman also used his right arm to pick off Gonzalez at second base with one out in the seventh, which he credited bench coach Don Mattingly and pitching coach Pete Walker for suggesting.
"That play obviously worked out and got me out of a huge jam, so I was all fired up after it," Gausman said.
Kole Calhoun had two hits for the free-falling Guardians, who have lost nine of 12. Cleveland only advanced two runners past second base, both in the first two innings.
Allen pitched five innings, giving up one run on four hits. The left-hander was the third rookie to start for the Guardians in the series, following Gavin Williams and Tanner Bibee.
The trio held Toronto to one run over 19 combined innings, but Cleveland has dropped two of the three games because it has only scored twice.
"I was just trying to attack, not give in and walk Springer," Allen said. "Unfortunately, that play was the difference."
Guardians third baseman José Ramírez, who is appealing his three-game suspension for exchanging punches with White Sox shortstop Tim Anderson on Saturday, went 0 for 4.
Springer added two singles and is batting .448 (13 for 29) since ending a career-worst hitless streak of 35 at-bats on Aug. 2.
"George has been George for a long time," Schneider said. "And for the last few weeks, he's been really good."
Vladimir Guerrero Jr. had two hits as the Blue Jays totaled eight against four pitchers.
TOUGH BREAK
Blue Jays RHP Chad Green, who is on a rehab assignment with Triple-A Buffalo, was placed on the seven-day concussion list after being struck on the head by a throw from catcher Tyler Heineman on Tuesday at Worcester.
Green ducked to avoid Heineman's throw to second base on an attempted steal, but the ball glanced off the back of his head. The 32-year-old reliever remained upright and conscious, leaving the field under his own power.
Green underwent Tommy John surgery in June 2022 while pitching for the Yankees. He signed a two-year contract with the Blue Jays in January.
TRAINER'S ROOM
Blue Jays: RHP Jordan Romano (lower back inflammation) tossed an up-and-down bullpen session in Toronto earlier in the day. The closer has been on the 15-day IL since July 29 and could be activated this weekend.
Guardians: RHP Cal Quantrill (right shoulder inflammation) surrendered six runs on six hits and two walks over 1 1/3 innings at Toledo during his first rehab start with Triple-A Columbus. Quantrill threw 54 pitches.
UP NEXT
Guardians RHP Noah Syndergaard (1-5, 6.75 ERA) takes on Blue Jays RHP Alek Manoah (3-8, 5.72 ERA) in the four-game series finale Thursday. Syndergaard allowed a career-high four homers in his Progressive Field debut, losing to the White Sox 7-4 on Aug. 5.
___
AP MLB: https://apnews.com/hub/mlb