Paul Goldschmidt surpasses 1,100 RBIs with 2-run single in Cardinals' 6-4 victory over Rays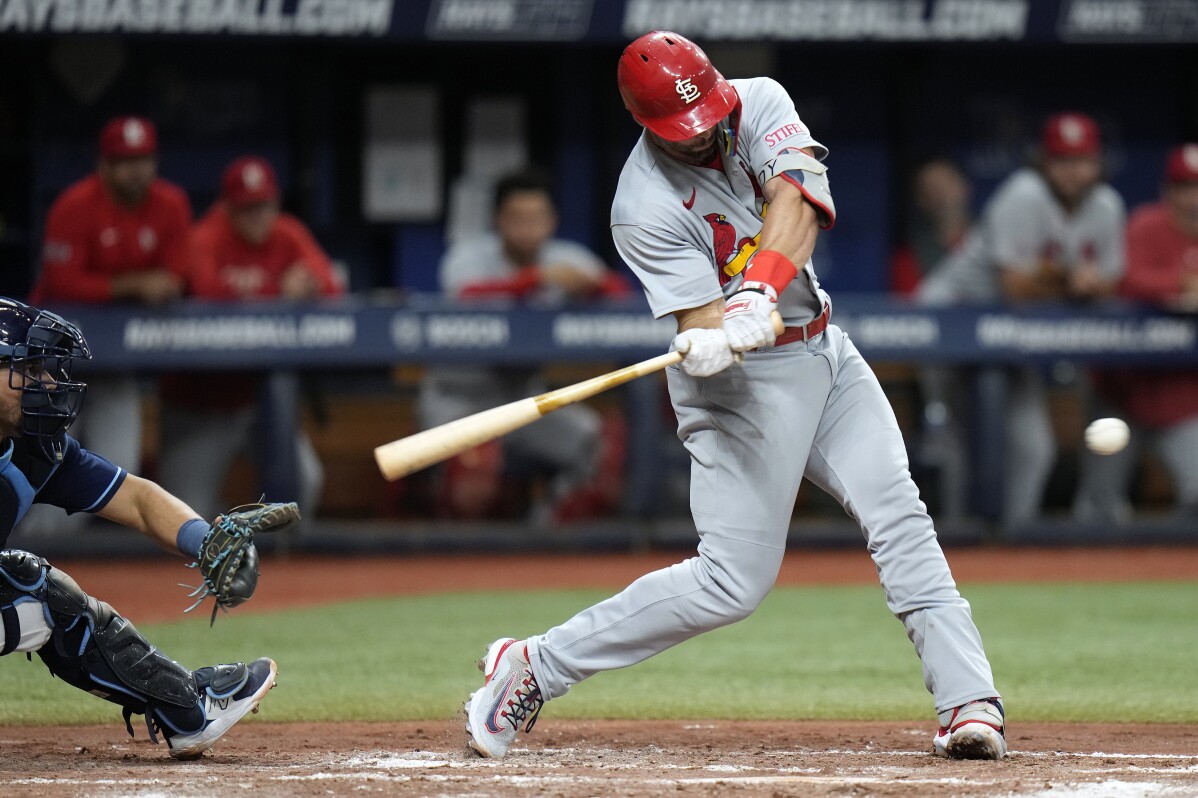 1 of 10

|
St. Louis Cardinals' Paul Goldschmidt connects for a two-run single off Tampa Bay Rays relief pitcher Kevin Kelly during the fourth inning of a baseball game Wednesday, Aug. 9, 2023, in St. Petersburg, Fla. (AP Photo/Chris O'Meara)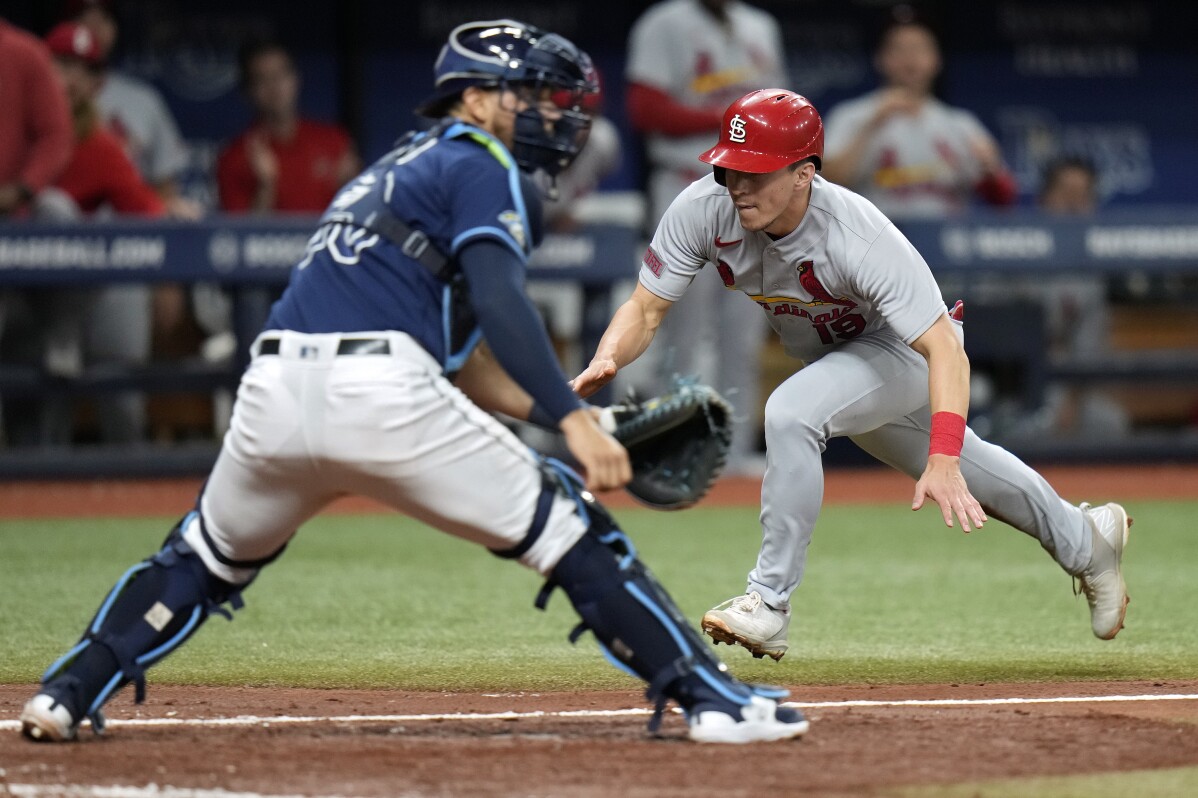 2 of 10

|
St. Louis Cardinals' Tommy Edman (19) scores around Tampa Bay Rays catcher Rene Pinto on a two-run single by Paul Goldschmidt during the fourth inning of a baseball game Wednesday, Aug. 9, 2023, in St. Petersburg, Fla. (AP Photo/Chris O'Meara)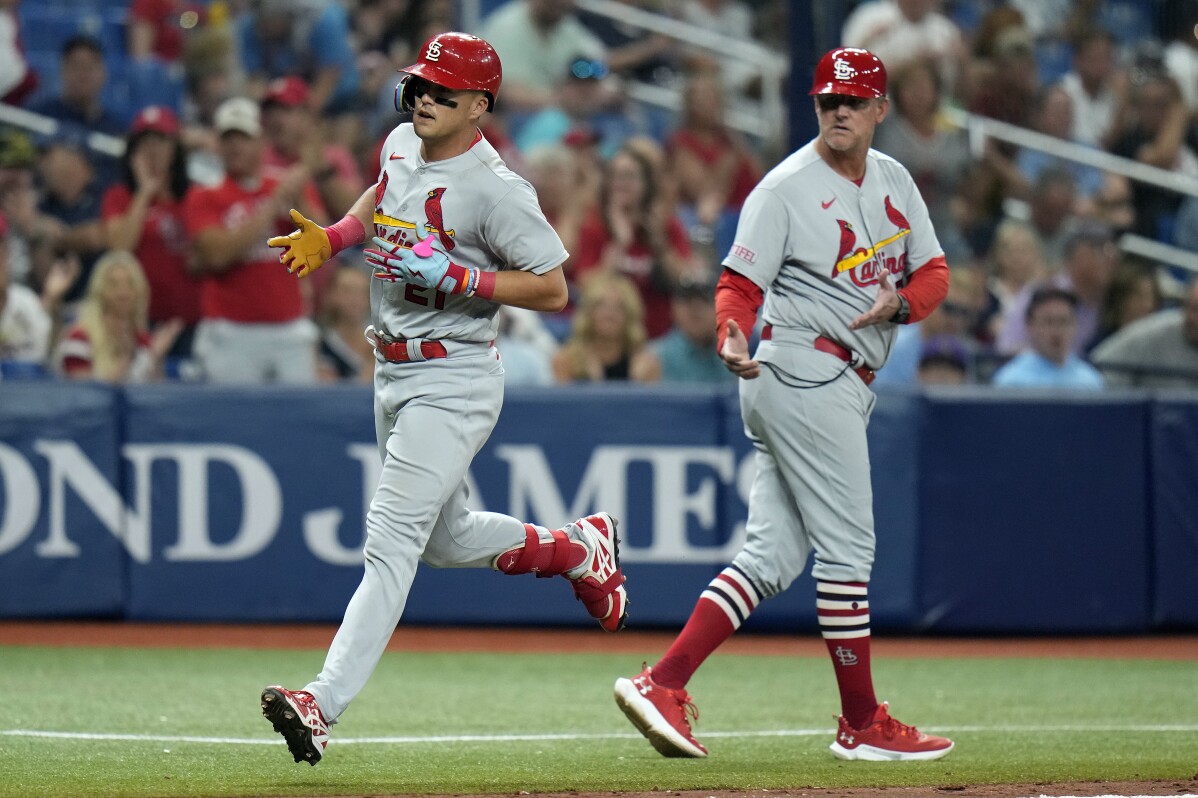 3 of 10

|
St. Louis Cardinals' Lars Nootbaar, left, celebrates with third base coach Ron "Pop" Warner after his solo home run off Tampa Bay Rays relief pitcher Robert Stephenson during the seventh inning of a baseball game Wednesday, Aug. 9, 2023, in St. Petersburg, Fla. (AP Photo/Chris O'Meara)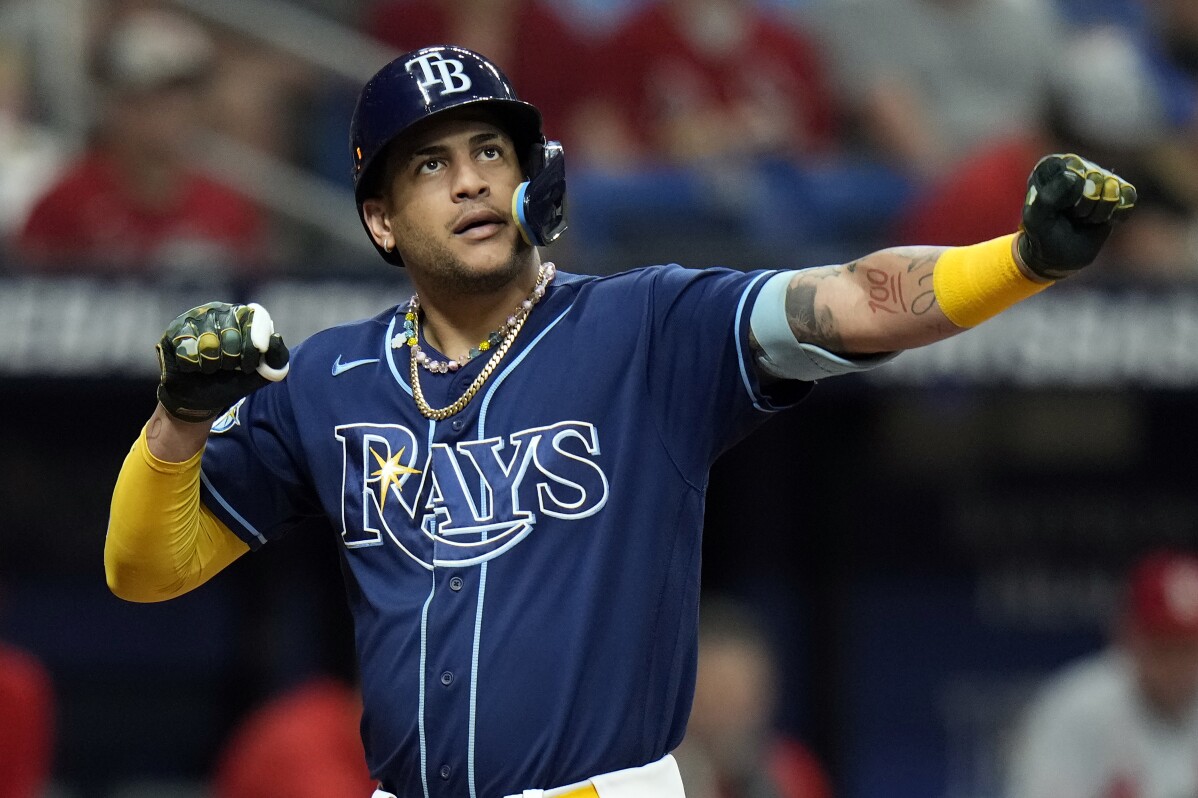 4 of 10

|
Tampa Bay Rays' Jose Siri celebrates after his home run of St. Louis Cardinals pitcher Dakota Hudson during the fourth inning of a baseball game Wednesday, Aug. 9, 2023, in St. Petersburg, Fla. (AP Photo/Chris O'Meara)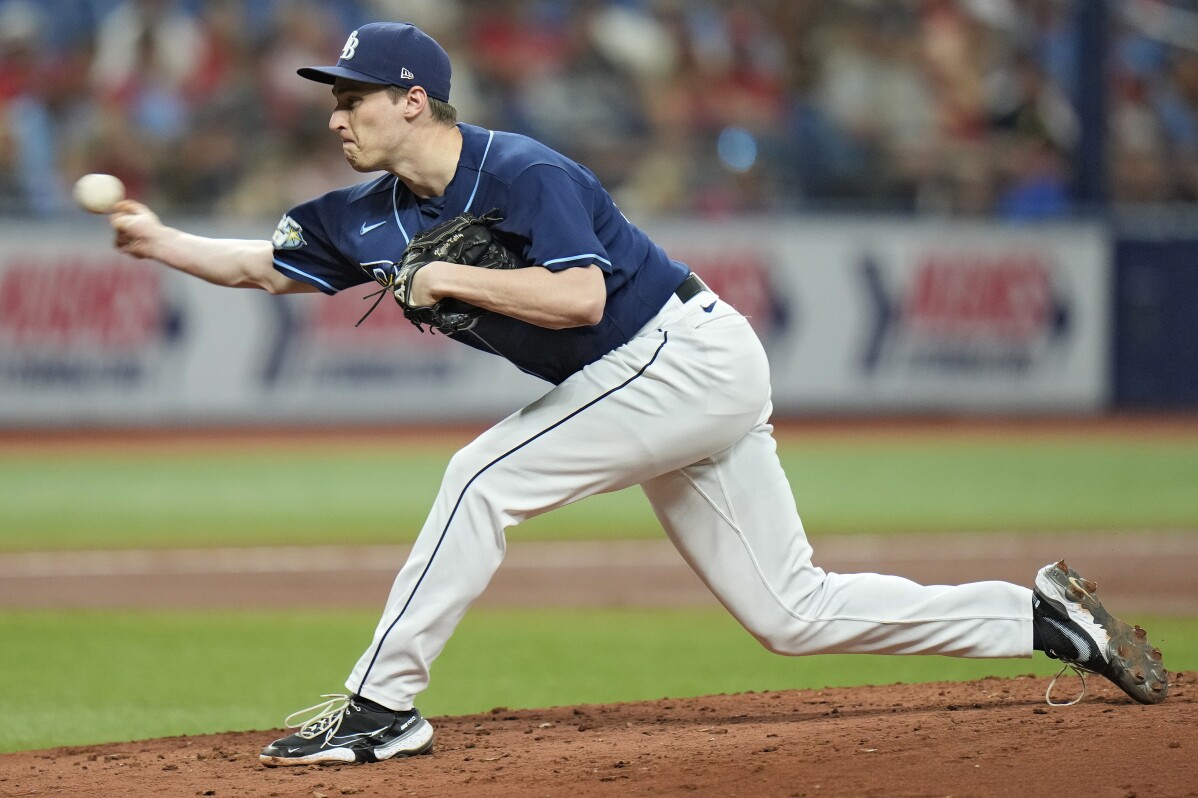 5 of 10

|
Tampa Bay Rays' Kevin Kelly pitches to the St. Louis Cardinals during the third inning of a baseball game Wednesday, Aug. 9, 2023, in St. Petersburg, Fla. (AP Photo/Chris O'Meara)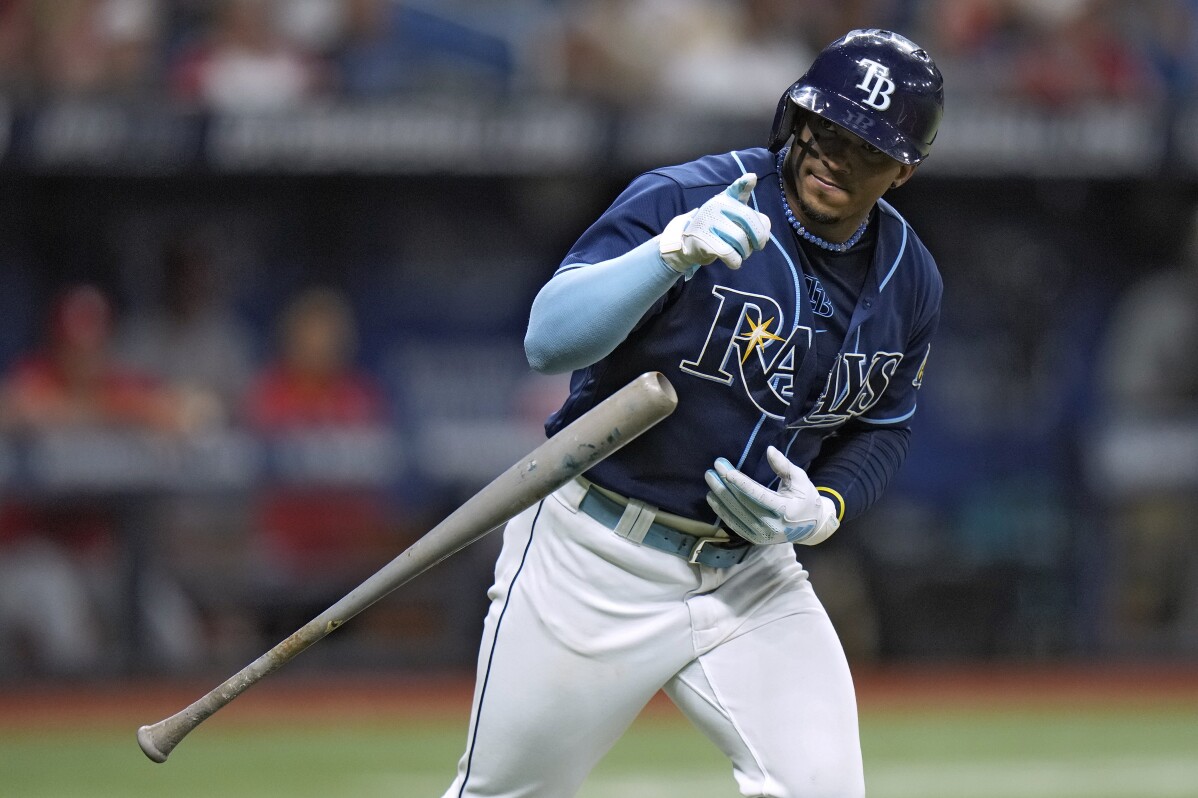 6 of 10

|
Tampa Bay Rays' Wander Franco reacts after his solo home run off St. Louis Cardinals relief pitcher Drew VerHagen during the seventh inning of a baseball game Wednesday, Aug. 9, 2023, in St. Petersburg, Fla. (AP Photo/Chris O'Meara)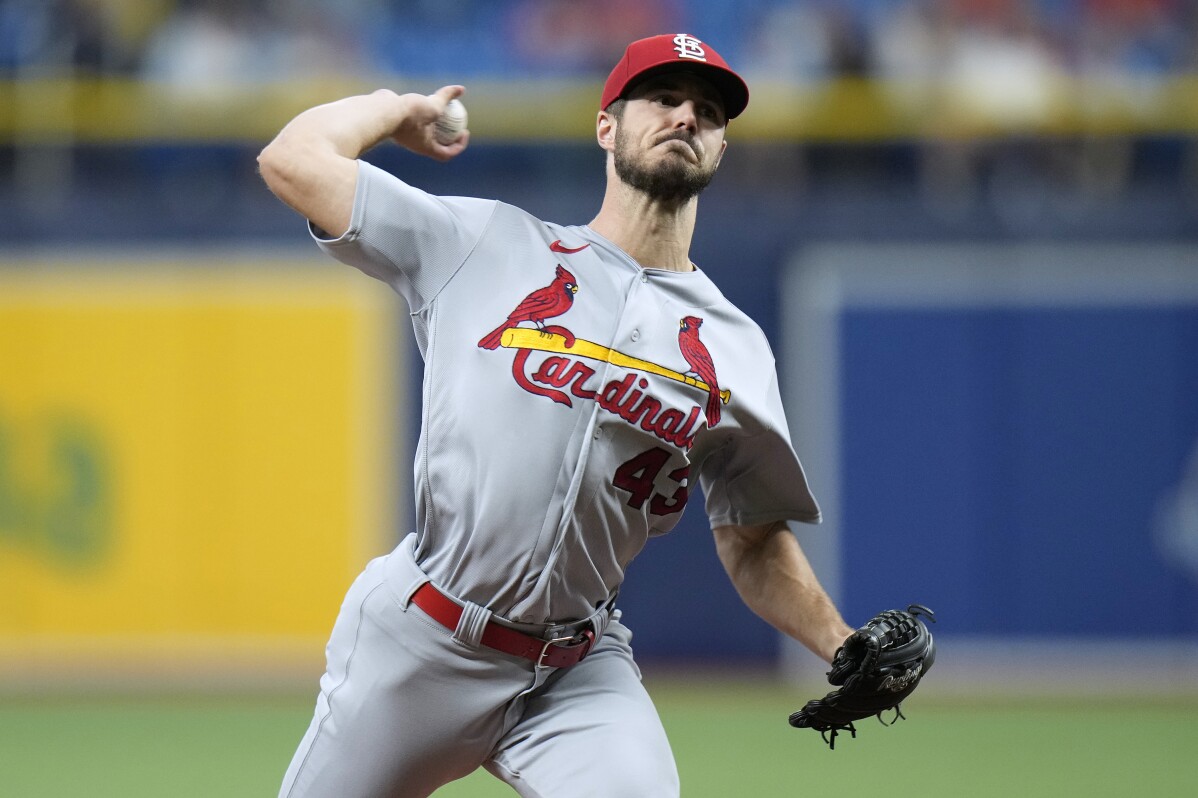 7 of 10

|
St. Louis Cardinals pitcher Dakota Hudson delivers to the Tampa Bay Rays during the first inning of a baseball game Wednesday, Aug. 9, 2023, in St. Petersburg, Fla. (AP Photo/Chris O'Meara)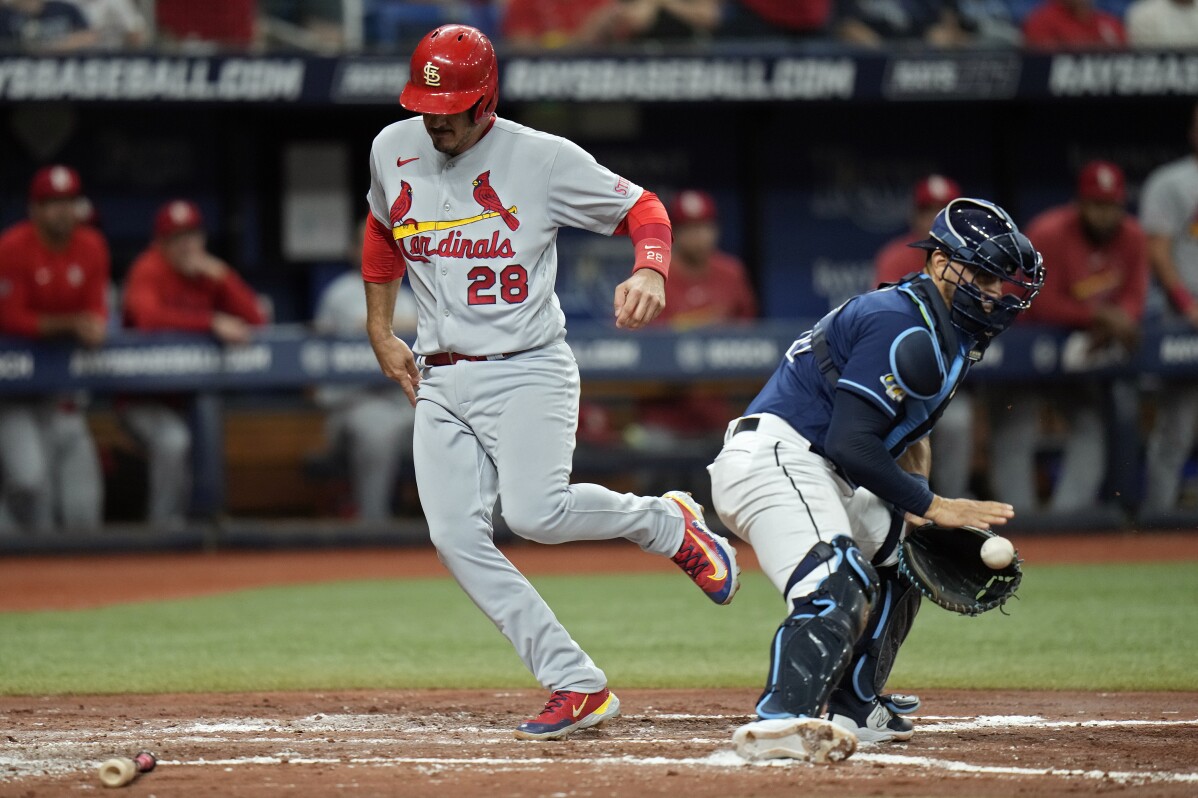 8 of 10

|
St. Louis Cardinals' Nolan Arenado (28) scores around Tampa Bay Rays catcher Rene Pinto on an RBI single by Jordan Walker during the third inning of a baseball game Wednesday, Aug. 9, 2023, in St. Petersburg, Fla. (AP Photo/Chris O'Meara)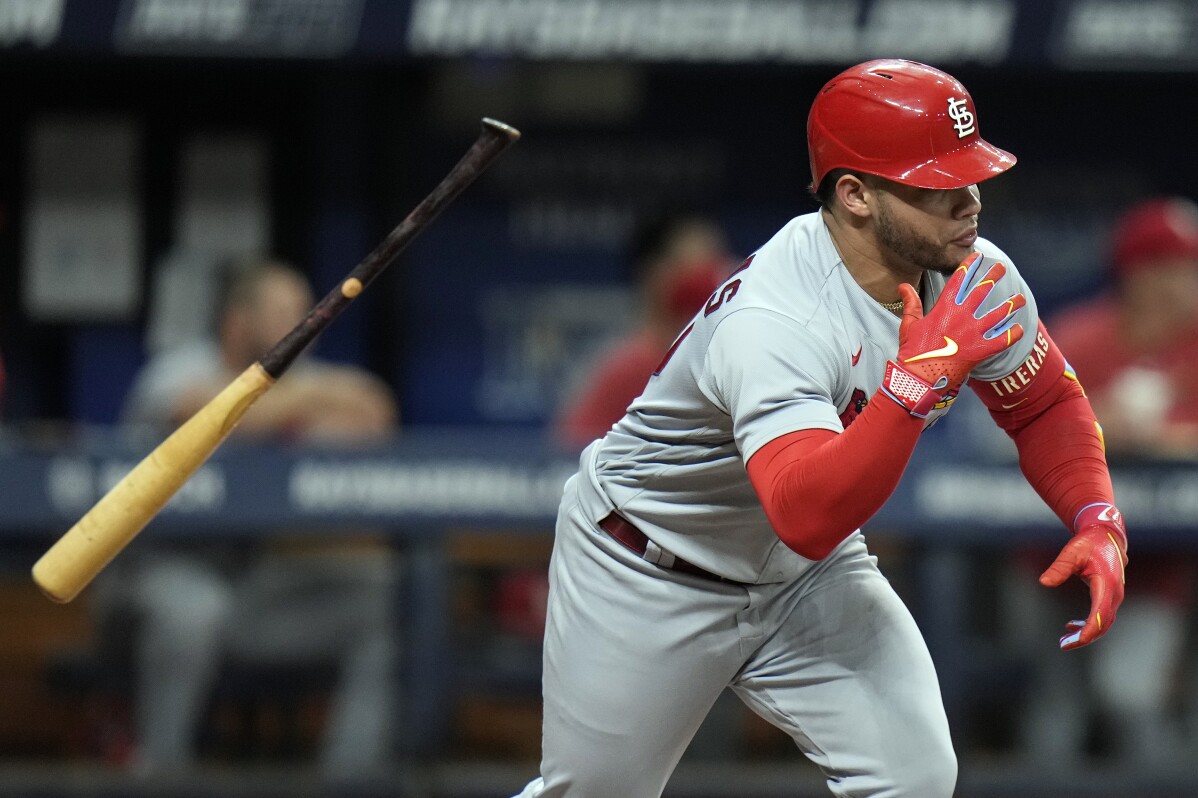 9 of 10

|
St. Louis Cardinals' Willson Contreras flips his bat after hitting a single off Tampa Bay Rays relief pitcher Kevin Kelly during the third inning of a baseball game Wednesday, Aug. 9, 2023, in St. Petersburg, Fla. (AP Photo/Chris O'Meara)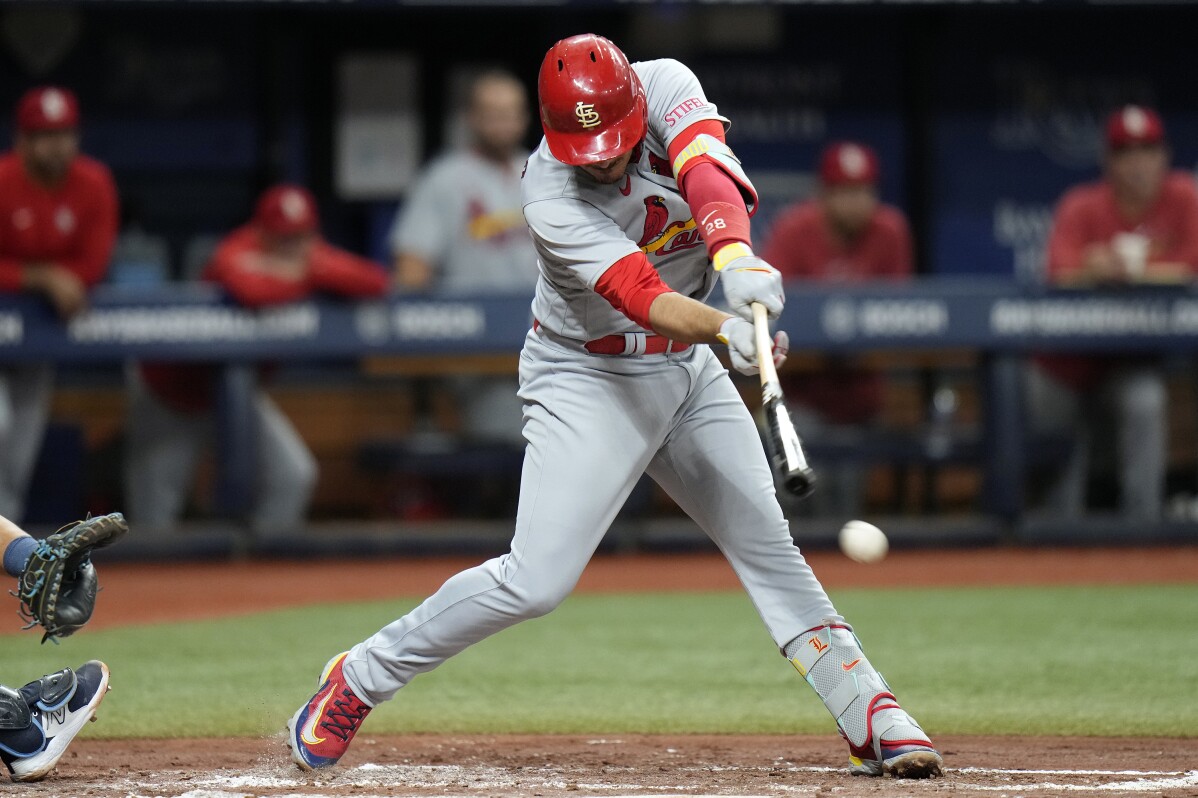 10 of 10

|
St. Louis Cardinals' Nolan Arenado lines an RBI single off Tampa Bay Rays relief pitcher Kevin Kelly during the third inning of a baseball game Wednesday, Aug. 9, 2023, in St. Petersburg, Fla. Cardinals' Lars Nootbaar scored on the hit. (AP Photo/Chris O'Meara)
Paul Goldschmidt surpasses 1,100 RBIs with 2-run single in Cardinals' 6-4 victory over Rays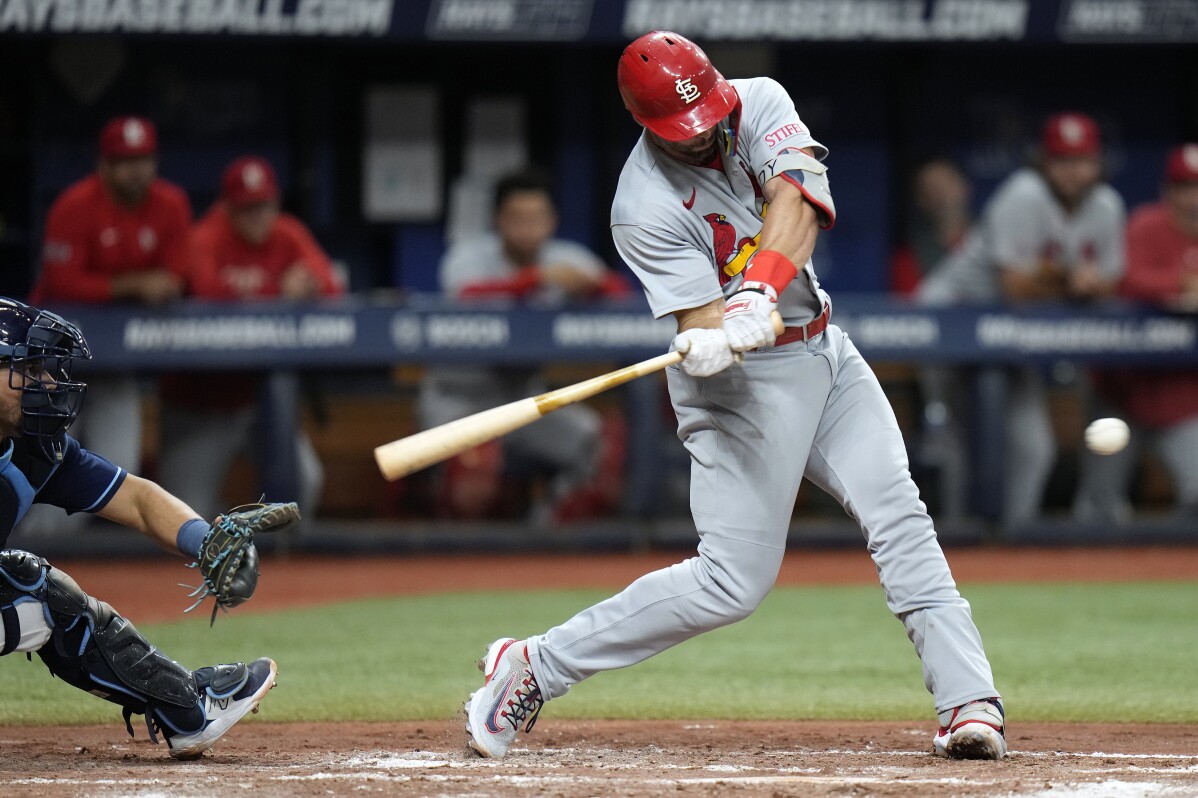 1 of 10

|
St. Louis Cardinals' Paul Goldschmidt connects for a two-run single off Tampa Bay Rays relief pitcher Kevin Kelly during the fourth inning of a baseball game Wednesday, Aug. 9, 2023, in St. Petersburg, Fla. (AP Photo/Chris O'Meara)
1 of 10
St. Louis Cardinals' Paul Goldschmidt connects for a two-run single off Tampa Bay Rays relief pitcher Kevin Kelly during the fourth inning of a baseball game Wednesday, Aug. 9, 2023, in St. Petersburg, Fla. (AP Photo/Chris O'Meara)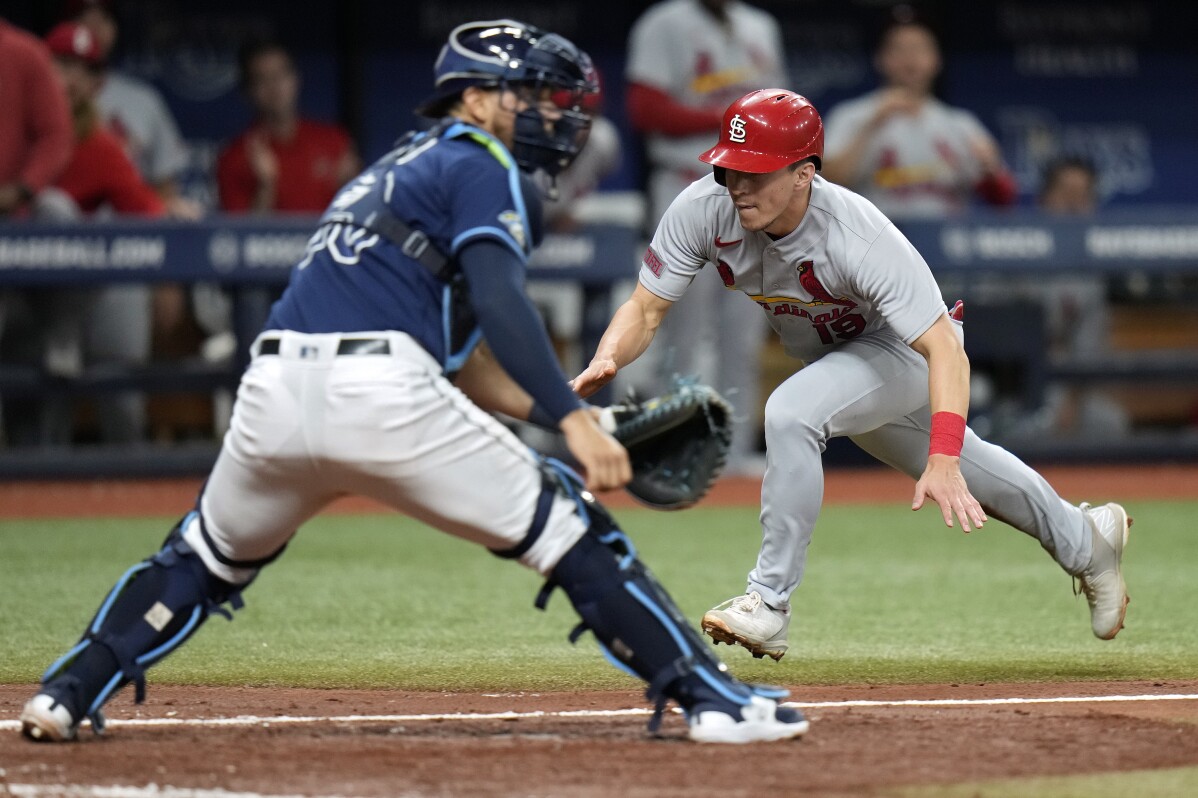 2 of 10

|
St. Louis Cardinals' Tommy Edman (19) scores around Tampa Bay Rays catcher Rene Pinto on a two-run single by Paul Goldschmidt during the fourth inning of a baseball game Wednesday, Aug. 9, 2023, in St. Petersburg, Fla. (AP Photo/Chris O'Meara)
2 of 10
St. Louis Cardinals' Tommy Edman (19) scores around Tampa Bay Rays catcher Rene Pinto on a two-run single by Paul Goldschmidt during the fourth inning of a baseball game Wednesday, Aug. 9, 2023, in St. Petersburg, Fla. (AP Photo/Chris O'Meara)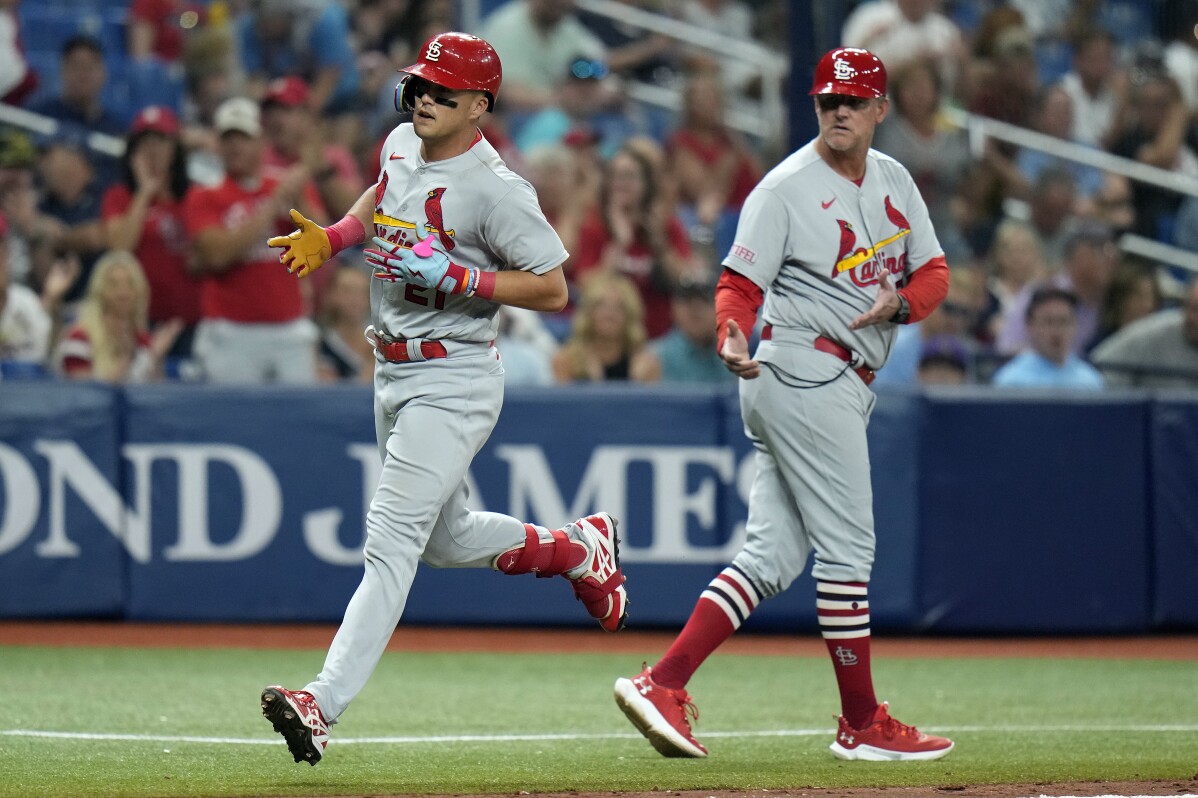 3 of 10

|
St. Louis Cardinals' Lars Nootbaar, left, celebrates with third base coach Ron "Pop" Warner after his solo home run off Tampa Bay Rays relief pitcher Robert Stephenson during the seventh inning of a baseball game Wednesday, Aug. 9, 2023, in St. Petersburg, Fla. (AP Photo/Chris O'Meara)
3 of 10
St. Louis Cardinals' Lars Nootbaar, left, celebrates with third base coach Ron "Pop" Warner after his solo home run off Tampa Bay Rays relief pitcher Robert Stephenson during the seventh inning of a baseball game Wednesday, Aug. 9, 2023, in St. Petersburg, Fla. (AP Photo/Chris O'Meara)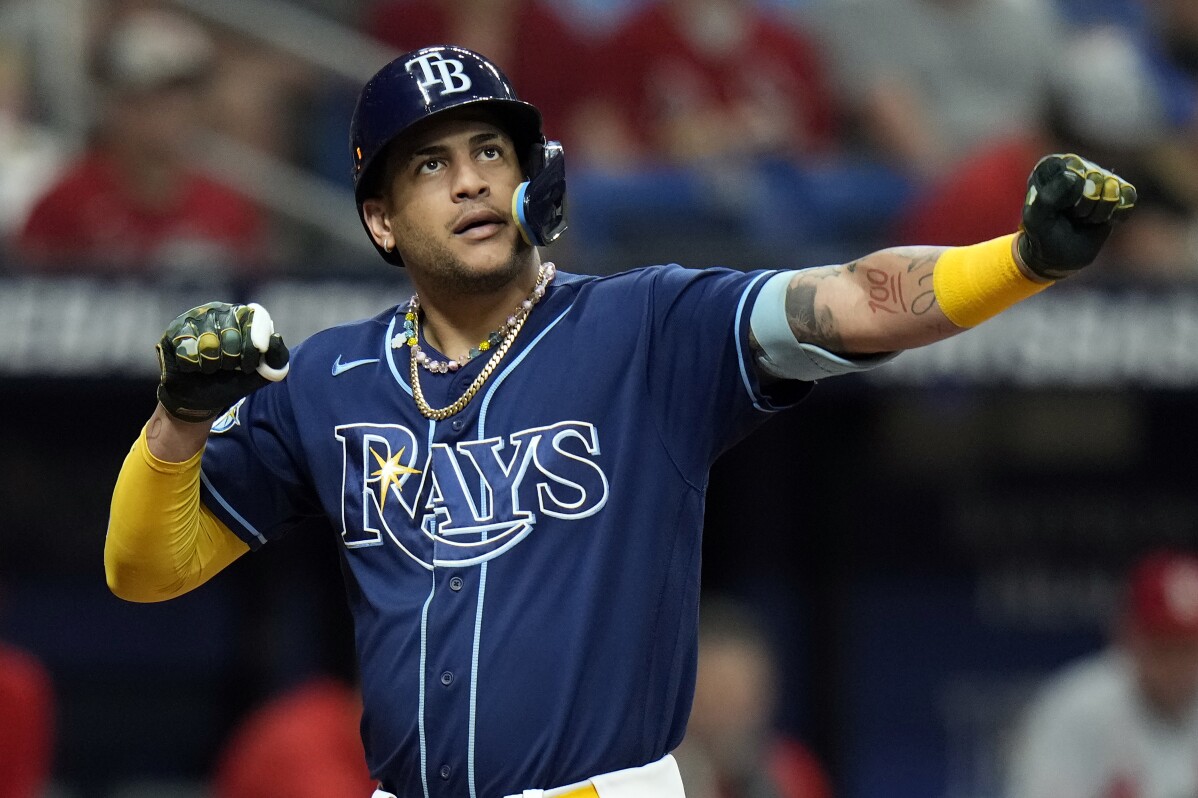 4 of 10

|
Tampa Bay Rays' Jose Siri celebrates after his home run of St. Louis Cardinals pitcher Dakota Hudson during the fourth inning of a baseball game Wednesday, Aug. 9, 2023, in St. Petersburg, Fla. (AP Photo/Chris O'Meara)
4 of 10
Tampa Bay Rays' Jose Siri celebrates after his home run of St. Louis Cardinals pitcher Dakota Hudson during the fourth inning of a baseball game Wednesday, Aug. 9, 2023, in St. Petersburg, Fla. (AP Photo/Chris O'Meara)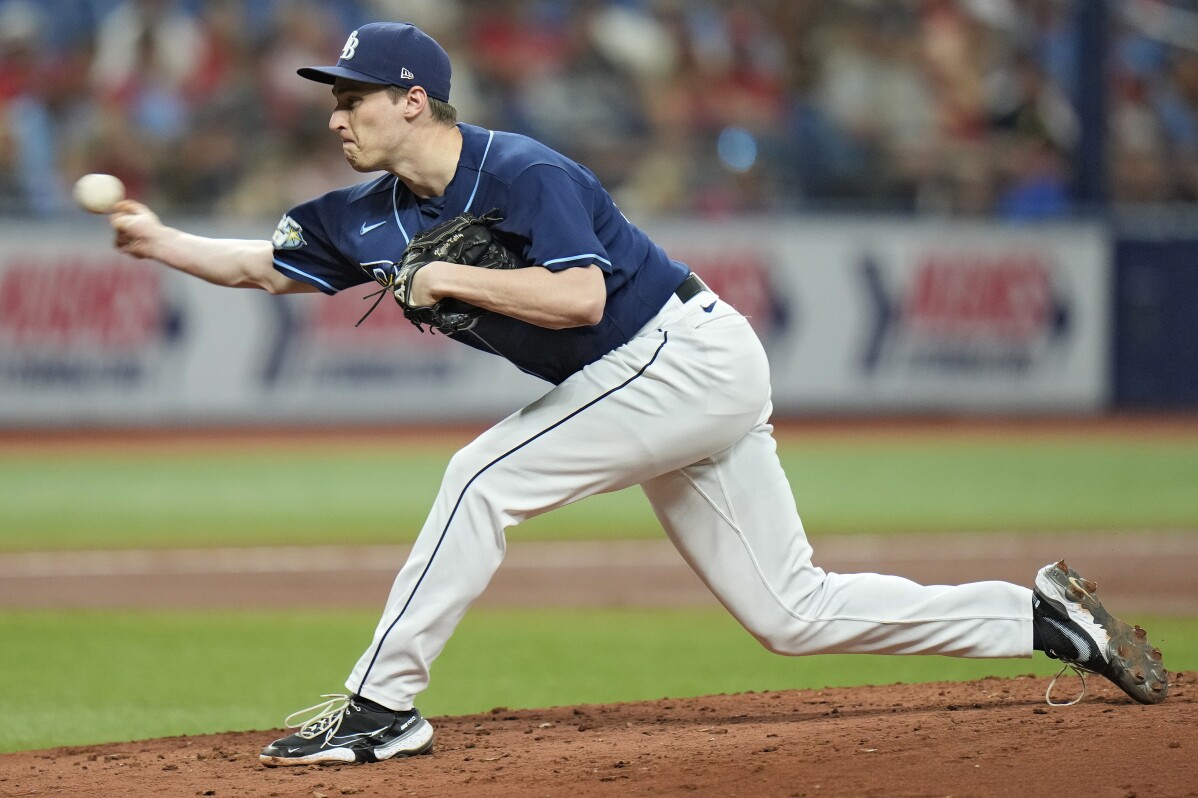 5 of 10

|
Tampa Bay Rays' Kevin Kelly pitches to the St. Louis Cardinals during the third inning of a baseball game Wednesday, Aug. 9, 2023, in St. Petersburg, Fla. (AP Photo/Chris O'Meara)
5 of 10
Tampa Bay Rays' Kevin Kelly pitches to the St. Louis Cardinals during the third inning of a baseball game Wednesday, Aug. 9, 2023, in St. Petersburg, Fla. (AP Photo/Chris O'Meara)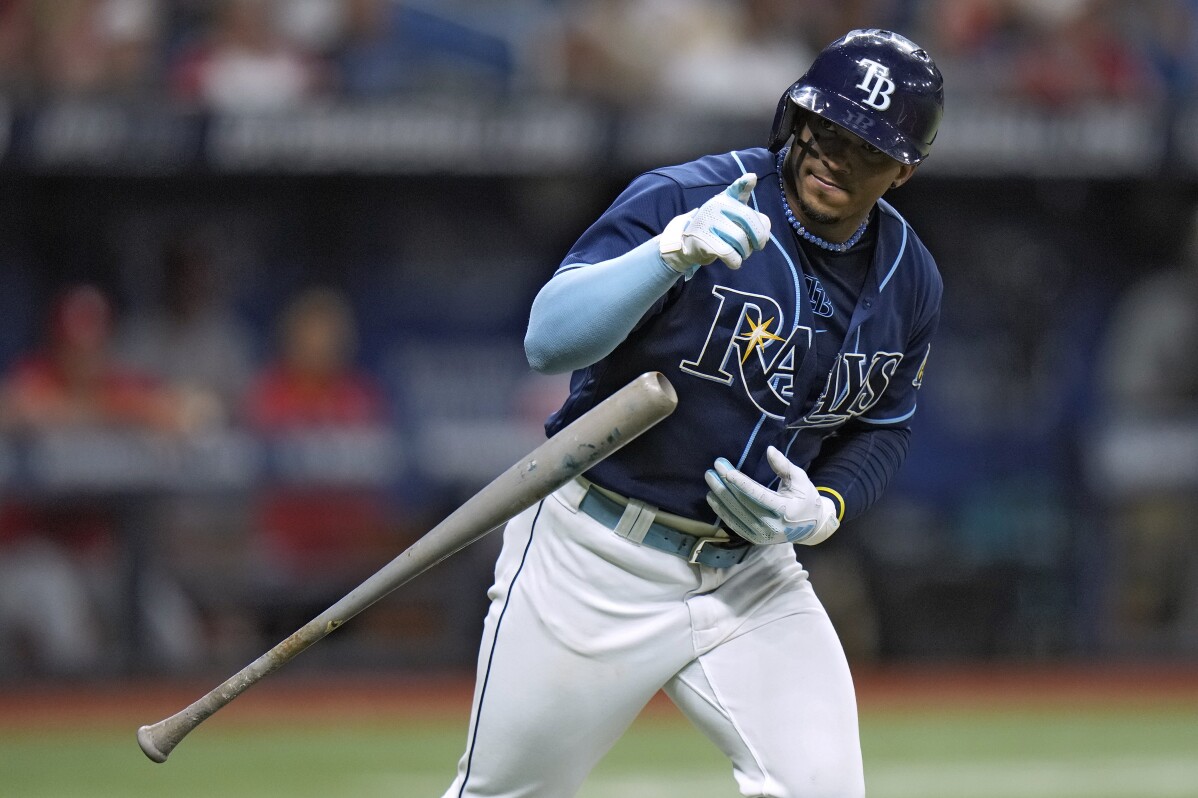 6 of 10

|
Tampa Bay Rays' Wander Franco reacts after his solo home run off St. Louis Cardinals relief pitcher Drew VerHagen during the seventh inning of a baseball game Wednesday, Aug. 9, 2023, in St. Petersburg, Fla. (AP Photo/Chris O'Meara)
6 of 10
Tampa Bay Rays' Wander Franco reacts after his solo home run off St. Louis Cardinals relief pitcher Drew VerHagen during the seventh inning of a baseball game Wednesday, Aug. 9, 2023, in St. Petersburg, Fla. (AP Photo/Chris O'Meara)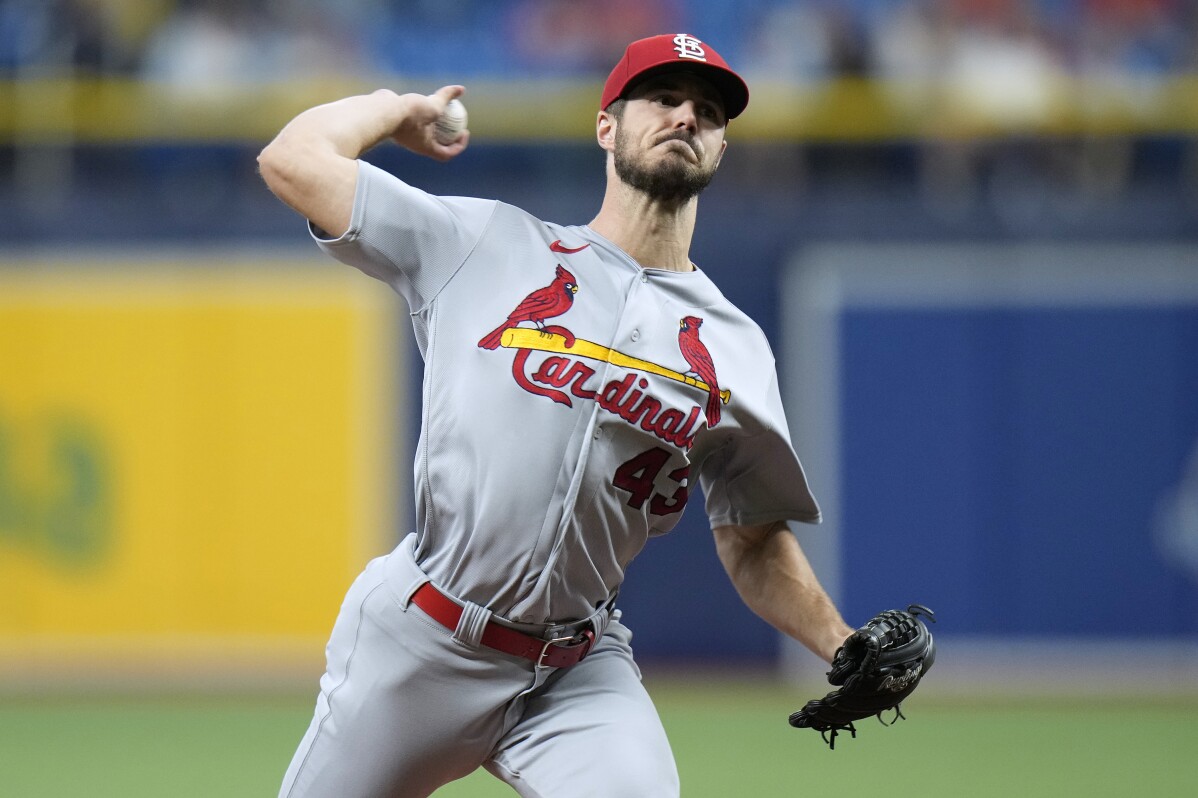 7 of 10

|
St. Louis Cardinals pitcher Dakota Hudson delivers to the Tampa Bay Rays during the first inning of a baseball game Wednesday, Aug. 9, 2023, in St. Petersburg, Fla. (AP Photo/Chris O'Meara)
7 of 10
St. Louis Cardinals pitcher Dakota Hudson delivers to the Tampa Bay Rays during the first inning of a baseball game Wednesday, Aug. 9, 2023, in St. Petersburg, Fla. (AP Photo/Chris O'Meara)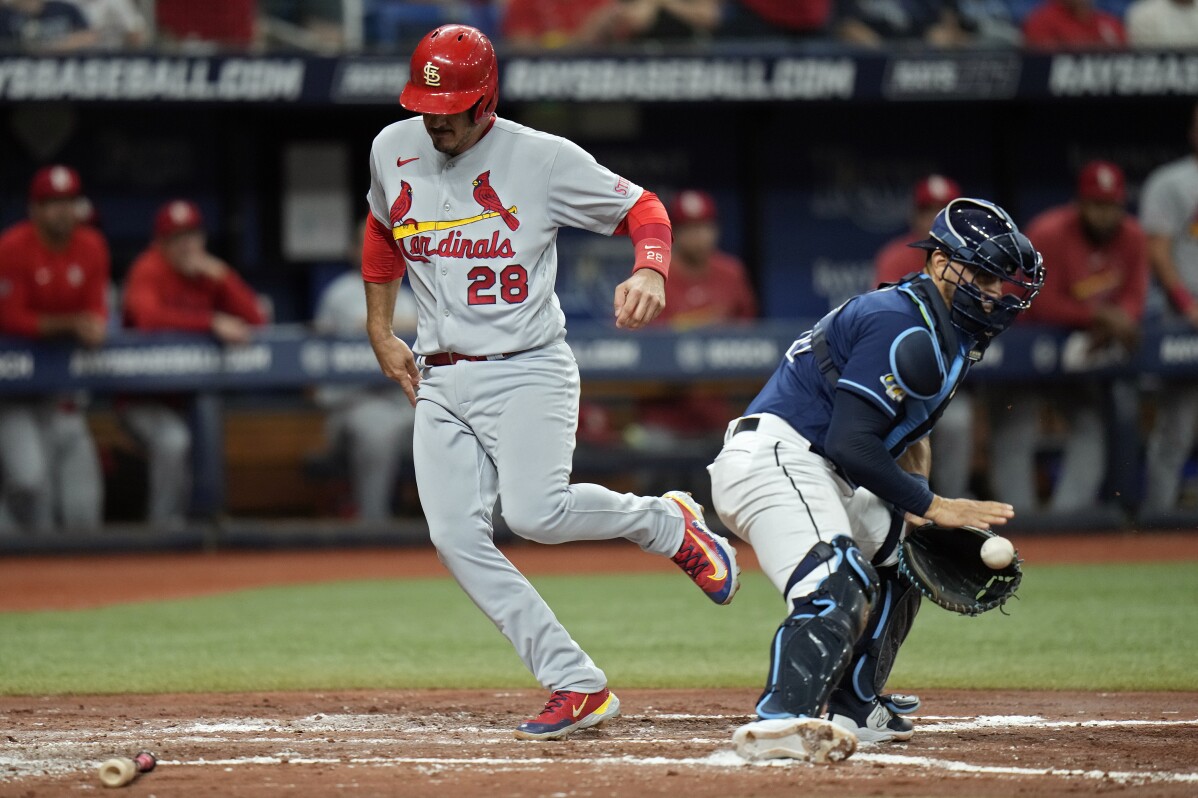 8 of 10

|
St. Louis Cardinals' Nolan Arenado (28) scores around Tampa Bay Rays catcher Rene Pinto on an RBI single by Jordan Walker during the third inning of a baseball game Wednesday, Aug. 9, 2023, in St. Petersburg, Fla. (AP Photo/Chris O'Meara)
8 of 10
St. Louis Cardinals' Nolan Arenado (28) scores around Tampa Bay Rays catcher Rene Pinto on an RBI single by Jordan Walker during the third inning of a baseball game Wednesday, Aug. 9, 2023, in St. Petersburg, Fla. (AP Photo/Chris O'Meara)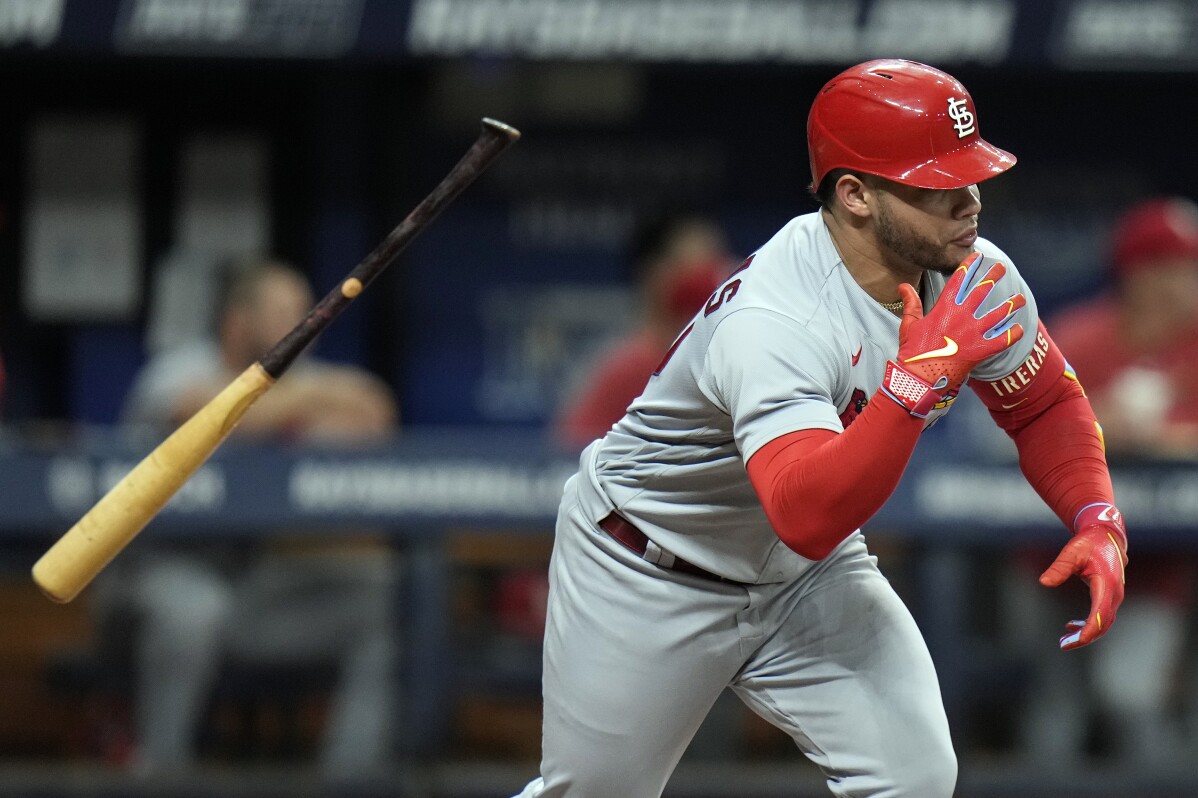 9 of 10

|
St. Louis Cardinals' Willson Contreras flips his bat after hitting a single off Tampa Bay Rays relief pitcher Kevin Kelly during the third inning of a baseball game Wednesday, Aug. 9, 2023, in St. Petersburg, Fla. (AP Photo/Chris O'Meara)
9 of 10
St. Louis Cardinals' Willson Contreras flips his bat after hitting a single off Tampa Bay Rays relief pitcher Kevin Kelly during the third inning of a baseball game Wednesday, Aug. 9, 2023, in St. Petersburg, Fla. (AP Photo/Chris O'Meara)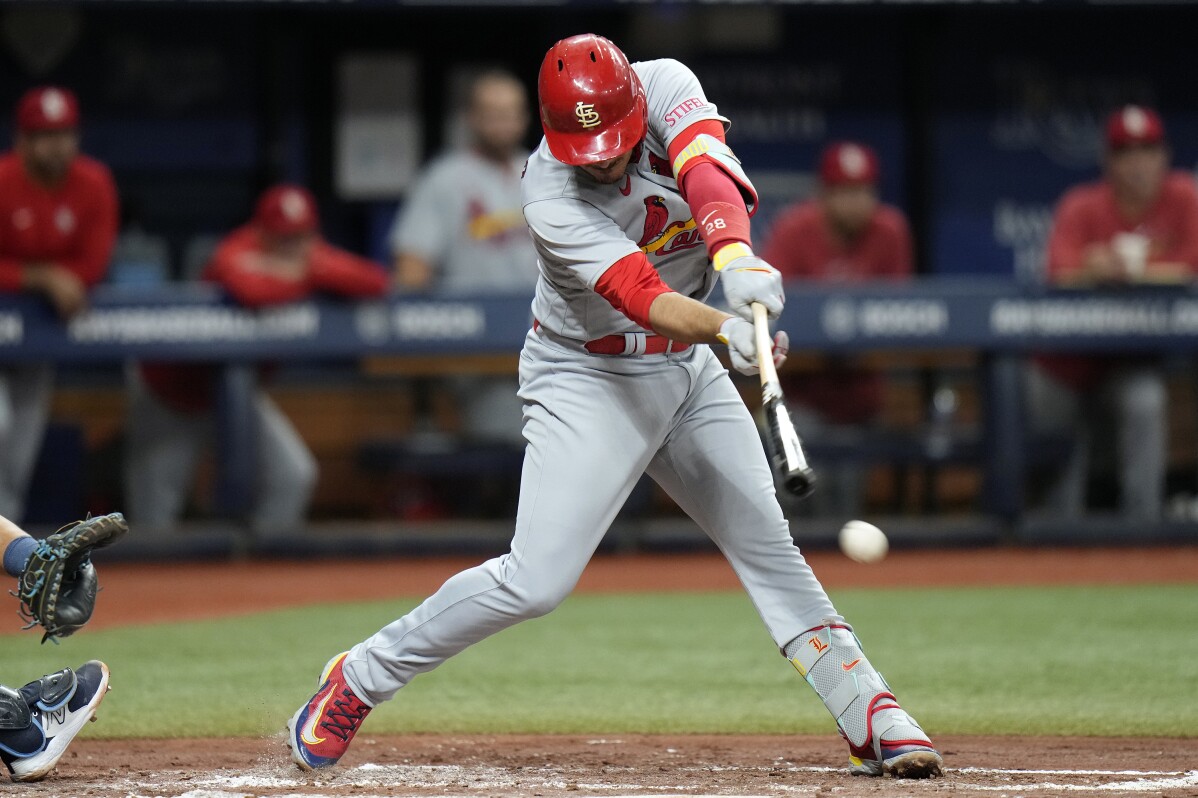 10 of 10

|
St. Louis Cardinals' Nolan Arenado lines an RBI single off Tampa Bay Rays relief pitcher Kevin Kelly during the third inning of a baseball game Wednesday, Aug. 9, 2023, in St. Petersburg, Fla. Cardinals' Lars Nootbaar scored on the hit. (AP Photo/Chris O'Meara)
10 of 10
St. Louis Cardinals' Nolan Arenado lines an RBI single off Tampa Bay Rays relief pitcher Kevin Kelly during the third inning of a baseball game Wednesday, Aug. 9, 2023, in St. Petersburg, Fla. Cardinals' Lars Nootbaar scored on the hit. (AP Photo/Chris O'Meara)
ST. PETERSBURG, Fla. (AP) — Paul Goldschmidt surpassed 1,100 RBIs with a two-run single and the St. Louis Cardinals beat the Tampa Bay Rays 6-4 on Wednesday night.
Goldschmidt put the Cardinals ahead 5-2 on his two-run hit off Kevin Kelly (4-2) during the fourth. The St. Louis slugger has 1,101 RBIs.
"We had some timely hits," St. Louis manager Oliver Marmol said. "Got some guys on, Goldie with the big swing there, drove in two."
Dakota Hudson (3-0) gave up three runs and seven hits over five innings in his third start and ninth appearance since being called up from Triple-A Memphis last month.
"Going out there I kind of had to execute the 'C' game a little bit, a lot more change ups," Hudson said. "Slider wasn't really where I wanted it to be, Lots of fastballs. Kept the ball on the ground for the most part."
Hudson, the 34th overall pick in the 2016 draft, is in the mix to be in the Cardinals' rotation next season.
"I thought Dak did a nice job," Marmol said. "Overall, I felt like he gave a chance (to win)."
Giovanny Gallegos, the fourth Cardinals reliever, worked a perfect ninth for his ninth save in 14 chances.
St. Louis, which won for the fourth time in 11 games, needs to go 31-17 to finish the season at .500.
Jose Siri homered twice for the AL wild card-leading Rays. They are 6-3 over their last nine games, but have dropped 14 of 22 at home.
"I felt like the entire time right there to the end we had a chance to win the game," Tampa Bay manager Kevin Cash said.
Twenty-one of Siri's 23 homers have come in his last 67 games since May 1, which is tied for third most in the AL over the stretch.
Nolan Arenado and Jordan Walker had RBI singles in the third that gave the Cardinals a 3-2 lead. Arenado tied Houston's Alex Bregman for the most interleague RBIs this season with 32.
Lars Nootbaar made it 6-3 with a seventh-inning leadoff homer. Tampa Bay got the run back in the bottom of the inning on Wander Franco's home run.
The Rays took a 2-1 lead on Siri's second-inning two-run drive that went an estimated 429-feet to center. Two pitches after moving out of the way of an in-tight pitch from Hudson in his next at-bat, Sirl cut the Tampa Bay deficit to 5-3 with a solo homer in the fourth.
Jo Jo Romero completed 1 1/3 scoreless innings by striking out Siri to end the eighth with a runner on first.
Kelly, the Rays' second pitcher in a bullpen game, allowed three runs and five hits in two innings.
TRAINER'S ROOM
Cardinals: C Willson Contreras took a bounced pitch from Hudson during Siri's at-bat in the fourth off the neck but stayed in the game, ... OF Tyler O'Neill (left knee tightness) was out of the lineup for the second straight game but might start Thursday night. … RHP Ryan Helsley (right forearm strain) and RHP Jake Woodford (right shoulder strain) were scheduled to pitch for Double-A Springfield against San Antonio, but the game was rained out.
Rays: RHP Tyler Glasnow (back spasms) played catch for three minutes and hasn't been ruled out of starting Saturday against Cleveland. A final decision may not come until Saturday.
UP NEXT
Cardinals LHP Matthew Liberatore (1-4) and Rays RHP Zack Littell (2-2) are set to start Thursday night. Liberatore was part of a January 2020 trade between Tampa Bay and St. Louis that sent 2023 All-Star OF Randy Arozarena to the Rays. ___
AP MLB: https://apnews.com/hub/MLB