Cleveland Browns signing free agent defensive tackle Shelby Harris to 1-year deal, source tells AP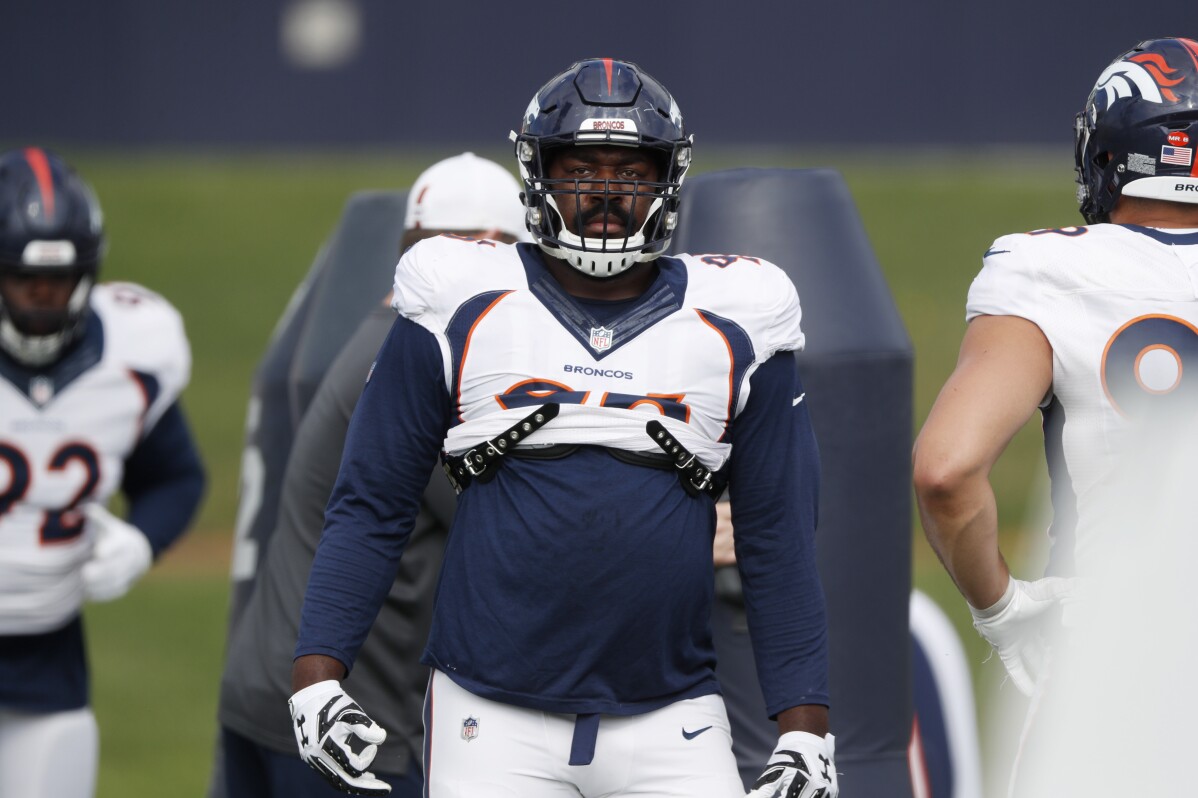 1 of 3

|
FILE - Denver Broncos defensive tackle Shelby Harris completes a drill during a combined NFL football training camp against the San Francisco 49ers at the Broncos' headquarters on Aug. 16, 2019, in Englewood, Colo. The Cleveland Browns are signing veteran free agent defensive tackle Harris, a person familiar with the negotiations told The Associated Press on Wednesday, Aug. 8, 2023. (AP Photo/David Zalubowski, File)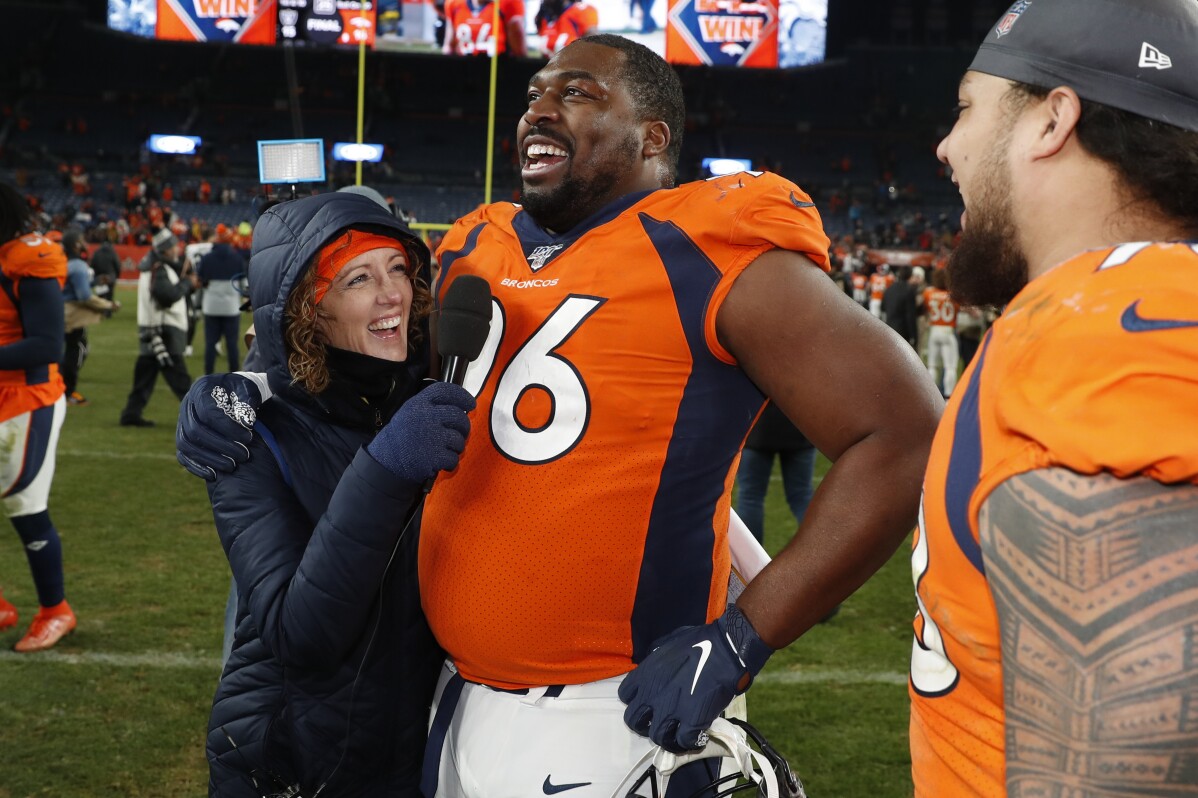 2 of 3

|
FILE - Denver Broncos defensive tackle Shelby Harris talks after an NFL football game against the Oakland Raiders, Dec. 29, 2019, in Denver. The Cleveland Browns are signing veteran free agent defensive tackle Harris, a person familiar with the negotiations told The Associated Press on Wednesday, Aug. 8, 2023. (AP Photo/David Zalubowski, File)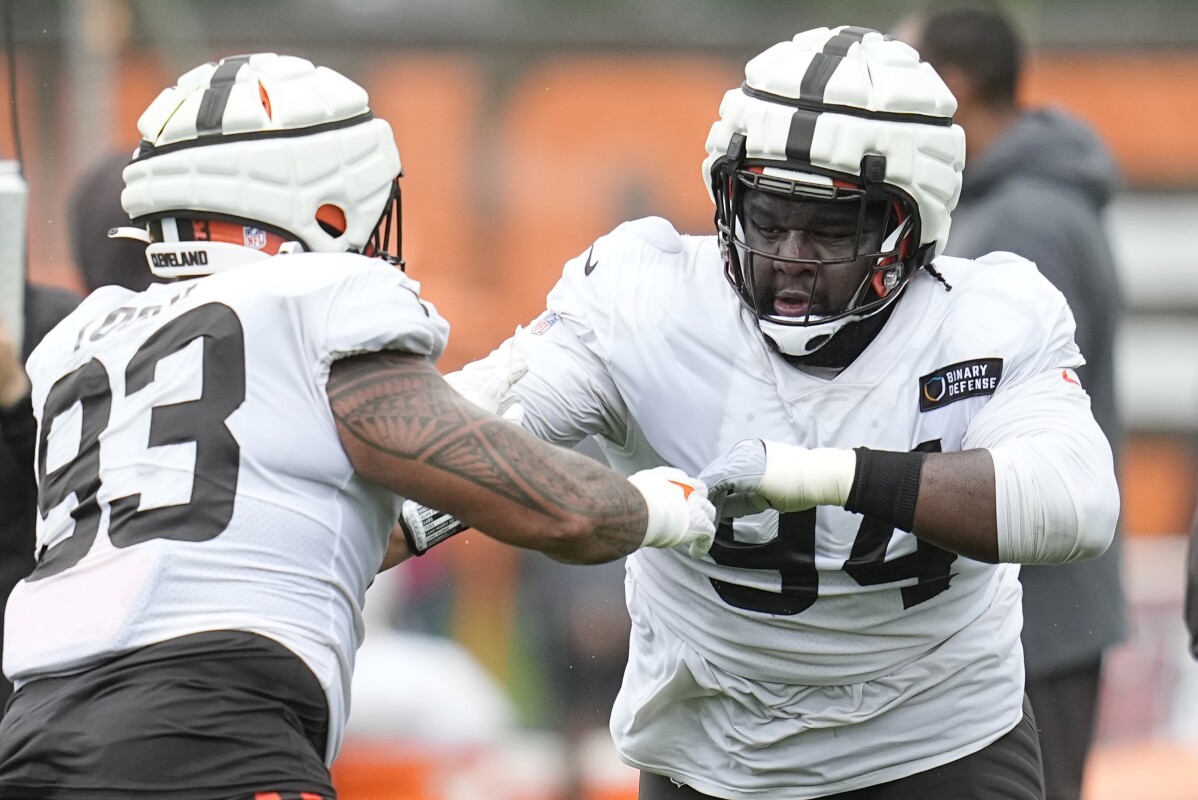 3 of 3

|
Cleveland Browns' Tommy Togiai (93) and Dalvin Tomlinson (94) participate in a drill during an NFL football camp, Monday, Aug. 7, 2023, in Berea, Ohio. (AP Photo/Sue Ogrocki)
Cleveland Browns signing free agent defensive tackle Shelby Harris to 1-year deal, source tells AP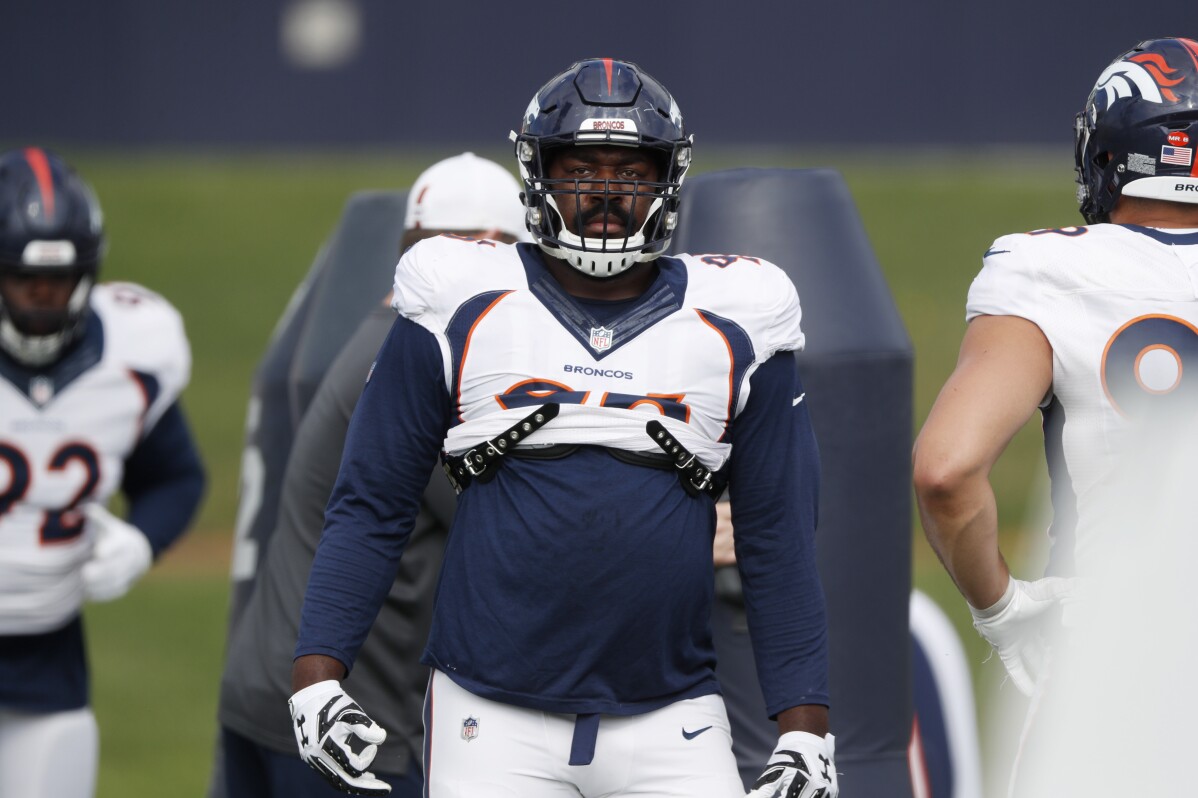 1 of 3

|
FILE - Denver Broncos defensive tackle Shelby Harris completes a drill during a combined NFL football training camp against the San Francisco 49ers at the Broncos' headquarters on Aug. 16, 2019, in Englewood, Colo. The Cleveland Browns are signing veteran free agent defensive tackle Harris, a person familiar with the negotiations told The Associated Press on Wednesday, Aug. 8, 2023. (AP Photo/David Zalubowski, File)
1 of 3
FILE - Denver Broncos defensive tackle Shelby Harris completes a drill during a combined NFL football training camp against the San Francisco 49ers at the Broncos' headquarters on Aug. 16, 2019, in Englewood, Colo. The Cleveland Browns are signing veteran free agent defensive tackle Harris, a person familiar with the negotiations told The Associated Press on Wednesday, Aug. 8, 2023. (AP Photo/David Zalubowski, File)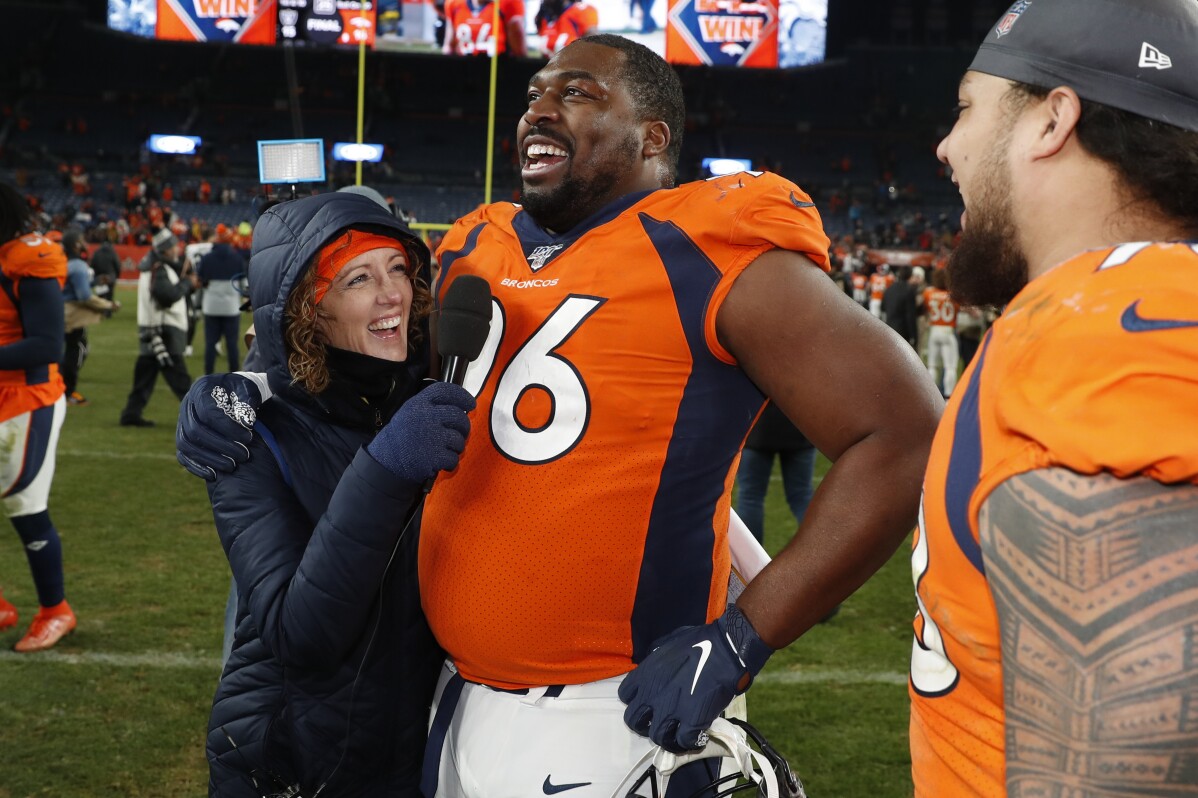 2 of 3

|
FILE - Denver Broncos defensive tackle Shelby Harris talks after an NFL football game against the Oakland Raiders, Dec. 29, 2019, in Denver. The Cleveland Browns are signing veteran free agent defensive tackle Harris, a person familiar with the negotiations told The Associated Press on Wednesday, Aug. 8, 2023. (AP Photo/David Zalubowski, File)
2 of 3
FILE - Denver Broncos defensive tackle Shelby Harris talks after an NFL football game against the Oakland Raiders, Dec. 29, 2019, in Denver. The Cleveland Browns are signing veteran free agent defensive tackle Harris, a person familiar with the negotiations told The Associated Press on Wednesday, Aug. 8, 2023. (AP Photo/David Zalubowski, File)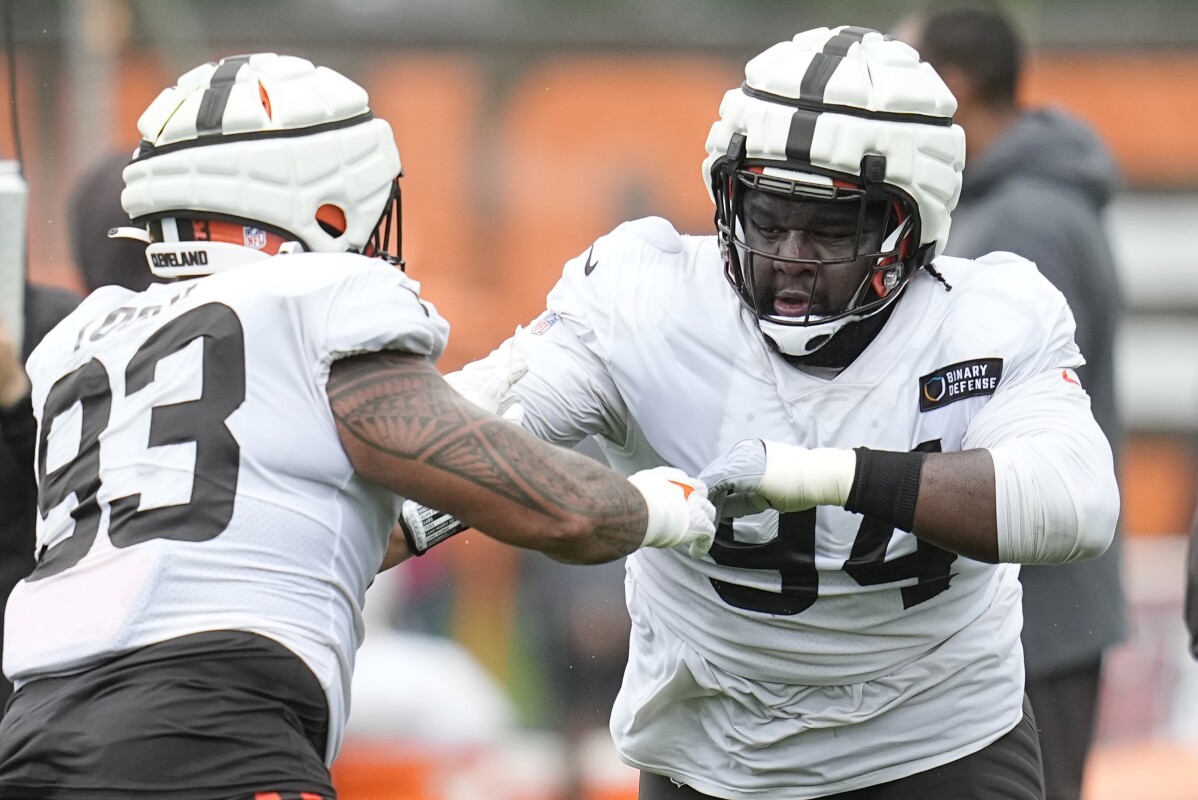 3 of 3

|
Cleveland Browns' Tommy Togiai (93) and Dalvin Tomlinson (94) participate in a drill during an NFL football camp, Monday, Aug. 7, 2023, in Berea, Ohio. (AP Photo/Sue Ogrocki)
3 of 3
Cleveland Browns' Tommy Togiai (93) and Dalvin Tomlinson (94) participate in a drill during an NFL football camp, Monday, Aug. 7, 2023, in Berea, Ohio. (AP Photo/Sue Ogrocki)
CLEVELAND (AP) — The Cleveland Browns are signing veteran free agent defensive tackle Shelby Harris, a person familiar with the negotiations told The Associated Press on Wednesday night.
Harris, who was released by Seattle in March, agreed to terms on a one-year, $5.25 million deal, said the person who spoke on condition of anonymity because the 31-year-old Harris still had to take a physical.
Harris's signing is expected to be official Thursday, when the Browns are off. Cleveland hosts Washington in an exhibition on Friday.
Harris is more of a run stuffer, but he can get after the quarterback and has 24 1/5 career sacks in eight NFL seasons.
The 6-foot-2, 290-pound Harris started 15 games last season with the Seahawks, recording two sacks and 44 tackles.
In Cleveland, he's the latest addition to a rebuilt defensive front. The Browns signed free agent tackle Dalvin Tomlinson, acquired end Za'Darius Smith in a trade and signed end Ogbo Okoronkwo as a free agent for new coordinator Jim Schwartz.
Poor play by the Browns defense was a major factor in Cleveland going 7-10 last season.
The team's depth on the defensive line took a blow this earlier week with second-year ends Alex Wright and Isaiah Thomas both undergoing knee surgeries. They are expected to be sidelined into the regular season.
Harris was drafted by the Oakland Raiders in the seventh round in 2014. He played in 75 games for Denver from 2017-21 before he was traded to the Seahawks as part of the Russell Wilson deal.
___
AP NFL: https://apnews.com/hub/nfl