Colombia wakes up to momentous victory at Women's World Cup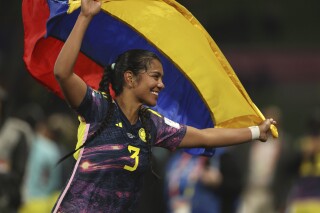 BOGOTA, Colombia (AP) — It was before sunrise in Colombia when the celebrations began.
Catalina Usme's goal at the Women's World Cup in Melbourne — 14,000 kilometers (8,700 miles) away — helped Colombia beat Jamaica 1-0 on Tuesday and advance to the quarterfinals for the first time.
"The dawn was worth it, we did not fail them," said Linda Caicedo, Colombia's 18-year-old sensation. "We made history today, but this is step by step."
Colombia moves to Sydney for a knockout match Saturday against European champion England, which advanced on penalties after a scoreless draw with Nigeria on Monday.
The 33-year-old Usme scored the only goal of the match in style. She controlled a center pass by Ana María Guzmán and took a powerful shot with her left foot to put Colombia a step away from the semifinals.
"I have a lot of confidence in the penalty box, I am cold-blooded there," Usme said. "This goal is for God, who makes me brave, and for my family who cried and dreamed with me."
Usme spoke to her parents in the city of Jamundi thanks to local television RCN.
"I am the most proud mommy. I am always supporting her and sending her good energies," Luz María Pineda said in a house that was turned into a sort of soccer museum with her daughter's awards and pictures.
Colombia's victory resonated with many celebrities in the South American country, including Radamel Falcao, the top goal scorer for the men's national team.
"They are writing their own history. Congratulations, Colombia is with you," Falcao said on his social media channels.
Singer Maluma also celebrated in Colombia's soccer federation social media accounts: "Vaaaamooooosss," he said.
Colombia's sports ministry hailed "the feelings, the character and the bravery" of the Colombian team in "making the country's name shine with women's sport and a story that is writing itself."
Las Cafeteras, making their third World Cup appearance, had also reached the round of 16 in 2015 but were stopped in a 2-0 loss to the United States.
Now, they're only team from the Americas still in contention.
___
More AP Women's World Cup coverage: https://apnews.com/hub/fifa-womens-world-cup