Alonso and McNeil provide power, Bickford saves the Mets as they hand the Cubs a costly 4-3 loss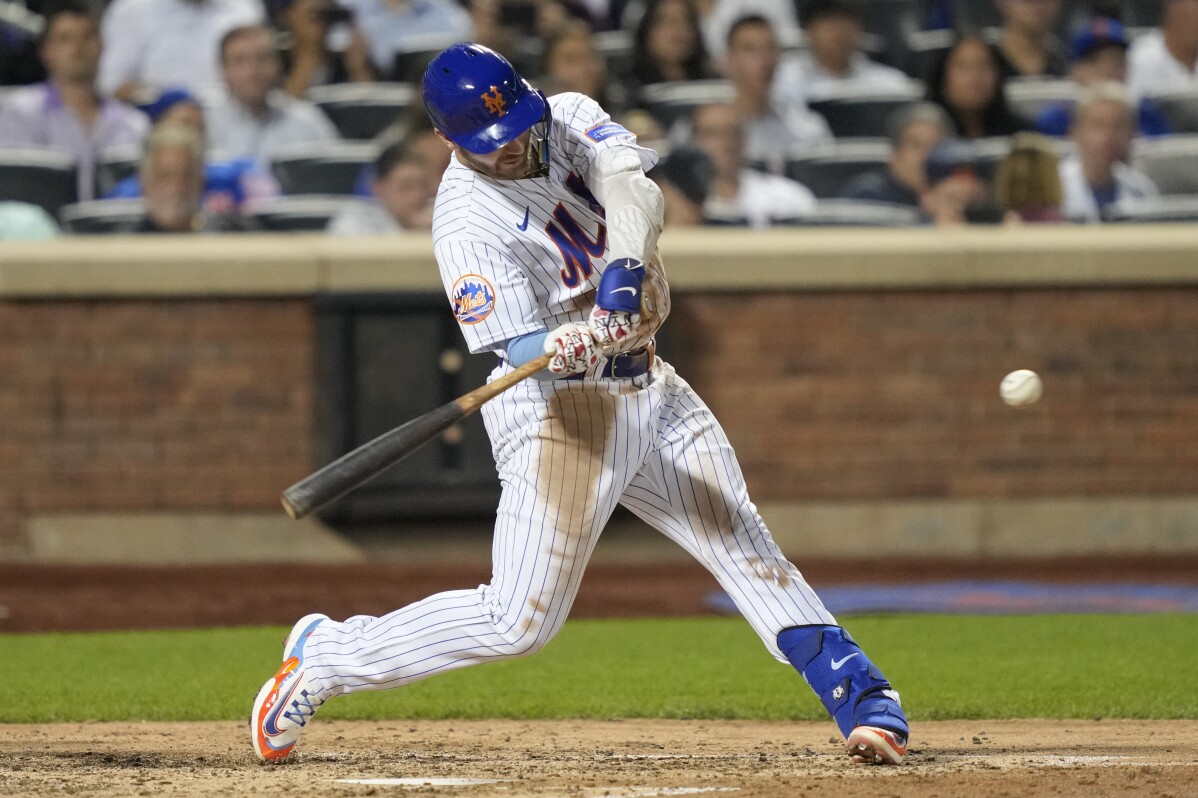 1 of 10

|
New York Mets' Pete Alonso hits a two-run home run off Chicago Cubs starting pitcher Kyle Hendricks in the fourth inning of a baseball game, Wednesday, Aug. 9, 2023, in New York. (AP Photo/John Minchillo)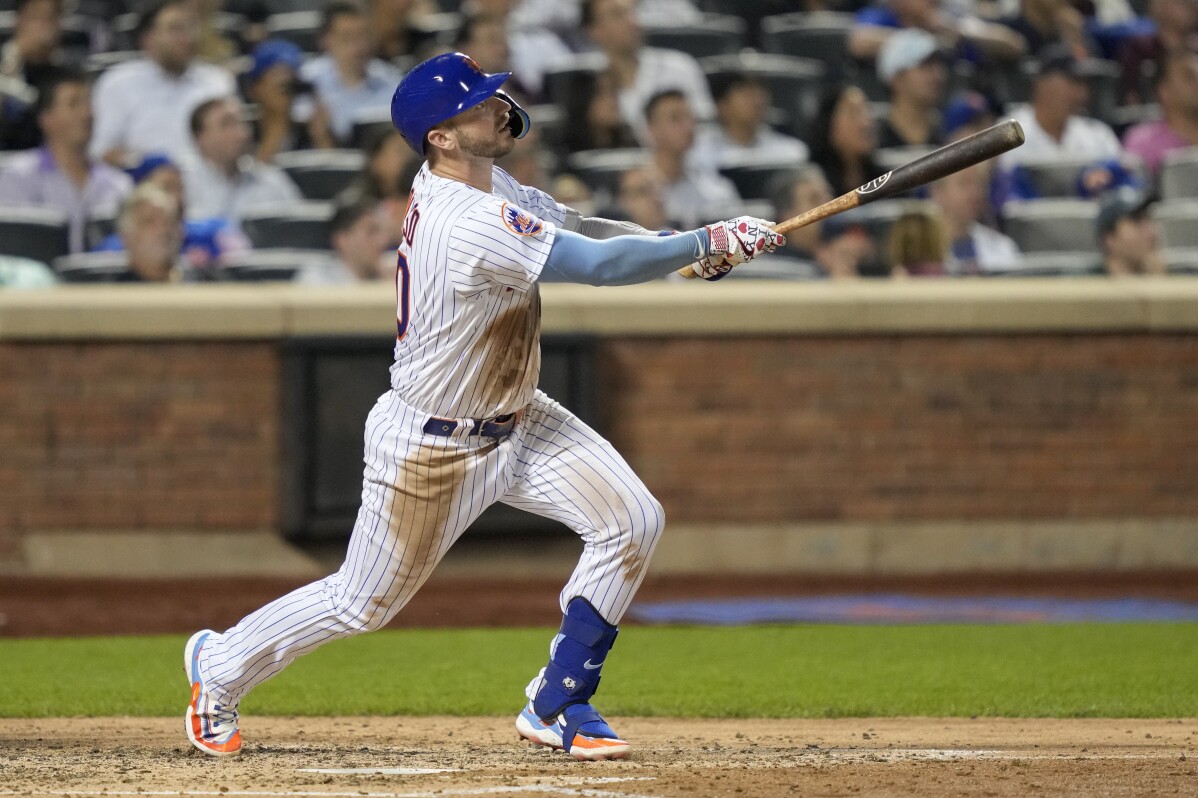 2 of 10

|
New York Mets' Pete Alonso hits a two-run home run off Chicago Cubs starting pitcher Kyle Hendricks in the fourth inning of a baseball game, Wednesday, Aug. 9, 2023, in New York. (AP Photo/John Minchillo)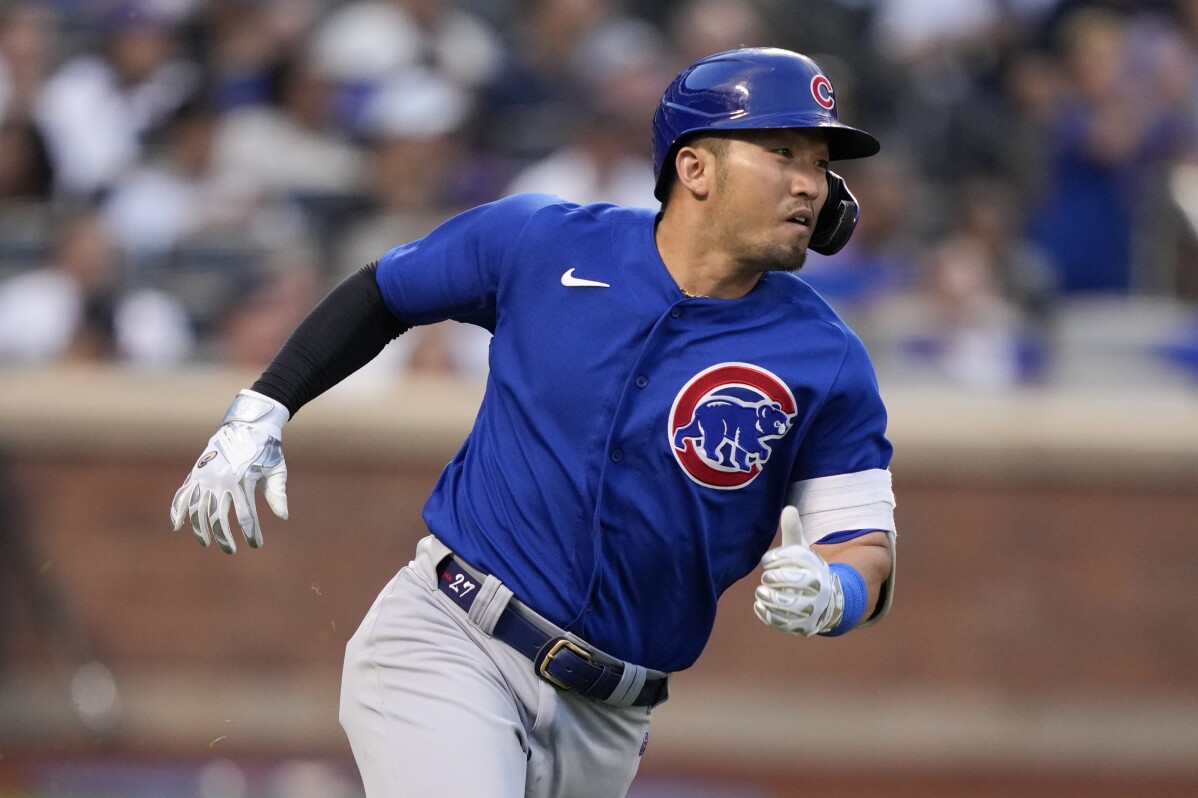 3 of 10

|
Chicago Cubs' Seiya Suzuki rounds first after hitting a triple off New York Mets starting pitcher David Peterson (23) in the second inning of a baseball game, Wednesday, Aug. 9, 2023, in New York. (AP Photo/John Minchillo)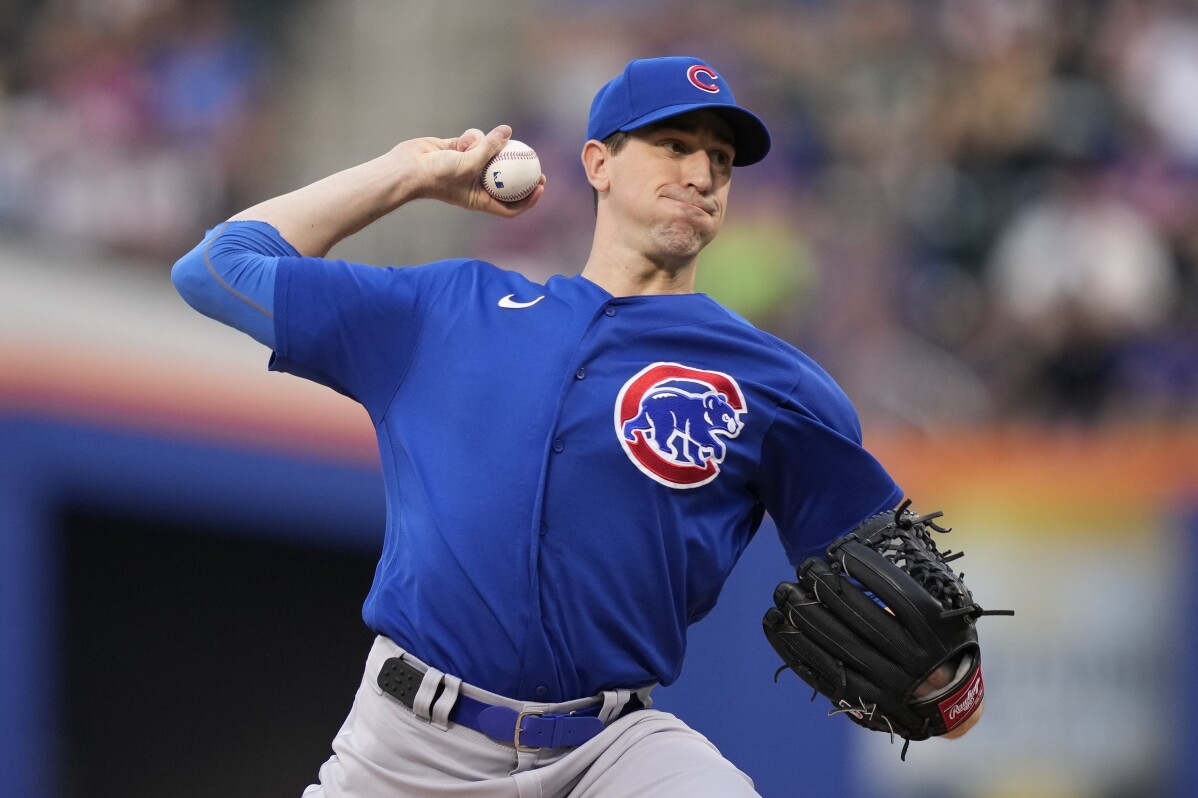 4 of 10

|
Chicago Cubs starting pitcher Kyle Hendricks (28) throws in the first inning of a baseball game against the New York Mets, Wednesday, Aug. 9, 2023, in New York. (AP Photo/John Minchillo)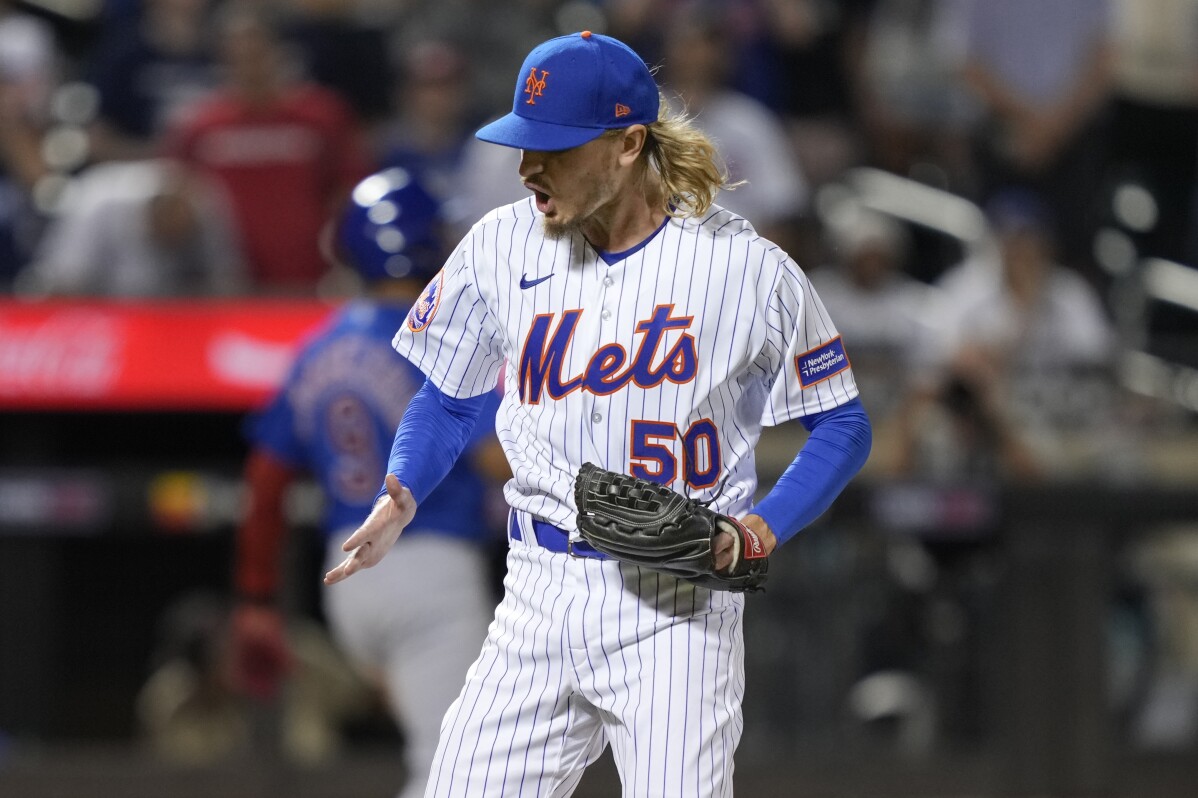 5 of 10

|
New York Mets relief pitcher Phil Bickford (50) celebrates after closing the ninth inning of a baseball game against the Chicago Cubs, Wednesday, Aug. 9, 2023, in New York. (AP Photo/John Minchillo)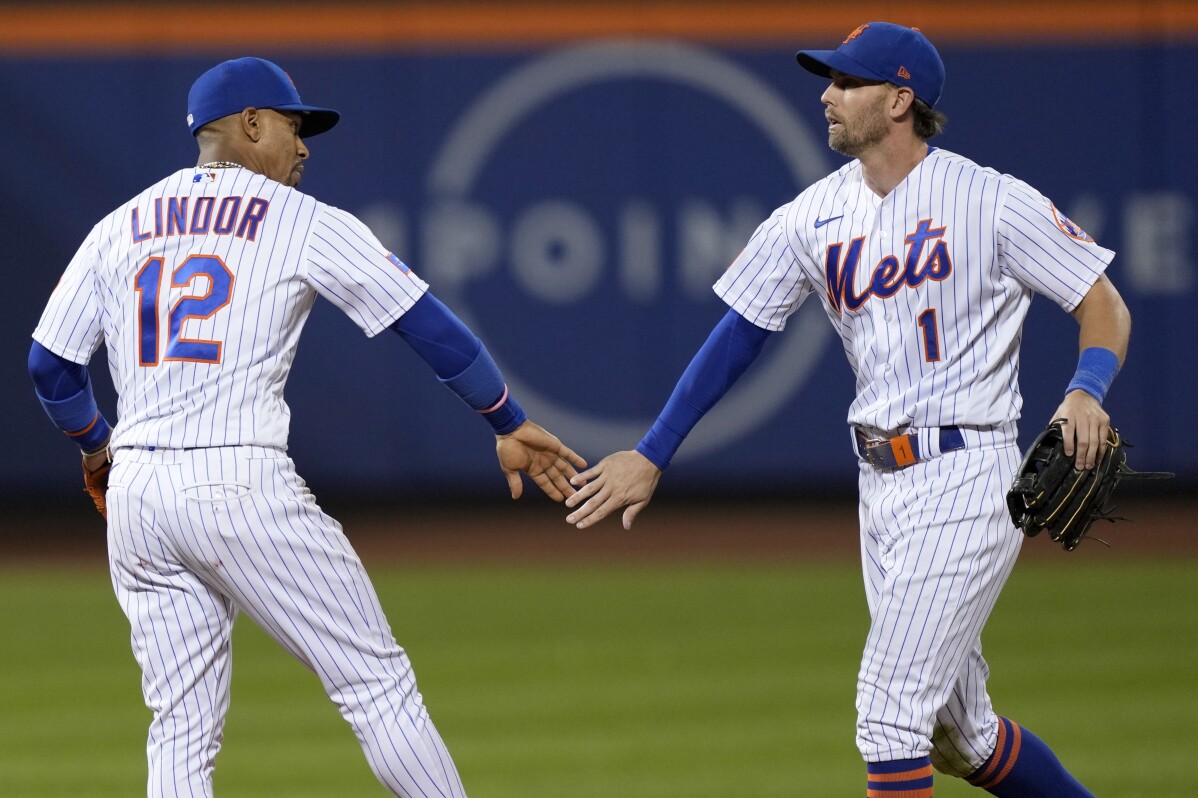 6 of 10

|
New York Mets right fielder Jeff McNeil (1) and shortstop Francisco Lindor (12) celebrate after closing the ninth inning of a baseball game against the Chicago Cubs, Wednesday, Aug. 9, 2023, in New York. (AP Photo/John Minchillo)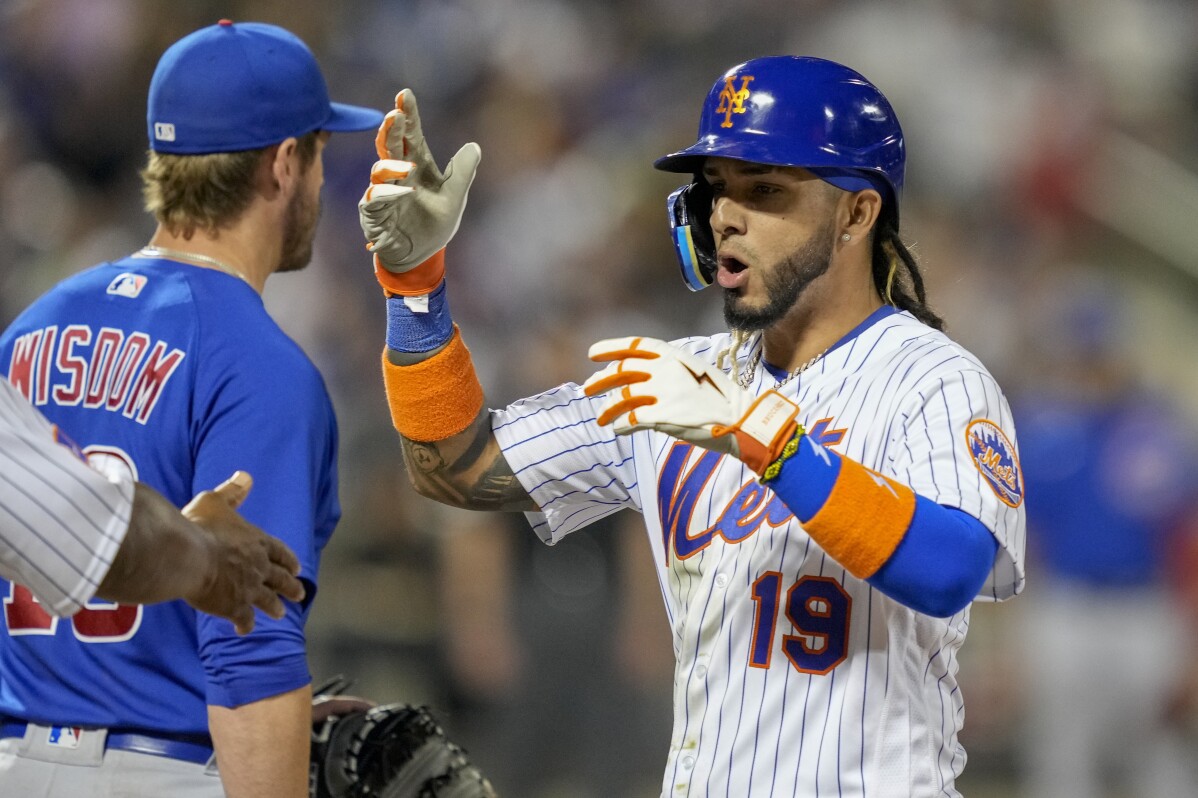 7 of 10

|
New York Mets' Jonathan Arauz (19) celebrates after first base after hitting an RBI single off Chicago Cubs pitcher Hayden Wesneski in the sixth inning of a baseball game, Wednesday, Aug. 9, 2023, in New York. (AP Photo/John Minchillo)
8 of 10

|
New York Mets relief pitcher Adam Ottavino (0) is relieved by manager Buck Showalter (11) in the ninth inning of a baseball game against the Chicago Cubs, Wednesday, Aug. 9, 2023, in New York. (AP Photo/John Minchillo)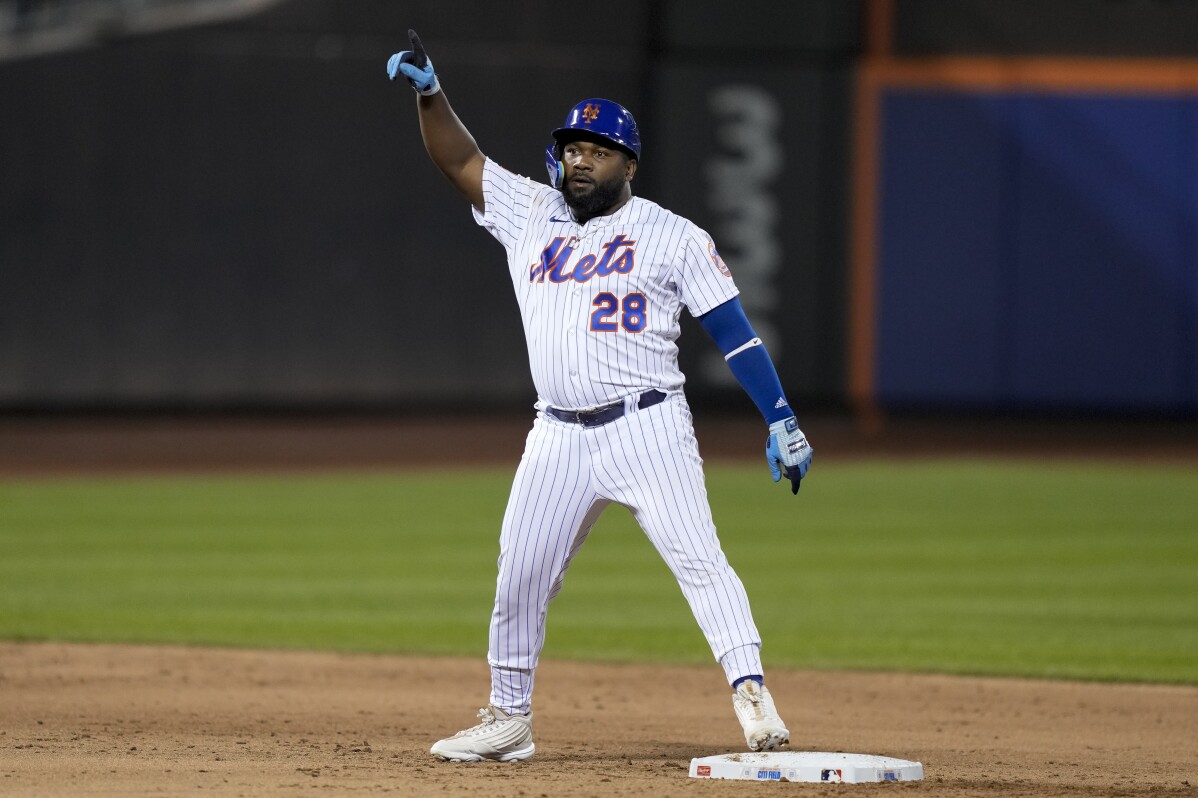 9 of 10

|
New York Mets designated hitter Abraham Almonte celebrates after second base after hitting a double off Chicago Cubs pitcher Hayden Wesneski in the sixth inning of a baseball game, Wednesday, Aug. 9, 2023, in New York. (AP Photo/John Minchillo)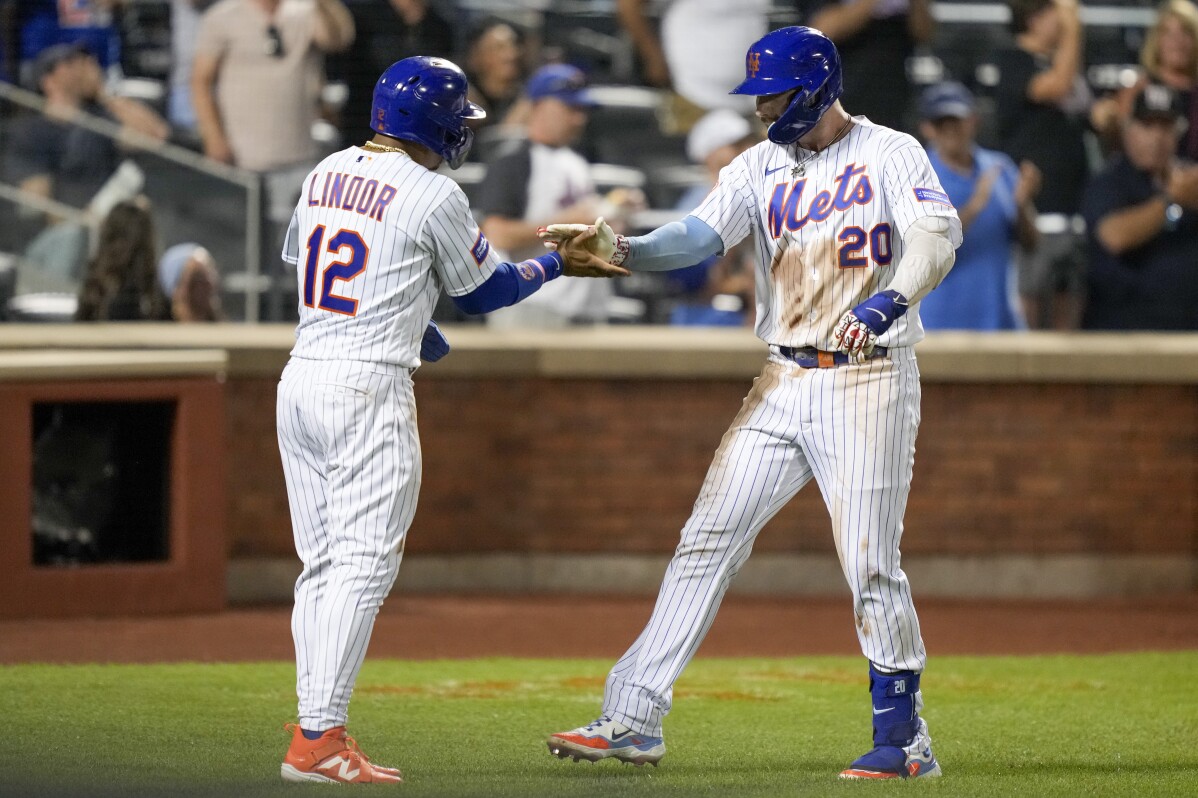 10 of 10

|
New York Mets' Pete Alonso (20) celebrates with Francisco Lindor (12) after hitting a two-run home run off Chicago Cubs starting pitcher Kyle Hendricks in the fourth inning of a baseball game, Wednesday, Aug. 9, 2023, in New York. (AP Photo/John Minchillo)
Alonso and McNeil provide power, Bickford saves the Mets as they hand the Cubs a costly 4-3 loss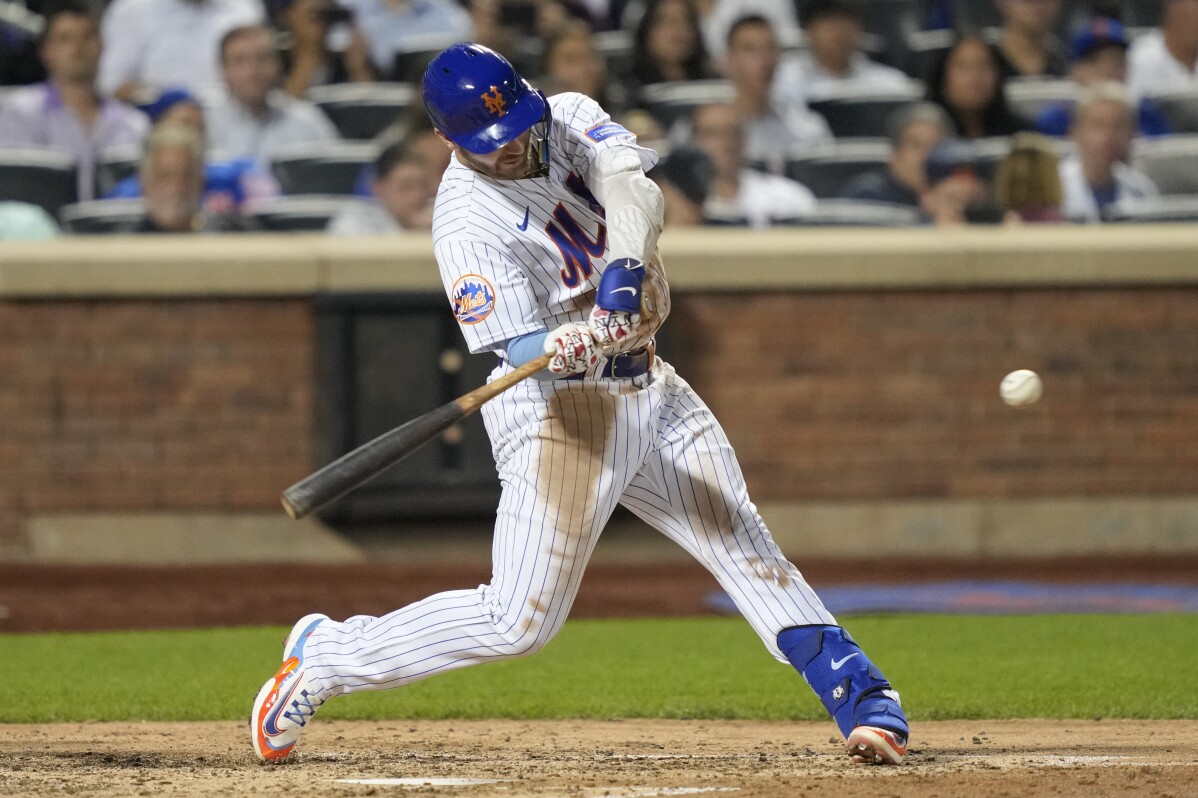 1 of 10

|
New York Mets' Pete Alonso hits a two-run home run off Chicago Cubs starting pitcher Kyle Hendricks in the fourth inning of a baseball game, Wednesday, Aug. 9, 2023, in New York. (AP Photo/John Minchillo)
1 of 10
New York Mets' Pete Alonso hits a two-run home run off Chicago Cubs starting pitcher Kyle Hendricks in the fourth inning of a baseball game, Wednesday, Aug. 9, 2023, in New York. (AP Photo/John Minchillo)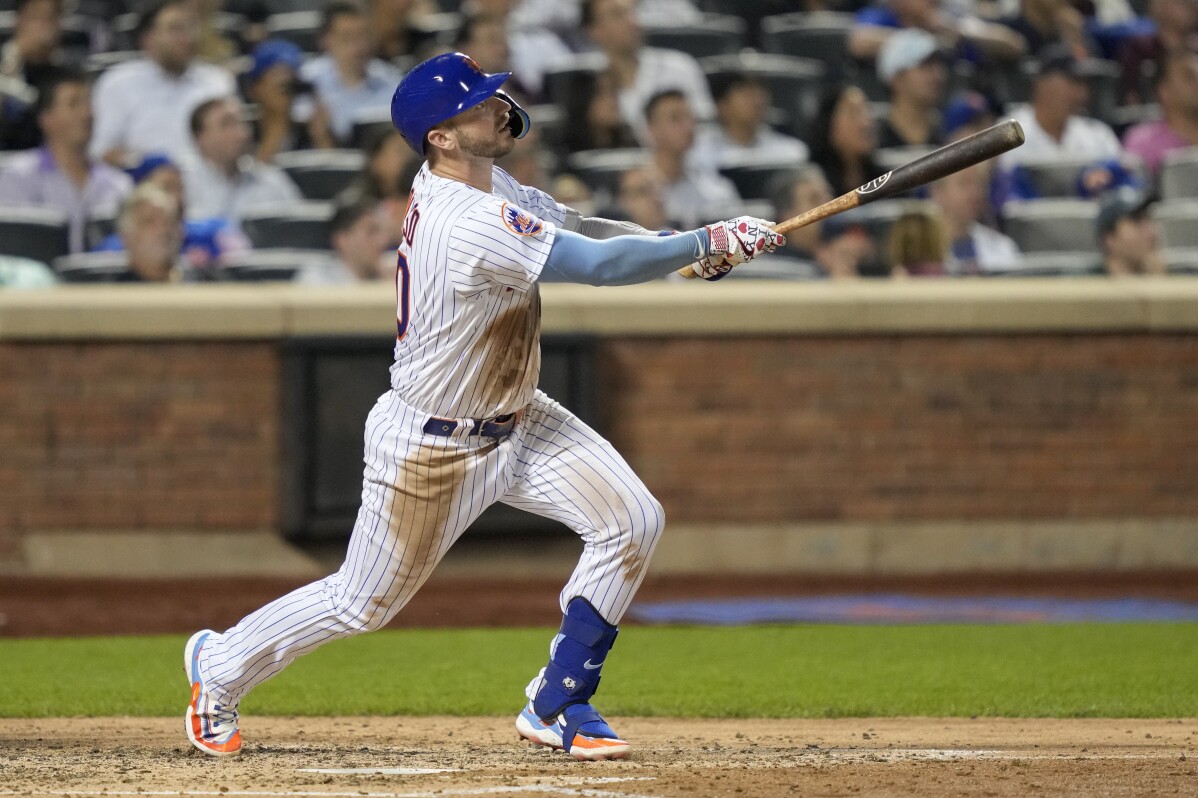 2 of 10

|
New York Mets' Pete Alonso hits a two-run home run off Chicago Cubs starting pitcher Kyle Hendricks in the fourth inning of a baseball game, Wednesday, Aug. 9, 2023, in New York. (AP Photo/John Minchillo)
2 of 10
New York Mets' Pete Alonso hits a two-run home run off Chicago Cubs starting pitcher Kyle Hendricks in the fourth inning of a baseball game, Wednesday, Aug. 9, 2023, in New York. (AP Photo/John Minchillo)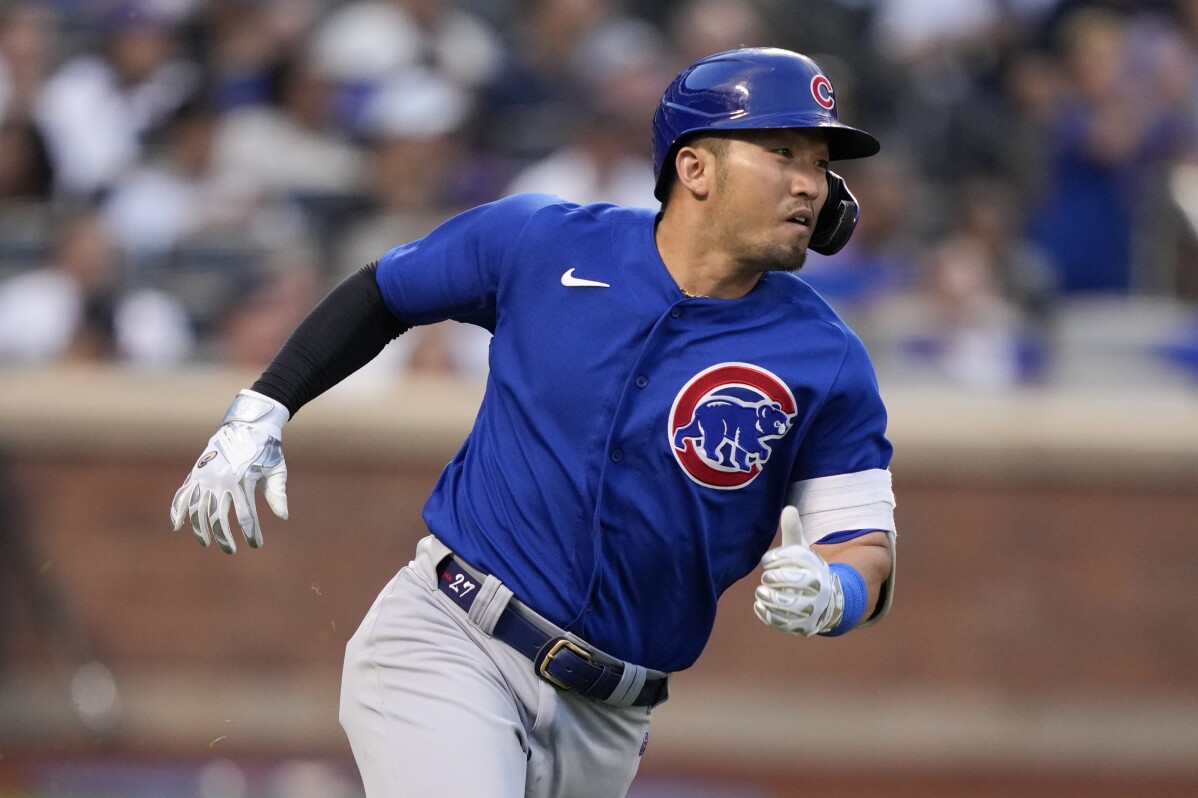 3 of 10

|
Chicago Cubs' Seiya Suzuki rounds first after hitting a triple off New York Mets starting pitcher David Peterson (23) in the second inning of a baseball game, Wednesday, Aug. 9, 2023, in New York. (AP Photo/John Minchillo)
3 of 10
Chicago Cubs' Seiya Suzuki rounds first after hitting a triple off New York Mets starting pitcher David Peterson (23) in the second inning of a baseball game, Wednesday, Aug. 9, 2023, in New York. (AP Photo/John Minchillo)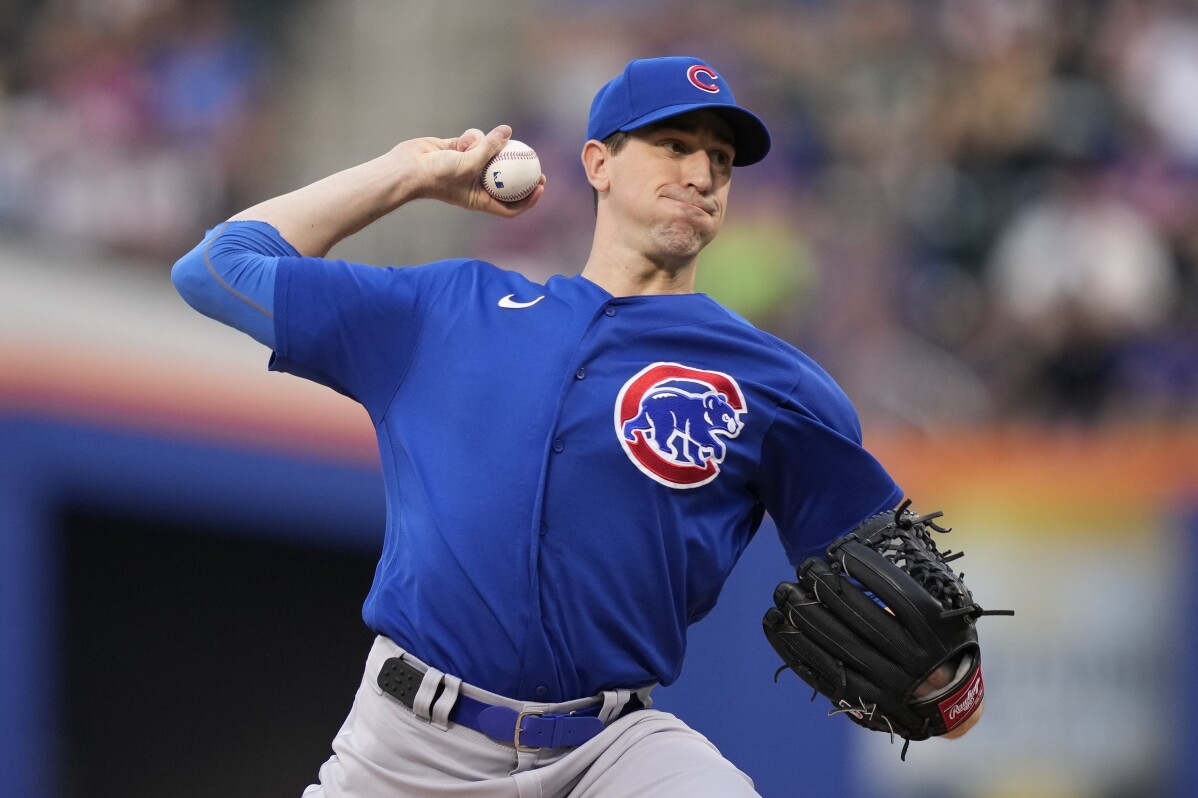 4 of 10

|
Chicago Cubs starting pitcher Kyle Hendricks (28) throws in the first inning of a baseball game against the New York Mets, Wednesday, Aug. 9, 2023, in New York. (AP Photo/John Minchillo)
4 of 10
Chicago Cubs starting pitcher Kyle Hendricks (28) throws in the first inning of a baseball game against the New York Mets, Wednesday, Aug. 9, 2023, in New York. (AP Photo/John Minchillo)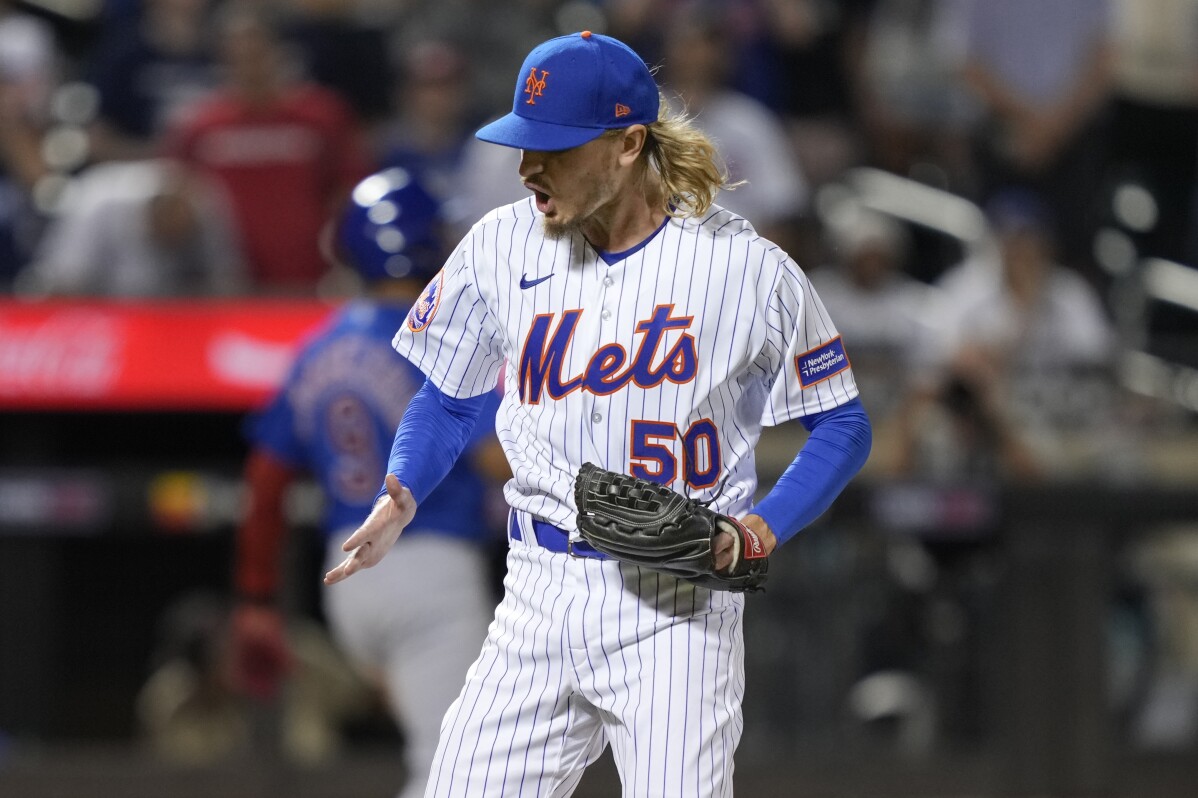 5 of 10

|
New York Mets relief pitcher Phil Bickford (50) celebrates after closing the ninth inning of a baseball game against the Chicago Cubs, Wednesday, Aug. 9, 2023, in New York. (AP Photo/John Minchillo)
5 of 10
New York Mets relief pitcher Phil Bickford (50) celebrates after closing the ninth inning of a baseball game against the Chicago Cubs, Wednesday, Aug. 9, 2023, in New York. (AP Photo/John Minchillo)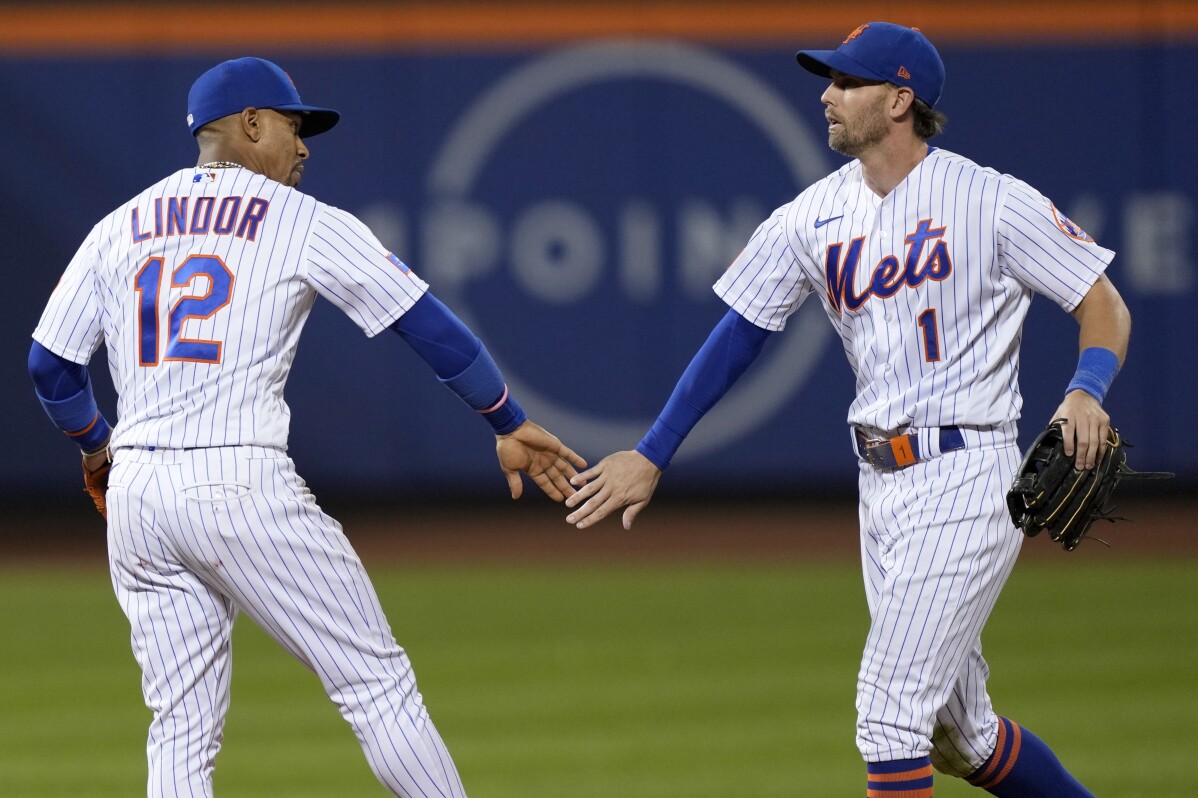 6 of 10

|
New York Mets right fielder Jeff McNeil (1) and shortstop Francisco Lindor (12) celebrate after closing the ninth inning of a baseball game against the Chicago Cubs, Wednesday, Aug. 9, 2023, in New York. (AP Photo/John Minchillo)
6 of 10
New York Mets right fielder Jeff McNeil (1) and shortstop Francisco Lindor (12) celebrate after closing the ninth inning of a baseball game against the Chicago Cubs, Wednesday, Aug. 9, 2023, in New York. (AP Photo/John Minchillo)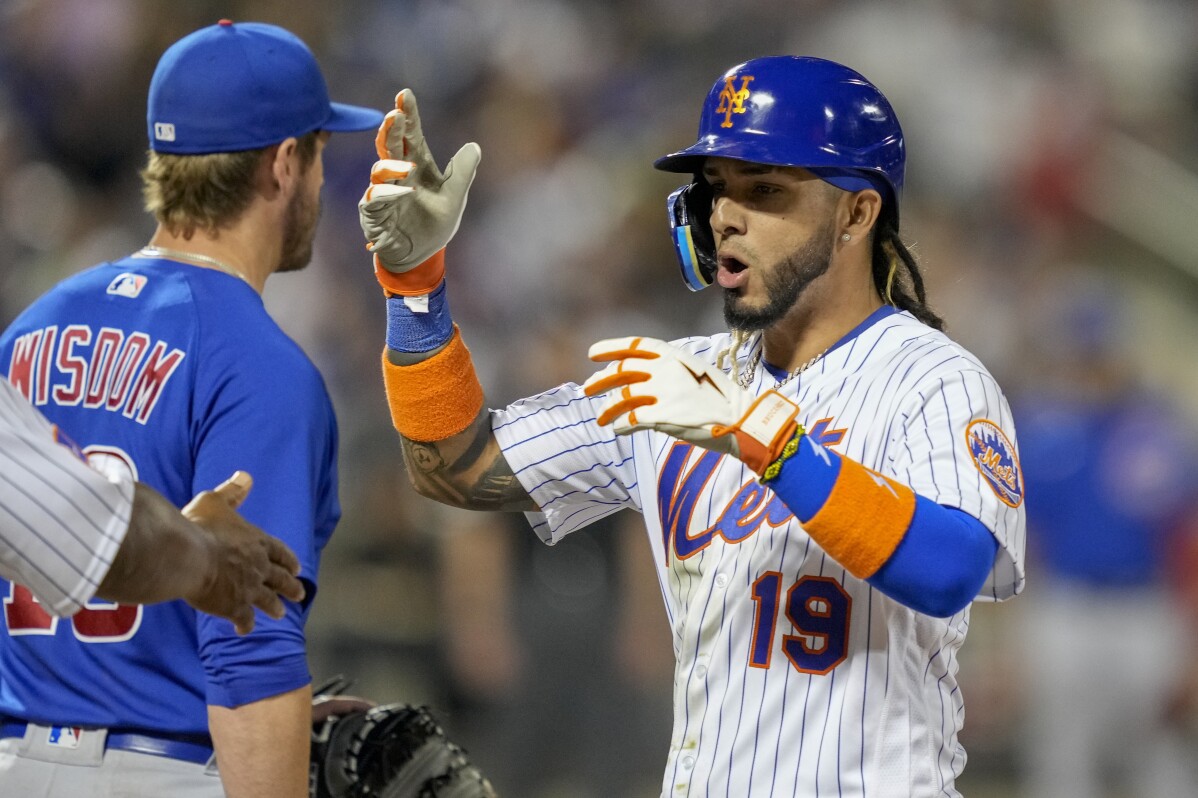 7 of 10

|
New York Mets' Jonathan Arauz (19) celebrates after first base after hitting an RBI single off Chicago Cubs pitcher Hayden Wesneski in the sixth inning of a baseball game, Wednesday, Aug. 9, 2023, in New York. (AP Photo/John Minchillo)
7 of 10
New York Mets' Jonathan Arauz (19) celebrates after first base after hitting an RBI single off Chicago Cubs pitcher Hayden Wesneski in the sixth inning of a baseball game, Wednesday, Aug. 9, 2023, in New York. (AP Photo/John Minchillo)
8 of 10

|
New York Mets relief pitcher Adam Ottavino (0) is relieved by manager Buck Showalter (11) in the ninth inning of a baseball game against the Chicago Cubs, Wednesday, Aug. 9, 2023, in New York. (AP Photo/John Minchillo)
8 of 10
New York Mets relief pitcher Adam Ottavino (0) is relieved by manager Buck Showalter (11) in the ninth inning of a baseball game against the Chicago Cubs, Wednesday, Aug. 9, 2023, in New York. (AP Photo/John Minchillo)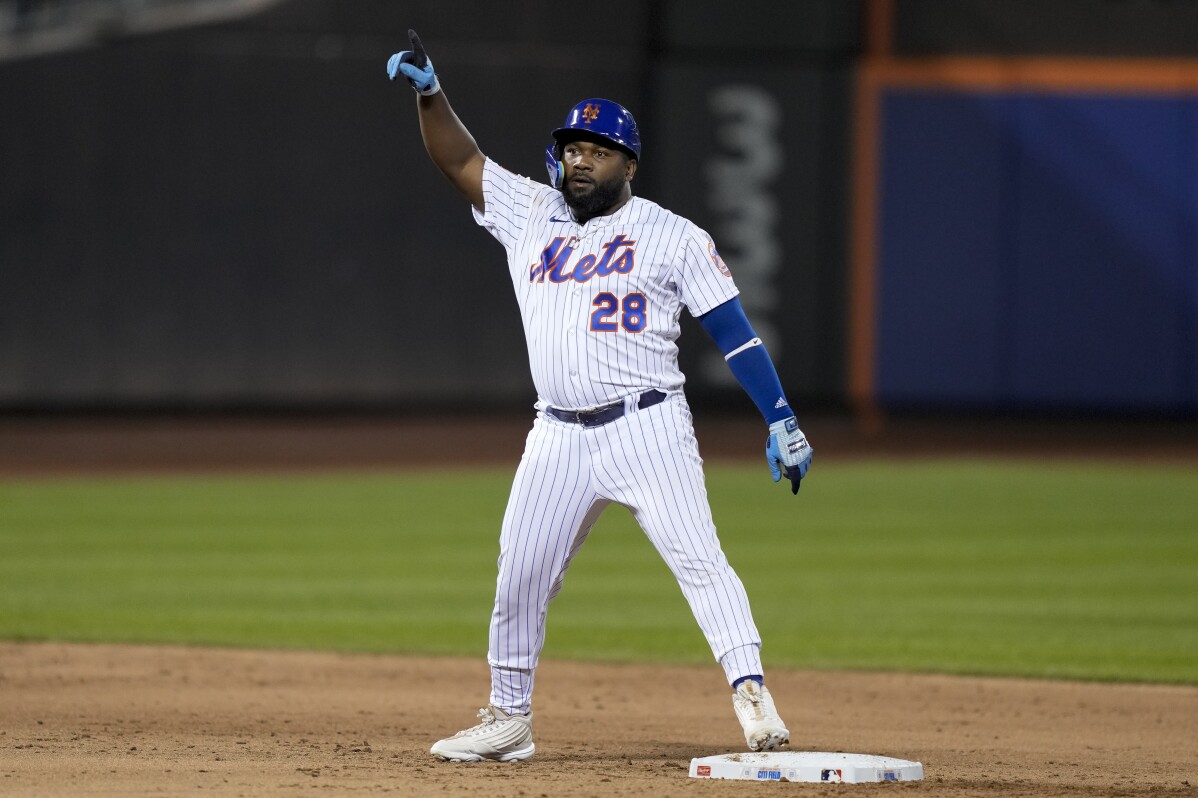 9 of 10

|
New York Mets designated hitter Abraham Almonte celebrates after second base after hitting a double off Chicago Cubs pitcher Hayden Wesneski in the sixth inning of a baseball game, Wednesday, Aug. 9, 2023, in New York. (AP Photo/John Minchillo)
9 of 10
New York Mets designated hitter Abraham Almonte celebrates after second base after hitting a double off Chicago Cubs pitcher Hayden Wesneski in the sixth inning of a baseball game, Wednesday, Aug. 9, 2023, in New York. (AP Photo/John Minchillo)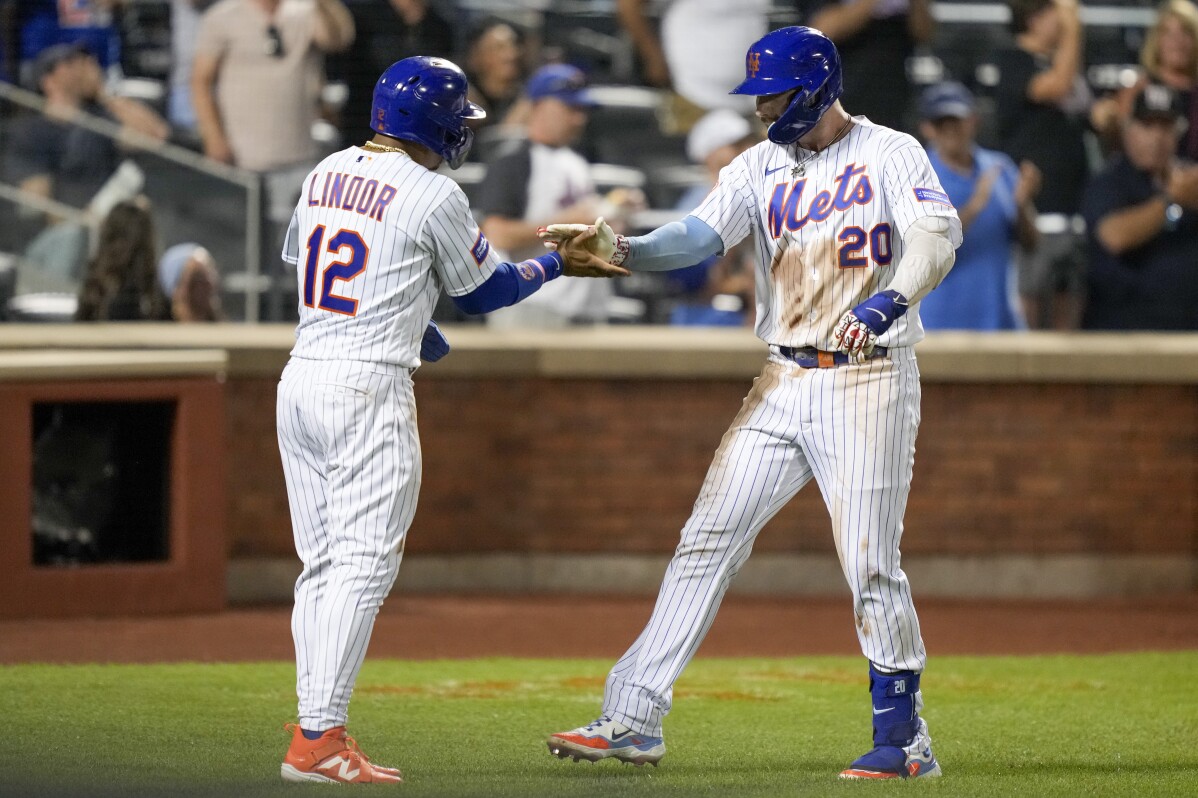 10 of 10

|
New York Mets' Pete Alonso (20) celebrates with Francisco Lindor (12) after hitting a two-run home run off Chicago Cubs starting pitcher Kyle Hendricks in the fourth inning of a baseball game, Wednesday, Aug. 9, 2023, in New York. (AP Photo/John Minchillo)
10 of 10
New York Mets' Pete Alonso (20) celebrates with Francisco Lindor (12) after hitting a two-run home run off Chicago Cubs starting pitcher Kyle Hendricks in the fourth inning of a baseball game, Wednesday, Aug. 9, 2023, in New York. (AP Photo/John Minchillo)
NEW YORK (AP) — As the Chicago Cubs chase a playoff spot down the stretch, they'll be glad not to see Pete Alonso anymore.
Alonso launched yet another homer against the Cubs, and Jeff McNeil hit a tiebreaking shot that sent the New York Mets to a 4-3 victory Wednesday night.
With the bases loaded in the ninth inning, Phil Bickford struck out No. 3 batter Ian Happ to save it for New York.
"He's got a good fastball, kept it up in the zone, did a good job there," Happ said. "It was just a good, competitive game."
But it was a costly defeat for Chicago, locked in a crowded National League playoff race. The Cubs lost for just the sixth time in 22 games and fell 2 1/2 games behind first-place Milwaukee in the NL Central.
Christopher Morel and Seiya Suzuki homered for Chicago, bunched with several teams fighting tooth-and-nail for the league's final wild card.
Jonathan Araúz added an RBI single and the Mets got strong work from their shaky bullpen to take two of three games from the Cubs, who won their previous six series.
"Pete led the way again," Mets manager Buck Showalter said.
Bickford entered with two on in the ninth and earned his second major league save — first for the Mets since being acquired from the Los Angeles Dodgers for cash at last week's trade deadline. After a sacrifice bunt by pinch-hitter Nick Madrigal advanced two runners, Bickford threw a called third strike past Morel.
A walk to Nico Hoerner loaded the bases before Happ went down swinging at a 94 mph fastball.
"When I heard it was my name, it was nice that I got up the inning before, so it made warming up quickly easier," Bickford said. "I was ready for the opportunity."
Grant Hartwig (4-1) worked 2 1/3 scoreless innings in relief of Mets starter David Peterson.
Morel hit Peterson's first pitch off the facing of the second deck in left field for his third career leadoff homer and first this season. Suzuki, who finished a double shy of the cycle, tripled in the second and scored on a passed ball.
Alonso tied it in the fourth with a long two-run homer off starter Kyle Hendricks. The slugger had four home runs and 10 RBIs in the series, giving him 15 homers and 34 RBIs in 27 career games against the Cubs.
"I went through a really bad patch this year and it was definitely the worst of my big league career," Alonso said. "I was healthy, but we play a game of failure and the law of averages are starting to bounce back in my favor."
McNeil greeted Hayden Wesneski (2-4) with a leadoff homer in the sixth that put the Mets ahead. Abraham Almonte doubled and scored on Araúz's single to make it 4-2.
Suzuki homered leading off the ninth against Adam Ottavino, and Chicago mounted a late rally as some in the Citi Field crowd of 37,527 chanted "Let's go Cubbies!"
"I think we had the momentum after I hit that home run, so I definitely thought we were going to come back and get the game," Suzuki said through a translator.
POWER SUPPLY
Alonso became the first Mets player with four 35-homer seasons. He needs one RBI to match Keith Hernandez (468) for most by a first baseman in team history. ... Alonso has eight home runs in his past eight games against the Cubs.
TRAINER'S ROOM
Cubs: All-Star RHP Marcus Stroman (right hip inflammation) felt great after his bullpen Tuesday, manager David Ross said. Stroman will likely throw a heavier bullpen Friday, according to pitching coach Tommy Hottovy. The team hopes Stroman can return from the injured list when eligible Aug. 16. ... Rookie C Miguel Amaya was shaken up after getting hit on the left hand by a 95 mph sinker from Trevor Gott in the seventh. Amaya was checked by a trainer and remained in the game, then was lifted for a pinch-hitter in the ninth.
Mets: Showalter said the team is discussing whether it would activate closer Edwin Díaz before the end of the season if he's healthy and cleared to pitch. Díaz has been sidelined since March while rehabbing from right knee surgery.
UP NEXT
Cubs: After an off day, Javier Assad pitches Friday night at Toronto in the opener of a three-game series. The rookie right-hander is 1-2 with a 3.35 ERA in two starts and 18 relief appearances this season. Assad threw five scoreless innings in a start at Toronto last August.
Mets: RHP Tylor Megill (6-5, 5.45 ERA) goes Friday night at Citi Field in the opener of a four-game series against the major league-leading Braves. It will be Megill's second start since returning from Triple-A Syracuse, where he went 0-3 with an 8.67 ERA in six starts. He gave up five runs and nine hits over 4 2/3 innings Saturday in a loss at Baltimore. RHP Charlie Morton (10-10, 3.86) pitches for Atlanta.
___
AP MLB: https://apnews.com/hub/MLB