Peralta delivers winning hit against old team, Dodgers top Dbacks 2-0 as Arizona drops 8th straight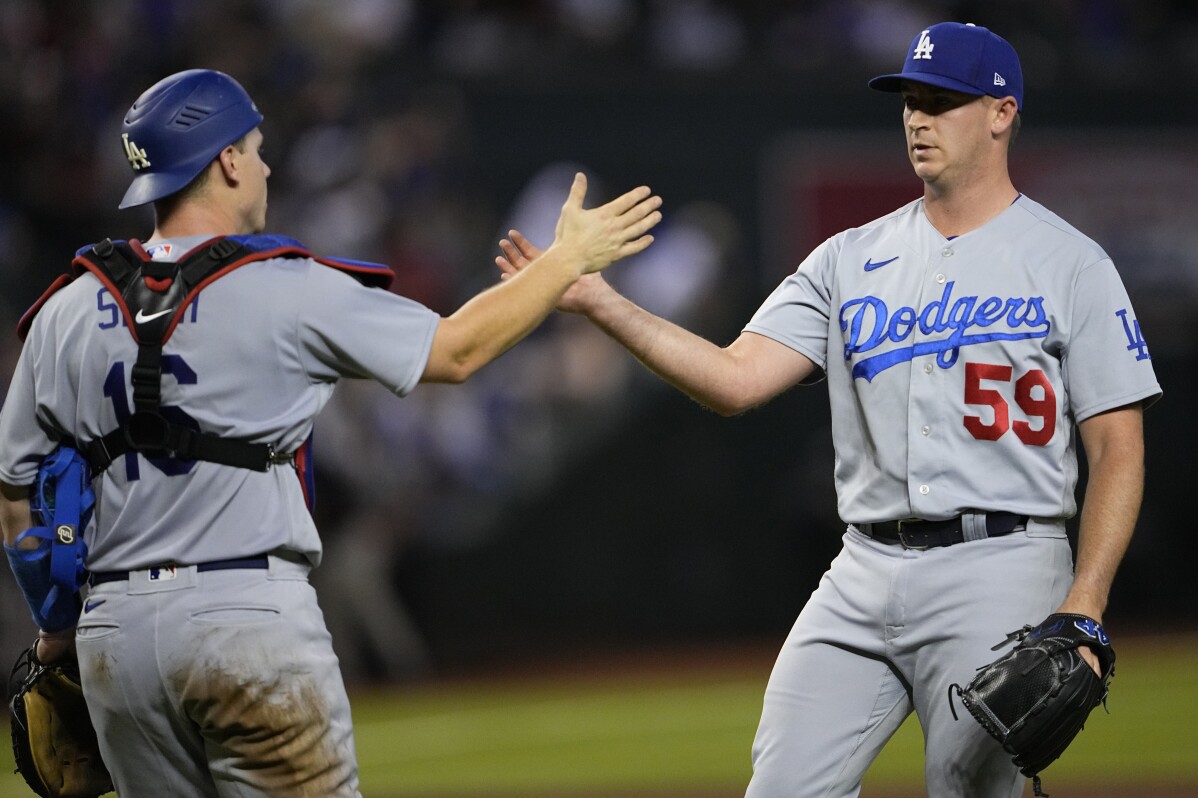 1 of 5

|
Los Angeles Dodgers' relief pitcher Evan Phillips, right, greets catcher Will Smith after a baseball game against the Arizona Diamondbacks, Wednesday, Aug. 9, 2023, in Phoenix. The Dodgers defeated the Diamondbacks 2-0. (AP Photo/Matt York)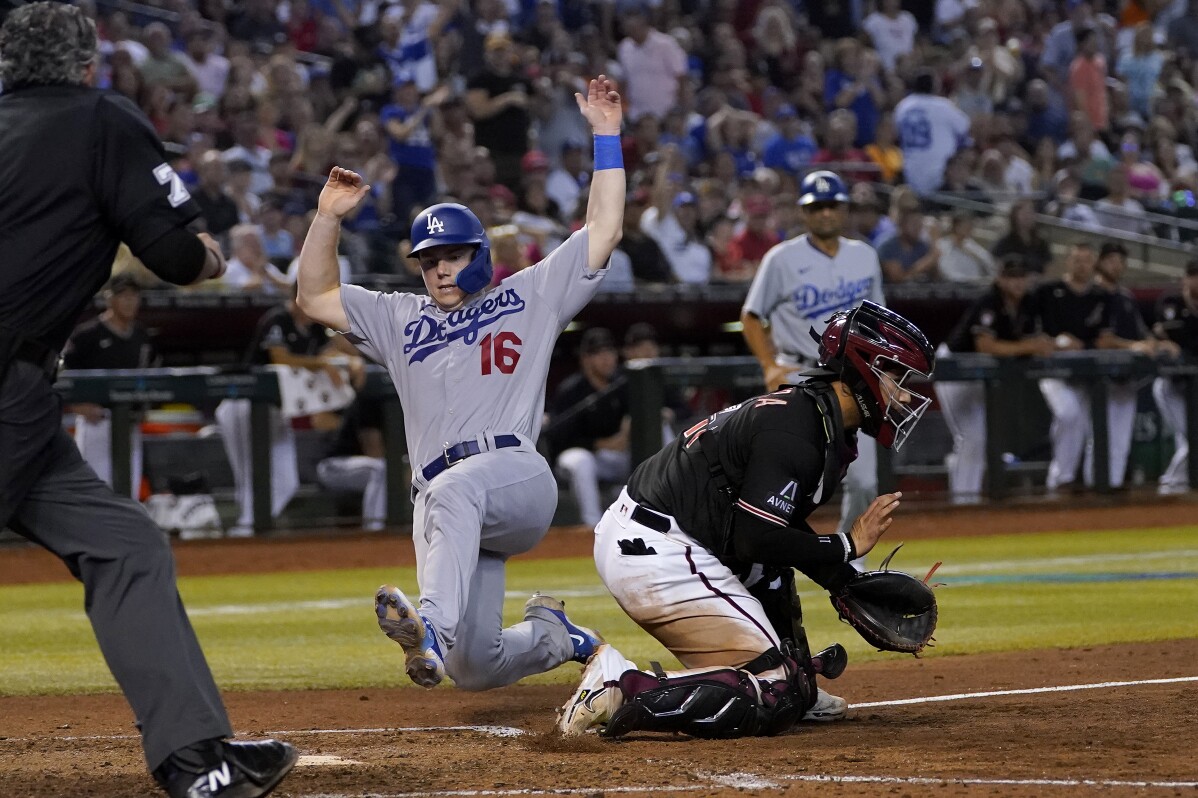 2 of 5

|
CORRECTS PLAY TO ONE OF THE RUNNERS WHO SCORED ON PERALTA'S SINGLE - Los Angeles Dodgers' Will Smith scores on a two-run single by David Peralta, next to Arizona Diamondbacks catcher Jose Herrera during the eighth inning of a baseball game Wednesday, Aug. 9, 2023, in Phoenix. (AP Photo/Matt York)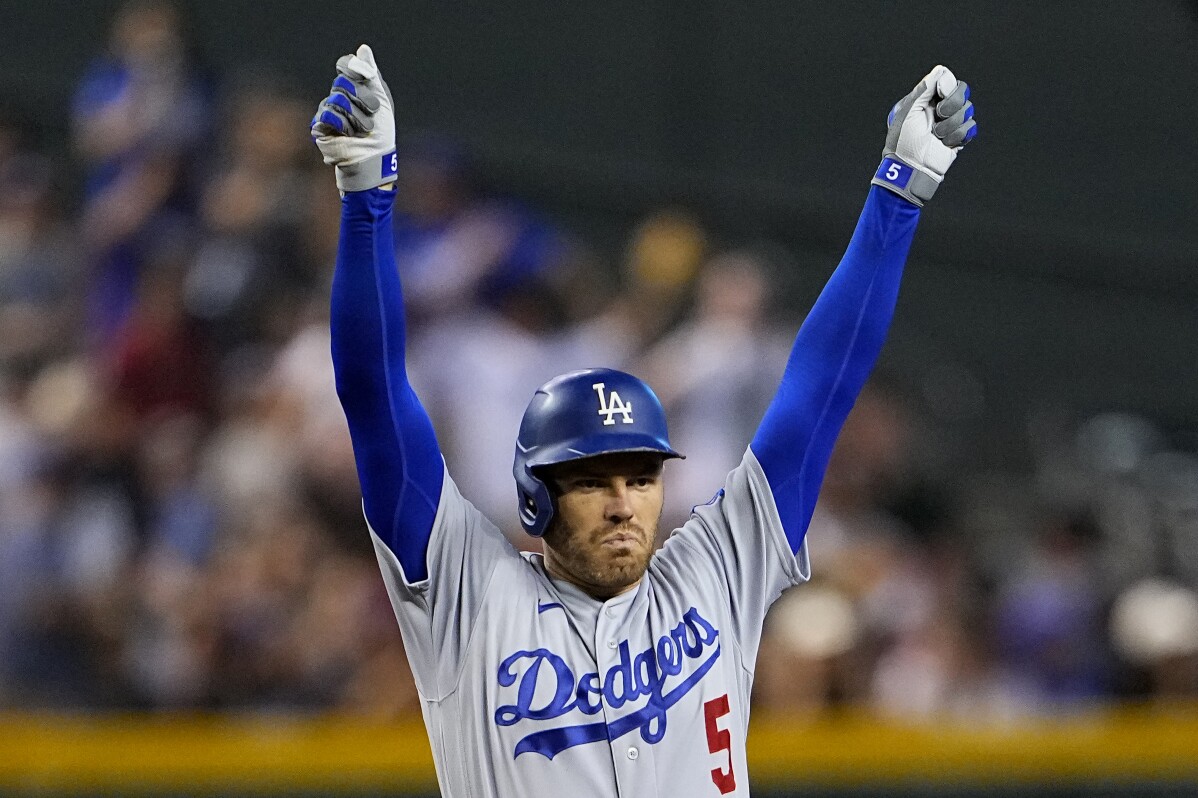 3 of 5

|
Los Angeles Dodgers' Freddie Freeman celebrates towards his dugout after hitting a double against the Arizona Diamondbacks during the eighth inning of a baseball game, Wednesday, Aug. 9, 2023, in Phoenix. (AP Photo/Matt York)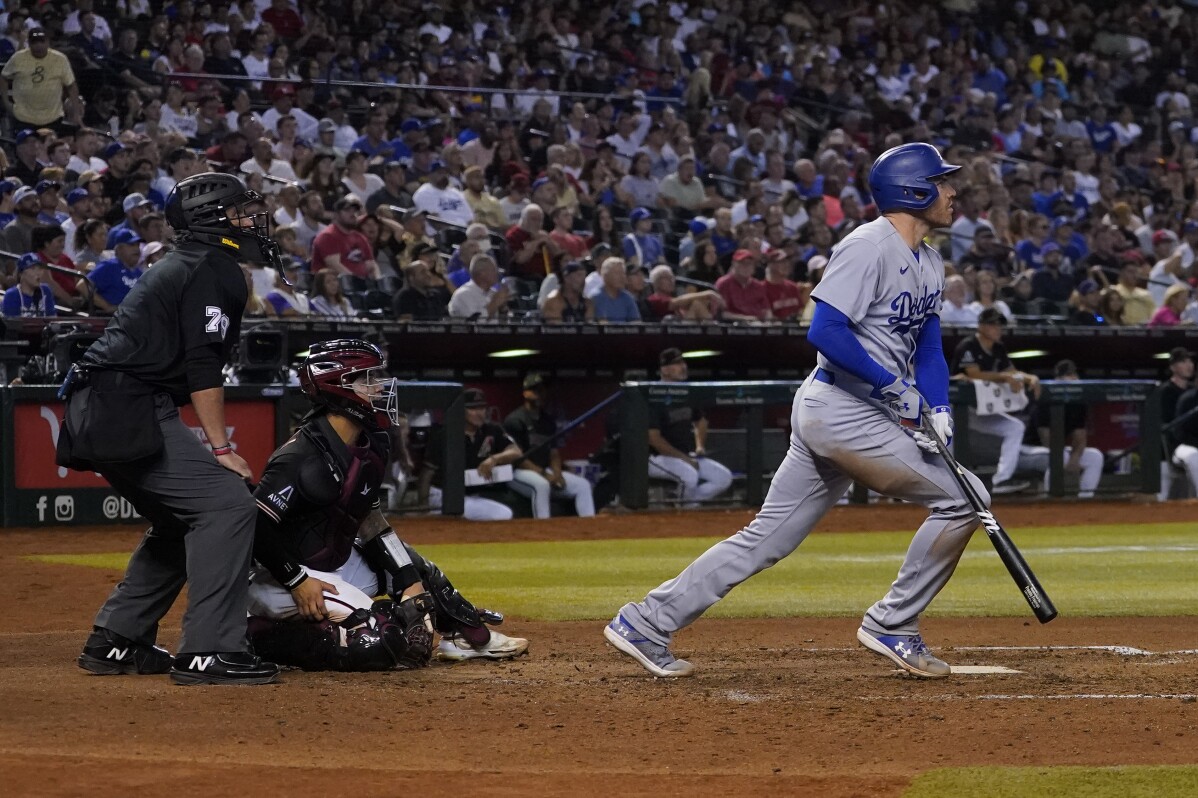 4 of 5

|
Los Angeles Dodgers' Freddie Freeman follows through on a double against the Arizona Diamondbacks during the eighth inning of a baseball game, Wednesday, Aug. 9, 2023, in Phoenix. (AP Photo/Matt York)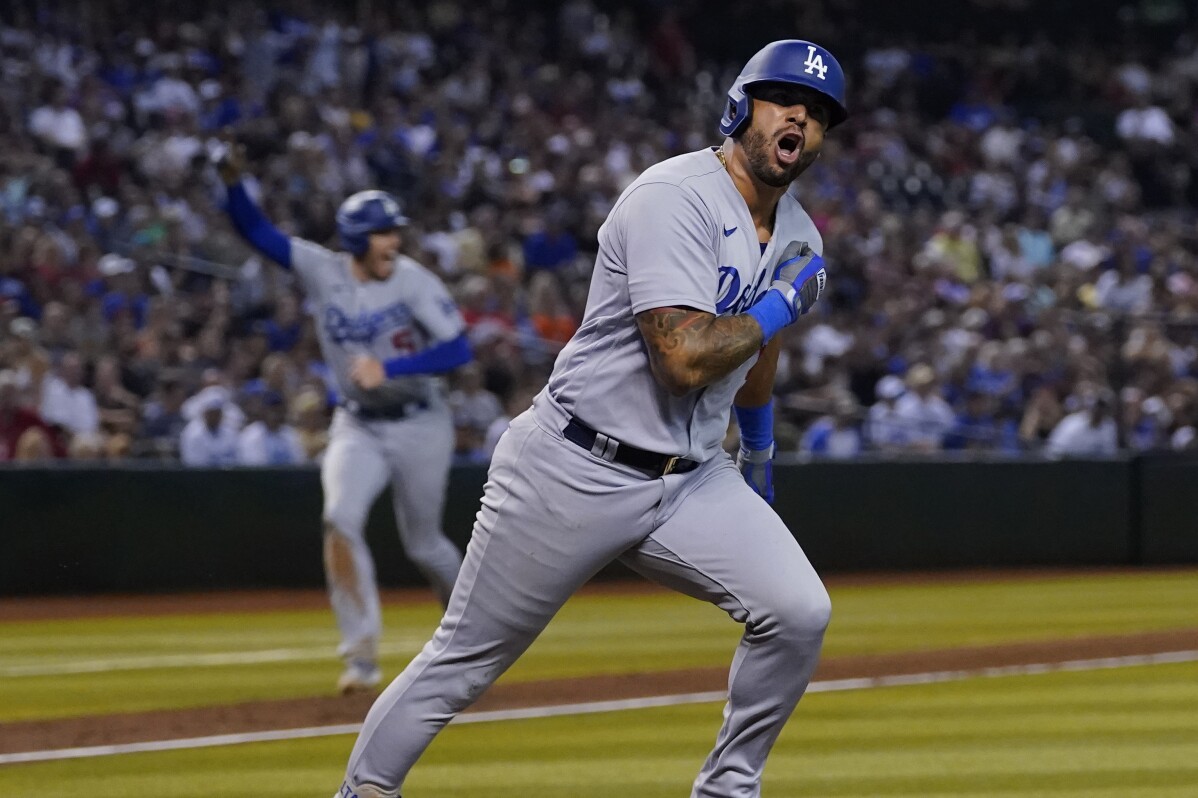 5 of 5

|
Los Angeles Dodgers' David Peralta yells towards his dugout as he runs out his two RBI single against the Arizona Diamondbacks during the eighth inning of a baseball game, Wednesday, Aug. 9, 2023, in Phoenix. (AP Photo/Matt York)
Peralta delivers winning hit against old team, Dodgers top Dbacks 2-0 as Arizona drops 8th straight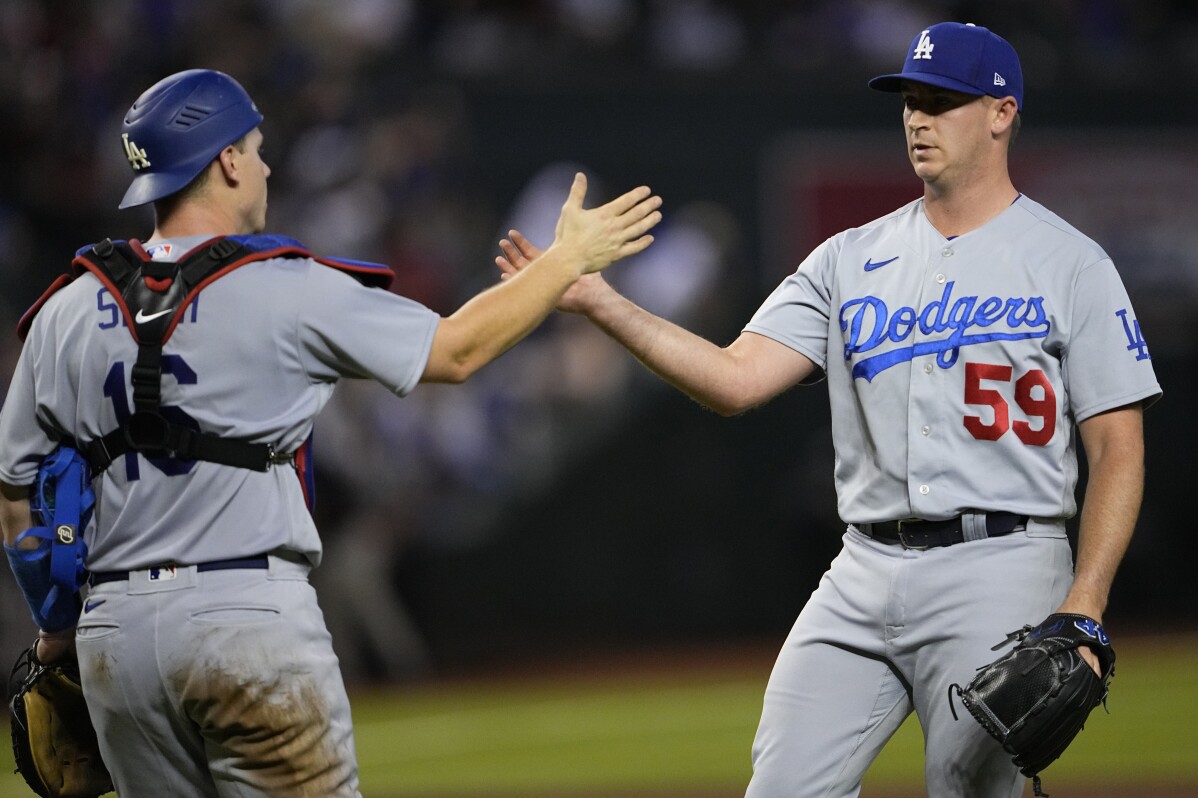 1 of 5

|
Los Angeles Dodgers' relief pitcher Evan Phillips, right, greets catcher Will Smith after a baseball game against the Arizona Diamondbacks, Wednesday, Aug. 9, 2023, in Phoenix. The Dodgers defeated the Diamondbacks 2-0. (AP Photo/Matt York)
1 of 5
Los Angeles Dodgers' relief pitcher Evan Phillips, right, greets catcher Will Smith after a baseball game against the Arizona Diamondbacks, Wednesday, Aug. 9, 2023, in Phoenix. The Dodgers defeated the Diamondbacks 2-0. (AP Photo/Matt York)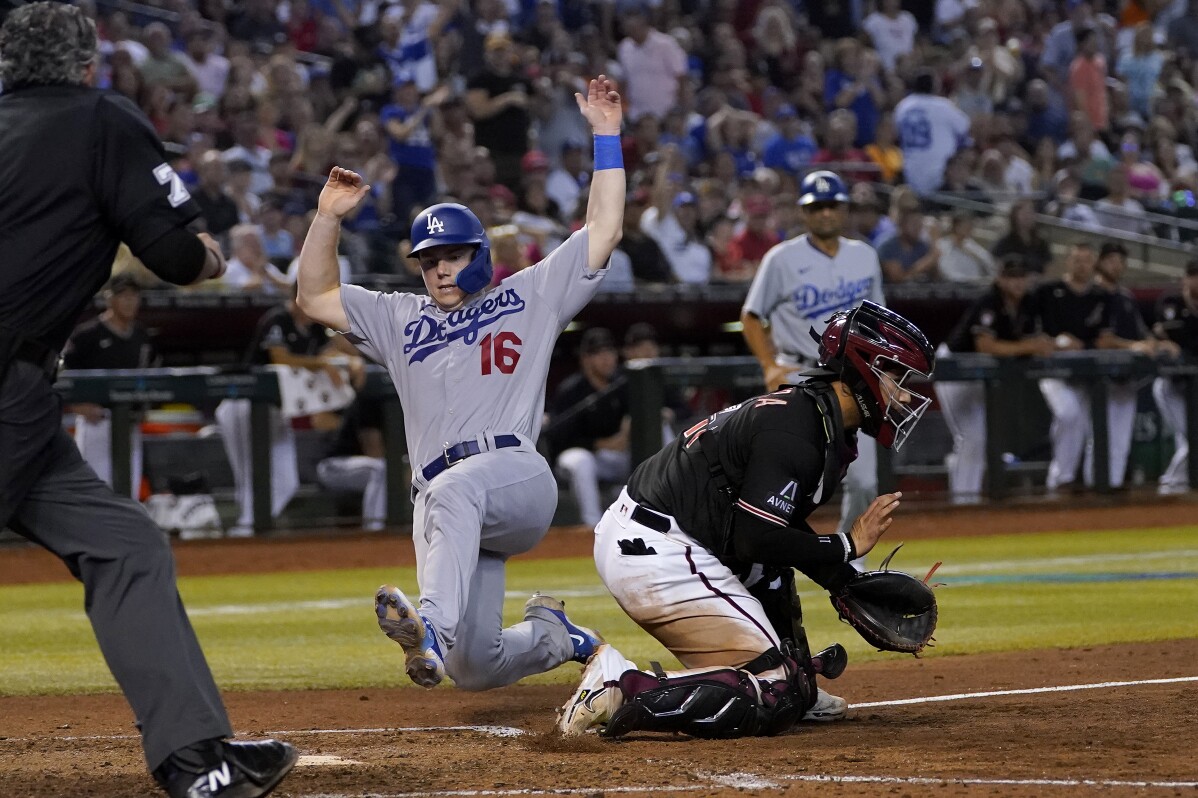 2 of 5

|
CORRECTS PLAY TO ONE OF THE RUNNERS WHO SCORED ON PERALTA'S SINGLE - Los Angeles Dodgers' Will Smith scores on a two-run single by David Peralta, next to Arizona Diamondbacks catcher Jose Herrera during the eighth inning of a baseball game Wednesday, Aug. 9, 2023, in Phoenix. (AP Photo/Matt York)
2 of 5
CORRECTS PLAY TO ONE OF THE RUNNERS WHO SCORED ON PERALTA'S SINGLE - Los Angeles Dodgers' Will Smith scores on a two-run single by David Peralta, next to Arizona Diamondbacks catcher Jose Herrera during the eighth inning of a baseball game Wednesday, Aug. 9, 2023, in Phoenix. (AP Photo/Matt York)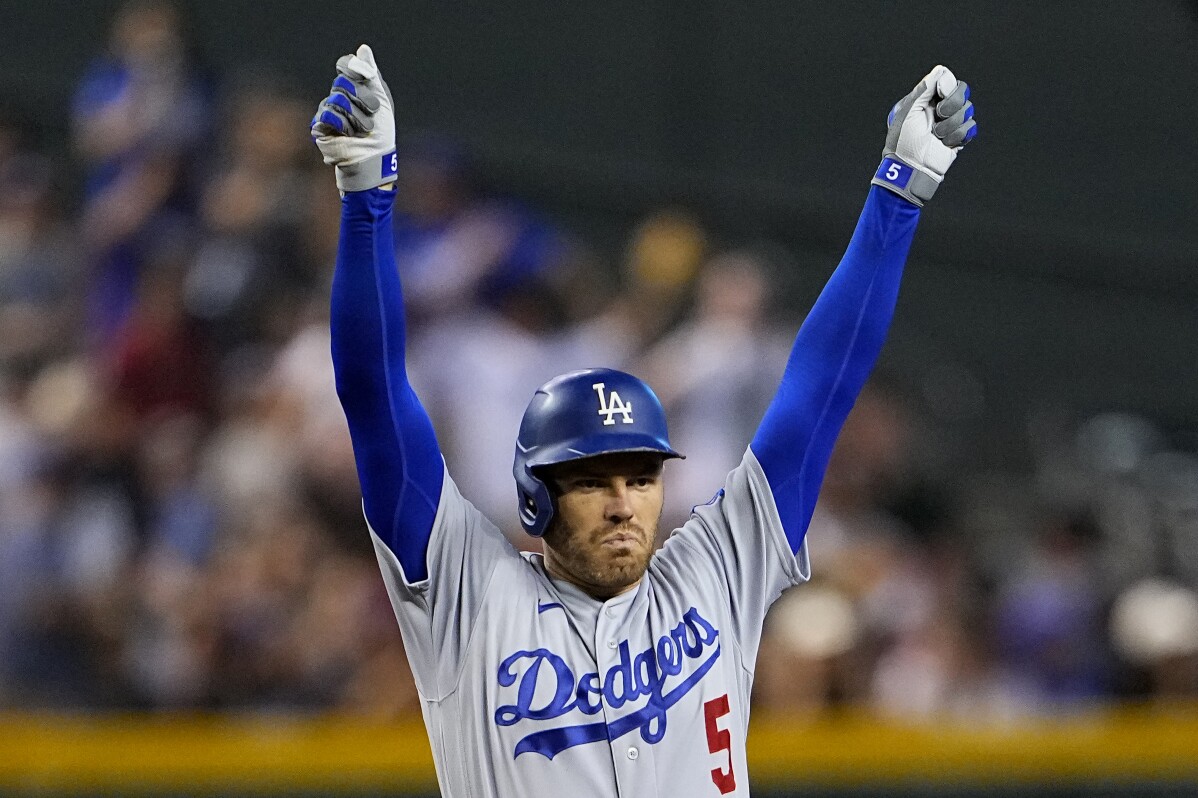 3 of 5

|
Los Angeles Dodgers' Freddie Freeman celebrates towards his dugout after hitting a double against the Arizona Diamondbacks during the eighth inning of a baseball game, Wednesday, Aug. 9, 2023, in Phoenix. (AP Photo/Matt York)
3 of 5
Los Angeles Dodgers' Freddie Freeman celebrates towards his dugout after hitting a double against the Arizona Diamondbacks during the eighth inning of a baseball game, Wednesday, Aug. 9, 2023, in Phoenix. (AP Photo/Matt York)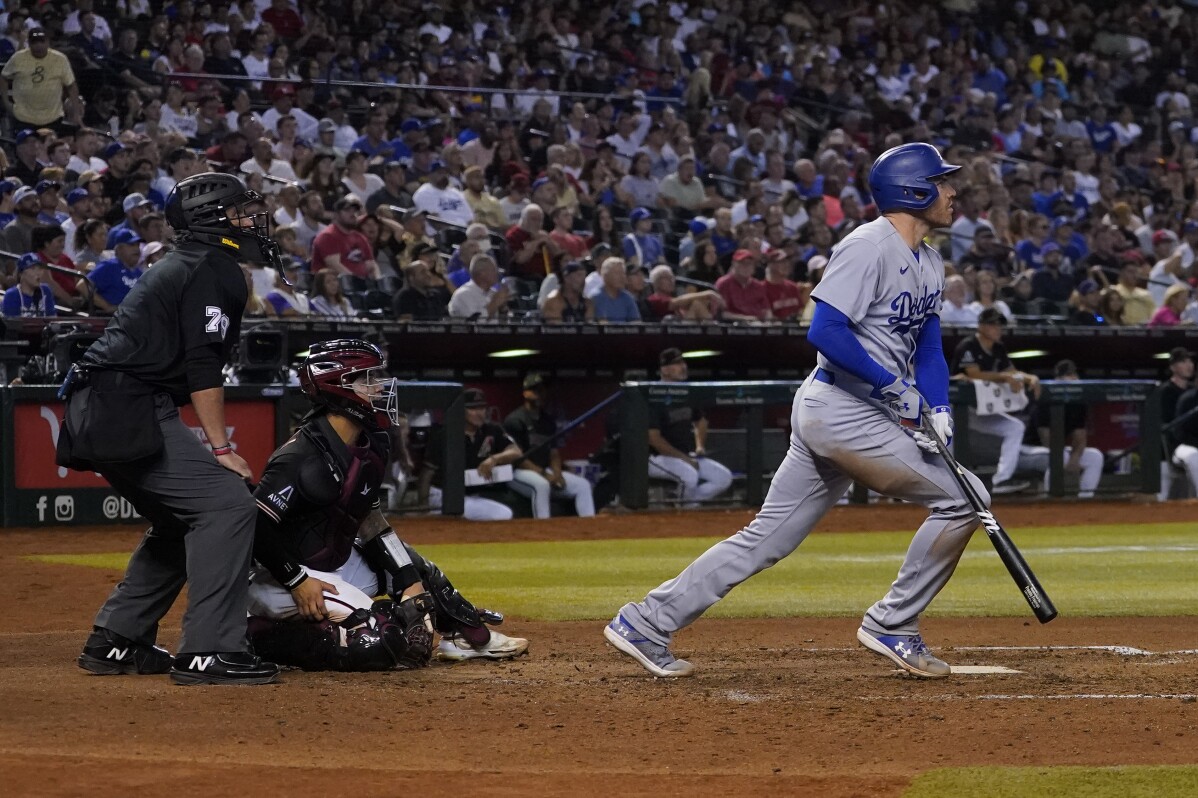 4 of 5

|
Los Angeles Dodgers' Freddie Freeman follows through on a double against the Arizona Diamondbacks during the eighth inning of a baseball game, Wednesday, Aug. 9, 2023, in Phoenix. (AP Photo/Matt York)
4 of 5
Los Angeles Dodgers' Freddie Freeman follows through on a double against the Arizona Diamondbacks during the eighth inning of a baseball game, Wednesday, Aug. 9, 2023, in Phoenix. (AP Photo/Matt York)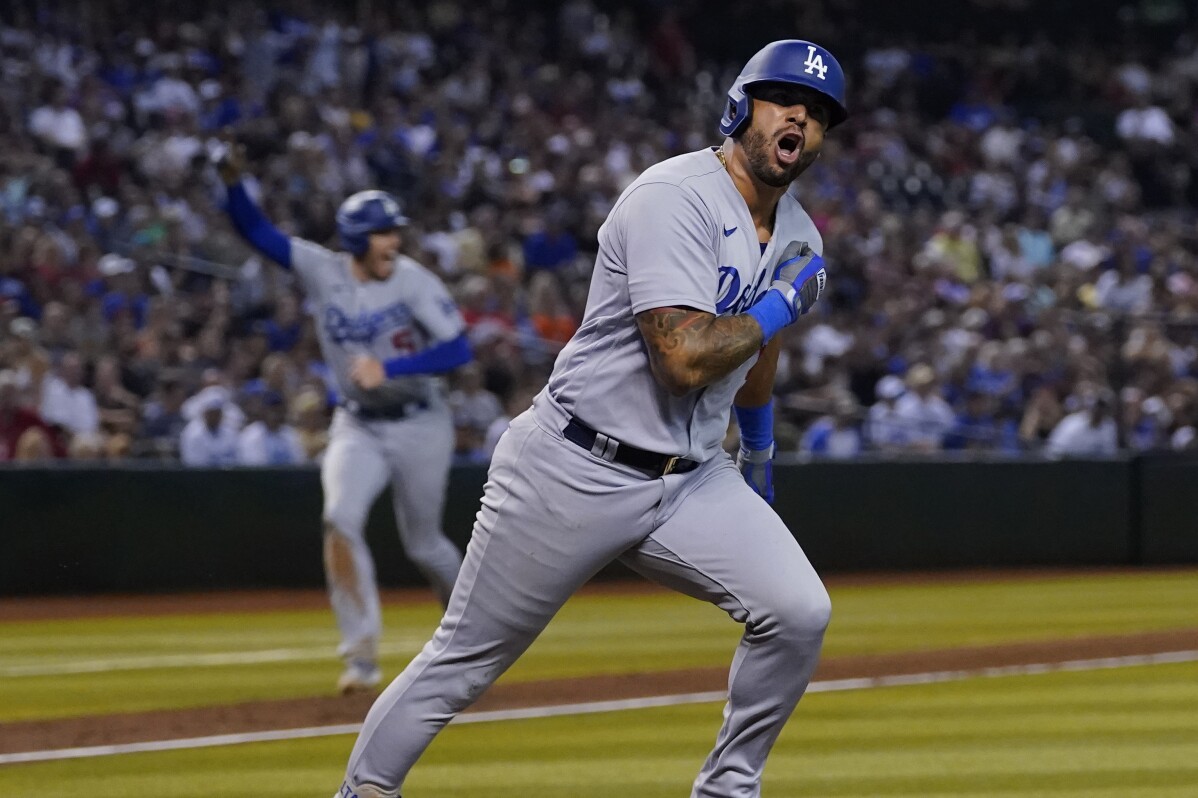 5 of 5

|
Los Angeles Dodgers' David Peralta yells towards his dugout as he runs out his two RBI single against the Arizona Diamondbacks during the eighth inning of a baseball game, Wednesday, Aug. 9, 2023, in Phoenix. (AP Photo/Matt York)
5 of 5
Los Angeles Dodgers' David Peralta yells towards his dugout as he runs out his two RBI single against the Arizona Diamondbacks during the eighth inning of a baseball game, Wednesday, Aug. 9, 2023, in Phoenix. (AP Photo/Matt York)
PHOENIX (AP) — David Peralta's two-run single against his former team broke a scoreless tie in the eighth inning and the Los Angeles Dodgers beat the Arizona Diamondbacks 2-0 on Wednesday night.
The win was the fourth in a row for Los Angeles while Arizona has lost eight straight. The loss dropped them under .500 for the first time since they lost the home opener to the Dodgers on April 6 to go 3-4.
Arizona led the NL West by a half-game over the Dodgers at the All-Star break. Since then, the Dodgers are 16-8 and the Diamondbacks are 5-19.
With two outs in the eighth, Freddie Freeman greeted lefty Kyle Nelson (5-3) with his MLB-leading 42nd double. Will Smith was walked intentionally and Max Muncy drew a walk to load the bases for Peralta, who played his first nine seasons for Arizona. He lined a single to right to score Freeman and Smith.
Los Angeles manager Dave Roberts decided not to send up right-handed Kiké Hernández to hit for the veteran outfielder.
"They had (right-hander Miguel) Castro looming. I've got to make a decision," Roberts said. I just felt David was in the game, he's been hanging in there versus lefties. I thought David's going to put the ball in play and to his credit he took a good at-bat and won the game for us."
Peralta wasn't certain he would stay in, but he was ready.
"I was just trying to calm down and do the job," Peralta said. "When I looked over (Roberts) said, 'You got it,' and that's all I need."
Diamondbacks starter Merrill Kelly pitched six scoreless innings but left the game after throwing his second pitch of the seventh to Chris Taylor. He had a cramp in his right hamstring and Kelly said after the game he expected to make his next start.
Kelly is 0-10 in his career against the Dodgers and pitched well enough to win this time, but the Diamondbacks' recent offensive woes were magnified on Wednesday.
In the seventh, Alek Thomas singled leading off and José Herrera walked. Caleb Ferguson (6-3) relieved Bobby Miller and Geraldo Perdomo bunted, but popped it up and Ferguson caught it, then fired to second to double off Thomas. Arizona also had runners at second and third with no outs in the fifth, but Miller got two strikeouts and a lineout to keep the Diamondbacks off the board.
"It's been a theme, we've been talking about it, we gotta be better offensively," Diamondbacks manager Torey Lovullo said. "We've talked about it from spring training on. And the fact that we're not getting it done is extremely frustrating."
Miller went six-plus innings, giving up four hits. The rookie right-hander walked four and struck out four.
"It was probably start to finish his best outing," Roberts said of Miller's performance. "I just thought each pitch was for a purpose. He did a much better job of getting the first hitter out and minimizing stress."
Evan Phillips completed the combined shutout, pitching the ninth for his 16th save.
HAVIN' A PARTY
Dodgers RF Jason Heyward, playing on his 34th birthday, had hits in his first two at-bats.
TRAINER'S ROOM
Dodgers: RHP Walker Buehler (elbow surgery) faced live batters for the first time in his rehab process. RHP Blake Treinen (shoulder) is also facing live batters and Roberts said he will throw again in three or four days. Roberts reported both looked good Wednesday at the Dodgers' spring facility at nearby Camelback Ranch.
Neither has pitched this season; Buehler had Tommy John surgery last August while Treinen last pitched in the postseason against San Diego.
Diamondbacks: RHP Zack Davies (lower back inflammation) will make a rehab start at Triple-A Reno on Thursday, Lovullo said before the game. Davies will throw as many as 75 pitches in the game, Lovullo said.
NEXT
Dodgers: Return home Thursday to play Colorado and begin a 10-game homestand. The Dodgers have not announced a starter to face Rockies LH Ty Blach (1-1, 4.85).
Diamondbacks: Off Thursday. Begin a three-game series Friday against the Padres at Chase Field.
___
AP MLB: https://apnews.com/hub/mlb and https://twitter.com/AP_Sports