Giants OF AJ Pollock will be sidelined about 3 weeks with a strained left oblique muscle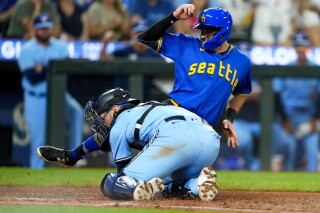 ANAHEIM, Calif. (AP) — New San Francisco Giants outfielder AJ Pollock will be sidelined for about three weeks with a strained left oblique muscle.
The Giants put Pollock on their 10-day injured list Wednesday before their series finale against the Los Angeles Angels.
Pollock was taken out of Tuesday's game in the third inning due to discomfort in his side. The Giants acquired the 12-year major league veteran from Seattle at the trade deadline along with infielder Mark Mathias.
Pollock is 0 for 6 in his first five games with San Francisco, including two starts. He is batting .165 this season with five homers and 15 RBIs in 54 games for the Mariners and Giants while struggling with injuries.
Pollock batted .245 for the White Sox last year following three more productive seasons with the Dodgers. He began his major league career with seven seasons in Arizona.
The Giants recalled outfielder Heliot Ramos from Triple-A Sacramento to take Pollock's roster spot. Ramos missed 50 games earlier this season with a right oblique strain.
___
AP MLB: https://apnews.com/hub/MLB