The NBA has been playing to a hip-hop beat for nearly 50 years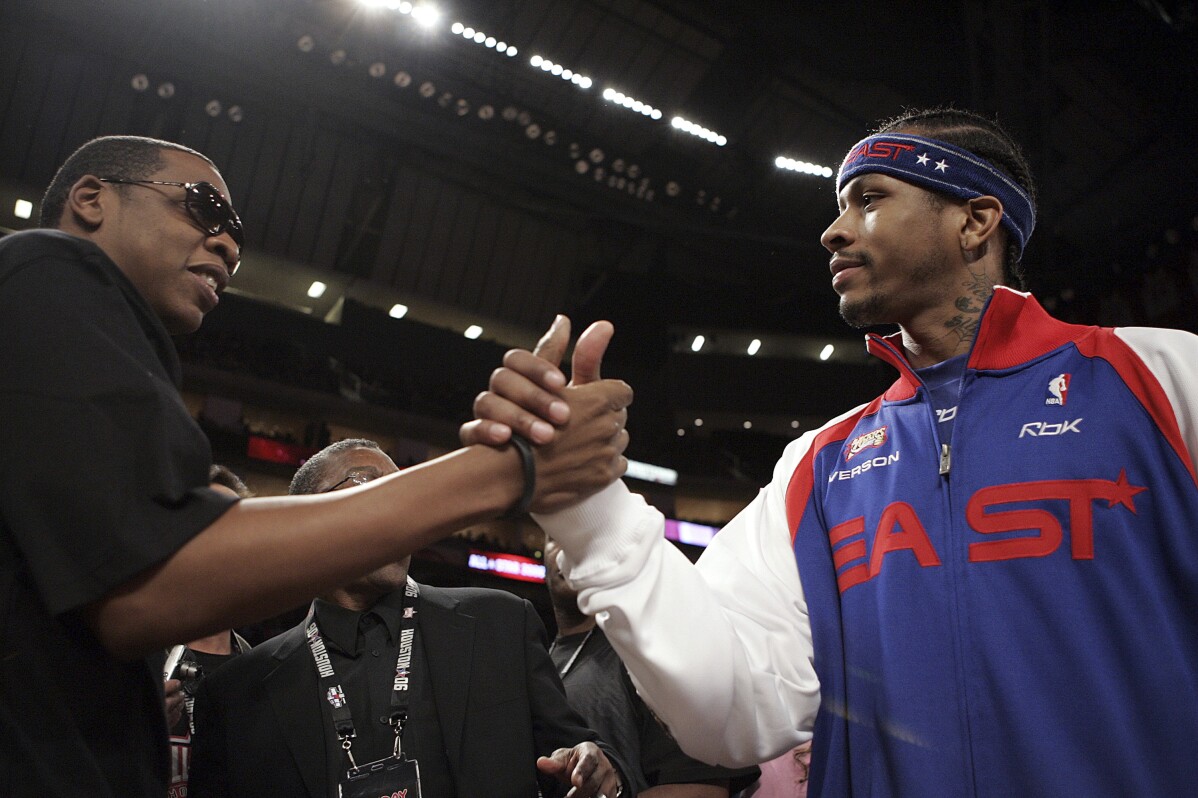 1 of 9

|
FILE - Rapper Jay-Z, left, shakes hands with NBA All-Star Philadelphia 76ers' Allen Iverson before the start of the NBA All-Star basketball game in Houston, Feb. 19, 2006. Just as a movie soundtrack helps viewers follow the action of the narrative through each plot twist, hip-hop has done the same for basketball via the NBA. A legacy was passed to Iverson when he entered the NBA in 1996, embodying hip-hop culture in everything he did, from his clothes to his corn rows. (AP Photo/LM Otero, file)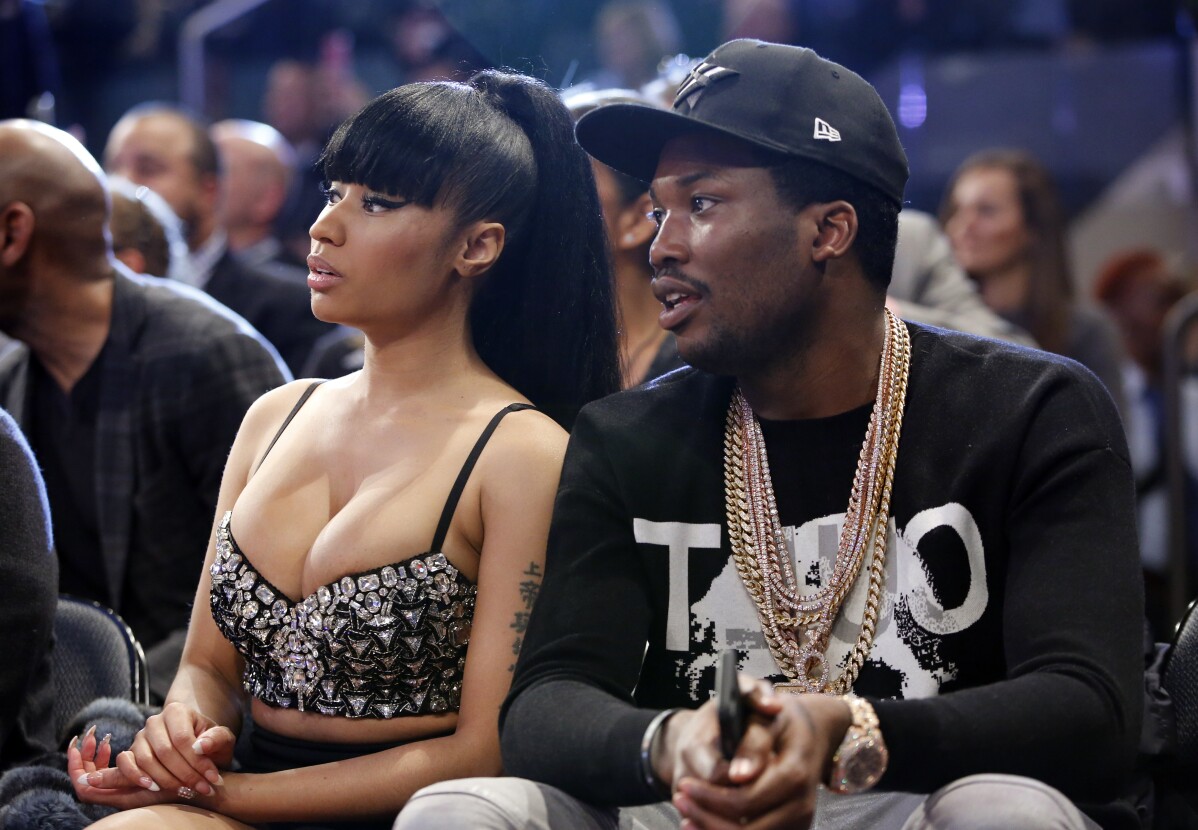 2 of 9

|
FILE - Nicki Minaj, left, and Meek Mill watch the second half of the NBA All-Star basketball game, Feb. 15, 2015, in New York. Just as a movie soundtrack helps viewers follow the action of the narrative through each plot twist, hip-hop has done the same for basketball via the NBA. (AP Photo/Kathy Willens, file)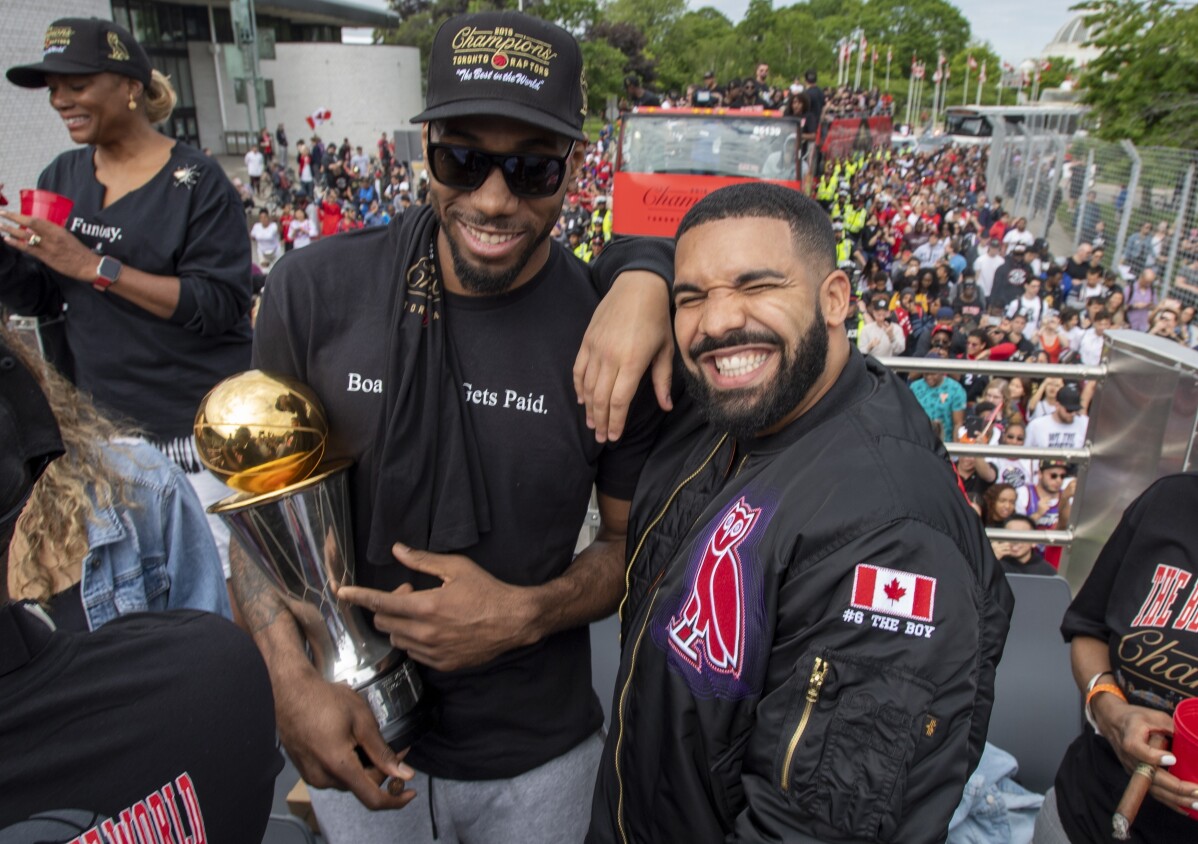 3 of 9

|
FILE - Toronto Raptors' Kawhi Leonard, front left, holds his MVP trophy while posing with rapper/producer Drake as they celebrate during the team's NBA basketball championship parade in Toronto, June 17, 2019. Just as a movie soundtrack helps viewers follow the action of the narrative through each plot twist, hip-hop has done the same for basketball via the NBA. Drake has been a global ambassador for his hometown team the Toronto Raptors since 2013 and is often seen on the sidelines interacting with coaches and players. (Frank Gunn/The Canadian Press via AP, file)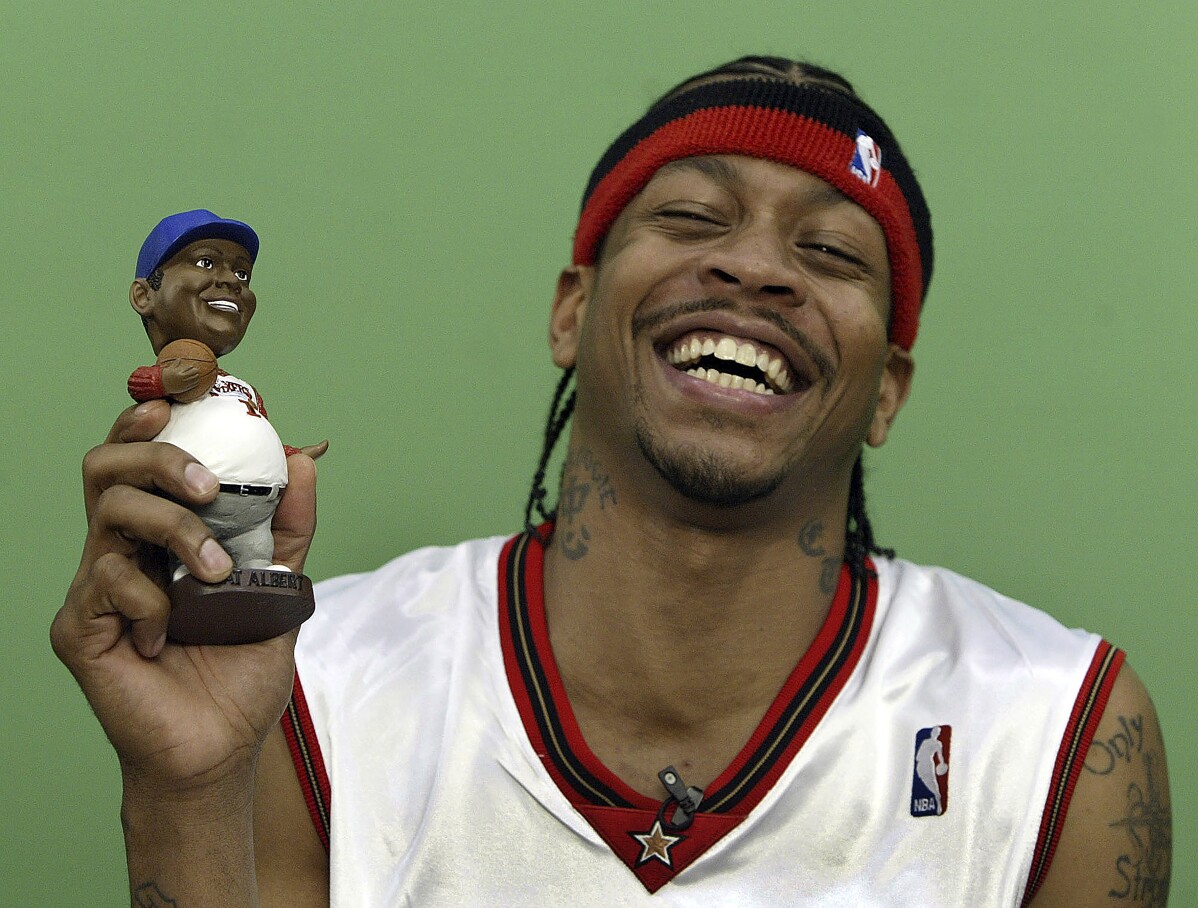 4 of 9

|
FILE - Philadelphia 76ers' Allen Iverson laughs with a promotional "Fat Albert" Bobble Head doll, Oct. 4, 2004. Just as a movie soundtrack helps viewers follow the action of the narrative through each plot twist, hip-hop has done the same for basketball via the NBA. A legacy was passed to Iverson when he entered the NBA in 1996, embodying hip-hop culture in everything he did, from his clothes to his corn rows. (Steven M. Falk/The Philadelphia Inquirer via AP, file)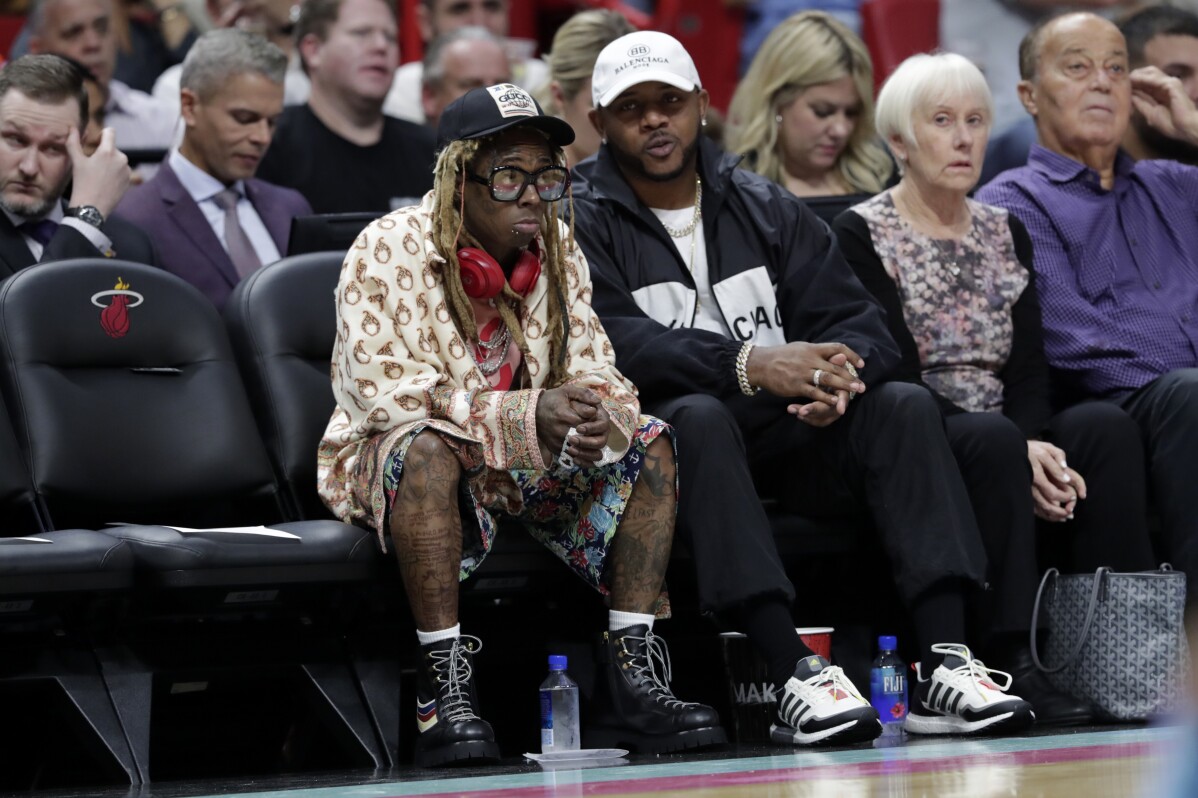 5 of 9

|
FILE - Rapper Lil Wayne, left, watches during the second half of an NBA basketball game between the Los Angeles Lakers and Miami Heat, Dec. 13, 2019, in Miami. Just as a movie soundtrack helps viewers follow the action of the narrative through each plot twist, hip-hop has done the same for basketball via the NBA. (AP Photo/Lynne Sladky, file)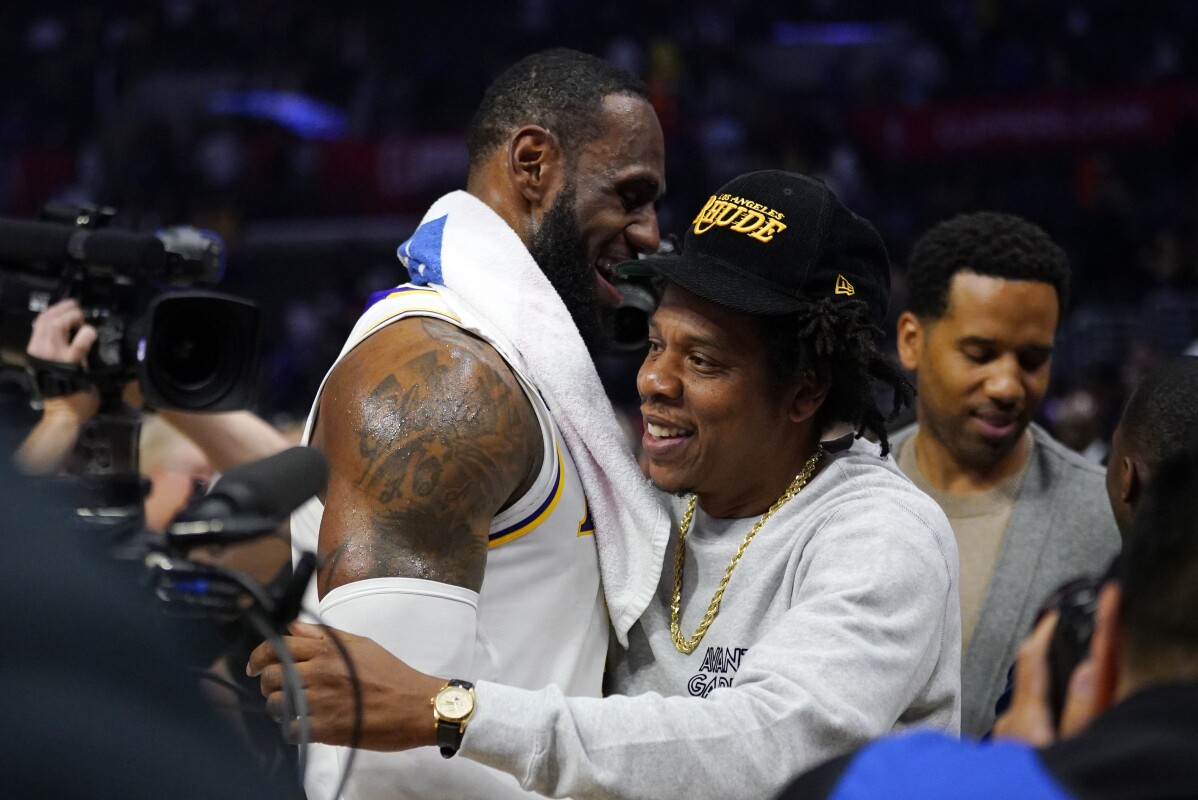 6 of 9

|
FILE - Los Angeles Lakers forward LeBron James, left, greets rapper Jay-Z after an NBA basketball game between the Los Angeles Clippers and the Lakers, March 8, 2020, in Los Angeles. Just as a movie soundtrack helps viewers follow the action of the narrative through each plot twist, hip-hop has done the same for basketball via the NBA. It underscores how hip-hop has used the NBA to step outside its urban origins and reach every corner of the country. Once derided by mainstream America, the words and contributions of hip-hop artists now impact the masses. Jay-Z not only bought a minority a stake in the Brooklyn Nets but designed the uniforms. (AP Photo/Mark J. Terrill, file)
7 of 9

|
FILE - Eminem yells to the crowd before the start of an NBA basketball game between the Detroit Pistons and the Charlotte Hornets, Oct. 18, 2017, in Detroit. Just as a movie soundtrack helps viewers follow the action of the narrative through each plot twist, hip-hop has done the same for basketball via the NBA. (AP Photo/Carlos Osorio, file)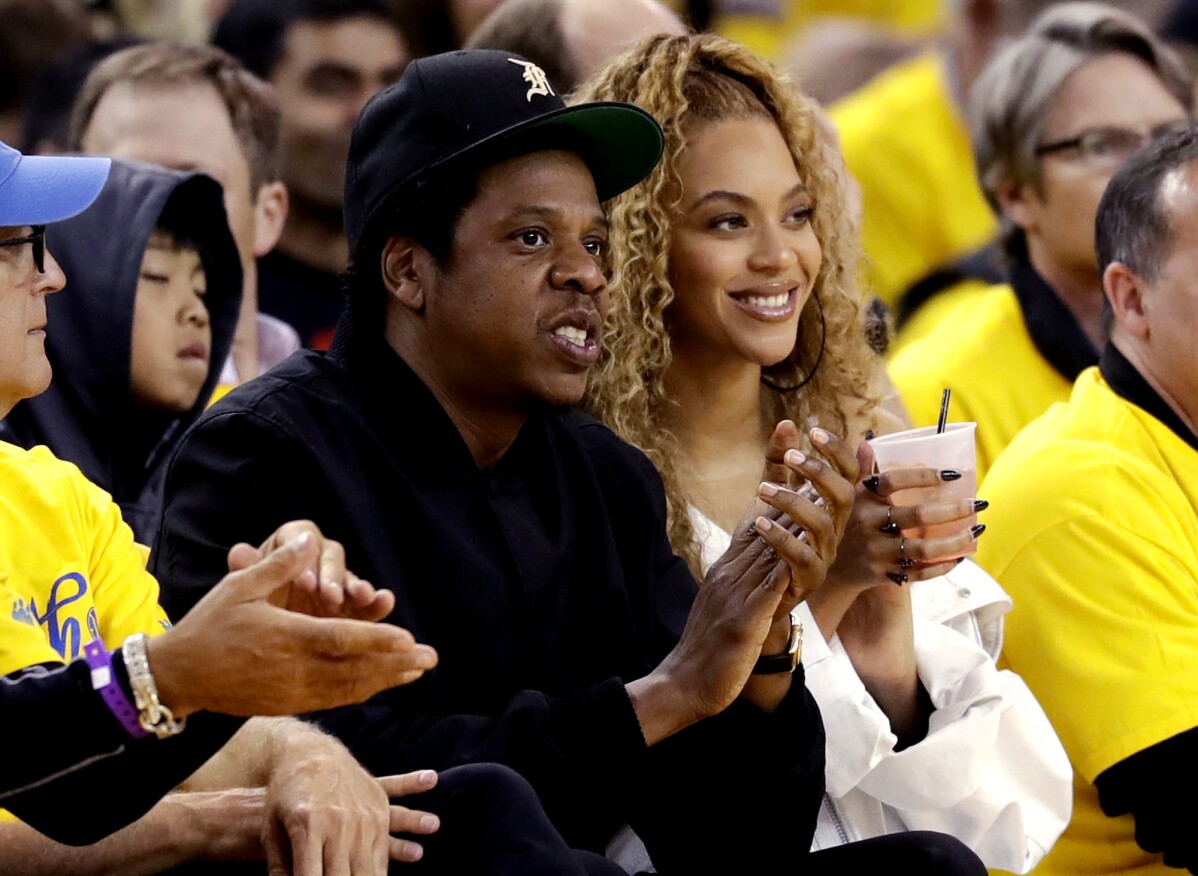 8 of 9

|
FILE - In this April 28, 2018, file photo, Jay-Z and Beyonce watch Game 1 of an NBA basketball second-round playoff series between the Golden State Warriors and the New Orleans Pelicans in Oakland, Calif. Just as a movie soundtrack helps viewers follow the action of the narrative through each plot twist, hip-hop has done the same for basketball via the NBA. It underscores how hip-hop has used the NBA to step outside its urban origins and reach every corner of the country. Once derided by mainstream America, the words and contributions of hip-hop artists now impact the masses. Jay-Z not only bought a minority a stake in the Brooklyn Nets but designed the uniforms. (AP Photo/Marcio Jose Sanchez, File)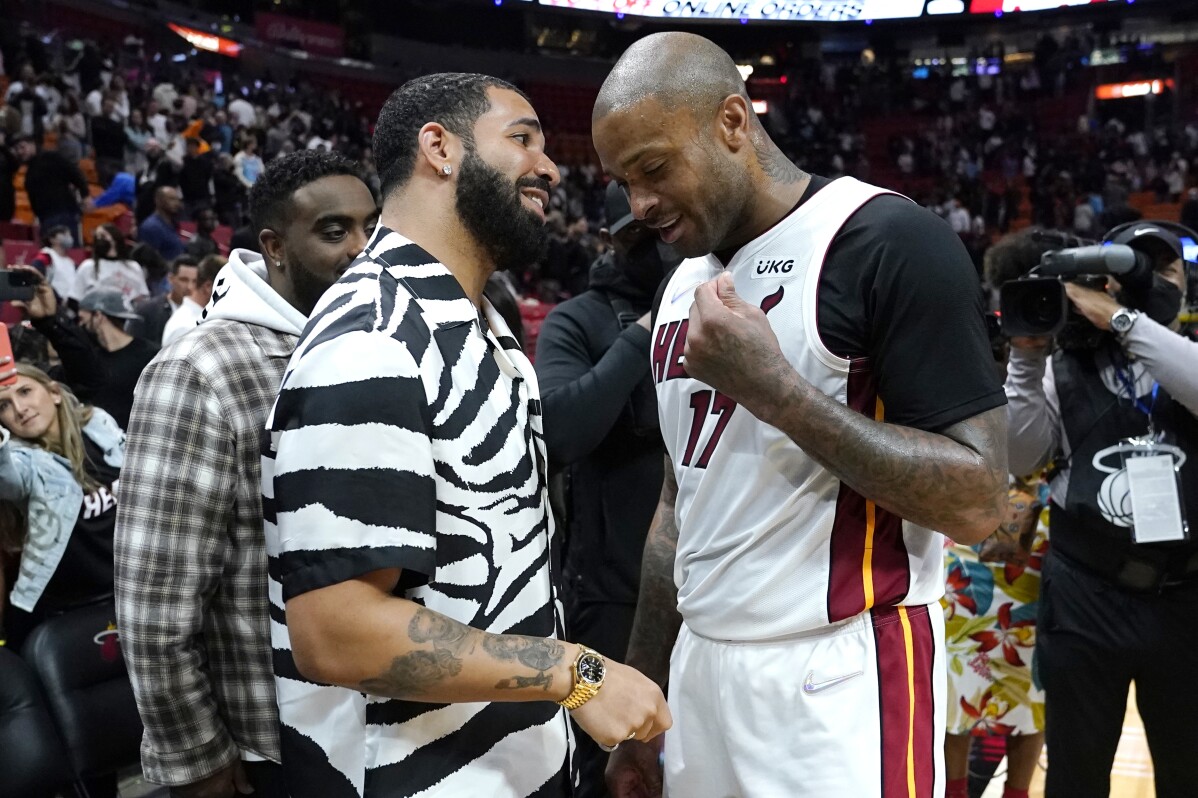 9 of 9

|
FILE - Musician Drake, left, talks with Miami Heat forward P.J. Tucker, right, after an NBA basketball game against the Atlanta Hawks, Jan. 14, 2022, in Miami. Just as a movie soundtrack helps viewers follow the action of the narrative through each plot twist, hip-hop has done the same for basketball via the NBA. (AP Photo/Lynne Sladky, file)
The NBA has been playing to a hip-hop beat for nearly 50 years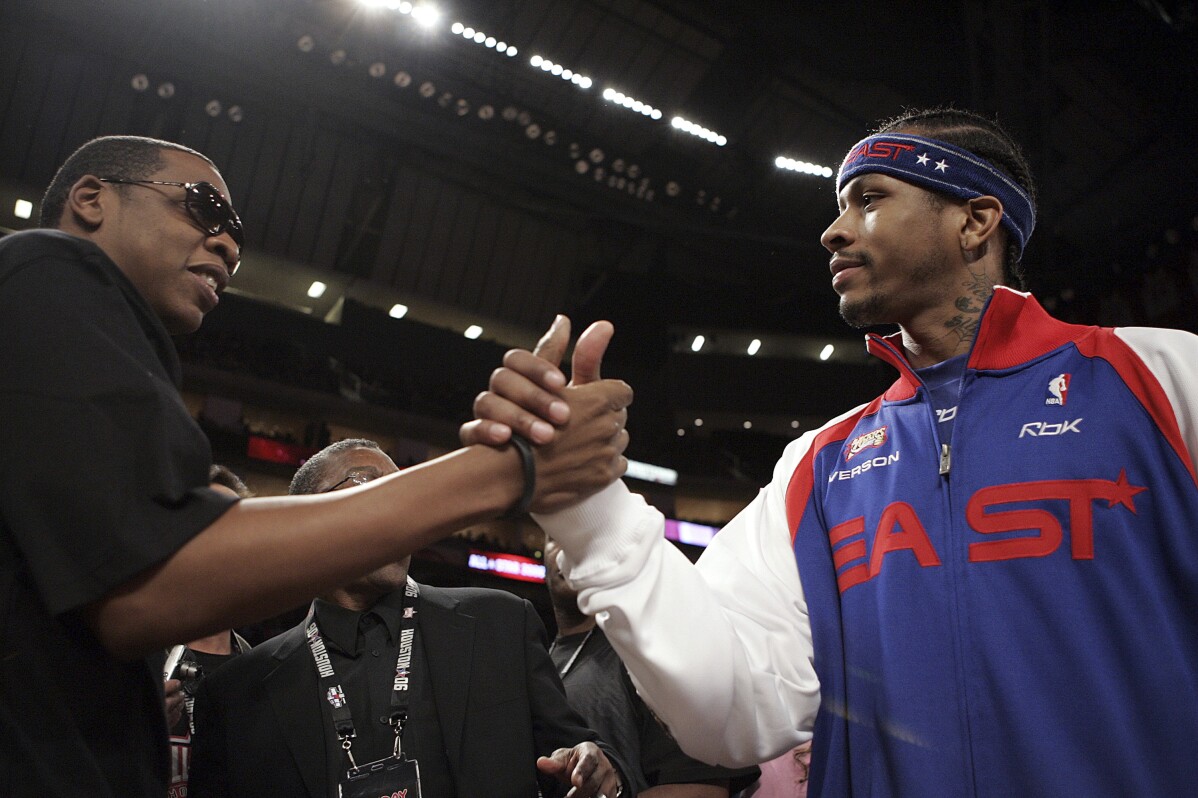 1 of 9

|
FILE - Rapper Jay-Z, left, shakes hands with NBA All-Star Philadelphia 76ers' Allen Iverson before the start of the NBA All-Star basketball game in Houston, Feb. 19, 2006. Just as a movie soundtrack helps viewers follow the action of the narrative through each plot twist, hip-hop has done the same for basketball via the NBA. A legacy was passed to Iverson when he entered the NBA in 1996, embodying hip-hop culture in everything he did, from his clothes to his corn rows. (AP Photo/LM Otero, file)
1 of 9
FILE - Rapper Jay-Z, left, shakes hands with NBA All-Star Philadelphia 76ers' Allen Iverson before the start of the NBA All-Star basketball game in Houston, Feb. 19, 2006. Just as a movie soundtrack helps viewers follow the action of the narrative through each plot twist, hip-hop has done the same for basketball via the NBA. A legacy was passed to Iverson when he entered the NBA in 1996, embodying hip-hop culture in everything he did, from his clothes to his corn rows. (AP Photo/LM Otero, file)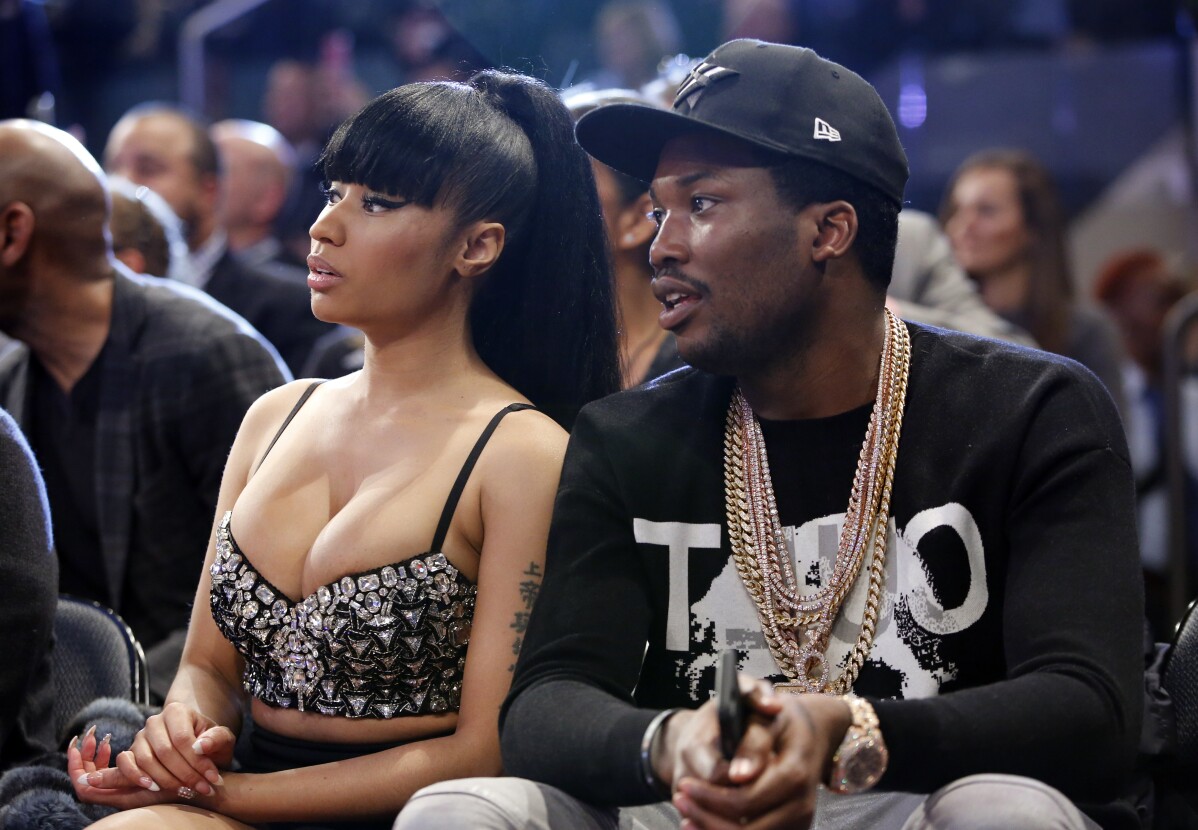 2 of 9

|
FILE - Nicki Minaj, left, and Meek Mill watch the second half of the NBA All-Star basketball game, Feb. 15, 2015, in New York. Just as a movie soundtrack helps viewers follow the action of the narrative through each plot twist, hip-hop has done the same for basketball via the NBA. (AP Photo/Kathy Willens, file)
2 of 9
FILE - Nicki Minaj, left, and Meek Mill watch the second half of the NBA All-Star basketball game, Feb. 15, 2015, in New York. Just as a movie soundtrack helps viewers follow the action of the narrative through each plot twist, hip-hop has done the same for basketball via the NBA. (AP Photo/Kathy Willens, file)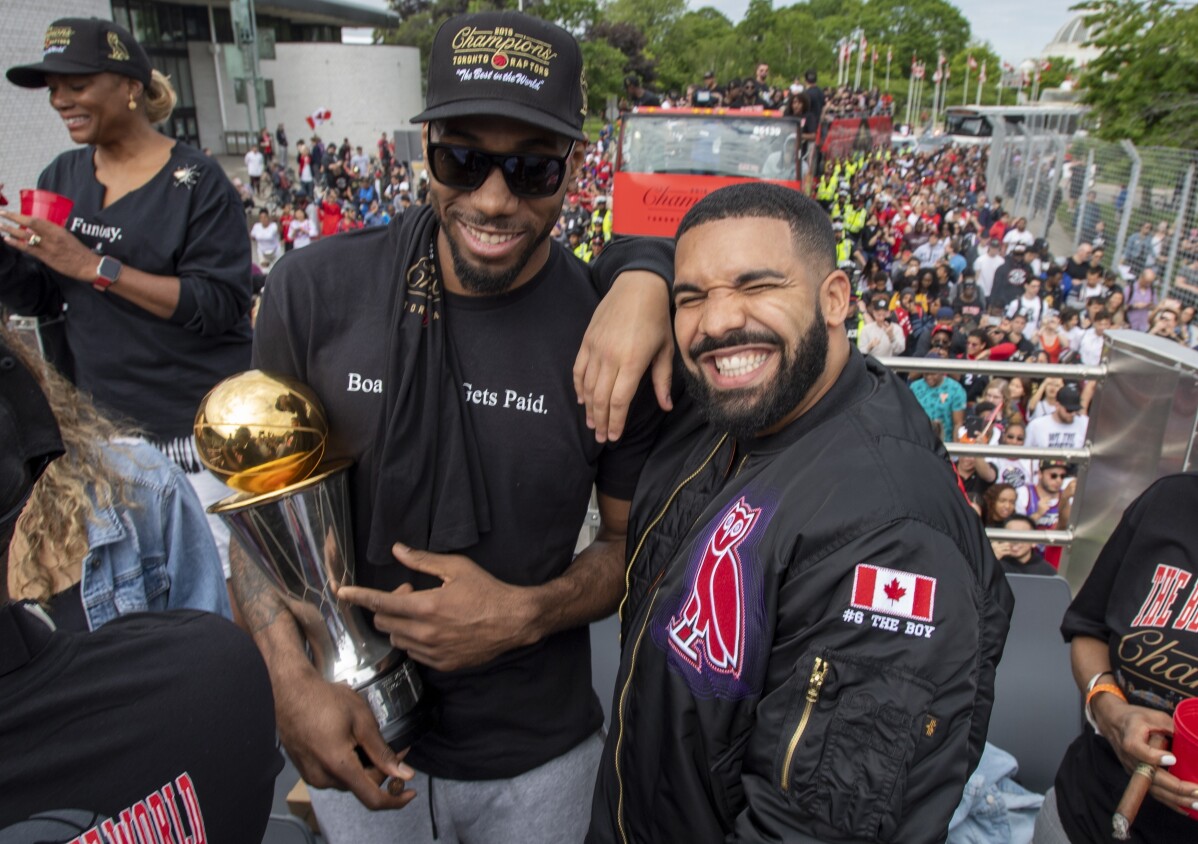 3 of 9

|
FILE - Toronto Raptors' Kawhi Leonard, front left, holds his MVP trophy while posing with rapper/producer Drake as they celebrate during the team's NBA basketball championship parade in Toronto, June 17, 2019. Just as a movie soundtrack helps viewers follow the action of the narrative through each plot twist, hip-hop has done the same for basketball via the NBA. Drake has been a global ambassador for his hometown team the Toronto Raptors since 2013 and is often seen on the sidelines interacting with coaches and players. (Frank Gunn/The Canadian Press via AP, file)
3 of 9
FILE - Toronto Raptors' Kawhi Leonard, front left, holds his MVP trophy while posing with rapper/producer Drake as they celebrate during the team's NBA basketball championship parade in Toronto, June 17, 2019. Just as a movie soundtrack helps viewers follow the action of the narrative through each plot twist, hip-hop has done the same for basketball via the NBA. Drake has been a global ambassador for his hometown team the Toronto Raptors since 2013 and is often seen on the sidelines interacting with coaches and players. (Frank Gunn/The Canadian Press via AP, file)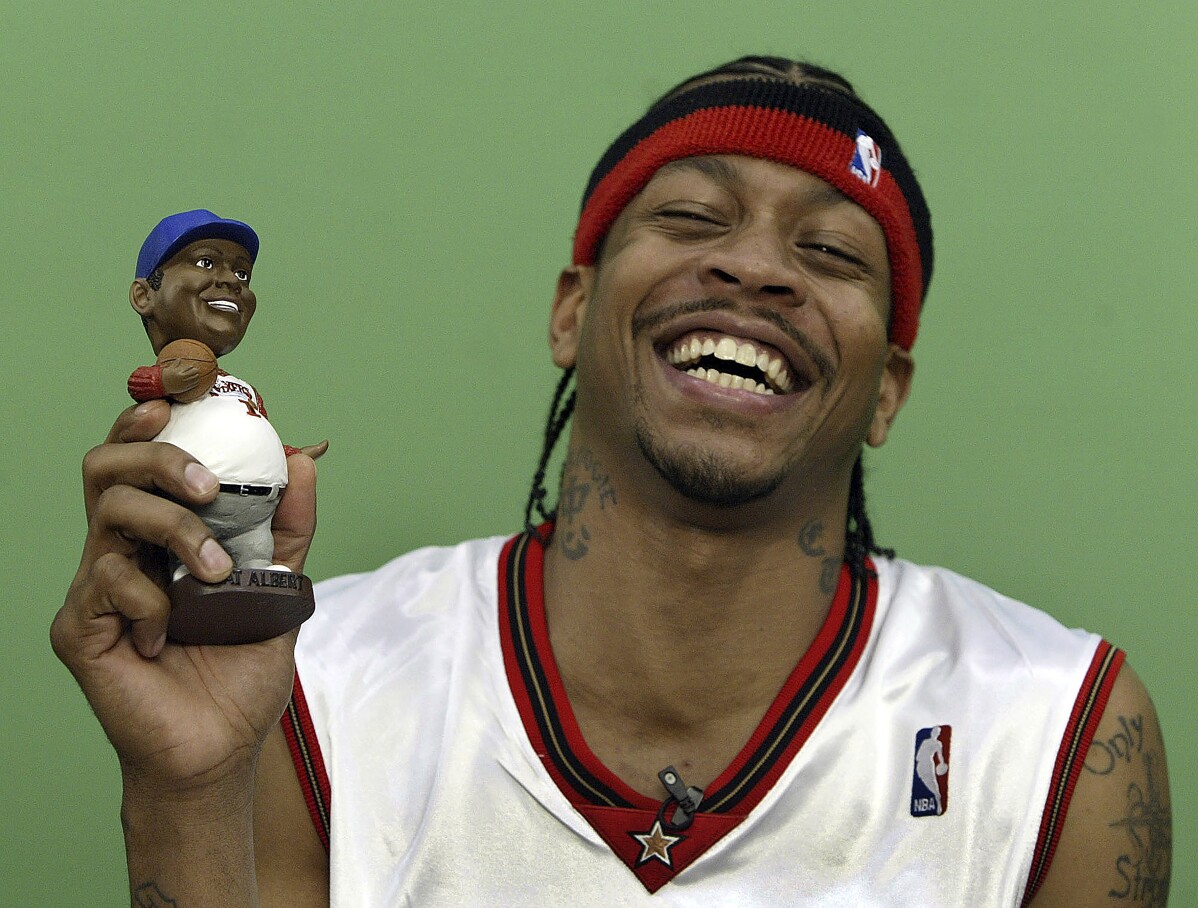 4 of 9

|
FILE - Philadelphia 76ers' Allen Iverson laughs with a promotional "Fat Albert" Bobble Head doll, Oct. 4, 2004. Just as a movie soundtrack helps viewers follow the action of the narrative through each plot twist, hip-hop has done the same for basketball via the NBA. A legacy was passed to Iverson when he entered the NBA in 1996, embodying hip-hop culture in everything he did, from his clothes to his corn rows. (Steven M. Falk/The Philadelphia Inquirer via AP, file)
4 of 9
FILE - Philadelphia 76ers' Allen Iverson laughs with a promotional "Fat Albert" Bobble Head doll, Oct. 4, 2004. Just as a movie soundtrack helps viewers follow the action of the narrative through each plot twist, hip-hop has done the same for basketball via the NBA. A legacy was passed to Iverson when he entered the NBA in 1996, embodying hip-hop culture in everything he did, from his clothes to his corn rows. (Steven M. Falk/The Philadelphia Inquirer via AP, file)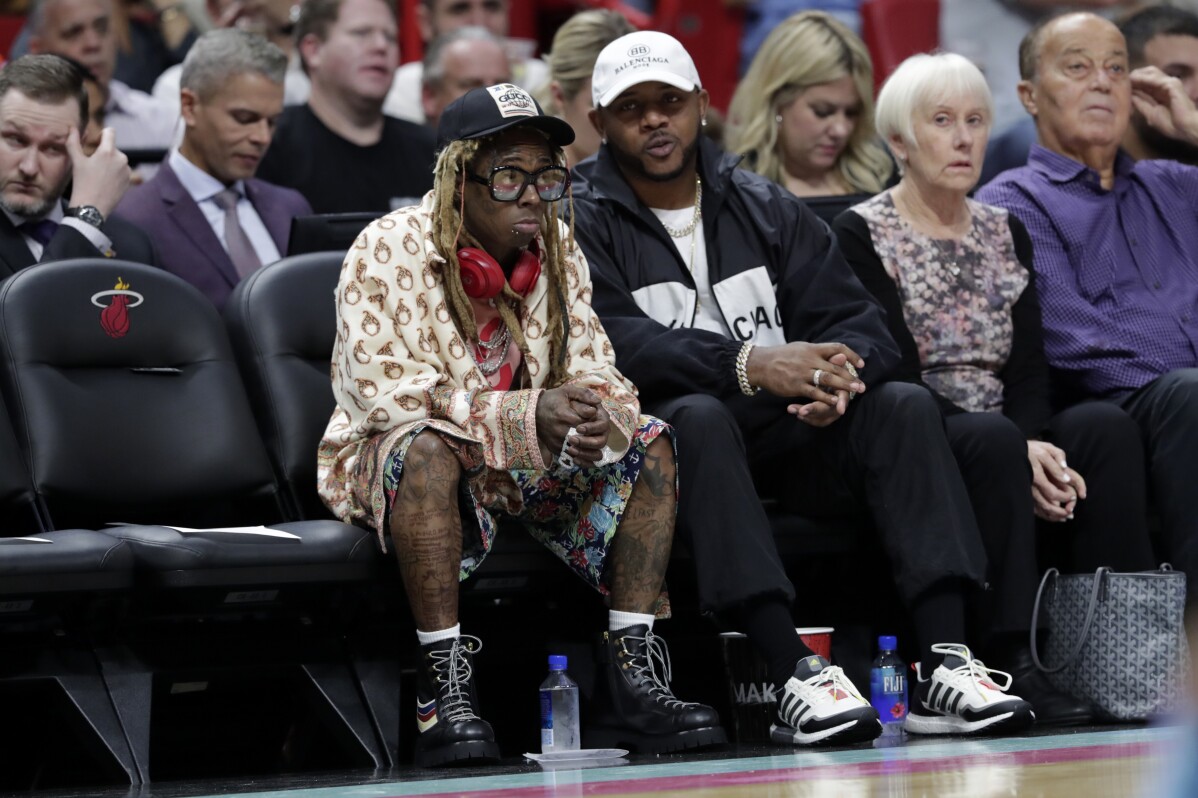 5 of 9

|
FILE - Rapper Lil Wayne, left, watches during the second half of an NBA basketball game between the Los Angeles Lakers and Miami Heat, Dec. 13, 2019, in Miami. Just as a movie soundtrack helps viewers follow the action of the narrative through each plot twist, hip-hop has done the same for basketball via the NBA. (AP Photo/Lynne Sladky, file)
5 of 9
FILE - Rapper Lil Wayne, left, watches during the second half of an NBA basketball game between the Los Angeles Lakers and Miami Heat, Dec. 13, 2019, in Miami. Just as a movie soundtrack helps viewers follow the action of the narrative through each plot twist, hip-hop has done the same for basketball via the NBA. (AP Photo/Lynne Sladky, file)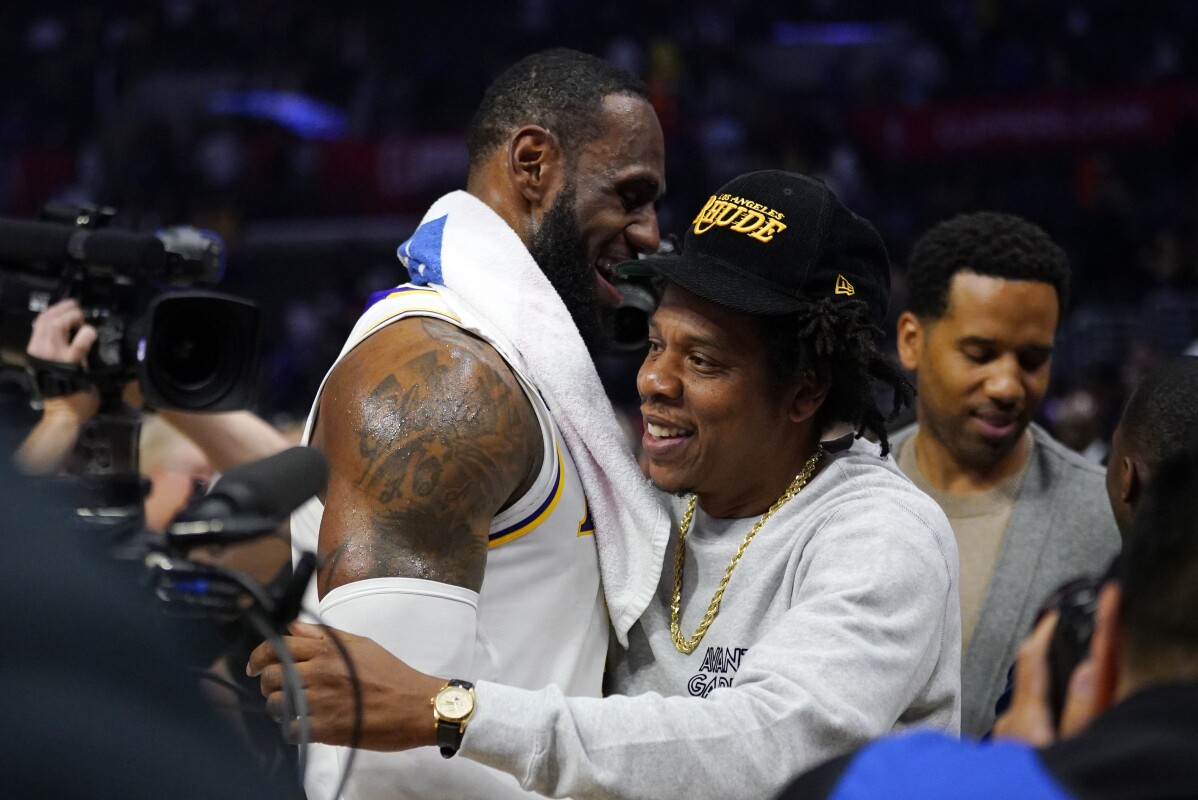 6 of 9

|
FILE - Los Angeles Lakers forward LeBron James, left, greets rapper Jay-Z after an NBA basketball game between the Los Angeles Clippers and the Lakers, March 8, 2020, in Los Angeles. Just as a movie soundtrack helps viewers follow the action of the narrative through each plot twist, hip-hop has done the same for basketball via the NBA. It underscores how hip-hop has used the NBA to step outside its urban origins and reach every corner of the country. Once derided by mainstream America, the words and contributions of hip-hop artists now impact the masses. Jay-Z not only bought a minority a stake in the Brooklyn Nets but designed the uniforms. (AP Photo/Mark J. Terrill, file)
6 of 9
FILE - Los Angeles Lakers forward LeBron James, left, greets rapper Jay-Z after an NBA basketball game between the Los Angeles Clippers and the Lakers, March 8, 2020, in Los Angeles. Just as a movie soundtrack helps viewers follow the action of the narrative through each plot twist, hip-hop has done the same for basketball via the NBA. It underscores how hip-hop has used the NBA to step outside its urban origins and reach every corner of the country. Once derided by mainstream America, the words and contributions of hip-hop artists now impact the masses. Jay-Z not only bought a minority a stake in the Brooklyn Nets but designed the uniforms. (AP Photo/Mark J. Terrill, file)
7 of 9

|
FILE - Eminem yells to the crowd before the start of an NBA basketball game between the Detroit Pistons and the Charlotte Hornets, Oct. 18, 2017, in Detroit. Just as a movie soundtrack helps viewers follow the action of the narrative through each plot twist, hip-hop has done the same for basketball via the NBA. (AP Photo/Carlos Osorio, file)
7 of 9
FILE - Eminem yells to the crowd before the start of an NBA basketball game between the Detroit Pistons and the Charlotte Hornets, Oct. 18, 2017, in Detroit. Just as a movie soundtrack helps viewers follow the action of the narrative through each plot twist, hip-hop has done the same for basketball via the NBA. (AP Photo/Carlos Osorio, file)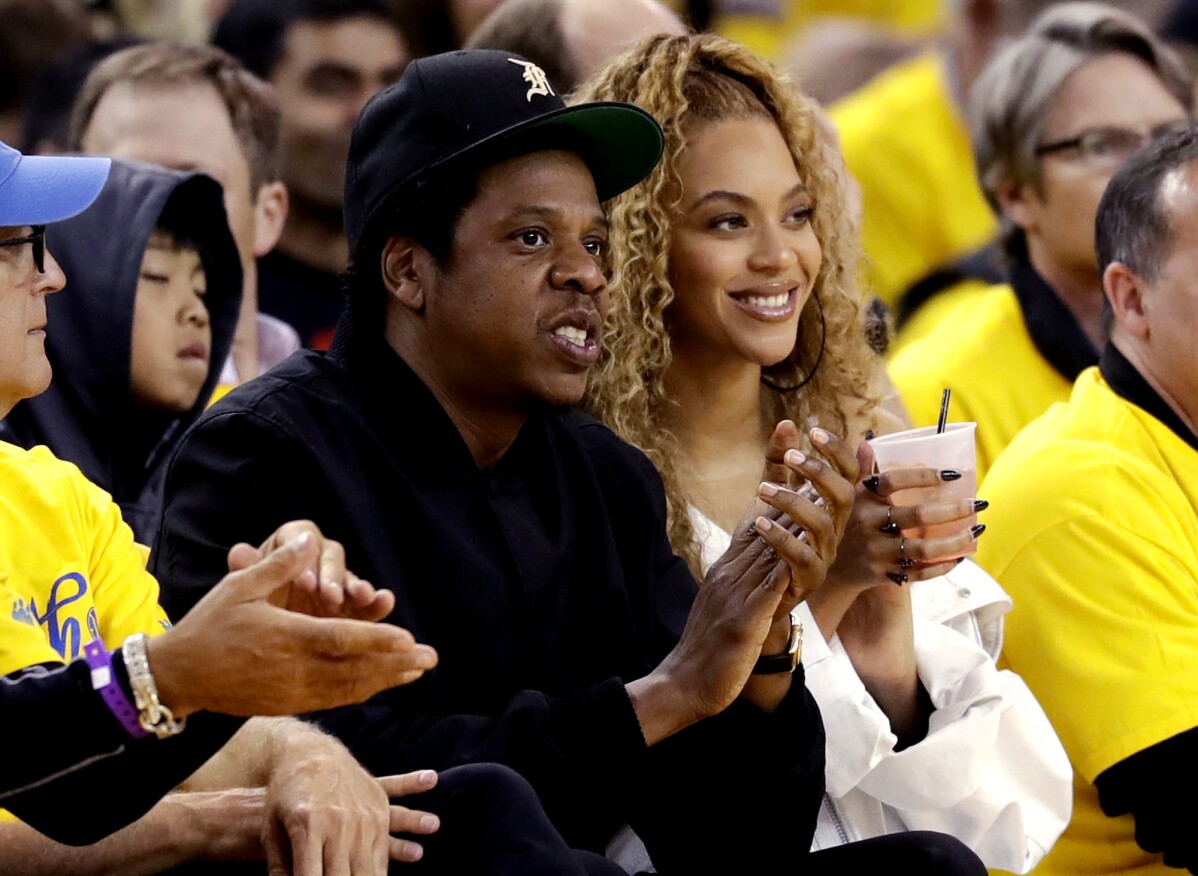 8 of 9

|
FILE - In this April 28, 2018, file photo, Jay-Z and Beyonce watch Game 1 of an NBA basketball second-round playoff series between the Golden State Warriors and the New Orleans Pelicans in Oakland, Calif. Just as a movie soundtrack helps viewers follow the action of the narrative through each plot twist, hip-hop has done the same for basketball via the NBA. It underscores how hip-hop has used the NBA to step outside its urban origins and reach every corner of the country. Once derided by mainstream America, the words and contributions of hip-hop artists now impact the masses. Jay-Z not only bought a minority a stake in the Brooklyn Nets but designed the uniforms. (AP Photo/Marcio Jose Sanchez, File)
8 of 9
FILE - In this April 28, 2018, file photo, Jay-Z and Beyonce watch Game 1 of an NBA basketball second-round playoff series between the Golden State Warriors and the New Orleans Pelicans in Oakland, Calif. Just as a movie soundtrack helps viewers follow the action of the narrative through each plot twist, hip-hop has done the same for basketball via the NBA. It underscores how hip-hop has used the NBA to step outside its urban origins and reach every corner of the country. Once derided by mainstream America, the words and contributions of hip-hop artists now impact the masses. Jay-Z not only bought a minority a stake in the Brooklyn Nets but designed the uniforms. (AP Photo/Marcio Jose Sanchez, File)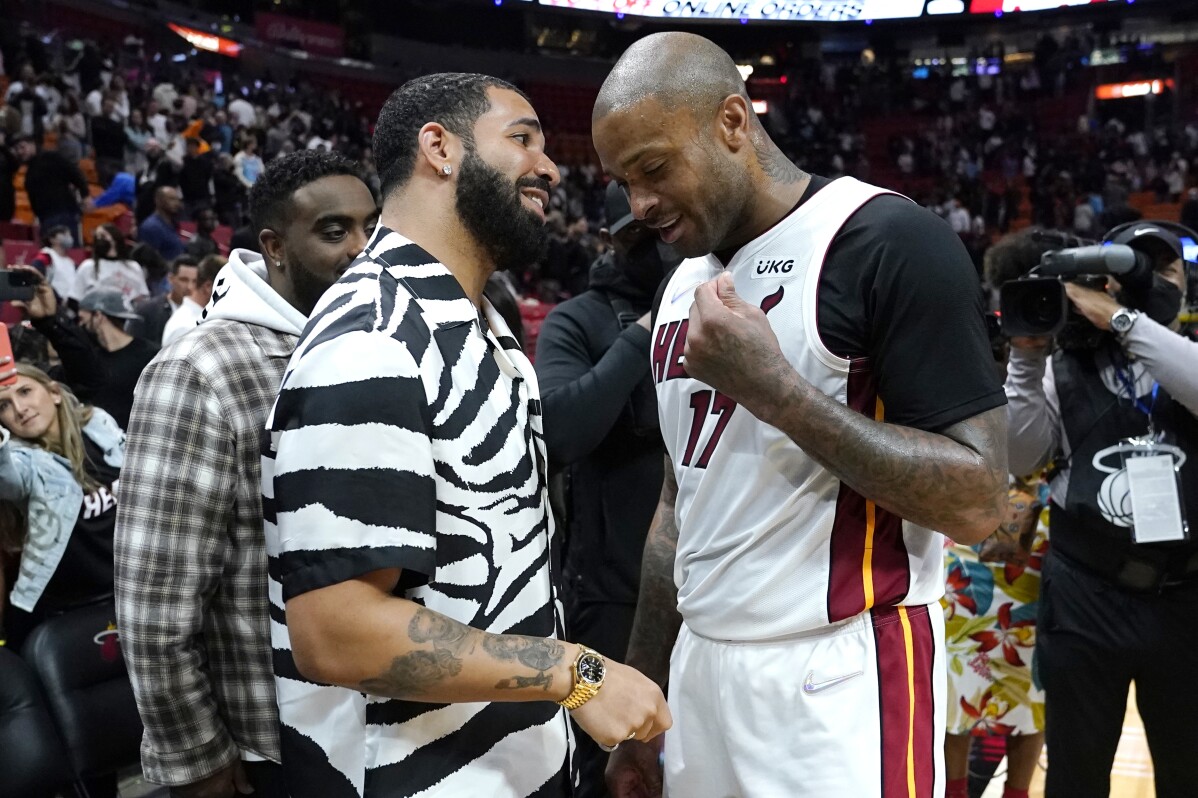 9 of 9

|
FILE - Musician Drake, left, talks with Miami Heat forward P.J. Tucker, right, after an NBA basketball game against the Atlanta Hawks, Jan. 14, 2022, in Miami. Just as a movie soundtrack helps viewers follow the action of the narrative through each plot twist, hip-hop has done the same for basketball via the NBA. (AP Photo/Lynne Sladky, file)
9 of 9
FILE - Musician Drake, left, talks with Miami Heat forward P.J. Tucker, right, after an NBA basketball game against the Atlanta Hawks, Jan. 14, 2022, in Miami. Just as a movie soundtrack helps viewers follow the action of the narrative through each plot twist, hip-hop has done the same for basketball via the NBA. (AP Photo/Lynne Sladky, file)
From his booth at the corner of the court, Miami Heat disc jockey M Dot has a front-row look at the harmonious fusion of basketball and music.
M Dot — real name Michael Hankerson — has watched LeBron James and Dwyane Wade to Jimmy Butler nod their heads in pregame layup lines to songs from artists like Drake and Jeezy. He's seen fans mumble song lyrics between cheers, and rap artists hype up the crowd during timeouts.
It's a relationship that began in the late 1970s, early '80s as hip-hop was taking flight, and so was a new NBA era.
Today, basketball games are like a playground for the sounds of hip-hop — the unmistakable music genre infused with rhythmic beats and vivid storytelling.
Just as a movie soundtrack helps viewers follow the action of the narrative through each plot twist, hip-hop has done the same for basketball via the NBA. Over the past five decades, the genre has inserted lyrics, beats and culture into the sport's DNA. Now, as hip-hop reaches its 50th anniversary, the two are intertwined like a colorful, crisscrossed ball of yarn.
"Hip-hop has always been young, fresh, relatable," M Dot said. "If you were to attend any NBA game, I would go as far as to say it's probably a third of the music being played."
Other sports certainly have been touched by hip-hop culture over the decades. But by nature of sharing the same playgrounds as the musical genre's birthplace, the kinship with basketball has always been different.
"I think the relationship between basketball and hip-hop, they seem kind of symbiotic. They both allow for individual expression within a team dynamic," said Mark Campbell, University of Toronto professor of music and culture. "What makes them unique is that a lot of times what's memorable about basketball is not how many wins a team made, but it is about how Dr. J (Julius Erving) went around the rim, or how an individual player created poetry in motion...how they made the body do interesting and dynamic and new things."
Many hip-hop artists and basketball players have lived similar rags-to-riches stories, making for a natural brotherhood on and off the court.
Remnants of that connection have roots in the infant days of the genre. Sugar Hill Gang's "Rappers Delight" — the first rap song to appear on Billboard's Hot 100 — linked hardwood to drum machine in 1979 when Big Bank Hank rapped, "So after school, I take a dip in the pool, which is really on the wall/I got a color TV so I can see the Knicks play basketball."
Kurtis Blow did it again in 1984 with "Basketball," his lyrical ode to the sport and another of rap's earliest commercial successes.
"Basketball by the middle of the 80s after the merger with the NBA and with the ABA, is struggling to be a profitable professional sport," Campbell said. "All it really took was someone like (Michael) Jordan to have the swagger of local b-boys in the neighborhood, to have the swagger of anyone hanging outside, or to pick up the swagger of a Rakim or those guys and put it on a stage where cable television allowed people to see what they couldn't see in the neighborhoods that they weren't part of."
It was the start of a connection that has persisted throughout the decades.
Hip-hop was born in the Bronx, rising from the ashes of a borough ablaze with poverty, urban decay and gang violence. Fifty years later, it is a multi-billion-dollar global industry, but the Bronx has yet to benefit. (Aug. 9) (AP Video/Noreen Nasir)
Michigan's "Fab Five" were college basketball's first hip-hop team, hitting the scene in 1991, the same year Public Enemy became the first hip-hop group to top Billboard charts.
From their baggy shorts to their black socks and shoes, the five Michigan freshmen — Jalen Rose, Chris Webber, Jimmy King, Juwan Howard and Ray Jackson — brought a personality to the game that was in direct contrast to the toned-down style of the players that came before them.
Bringing elements of hip-hop culture to the court was intentional, King said.
"Most basketball players want to be entertainers, and most entertainers want to be athletes. So we pay attention to each other," King said. "I think we use the the hip-hop genre of music to hype us up for games, keep our spirits up and motivated. And I think that entertainers kind of get that thrill vicariously through the athlete. … It just kind of goes hand-in-hand."
While most teams would break huddles with phrases like "Go Team!" or "Family," King recalled team Michigan ending with a not-so-subtle line borrowed from the Geto Boys' 1991 album "We Can't Be Stopped."
King said it was a testament to the culture clash they proudly personified.
"It was our brand. It was our style," he said. "The trash talking, the celebrations, it was just an extension."
That legacy was passed to Allen Iverson when he entered the NBA in 1996, embodying hip-hop culture in everything he did, from his clothes to his corn rows.
With stars embracing hip-hop in ways never seen before, it all gave the NBA pause and raised concerns in some circles about the league's more conservative corporate sponsors. Former league Commissioner David Stern even instituted a dress code for players who were on the bench in street clothes.
But it was more than a look, the hip-hop/NBA seed had taken hold.
Iverson's time in the league helped cement an era of NBA players who went from simply consuming hip-hop leisurely and hanging out with its stars, to actually producing their own music.
Iverson, Shaquille O'Neal, Kobe Bryant, Marcus Smart, Damian Lillard and so many others have actual hip-hop albums.
Lillard, a seven-time All-Star, is known by his rap persona Dame D.O.L.L.A. in the studio. With four albums to his credit, he often displays his lyrical talent on social media. This past season when a snowstorm left him and his Portland Trail Blazers teammates stranded on the tarmac for seven-plus hours, he used the downtime to pen a quick verse around the ordeal, complete with an impromptu music video shoot.
The kinship between the two worlds remains clear.
Drake and J Cole are just a couple big-named hip-hop artists who are deeply involved with NBA teams. Drake has been a global ambassador for his hometown team the Toronto Raptors since 2013 and is often seen on the sidelines interacting with coaches and players. Cole, who played on his high school basketball team, became a minority owner for the Charlotte Hornets when Michael Jordan sold his majority ownership stake in June.
When popular Los Angeles rap artist Nipsey Hussle was killed in 2019, NBA teams and players delivered tributes. The Clippers displayed a jersey with his name on it. Stars like Stephen Curry, who had developed a friendship with Hussle, paid homage to him on social media and in news conferences.
It underscores how hip-hop has used the NBA to step outside its urban origins and reach every corner of the country.
Once derided by mainstream America, the words and contributions of hip-hop artists now impact the masses.
Jay-Z not only bought a minority a stake in the Brooklyn Nets but designed the uniforms. When NBA players upset over racial injustice and the shooting of a Black man by police in Wisconsin staged a walk out inside the league's pandemic bubble in 2020, it was a physical manifestation of the angst pulsating through hip-hop music at that time.
"There's no way to overestimate the impact of hip-hop culture," Campbell said. "It suggests that if the NBA isn't going to be a home to the kind of excessive styling that's part of Black or urban culture, that someone else is going to capitalize on it. Fashion brands, dance, all of those elements equally impact how basketball tries to make its money. How it tries to be cool in a sense. It's the cool factor."
___
AP NBA: https://apnews.com/hub/nba and https://twitter.com/AP_Sports
___
Follow Alanis Thames on Twitter at http://www.twitter.com/alanisthames
___
Follow Kyle Hightower on Twitter at http://www.twitter.com/khightower