Hip-hop and justice: Culture carries the spirit of protest, 50 years and counting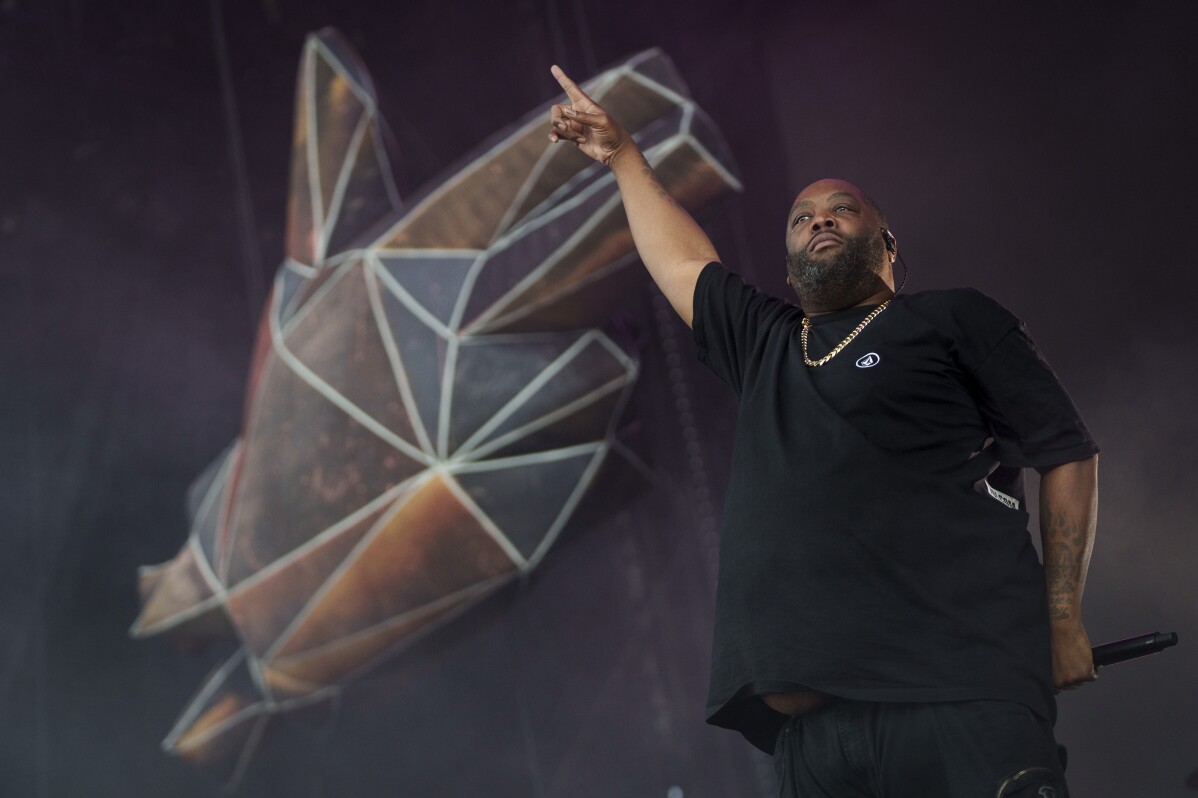 1 of 8

|
FILE - Killer Mike of Run The Jewels performs at the Reading Music Festival in England, Aug. 28, 2022. Hip-hop has been an integral part of social and racial justice movements.It's also been scrutinized by law enforcement and political groups because of their belief that hip-hop and its artists' encourage violent criminality. Free speech advocates see the ongoing persecution of rappers as a proxy war primarily waged against Black and Latino people who are the early pioneers of the culture. For hip-hop artists who live under repressive regimes, "dropping bars" to air one's grievances against the government can mean time behind bars or worse. (Photo by Scott Garfitt/Invision/AP, File)
2 of 8

|
Jamie Davis, center, marches and chants with others, July 7, 2016, in Columbia, Mo., in protest of recent police shootings of African-Americans. Hip-hop has been an integral part of social and racial justice movements.It's also been scrutinized by law enforcement and political groups because of their belief that hip-hop and its artists' encourage violent criminality. Free speech advocates see the ongoing persecution of rappers as a proxy war primarily waged against Black and Latino people who are the early pioneers of the culture. (Daniel Brenner/Columbia Daily Tribune via AP)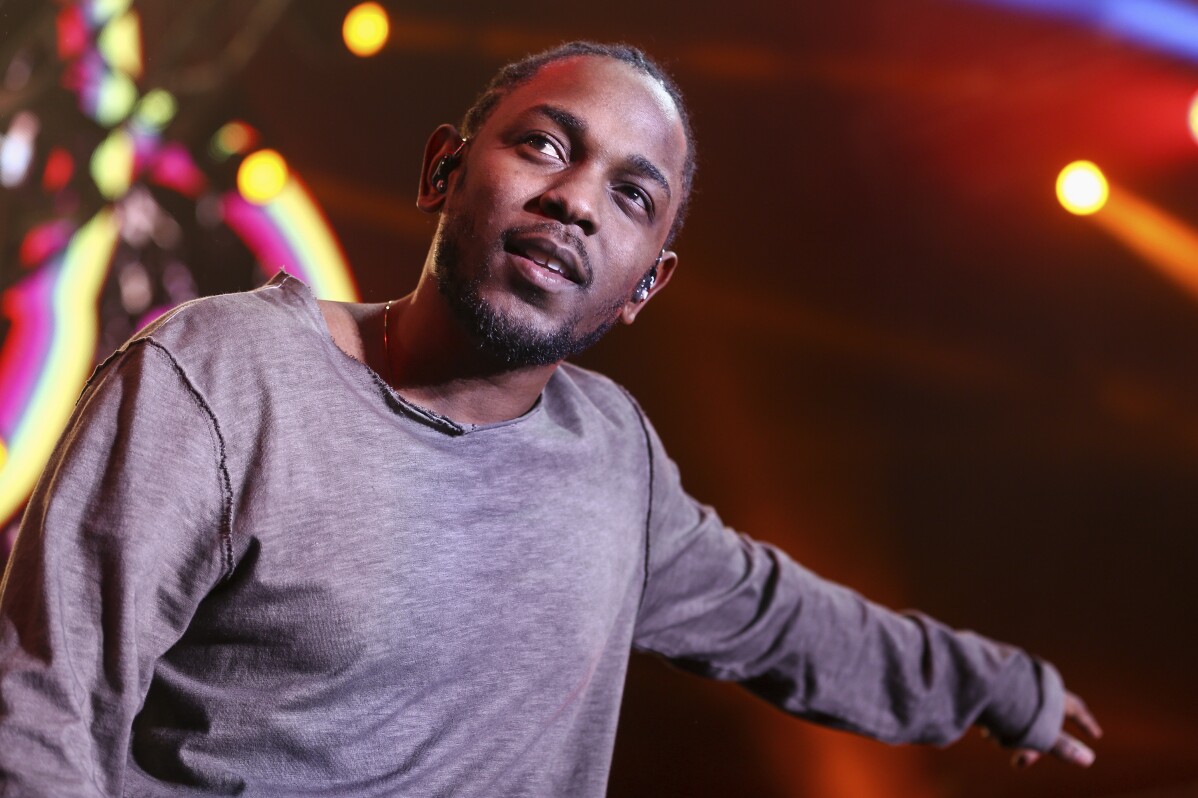 3 of 8

|
FILE - In this Dec. 4, 2015 file photo, Kendrick Lamar performs at Power 106's 'Cali Christmas' 2015 in Inglewood, Calif. Hip-hop has been an integral part of social and racial justice movements. Free speech advocates see the ongoing persecution of rappers as a proxy war primarily waged against Black and Latino people who are the early pioneers of the culture. In 2016, following the fatal police shootings of Philando Castile and Alton Sterling, rap music and protest were almost inextricably linked. It was rare then to attend a demonstration and not hear Kendrick Lamar's 2015 song "Alright," a celebration of triumph over adversity in the face of systemic oppression and injustice. (Photo by John Salangsang/Invision/AP, File)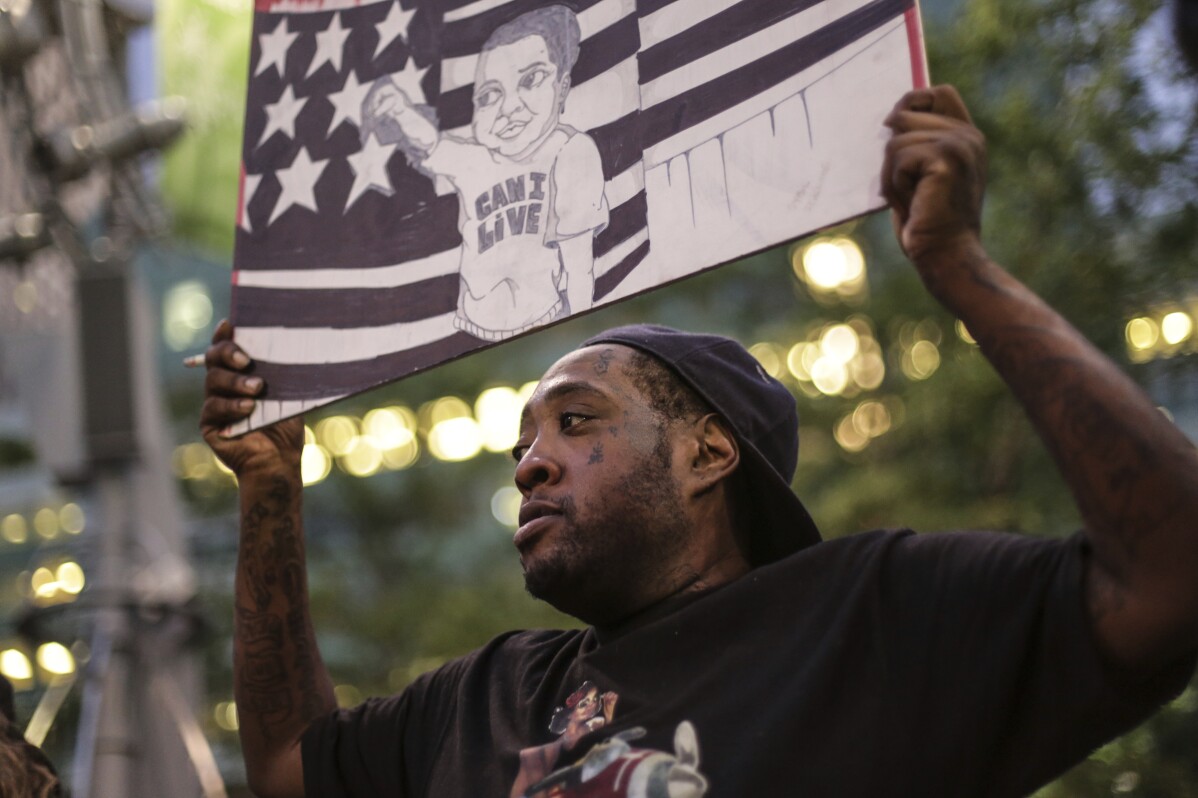 4 of 8

|
Detroit Art Cartel member OG Fame holds a piece of art while protesters gathered at Campus Martius in Detroit on July 8, 2016, while speaking out against the fatal police shootings of Alton Sterling and Philando Castile in Detroit. Hip-hop has been an integral part of social and racial justice movements.It's also been scrutinized by law enforcement and political groups because of their belief that hip-hop and its artists' encourage violent criminality. Free speech advocates see the ongoing persecution of rappers as a proxy war primarily waged against Black and Latino people who are the early pioneers of the culture. (Ryan Garza/Detroit Free Press via AP)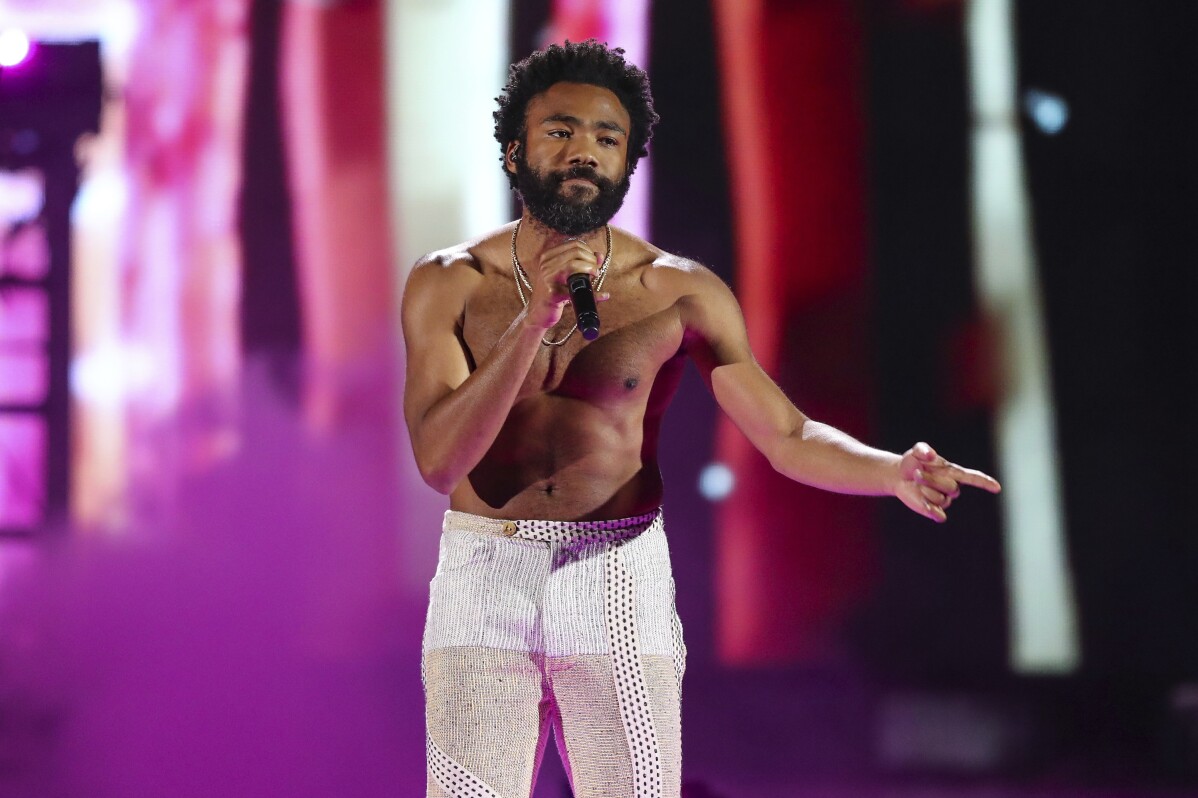 5 of 8

|
FILE - In this Friday, Sept. 21, 2018 file photo, Childish Gambino performs at the 2018 iHeartRadio Music Festival Day 1 held at T-Mobile Arena in Las Vegas. Hip-hop has been an integral part of social and racial justice movements.It's also been scrutinized by law enforcement and political groups because of their belief that hip-hop and its artists' encourage violent criminality. Free speech advocates see the ongoing persecution of rappers as a proxy war primarily waged against Black and Latino people who are the early pioneers of the culture. His hit "This is America," is a commentary on violence and systemic racism in the U.S. The song made history in 2019 as the first hip-hop track to win the song of the year Grammy – and it was parodied by global artists to speak to corruption and injustice in Nigeria, Malaysia and Australia. (Photo by John Salangsang/Invision/AP, File)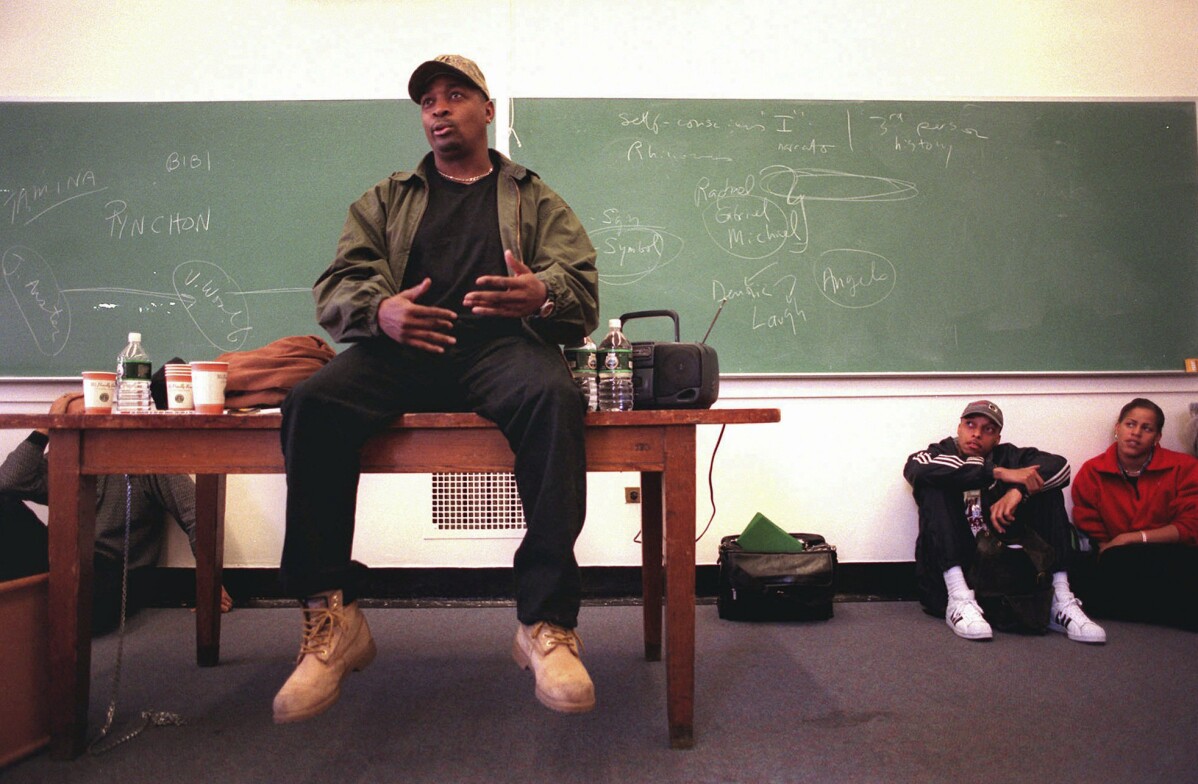 6 of 8

|
FILE - In this April 28, 1998 file photo, Chuck D from the rap group Public Enemy, speaks to Columbia University students in New York. In the early days of hip-hop, plugging turntables into a light post and converting an outdoor basketball court into a discotheque may have seemed like a simple invitation to party. A closer look scene revealed the truth: Hip-hop was a response to social and economic injustice in disregarded neighborhoods, a showcase of joy, ingenuity and innovation despite a lack of wealth and resources. Chuck D said he sees hip-hop as a catalyst for the Black Lives Matter movement. (AP Photo/Stacy Zaferes, file)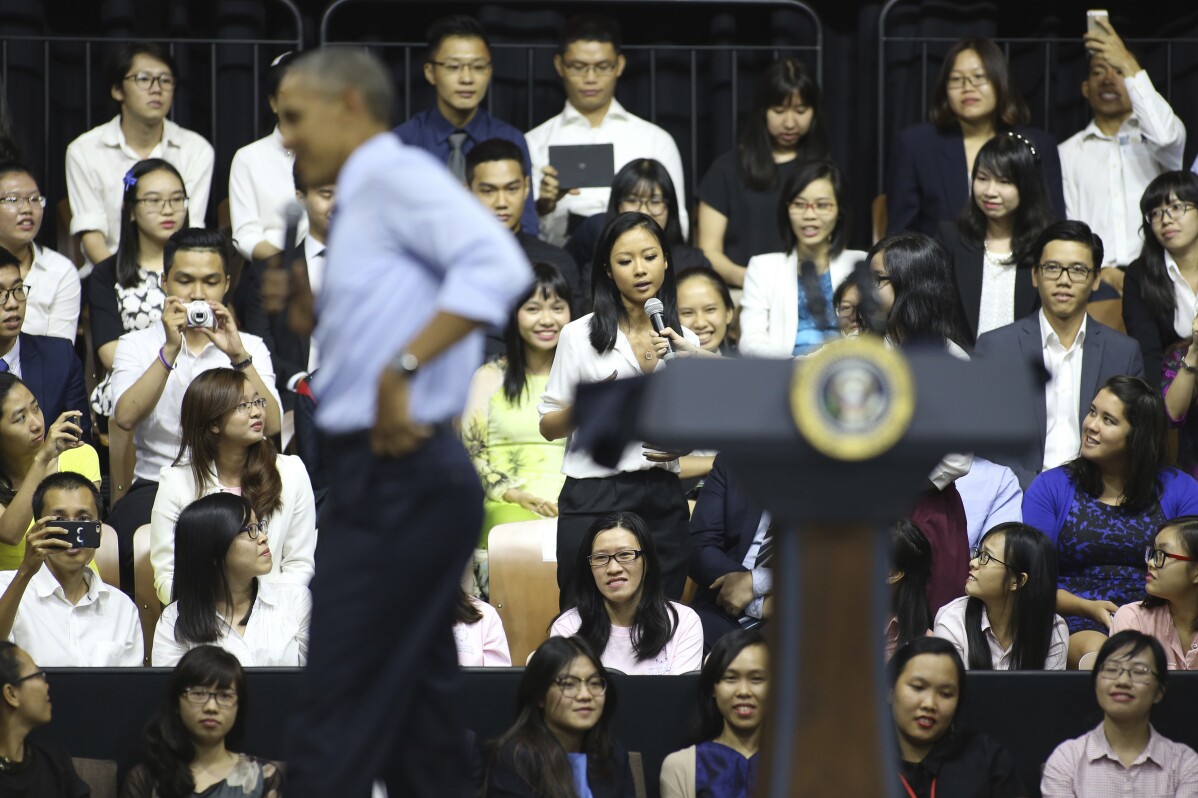 7 of 8

|
FILE - Then-U.S. President Barack Obama listens as Vietnamese rapper Suboi, speaks at a town-hall style event for the Young Southeast Asian Leaders Initiative at the GEM Center in Ho Chi Minh City, Vietnam on May 25, 2016. Obama answered questions about human rights and free expression across the continent. The question from Suboi, the female rapper known as Vietnam's "Queen of Hip-Hop" said she struggled against the Vietnamese stereotype that rap music isn't a proper expression for Asian women. (AP Photo/Na Son Nguyen, file)
8 of 8

|
The Rev. Al Sharpton sheds tears after remembering singer James Brown during a press conference at the National Action Network, Sharpton's Harlem headquarters, Dec. 25, 2006, in New York. Hip-hop has been an integral part of social and racial justice movements.It's also been scrutinized by law enforcement and political groups because of their belief that hip-hop and its artists' encourage violent criminality. Sharpton, who turned 18 as hip-hop really took off out of his native New York, said rap music fueled the movement that has shaped much of his public life. At age 68, he sees the culture as an intricate part of the culture that tilled the ground for the election of the first Black American president in 2008. (AP Photo/Kathy Willens)
Hip-hop and justice: Culture carries the spirit of protest, 50 years and counting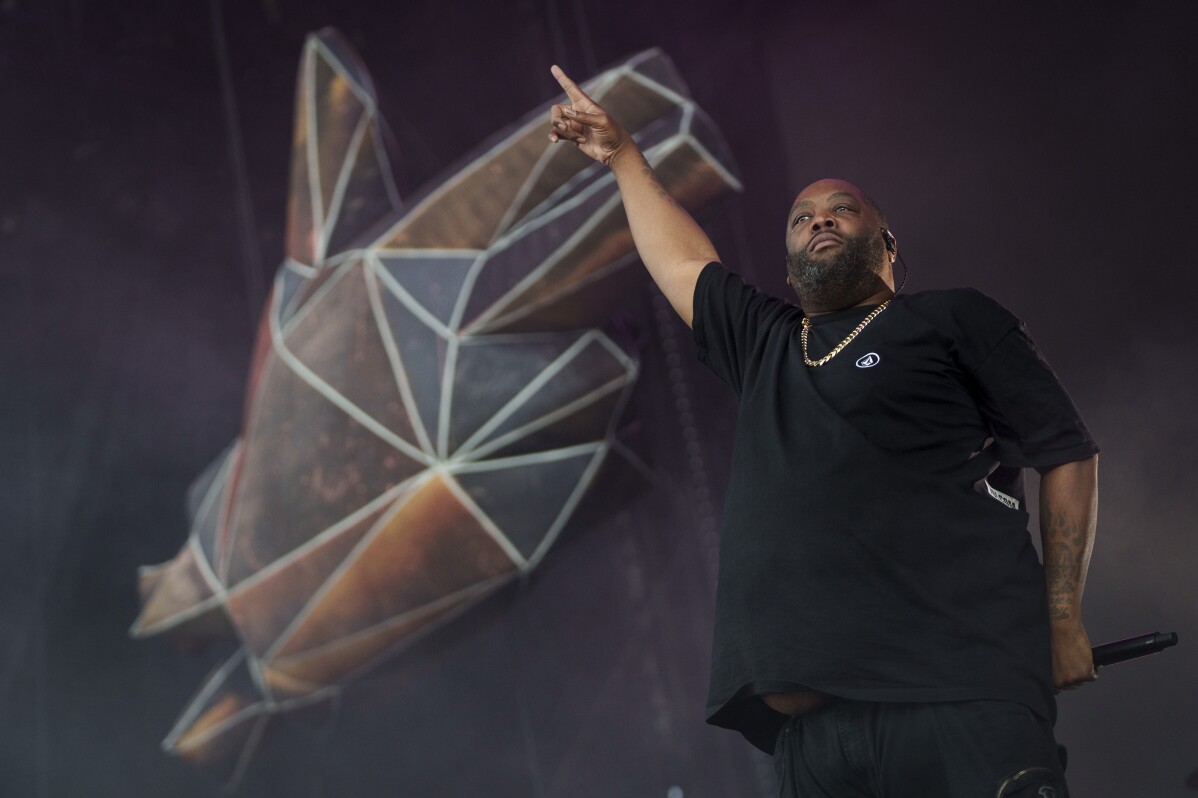 1 of 8

|
FILE - Killer Mike of Run The Jewels performs at the Reading Music Festival in England, Aug. 28, 2022. Hip-hop has been an integral part of social and racial justice movements.It's also been scrutinized by law enforcement and political groups because of their belief that hip-hop and its artists' encourage violent criminality. Free speech advocates see the ongoing persecution of rappers as a proxy war primarily waged against Black and Latino people who are the early pioneers of the culture. For hip-hop artists who live under repressive regimes, "dropping bars" to air one's grievances against the government can mean time behind bars or worse. (Photo by Scott Garfitt/Invision/AP, File)
1 of 8
FILE - Killer Mike of Run The Jewels performs at the Reading Music Festival in England, Aug. 28, 2022. Hip-hop has been an integral part of social and racial justice movements.It's also been scrutinized by law enforcement and political groups because of their belief that hip-hop and its artists' encourage violent criminality. Free speech advocates see the ongoing persecution of rappers as a proxy war primarily waged against Black and Latino people who are the early pioneers of the culture. For hip-hop artists who live under repressive regimes, "dropping bars" to air one's grievances against the government can mean time behind bars or worse. (Photo by Scott Garfitt/Invision/AP, File)
2 of 8

|
Jamie Davis, center, marches and chants with others, July 7, 2016, in Columbia, Mo., in protest of recent police shootings of African-Americans. Hip-hop has been an integral part of social and racial justice movements.It's also been scrutinized by law enforcement and political groups because of their belief that hip-hop and its artists' encourage violent criminality. Free speech advocates see the ongoing persecution of rappers as a proxy war primarily waged against Black and Latino people who are the early pioneers of the culture. (Daniel Brenner/Columbia Daily Tribune via AP)
2 of 8
Jamie Davis, center, marches and chants with others, July 7, 2016, in Columbia, Mo., in protest of recent police shootings of African-Americans. Hip-hop has been an integral part of social and racial justice movements.It's also been scrutinized by law enforcement and political groups because of their belief that hip-hop and its artists' encourage violent criminality. Free speech advocates see the ongoing persecution of rappers as a proxy war primarily waged against Black and Latino people who are the early pioneers of the culture. (Daniel Brenner/Columbia Daily Tribune via AP)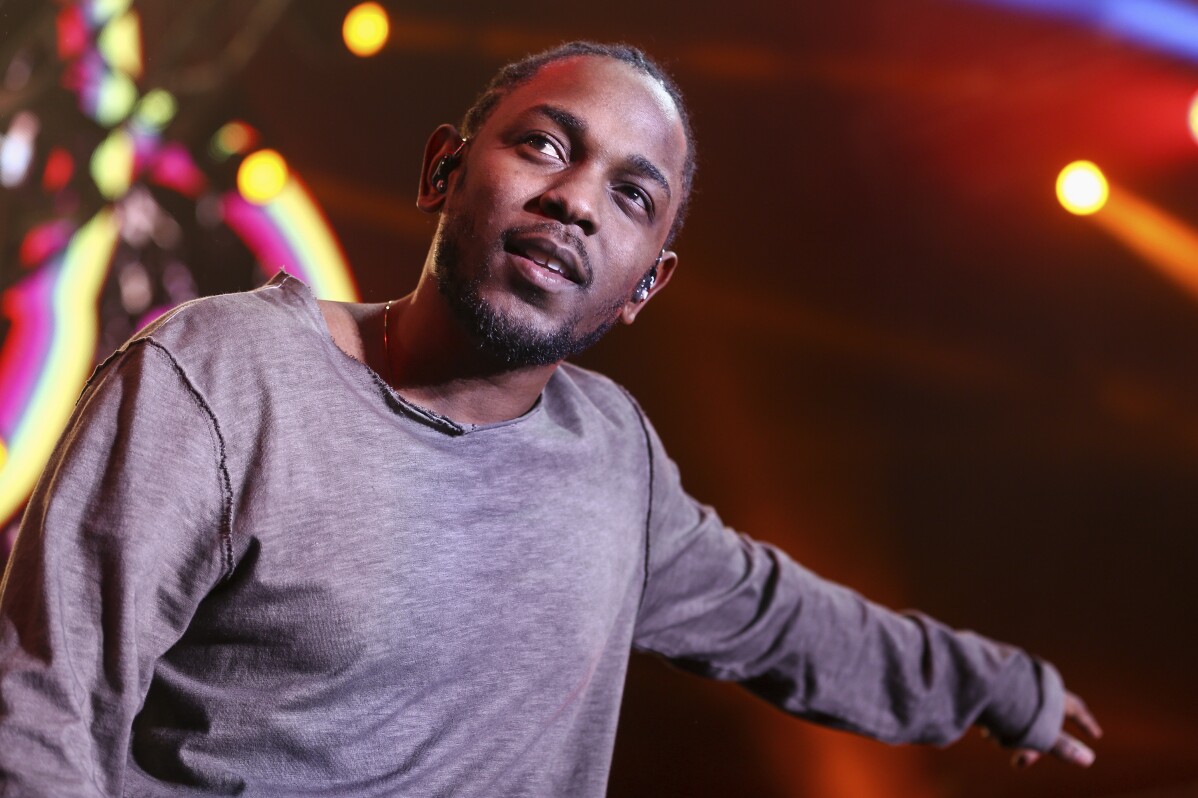 3 of 8

|
FILE - In this Dec. 4, 2015 file photo, Kendrick Lamar performs at Power 106's 'Cali Christmas' 2015 in Inglewood, Calif. Hip-hop has been an integral part of social and racial justice movements. Free speech advocates see the ongoing persecution of rappers as a proxy war primarily waged against Black and Latino people who are the early pioneers of the culture. In 2016, following the fatal police shootings of Philando Castile and Alton Sterling, rap music and protest were almost inextricably linked. It was rare then to attend a demonstration and not hear Kendrick Lamar's 2015 song "Alright," a celebration of triumph over adversity in the face of systemic oppression and injustice. (Photo by John Salangsang/Invision/AP, File)
3 of 8
FILE - In this Dec. 4, 2015 file photo, Kendrick Lamar performs at Power 106's 'Cali Christmas' 2015 in Inglewood, Calif. Hip-hop has been an integral part of social and racial justice movements. Free speech advocates see the ongoing persecution of rappers as a proxy war primarily waged against Black and Latino people who are the early pioneers of the culture. In 2016, following the fatal police shootings of Philando Castile and Alton Sterling, rap music and protest were almost inextricably linked. It was rare then to attend a demonstration and not hear Kendrick Lamar's 2015 song "Alright," a celebration of triumph over adversity in the face of systemic oppression and injustice. (Photo by John Salangsang/Invision/AP, File)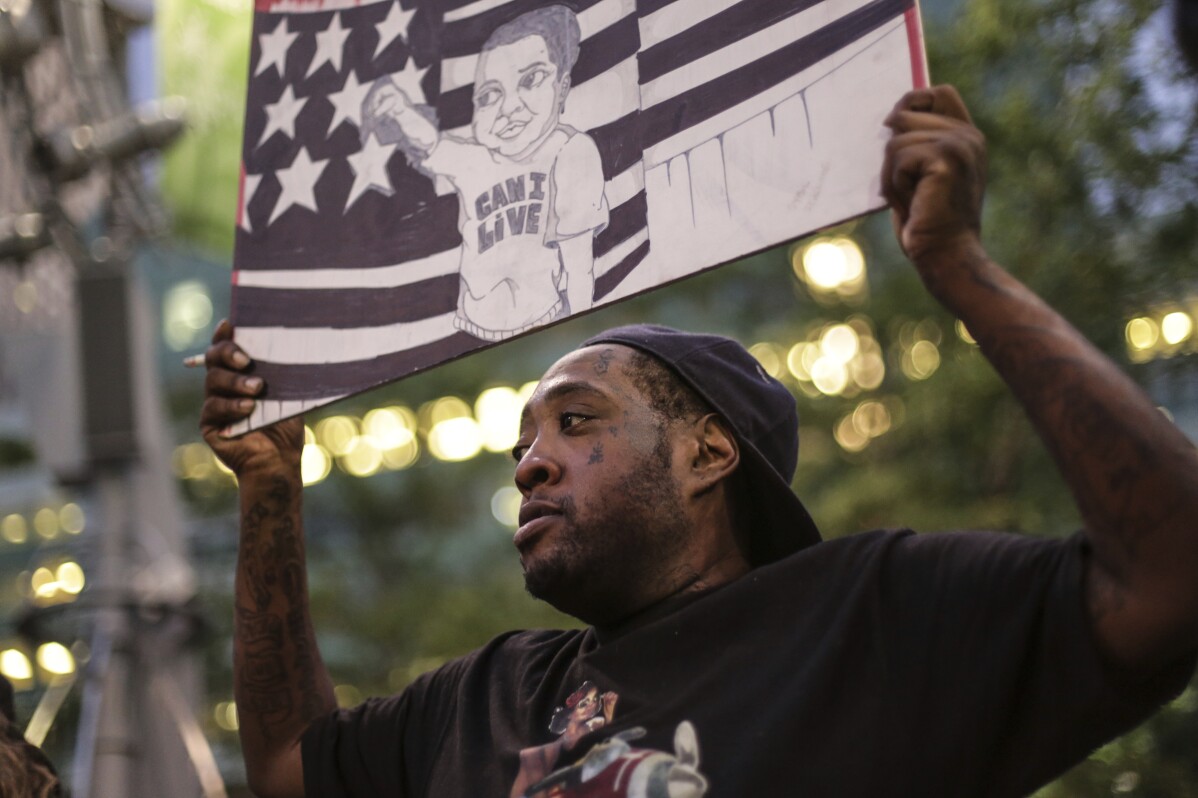 4 of 8

|
Detroit Art Cartel member OG Fame holds a piece of art while protesters gathered at Campus Martius in Detroit on July 8, 2016, while speaking out against the fatal police shootings of Alton Sterling and Philando Castile in Detroit. Hip-hop has been an integral part of social and racial justice movements.It's also been scrutinized by law enforcement and political groups because of their belief that hip-hop and its artists' encourage violent criminality. Free speech advocates see the ongoing persecution of rappers as a proxy war primarily waged against Black and Latino people who are the early pioneers of the culture. (Ryan Garza/Detroit Free Press via AP)
4 of 8
Detroit Art Cartel member OG Fame holds a piece of art while protesters gathered at Campus Martius in Detroit on July 8, 2016, while speaking out against the fatal police shootings of Alton Sterling and Philando Castile in Detroit. Hip-hop has been an integral part of social and racial justice movements.It's also been scrutinized by law enforcement and political groups because of their belief that hip-hop and its artists' encourage violent criminality. Free speech advocates see the ongoing persecution of rappers as a proxy war primarily waged against Black and Latino people who are the early pioneers of the culture. (Ryan Garza/Detroit Free Press via AP)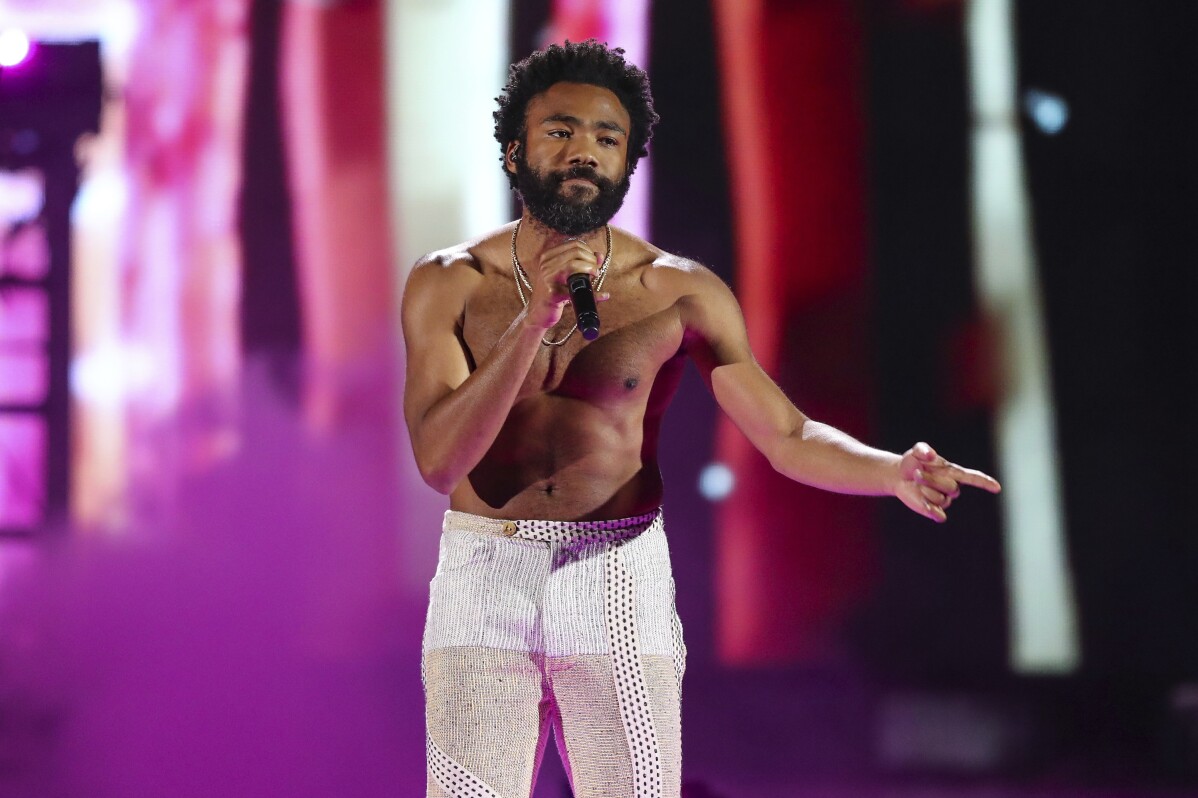 5 of 8

|
FILE - In this Friday, Sept. 21, 2018 file photo, Childish Gambino performs at the 2018 iHeartRadio Music Festival Day 1 held at T-Mobile Arena in Las Vegas. Hip-hop has been an integral part of social and racial justice movements.It's also been scrutinized by law enforcement and political groups because of their belief that hip-hop and its artists' encourage violent criminality. Free speech advocates see the ongoing persecution of rappers as a proxy war primarily waged against Black and Latino people who are the early pioneers of the culture. His hit "This is America," is a commentary on violence and systemic racism in the U.S. The song made history in 2019 as the first hip-hop track to win the song of the year Grammy – and it was parodied by global artists to speak to corruption and injustice in Nigeria, Malaysia and Australia. (Photo by John Salangsang/Invision/AP, File)
5 of 8
FILE - In this Friday, Sept. 21, 2018 file photo, Childish Gambino performs at the 2018 iHeartRadio Music Festival Day 1 held at T-Mobile Arena in Las Vegas. Hip-hop has been an integral part of social and racial justice movements.It's also been scrutinized by law enforcement and political groups because of their belief that hip-hop and its artists' encourage violent criminality. Free speech advocates see the ongoing persecution of rappers as a proxy war primarily waged against Black and Latino people who are the early pioneers of the culture. His hit "This is America," is a commentary on violence and systemic racism in the U.S. The song made history in 2019 as the first hip-hop track to win the song of the year Grammy – and it was parodied by global artists to speak to corruption and injustice in Nigeria, Malaysia and Australia. (Photo by John Salangsang/Invision/AP, File)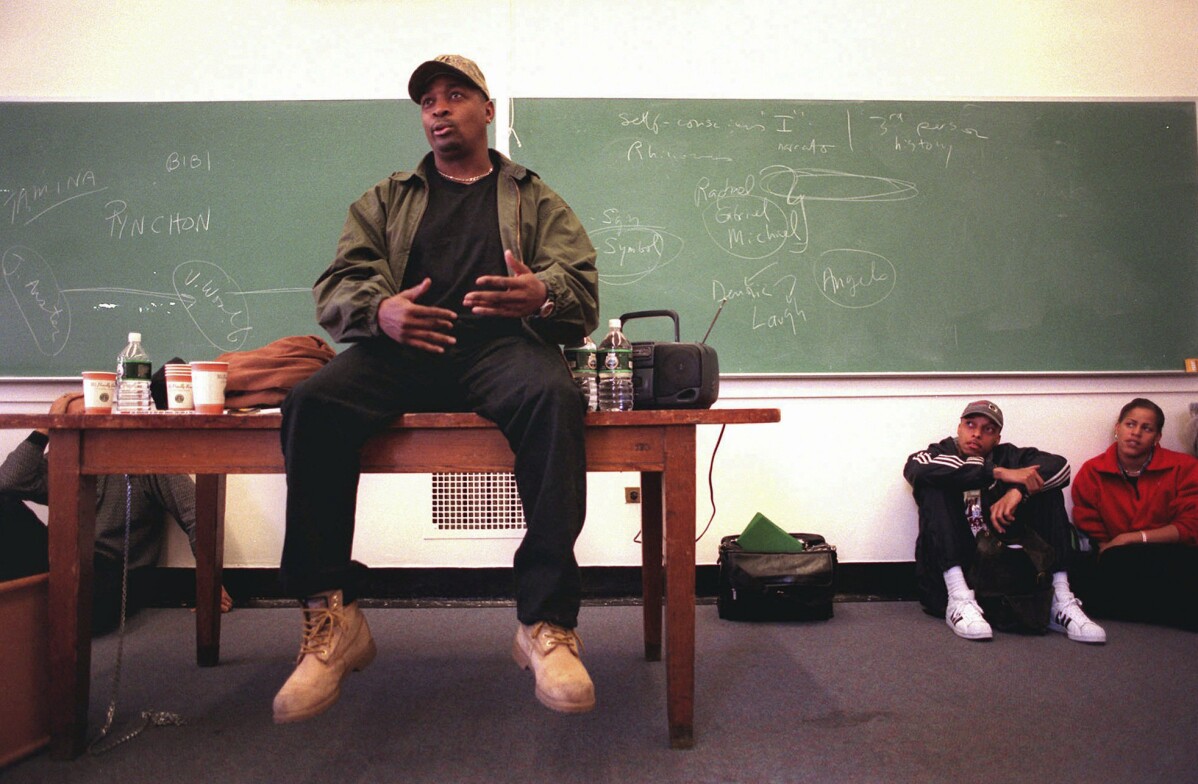 6 of 8

|
FILE - In this April 28, 1998 file photo, Chuck D from the rap group Public Enemy, speaks to Columbia University students in New York. In the early days of hip-hop, plugging turntables into a light post and converting an outdoor basketball court into a discotheque may have seemed like a simple invitation to party. A closer look scene revealed the truth: Hip-hop was a response to social and economic injustice in disregarded neighborhoods, a showcase of joy, ingenuity and innovation despite a lack of wealth and resources. Chuck D said he sees hip-hop as a catalyst for the Black Lives Matter movement. (AP Photo/Stacy Zaferes, file)
6 of 8
FILE - In this April 28, 1998 file photo, Chuck D from the rap group Public Enemy, speaks to Columbia University students in New York. In the early days of hip-hop, plugging turntables into a light post and converting an outdoor basketball court into a discotheque may have seemed like a simple invitation to party. A closer look scene revealed the truth: Hip-hop was a response to social and economic injustice in disregarded neighborhoods, a showcase of joy, ingenuity and innovation despite a lack of wealth and resources. Chuck D said he sees hip-hop as a catalyst for the Black Lives Matter movement. (AP Photo/Stacy Zaferes, file)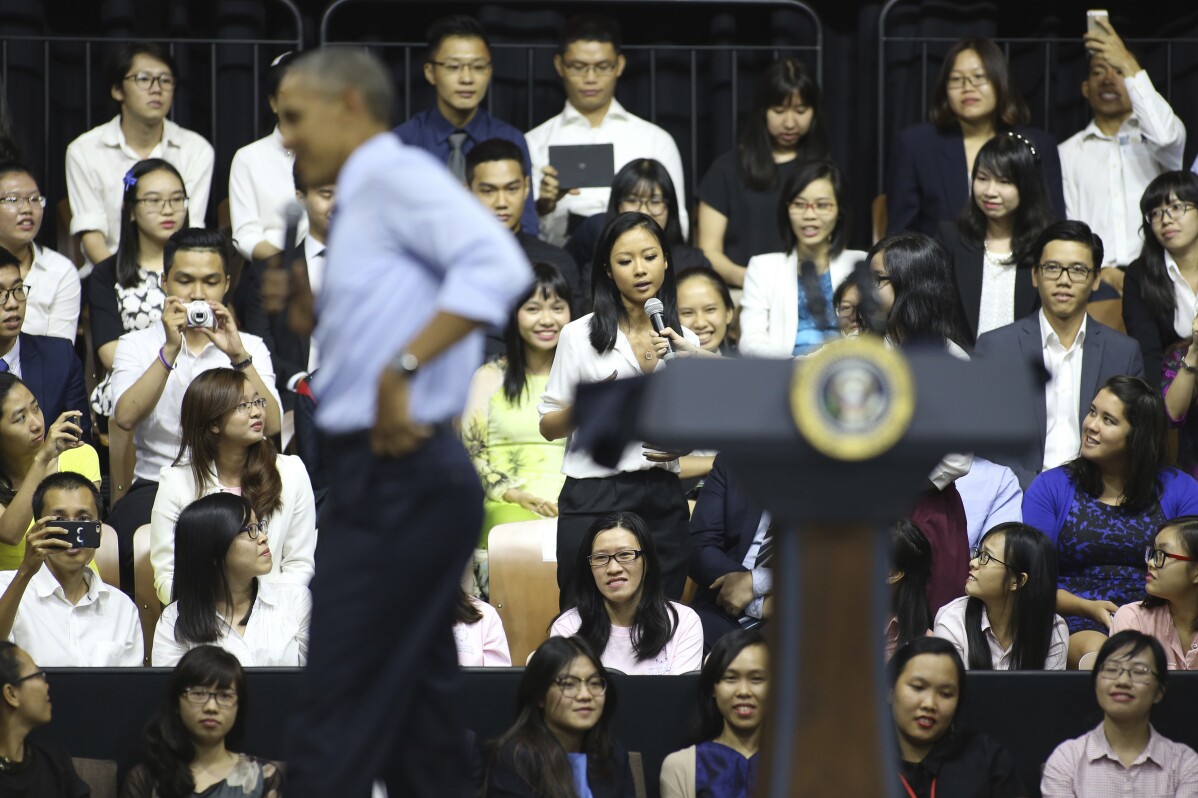 7 of 8

|
FILE - Then-U.S. President Barack Obama listens as Vietnamese rapper Suboi, speaks at a town-hall style event for the Young Southeast Asian Leaders Initiative at the GEM Center in Ho Chi Minh City, Vietnam on May 25, 2016. Obama answered questions about human rights and free expression across the continent. The question from Suboi, the female rapper known as Vietnam's "Queen of Hip-Hop" said she struggled against the Vietnamese stereotype that rap music isn't a proper expression for Asian women. (AP Photo/Na Son Nguyen, file)
7 of 8
FILE - Then-U.S. President Barack Obama listens as Vietnamese rapper Suboi, speaks at a town-hall style event for the Young Southeast Asian Leaders Initiative at the GEM Center in Ho Chi Minh City, Vietnam on May 25, 2016. Obama answered questions about human rights and free expression across the continent. The question from Suboi, the female rapper known as Vietnam's "Queen of Hip-Hop" said she struggled against the Vietnamese stereotype that rap music isn't a proper expression for Asian women. (AP Photo/Na Son Nguyen, file)
8 of 8

|
The Rev. Al Sharpton sheds tears after remembering singer James Brown during a press conference at the National Action Network, Sharpton's Harlem headquarters, Dec. 25, 2006, in New York. Hip-hop has been an integral part of social and racial justice movements.It's also been scrutinized by law enforcement and political groups because of their belief that hip-hop and its artists' encourage violent criminality. Sharpton, who turned 18 as hip-hop really took off out of his native New York, said rap music fueled the movement that has shaped much of his public life. At age 68, he sees the culture as an intricate part of the culture that tilled the ground for the election of the first Black American president in 2008. (AP Photo/Kathy Willens)
8 of 8
The Rev. Al Sharpton sheds tears after remembering singer James Brown during a press conference at the National Action Network, Sharpton's Harlem headquarters, Dec. 25, 2006, in New York. Hip-hop has been an integral part of social and racial justice movements.It's also been scrutinized by law enforcement and political groups because of their belief that hip-hop and its artists' encourage violent criminality. Sharpton, who turned 18 as hip-hop really took off out of his native New York, said rap music fueled the movement that has shaped much of his public life. At age 68, he sees the culture as an intricate part of the culture that tilled the ground for the election of the first Black American president in 2008. (AP Photo/Kathy Willens)
NEW YORK (AP) — In the early days of hip-hop, plugging turntables into a light post and converting an outdoor basketball court into a discotheque may have seemed like a simple invitation to party.
A closer look scene revealed the truth: Hip-hop was a response to social and economic injustice in disregarded neighborhoods, a showcase of joy, ingenuity and innovation despite a lack of wealth and resources.
The music emanating from the DJ's equipment might tell partiers to "move your feet," and in the very next set, tell them to "fight the power."
Hip-hop has been an integral part of social and racial justice movements. It's also been scrutinized by law enforcement and political groups because of their belief that hip-hop and its artists' encourage violent criminality.
Whether a warning, a demand or an affirmation, hip-hop culture and, especially, rap music have been mediums for holding the powerful accountable, for delivering lyrical indictments against systemic injustice. Hip-hop can champion the underserved and reclaim space, like tagged walls or impromptu breakdancing battles on a transit platform.
Because it can threaten the concentration of power, certain forces have demonized the culture, said Willie "Prophet" Stiggers, co-founder and chair of the Black Music Action Coalition, a group of artists, lawyers, managers and producers unified against systemic racism in the music industry and in society.
"Of course they want to weaponize it," Stigger said. "The narrative can't be that this genius cultural expression, that is the greatest cultural force that we have globally, grew out of a disenfranchised people."
Hip-hop was born in the Bronx, rising from the ashes of a borough ablaze with poverty, urban decay and gang violence. Fifty years later, it is a multi-billion-dollar global industry, but the Bronx has yet to benefit. (Aug. 9) (AP Video/Noreen Nasir)
Many trace hip-hop's birth to a back-to-school party at a Bronx apartment building 50 years ago this month. And since its birth, emceeing, beatboxing, deejaying, and graffiti have done much more than entertain legions of fans around the world and generate billions of dollars in commerce – hip-hop's four elements carry the spirit of resistance and free expression as a comfort to the afflicted and affliction to those who are too comfortable.
__
"Got to give us what we want/Gotta give us what we need/Our freedom of speech is freedom or death/We got to fight the powers that be!" – Public Enemy, "Fight the Power," 1990
__
Social and religious conservatives of all stripes have long seen hip-hop as a threat to so-called traditional values, peace and order – but their attempts at stifling the culture have only propelled it to worldwide acclaim and grown its influence over public debates and democracy.
However, racial justice activists and free speech advocates see the ongoing persecution of rappers as a proxy war primarily waged against Black and Latino men who are the early pioneers of the culture. And for hip-hop artists who live under repressive regimes throughout the world, "dropping bars" to air one's grievances against the government can mean time behind bars or worse.
"Black history is under attack, Black culture is under attack, rap music is under attack," said U.S. Rep. Hank Johnson, a Democratic sponsor of federal legislation that would protect artists from having their lyrics and creative expression used against them in court.
The Georgia congressman spoke in support of the legislation to the thousands who attended a Rolling Loud hip-hop music festival in Miami late last month. Johnson and fellow Democrat Rep. Jamaal Bowman of New York sponsored the Restoring Artistic Protection Act, or RAP Act, to ensure that lyrics aren't the only evidence supporting a criminal case. Similar legislation in a handful of states would require prosecutors to prove a defendant's lyrics aren't figurative, exaggeration or out-right fictional.
A study by University of Georgia law professor Andrea Dennis, who co-authored the 2019 book "Rap on Trial: Race, Lyrics and Guilt in America," found roughly 500 criminal trial cases dating to the late 1980s in which rap lyrics were successfully used as evidence. Dennis and other advocates believe the cases, brought against mostly Black defendants, have led to unjust incarceration.
Some have pointed to the criminal street gang conspiracy case, brought under Georgia's criminal racketeering law, against Atlanta rapper Young Thug and over two dozen purported affiliates of the rapper's Young Stoner Life record label. In 2022, Fulton County prosecutors included lyrics from the rapper, referencing drugs and violence, as evidence of an "overt act in furtherance of a (gang) conspiracy."
Young Thug, whose legal name is Jeffrey Williams, co-wrote the Childish Gambino hit "This is America," which is a commentary on violence and systemic racism in the U.S. The song made history in 2019 as the first hip-hop track to win the song of the year Grammy – and it was parodied by global artists to speak to corruption and injustice in Nigeria, Malaysia and Australia.
__
"Cops give a damn about a negro/Pull the trigger, kill a n——-, he's a hero." – Tupac, "Changes," 1992
__
As hip-hop and rap music grew into a force in American culture, its pioneers used it as a medium to speak to their personal realities. In 1982, in the song "The Message," Grandmaster Flash and the Furious Five decried stark poverty and disinvestment that seemed especially concentrated in Black communities. A decade later, Tupac Shakur railed against police brutality in the song "Changes."
In 2016, following the fatal police shootings of Philando Castile and Alton Sterling, rap music and protest were almost inextricably linked. It was rare then to attend a demonstration and not hear Kendrick Lamar's 2015 song "Alright," a celebration of triumph over adversity in the face of systemic oppression and injustice.
"All Black creative expression is political because Black life is political," said Timothy Welbeck, the director of the Center for Anti-Racism at Temple University in Philadelphia.
Welbeck, who is also an independent rap artist and teaches courses on hip-hop in Temple's Africology and African American Studies Department, said rap music's accessibility is what makes the genre so popular and so impactful.
"It makes sense that social movements would gravitate towards hip-hop, as a culture and rap music as a medium of expression," he said. "And it also makes sense that rappers would position themselves in these movements, in part, because rappers are coming out of the communities that are experiencing the need to protest."
In an Associated Press interview earlier this year, Chuck D of Public Enemy said he sees hip-hop as a catalyst for the Black Lives Matter movement.
"(BLM is) a collective where people felt the same way," he said. "It spoke politically to the injustice regarding George Floyd and was a spark that connected around the world. Hip-hop has done the same thing. Hip-hop ties human beings for their similarities and knocks the differences to the side. It's a movement."
Following worldwide protests over Floyd's 2020 murder by police in Minneapolis, his brother Terrence Floyd joined an effort to fuse rap, gospel and spirituals on an album of protest songs. A former church drummer, Floyd said he wanted to use the music to affect change in his brother's name.
__
"I'm at the preacher's door/My knees gettin' weak and my gun might blow/But we gon' be alright." – Kendrick Lamar, "Alright," 2015
__
And then there's hip-hop's global influence on protest, resistance and political dissent. From the Arab Spring and the Palestinian freedom fight to feminism and class struggles, rap music is a popular medium for calls to action, as well as call-outs of despots and colonizers.
Rap music videos produced by artists in African, Europe, Asia and South America often include beatboxers, breakdancers, graffiti and other elements of hip-hop.
In 2016, on a visit to Vietnam during a historic tour of Asia, former President Barack Obama answered questions about human rights and free expression across the continent. One question came from Suboi, a female rapper known as Vietnam's "Queen of Hip-Hop" who said she struggled against the Vietnamese stereotype that rap music isn't a proper expression for Asian women.
"Let's be honest, sometimes art is dangerous and that's why governments sometimes get nervous about art," Obama said. "But one of the things that I truly believe is that if you try to suppress the arts, then I think you're suppressing the deepest dreams and aspirations of a people."
Civil rights leader Rev. Al Sharpton, who turned 18 as hip-hop really took off out of his native New York, said rap music fueled the movement that has shaped much of his public life. At age 68, he believes hip-hop culture tilled the ground for the election of the first Black American president in 2008.
"I didn't come out of the 'We Shall Overcome' generation," Sharpton said. "I came out of Fight the Power, Public Enemy."
He added: "Hip-hop took the chains off us and said, 'No, we're gonna say it our way, anyway.' … It was that freedom. It was that raw, non-watered down kind of expression. We understood that rage and anger, even though we expressed it in different ways."
__
AP writer Jonathan Landrum in Los Angeles contributed.
__ Aaron Morrison is a New York-based member of the AP's Race and Ethnicity team. Follow him on social media: https://www.twitter.com/aaronlmorrison.