Hip-hop turns 50, reinventing itself and swaths of the world along the way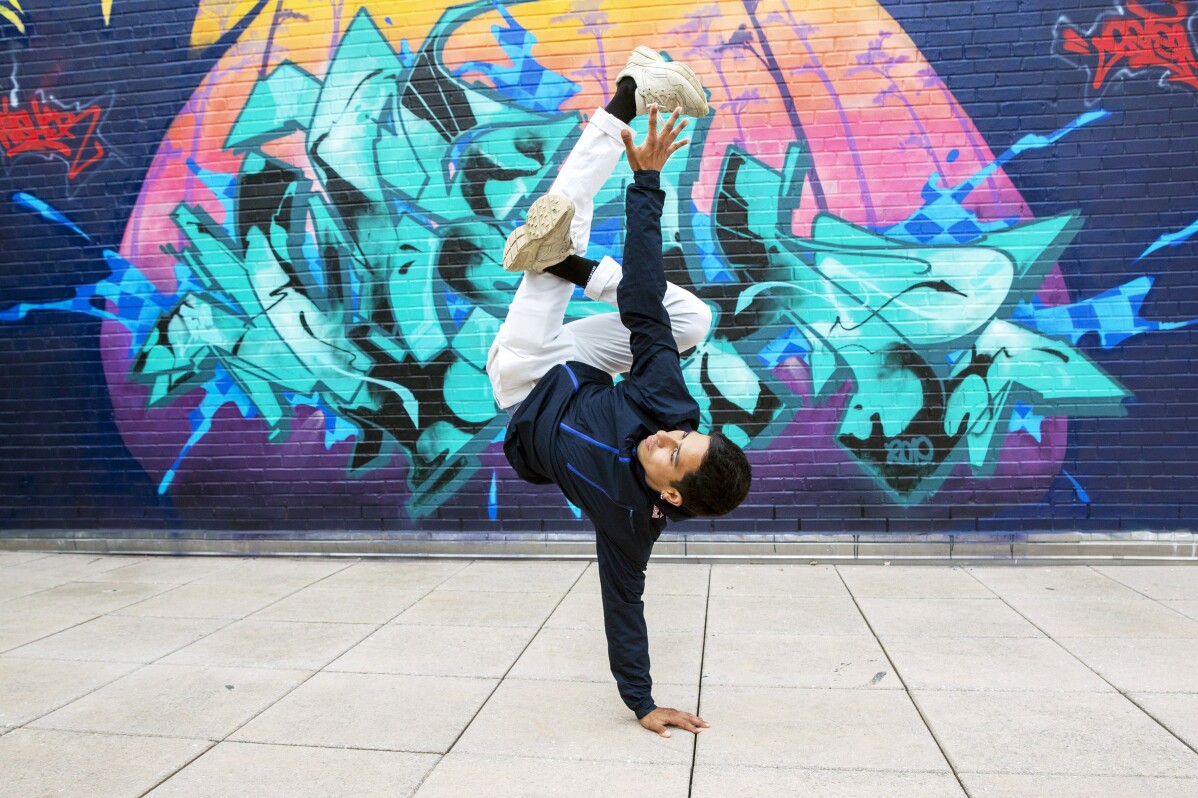 1 of 17

|
Breakdancer Victor Montalvo, 27, of Kissimmee, Fla., performs in New York City on June 22, 2021. In the five decades since hip-hop emerged out of New York City, it has spread around the country and the world. And at each step there's been change and adaptation, as new, different voices came in and made it their own. Its foundations are steeped in the Black communities where it first made itself known but it's spread out until there's no corner of the world that hasn't been touched by it. (AP Photo/Ted Shaffrey)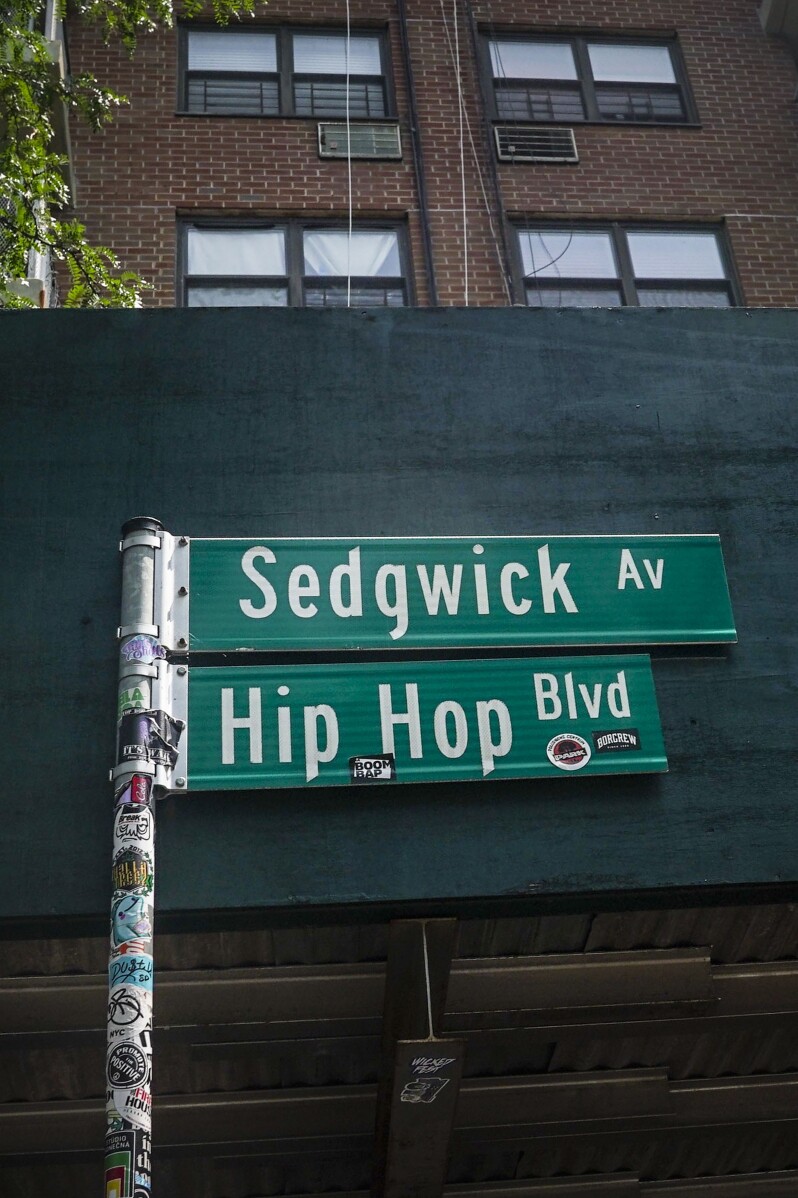 2 of 17

|
A street sign at Bronx's Sedgwick Houses apartments is shown renamed as Hip Hop Blvd, recognizing the site where hip hop's creator DJ Kool Herc first held parties featuring his new sound, July 26, 2023, in New York. In the five decades since hip-hop emerged out of New York City, it has spread around the country and the world. And at each step there's been change and adaptation, as new, different voices came in and made it their own. Its foundations are steeped in the Black communities where it first made itself known but it's spread out until there's no corner of the world that hasn't been touched by it. Hip-hop has impacted everything: Art, culture, fashion, community, social justice, politics, sports, business. This year is being marked as a 50th anniversary celebration. (AP Photo/Bebeto Matthews)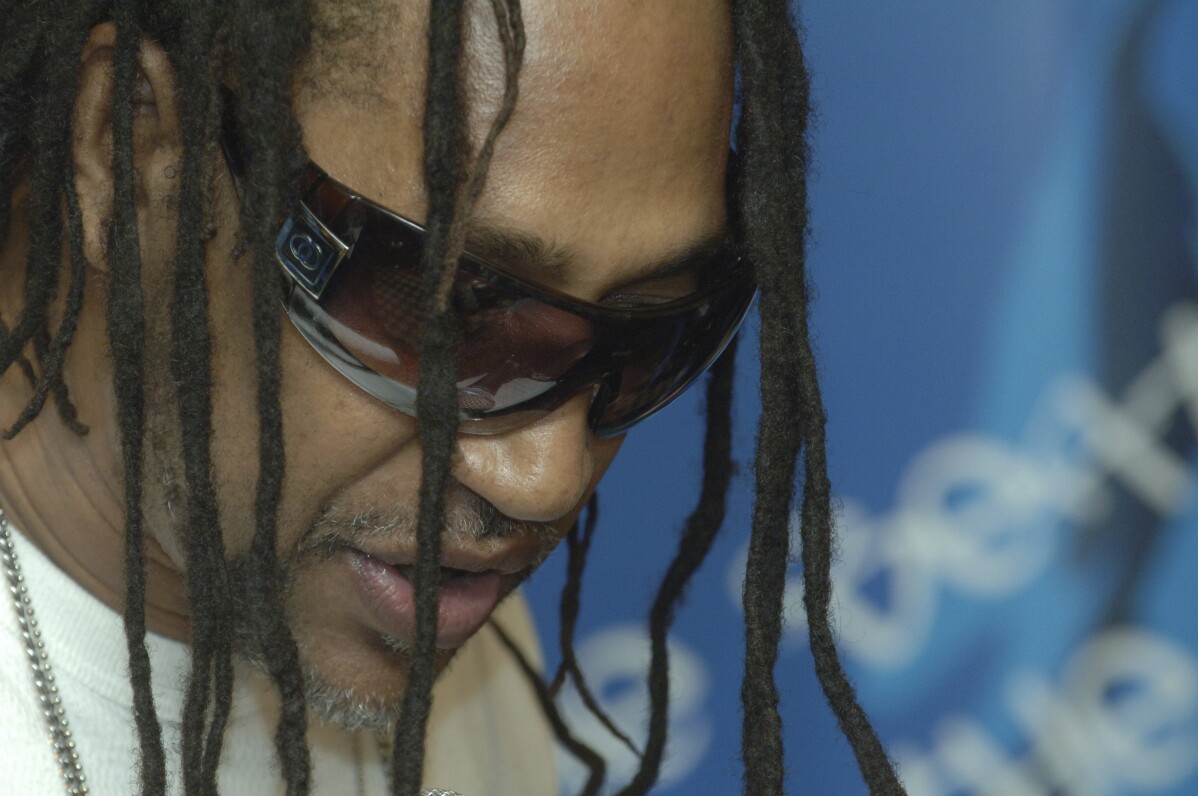 3 of 17

|
FILE - DJ Kool Herc speaks at a news conference to launch "Hip-Hop Won't Stop: The Beat, The Rhymes, The Life," the first ever hip-hop initiative at the Smithsonian's National Museum of American History in New York, Feb. 28, 2006. In the five decades since hip-hop emerged out of New York City, it has spread around the country and the world. Those looking for a hip-hop starting point have landed on one, turning this year into a 50th-birthday celebration. Aug. 11, 1973 was the date a young Clive Campbell, known as DJ Kool Herc around his Bronx stomping grounds, deejayed a back-to-school party for his younger sister in the community room of an apartment building on Sedgwick Avenue. (AP Photo/Henny Ray Abrams, file)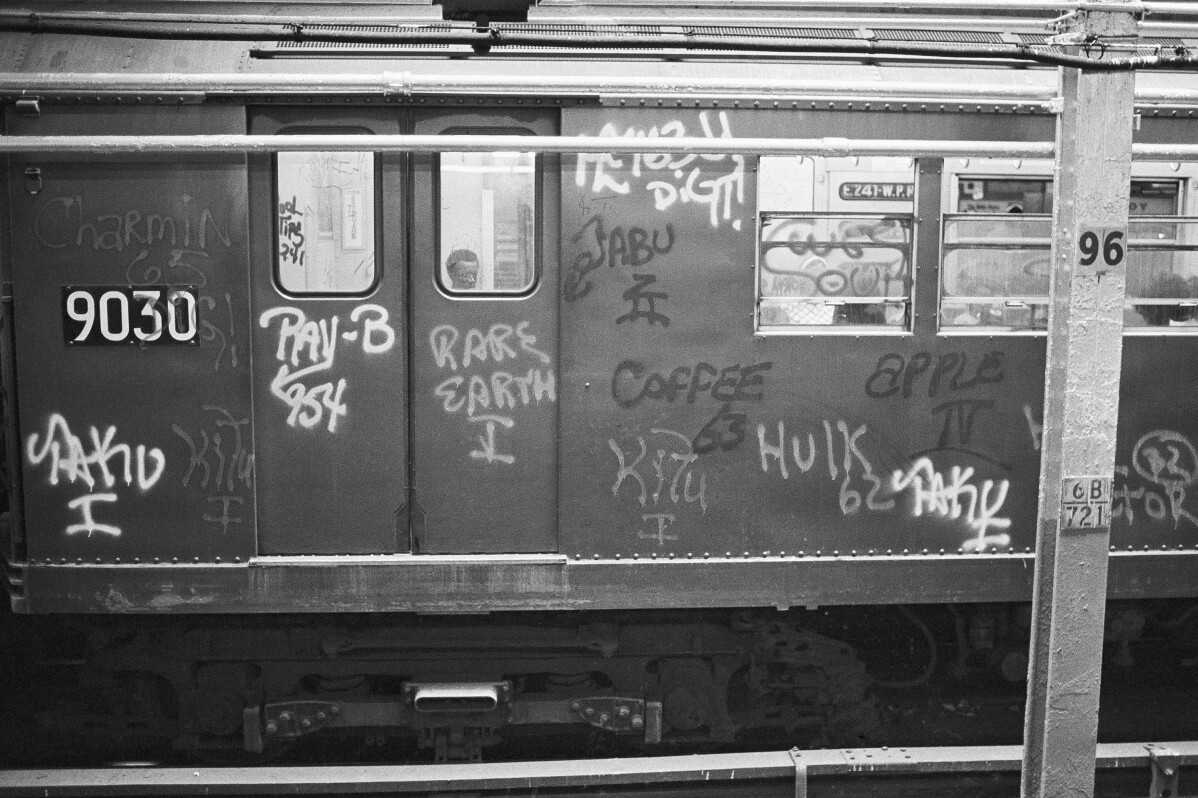 4 of 17

|
A subway train is adorned with various words from un authorized writers July 22, 1972 in New York. In the five decades since hip-hop emerged out of New York City, it has spread around the country and the world. And at each step there's been change and adaptation, as new, different voices came in and made it their own. Its foundations are steeped in the Black communities where it first made itself known but it's spread out until there's no corner of the world that hasn't been touched by it. (AP Photo/Jim Wells, file)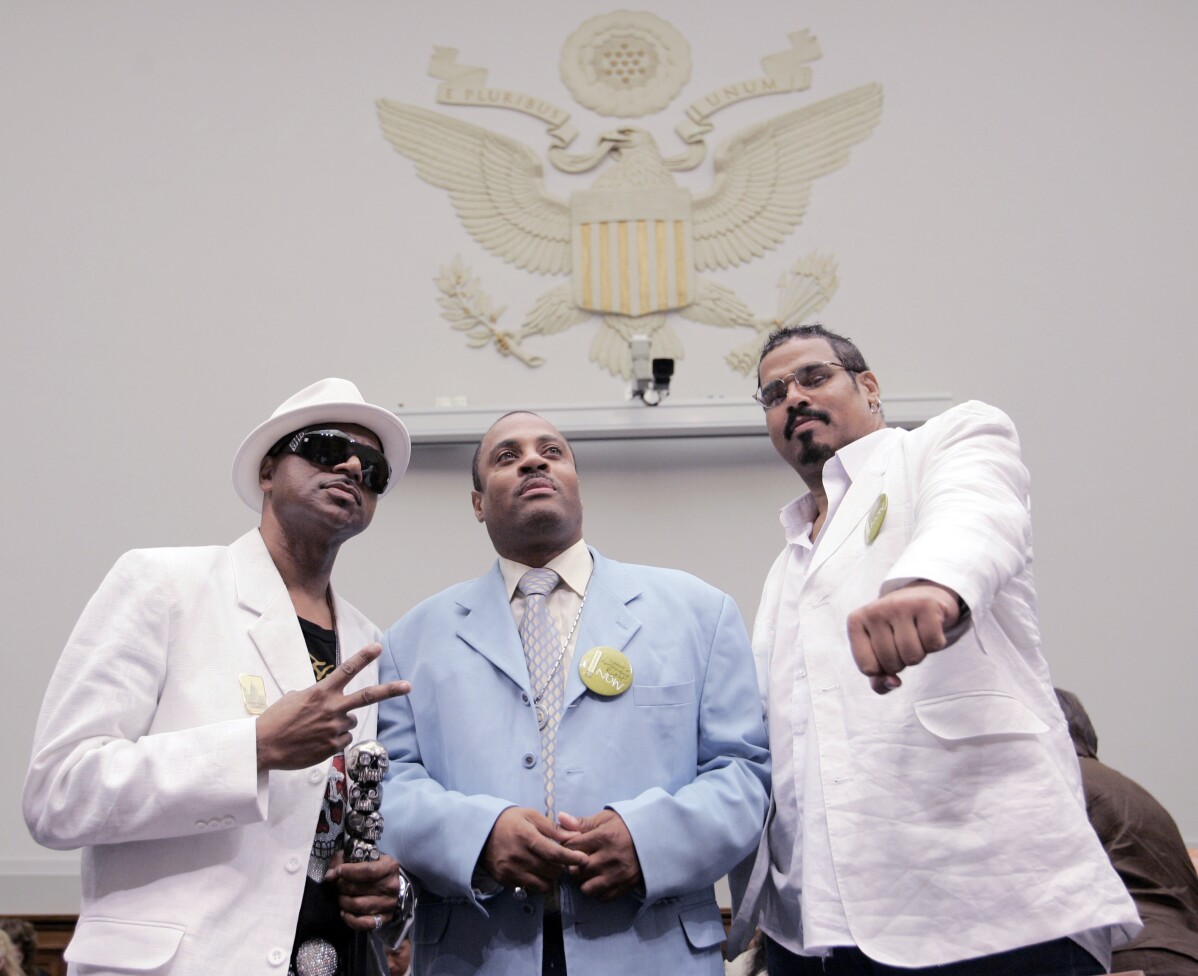 5 of 17

|
FILE - Hendogg from The Sugarhill Gang, left, Grandmaster Dee of Whodini, center, and Michael "Wonder Mike" Wright of The Sugarhill Gang, pose for a photo on Capitol Hill in Washington, June 11, 2008. Members of The Sugarhill Gang put out "Rapper's Delight" and introduced the country to a record that would reach as high as 36 on Billboard's Top 100 chart list, and even make it to No. 1 in some European countries. Wright says he had no doubt the song — and, by extension, hip-hop — was "going to be big. "I knew it was going to blow up and play all over the world because it was a new genre of music," he tells The Associated Press. "You had classical jazz, bebop, rock, pop, and here comes a new form of music that didn't exist." (AP Photo/Susan Walsh)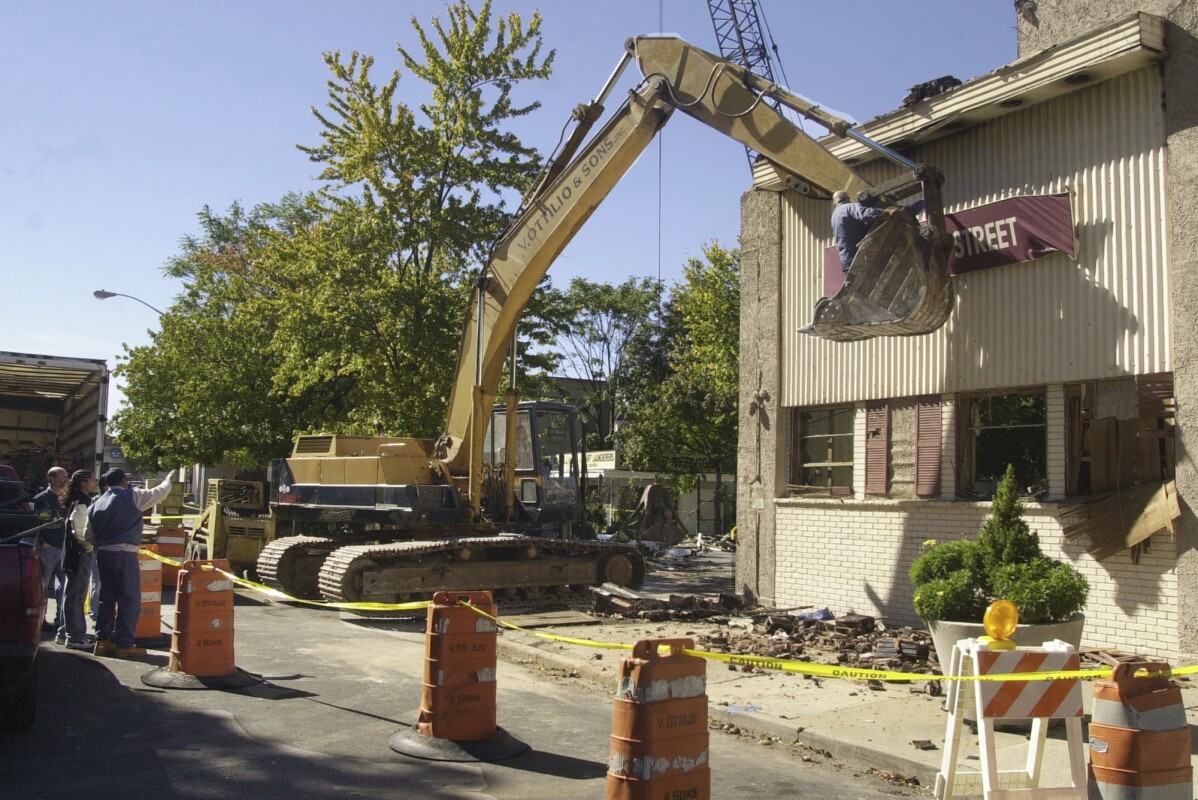 6 of 17

|
FILE - A demolition crew takes down an address sign from the Sugar Hill Studio recording studio in Englewood, N.J., Oct. 14, 2002. In the five decades since hip-hop emerged out of New York City, it has spread around the country and the world. And at each step there's been change and adaptation, as new, different voices came in and made it their own. Among those who started to hear about it were some young men across the river in Englewood, New Jersey, who started making up rhymes to go along with the beats. In 1979, they auditioned as rappers for Sylvia Robinson, a singer turned music producer who co-founded Sugar Hill Records. As The Sugarhill Gang, they put out "Rapper's Delight" and introduced the country to a record that would reach as high as 36 on Billboard's Top 100 chart list, and even make it to No. 1 in some European countries. (AP Photo/Mike Derer, file)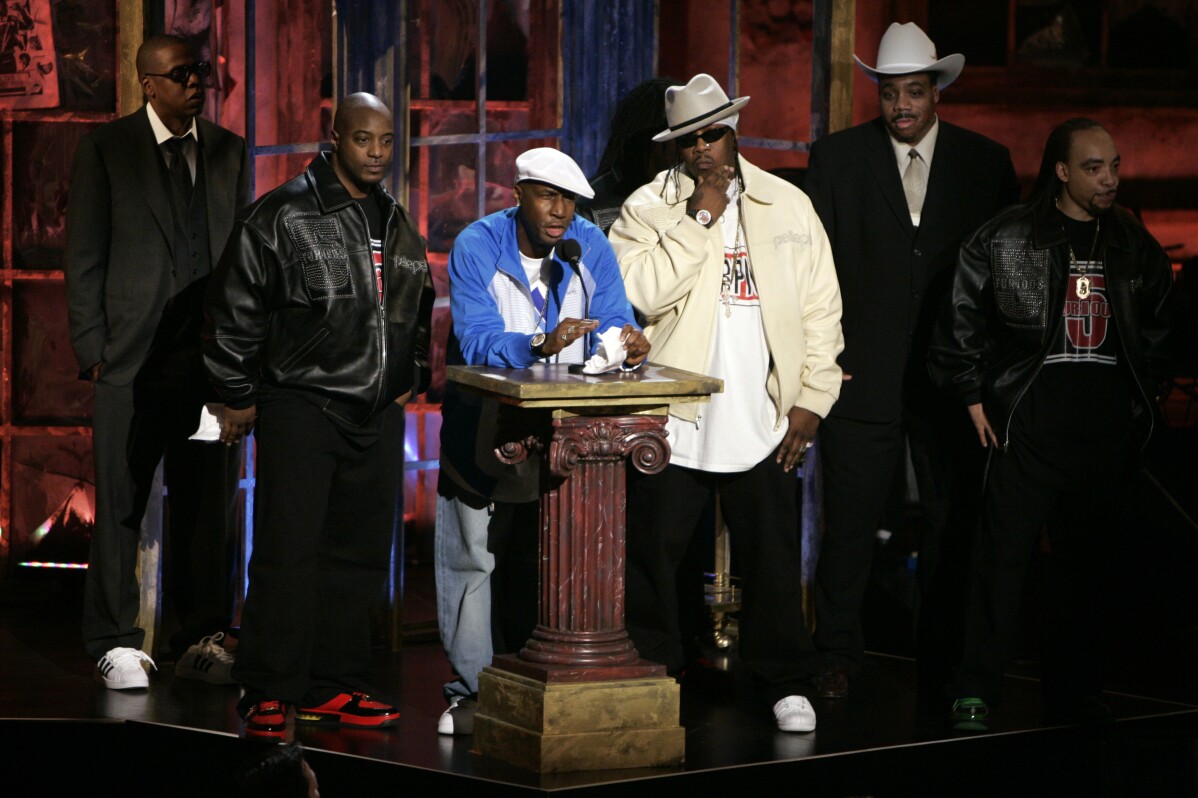 7 of 17

|
FILE - Grandmaster Flash (at podium) & the Furious Five accept their award for being inducted into the Rock & Roll Hall of Fame during ceremonies in New York, March 12, 2007. In the five decades since hip-hop emerged out of New York City, it has spread around the country and the world. And at each step there's been change and adaptation, as new, different voices came in and made it their own. Coming from America's Black communities, it has meant hip-hop has been a tool to speak out against injustice, like in 1982 when Grandmaster Flash and the Furious Five told the world in "The Message," that the stresses of poverty in their city neighborhoods made it feel "like a jungle sometimes/It makes me wonder how I keep from goin' under." (AP Photo/Seth Wenig, file)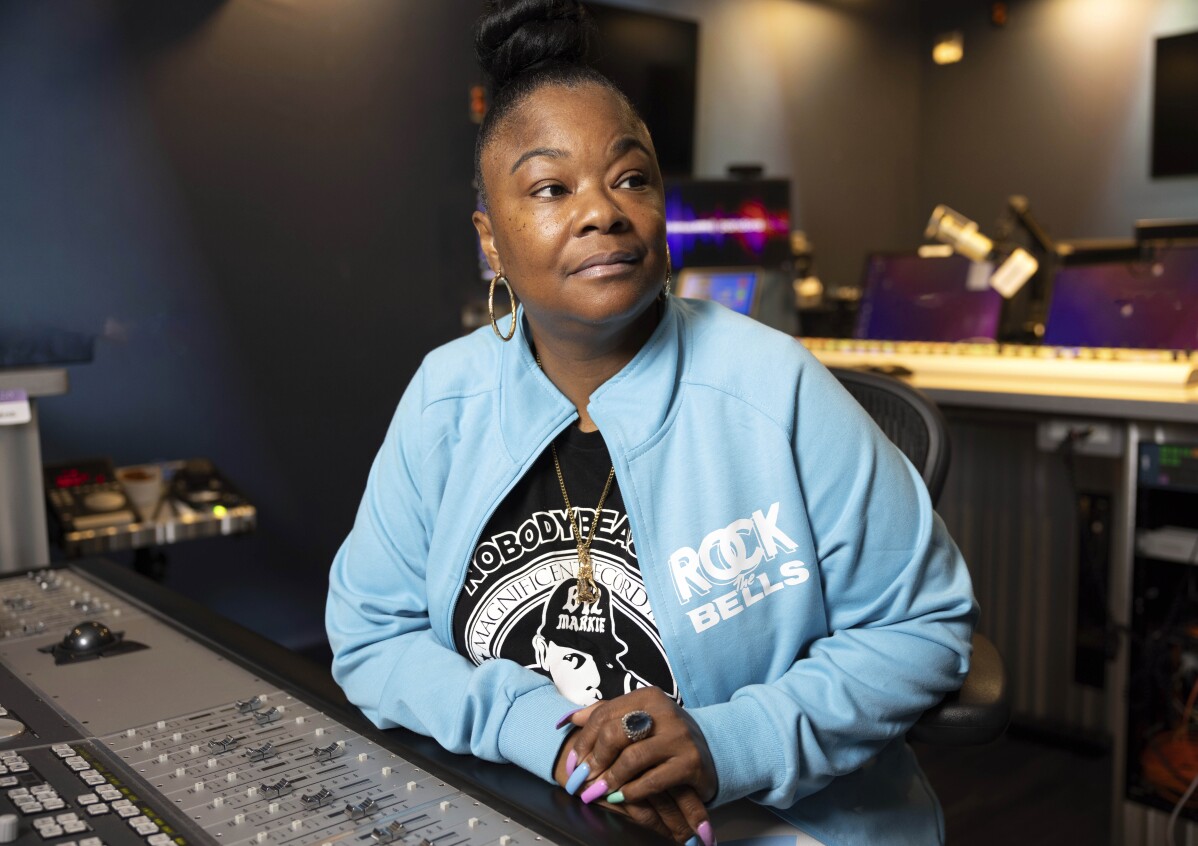 8 of 17

|
Roxanne Shante poses for a portrait on July 18, 2023, in New York. In the five decades since hip-hop emerged out of New York City, it has spread around the country and the world. And at each step there's been change and adaptation, as new, different voices came in and made it their own. Its foundations are steeped in the Black communities where it first made itself known but it's spread out until there's no corner of the world that hasn't been touched by it. Shante, a native of New York City's Queens borough who was only 14 years old in 1984. That was the year she became one of the first female MCs, those rhyming over the beat, to gain a wider audience — and was part of what was likely the first well-known instance of rappers using their song tracks to take sonic shots at other rappers, in a back-and-forth song battle known as The Roxanne Wars. "When I look at my female rappers of today, I see hope and inspiration," Shante says. (Photo by Matt Licari/Invision/AP)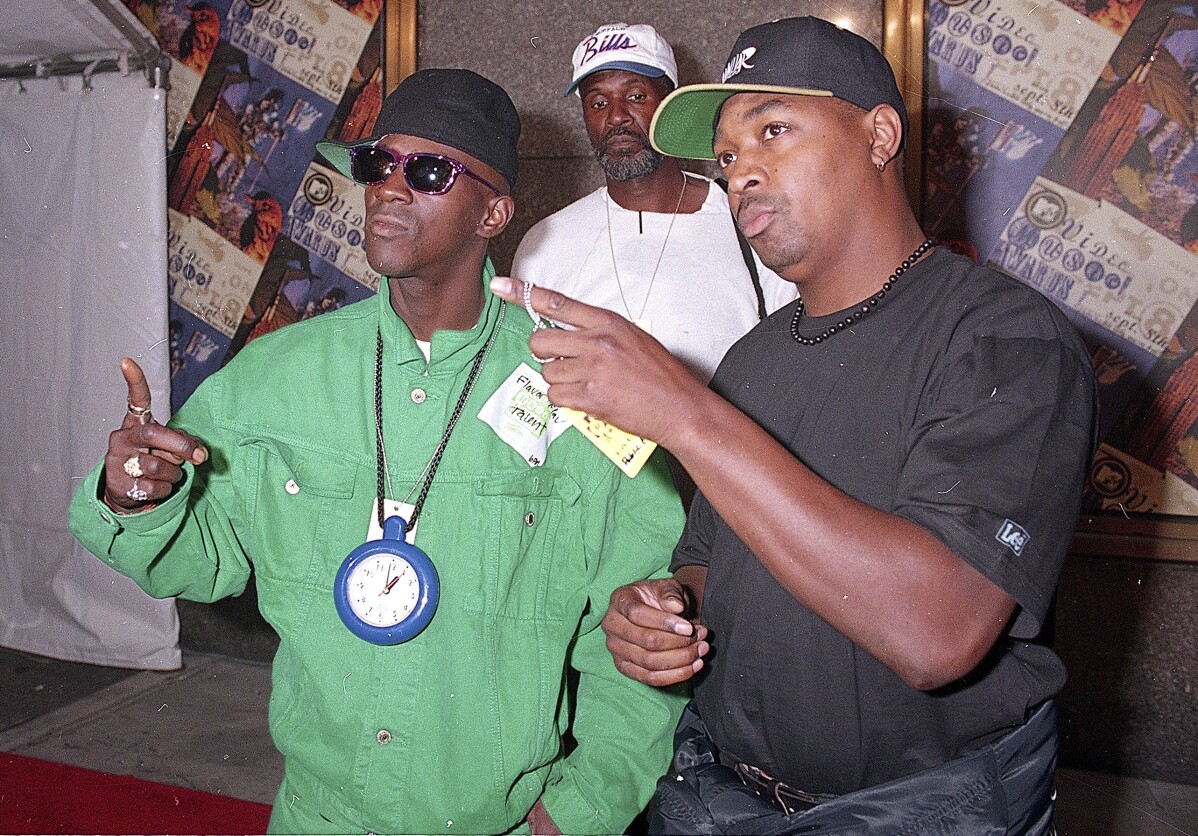 9 of 17

|
Flavor Flav, left, and Chuck D of the rap group Public Enemy, pose for photographers upon their arrival for the MTV Music Awards at New York's Radio City Music Hall, Sept. 8, 1994. In the five decades since hip-hop emerged out of New York City, it has spread around the country and the world. And at each step there's been change and adaptation, as new, different voices came in and made it their own. Its foundations are steeped in the Black communities where it first made itself known but it's spread out until there's no corner of the world that hasn't been touched by it. Public Enemy's "Fight the Power" became an anthem when it was created for filmmaker Spike Lee's 1989 classic "Do the Right Thing," which chronicled racial tension in a Brooklyn neighborhood. (AP Photo/Malcolm Clarke)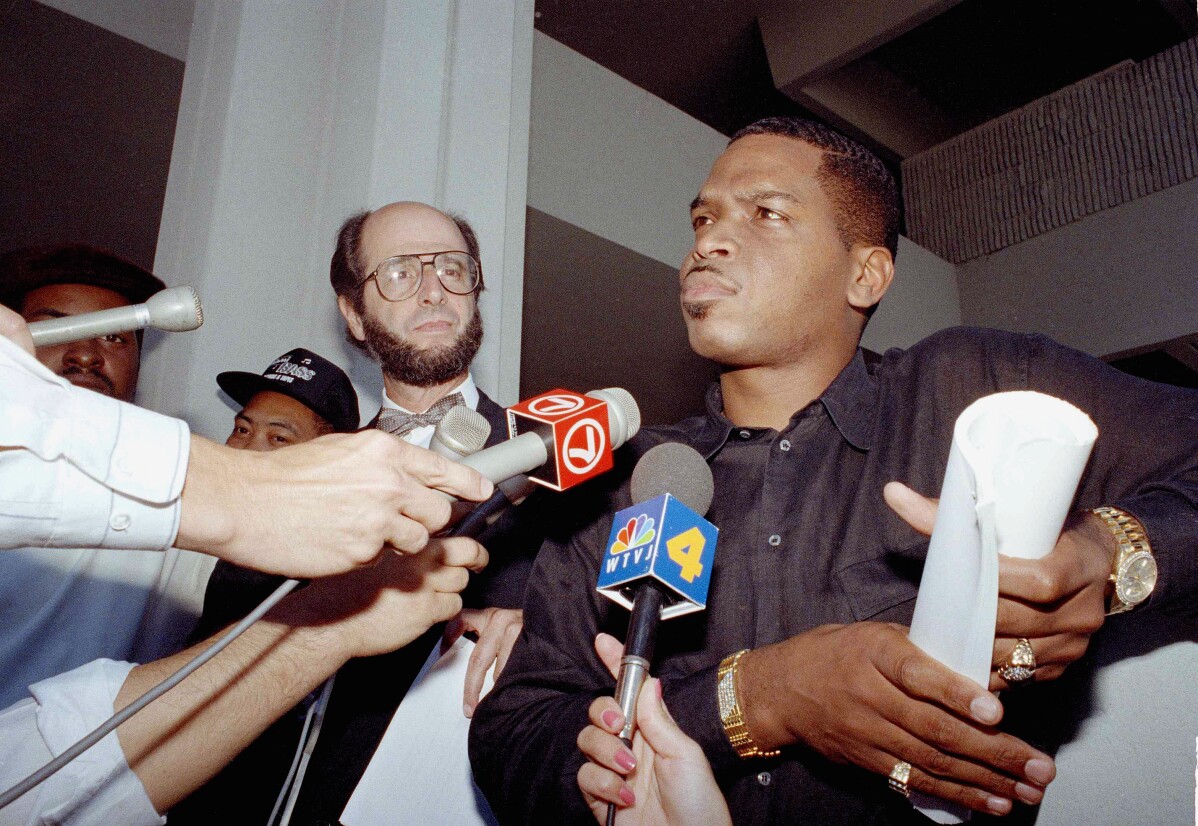 10 of 17

|
FILE - Luther Campbell, leader of hip hop group of 2 Live Crew, right, holds a copy of a federal judge's order ruling his best-selling album obscene, outside of the federal courthouse in Fort Lauderdale, Fla., June 6, 1990. In the five decades since hip-hop emerged out of New York City, it spread around the country and the world. Mainstream America hasn't always been ready for it. The sexually explicit content from 2 Live Crew made their 1989 album "As Nasty As They Want To Be" the subject of a legal battle over obscenity and freedom of expression; a later album, "Banned in the USA," became the first to get an official record industry label about explicit content. (AP Photo/Bill Cooke, file)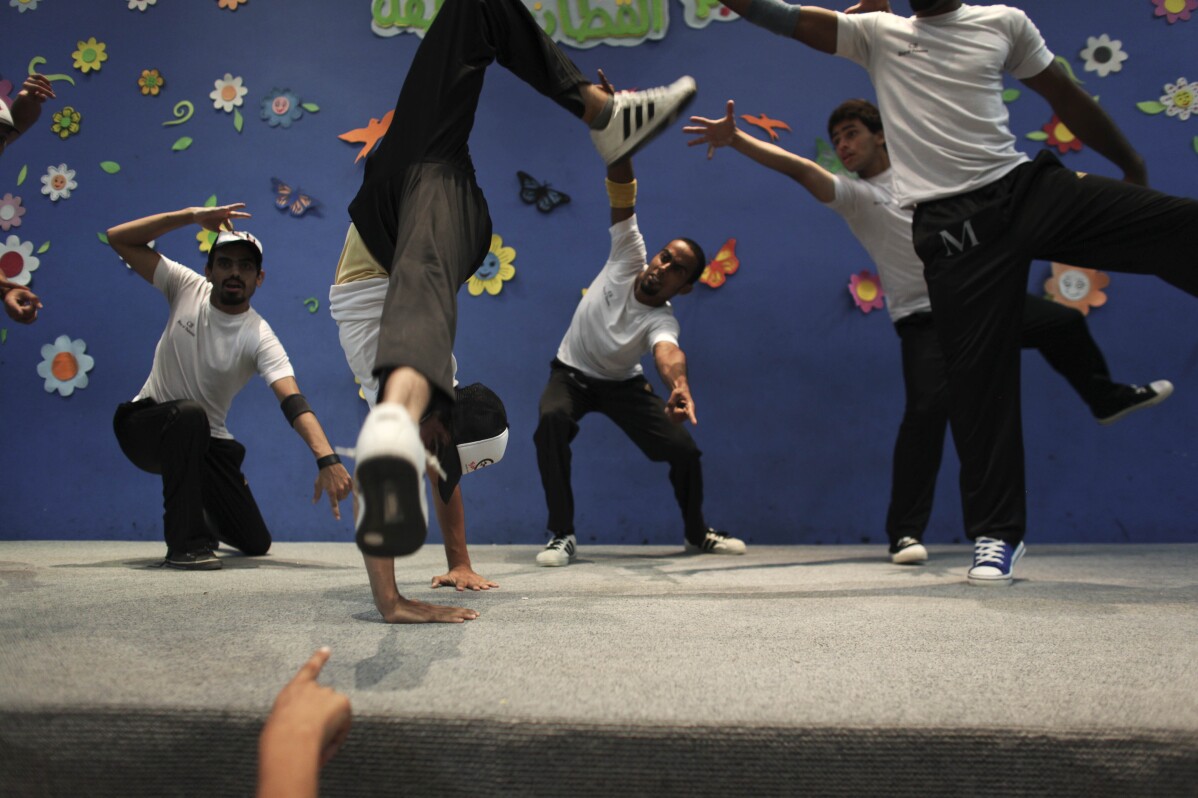 11 of 17

|
In this photo taken July 22, 2010, Palestinian members of the Camps Breakerz breakdancing troupe performance at a children's center in Gaza City. In the five decades since hip-hop emerged out of New York City, it has spread around the country and the world. And at each step there's been change and adaptation, as new, different voices came in and made it their own. Its foundations are steeped in the Black communities where it first made itself known but it's spread out until there's no corner of the world that hasn't been touched by it. (AP Photo/Tara Todras-Whitehill, file)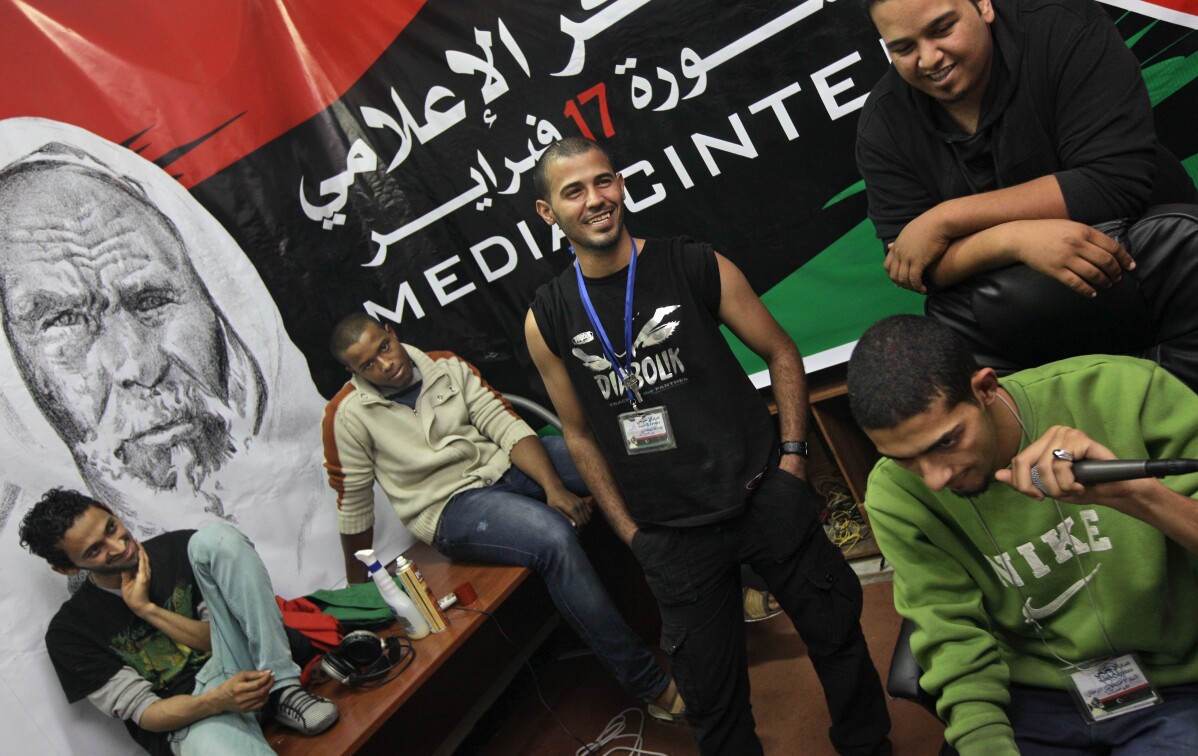 12 of 17

|
In this photo taken Tuesday, April 19, 2011, Youssef al-Briki, 24, a.k.a. SWAT, center, Mohammed al-Yemeni, 24, a.k.a. Migo, far left, and other members of the Revolution Beat rap group hang out next to a banner of Libya's legendary anti-Italian fighter Omar al-Mukhtar, in their makeshift studio in a room of the media center in Benghazi, Libya.In the five decades since hip-hop emerged out of New York City, it has spread around the country and the world. And at each step there's been change and adaptation, as new, different voices came in and made it their own. Its foundations are steeped in the Black communities where it first made itself known but it's spread out until there's no corner of the world that hasn't been touched by it. (AP Photo/Ben Curtis, file)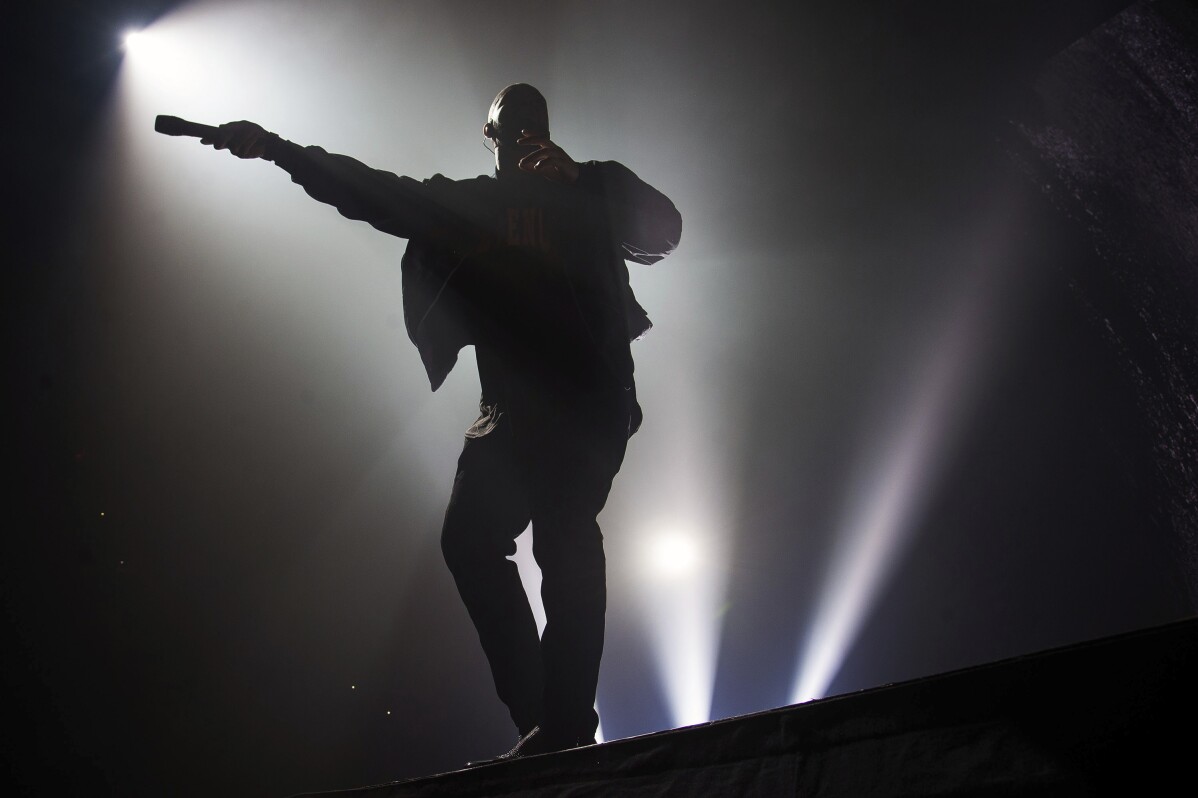 13 of 17

|
Drake performs in concert as part of the Summer Sixteen Tour at Madison Square Garden on Aug. 5, 2016, in New York. In the five decades since hip-hop emerged out of New York City, it has spread around the country and the world. And at each step there's been change and adaptation, as new, different voices came in and made it their own. Its foundations are steeped in the Black communities where it first made itself known but it's spread out until there's no corner of the world that hasn't been touched by it. Hip-hop has impacted everything: Art, culture, fashion, community, social justice, politics, sports, business. This year is being marked as a 50th anniversary celebration. (Photo by Charles Sykes/Invision/AP)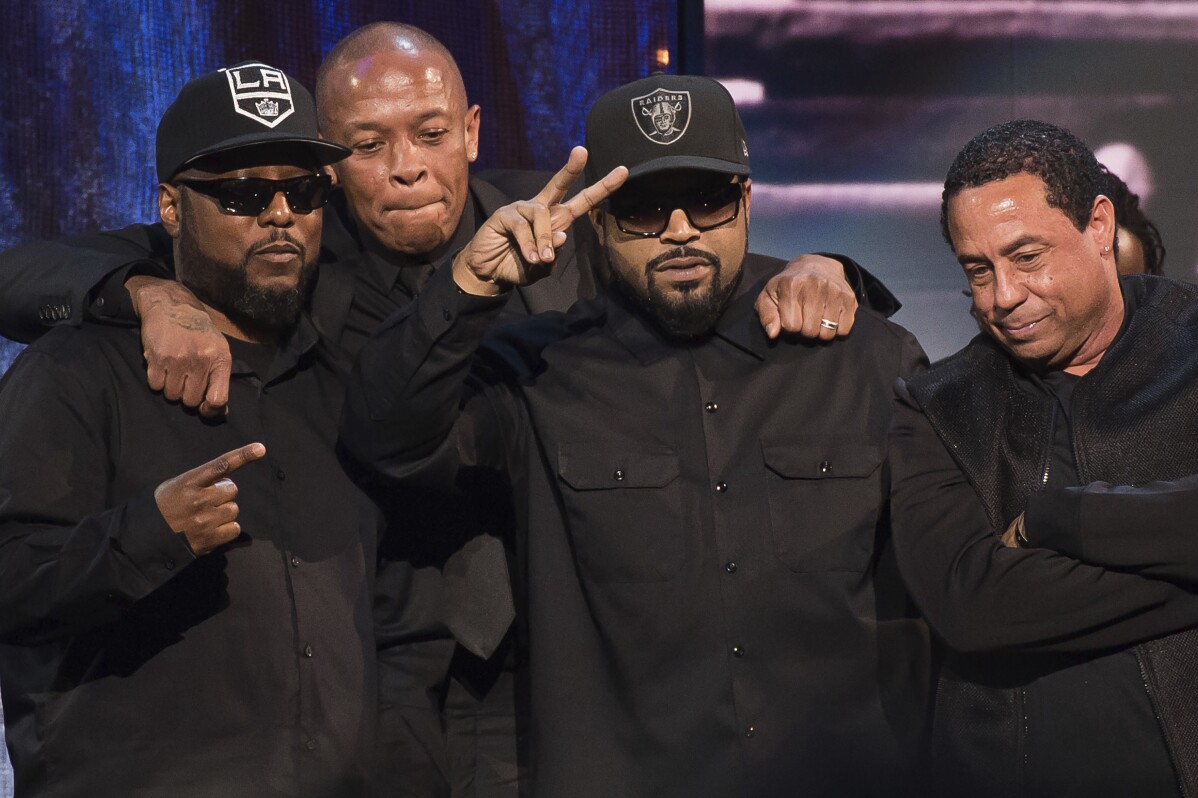 14 of 17

|
FILE - In this April 8, 2016, file photo, inductees MC Ren, from left, Dr. Dre, Ice Cube and DJ Yella from N.W.A appear at the 31st Annual Rock and Roll Hall of Fame Induction Ceremony at the Barclays Center in New York. In the five decades since hip-hop emerged out of New York City, it has spread around the country and the world. And at each step there's been change and adaptation, as new, different voices came in and made it their own. Some in hip-hop pulled no punches, using the art form and the culture as a no-holds-barred way of showcasing the troubles of their lives. Often those messages have been met with fear or disdain in the mainstream. When N.W.A. came "Straight Outta Compton" in 1988 with loud, brash tales of police abuse and gang life, radio stations recoiled. (Photo by Charles Sykes/Invision/AP, File)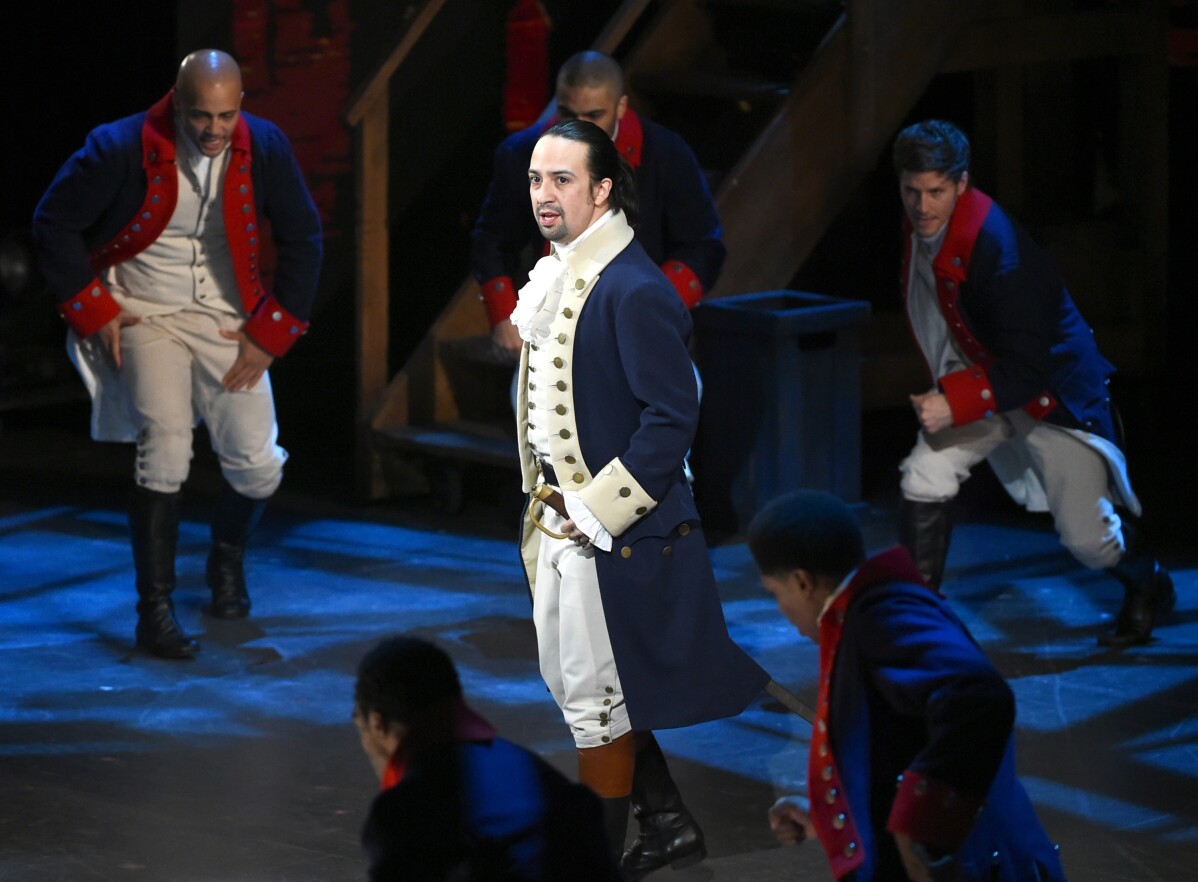 15 of 17

|
FILE - In this June 12, 2016 file photo, Lin-Manuel Miranda and the cast of "Hamilton" perform at the Tony Awards in New York. In the five decades since hip-hop emerged out of New York City, it has spread around the country and the world. And at each step there's been change and adaptation, as new, different voices came in and made it their own. Its foundations are steeped in the Black communities where it first made itself known but it's spread out until there's no corner of the world that hasn't been touched by it. Miranda's groundbreaking musical about a distant white historical figure that came to life in the rhythms of its hip-hop soundtrack, brought a different energy and audience to the theater world. (Photo by Evan Agostini/Invision/AP, File)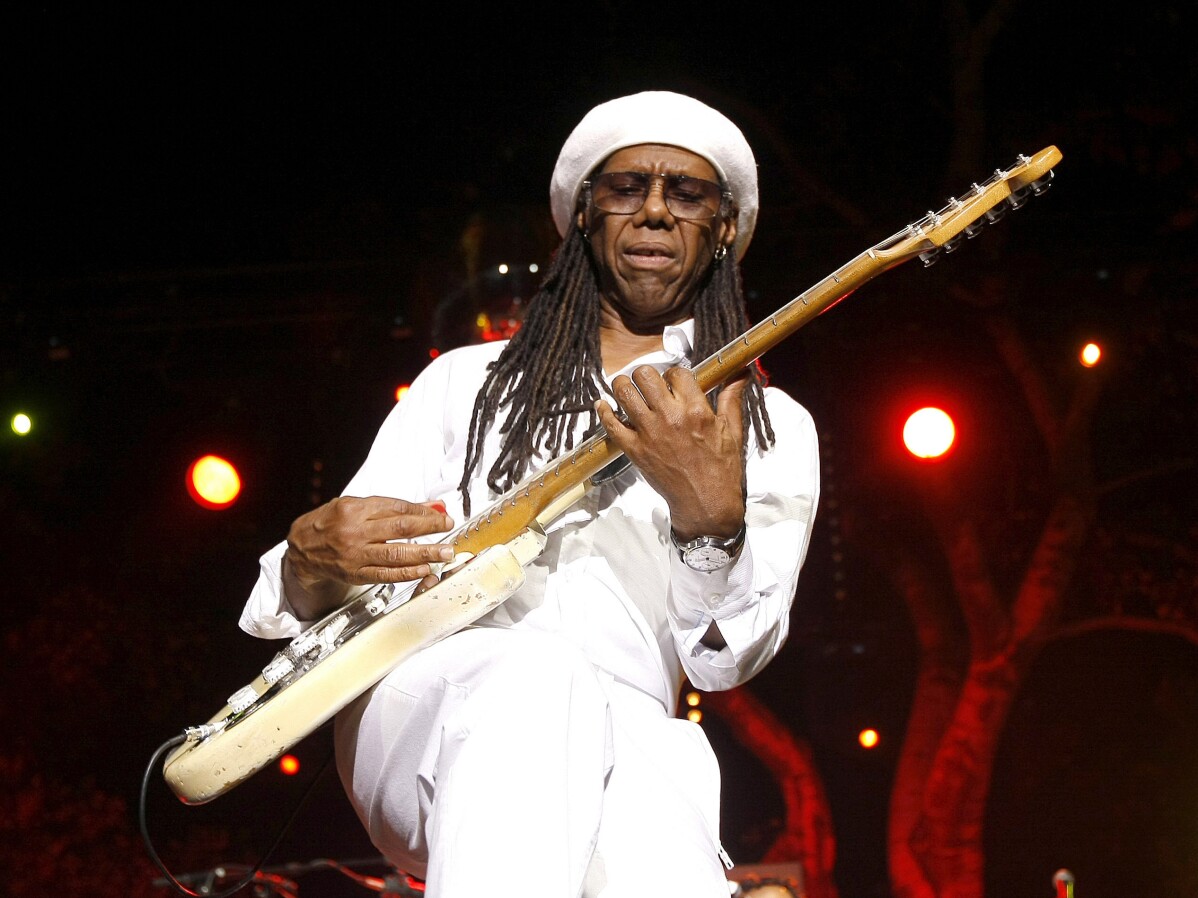 16 of 17

|
FILE - Guitarist Nile Rodgers of Chic performs at the Jazz Festival of 5 Continents, in Marseille, southern France, July 20, 2013. Hip-hop is, simply, "a magical art form," says Rodgers, legendary musician, composer and record producer. He would know. It was his song "Good Times," with the band Chic, that was recreated to form the basis for "Rapper's Delight" all those years ago."The impact that it's had on the world, it really can't be quantified," Rodgers says. "You can find someone in a village that you've never been to, a country that you've never been to, and all of a sudden you hear its own local hip-hop. And you don't even know who these people are, but they've adopted it and have made it their own." (AP Photo/Claude Paris, file)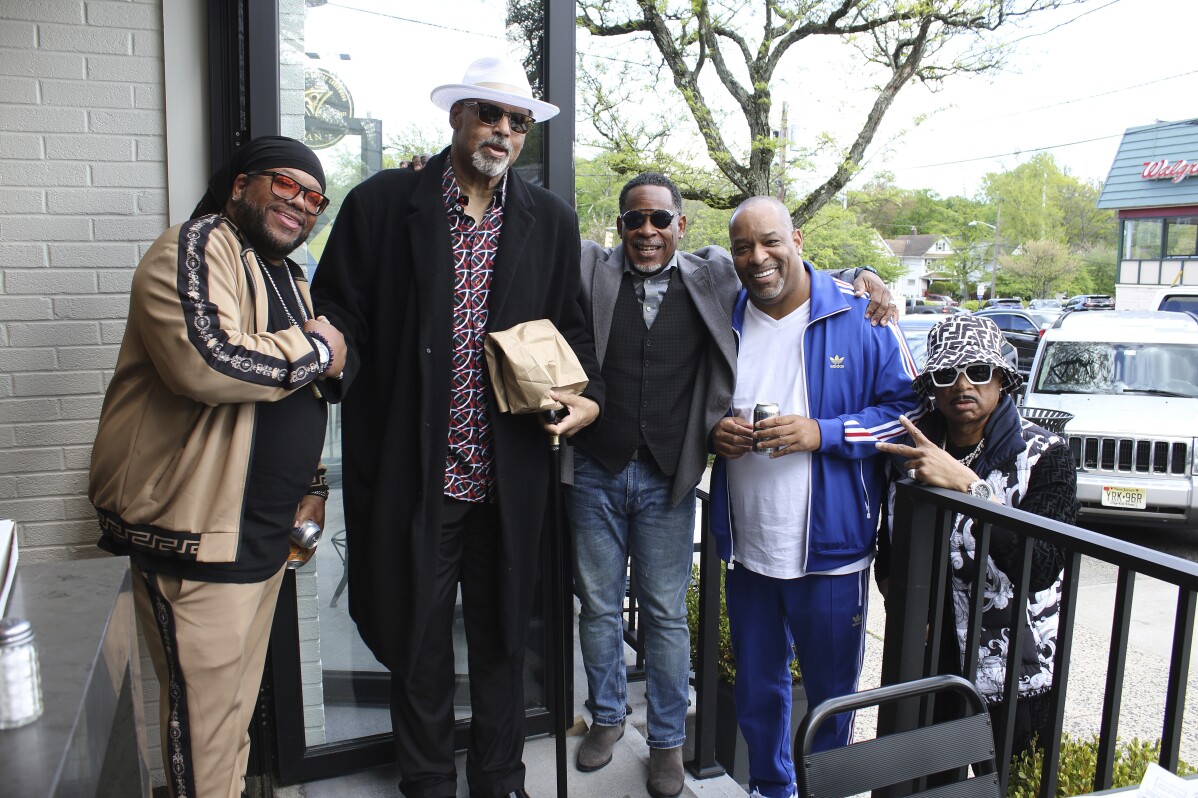 17 of 17

|
From left, DJ T Dynasty, Wonder Mike, Master Gee, Leland Robinson of Sugar Hill Records, son of Sylvia Robinson, Hen Dogg pose for a photograph in Englewood, N.J., Friday, May 5, 2023. In the five decades since hip-hop emerged out of New York City, it has spread around the country and the world. Among those who started to hear about it were some these men across the river in Englewood, N.J., who started making up rhymes to go along with the beats. In 1979, they auditioned as rappers for Sugar Hill Records. As The Sugarhill Gang, they put out "Rapper's Delight" and introduced the country to a record that would reach as high as 36 on Billboard's Top 100 chart list, and even make it to No. 1 in some European countries. (AP Photo/Noreen Nasir)
Hip-hop turns 50, reinventing itself and swaths of the world along the way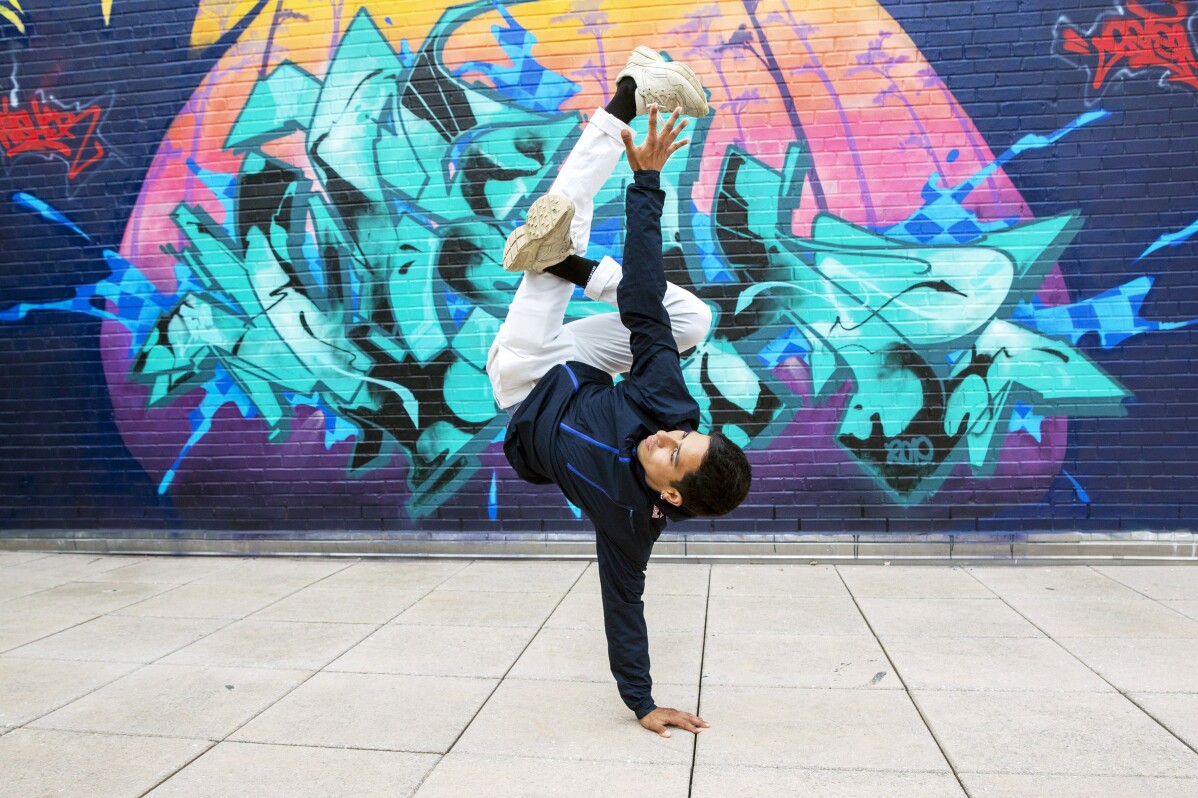 1 of 17

|
Breakdancer Victor Montalvo, 27, of Kissimmee, Fla., performs in New York City on June 22, 2021. In the five decades since hip-hop emerged out of New York City, it has spread around the country and the world. And at each step there's been change and adaptation, as new, different voices came in and made it their own. Its foundations are steeped in the Black communities where it first made itself known but it's spread out until there's no corner of the world that hasn't been touched by it. (AP Photo/Ted Shaffrey)
1 of 17
Breakdancer Victor Montalvo, 27, of Kissimmee, Fla., performs in New York City on June 22, 2021. In the five decades since hip-hop emerged out of New York City, it has spread around the country and the world. And at each step there's been change and adaptation, as new, different voices came in and made it their own. Its foundations are steeped in the Black communities where it first made itself known but it's spread out until there's no corner of the world that hasn't been touched by it. (AP Photo/Ted Shaffrey)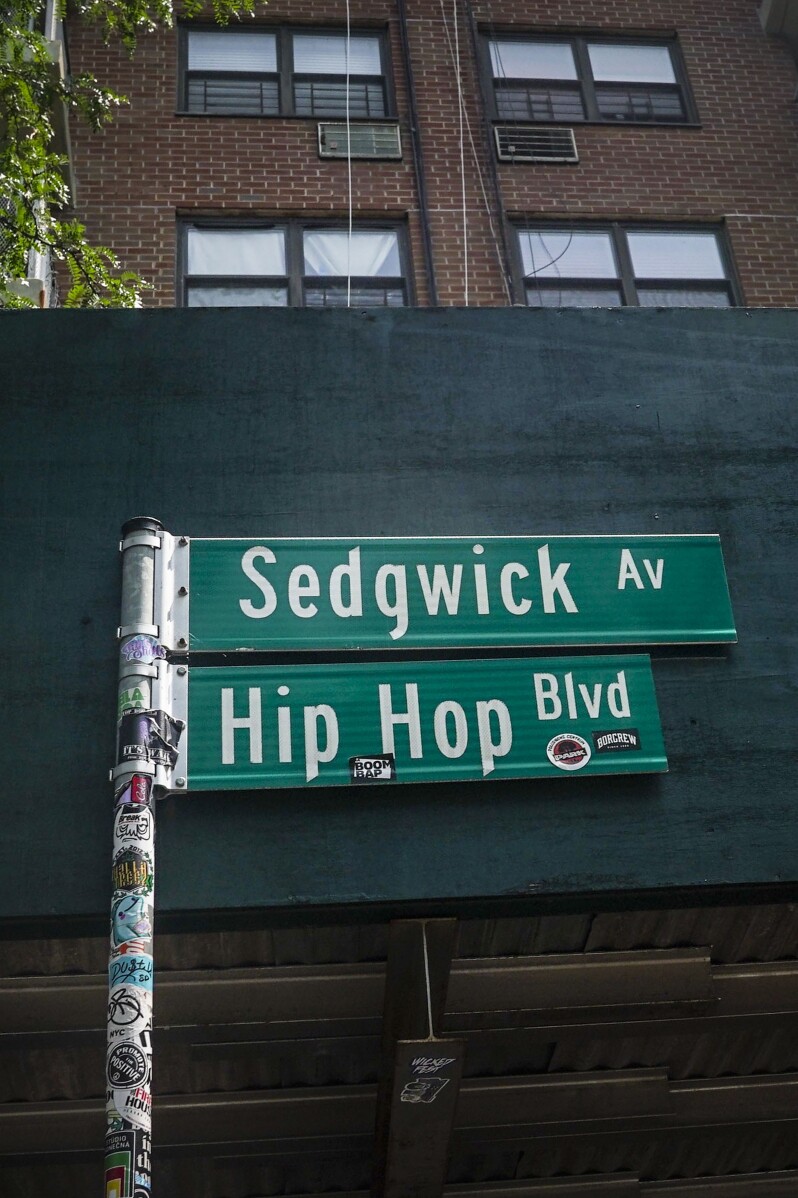 2 of 17

|
A street sign at Bronx's Sedgwick Houses apartments is shown renamed as Hip Hop Blvd, recognizing the site where hip hop's creator DJ Kool Herc first held parties featuring his new sound, July 26, 2023, in New York. In the five decades since hip-hop emerged out of New York City, it has spread around the country and the world. And at each step there's been change and adaptation, as new, different voices came in and made it their own. Its foundations are steeped in the Black communities where it first made itself known but it's spread out until there's no corner of the world that hasn't been touched by it. Hip-hop has impacted everything: Art, culture, fashion, community, social justice, politics, sports, business. This year is being marked as a 50th anniversary celebration. (AP Photo/Bebeto Matthews)
2 of 17
A street sign at Bronx's Sedgwick Houses apartments is shown renamed as Hip Hop Blvd, recognizing the site where hip hop's creator DJ Kool Herc first held parties featuring his new sound, July 26, 2023, in New York. In the five decades since hip-hop emerged out of New York City, it has spread around the country and the world. And at each step there's been change and adaptation, as new, different voices came in and made it their own. Its foundations are steeped in the Black communities where it first made itself known but it's spread out until there's no corner of the world that hasn't been touched by it. Hip-hop has impacted everything: Art, culture, fashion, community, social justice, politics, sports, business. This year is being marked as a 50th anniversary celebration. (AP Photo/Bebeto Matthews)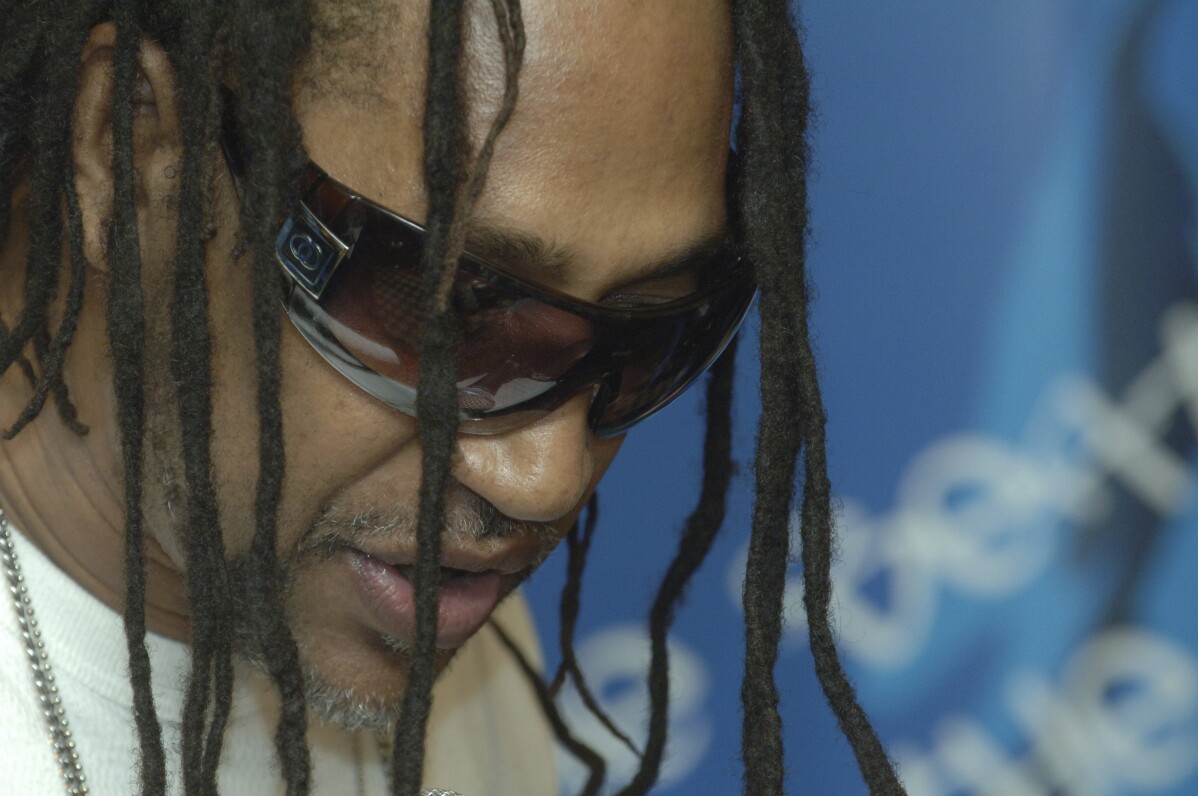 3 of 17

|
FILE - DJ Kool Herc speaks at a news conference to launch "Hip-Hop Won't Stop: The Beat, The Rhymes, The Life," the first ever hip-hop initiative at the Smithsonian's National Museum of American History in New York, Feb. 28, 2006. In the five decades since hip-hop emerged out of New York City, it has spread around the country and the world. Those looking for a hip-hop starting point have landed on one, turning this year into a 50th-birthday celebration. Aug. 11, 1973 was the date a young Clive Campbell, known as DJ Kool Herc around his Bronx stomping grounds, deejayed a back-to-school party for his younger sister in the community room of an apartment building on Sedgwick Avenue. (AP Photo/Henny Ray Abrams, file)
3 of 17
FILE - DJ Kool Herc speaks at a news conference to launch "Hip-Hop Won't Stop: The Beat, The Rhymes, The Life," the first ever hip-hop initiative at the Smithsonian's National Museum of American History in New York, Feb. 28, 2006. In the five decades since hip-hop emerged out of New York City, it has spread around the country and the world. Those looking for a hip-hop starting point have landed on one, turning this year into a 50th-birthday celebration. Aug. 11, 1973 was the date a young Clive Campbell, known as DJ Kool Herc around his Bronx stomping grounds, deejayed a back-to-school party for his younger sister in the community room of an apartment building on Sedgwick Avenue. (AP Photo/Henny Ray Abrams, file)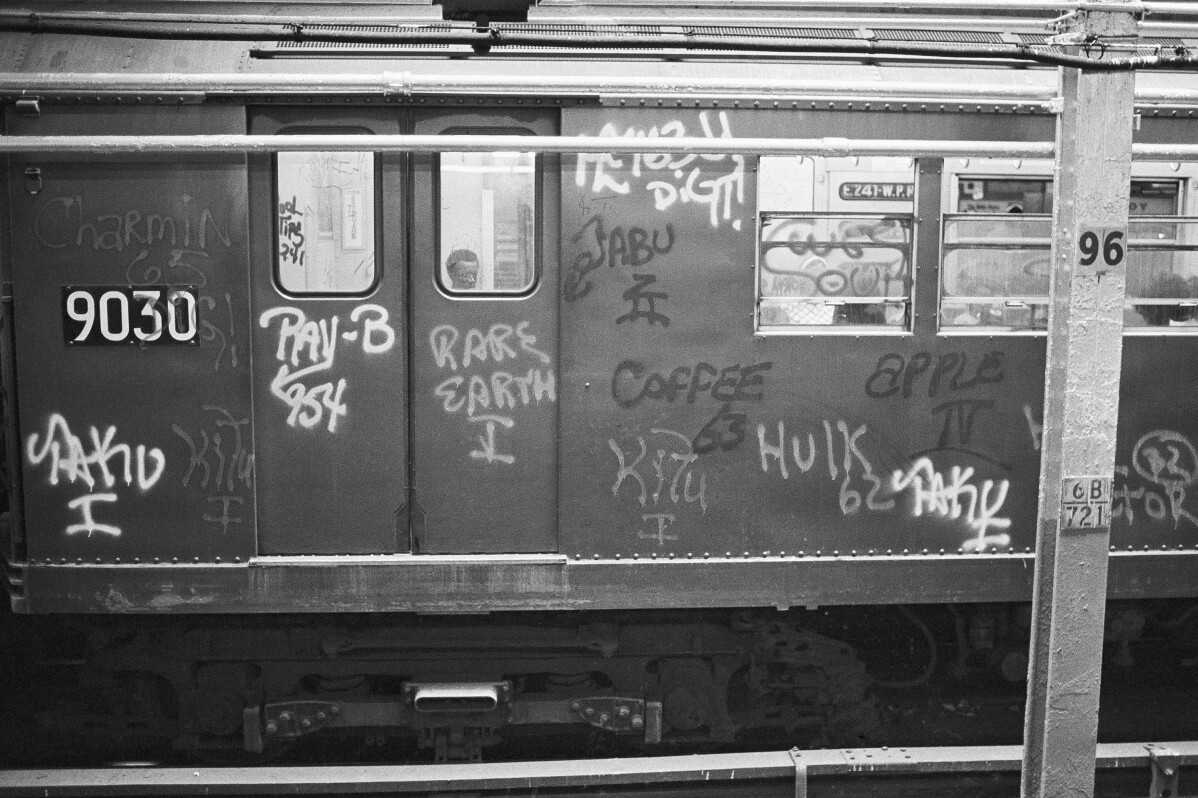 4 of 17

|
A subway train is adorned with various words from un authorized writers July 22, 1972 in New York. In the five decades since hip-hop emerged out of New York City, it has spread around the country and the world. And at each step there's been change and adaptation, as new, different voices came in and made it their own. Its foundations are steeped in the Black communities where it first made itself known but it's spread out until there's no corner of the world that hasn't been touched by it. (AP Photo/Jim Wells, file)
4 of 17
A subway train is adorned with various words from un authorized writers July 22, 1972 in New York. In the five decades since hip-hop emerged out of New York City, it has spread around the country and the world. And at each step there's been change and adaptation, as new, different voices came in and made it their own. Its foundations are steeped in the Black communities where it first made itself known but it's spread out until there's no corner of the world that hasn't been touched by it. (AP Photo/Jim Wells, file)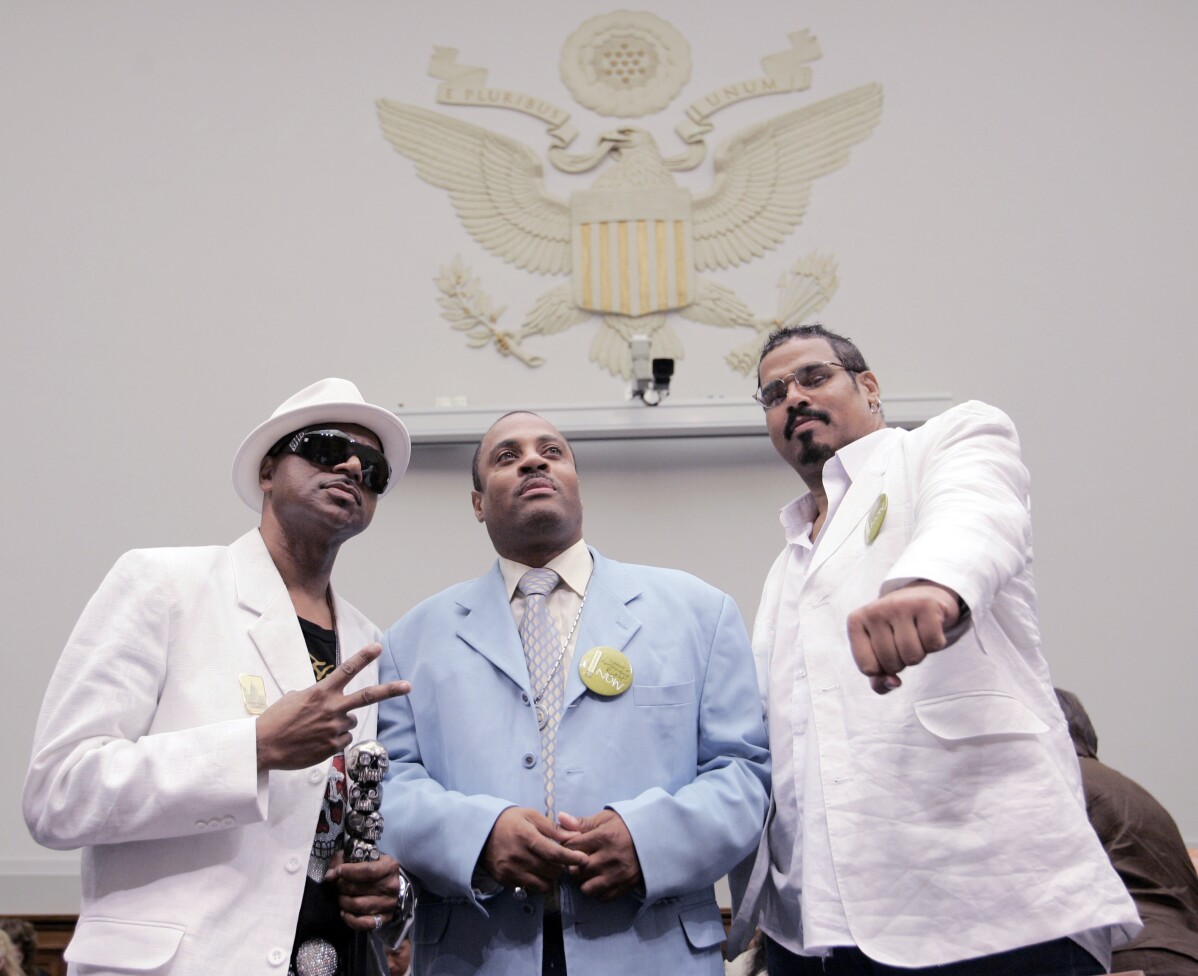 5 of 17

|
FILE - Hendogg from The Sugarhill Gang, left, Grandmaster Dee of Whodini, center, and Michael "Wonder Mike" Wright of The Sugarhill Gang, pose for a photo on Capitol Hill in Washington, June 11, 2008. Members of The Sugarhill Gang put out "Rapper's Delight" and introduced the country to a record that would reach as high as 36 on Billboard's Top 100 chart list, and even make it to No. 1 in some European countries. Wright says he had no doubt the song — and, by extension, hip-hop — was "going to be big. "I knew it was going to blow up and play all over the world because it was a new genre of music," he tells The Associated Press. "You had classical jazz, bebop, rock, pop, and here comes a new form of music that didn't exist." (AP Photo/Susan Walsh)
5 of 17
FILE - Hendogg from The Sugarhill Gang, left, Grandmaster Dee of Whodini, center, and Michael "Wonder Mike" Wright of The Sugarhill Gang, pose for a photo on Capitol Hill in Washington, June 11, 2008. Members of The Sugarhill Gang put out "Rapper's Delight" and introduced the country to a record that would reach as high as 36 on Billboard's Top 100 chart list, and even make it to No. 1 in some European countries. Wright says he had no doubt the song — and, by extension, hip-hop — was "going to be big. "I knew it was going to blow up and play all over the world because it was a new genre of music," he tells The Associated Press. "You had classical jazz, bebop, rock, pop, and here comes a new form of music that didn't exist." (AP Photo/Susan Walsh)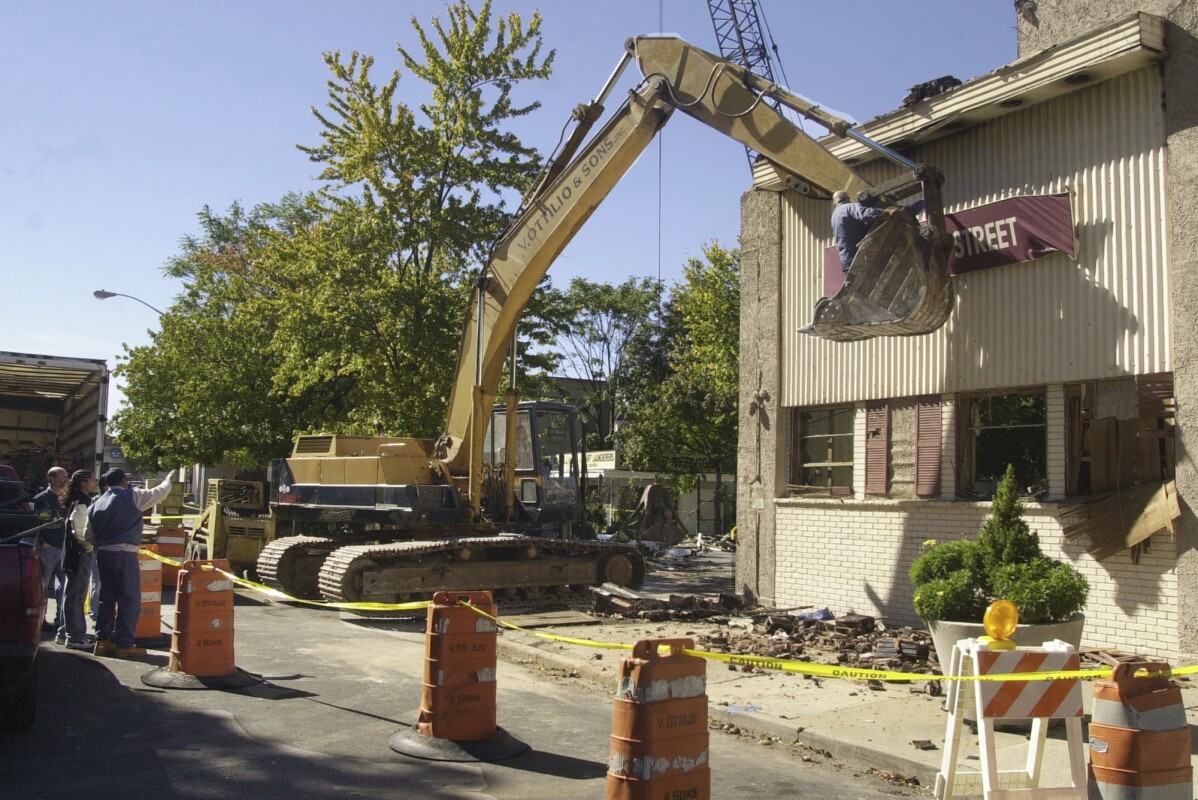 6 of 17

|
FILE - A demolition crew takes down an address sign from the Sugar Hill Studio recording studio in Englewood, N.J., Oct. 14, 2002. In the five decades since hip-hop emerged out of New York City, it has spread around the country and the world. And at each step there's been change and adaptation, as new, different voices came in and made it their own. Among those who started to hear about it were some young men across the river in Englewood, New Jersey, who started making up rhymes to go along with the beats. In 1979, they auditioned as rappers for Sylvia Robinson, a singer turned music producer who co-founded Sugar Hill Records. As The Sugarhill Gang, they put out "Rapper's Delight" and introduced the country to a record that would reach as high as 36 on Billboard's Top 100 chart list, and even make it to No. 1 in some European countries. (AP Photo/Mike Derer, file)
6 of 17
FILE - A demolition crew takes down an address sign from the Sugar Hill Studio recording studio in Englewood, N.J., Oct. 14, 2002. In the five decades since hip-hop emerged out of New York City, it has spread around the country and the world. And at each step there's been change and adaptation, as new, different voices came in and made it their own. Among those who started to hear about it were some young men across the river in Englewood, New Jersey, who started making up rhymes to go along with the beats. In 1979, they auditioned as rappers for Sylvia Robinson, a singer turned music producer who co-founded Sugar Hill Records. As The Sugarhill Gang, they put out "Rapper's Delight" and introduced the country to a record that would reach as high as 36 on Billboard's Top 100 chart list, and even make it to No. 1 in some European countries. (AP Photo/Mike Derer, file)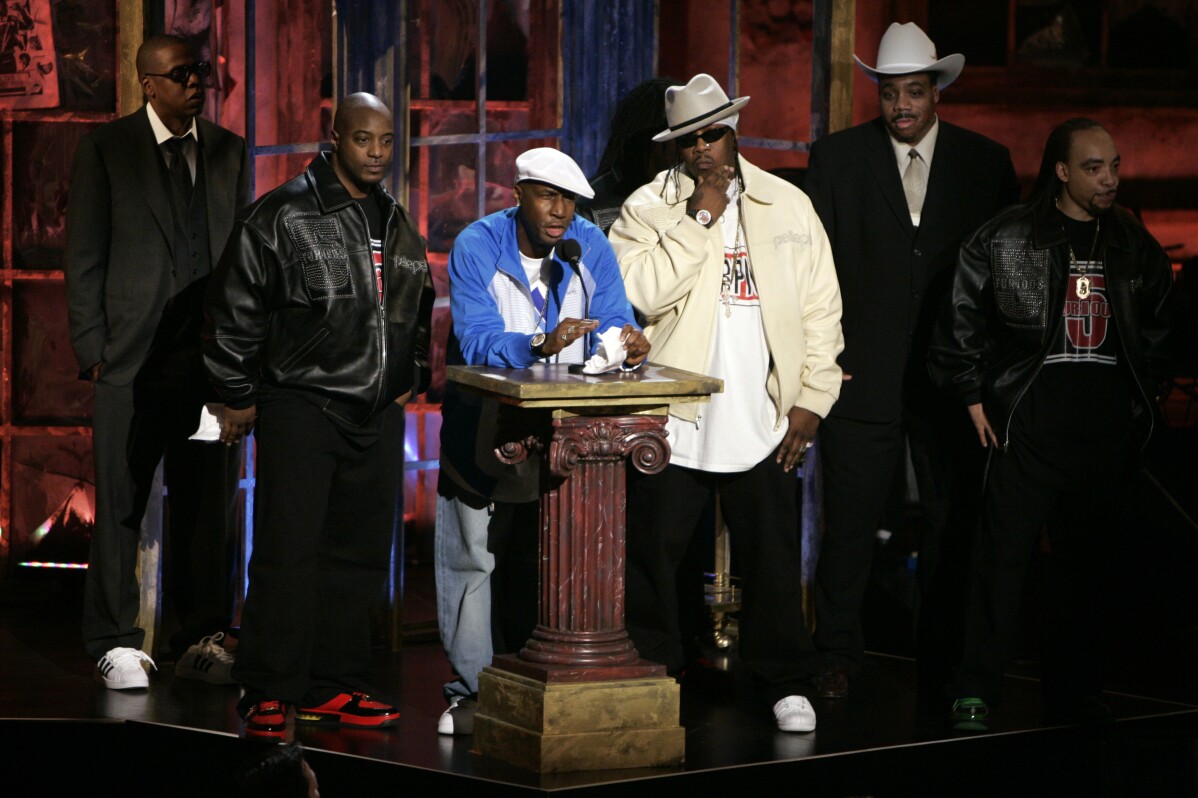 7 of 17

|
FILE - Grandmaster Flash (at podium) & the Furious Five accept their award for being inducted into the Rock & Roll Hall of Fame during ceremonies in New York, March 12, 2007. In the five decades since hip-hop emerged out of New York City, it has spread around the country and the world. And at each step there's been change and adaptation, as new, different voices came in and made it their own. Coming from America's Black communities, it has meant hip-hop has been a tool to speak out against injustice, like in 1982 when Grandmaster Flash and the Furious Five told the world in "The Message," that the stresses of poverty in their city neighborhoods made it feel "like a jungle sometimes/It makes me wonder how I keep from goin' under." (AP Photo/Seth Wenig, file)
7 of 17
FILE - Grandmaster Flash (at podium) & the Furious Five accept their award for being inducted into the Rock & Roll Hall of Fame during ceremonies in New York, March 12, 2007. In the five decades since hip-hop emerged out of New York City, it has spread around the country and the world. And at each step there's been change and adaptation, as new, different voices came in and made it their own. Coming from America's Black communities, it has meant hip-hop has been a tool to speak out against injustice, like in 1982 when Grandmaster Flash and the Furious Five told the world in "The Message," that the stresses of poverty in their city neighborhoods made it feel "like a jungle sometimes/It makes me wonder how I keep from goin' under." (AP Photo/Seth Wenig, file)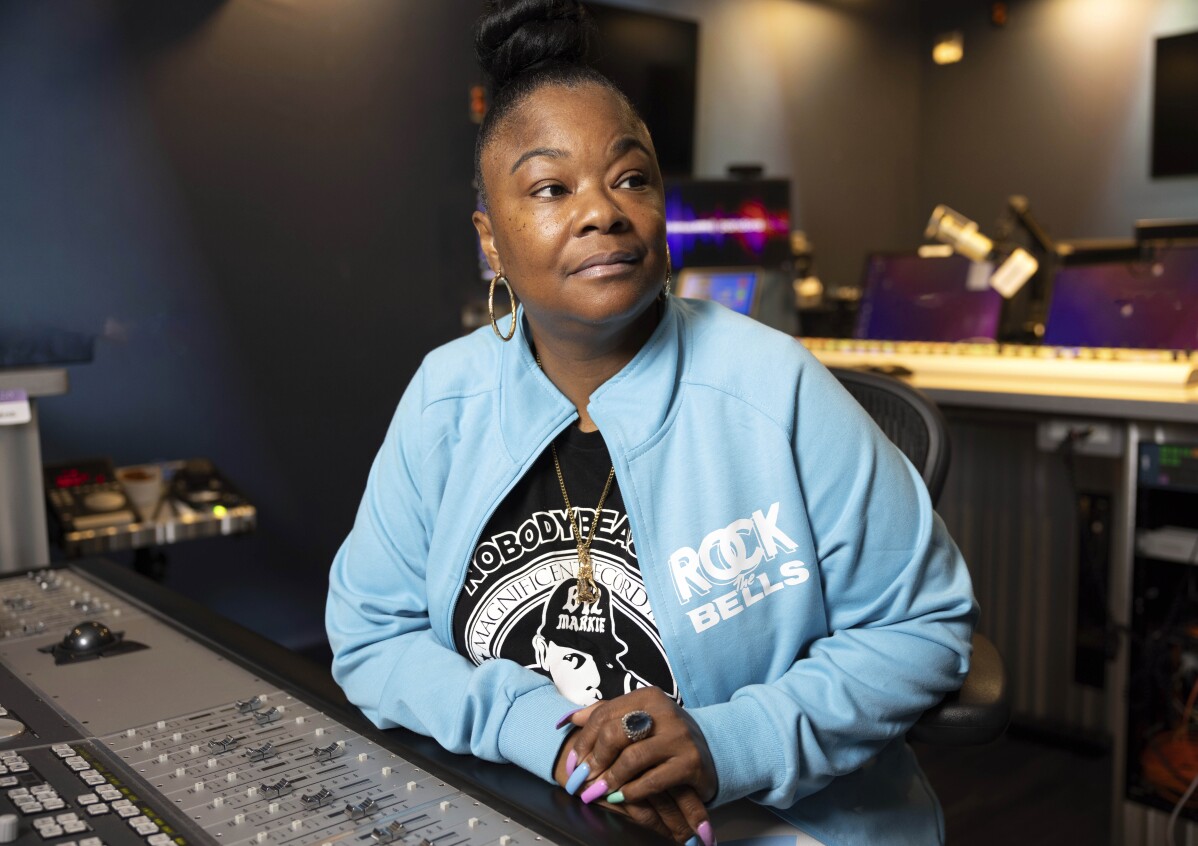 8 of 17

|
Roxanne Shante poses for a portrait on July 18, 2023, in New York. In the five decades since hip-hop emerged out of New York City, it has spread around the country and the world. And at each step there's been change and adaptation, as new, different voices came in and made it their own. Its foundations are steeped in the Black communities where it first made itself known but it's spread out until there's no corner of the world that hasn't been touched by it. Shante, a native of New York City's Queens borough who was only 14 years old in 1984. That was the year she became one of the first female MCs, those rhyming over the beat, to gain a wider audience — and was part of what was likely the first well-known instance of rappers using their song tracks to take sonic shots at other rappers, in a back-and-forth song battle known as The Roxanne Wars. "When I look at my female rappers of today, I see hope and inspiration," Shante says. (Photo by Matt Licari/Invision/AP)
8 of 17
Roxanne Shante poses for a portrait on July 18, 2023, in New York. In the five decades since hip-hop emerged out of New York City, it has spread around the country and the world. And at each step there's been change and adaptation, as new, different voices came in and made it their own. Its foundations are steeped in the Black communities where it first made itself known but it's spread out until there's no corner of the world that hasn't been touched by it. Shante, a native of New York City's Queens borough who was only 14 years old in 1984. That was the year she became one of the first female MCs, those rhyming over the beat, to gain a wider audience — and was part of what was likely the first well-known instance of rappers using their song tracks to take sonic shots at other rappers, in a back-and-forth song battle known as The Roxanne Wars. "When I look at my female rappers of today, I see hope and inspiration," Shante says. (Photo by Matt Licari/Invision/AP)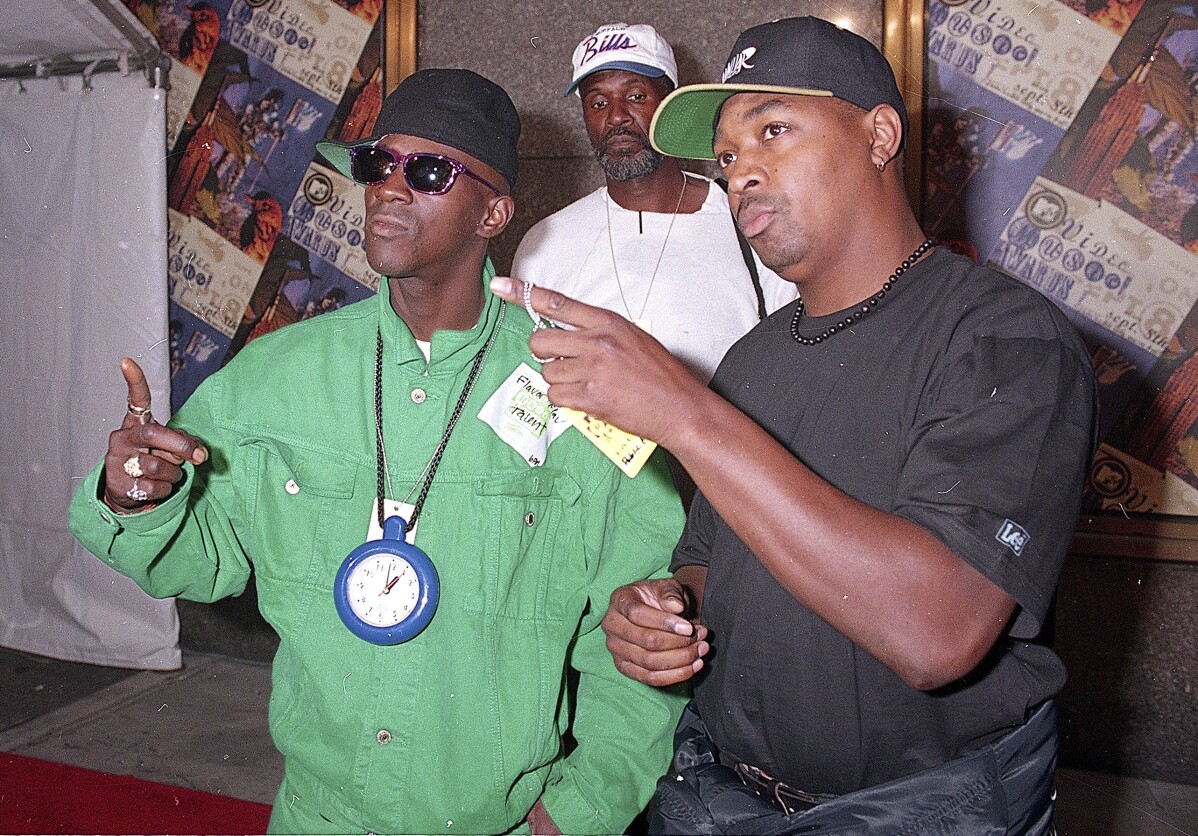 9 of 17

|
Flavor Flav, left, and Chuck D of the rap group Public Enemy, pose for photographers upon their arrival for the MTV Music Awards at New York's Radio City Music Hall, Sept. 8, 1994. In the five decades since hip-hop emerged out of New York City, it has spread around the country and the world. And at each step there's been change and adaptation, as new, different voices came in and made it their own. Its foundations are steeped in the Black communities where it first made itself known but it's spread out until there's no corner of the world that hasn't been touched by it. Public Enemy's "Fight the Power" became an anthem when it was created for filmmaker Spike Lee's 1989 classic "Do the Right Thing," which chronicled racial tension in a Brooklyn neighborhood. (AP Photo/Malcolm Clarke)
9 of 17
Flavor Flav, left, and Chuck D of the rap group Public Enemy, pose for photographers upon their arrival for the MTV Music Awards at New York's Radio City Music Hall, Sept. 8, 1994. In the five decades since hip-hop emerged out of New York City, it has spread around the country and the world. And at each step there's been change and adaptation, as new, different voices came in and made it their own. Its foundations are steeped in the Black communities where it first made itself known but it's spread out until there's no corner of the world that hasn't been touched by it. Public Enemy's "Fight the Power" became an anthem when it was created for filmmaker Spike Lee's 1989 classic "Do the Right Thing," which chronicled racial tension in a Brooklyn neighborhood. (AP Photo/Malcolm Clarke)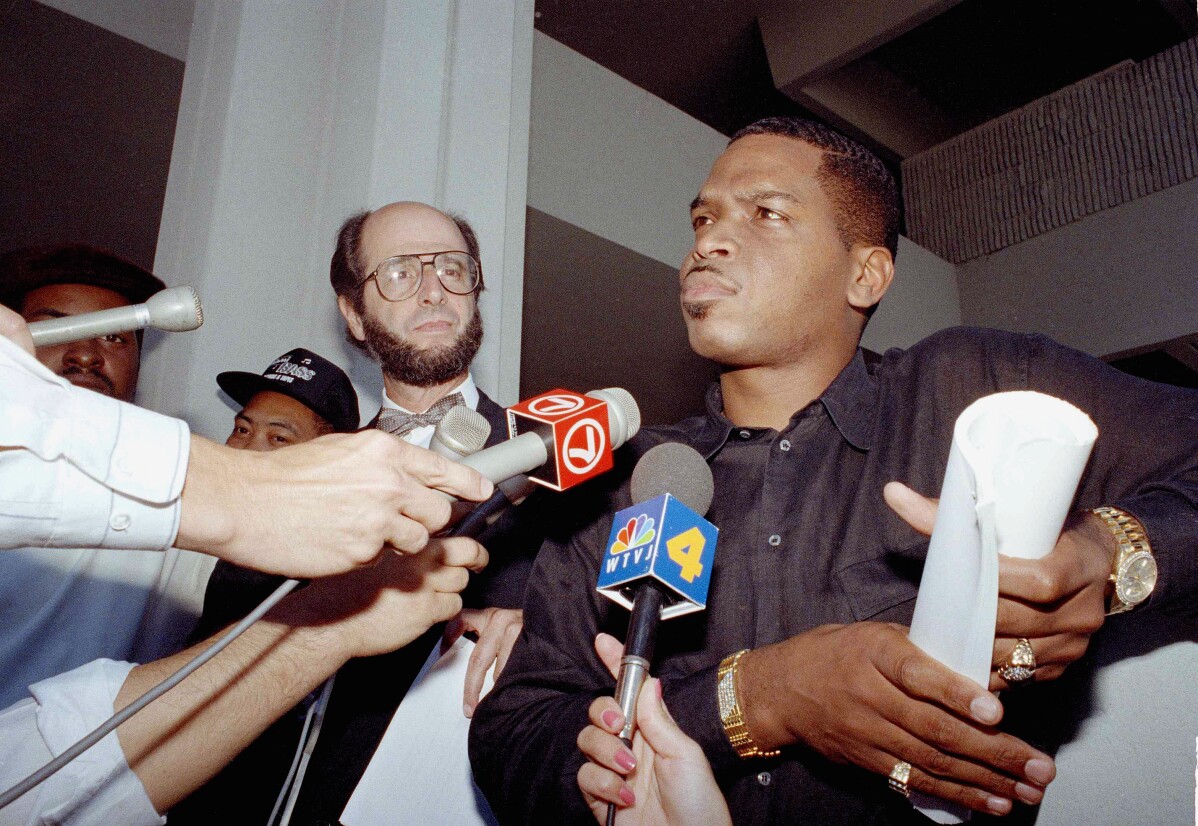 10 of 17

|
FILE - Luther Campbell, leader of hip hop group of 2 Live Crew, right, holds a copy of a federal judge's order ruling his best-selling album obscene, outside of the federal courthouse in Fort Lauderdale, Fla., June 6, 1990. In the five decades since hip-hop emerged out of New York City, it spread around the country and the world. Mainstream America hasn't always been ready for it. The sexually explicit content from 2 Live Crew made their 1989 album "As Nasty As They Want To Be" the subject of a legal battle over obscenity and freedom of expression; a later album, "Banned in the USA," became the first to get an official record industry label about explicit content. (AP Photo/Bill Cooke, file)
10 of 17
FILE - Luther Campbell, leader of hip hop group of 2 Live Crew, right, holds a copy of a federal judge's order ruling his best-selling album obscene, outside of the federal courthouse in Fort Lauderdale, Fla., June 6, 1990. In the five decades since hip-hop emerged out of New York City, it spread around the country and the world. Mainstream America hasn't always been ready for it. The sexually explicit content from 2 Live Crew made their 1989 album "As Nasty As They Want To Be" the subject of a legal battle over obscenity and freedom of expression; a later album, "Banned in the USA," became the first to get an official record industry label about explicit content. (AP Photo/Bill Cooke, file)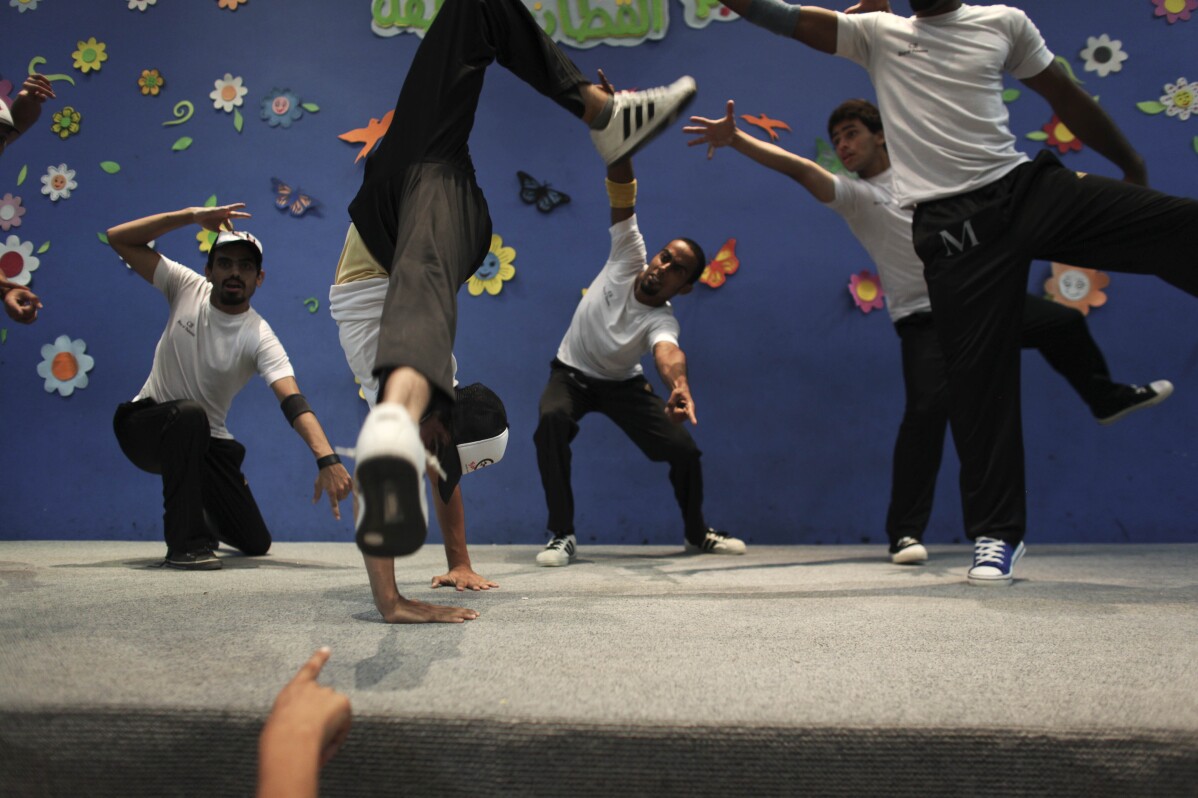 11 of 17

|
In this photo taken July 22, 2010, Palestinian members of the Camps Breakerz breakdancing troupe performance at a children's center in Gaza City. In the five decades since hip-hop emerged out of New York City, it has spread around the country and the world. And at each step there's been change and adaptation, as new, different voices came in and made it their own. Its foundations are steeped in the Black communities where it first made itself known but it's spread out until there's no corner of the world that hasn't been touched by it. (AP Photo/Tara Todras-Whitehill, file)
11 of 17
In this photo taken July 22, 2010, Palestinian members of the Camps Breakerz breakdancing troupe performance at a children's center in Gaza City. In the five decades since hip-hop emerged out of New York City, it has spread around the country and the world. And at each step there's been change and adaptation, as new, different voices came in and made it their own. Its foundations are steeped in the Black communities where it first made itself known but it's spread out until there's no corner of the world that hasn't been touched by it. (AP Photo/Tara Todras-Whitehill, file)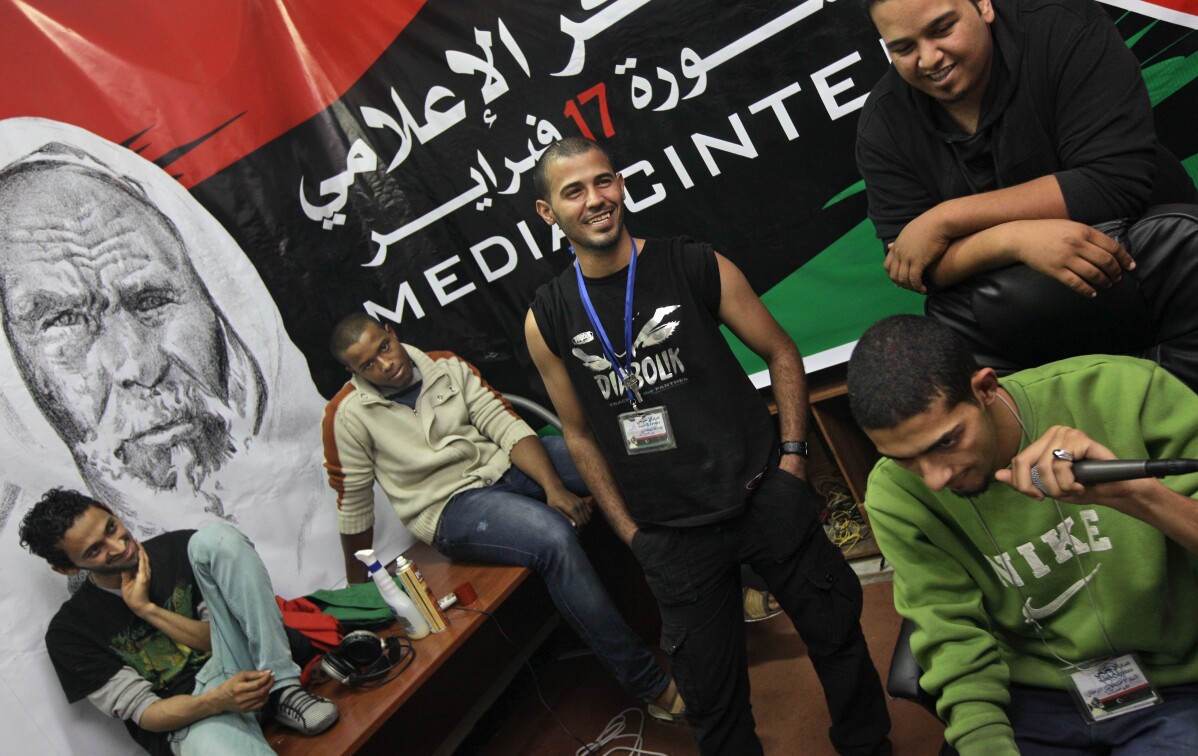 12 of 17

|
In this photo taken Tuesday, April 19, 2011, Youssef al-Briki, 24, a.k.a. SWAT, center, Mohammed al-Yemeni, 24, a.k.a. Migo, far left, and other members of the Revolution Beat rap group hang out next to a banner of Libya's legendary anti-Italian fighter Omar al-Mukhtar, in their makeshift studio in a room of the media center in Benghazi, Libya.In the five decades since hip-hop emerged out of New York City, it has spread around the country and the world. And at each step there's been change and adaptation, as new, different voices came in and made it their own. Its foundations are steeped in the Black communities where it first made itself known but it's spread out until there's no corner of the world that hasn't been touched by it. (AP Photo/Ben Curtis, file)
12 of 17
In this photo taken Tuesday, April 19, 2011, Youssef al-Briki, 24, a.k.a. SWAT, center, Mohammed al-Yemeni, 24, a.k.a. Migo, far left, and other members of the Revolution Beat rap group hang out next to a banner of Libya's legendary anti-Italian fighter Omar al-Mukhtar, in their makeshift studio in a room of the media center in Benghazi, Libya.In the five decades since hip-hop emerged out of New York City, it has spread around the country and the world. And at each step there's been change and adaptation, as new, different voices came in and made it their own. Its foundations are steeped in the Black communities where it first made itself known but it's spread out until there's no corner of the world that hasn't been touched by it. (AP Photo/Ben Curtis, file)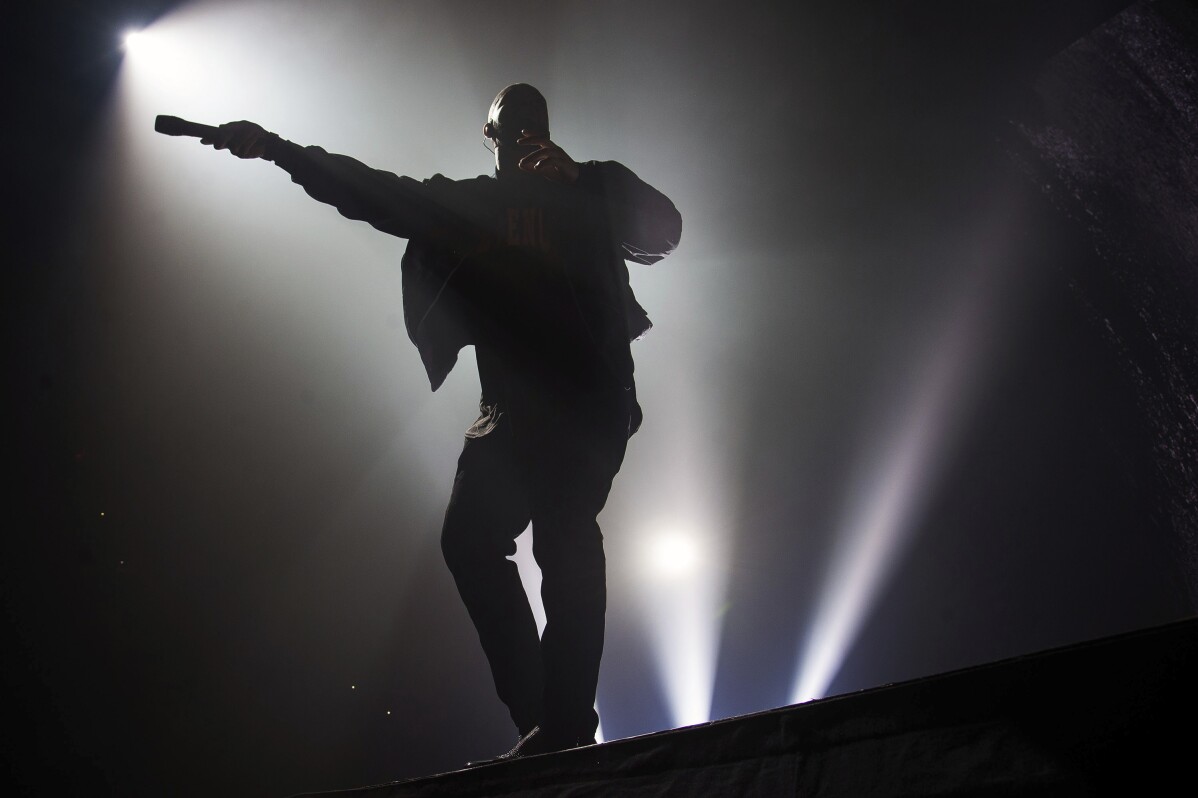 13 of 17

|
Drake performs in concert as part of the Summer Sixteen Tour at Madison Square Garden on Aug. 5, 2016, in New York. In the five decades since hip-hop emerged out of New York City, it has spread around the country and the world. And at each step there's been change and adaptation, as new, different voices came in and made it their own. Its foundations are steeped in the Black communities where it first made itself known but it's spread out until there's no corner of the world that hasn't been touched by it. Hip-hop has impacted everything: Art, culture, fashion, community, social justice, politics, sports, business. This year is being marked as a 50th anniversary celebration. (Photo by Charles Sykes/Invision/AP)
13 of 17
Drake performs in concert as part of the Summer Sixteen Tour at Madison Square Garden on Aug. 5, 2016, in New York. In the five decades since hip-hop emerged out of New York City, it has spread around the country and the world. And at each step there's been change and adaptation, as new, different voices came in and made it their own. Its foundations are steeped in the Black communities where it first made itself known but it's spread out until there's no corner of the world that hasn't been touched by it. Hip-hop has impacted everything: Art, culture, fashion, community, social justice, politics, sports, business. This year is being marked as a 50th anniversary celebration. (Photo by Charles Sykes/Invision/AP)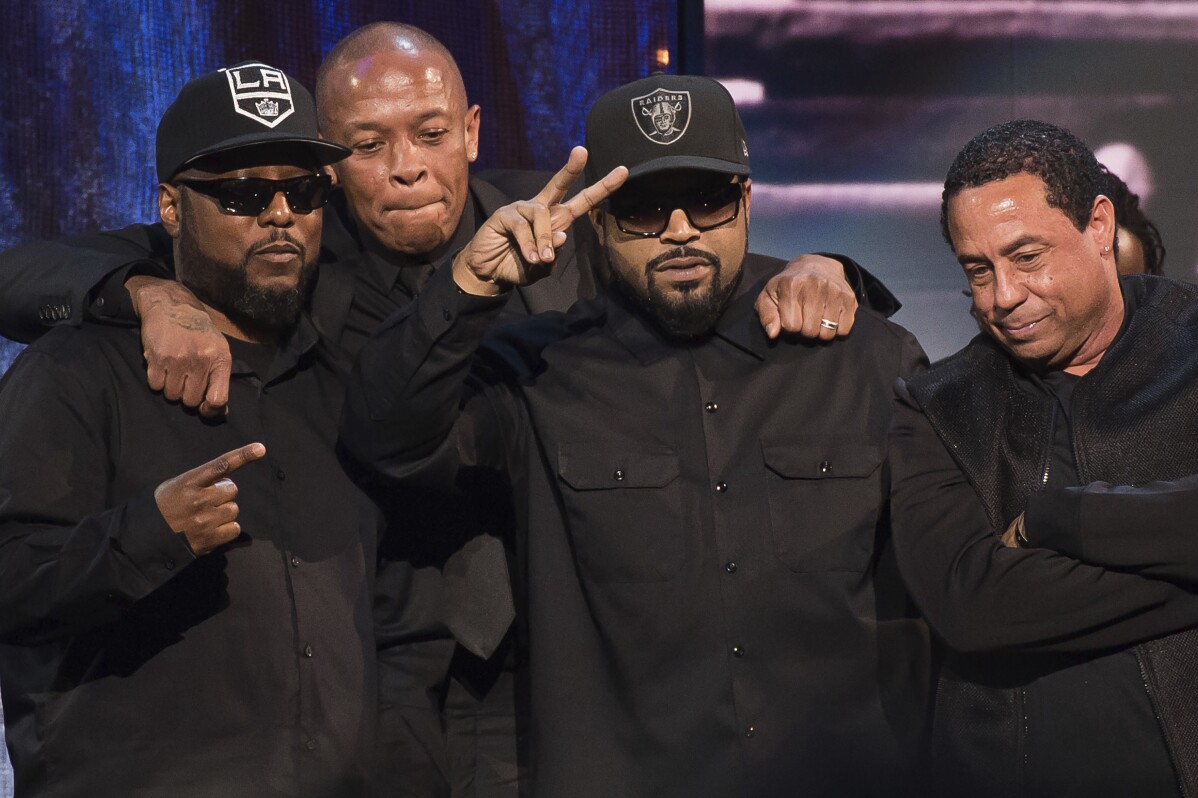 14 of 17

|
FILE - In this April 8, 2016, file photo, inductees MC Ren, from left, Dr. Dre, Ice Cube and DJ Yella from N.W.A appear at the 31st Annual Rock and Roll Hall of Fame Induction Ceremony at the Barclays Center in New York. In the five decades since hip-hop emerged out of New York City, it has spread around the country and the world. And at each step there's been change and adaptation, as new, different voices came in and made it their own. Some in hip-hop pulled no punches, using the art form and the culture as a no-holds-barred way of showcasing the troubles of their lives. Often those messages have been met with fear or disdain in the mainstream. When N.W.A. came "Straight Outta Compton" in 1988 with loud, brash tales of police abuse and gang life, radio stations recoiled. (Photo by Charles Sykes/Invision/AP, File)
14 of 17
FILE - In this April 8, 2016, file photo, inductees MC Ren, from left, Dr. Dre, Ice Cube and DJ Yella from N.W.A appear at the 31st Annual Rock and Roll Hall of Fame Induction Ceremony at the Barclays Center in New York. In the five decades since hip-hop emerged out of New York City, it has spread around the country and the world. And at each step there's been change and adaptation, as new, different voices came in and made it their own. Some in hip-hop pulled no punches, using the art form and the culture as a no-holds-barred way of showcasing the troubles of their lives. Often those messages have been met with fear or disdain in the mainstream. When N.W.A. came "Straight Outta Compton" in 1988 with loud, brash tales of police abuse and gang life, radio stations recoiled. (Photo by Charles Sykes/Invision/AP, File)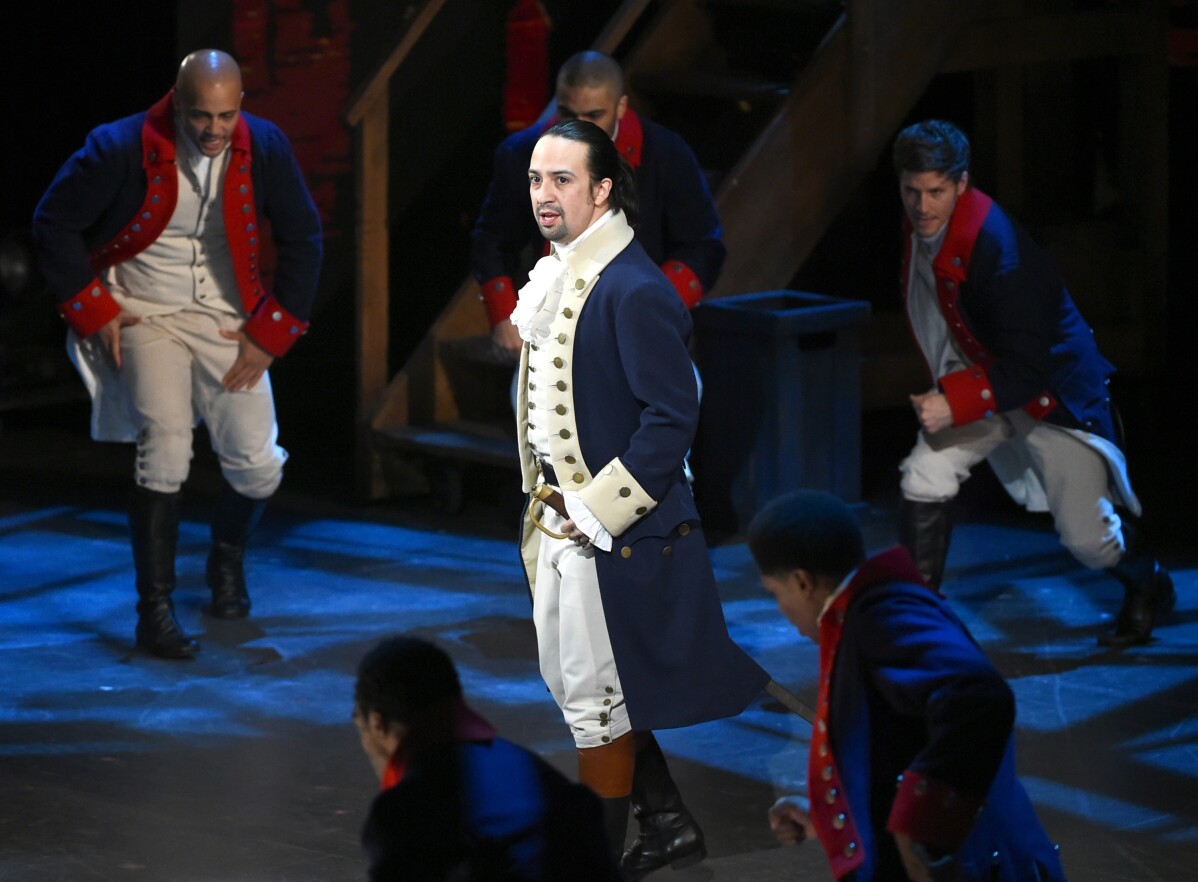 15 of 17

|
FILE - In this June 12, 2016 file photo, Lin-Manuel Miranda and the cast of "Hamilton" perform at the Tony Awards in New York. In the five decades since hip-hop emerged out of New York City, it has spread around the country and the world. And at each step there's been change and adaptation, as new, different voices came in and made it their own. Its foundations are steeped in the Black communities where it first made itself known but it's spread out until there's no corner of the world that hasn't been touched by it. Miranda's groundbreaking musical about a distant white historical figure that came to life in the rhythms of its hip-hop soundtrack, brought a different energy and audience to the theater world. (Photo by Evan Agostini/Invision/AP, File)
15 of 17
FILE - In this June 12, 2016 file photo, Lin-Manuel Miranda and the cast of "Hamilton" perform at the Tony Awards in New York. In the five decades since hip-hop emerged out of New York City, it has spread around the country and the world. And at each step there's been change and adaptation, as new, different voices came in and made it their own. Its foundations are steeped in the Black communities where it first made itself known but it's spread out until there's no corner of the world that hasn't been touched by it. Miranda's groundbreaking musical about a distant white historical figure that came to life in the rhythms of its hip-hop soundtrack, brought a different energy and audience to the theater world. (Photo by Evan Agostini/Invision/AP, File)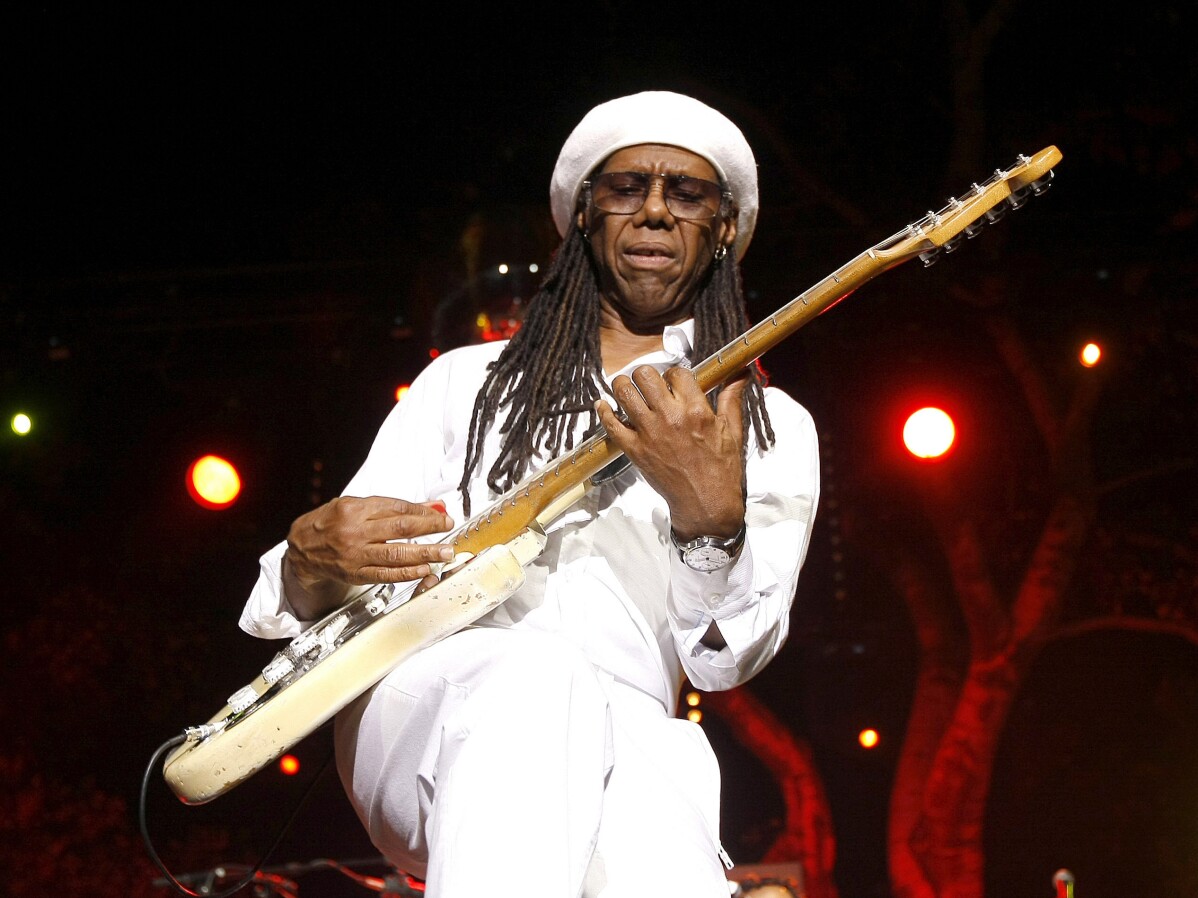 16 of 17

|
FILE - Guitarist Nile Rodgers of Chic performs at the Jazz Festival of 5 Continents, in Marseille, southern France, July 20, 2013. Hip-hop is, simply, "a magical art form," says Rodgers, legendary musician, composer and record producer. He would know. It was his song "Good Times," with the band Chic, that was recreated to form the basis for "Rapper's Delight" all those years ago."The impact that it's had on the world, it really can't be quantified," Rodgers says. "You can find someone in a village that you've never been to, a country that you've never been to, and all of a sudden you hear its own local hip-hop. And you don't even know who these people are, but they've adopted it and have made it their own." (AP Photo/Claude Paris, file)
16 of 17
FILE - Guitarist Nile Rodgers of Chic performs at the Jazz Festival of 5 Continents, in Marseille, southern France, July 20, 2013. Hip-hop is, simply, "a magical art form," says Rodgers, legendary musician, composer and record producer. He would know. It was his song "Good Times," with the band Chic, that was recreated to form the basis for "Rapper's Delight" all those years ago."The impact that it's had on the world, it really can't be quantified," Rodgers says. "You can find someone in a village that you've never been to, a country that you've never been to, and all of a sudden you hear its own local hip-hop. And you don't even know who these people are, but they've adopted it and have made it their own." (AP Photo/Claude Paris, file)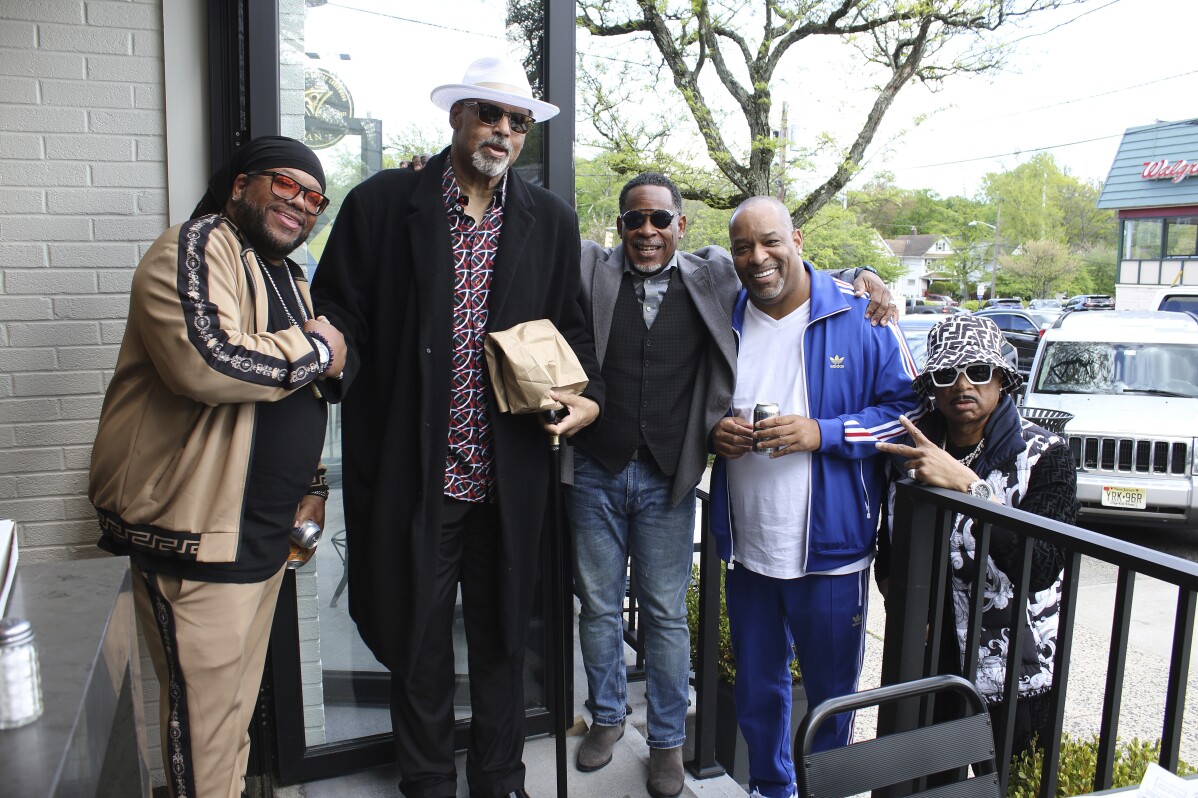 17 of 17

|
From left, DJ T Dynasty, Wonder Mike, Master Gee, Leland Robinson of Sugar Hill Records, son of Sylvia Robinson, Hen Dogg pose for a photograph in Englewood, N.J., Friday, May 5, 2023. In the five decades since hip-hop emerged out of New York City, it has spread around the country and the world. Among those who started to hear about it were some these men across the river in Englewood, N.J., who started making up rhymes to go along with the beats. In 1979, they auditioned as rappers for Sugar Hill Records. As The Sugarhill Gang, they put out "Rapper's Delight" and introduced the country to a record that would reach as high as 36 on Billboard's Top 100 chart list, and even make it to No. 1 in some European countries. (AP Photo/Noreen Nasir)
17 of 17
From left, DJ T Dynasty, Wonder Mike, Master Gee, Leland Robinson of Sugar Hill Records, son of Sylvia Robinson, Hen Dogg pose for a photograph in Englewood, N.J., Friday, May 5, 2023. In the five decades since hip-hop emerged out of New York City, it has spread around the country and the world. Among those who started to hear about it were some these men across the river in Englewood, N.J., who started making up rhymes to go along with the beats. In 1979, they auditioned as rappers for Sugar Hill Records. As The Sugarhill Gang, they put out "Rapper's Delight" and introduced the country to a record that would reach as high as 36 on Billboard's Top 100 chart list, and even make it to No. 1 in some European countries. (AP Photo/Noreen Nasir)
NEW YORK (AP) — It was born in the break, all those decades ago — that moment when a song's vocals dropped, instruments quieted down and the beat took the stage. It was then that hip-hop came into the world, taking the moment and reinventing it. Something new, coming out of something familiar.
At the hands of the DJs playing the albums, that break moment became something more: a composition in itself, repeated in an endless loop, back and forth between the turntables. The MCs got in on it, speaking their own clever rhymes and wordplay over it. So did the dancers, the b-boys and b-girls who hit the floor to break-dance. It took on its own visual style, with graffiti artists bringing it to the streets and subways of New York City.
It didn't stay there, of course. A musical form, a culture, with reinvention as its very DNA would never, could never. Hip-hop spread, from the parties to the parks, through New York City's boroughs and then the region, around the country and the world.
And at each step: change, adaptation, as new, different voices came in and made it their own, in sound, in lyric, in purpose, in style. Its foundations steeped in the Black communities where it first made itself known and also spreading out and expanding, like ripples in water, until there's no corner of the world that hasn't been touched by it.
Not only being reinvented, but reinventing. Art, culture, fashion, community, social justice, politics, sports, business: Hip-hop has impacted them all, transforming even as it has been transformed.
In hip-hop, "when someone does it, then that's how it's done. When someone does something different, then that's a new way," says Babatunde Akinboboye, a Nigerian-American opera singer and longtime hip-hop fan in Los Angeles, who creates content on social media using both musical styles.
Hip-hop "connects to what is true. And what is true, lasts."
___
Female rappers have been a part of hip-hop since its debut. Women have fought to shape their identification in hip-hop and demand recognition. (August 9)(AP Video: Sharon Johnson)
Those looking for a hip-hop starting point have landed on one, turning this year into a 50th-birthday celebration. Aug. 11, 1973 was the date a young Clive Campbell, known as DJ Kool Herc around his Bronx stomping grounds, deejayed a back-to-school party for his younger sister in the community room of an apartment building on Sedgwick Avenue.
Campbell, who was born and spent his early years in Jamaica before his family moved to the Bronx, was still a teen himself at that time, just 18, when he began extending the musical breaks of the records he was playing to create a different kind of dancing opportunity. He'd started speaking over the beat, reminiscent of the "toasting" style heard in Jamaica.
It wasn't long before the style could be heard all over the city — and began to spread around the New York City metro region.
Among those who started to hear about it were some young men across the river in Englewood, New Jersey, who started making up rhymes to go along with the beats. In 1979, they auditioned as rappers for Sylvia Robinson, a singer turned music producer who co-founded Sugar Hill Records.
As The Sugarhill Gang, they put out " Rapper's Delight " and introduced the country to a record that would reach as high as 36 on Billboard's Top 100 chart list, and even make it to No. 1 in some European countries.
"Now what you hear is not a test: I'm rappin' to the beat/And me, the groove, and my friends are gonna try to move your feet," Michael "Wonder Mike" Wright said in one of the song's stanzas.
Wright says he had no doubt the song — and, by extension, hip-hop — was "going to be big. "I knew it was going to blow up and play all over the world because it was a new genre of music," he tells The Associated Press. "You had classical jazz, bebop, rock, pop, and here comes a new form of music that didn't exist."
And it was one based in self-expression, says Guy "Master Gee" O'Brien. "If you couldn't sing or you couldn't play an instrument, you could recite poetry and speak your mind. And so it became accessible to the everyman."
And everywomen, too, of course. Female voices took their chances on the microphone and dance floors as well, like Roxanne Shante, a native of New York City's Queens borough who was only 14 years old in 1984. That was the year she became one of the first female MCs, those rhyming over the beat, to gain a wider audience — and was part of what was likely the first well-known instance of rappers using their song tracks to take sonic shots at other rappers, in a back-and-forth song battle known as The Roxanne Wars.
"When I look at my female rappers of today, I see hope and inspiration," Shante says. "When you look at some of your female rappers today and you see the businesses that they own and the barriers that they were able to break it down, it's amazing to me and it's an honor for me to even be a part of that from the beginning."
Plenty of other women have joined her over the intervening decades, from Queen Latifah to Lil' Kim to Nicki Minaj to Megan Thee Stallion and more, speaking on their experiences as women in hip-hop and the larger world. That doesn't even begin to touch the list of women rappers hailing from other countries.
They're women like Tkay Maidza, born in Zimbabwe and raised in Australia, a songwriter and rapper in the early part of her career. She's thrilled with the diverse female company she's keeping in hip-hop, and with the variety of subjects they're talking about.
"There's so many different pockets ... so many ways to exist," she says. "It's not about what other people have done. ... You can always recreate the blueprint."
___
The emphasis on self-expression has also meant that over the years, hip-hop has been used as a medium for just about everything.
Want to talk about a party or how awesome and rich you are? Go for it. A cute guy or beautiful girl catch your eye? Say it in a verse. Looking to take that sound coming out of New York City and adapt it to a West Coast vibe, or a Chicago beat, a New Orleans groove, or an Atlanta rhythm, or these days, sounds in Egypt, India, Australia, Nigeria? It's all you, and it's all hip-hop. (Now whether anyone listening thought it was actually any good? That was a different story.)
Mainstream America hasn't always been ready for it. The sexually explicit content from Miami's 2 Live Crew made their 1989 album "As Nasty As They Want To Be" the subject of a legal battle over obscenity and freedom of expression; a later album, "Banned in the USA," became the first to get an official record industry label about explicit content.
Coming from America's Black communities, that has also meant hip-hop has been a tool to speak out against injustice, like in 1982 when Grandmaster Flash and the Furious Five told the world in " The Message," that the stresses of poverty in their city neighborhoods made it feel "like a jungle sometimes/It makes me wonder how I keep from goin' under."
Other figures like Common and Kendrick Lamar have also turned to a conscious lyricism in their hip-hop, with perhaps none better known than Public Enemy, whose "Fight the Power" became an anthem when it was created for filmmaker Spike Lee's 1989 classic "Do the Right Thing," which chronicled racial tension in a Brooklyn neighborhood.
Some in hip-hop pulled no punches, using the art form and the culture as a no-holds-barred way of showcasing the troubles of their lives. Often those messages have been met with fear or disdain in the mainstream. When N.W.A. came "Straight Outta Compton" in 1988 with loud, brash tales of police abuse and gang life, radio stations recoiled.
Hip-hop (mainly that done by Black artists) and law enforcement have had a contentious relationship over the years, each eyeing the other with suspicion. There's been cause for some of it. In some forms of hip-hop the ties between rappers and criminal figures were real, and the violence that spiraled out, as in high-profile deaths like that of Tupac Shakur in 1996, The Notorious B.I.G. in 1997, sometimes got very bloody. But in a country where Black people are often looked at with suspicion by authority, there have also been plenty of stereotypes about hip-hop and criminality.
As hip-hop spread over the years, a host of voices have used it to speak out on the issues that are dear to them. Look at Bobby Sanchez, a Peruvian American transgender, two-spirit poet and rapper who has released a song in Quechua, the language of the Wari people that her father came from. "Quechua 101 Land Back Please" references the killing of Indigenous peoples and calls for land restoration.
"I think it's very special and cool when artists use it to reflect society because it makes it bigger than just them," Sanchez says. "To me, it's always political, really, no matter what you're talking about, because hip-hop, in a way, is a form of resistance."
___
Yes, it's an American creation. And yes, it's still heavily influenced by what's happening in America. But hip-hop has found homes all over the planet, turned to by people in every community under the sun to express what matters to them.
When hip-hop first started being absorbed outside of the United States, it was often with a mimicking of American styles and messages, says P. Khalil Saucier, who has studied the spread of hip-hop across the countries of Africa.
That's not the case these days. Homegrown hip-hop can be found everywhere, a prime example of the genre's penchant for staying relevant and vital by being reinvented by the people doing it.
"The culture as a whole has kind of really rooted itself because it's been able to now transform itself from simply an importation, if you will, to now really being local in its multiple manifestations, regardless of what country you're looking at," says Saucier, a professor of critical Black studies at Bucknell University in Pennsylvania.
That's to everyone's benefit, says Rishma Dhaliwal, founder of London's I Am Hip-Hop magazine.
"Hip-hop is ... allowing you in someone's world. It's allowing you into someone's struggles," she says. "It's a big microphone to say, `Well, the streets say this is what is going on here and this is what you might not know about us. This is how we feel, and this is who we are.'"
The impact hasn't just been in one direction. Hip-hop hasn't just been changed; it has made change. It has gone into other spaces and made them different. It strutted through the fashion world as it brought its own sensibility to streetwear. It has revitalized companies; just ask Timberland what sales were like before its workboots became de rigueur hip-hop wear.
Or look at perhaps the perfect example: "Hamilton," Lin Manuel Miranda's groundbreaking musical about a distant white historical figure that came to life in the rhythms of its hip-hop soundtrack, bringing a different energy and audience to the theater world.
Hip-hop "has done a very good job at making culture more accessible. It has broken into spaces that we're traditionally not allowed to break into," Dhaliwal says.
For Usha Jey, freestyling hip-hop was the perfect thing to mix with the classical, formal South Asian dance style of Bharatanatyam. The 26-year-old choreographer, born in France to Tamil immigrant parents, created a series of social media videos last year showing the two styles interacting with each other. It was her training in hip-hop that gave her the confidence and spirit to do something different.
Hip-hop culture "pushes you to be you," Jey said. "I feel like in the pursuit of finding yourself, hip-hop helps me because that culture says, you've got to be you."
Hip-hop is, simply, "a magical art form," says Nile Rodgers, legendary musician, composer and record producer. He would know. It was his song "Good Times," with the band Chic, that was recreated to form the basis for "Rapper's Delight" all those years ago.
"The impact that it's had on the world, it really can't be quantified," Rodgers says. "You can find someone in a village that you've never been to, a country that you've never been to, and all of a sudden you hear its own local hip-hop. And you don't even know who these people are, but they've adopted it and have made it their own."
___
Associated Press Entertainment writer Jonathan Landrum Jr. in Los Angeles contributed to this report. Hajela is a member of the AP's team covering race and ethnicity.