How hip-hop went from being shunned by big business to multimillion-dollar collabs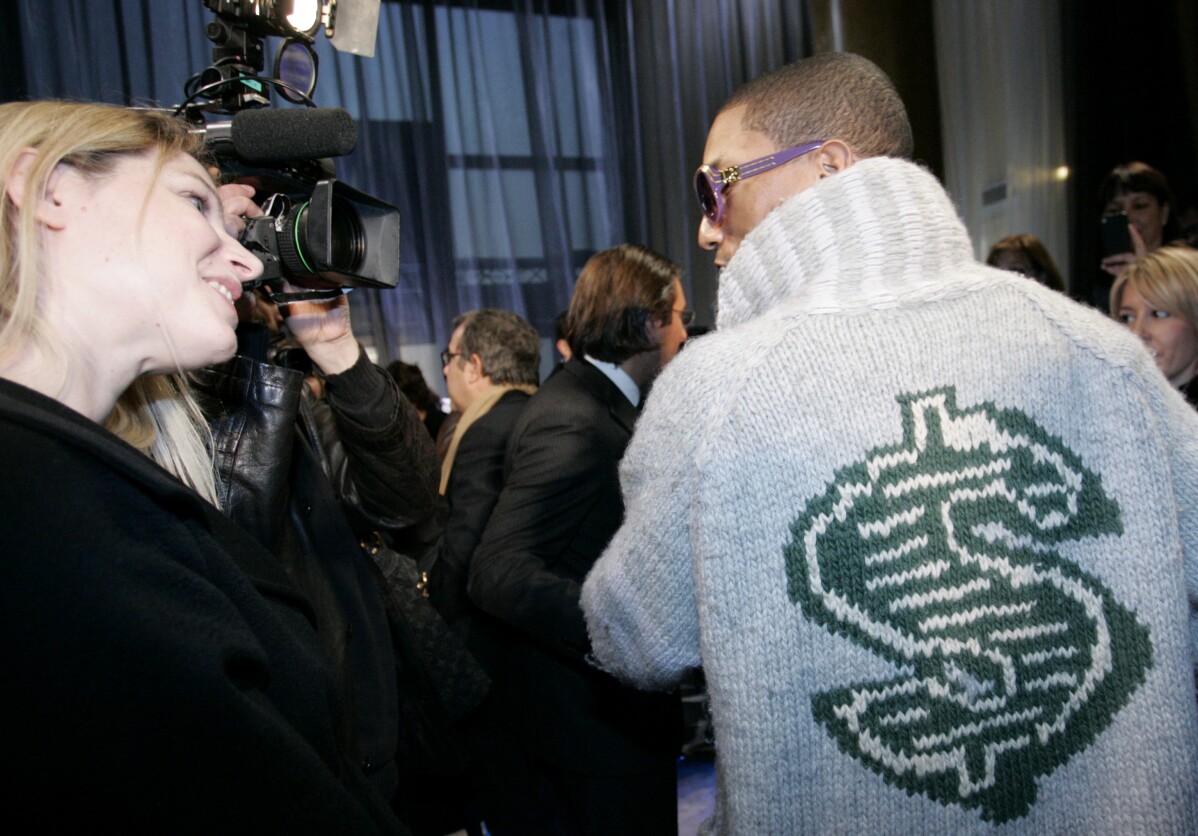 1 of 7

|
FILE - U.S rap artist Pharrell Williams, right, talks with an unidentified journalist after the presentation of Louis Vuitton men's fall/winter 2008-2009 fashion collection in Paris, Jan.17, 2008. The signs of hip-hop's influence are now everywhere from Pharrell Williams becoming Louis Vuitton's men's creative director to billion-dollar brands like Dr. Dre's Beats headphones and retail mainstays like Diddy's Sean John and the Rocawear line started by Jay-Z. It didn't start out that way. Companies at first balked at partnering with hip-hop acts because they felt that the genre that appealed to Black and brown teens and young adults didn't align with their brands. (AP Photo/Thibault Camus, file)
2 of 7

|
FILE - Rap group RUN D.M.C., in London for two concerts, talk during a news conference. The group, left to right, is Joseph Simmons, Darryl McDaniels, and Jason Mizell. The signs of hip-hop's influence are everywhere — but it didn't start out that way. Even though the company had seen an unusual spike in sales of its Superstar shoes in the Northeast in 1986, it wasn't ready to attribute that to Run-D.M.C. and their hit "My Adidas." When company execs saw the group ask fans to show off their Adidas and thousands removed their shoes and waved them in the air at a Madison Square Garden performance, they were sold. They signed the rap group to a $1 million deal that resulted in their own shoe line in 1988. (AP Photo/Peter Kemp, file)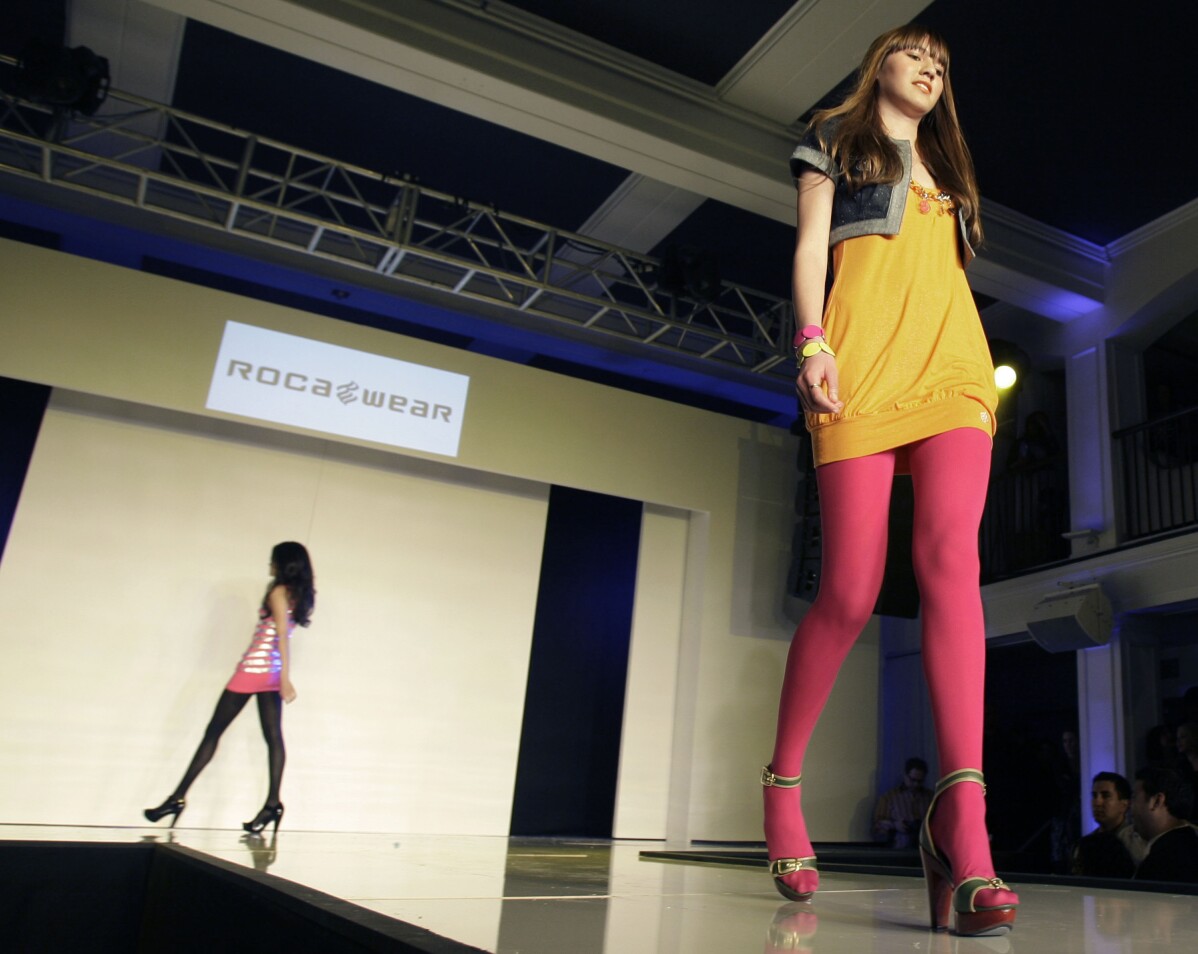 3 of 7

|
FILE - Models wearing outfits from the collection Rocawear, by Jay-Z, walk the runway as In Style and The Recording Academy celebrate Grammy salute to fashion showcasing the spring collection from musicians turned designers in Los Angeles, Feb. 7, 2008. The signs of hip-hop's influence are now everywhere from Pharrell Williams becoming Louis Vuitton's men's creative director to billion-dollar brands like Dr. Dre's Beats headphones and retail mainstays like Diddy's Sean John and the Rocawear line started by Jay-Z. It didn't start out that way. Companies at first balked at partnering with hip-hop acts because they felt that the genre that appealed to Black and brown teens and young adults didn't align with their brands. (AP Photo/Kevork Djansezian, file)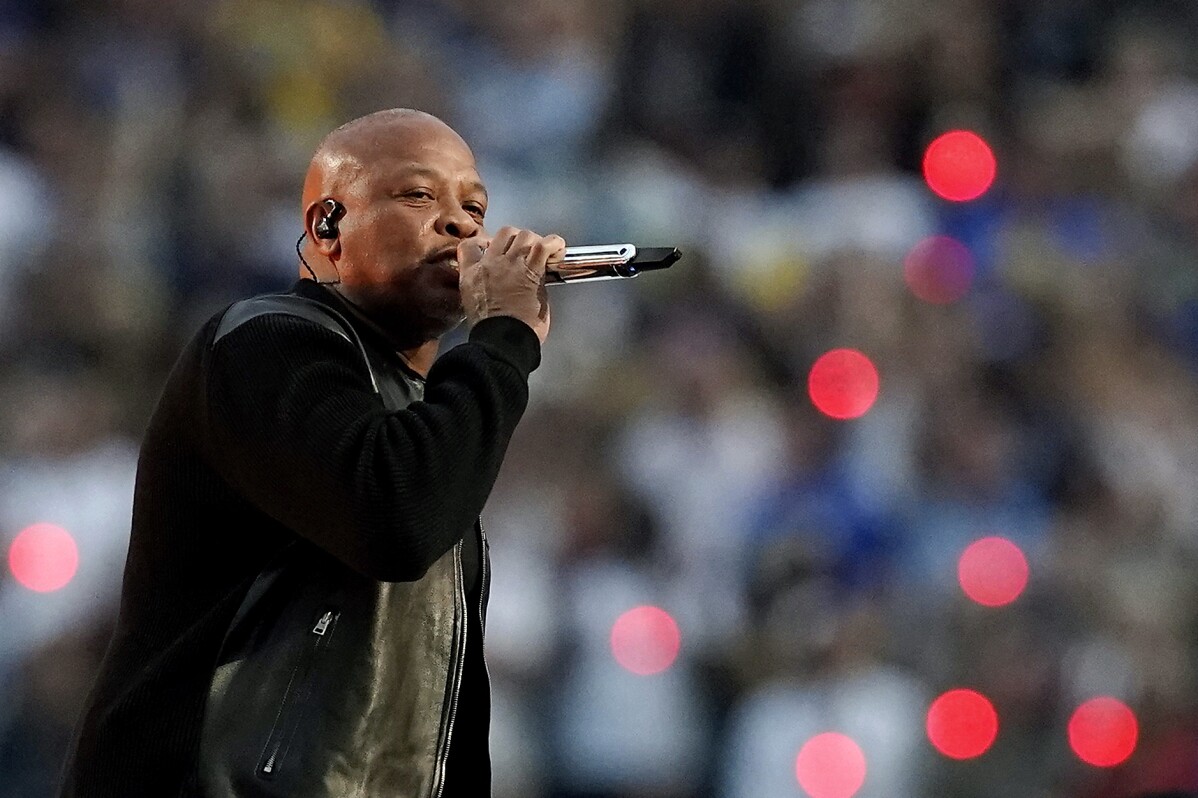 4 of 7

|
FILE - Dr. Dre performs during the halftime show during the NFL Super Bowl 56 football game, Feb. 13, 2022, in Inglewood, Calif. The signs of hip-hop's influence are now everywhere from Pharrell Williams becoming Louis Vuitton's men's creative director to billion-dollar brands like Dr. Dre's Beats headphones and retail mainstays like Diddy's Sean John and the Rocawear line started by Jay-Z. It didn't start out that way. Companies at first balked at partnering with hip-hop acts because they felt that the genre that appealed to Black and brown teens and young adults didn't align with their brands. (AP Photo/Steve Luciano, File)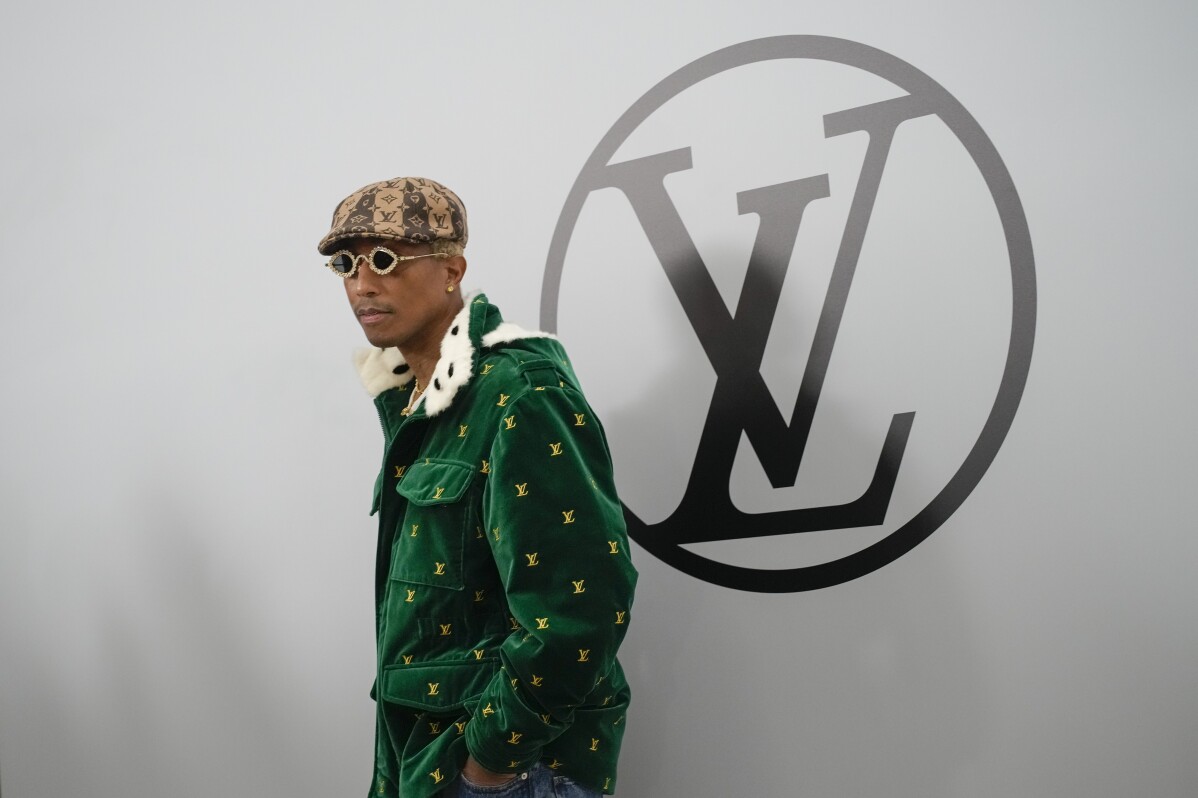 5 of 7

|
FILE - Pharrell Williams attends the Louis Vuitton Fall/Winter 2023-2024 ready-to-wear collection presented, March 6, 2023 in Paris. The signs of hip-hop's influence are now everywhere from Pharrell Williams becoming Louis Vuitton's men's creative director to billion-dollar brands like Dr. Dre's Beats headphones and retail mainstays like Diddy's Sean John and the Rocawear line started by Jay-Z. It didn't start out that way. Companies at first balked at partnering with hip-hop acts because they felt that the genre that appealed to Black and brown teens and young adults didn't align with their brands (AP Photo/Christophe Ena, file)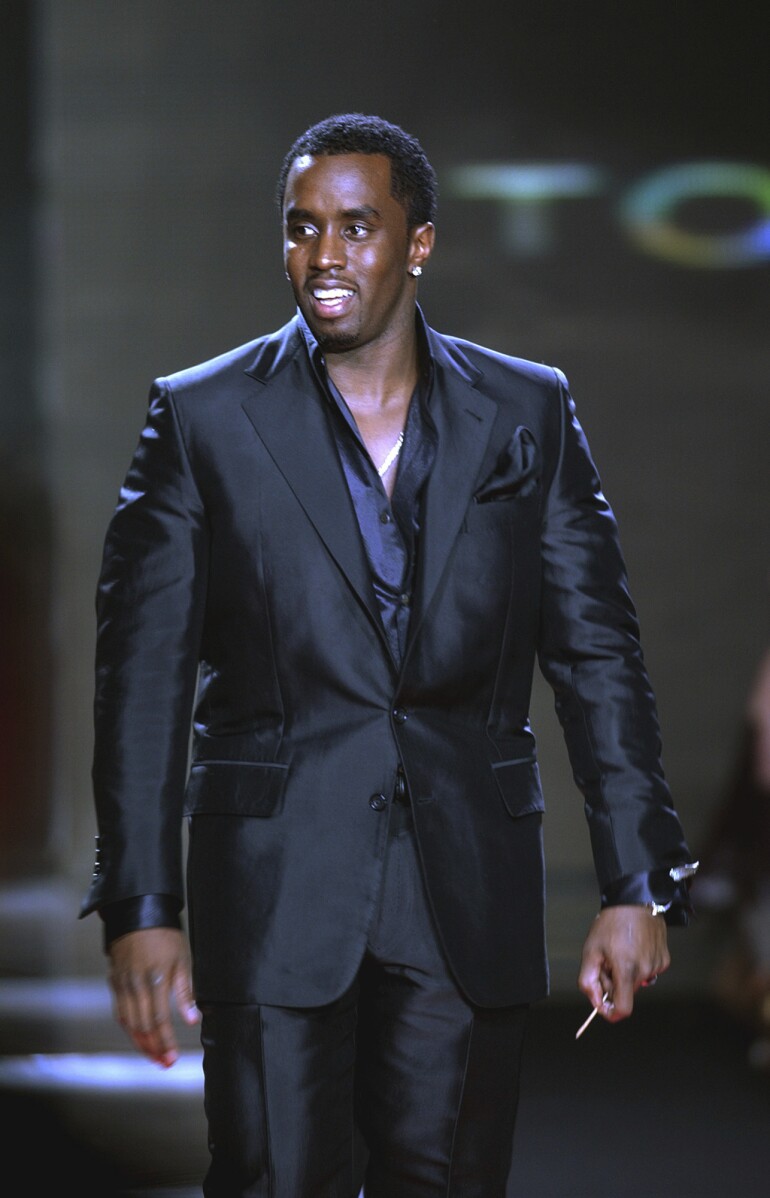 6 of 7

|
FILE - Sean "P. Diddy" Combs walks out onto the runway at the end of his Sean John Fall 2003 fashion show in New York, Feb. 8, 2003. The signs of hip-hop's influence are now everywhere from Pharrell Williams becoming Louis Vuitton's men's creative director to billion-dollar brands like Dr. Dre's Beats headphones and retail mainstays like Diddy's Sean John and the Rocawear line started by Jay-Z. It didn't start out that way. Companies at first balked at partnering with hip-hop acts because they felt that the genre that appealed to Black and brown teens and young adults didn't align with their brands. (AP Photo/Mark Lennihan)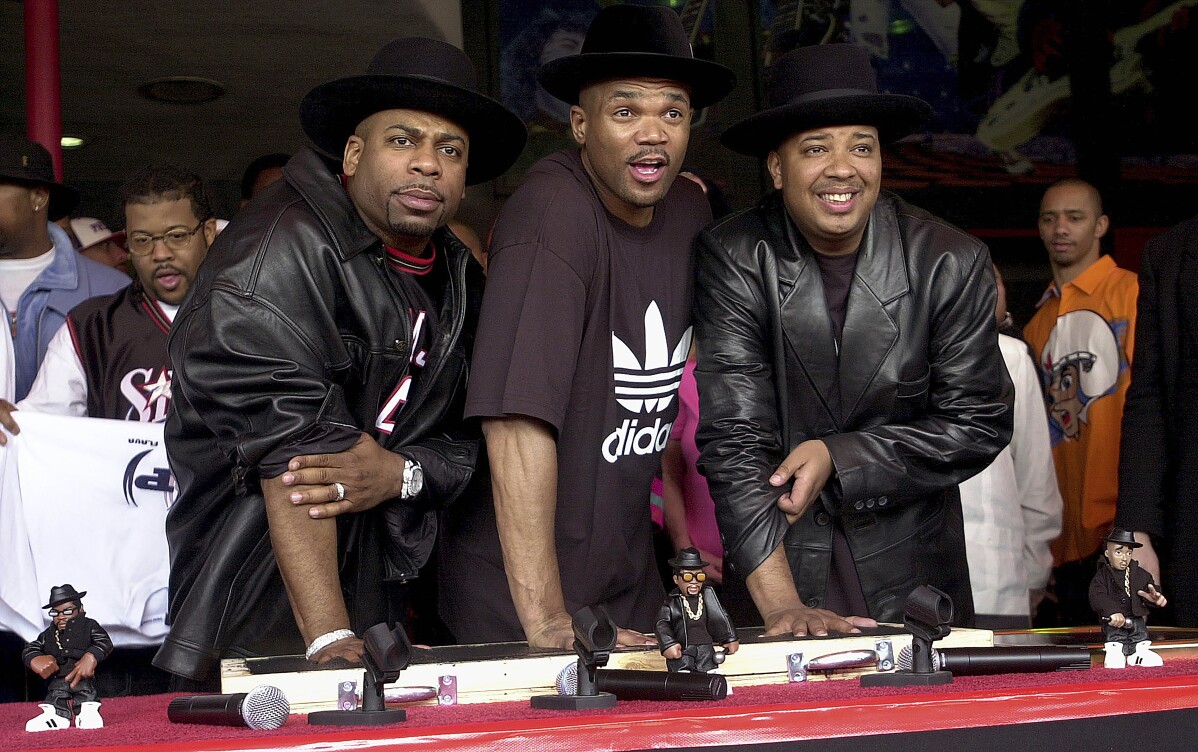 7 of 7

|
FILE - Hip hop pioneers RUN-DMC create handprints in cement as they are inducted into Hollywood's RockWalk, Feb. 25, 2002, in Los Angeles. The signs of hip-hop's influence are everywhere — but it didn't start out that way. Even though the company had seen an unusual spike in sales of its Superstar shoes in the Northeast in 1986, it wasn't ready to attribute that to Run-D.M.C. and their hit "My Adidas." When company execs saw the group ask fans to show off their Adidas and thousands removed their shoes and waved them in the air at a Madison Square Garden performance, they were sold. They signed the rap group to a $1 million deal that resulted in their own shoe line in 1988. (AP Photo/Krista Niles)
How hip-hop went from being shunned by big business to multimillion-dollar collabs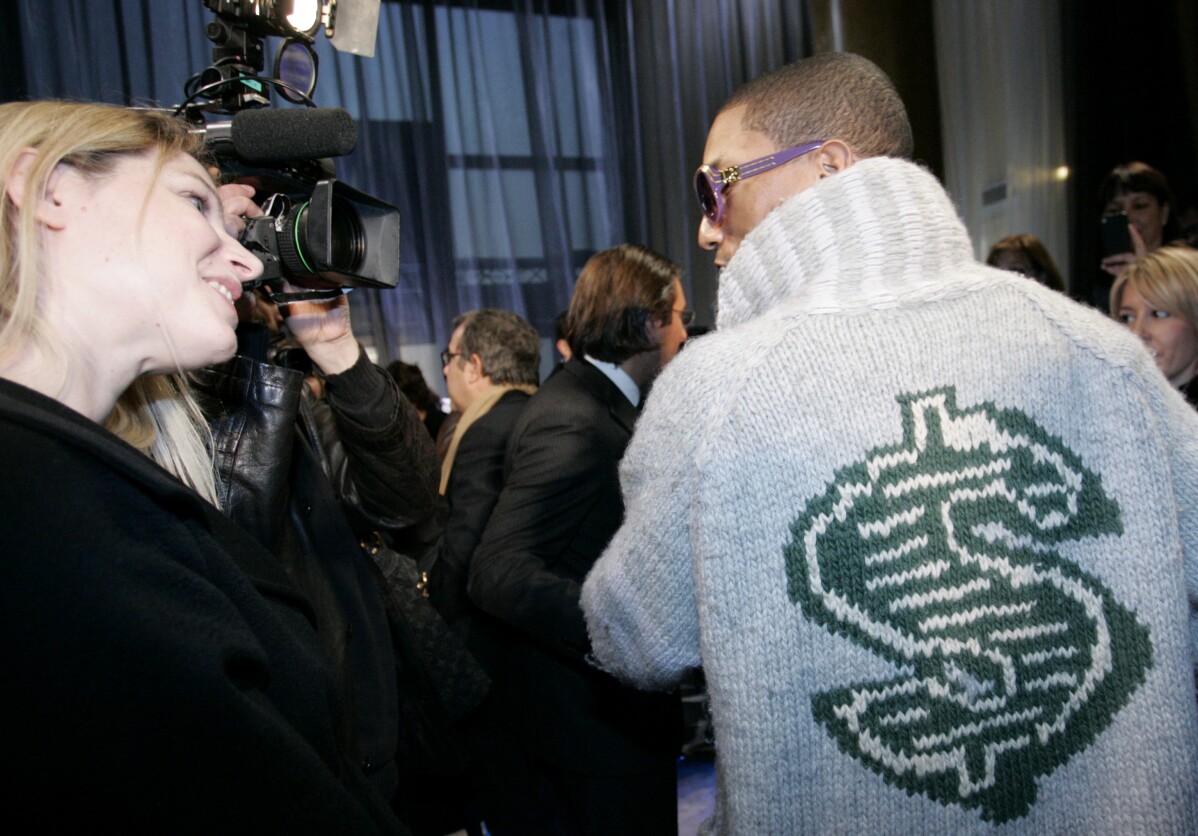 1 of 7

|
FILE - U.S rap artist Pharrell Williams, right, talks with an unidentified journalist after the presentation of Louis Vuitton men's fall/winter 2008-2009 fashion collection in Paris, Jan.17, 2008. The signs of hip-hop's influence are now everywhere from Pharrell Williams becoming Louis Vuitton's men's creative director to billion-dollar brands like Dr. Dre's Beats headphones and retail mainstays like Diddy's Sean John and the Rocawear line started by Jay-Z. It didn't start out that way. Companies at first balked at partnering with hip-hop acts because they felt that the genre that appealed to Black and brown teens and young adults didn't align with their brands. (AP Photo/Thibault Camus, file)
1 of 7
FILE - U.S rap artist Pharrell Williams, right, talks with an unidentified journalist after the presentation of Louis Vuitton men's fall/winter 2008-2009 fashion collection in Paris, Jan.17, 2008. The signs of hip-hop's influence are now everywhere from Pharrell Williams becoming Louis Vuitton's men's creative director to billion-dollar brands like Dr. Dre's Beats headphones and retail mainstays like Diddy's Sean John and the Rocawear line started by Jay-Z. It didn't start out that way. Companies at first balked at partnering with hip-hop acts because they felt that the genre that appealed to Black and brown teens and young adults didn't align with their brands. (AP Photo/Thibault Camus, file)
2 of 7

|
FILE - Rap group RUN D.M.C., in London for two concerts, talk during a news conference. The group, left to right, is Joseph Simmons, Darryl McDaniels, and Jason Mizell. The signs of hip-hop's influence are everywhere — but it didn't start out that way. Even though the company had seen an unusual spike in sales of its Superstar shoes in the Northeast in 1986, it wasn't ready to attribute that to Run-D.M.C. and their hit "My Adidas." When company execs saw the group ask fans to show off their Adidas and thousands removed their shoes and waved them in the air at a Madison Square Garden performance, they were sold. They signed the rap group to a $1 million deal that resulted in their own shoe line in 1988. (AP Photo/Peter Kemp, file)
2 of 7
FILE - Rap group RUN D.M.C., in London for two concerts, talk during a news conference. The group, left to right, is Joseph Simmons, Darryl McDaniels, and Jason Mizell. The signs of hip-hop's influence are everywhere — but it didn't start out that way. Even though the company had seen an unusual spike in sales of its Superstar shoes in the Northeast in 1986, it wasn't ready to attribute that to Run-D.M.C. and their hit "My Adidas." When company execs saw the group ask fans to show off their Adidas and thousands removed their shoes and waved them in the air at a Madison Square Garden performance, they were sold. They signed the rap group to a $1 million deal that resulted in their own shoe line in 1988. (AP Photo/Peter Kemp, file)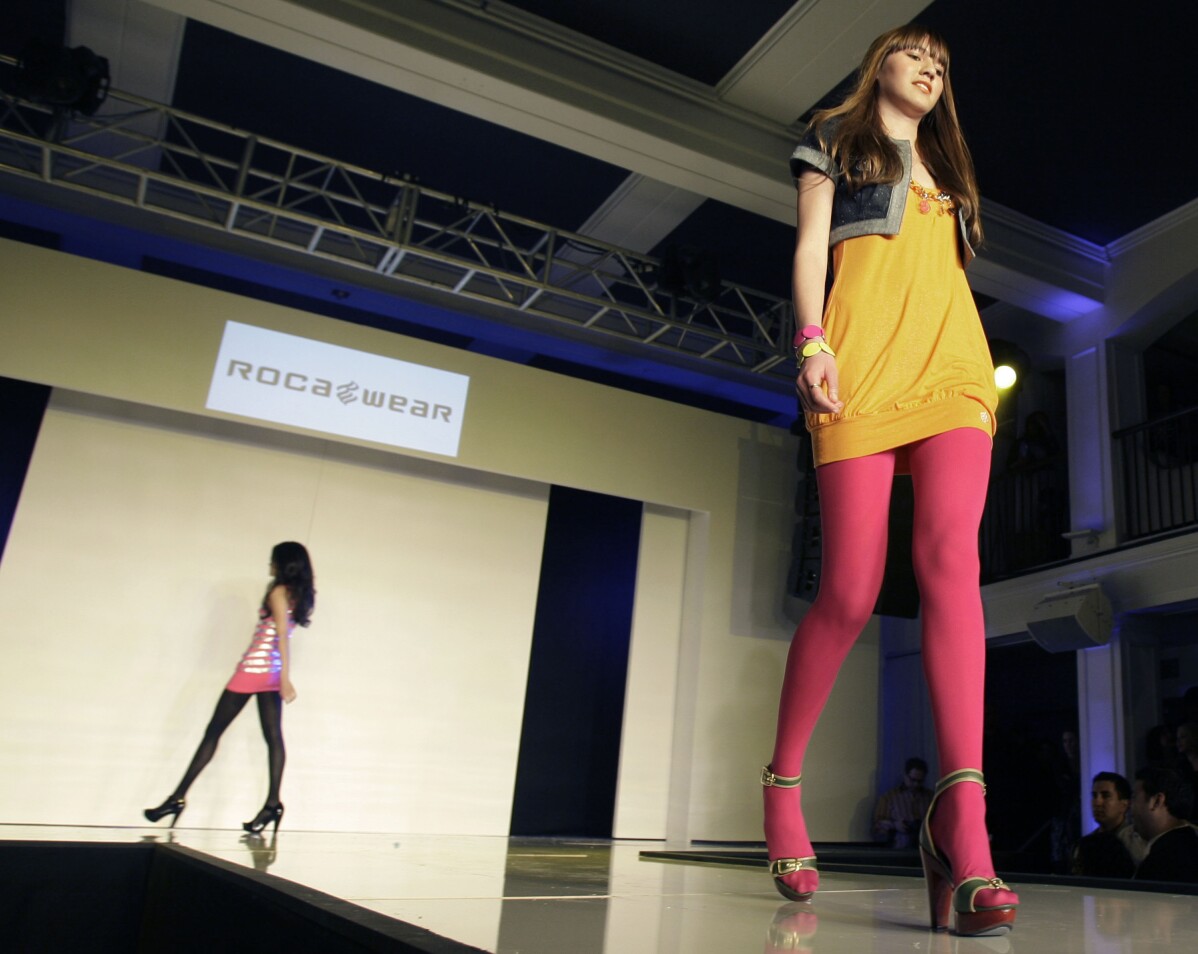 3 of 7

|
FILE - Models wearing outfits from the collection Rocawear, by Jay-Z, walk the runway as In Style and The Recording Academy celebrate Grammy salute to fashion showcasing the spring collection from musicians turned designers in Los Angeles, Feb. 7, 2008. The signs of hip-hop's influence are now everywhere from Pharrell Williams becoming Louis Vuitton's men's creative director to billion-dollar brands like Dr. Dre's Beats headphones and retail mainstays like Diddy's Sean John and the Rocawear line started by Jay-Z. It didn't start out that way. Companies at first balked at partnering with hip-hop acts because they felt that the genre that appealed to Black and brown teens and young adults didn't align with their brands. (AP Photo/Kevork Djansezian, file)
3 of 7
FILE - Models wearing outfits from the collection Rocawear, by Jay-Z, walk the runway as In Style and The Recording Academy celebrate Grammy salute to fashion showcasing the spring collection from musicians turned designers in Los Angeles, Feb. 7, 2008. The signs of hip-hop's influence are now everywhere from Pharrell Williams becoming Louis Vuitton's men's creative director to billion-dollar brands like Dr. Dre's Beats headphones and retail mainstays like Diddy's Sean John and the Rocawear line started by Jay-Z. It didn't start out that way. Companies at first balked at partnering with hip-hop acts because they felt that the genre that appealed to Black and brown teens and young adults didn't align with their brands. (AP Photo/Kevork Djansezian, file)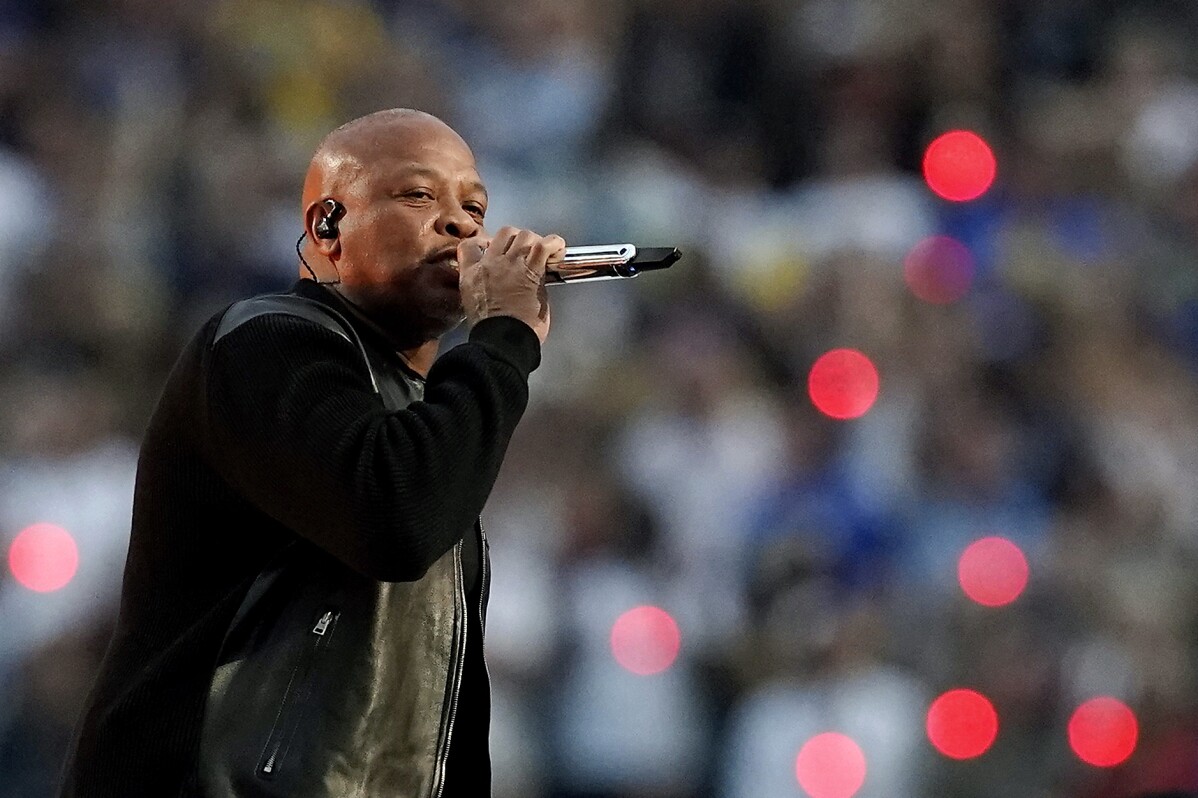 4 of 7

|
FILE - Dr. Dre performs during the halftime show during the NFL Super Bowl 56 football game, Feb. 13, 2022, in Inglewood, Calif. The signs of hip-hop's influence are now everywhere from Pharrell Williams becoming Louis Vuitton's men's creative director to billion-dollar brands like Dr. Dre's Beats headphones and retail mainstays like Diddy's Sean John and the Rocawear line started by Jay-Z. It didn't start out that way. Companies at first balked at partnering with hip-hop acts because they felt that the genre that appealed to Black and brown teens and young adults didn't align with their brands. (AP Photo/Steve Luciano, File)
4 of 7
FILE - Dr. Dre performs during the halftime show during the NFL Super Bowl 56 football game, Feb. 13, 2022, in Inglewood, Calif. The signs of hip-hop's influence are now everywhere from Pharrell Williams becoming Louis Vuitton's men's creative director to billion-dollar brands like Dr. Dre's Beats headphones and retail mainstays like Diddy's Sean John and the Rocawear line started by Jay-Z. It didn't start out that way. Companies at first balked at partnering with hip-hop acts because they felt that the genre that appealed to Black and brown teens and young adults didn't align with their brands. (AP Photo/Steve Luciano, File)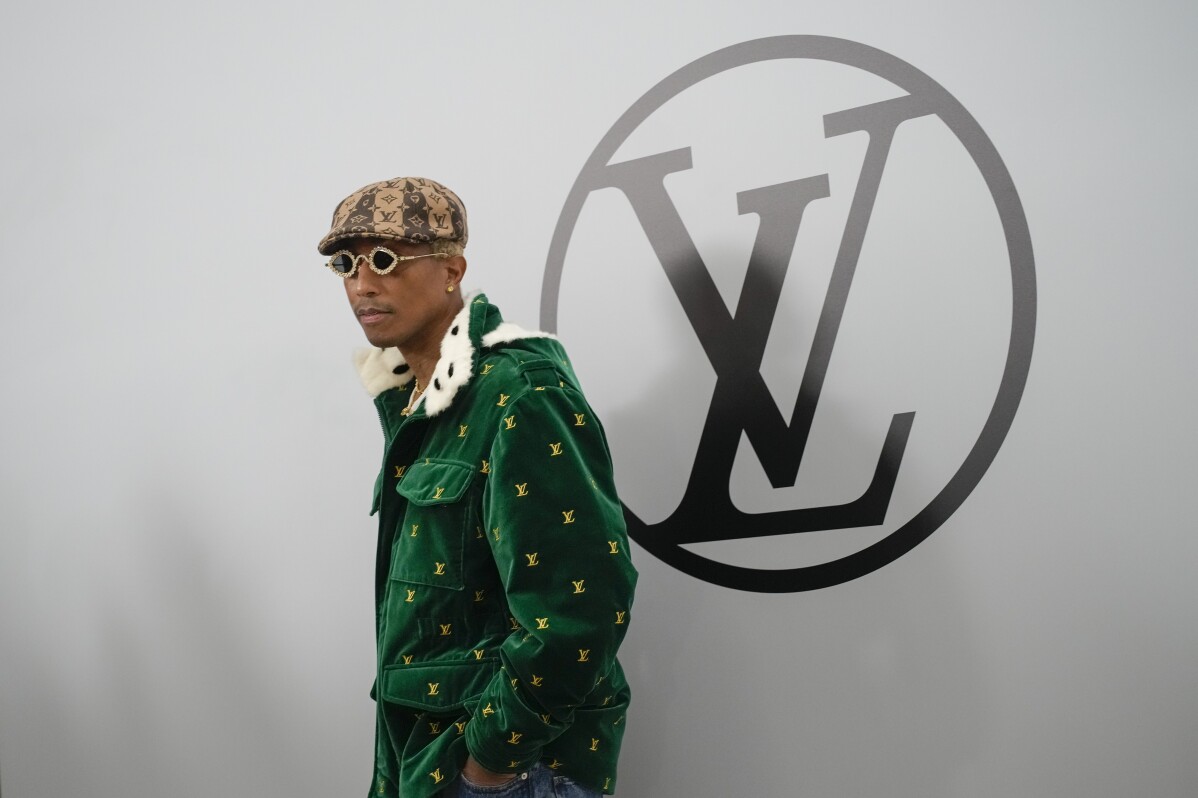 5 of 7

|
FILE - Pharrell Williams attends the Louis Vuitton Fall/Winter 2023-2024 ready-to-wear collection presented, March 6, 2023 in Paris. The signs of hip-hop's influence are now everywhere from Pharrell Williams becoming Louis Vuitton's men's creative director to billion-dollar brands like Dr. Dre's Beats headphones and retail mainstays like Diddy's Sean John and the Rocawear line started by Jay-Z. It didn't start out that way. Companies at first balked at partnering with hip-hop acts because they felt that the genre that appealed to Black and brown teens and young adults didn't align with their brands (AP Photo/Christophe Ena, file)
5 of 7
FILE - Pharrell Williams attends the Louis Vuitton Fall/Winter 2023-2024 ready-to-wear collection presented, March 6, 2023 in Paris. The signs of hip-hop's influence are now everywhere from Pharrell Williams becoming Louis Vuitton's men's creative director to billion-dollar brands like Dr. Dre's Beats headphones and retail mainstays like Diddy's Sean John and the Rocawear line started by Jay-Z. It didn't start out that way. Companies at first balked at partnering with hip-hop acts because they felt that the genre that appealed to Black and brown teens and young adults didn't align with their brands (AP Photo/Christophe Ena, file)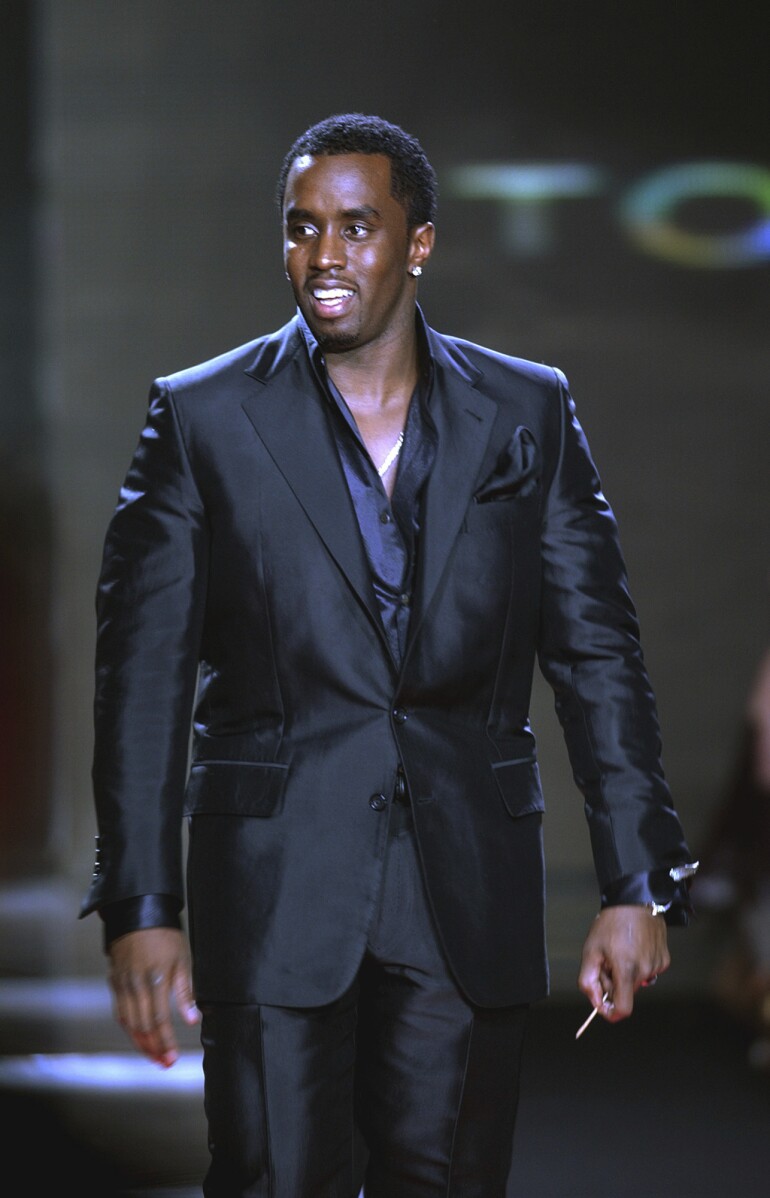 6 of 7

|
FILE - Sean "P. Diddy" Combs walks out onto the runway at the end of his Sean John Fall 2003 fashion show in New York, Feb. 8, 2003. The signs of hip-hop's influence are now everywhere from Pharrell Williams becoming Louis Vuitton's men's creative director to billion-dollar brands like Dr. Dre's Beats headphones and retail mainstays like Diddy's Sean John and the Rocawear line started by Jay-Z. It didn't start out that way. Companies at first balked at partnering with hip-hop acts because they felt that the genre that appealed to Black and brown teens and young adults didn't align with their brands. (AP Photo/Mark Lennihan)
6 of 7
FILE - Sean "P. Diddy" Combs walks out onto the runway at the end of his Sean John Fall 2003 fashion show in New York, Feb. 8, 2003. The signs of hip-hop's influence are now everywhere from Pharrell Williams becoming Louis Vuitton's men's creative director to billion-dollar brands like Dr. Dre's Beats headphones and retail mainstays like Diddy's Sean John and the Rocawear line started by Jay-Z. It didn't start out that way. Companies at first balked at partnering with hip-hop acts because they felt that the genre that appealed to Black and brown teens and young adults didn't align with their brands. (AP Photo/Mark Lennihan)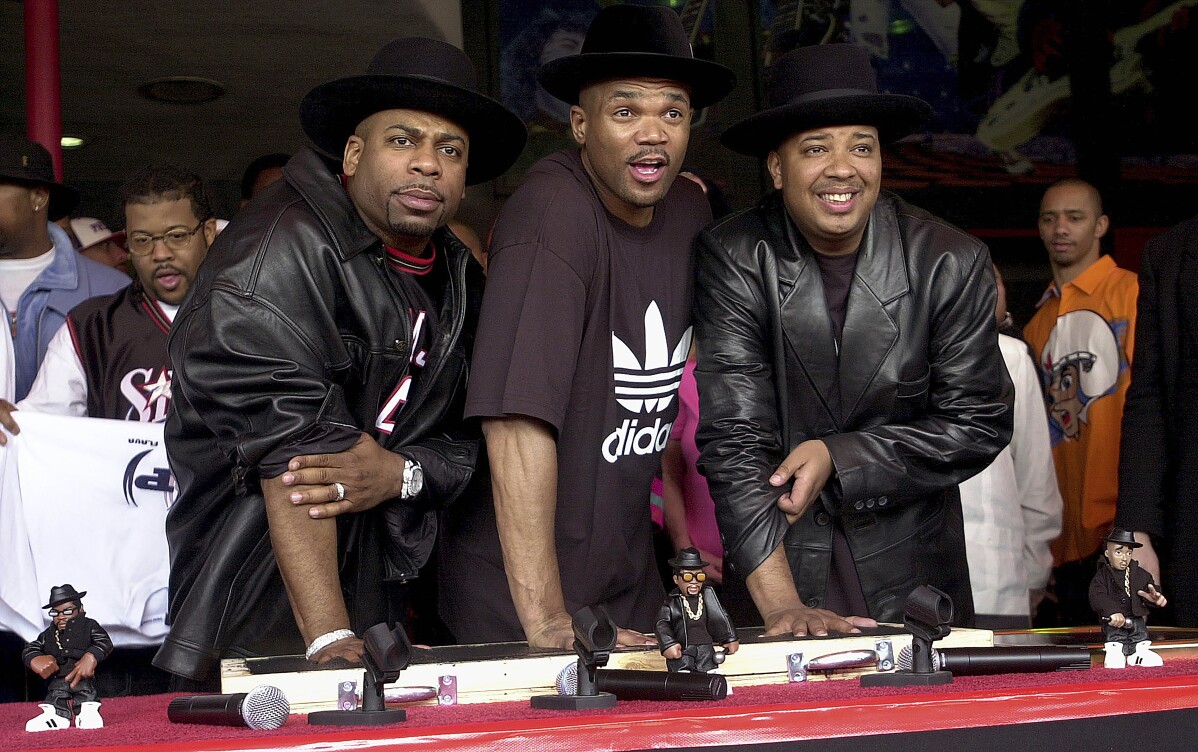 7 of 7

|
FILE - Hip hop pioneers RUN-DMC create handprints in cement as they are inducted into Hollywood's RockWalk, Feb. 25, 2002, in Los Angeles. The signs of hip-hop's influence are everywhere — but it didn't start out that way. Even though the company had seen an unusual spike in sales of its Superstar shoes in the Northeast in 1986, it wasn't ready to attribute that to Run-D.M.C. and their hit "My Adidas." When company execs saw the group ask fans to show off their Adidas and thousands removed their shoes and waved them in the air at a Madison Square Garden performance, they were sold. They signed the rap group to a $1 million deal that resulted in their own shoe line in 1988. (AP Photo/Krista Niles)
7 of 7
FILE - Hip hop pioneers RUN-DMC create handprints in cement as they are inducted into Hollywood's RockWalk, Feb. 25, 2002, in Los Angeles. The signs of hip-hop's influence are everywhere — but it didn't start out that way. Even though the company had seen an unusual spike in sales of its Superstar shoes in the Northeast in 1986, it wasn't ready to attribute that to Run-D.M.C. and their hit "My Adidas." When company execs saw the group ask fans to show off their Adidas and thousands removed their shoes and waved them in the air at a Madison Square Garden performance, they were sold. They signed the rap group to a $1 million deal that resulted in their own shoe line in 1988. (AP Photo/Krista Niles)
NEW YORK (AP) — The signs of hip-hop's influence are everywhere — from Pharrell Williams becoming Louis Vuitton's men's creative director to billion-dollar brands like Dr. Dre's Beats headphones and retail mainstays like Diddy's Sean John and Jay-Z's Rocawear.
It didn't start out that way.
The music genre germinated 50 years ago as an escape from the poverty and violence of New York City's most distressed borough, the Bronx, where few wanted to invest in its businesses or its people. Out of that adversity blossomed an authentic style of expression, one that connected with the city's underserved Black and Latino teens and young adults, and filtered through to graffiti, dance and fashion.
As hip-hop spread throughout New York, so did a culture.
Hip-hop was born in the Bronx, rising from the ashes of a borough ablaze with poverty, urban decay and gang violence. Fifty years later, it is a multi-billion-dollar global industry, but the Bronx has yet to benefit. (Aug. 9) (AP Video/Noreen Nasir)
"Hip-hop goes beyond the music," said C. Keith Harrison, a professor and founding director for the University of Central Florida's Business of Hip-Hop Innovation & Creative Industries certificate program. "Hip-hop always knew, as Nipsey Hussle would say, how to get it out of the trunk, and so they've always had to have innovative business models."
That spirit of innovation has helped push hip-hop past big business' initial resistance to align with the genre to become the most popular music form in the United States since 2017. Hip-hop's impact on the $16 billion music industry and beyond is now so widespread, experts say it becomes difficult to quantify.
Author Zack O'Malley Greenberg estimates that hip-hop's five wealthiest artists were worth nearly $4 billion in 2022 by themselves. It was no idle boast when Jay-Z rapped in last year's DJ Khaled hit "God Did," "How many billionaires can come from Hov crib? Huh, I count three -- me, Ye and Rih, Bron's a Roc boy, so four, technically." Jay-Z, also known as Hov, Rihanna and NBA star LeBron James are all on the Forbes World's Billionaires List for 2023, though Ye, formerly known as Kanye West, dropped off the list after his controversial split with Adidas.
Hip-hop artists have achieved that level of success because they are much more than their music. They are tastemakers and trendsetters in lifestyle-defining products from fashion to high-end champagne.
"Hip-hop knows how to put butts in seats, no matter what context you're in, and that's what businesses want," said Harrison, who is also a professor in the University of Central Florida's DeVos Sport Business Management Graduate Program. "Emotion, return on emotion — that's what hip-hop does differently. They have another level of emotion."
Because rappers often tell stories fans relate to or aspire to, weaving brand shout-outs into their rhymes and product placements — sometimes paid for, sometimes not — into their videos becomes a powerful marketing tool.
In her forthcoming book "Fashion Killa: How Hip-Hop Revolutionized High Fashion," pop culture expert Sowmya Krishnamurthy addresses what people get out of "putting somebody else's name or logo across your chest or across your back."
"In America, in a capitalist society, how else do you show you've made it?" Krishnamurthy said. "One thing I kind of joke about is: People can't see your mortgage. But they can see a nice chain. They can see the clothes that you have on. That is an immediate signal."
In hip-hop, that pressure to fit in and show off is heightened.
"You have a genre that historically has a lot of people who grew up with little to nothing," Krishnamurthy said. "The aspiration is inherent."
And probably no product has been as successful at connecting with hip-hop as footwear. Consequently, rappers get their own sneaker lines without ever taking part in a sport, said Harlan Friedman, host and creator of the Sole Free podcast on sneakers and street culture.
"A seventh grader can't afford a $20,000 rope chain and medallion, but maybe he could afford a pair of (Nike) Dunks or a pair of (Air) Jordans or a pair of Adidas," Friedman said. "That gives him that little bit of clout, that he's like his favorite artist or athlete, and it kind of gives him that feeling like, 'Oh, I'm like them.'"
Adidas was the first major company that saw rappers as potential business partners, Friedman said. But they had to be convinced.
Even though the company had seen an unusual spike in sales of its Superstar shoes in the Northeast in 1986, it wasn't ready to attribute that to rap group Run-D.M.C. and their hit "My Adidas."
When company execs saw the group ask fans to show off their Adidas and thousands removed their shoes and waved them in the air at a Madison Square Garden performance, they were sold. They signed Run-D.M.C. to a $1 million deal that resulted in their own shoe line in 1988.
Now that hip-hop is a multibillion dollar industry with widespread influence, it's easy to forget it wasn't always Courvoisier and Versace for its stars.
Even after Adidas' success, companies still balked at partnering with hip-hop acts because they felt that "having young Black and brown people wearing their clothing simply wasn't on brand and, in many ways, it was kind of denigrating their brand," said Krishnamurthy, whose book will be released Oct. 10.
"But when that kind of money is being spent and people really saw the power that rappers had to change what somebody might wear, ... they started taking notice," she said.
These days, singer-and-sometimes-rapper Rihanna has a deal with Puma. Travis Scott has his line of Nikes with a backward swoosh. And Cardi B has her line of Reeboks.
Companies of all sorts now court rappers and their audiences, hoping to join the ranks of Timberland — which at first resisted associating with the genre it saw as being counter to its working-class base — Hennessy cognac and anything Gucci as hip-hop approved brands.
"They think, 'We can either work with them and really embrace the culture or we're going to miss out on being young, cool, and, of course, making money,'" Krishnamurthy said.
Few events in hip-hop culture's ongoing march into the mainstream can match McDonald's introduction of Saweetie 'n Sour sauce for the fast food giant's Chicken McNuggets in 2021. Packets of the sauce are now available for $20 apiece online.
At the time, the California rapper was far from a household name. But Jennifer Healan, McDonald's USA's vice president of brand, content, and culture, said Saweetie was a natural fit for the company's "Famous Orders" campaign, which has also featured Scott as well as one of hip-hop's biggest celebrity couples, Cardi B and her husband, Offset, for Valentine's Day.
"Saweetie is a longtime McDonald's fan, and she brought a unique twist to our campaign by mixing and matching her favorite menu items — which tapped into our fans' passion for food hacks and new flavor combinations," Healan said.
The promotion worked well for both McDonald's, which Healan said led many to try Big Macs, and Saweetie, who soon had her own Netflix show and was a musical guest on "Saturday Night Live."
Jake Bjorseth, founder and CEO of ad agency trndsttrs, which focuses on connecting companies with younger audiences, said he has been trying to get longtime client McDonald's to commission an entire hip-hop album based around part of its jingle, "Ba da ba ba ba."
The partnership between brands and musicians will only grow tighter in the next 10 years because audio is a more effective way to connect on social media, Bjorseth said. And hip-hop is more versatile at making those connections.
"Hip-hop is literally built from music being repurposed and remixed from previous genres," he said. " … I feel personally connected to hip-hop and it is a seamless, authentic connection and how we express ourselves."