A yearlong slowdown in US inflation may have stalled in July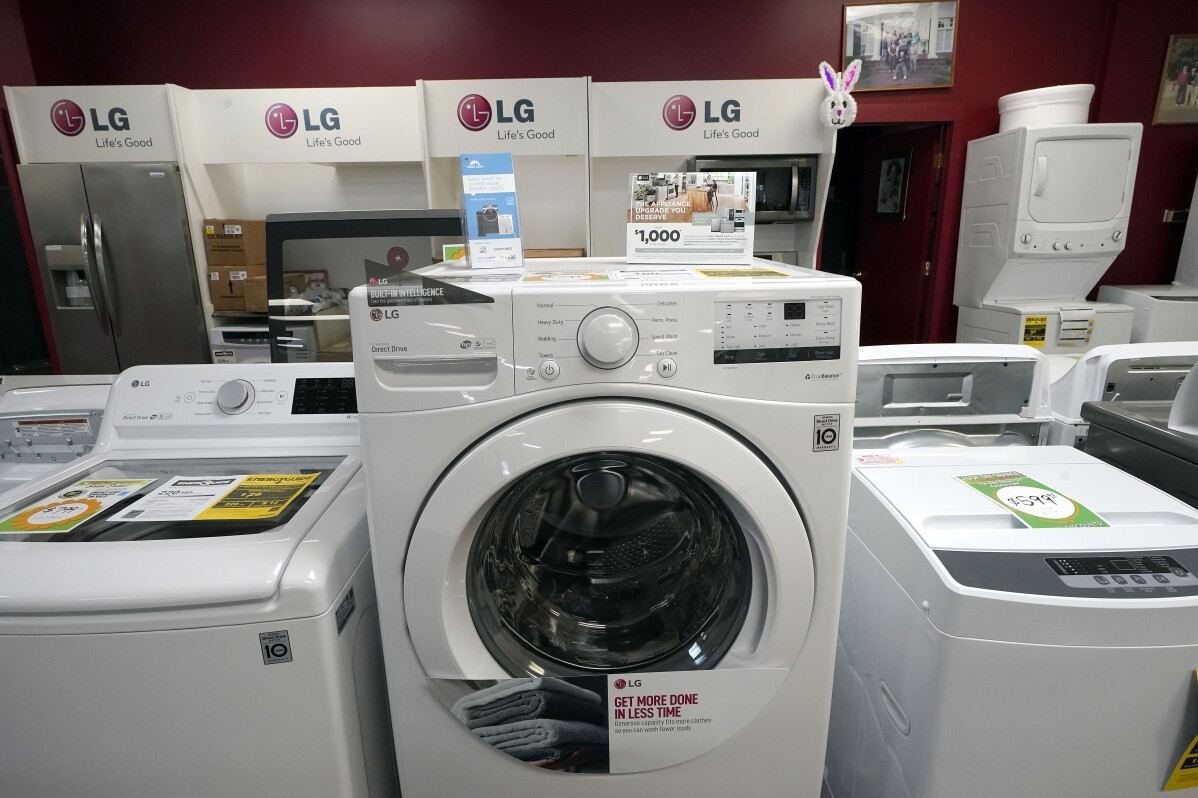 1 of 3

|
File - Washing machines are displayed at Sam's Appliances TV & Furniture, on March 25, 2021, in Norwood, Mass. On Thursday, the Labor Department reports on U.S. consumer prices for July. Economists expect the report to show prices rose 3.3%. (AP Photo/Steven Senne, File)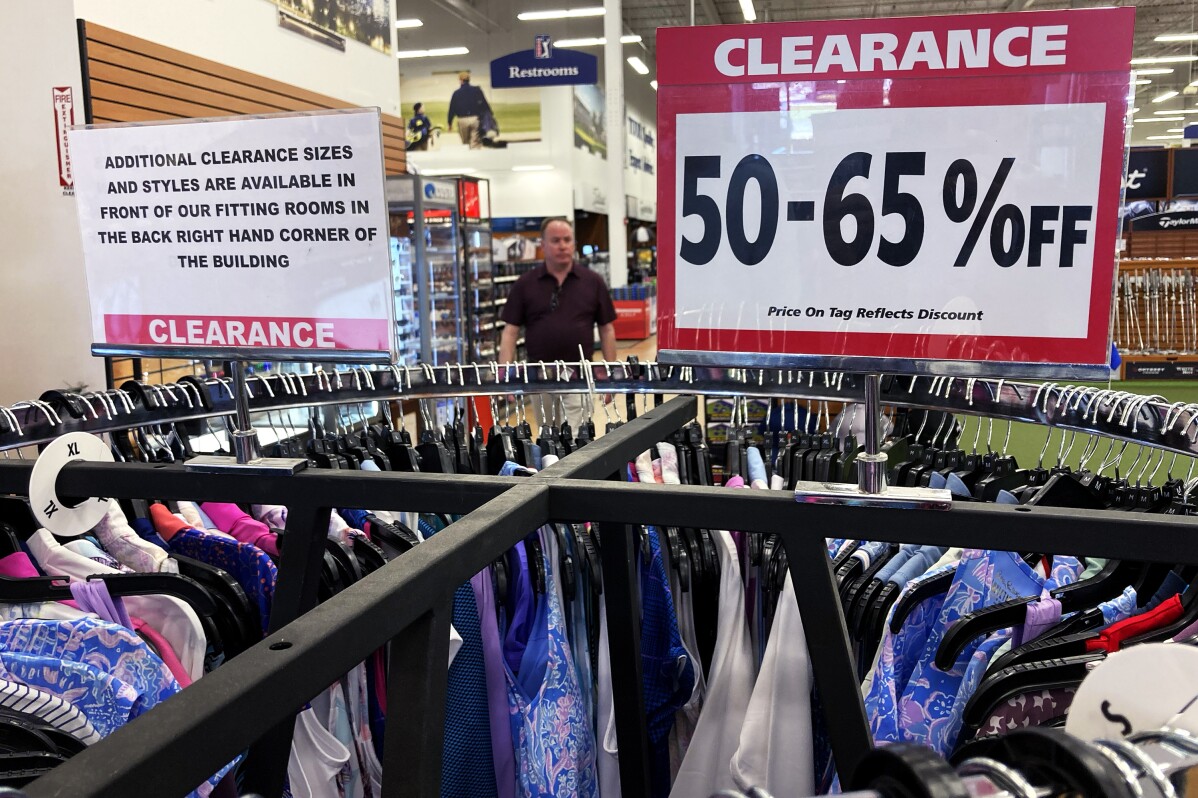 2 of 3

|
File - A clearance sale sign is displayed at a retail store in Downers Grove, Ill., Wednesday, April 12, 2023. On Thursday, the Labor Department reports on U.S. consumer prices for July. Economists expect the report to show prices rose 3.3%. (AP Photo/Nam Y. Huh, File)
3 of 3

|
Rainer cherries are displayed at a Costco warehouse Tuesday, July 11, 2023, in Sheridan, Colo. The Labor Department reports on U.S. consumer prices for July. Economists expect the report to show prices rose 3.3% in July. (AP Photo/David Zalubowski)
A yearlong slowdown in US inflation may have stalled in July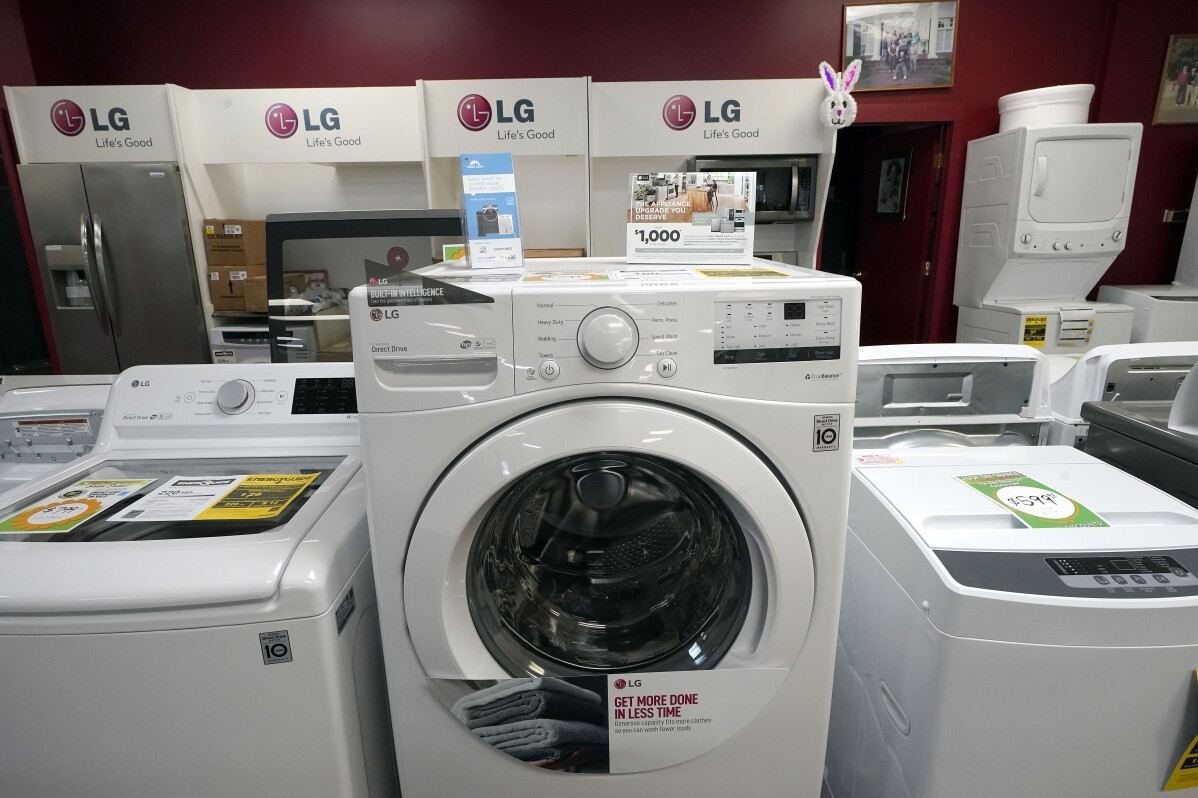 1 of 3

|
File - Washing machines are displayed at Sam's Appliances TV & Furniture, on March 25, 2021, in Norwood, Mass. On Thursday, the Labor Department reports on U.S. consumer prices for July. Economists expect the report to show prices rose 3.3%. (AP Photo/Steven Senne, File)
1 of 3
File - Washing machines are displayed at Sam's Appliances TV & Furniture, on March 25, 2021, in Norwood, Mass. On Thursday, the Labor Department reports on U.S. consumer prices for July. Economists expect the report to show prices rose 3.3%. (AP Photo/Steven Senne, File)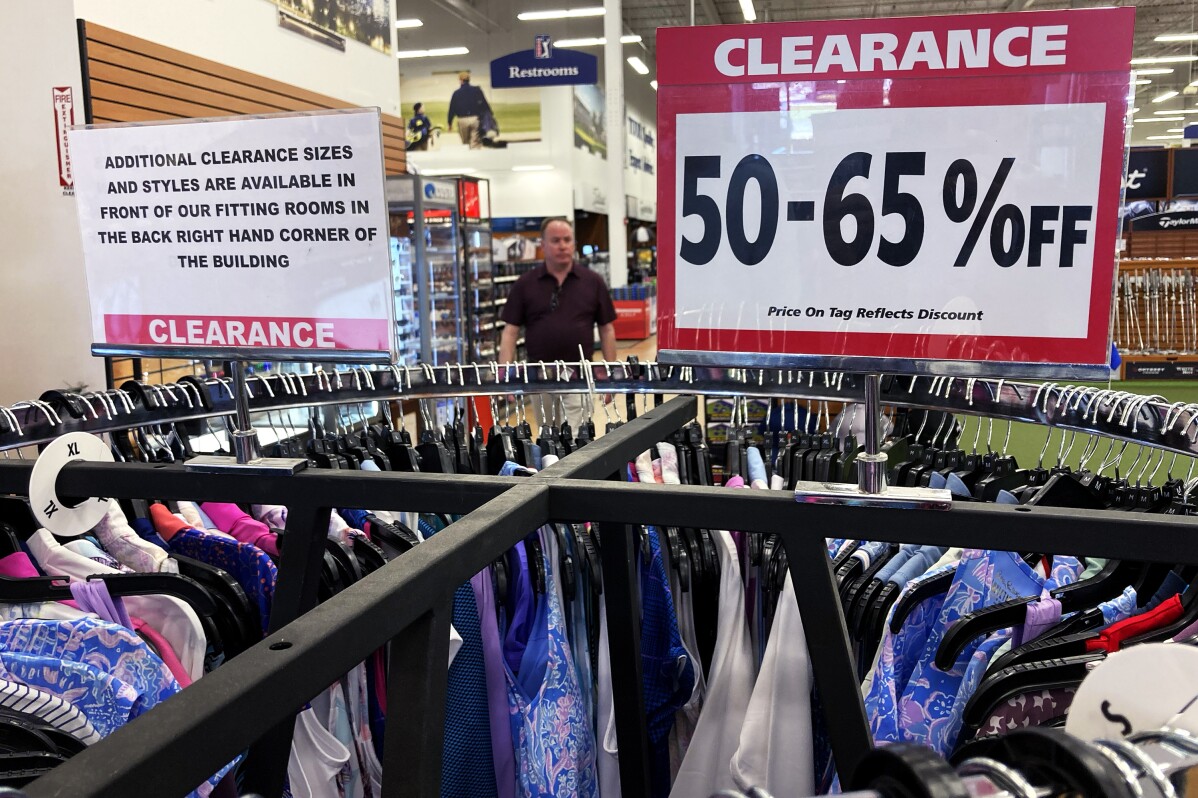 2 of 3

|
File - A clearance sale sign is displayed at a retail store in Downers Grove, Ill., Wednesday, April 12, 2023. On Thursday, the Labor Department reports on U.S. consumer prices for July. Economists expect the report to show prices rose 3.3%. (AP Photo/Nam Y. Huh, File)
2 of 3
File - A clearance sale sign is displayed at a retail store in Downers Grove, Ill., Wednesday, April 12, 2023. On Thursday, the Labor Department reports on U.S. consumer prices for July. Economists expect the report to show prices rose 3.3%. (AP Photo/Nam Y. Huh, File)
3 of 3

|
Rainer cherries are displayed at a Costco warehouse Tuesday, July 11, 2023, in Sheridan, Colo. The Labor Department reports on U.S. consumer prices for July. Economists expect the report to show prices rose 3.3% in July. (AP Photo/David Zalubowski)
3 of 3
Rainer cherries are displayed at a Costco warehouse Tuesday, July 11, 2023, in Sheridan, Colo. The Labor Department reports on U.S. consumer prices for July. Economists expect the report to show prices rose 3.3% in July. (AP Photo/David Zalubowski)
WASHINGTON (AP) — Inflation in the United States likely rose in July for the first time in 12 months, driven higher by more expensive gasoline and suggesting that the fight against rising prices may prove bumpier in the months ahead.
The inflation report the government will issue Thursday is expected to show that consumer prices increased 3.3% from 12 months earlier. That would mark an uptick from a 3% year-over-year increase in June — the lowest such figure in more than two years.
On a month-to-month basis, consumer prices are thought to have risen 0.2% from June to July, the same as in the previous month, according to a survey of forecasters by the data firm FactSet.
A jump in energy prices was likely a major contributor to higher inflation in July. Gasoline prices have surged nearly 30 cents over the past month to a national average of $3.83 a gallon, according to AAA.
Excluding volatile food and energy costs, so-called core prices are expected to show a 4.8% rise in July over the previous year and 0.2% from a month earlier, unchanged from the previous month's increases.
Thursday's inflation data will be among the key metrics the Federal Reserve will consider in deciding whether to continue raising interest rates. In its drive to tame inflation, the Fed has raised its benchmark rate 11 times since March 2022 to a 22-year high. Those rate hikes are believed to have helped significantly slow price increases: After peaking at a four-decade high of 9.1% in June 2022, year-over-year inflation has dropped month after month.
Yet inflation remains above the Fed's 2% target. And economists say the easy progress has likely already been achieved. Gasoline prices, for example, though liable to bounce around from month to month, have already plunged from a peak national average of more than $5 a gallon, which was reached in June of last year after Russia's invasion of Ukraine.
Much of the inflationary surge that began in 2021 was caused by clogged supply chains: Ports, factories and freight yards were overwhelmed by the explosive economic rebound from the pandemic recession of 2020. The result was delays, parts shortages and higher prices. But supply-chain backlogs have eased in the past year, sharply reducing upward pressure on goods prices. Prices of long-lasting manufactured goods actually dipped in June.
Now, the Fed faces a daunting problem: persistent inflationary pressures in service businesses — restaurants, hotels, entertainment venues and the like — where wages represent a substantial share of costs. Worker shortages have led many of these services companies to sharply raise pay.
Last week, for example, the Labor Department reported that average hourly wages rose 4.4% in July from a year earlier, more than expected. To cover their higher labor costs, companies have typically raised their prices, thereby fueling inflation.
Another factor working against continued declines in year-over-year inflation rates is that prices soared in the first half of last year before slowing in the second half. So any price increase in July would have the effect of boosting the year-over-year inflation rate.
Still, economists caution against reading too much into one month of numbers. Many of them expect inflation to continue trending lower.
Used car prices, which had skyrocketed after the pandemic, have been edging down: They dropped 5.1% in July from a year earlier to $29,198, according to Edmunds.com. July of last year was near the peak of used-car price spikes, resulting from a scarcity of new vehicles caused by a global computer-chip shortage. Buyers who wanted new vehicles but couldn't find them entered the used market, sending used prices sharply higher.
This year, though, used vehicle prices began to drop once automakers managed to acquire more chips and could produce more new vehicles. Many shoppers who were forced to buy used are now back in the new-vehicle market.
Used-vehicle prices should continue to decline through the year, but the reductions will likely be more modest than July's, said Ivan Drury, director of insights for Edmunds. Prices won't likely fall anywhere near where they were before the pandemic. The average used vehicle now costs $29,198 — 43% more than in January 2020.
Despite chronic concerns about higher labor costs, one closely watched measure of wages and salaries — the Labor Department's employment cost index — grew more slowly from April through June. Excluding government jobs, employee pay rose 1%, less than the 1.2% increase in the first three months of 2023. Compared with a year earlier, wages and salaries grew 4.6%, down from a year-over-year increase of 5.1% in the first quarter.
Rents, which had soared after the pandemic, are also cooling. Researchers at the Federal Reserve Bank of San Francisco wrote this week that "year-over-year shelter inflation will continue to slow through late 2024 and may even turn negative by mid-2024.″
"I do think we're going to get further deceleration, even if we do get a little bit of a pickup this month,'' said Thomas Simons, senior U.S. economist at the investment firm Jefferies. "Looking toward the end of the year, I think it's pretty likely we'll see headline inflation closer to 2%, which at the end of the day is not the worst thing ever considering how high inflation was in the past two years and how much more tolerable 2.5% inflation is.''
But the Fed, Simons suggested, may not consider its work done until inflation returns to 2%.
Fed officials will have plenty of data to absorb before deciding whether to continue raising rates. Thursday's report is the first of two CPI numbers the policymakers will see before their next meeting Sept. 19-20. In addition, their favored inflation gauge, called the personal income expenditures price index, comes out on Aug. 31. And the August jobs report will be released Sept. 1.
Many economists and market analysts think the Fed's most recent rate hike in July will prove to be its last: Nearly 87% of traders expect no Fed hike next month, according to the CME Group's FedWatch Tool.
____
AP Auto Writer Tom Krisher in Detroit contributed to this report.