A year ago, an Iranian woman's death sparked hijab protests. Now businesses are a new battleground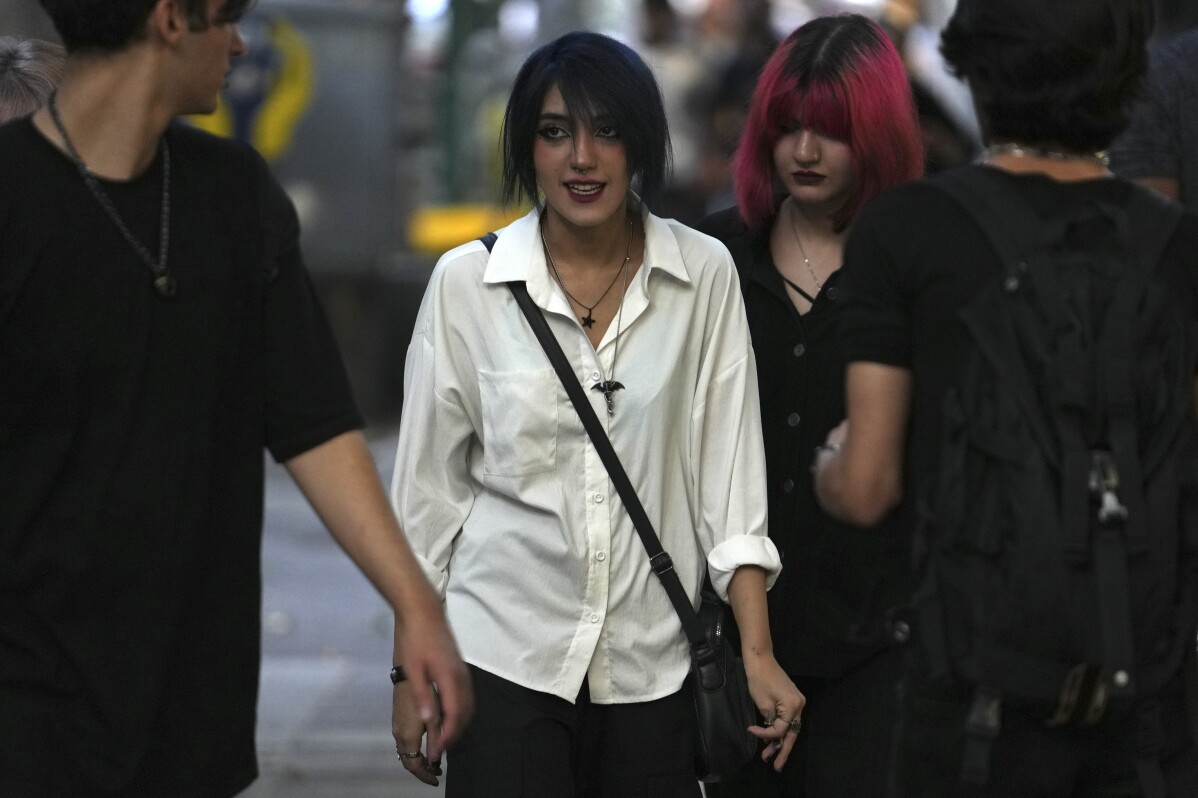 1 of 5

|
Iranian women walk in Tehran, Iran, Saturday, Aug. 5, 2023. These days, with uncovered women a common sight on Tehran streets, authorities have begun raiding companies where women employees or customers have been seen without the headscarf, or hijab. Iran's parliament is discussing a law that would increase punishments on uncovered women and the businesses they frequent. (AP Photo/Vahid Salemi)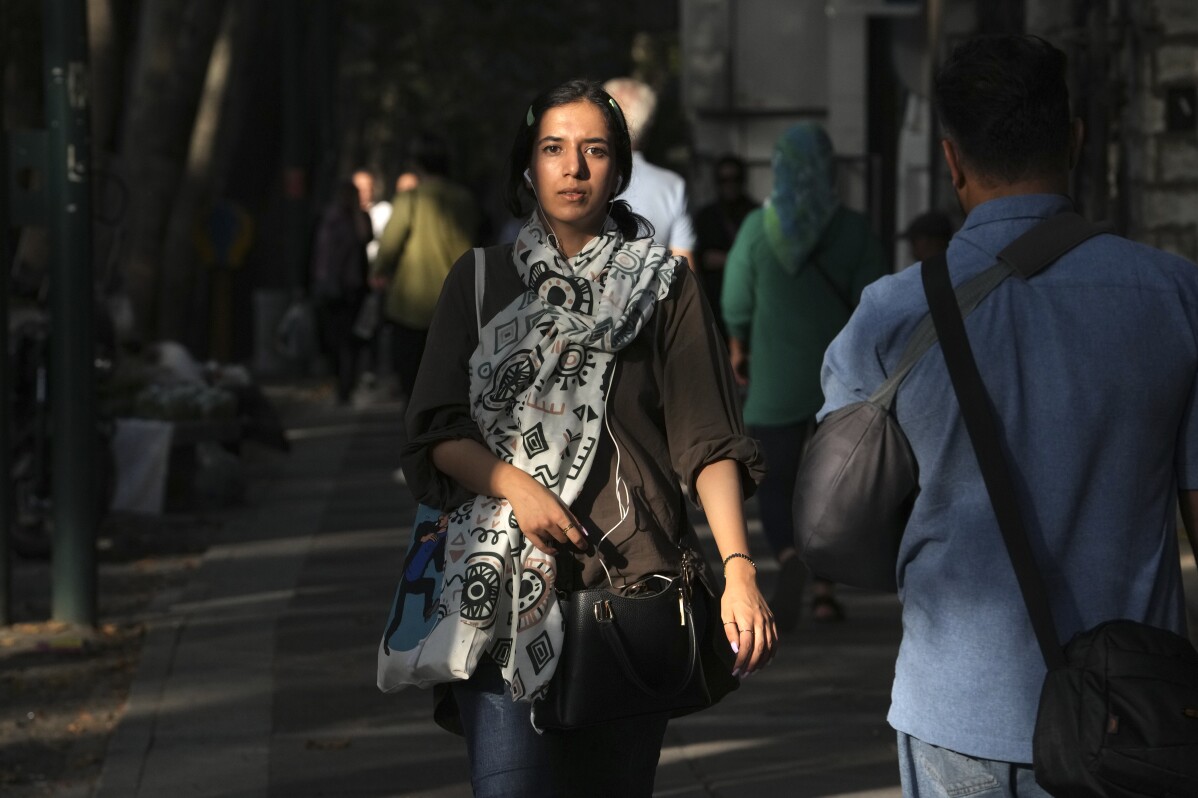 2 of 5

|
An Iranian woman walks Tehran, Iran, Saturday, Aug. 5, 2023. These days, with uncovered women a common sight on Tehran streets, authorities have begun raiding companies where women employees or customers have been seen without the headscarf, or hijab. Iran's parliament is discussing a law that would increase punishments on uncovered women and the businesses they frequent. (AP Photo/Vahid Salemi)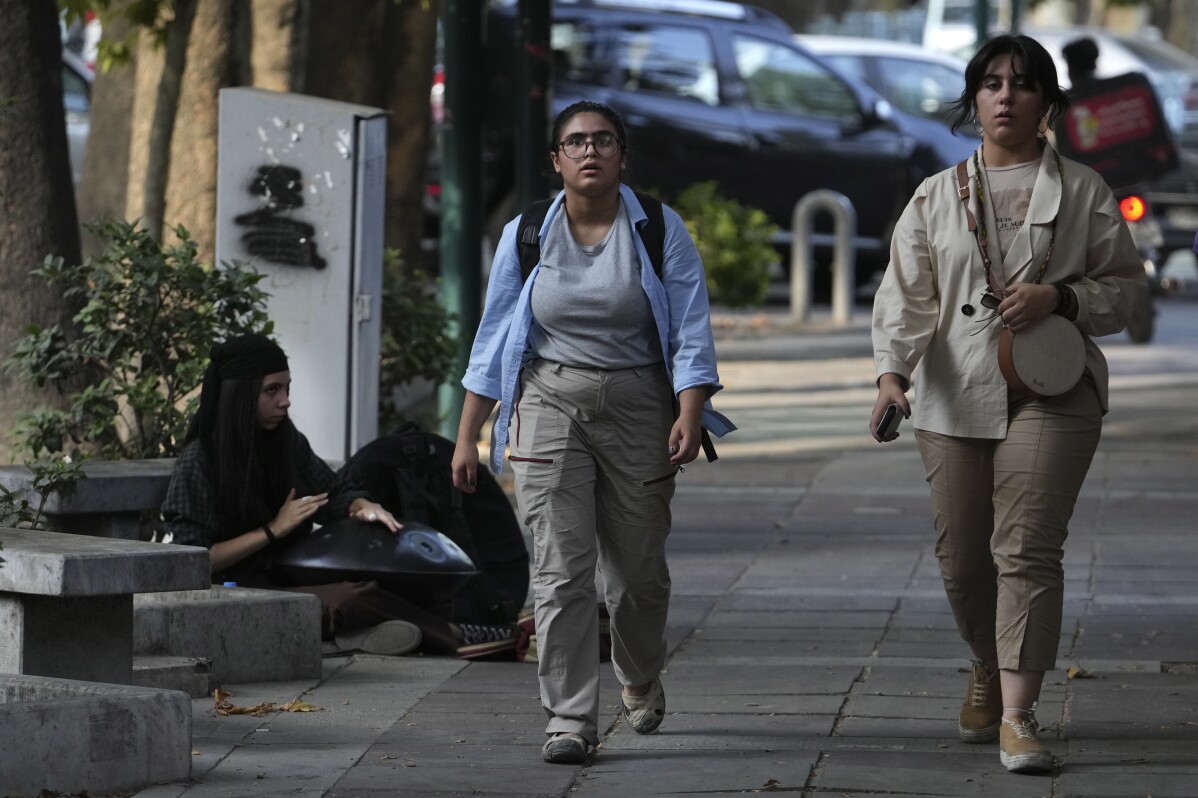 3 of 5

|
Iranian women walk in Tehran, Iran, Saturday, Aug. 5, 2023. These days, with uncovered women a common sight on Tehran streets, authorities have begun raiding companies where women employees or customers have been seen without the headscarf, or hijab. Iran's parliament is discussing a law that would increase punishments on uncovered women and the businesses they frequent. (AP Photo/Vahid Salemi)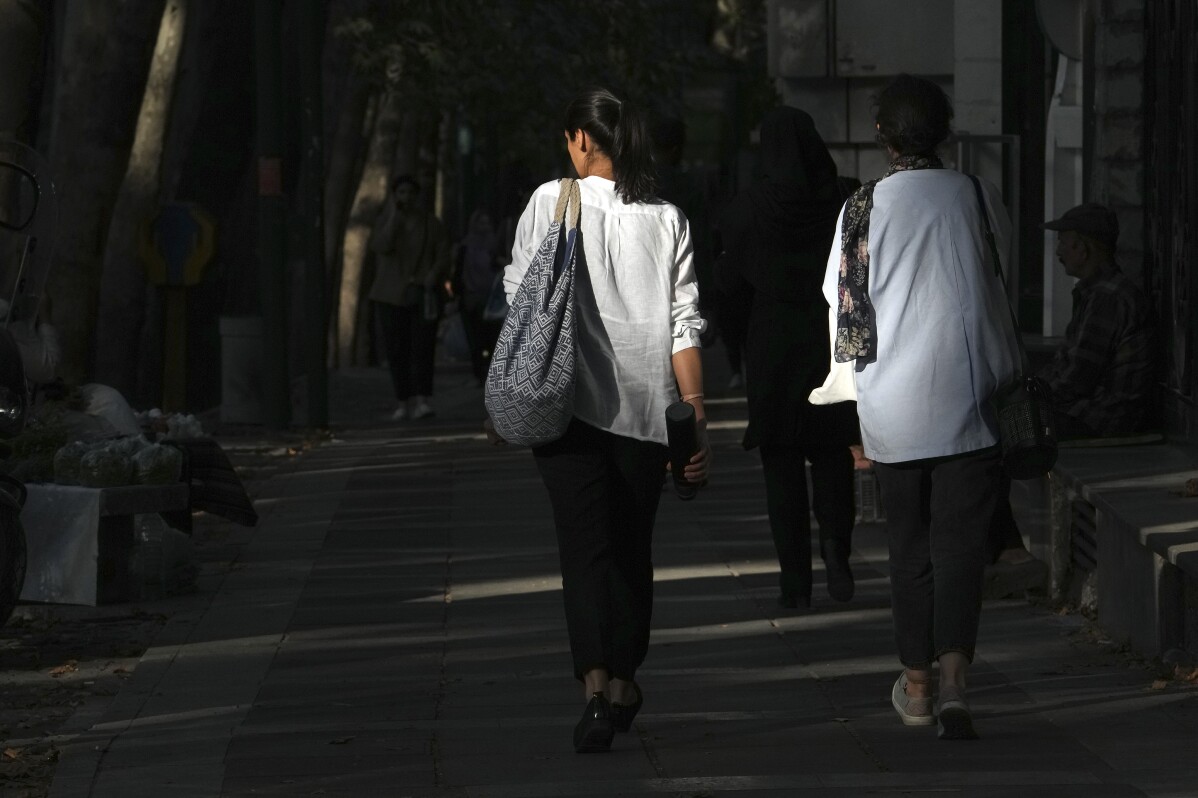 4 of 5

|
Iranian women walk in Tehran, Iran, Saturday, Aug. 5, 2023. These days, with uncovered women a common sight on Tehran streets, authorities have begun raiding companies where women employees or customers have been seen without the headscarf, or hijab. Iran's parliament is discussing a law that would increase punishments on uncovered women and the businesses they frequent. (AP Photo/Vahid Salemi)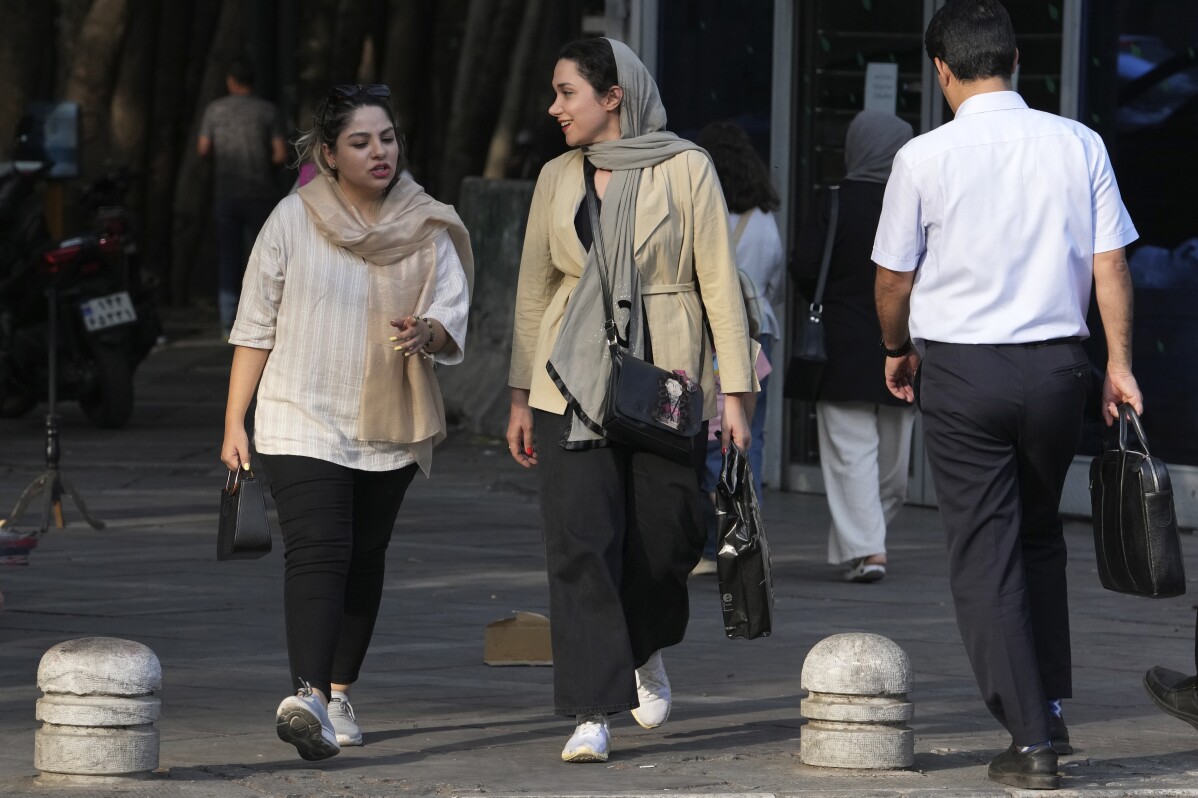 5 of 5

|
Iranian women walk in Tehran, Iran, Saturday, Aug. 5, 2023. These days, with uncovered women a common sight on Tehran streets, authorities have begun raiding companies where women employees or customers have been seen without the headscarf or hijab. Iran's parliament is discussing a law that would increase punishments on uncovered women and the businesses they frequent. (AP Photo/Vahid Salemi)
A year ago, an Iranian woman's death sparked hijab protests. Now businesses are a new battleground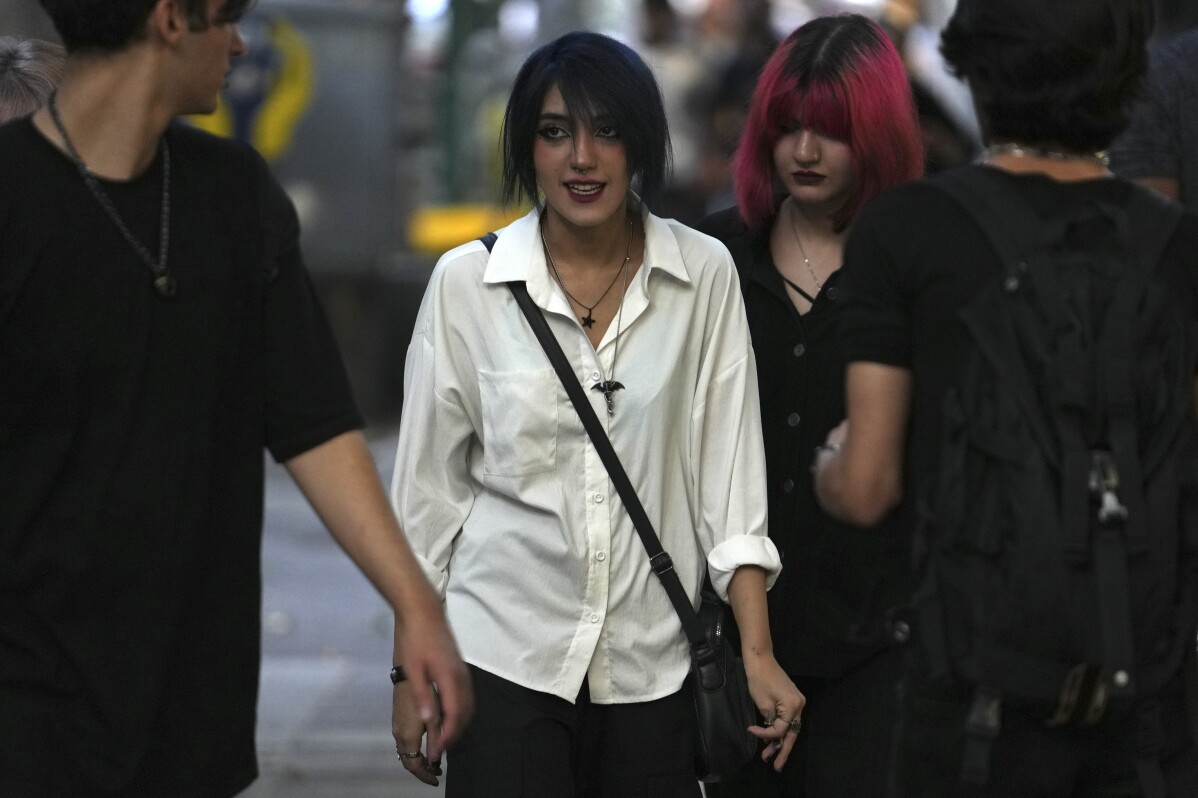 1 of 5

|
Iranian women walk in Tehran, Iran, Saturday, Aug. 5, 2023. These days, with uncovered women a common sight on Tehran streets, authorities have begun raiding companies where women employees or customers have been seen without the headscarf, or hijab. Iran's parliament is discussing a law that would increase punishments on uncovered women and the businesses they frequent. (AP Photo/Vahid Salemi)
1 of 5
Iranian women walk in Tehran, Iran, Saturday, Aug. 5, 2023. These days, with uncovered women a common sight on Tehran streets, authorities have begun raiding companies where women employees or customers have been seen without the headscarf, or hijab. Iran's parliament is discussing a law that would increase punishments on uncovered women and the businesses they frequent. (AP Photo/Vahid Salemi)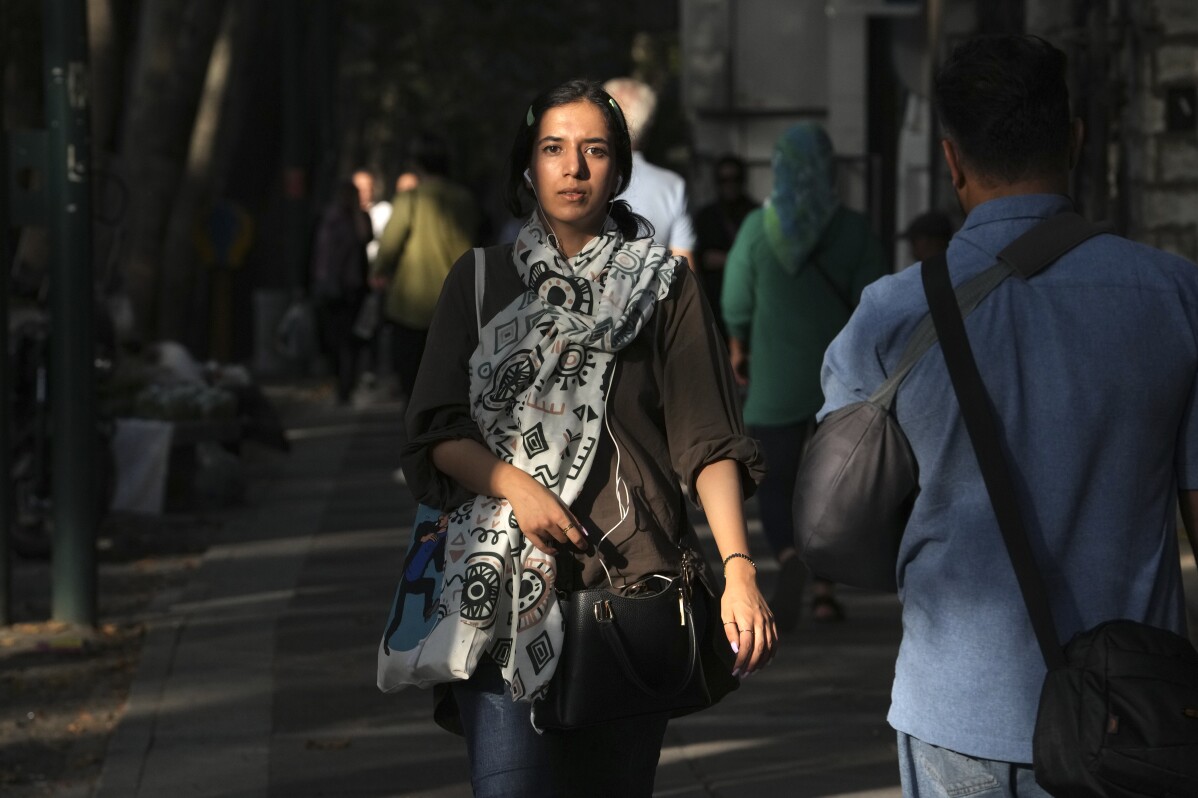 2 of 5

|
An Iranian woman walks Tehran, Iran, Saturday, Aug. 5, 2023. These days, with uncovered women a common sight on Tehran streets, authorities have begun raiding companies where women employees or customers have been seen without the headscarf, or hijab. Iran's parliament is discussing a law that would increase punishments on uncovered women and the businesses they frequent. (AP Photo/Vahid Salemi)
2 of 5
An Iranian woman walks Tehran, Iran, Saturday, Aug. 5, 2023. These days, with uncovered women a common sight on Tehran streets, authorities have begun raiding companies where women employees or customers have been seen without the headscarf, or hijab. Iran's parliament is discussing a law that would increase punishments on uncovered women and the businesses they frequent. (AP Photo/Vahid Salemi)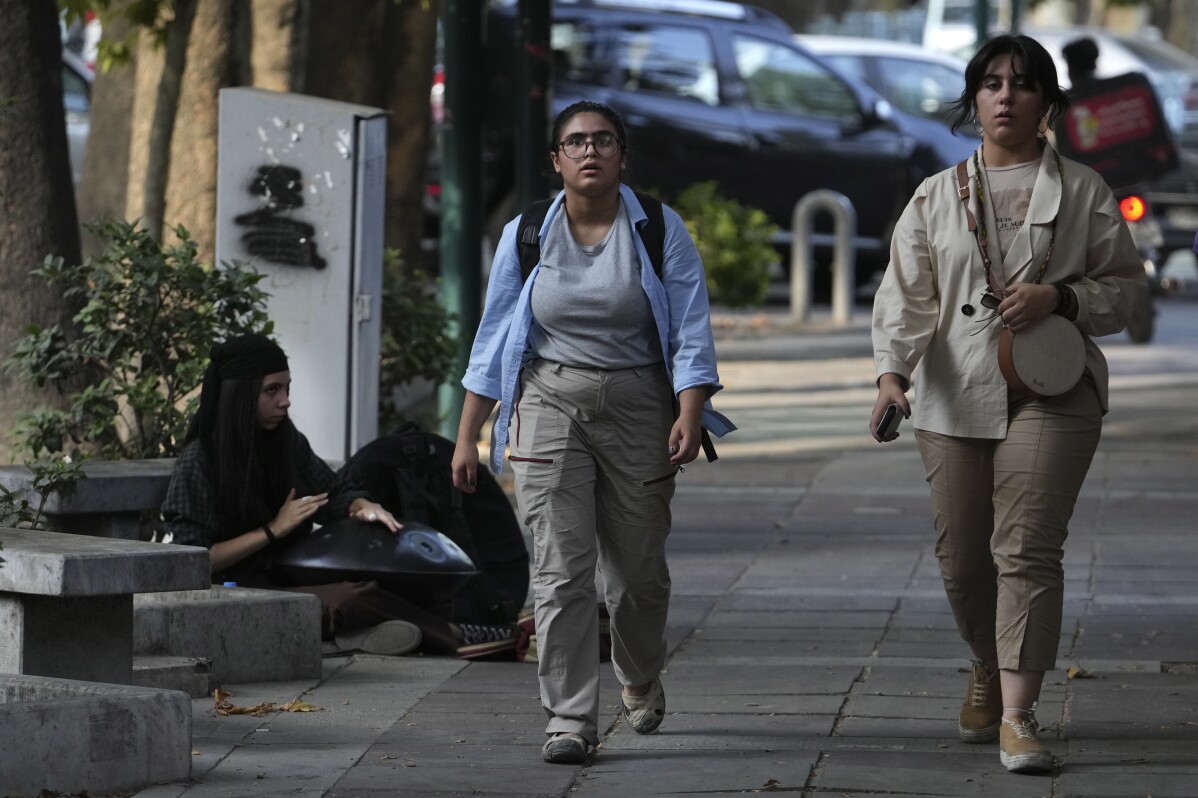 3 of 5

|
Iranian women walk in Tehran, Iran, Saturday, Aug. 5, 2023. These days, with uncovered women a common sight on Tehran streets, authorities have begun raiding companies where women employees or customers have been seen without the headscarf, or hijab. Iran's parliament is discussing a law that would increase punishments on uncovered women and the businesses they frequent. (AP Photo/Vahid Salemi)
3 of 5
Iranian women walk in Tehran, Iran, Saturday, Aug. 5, 2023. These days, with uncovered women a common sight on Tehran streets, authorities have begun raiding companies where women employees or customers have been seen without the headscarf, or hijab. Iran's parliament is discussing a law that would increase punishments on uncovered women and the businesses they frequent. (AP Photo/Vahid Salemi)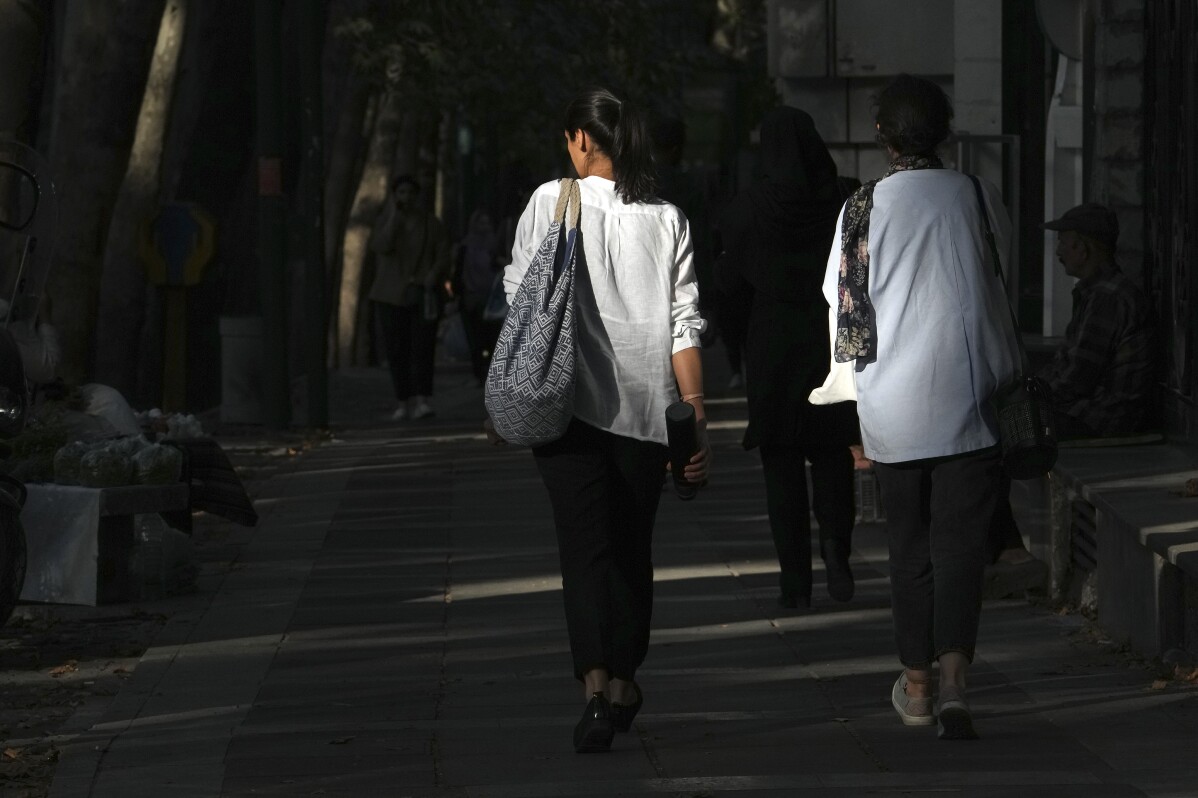 4 of 5

|
Iranian women walk in Tehran, Iran, Saturday, Aug. 5, 2023. These days, with uncovered women a common sight on Tehran streets, authorities have begun raiding companies where women employees or customers have been seen without the headscarf, or hijab. Iran's parliament is discussing a law that would increase punishments on uncovered women and the businesses they frequent. (AP Photo/Vahid Salemi)
4 of 5
Iranian women walk in Tehran, Iran, Saturday, Aug. 5, 2023. These days, with uncovered women a common sight on Tehran streets, authorities have begun raiding companies where women employees or customers have been seen without the headscarf, or hijab. Iran's parliament is discussing a law that would increase punishments on uncovered women and the businesses they frequent. (AP Photo/Vahid Salemi)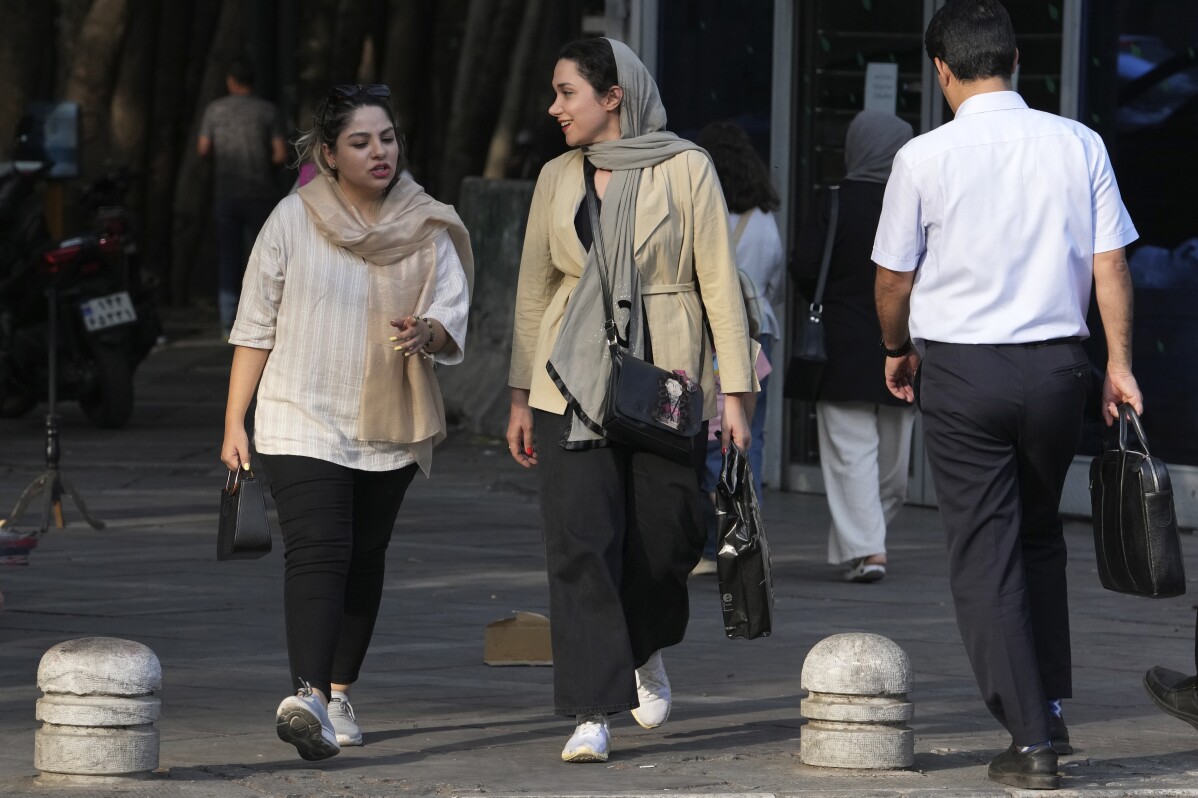 5 of 5

|
Iranian women walk in Tehran, Iran, Saturday, Aug. 5, 2023. These days, with uncovered women a common sight on Tehran streets, authorities have begun raiding companies where women employees or customers have been seen without the headscarf or hijab. Iran's parliament is discussing a law that would increase punishments on uncovered women and the businesses they frequent. (AP Photo/Vahid Salemi)
5 of 5
Iranian women walk in Tehran, Iran, Saturday, Aug. 5, 2023. These days, with uncovered women a common sight on Tehran streets, authorities have begun raiding companies where women employees or customers have been seen without the headscarf or hijab. Iran's parliament is discussing a law that would increase punishments on uncovered women and the businesses they frequent. (AP Photo/Vahid Salemi)
TEHRAN, Iran (AP) — For months, Iranian authorities did little to enforce the law on women covering their hair but now the country's theocracy is pushing to make businesses the new battleground over the mandatory headscarf.
The effort comes ahead of the first anniversary of nationwide protests that erupted after the Sept. 16 death of Mahsa Amini in the custody of the country's morality police. A crackdown by security forces that followed saw more than 530 people killed and over 22,000 arrested.
These days, with uncovered women a common sight on Tehran streets, authorities have begun raiding companies where women employees or customers have been seen without the headscarf, or hijab. Iran's parliament is discussing a law that would increase punishments on uncovered women and the businesses they frequent.
The developments could foment new unrest as parliamentary elections loom next year and the country's economy struggles under the weight of international sanctions imposed over Iran's nuclear program.
"If I face penalties and punishment, I will wear the headscarf since I am in a ... prominent position," said Parvaneh, a doctor who treated protesters injured during demonstrations last year. Like several other women who spoke to The Associated Press, she asked that only her first name be used for fear of reprisals.
"But the young people I treated during the protests will not pull back," she added.
For observant Muslim women, the head covering is a sign of piety before God and modesty in front of men outside their families. In Iran, the hijab — and the all-encompassing black chador worn by some — has long been a political symbol as well, particularly after becoming mandatory in the years following the 1979 Islamic Revolution.
After the death of Amini, who was picked up for her allegedly loose headscarf, police were hesitant to strictly enforce the Islamic dress code — possibly to avoid even wider demonstrations and displays of defiance. But in recent weeks, the tone has changed.
"I'm telling you that this lack of hijab will be definitely put an end to," hard-line President Ebrahim Raisi said Wednesday.
Authorities have started sending warning text messages to women seen without the veil in cars: around 1 million messages were sent. In time, some 2,000 cars were confiscated and over 4,000 women referred to prosecutors.
Next, security forces scoured social media for companies with images of uncovered women in the workplace. One of the offices of Digikala, a hugely popular digital retail websites with more than 40 million active monthly users, was closed. Also briefly shut were the online bookstore Taghcheh and insurance marketplace Azki.
The crackdown extended beyond the capital of Tehran. In the northern city of Lahaijan, local health officials ordered hospitals and clinics to stop providing services to uncovered woman. In Damavand, a town some 60 kilometers (40 miles) east of Tehran, prosecutors ordered the arrest of a bank manager and a teller over serving a woman not wearing the hijab.
Outdoor café seating is now banned in the northeastern city of Mashhad and hard-liners in Isfahan want to ban the mixed working of men and women in shops.
The entertainment industry is also being watched. Police have threatened to shut down film productions that have women without headscarves working behind cameras.
Judges also have also sentenced female celebrities convicted of not wearing the veil to work in morgues as a public service, in lieu of prison time. They also have to obtain a mental health certificate from a psychologist before they can go back to their regular jobs.
"Instead of addressing people's legitimate grievances, the regime continues to obsess over the hijab and act as if its very survival depends on whether women dress modestly," said Haleh Esfandiari, a fellow at the Washington-based Wilson Center and an Iranian-American dual national who was held by Tehran in 2007.
A new bill before Iran's parliament could make penalties for women even more serious. It calls for fines of up to 360 million Iranian rials ($720) and prison sentences for women without the headscarf. The draft legislation also calls for more strictly segregating the sexes in schools, parks, hospitals and other locations.
It also envisages fines on businesses with female staff and customers who do not wear the hijab with up to three months of their income, while offending celebrities can be banned from leaving the country and performing.
The bill would also empower intelligence agencies and the Basij — the all-volunteer force of Iran's paramilitary Revolutionary Guard that has violently suppressed nationwide protests in the past — to confront women without hijabs.
Hard-liners have long demanded that the Basij enter the fight over the hijab, with some chanting at at Friday prayers in Tehran, "Guard, come to the street, put an end to hijab removal!"
"This is what Islam orders," said Rahele Kargarnejad, 29, a firm supporter of wearing the hijab. Her two daughters, ages 9 and 11, wear the chador, she added.
But criticism of the proposed bill is already simmering.
Ezzeatollah Zarghami, a hard-line former Guard commander and the current minister for cultural heritage, warned that harsh sentences such as the mandatory morgue work "will cause more and significant problems instead of solving the hijab problem."
Iran's Supreme Court overturned a court order impounding an uncovered woman's car for a year and revoking her license, setting a precedent.
Even if it passes, prominent lawyer Mahmoud Alizadeh Tabatabei described the draft law as meaningless since "the majority of women do not believe in it."
"They will find out that the law is not enforceable," Tabatabaei said.
Meanwhile, politicians known in Iran as reformists have seized on the hijab dispute as they seek to changes Iran's theocracy from within the system. Former President Mohammad Khatami, one of the country's most prominent reformists, has questioned whether enforcing the hijab was "wise and productive."
With hard-liners dominating the parliament and elections coming up in March, the hijab could become a contested topic ahead of the polls.
But anti-hijab comments may not be enough as reformists have seen their popularity wane following the collapse of the 2015 nuclear deal under then-President Hassan Rouhani, also considered a moderate.
On the streets, many Iranian women and girls still forgo the headscarf despite possible consequences.
"After hearing about the bill I made my decision — I will go to my school with the full hijab but I encourage my students to remove it whenever it is possible," said Mojgan, a 37-year-old secondary school teacher.
"My students are already ahead of me on that," she added.
___
Gambrell reported from Dubai, United Arab Emirates.