A billion-dollar coastal project begins in Louisiana. Will it work as sea levels rise?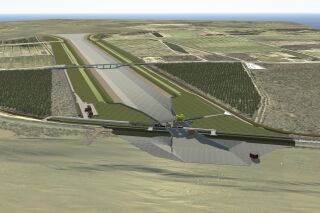 NEW ORLEANS (AP) — It's a nearly $3 billion attempt to mimic Mother Nature: Massive gates will be incorporated into a section of a flood protection levee southeast of New Orleans to divert some of the Mississippi River's sediment-laden water into a new channel that will guide it into southeast Louisiana's Barataria Basin.
If the Mid-Barataria Sediment Diversion project works as intended, the solids in the river water will settle out in the basin and gradually restore land that has been steadily disappearing for decades. State coastal officials call it a first-of-its-kind project they are certain will work, even as climate change-induced rising sea levels threaten the disappearing coast.
A groundbreaking ceremony with Gov. John Bel Edwards was set for Thursday morning in Plaquemines Parish, where Louisiana's close associations with commercial seafood harvests, recreational fishing and the offshore oil industry are all on display — as is the vulnerability to land loss.
Flat, sparsely populated and split lengthwise by the river, the parish juts into the Gulf of Mexico at Louisiana's southeastern tip. It's marbled by bayous and bays. Highways paralleling the river as it nears its endpoint at the Gulf pass farmland and fishing camps, shrimp boats, offshore oil rig supply vessels and industrial storage yards.
"Without question, we are confident that this project will build land within the Barataria Basin," Bren Haase, chair of Louisiana's Coastal Protection and Restoration Authority, said Tuesday.
He estimates the diversion will build anywhere from 20 square miles (52 square kilometers) to 40 square miles (104 square kilometers) over the next 30 to 50 years.
The U.S. Army Corps of Engineers, which permitted the project last year, projected creation of as much as 21 square miles (54 square kilometers) by 2070. Subsidence — the natural sinking of land — and sea level rise will diminish the returns, so much so that a net loss of land remains likely. But that can be seen as a factor increasing the importance of the effort.
"As land loss accelerates due to sea-level rise and subsidence, more of the remaining wetland area would be attributed to diversion operations," the statement's executive summary said.
Coastal experts say south Louisiana was built by sediment deposited as the powerful river continuously altered its own crooked, meandering course over thousands of years.
Human efforts to constrain the river with flood protection levees and huge flow-control structures safeguarded cities and communities that developed along the banks as the river became a medium of navigation and commerce. But the development also stopped the millennia-old process of building land naturally.
That is a major reason Louisiana's marshy coastal wetlands have given way to growing swaths of open water, posing a myriad of environmental concerns. Those concerns include worry about the erosion of land that serves as a natural hurricane buffer for New Orleans.
Channeling water from the Mississippi into the basin poses environmental and economic problems, too. Even as it granted permits for the project, the Corps noted the environmental costs of introducing non-salty river water into coastal areas where aquatic animals thrive in salty or brackish water. The changes will likely kill bottlenose dolphins and have varying effects on fish and sea turtles. Fishermen have long opposed the project because of its expected effects on shrimp and oysters as well.
Kerri Callais, a board member for the Save Louisiana Coalition, which opposes the diversion, is among opponents who favor other coast-building methods, including rebuilding barrier islands and using pipelines to pump sediment to land-depleted areas.
"These are projects that we know will build land, will not take decades, and will not take the livelihoods, culture, and heritage of our citizens away," Callais, a member of the governing council in neighboring St. Bernard Parish, said in an email.
Opposition has remained despite state promises of efforts to mitigate harm. On Tuesday, for instance, coastal officials outlined $10 million in planned spending on a variety of projects to aid fishers and oyster harvesters who will have to change the areas where they work or make other adjustments as a result of the project. Millions more in spending is planned to help communities near the river that might see increased flood threats from the project, including elevation of roadways.
Some environmental groups see the potential benefits. Matt Rota, senior policy director for the nonprofit Healthy Gulf, said the project will use less energy than sediment pumping, and he acknowledged the need to work with the river on its natural ability to build land.
"This diversion, if it's successful, is more passive," Rota said in a phone interview, "which means it can keep going, whether or not we have money or the fuel."
Still, Rota said, Healthy Gulf wants to see more done to help locals who depend on fisheries and oysters for their livelihoods. He said state and federal governments must also work harder to limit pollution upriver that flows south.