Raleigh hits go-ahead homer, Hancock shines in MLB debut as Mariners beat Padres 6-1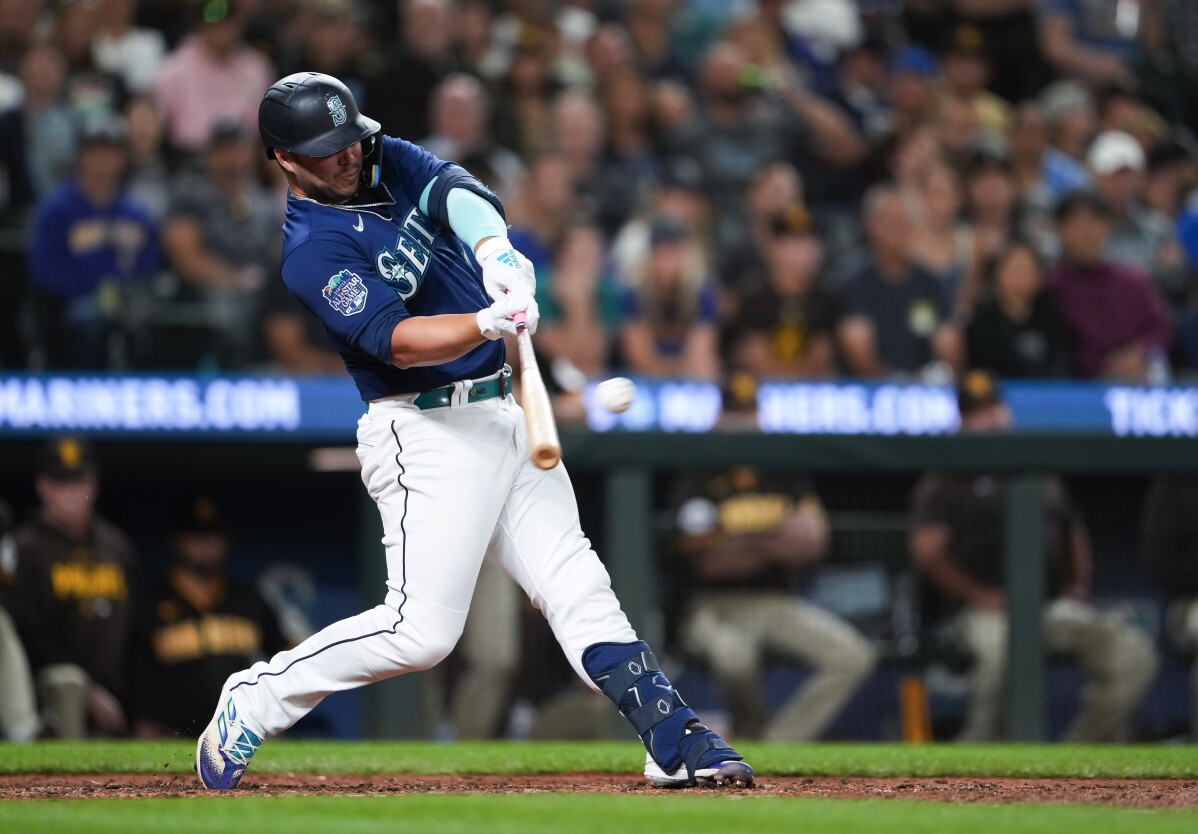 1 of 9

|
Seattle Mariners' Ty France hits an RBI double against the San Diego Padres during the eighth inning of a baseball game, Wednesday, Aug. 9, 2023, in Seattle. (AP Photo/Lindsey Wasson)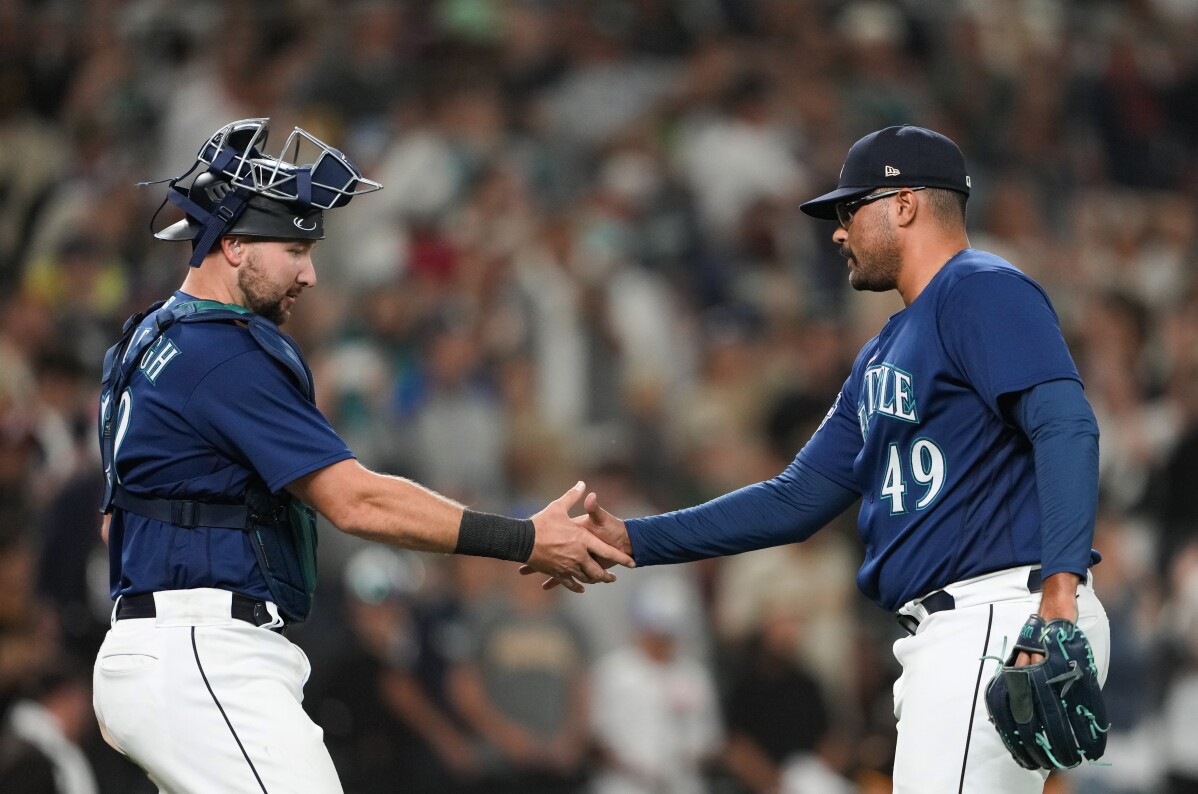 2 of 9

|
Seattle Mariners' Cal Raleigh, left, greets relief pitcher Isaiah Campbell (49) after the team's 6-1 win over the San Diego Padres in a baseball game Wednesday, Aug. 9, 2023, in Seattle. (AP Photo/Lindsey Wasson)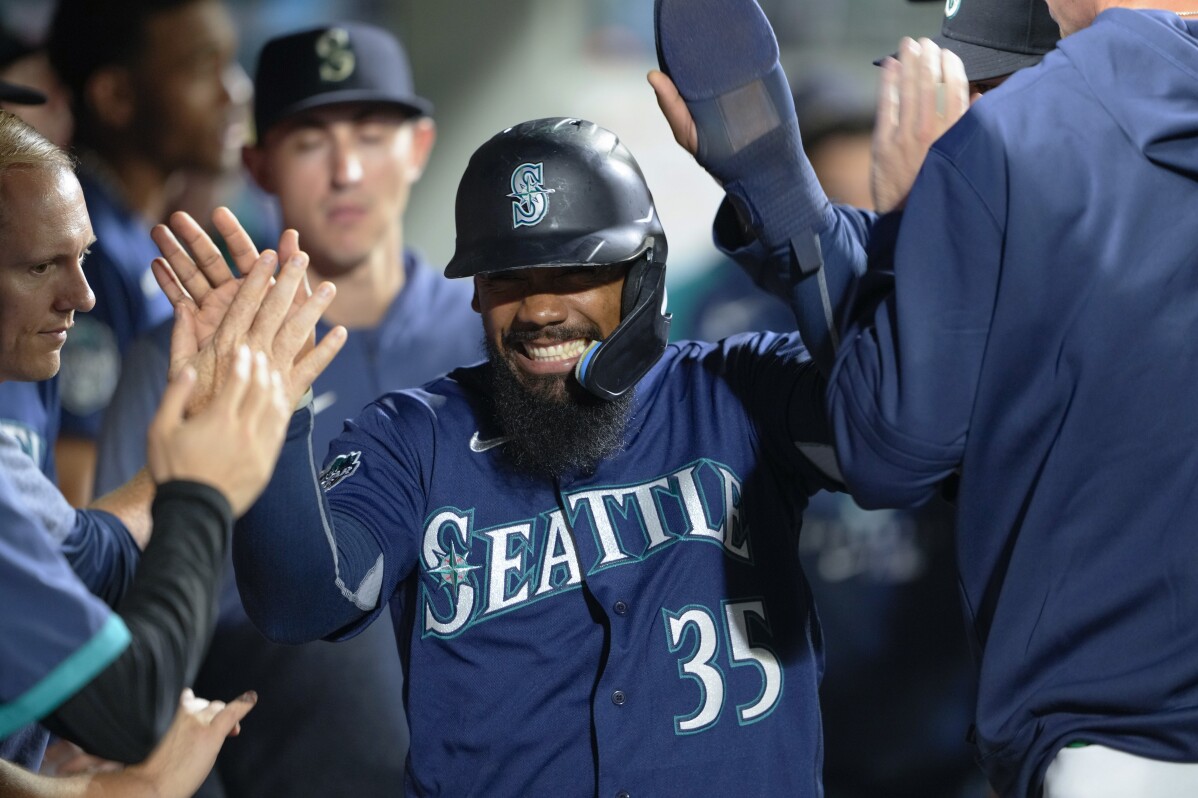 3 of 9

|
Seattle Mariners' Teoscar Hernandez is greeted in the dugout after scoring on a double by Ty France against the San Diego Padres during the eighth inning of a baseball game Wednesday, Aug. 9, 2023, in Seattle. (AP Photo/Lindsey Wasson)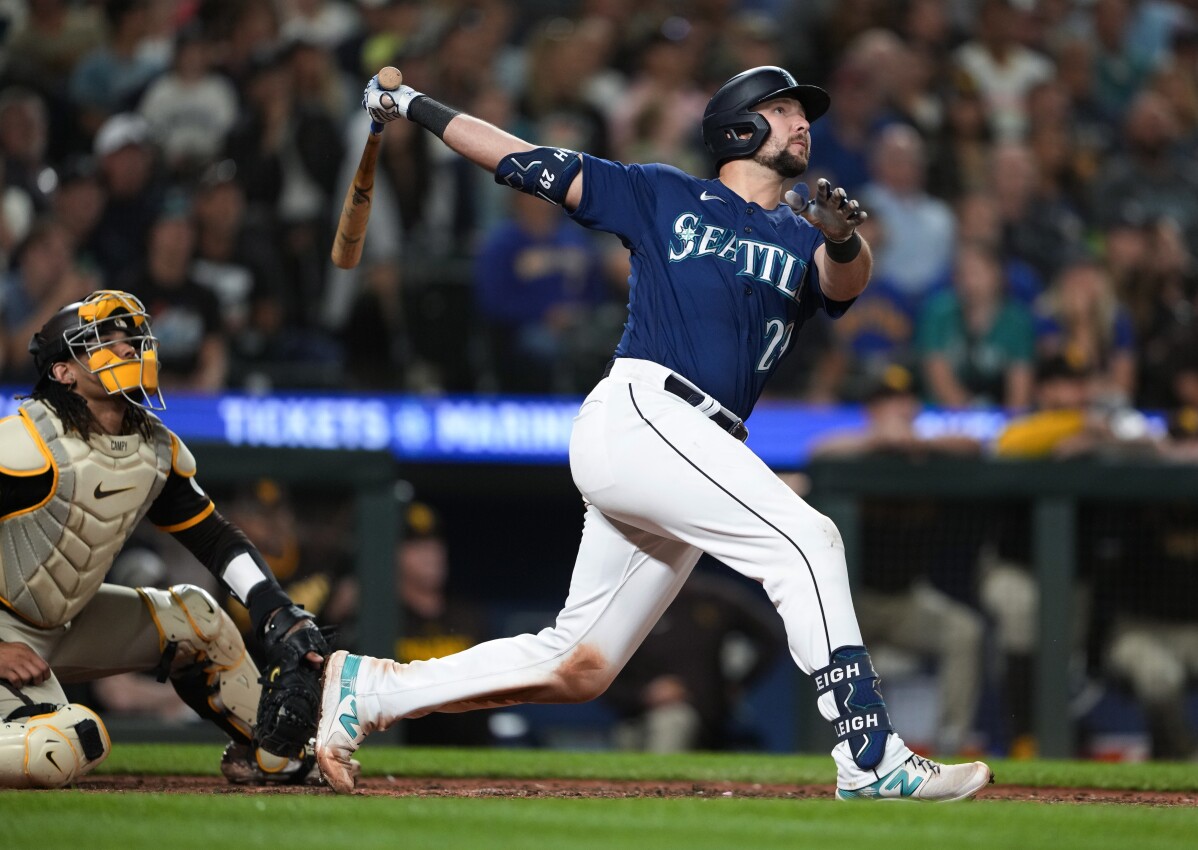 4 of 9

|
Seattle Mariners' Cal Raleigh watches his two-run home run next to San Diego Padres catcher Luis Campusano during the eighth inning of a baseball game Wednesday, Aug. 9, 2023, in Seattle. (AP Photo/Lindsey Wasson)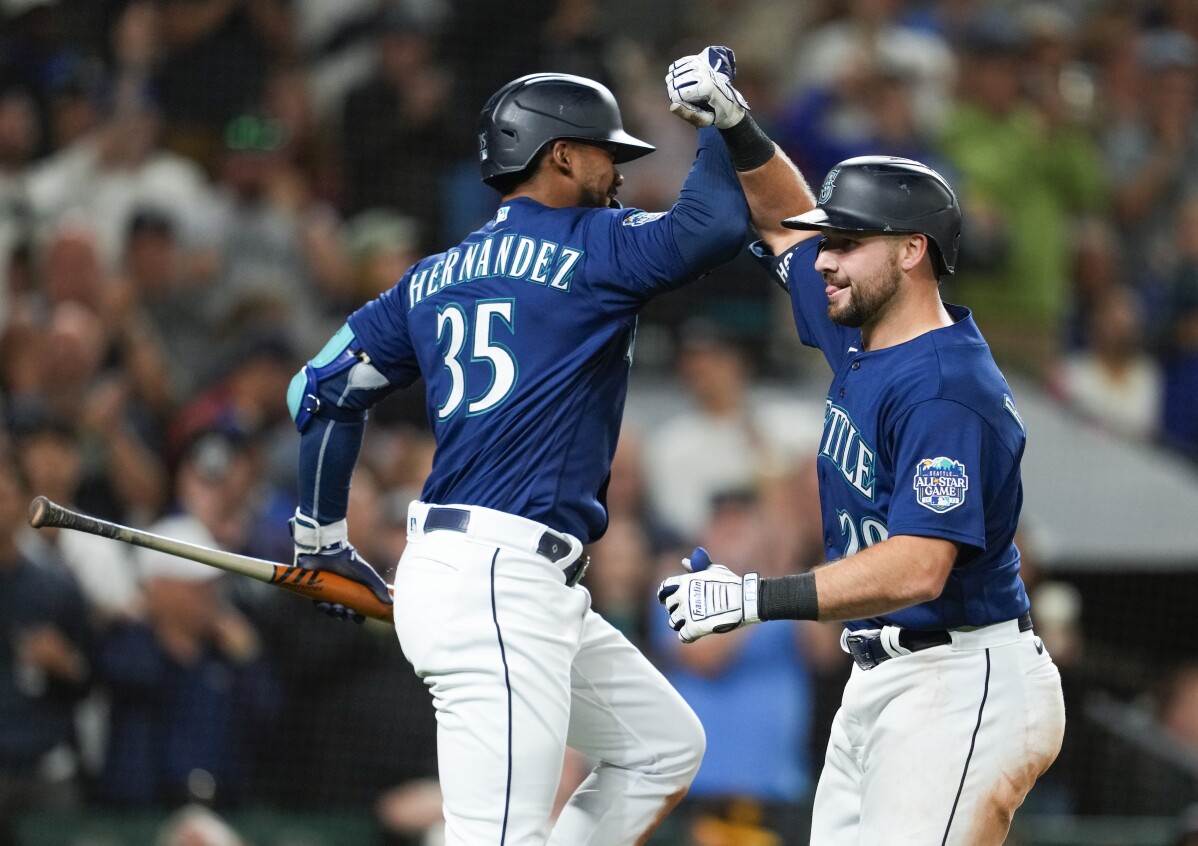 5 of 9

|
Seattle Mariners' Teoscar Hernandez (35) greets Cal Raleigh, right, after Raleigh hit a two-run home run against the San Diego Padres during the eighth inning of a baseball game, Wednesday, Aug. 9, 2023, in Seattle. (AP Photo/Lindsey Wasson)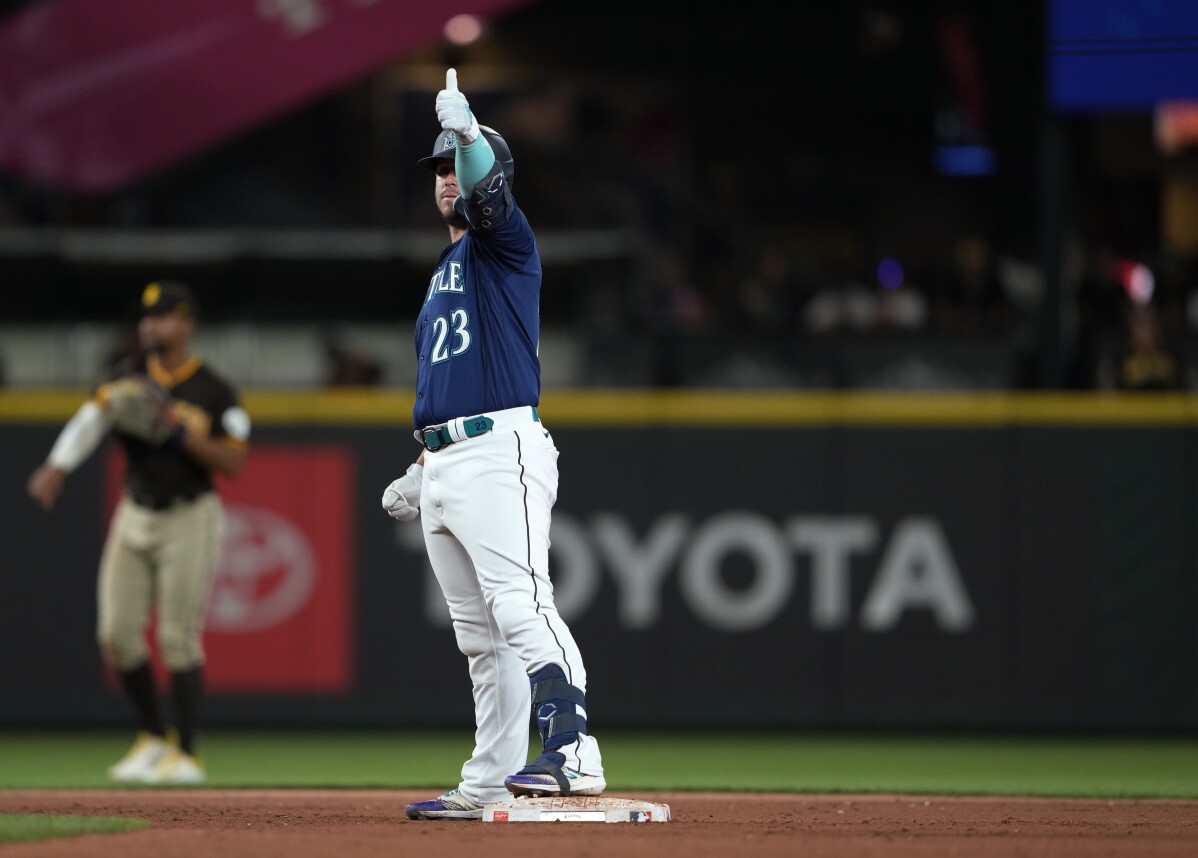 6 of 9

|
Seattle Mariners' Ty France gives a thumbs-up after hitting an RBI double against the San Diego Padres during the eighth inning of a baseball game Wednesday, Aug. 9, 2023, in Seattle. The Mariners won 6-1. (AP Photo/Lindsey Wasson)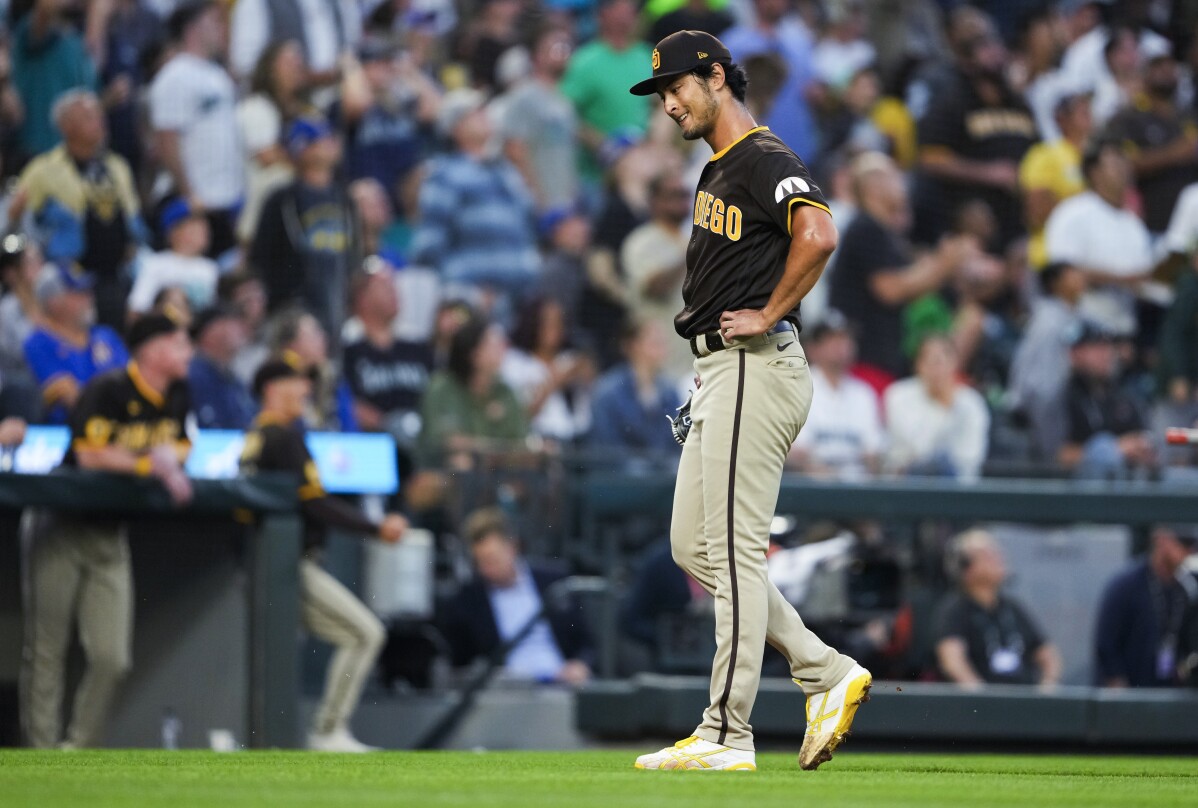 7 of 9

|
San Diego Padres starting pitcher Yu Darvish walks back to the dugout after the sixth inning of the team's baseball game against the Seattle Mariners, Wednesday, Aug. 9, 2023, in Seattle. (AP Photo/Lindsey Wasson)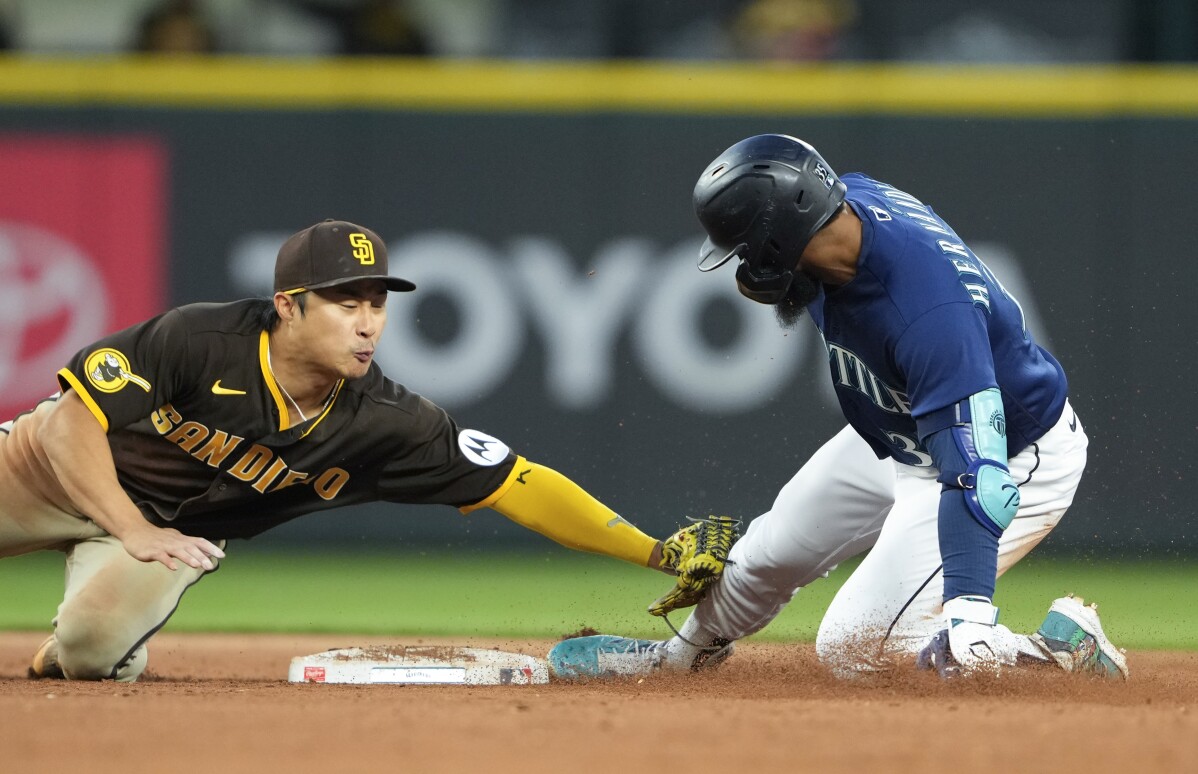 8 of 9

|
San Diego Padres second baseman Ha-Seong Kim tags out Seattle Mariners' Teoscar Hernandez at second base as Hernandez tries to stretch his single into a double during the sixth inning of a baseball game Wednesday, Aug. 9, 2023, in Seattle. (AP Photo/Lindsey Wasson)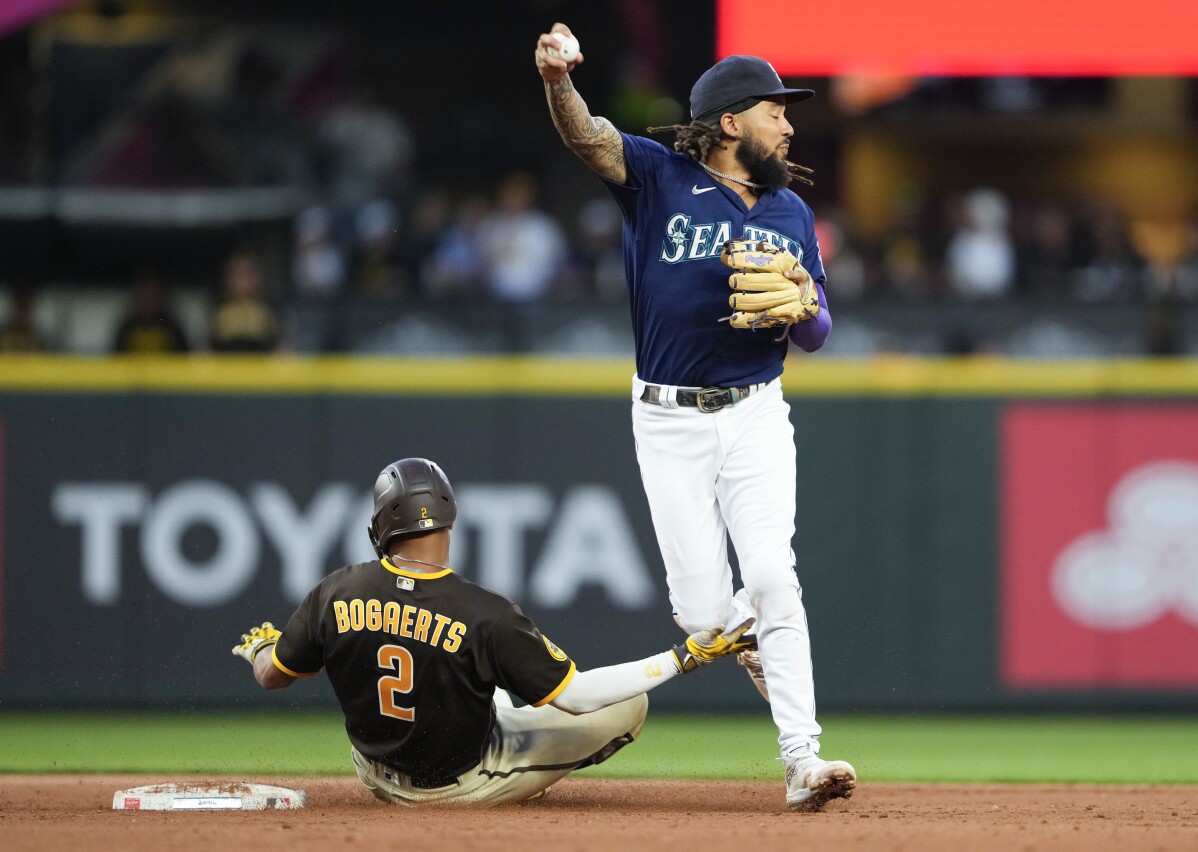 9 of 9

|
Seattle Mariners shortstop J.P. Crawford forces out San Diego Padres' Xander Bogaerts at second base but can't make the throw to first base on a ball hit by Jake Cronenworth during the sixth inning of a baseball game Wednesday, Aug. 9, 2023, in Seattle. (AP Photo/Lindsey Wasson)
Raleigh hits go-ahead homer, Hancock shines in MLB debut as Mariners beat Padres 6-1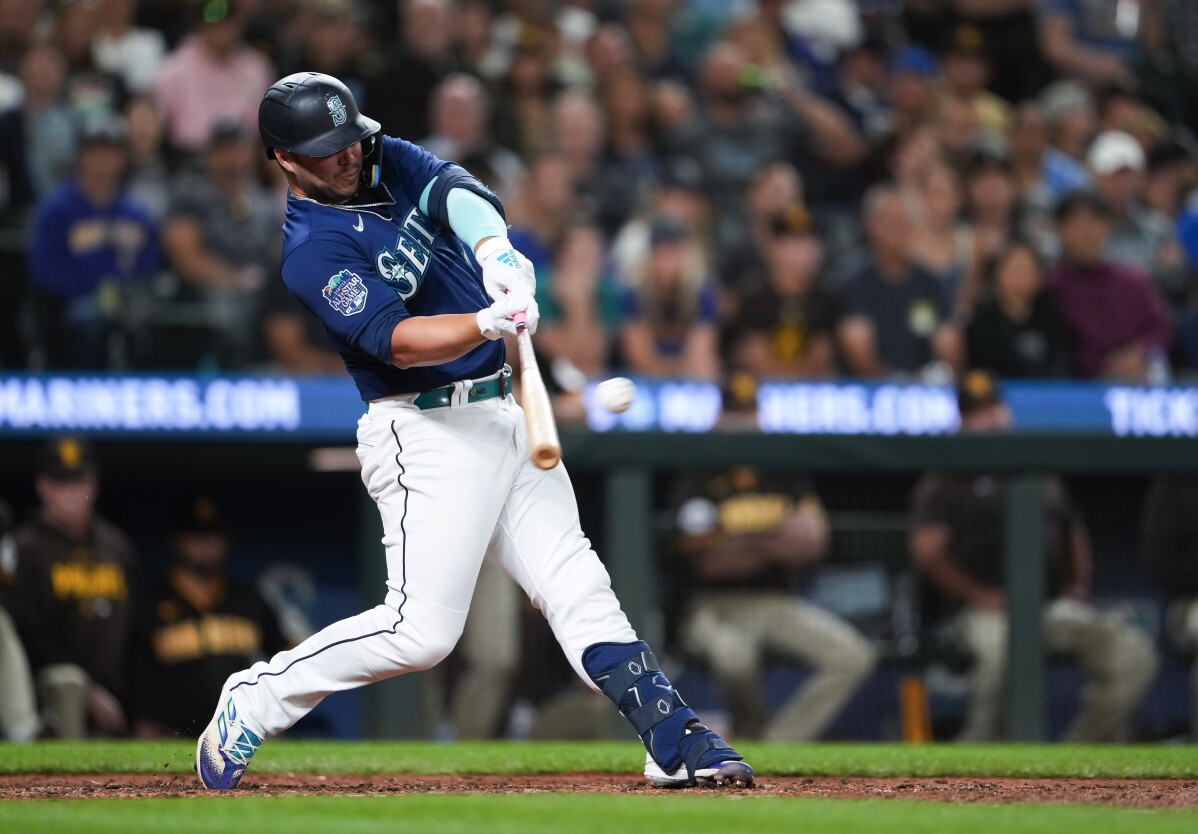 1 of 9

|
Seattle Mariners' Ty France hits an RBI double against the San Diego Padres during the eighth inning of a baseball game, Wednesday, Aug. 9, 2023, in Seattle. (AP Photo/Lindsey Wasson)
1 of 9
Seattle Mariners' Ty France hits an RBI double against the San Diego Padres during the eighth inning of a baseball game, Wednesday, Aug. 9, 2023, in Seattle. (AP Photo/Lindsey Wasson)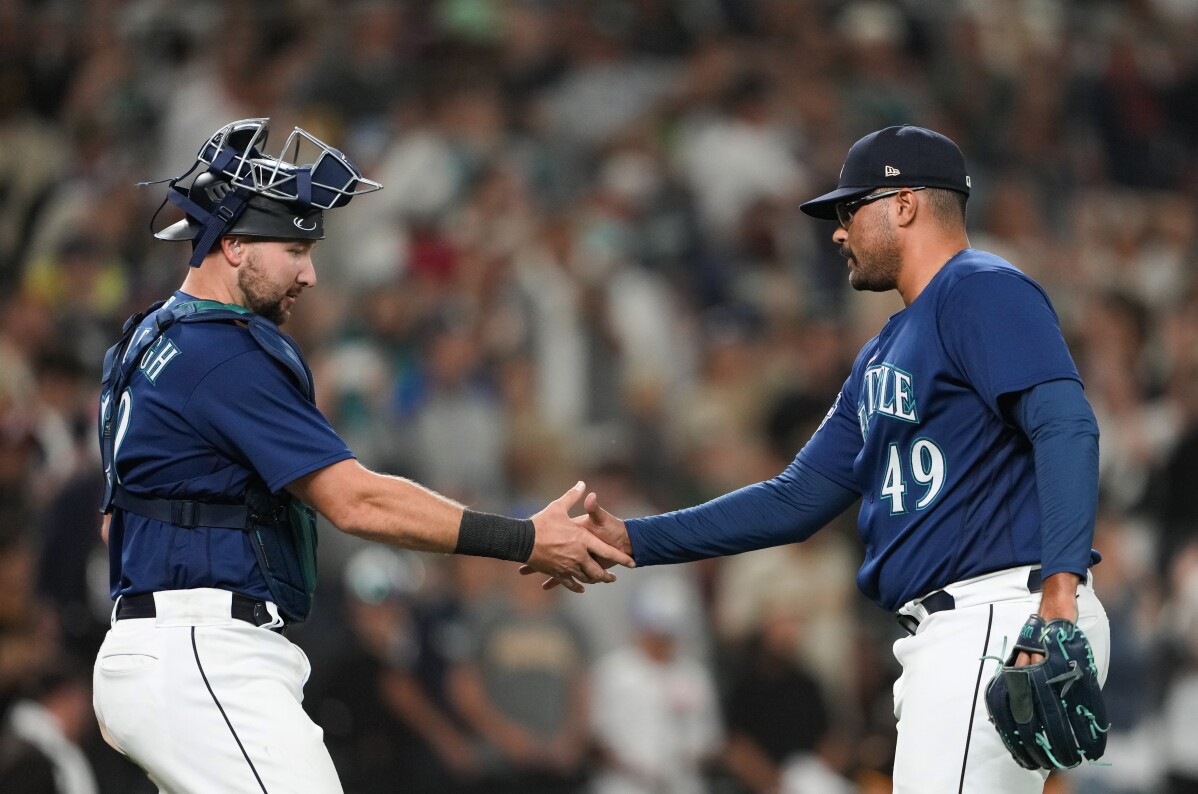 2 of 9

|
Seattle Mariners' Cal Raleigh, left, greets relief pitcher Isaiah Campbell (49) after the team's 6-1 win over the San Diego Padres in a baseball game Wednesday, Aug. 9, 2023, in Seattle. (AP Photo/Lindsey Wasson)
2 of 9
Seattle Mariners' Cal Raleigh, left, greets relief pitcher Isaiah Campbell (49) after the team's 6-1 win over the San Diego Padres in a baseball game Wednesday, Aug. 9, 2023, in Seattle. (AP Photo/Lindsey Wasson)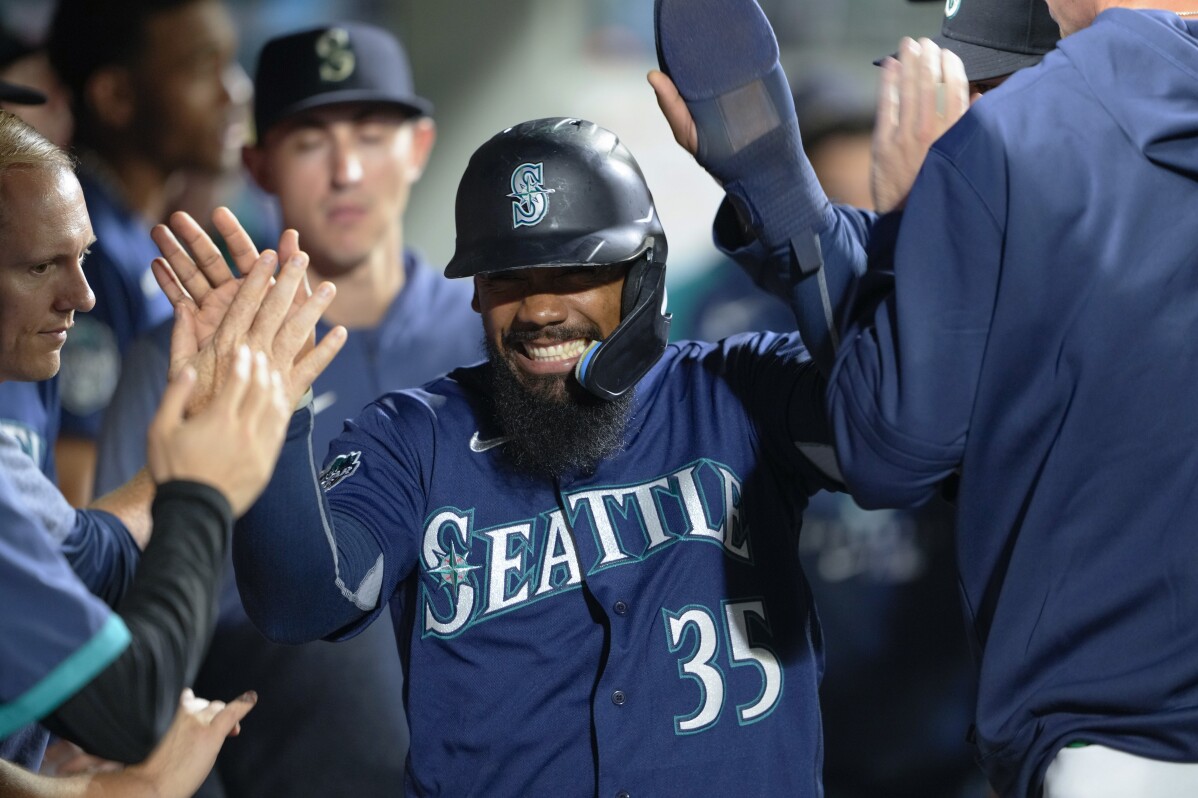 3 of 9

|
Seattle Mariners' Teoscar Hernandez is greeted in the dugout after scoring on a double by Ty France against the San Diego Padres during the eighth inning of a baseball game Wednesday, Aug. 9, 2023, in Seattle. (AP Photo/Lindsey Wasson)
3 of 9
Seattle Mariners' Teoscar Hernandez is greeted in the dugout after scoring on a double by Ty France against the San Diego Padres during the eighth inning of a baseball game Wednesday, Aug. 9, 2023, in Seattle. (AP Photo/Lindsey Wasson)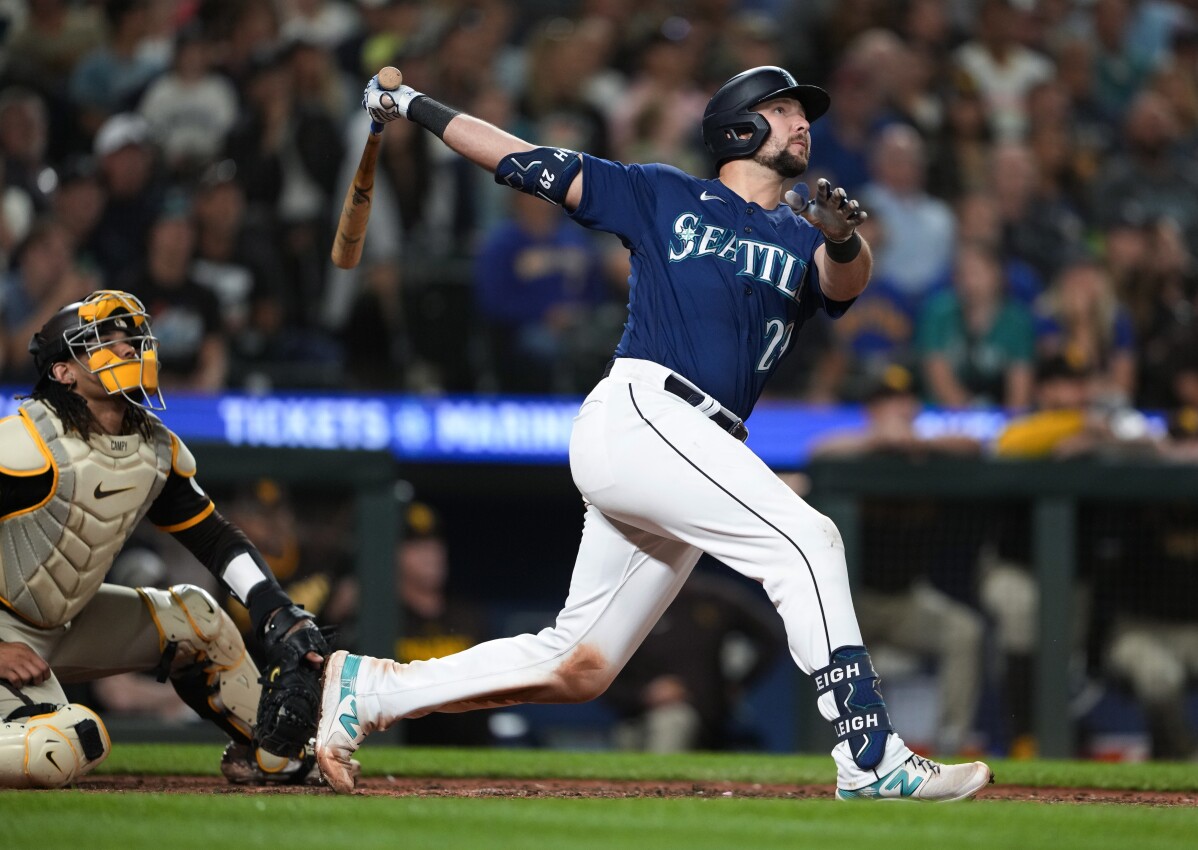 4 of 9

|
Seattle Mariners' Cal Raleigh watches his two-run home run next to San Diego Padres catcher Luis Campusano during the eighth inning of a baseball game Wednesday, Aug. 9, 2023, in Seattle. (AP Photo/Lindsey Wasson)
4 of 9
Seattle Mariners' Cal Raleigh watches his two-run home run next to San Diego Padres catcher Luis Campusano during the eighth inning of a baseball game Wednesday, Aug. 9, 2023, in Seattle. (AP Photo/Lindsey Wasson)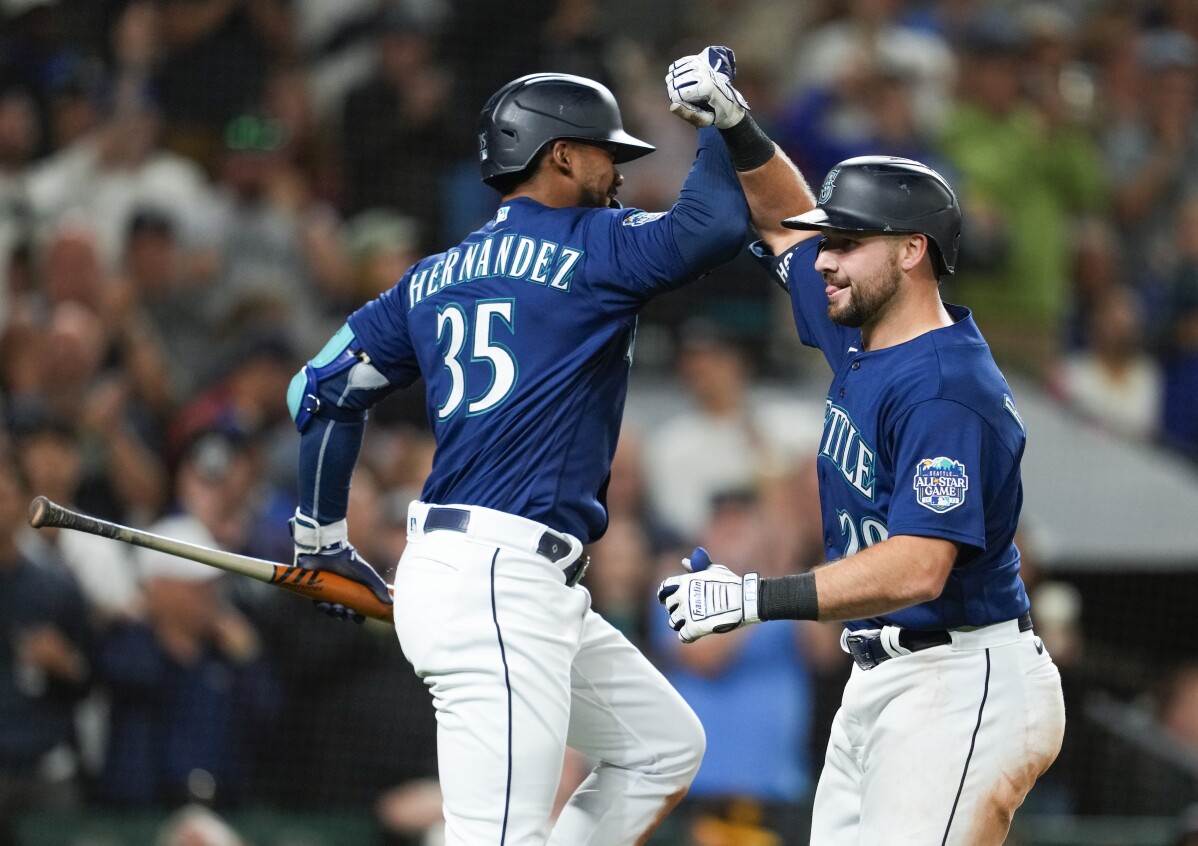 5 of 9

|
Seattle Mariners' Teoscar Hernandez (35) greets Cal Raleigh, right, after Raleigh hit a two-run home run against the San Diego Padres during the eighth inning of a baseball game, Wednesday, Aug. 9, 2023, in Seattle. (AP Photo/Lindsey Wasson)
5 of 9
Seattle Mariners' Teoscar Hernandez (35) greets Cal Raleigh, right, after Raleigh hit a two-run home run against the San Diego Padres during the eighth inning of a baseball game, Wednesday, Aug. 9, 2023, in Seattle. (AP Photo/Lindsey Wasson)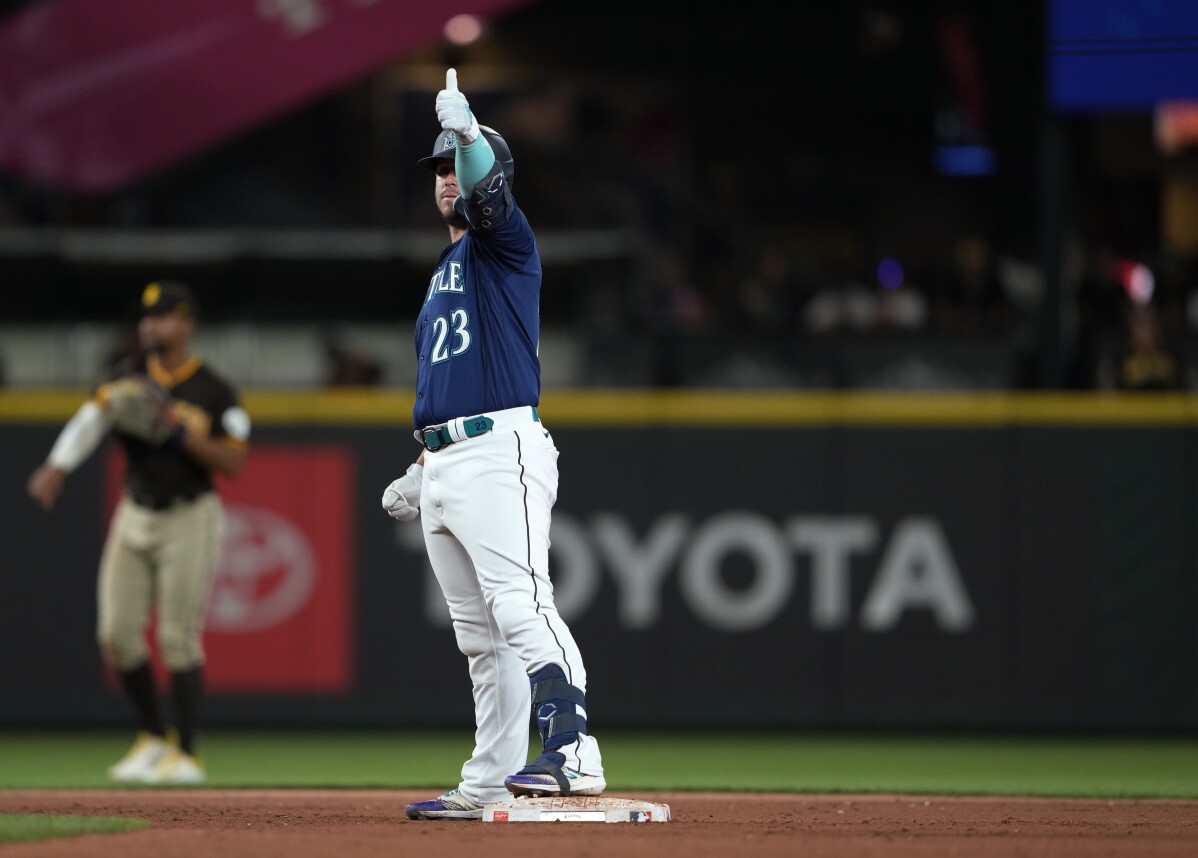 6 of 9

|
Seattle Mariners' Ty France gives a thumbs-up after hitting an RBI double against the San Diego Padres during the eighth inning of a baseball game Wednesday, Aug. 9, 2023, in Seattle. The Mariners won 6-1. (AP Photo/Lindsey Wasson)
6 of 9
Seattle Mariners' Ty France gives a thumbs-up after hitting an RBI double against the San Diego Padres during the eighth inning of a baseball game Wednesday, Aug. 9, 2023, in Seattle. The Mariners won 6-1. (AP Photo/Lindsey Wasson)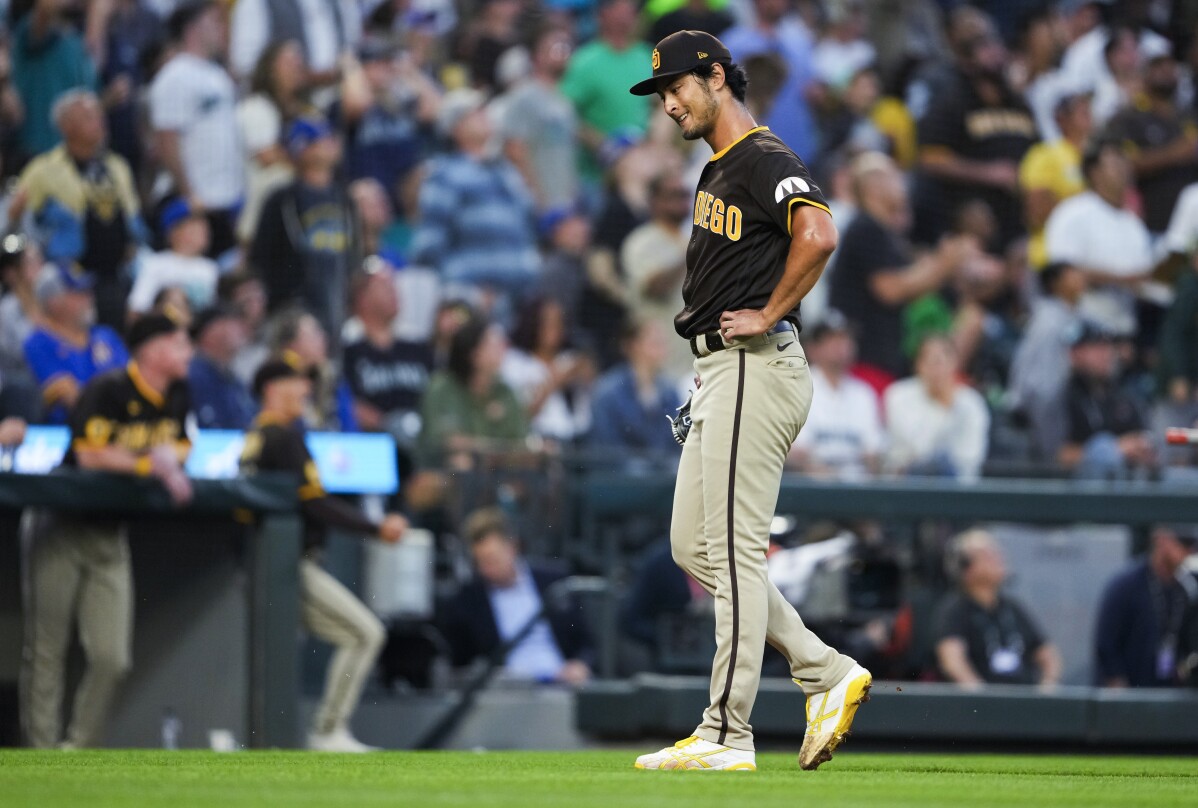 7 of 9

|
San Diego Padres starting pitcher Yu Darvish walks back to the dugout after the sixth inning of the team's baseball game against the Seattle Mariners, Wednesday, Aug. 9, 2023, in Seattle. (AP Photo/Lindsey Wasson)
7 of 9
San Diego Padres starting pitcher Yu Darvish walks back to the dugout after the sixth inning of the team's baseball game against the Seattle Mariners, Wednesday, Aug. 9, 2023, in Seattle. (AP Photo/Lindsey Wasson)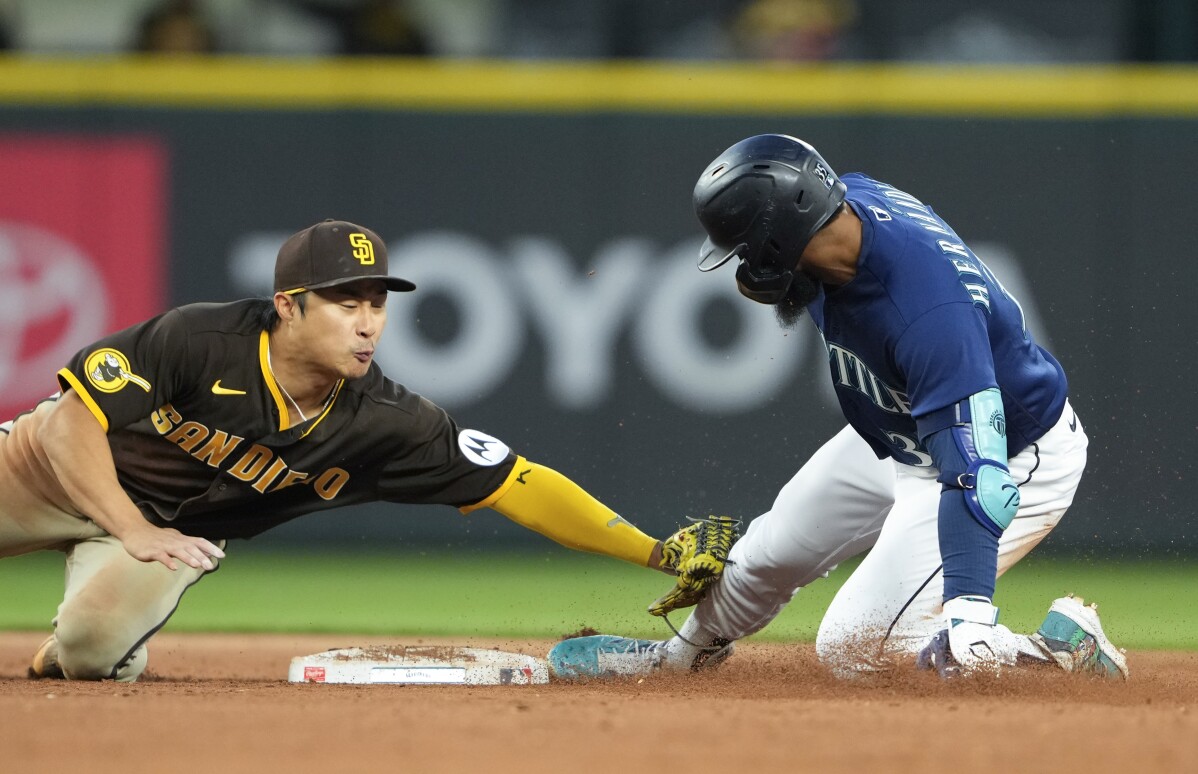 8 of 9

|
San Diego Padres second baseman Ha-Seong Kim tags out Seattle Mariners' Teoscar Hernandez at second base as Hernandez tries to stretch his single into a double during the sixth inning of a baseball game Wednesday, Aug. 9, 2023, in Seattle. (AP Photo/Lindsey Wasson)
8 of 9
San Diego Padres second baseman Ha-Seong Kim tags out Seattle Mariners' Teoscar Hernandez at second base as Hernandez tries to stretch his single into a double during the sixth inning of a baseball game Wednesday, Aug. 9, 2023, in Seattle. (AP Photo/Lindsey Wasson)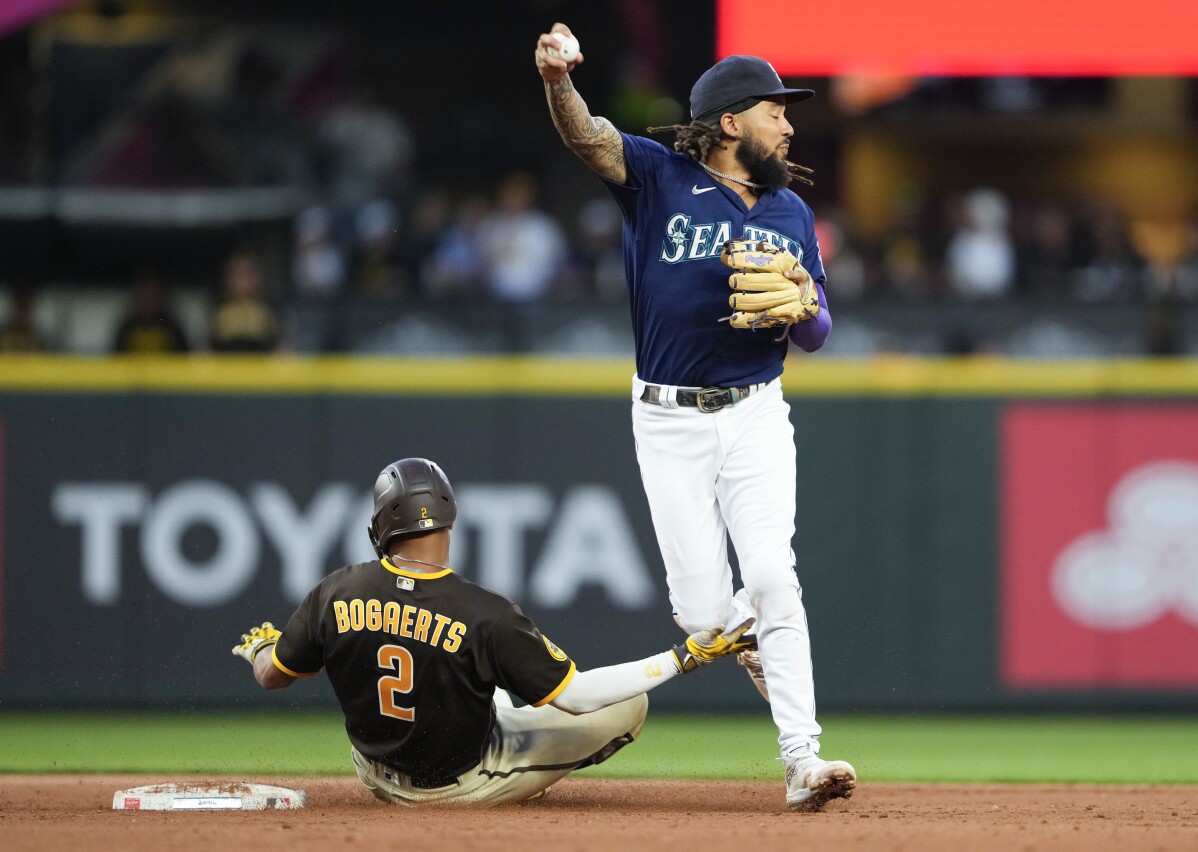 9 of 9

|
Seattle Mariners shortstop J.P. Crawford forces out San Diego Padres' Xander Bogaerts at second base but can't make the throw to first base on a ball hit by Jake Cronenworth during the sixth inning of a baseball game Wednesday, Aug. 9, 2023, in Seattle. (AP Photo/Lindsey Wasson)
9 of 9
Seattle Mariners shortstop J.P. Crawford forces out San Diego Padres' Xander Bogaerts at second base but can't make the throw to first base on a ball hit by Jake Cronenworth during the sixth inning of a baseball game Wednesday, Aug. 9, 2023, in Seattle. (AP Photo/Lindsey Wasson)
SEATTLE (AP) — Cal Raleigh put Seattle ahead with a two-run home run in the bottom of the eighth inning, Emerson Hancock allowed just two hits in his major league debut, and the Mariners beat the San Diego Padres 6-1 on Wednesday night for their seventh straight win.
Raleigh's 450-foot homer came against Padres reliever Steven Wilson (1-1), and started a five-run inning for the Mariners. The homer looked nearly identical to the walk-off blast Raleigh hit last Sept. 30 against Oakland A's pitcher Domingo Acevedo, which broke Seattle's 21-year playoff drought.
"It was a no-doubter," Mariners manager Scott Servais said. "He hits it, the finish is up high, he looks at the dugout. Like I said, we've seen that before. He's going really good right now, we're seeing him hit the long ball, and the quality of at-bat is really good."
Ty France drove in another run in the inning with an RBI double, and later scored on a bloop single by Cade Marlowe.
Hancock allowed just one run in five innings, combining with five relievers on a four-hitter.
Ha-Seong Kim walked to lead off the game against Hancock, stole second and third, and scored on a soft grounder by Juan Soto. Kim also singled in the third to extend his career-best hitting streak to 15 games.
"The first inning was kind of tough to settle in, for sure," Hancock said. "Just trying to slow things down, trying to find a rhythm, trying to get things going, and (Raleigh) did such a good job of just sticking to what we talked about, and slowing me down, and making pitches that we had to. Once we got to probably about the third inning, that's when it just felt like pitching again."
Seattle tied it 1-1 in the third inning, when J.P. Crawford drove in Marlowe on a sacrifice fly to right field against Yu Darvish, who allowed one unearned run on six hits over six innings.
Crawford crumpled to the infield dirt after colliding with third baseman Eugenio Suarez in the fourth inning, and stayed down for awhile before being helped to his feet.
He stayed in the game, but was replaced by pinch-hitter Dylan Moore in the eighth inning. Afterward, Servais said that Crawford is being evaluated for a concussion, but the Mariners won't know the results until Thursday.
"He just felt it wasn't right," Servais said. "Talking to our trainers an inning or two later, the best thing was to get him out of the game. We'll check him out tonight. Tomorrow, we'll see how he feels and see where it goes from there."
Moore drove in a run in the eighth for Seattle with a single against Tom Cosgrove.
Matt Brash (8-3) pitched a scoreless eighth inning to pick up the win, and Isaiah Campbell got the last three outs.
The Padres have now lost four consecutive games.
"Any loss is disappointing right now," Padres manager Bob Melvin said. "With Yu Darvish on the mound and you're facing a guy in his major league debut, maybe that adds to it, but I think any loss right now, especially after we lost the first game here, each one of them is disappointing."
ROSTER MOVE
The Mariners recalled Hancock from Double-A Arkansas on Wednesday, optioned RHP Devin Sweet to Triple-A Tacoma, and designated LHP Zach Muckenhirn for assignment.
Hancock, Seattle's first round pick in the 2020 MLB draft, is the Mariners' top pitching prospect.
UP NEXT
Padres: Blake Snell (8-8, 2.61 ERA) will pitch Friday at Arizona. Snell is 4-1 with a 1.22 ERA over his past seven starts, and has allowed four hits or fewer in each of his past three outings.
Mariners: Luis Castillo (7-7, 3.21 ERA) goes Friday against Baltimore.
___
AP MLB: https://apnews.com/hub/mlb