'Native American' or 'Indigenous'? Journalism group rethinks name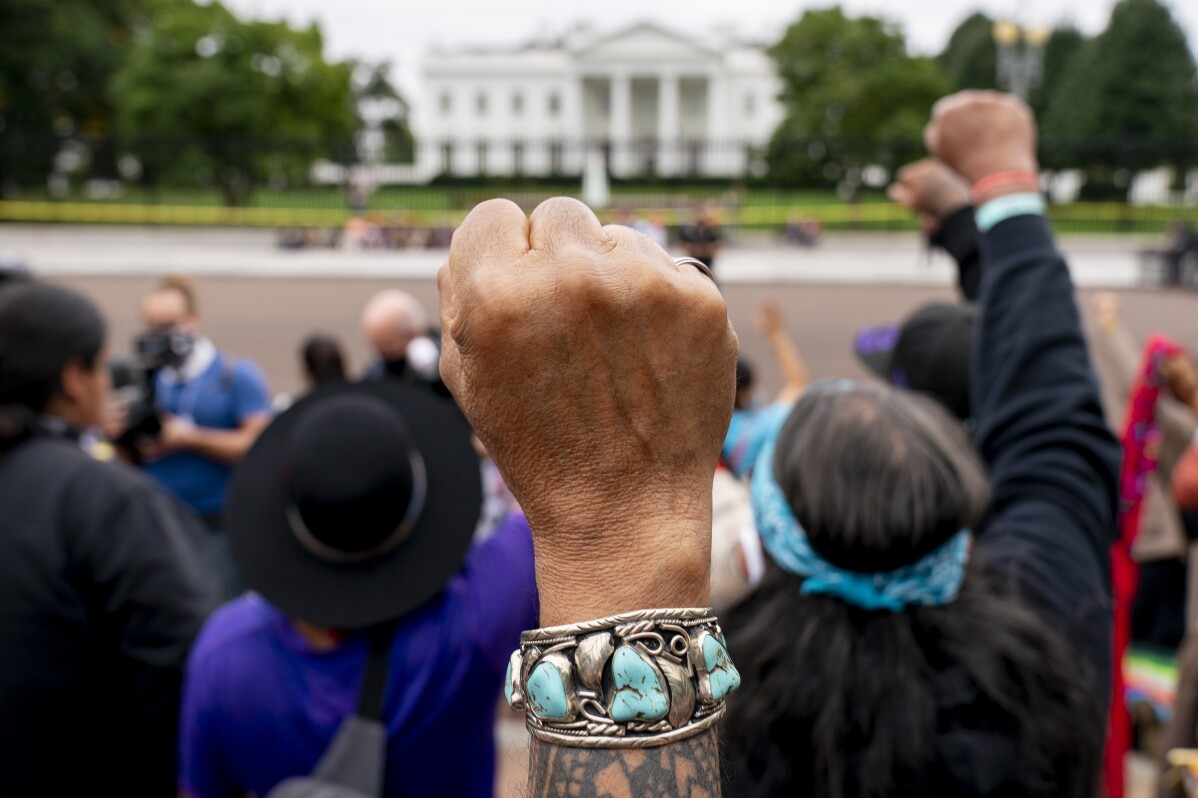 1 of 5

|
FILE - Wolf Ramerez of Houston, Texas, center, joins others with the Carrizo Comecrudo Tribe of Texas in holding up his fists as indigenous and environmental activists protest in front of the White House in Washington, Oct. 11, 2021. Members of the Native American Journalists Association are voting on whether to change the name to the Indigenous Journalists Association. (AP Photo/Andrew Harnik, file)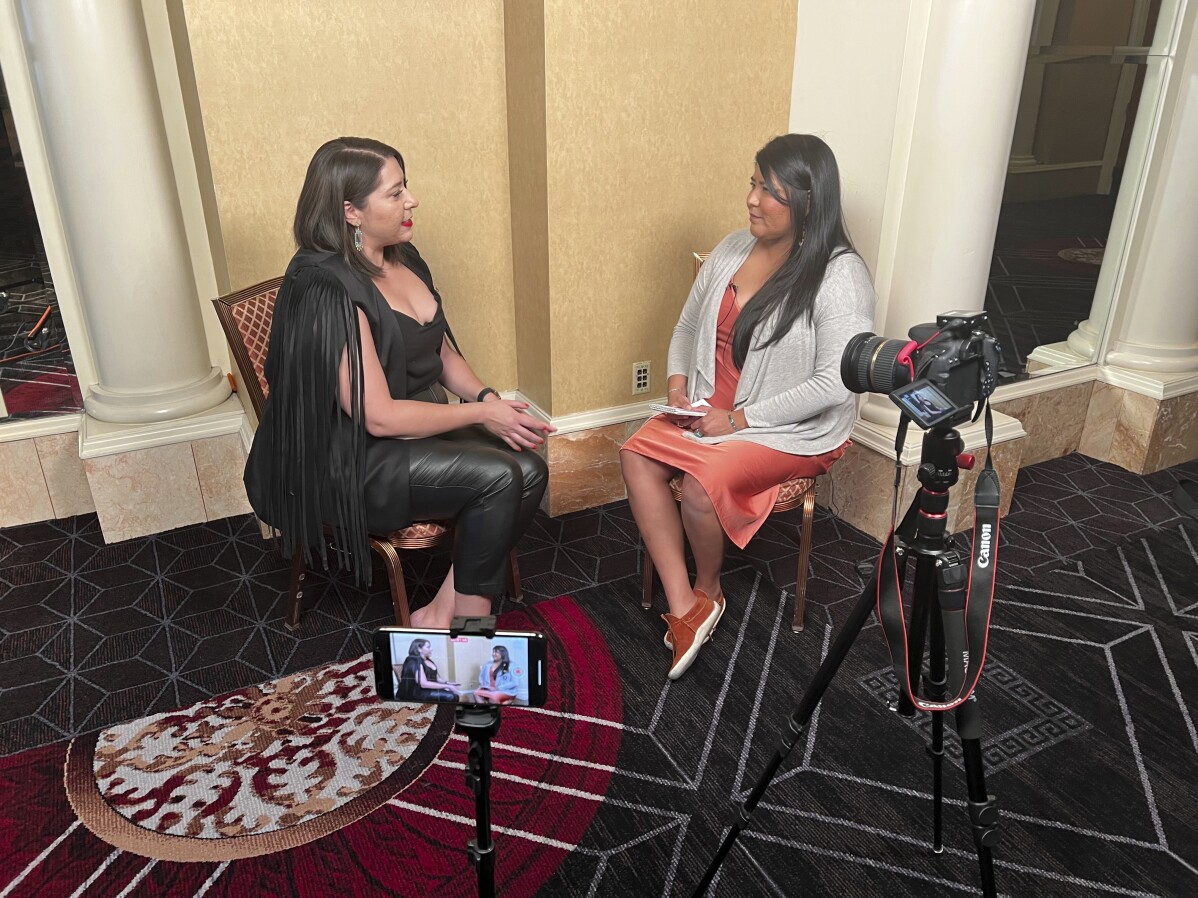 2 of 5

|
This photo provided by Kaitlin Mooney shows Jourdan Bennett-Begaye, the editor of ICT, formerly known as Indian Country Today, interviewing Bethany Yellowtail at the Reservation Economic Summit in Las Vegas on May 26, 2022. Bennett-Begaye is board member of the Native American Journalists Association, whose members are voting on whether to change the name to the Indigenous Journalists Association. (AP Photo/Kaitlin Mooney)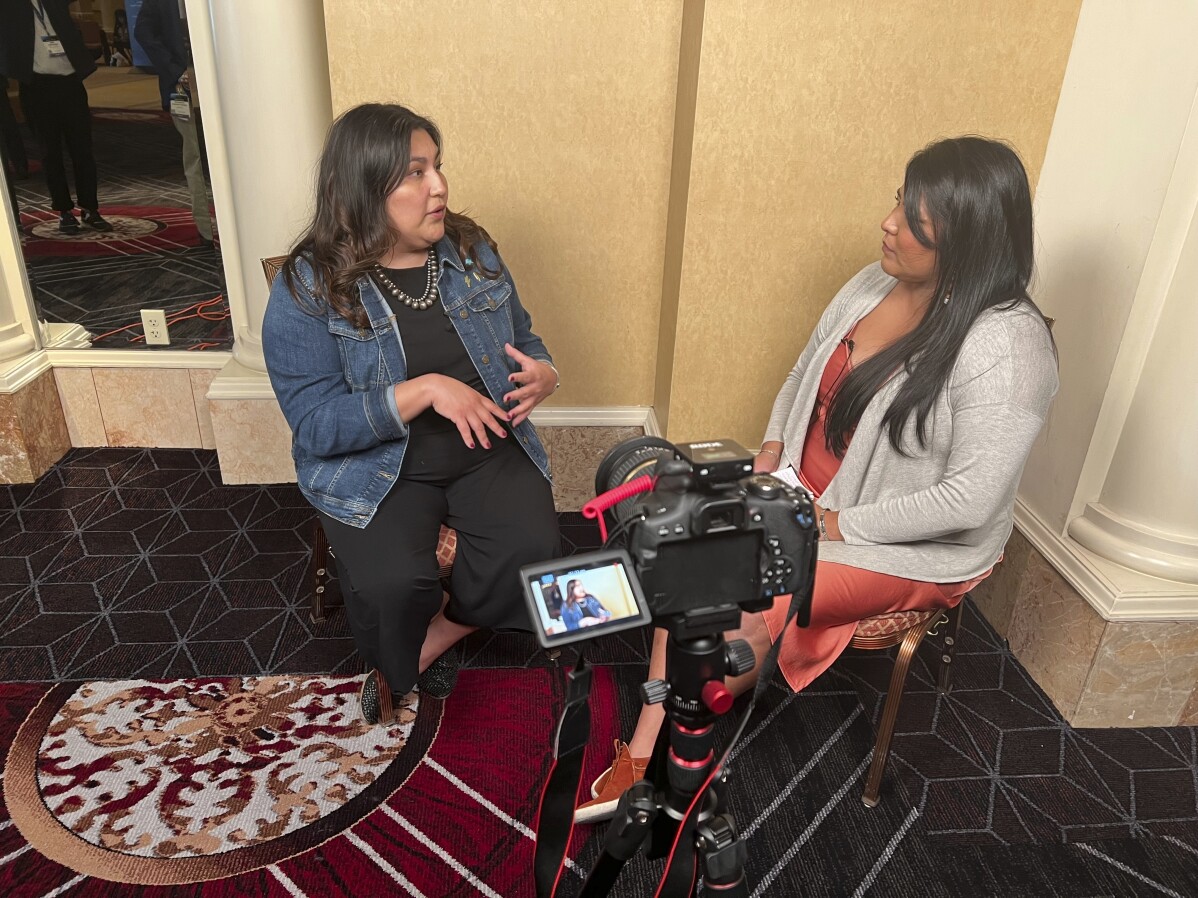 3 of 5

|
This photo provided by Kaitlin Mooney shows Jourdan Bennett-Begaye, the editor of ICT, formerly known as Indian Country Today, interviewing Sierra Teller Ornelas, left, at the Reservation Economic Summit in Las Vegas on May 26, 2022. Bennett-Begaye is board member of the Native American Journalists Association, whose members are voting on whether to change the name to the Indigenous Journalists Association. (AP Photo/Kaitlin Mooney)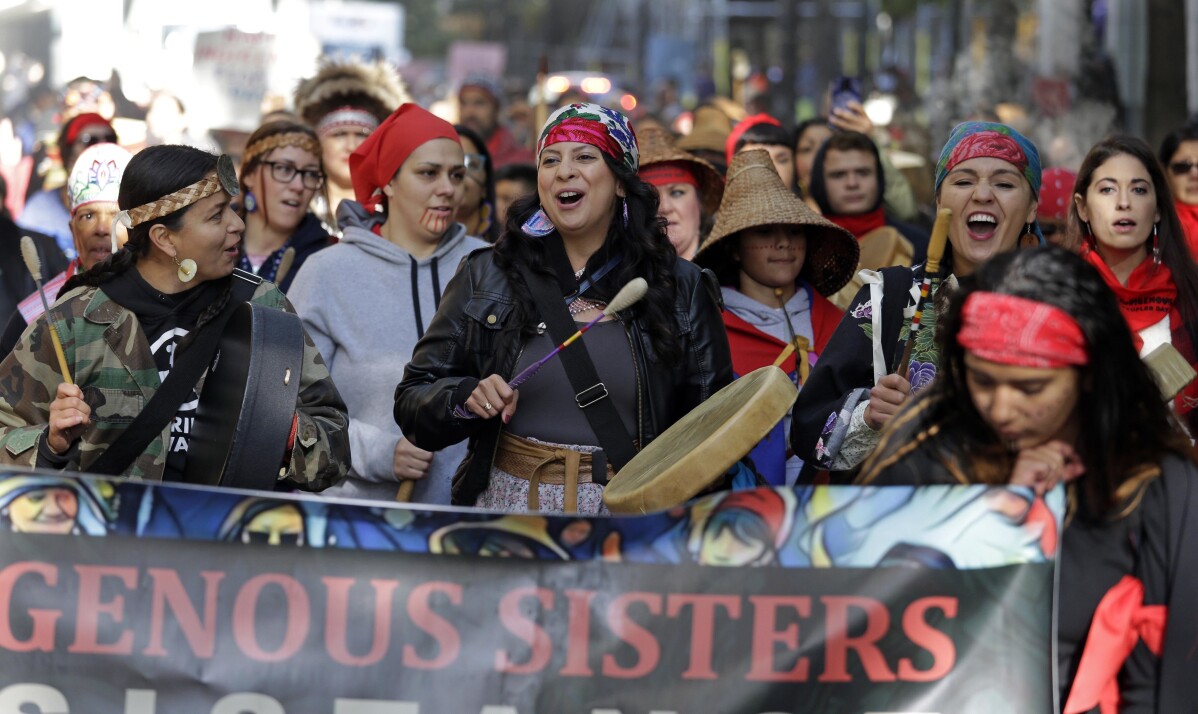 4 of 5

|
FILE - Women drummers sing as they lead a march during an Indigenous Peoples Day event, Oct. 9, 2017, in Seattle. Members of the Native American Journalists Association are voting on whether to change the name to the Indigenous Journalists Association. (AP Photo/Elaine Thompson, file)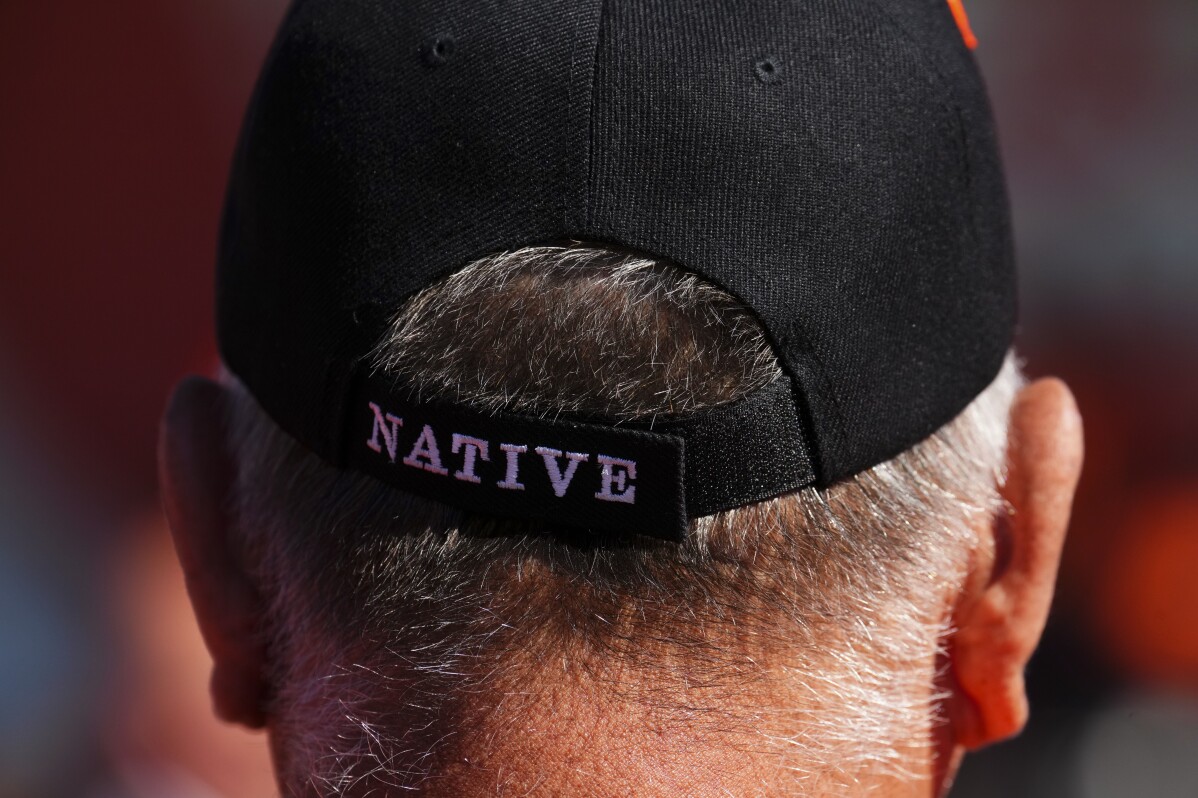 5 of 5

|
FILE - People take part in ceremonies for the National Day of Truth and Reconciliation in Ottawa on Sept. 30, 2022. Members of the Native American Journalists Association are voting on whether to change the name to the Indigenous Journalists Association. (Sean Kilpatrick /The Canadian Press via AP, file)
'Native American' or 'Indigenous'? Journalism group rethinks name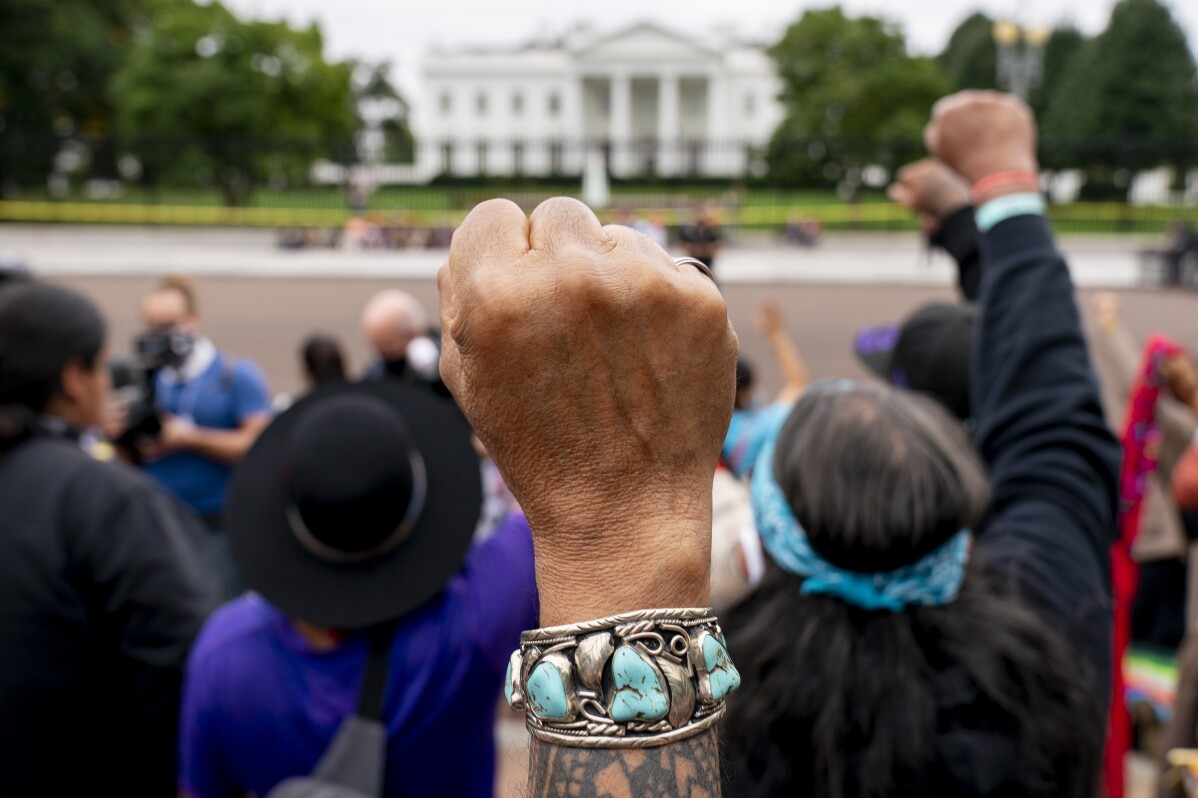 1 of 5

|
FILE - Wolf Ramerez of Houston, Texas, center, joins others with the Carrizo Comecrudo Tribe of Texas in holding up his fists as indigenous and environmental activists protest in front of the White House in Washington, Oct. 11, 2021. Members of the Native American Journalists Association are voting on whether to change the name to the Indigenous Journalists Association. (AP Photo/Andrew Harnik, file)
1 of 5
FILE - Wolf Ramerez of Houston, Texas, center, joins others with the Carrizo Comecrudo Tribe of Texas in holding up his fists as indigenous and environmental activists protest in front of the White House in Washington, Oct. 11, 2021. Members of the Native American Journalists Association are voting on whether to change the name to the Indigenous Journalists Association. (AP Photo/Andrew Harnik, file)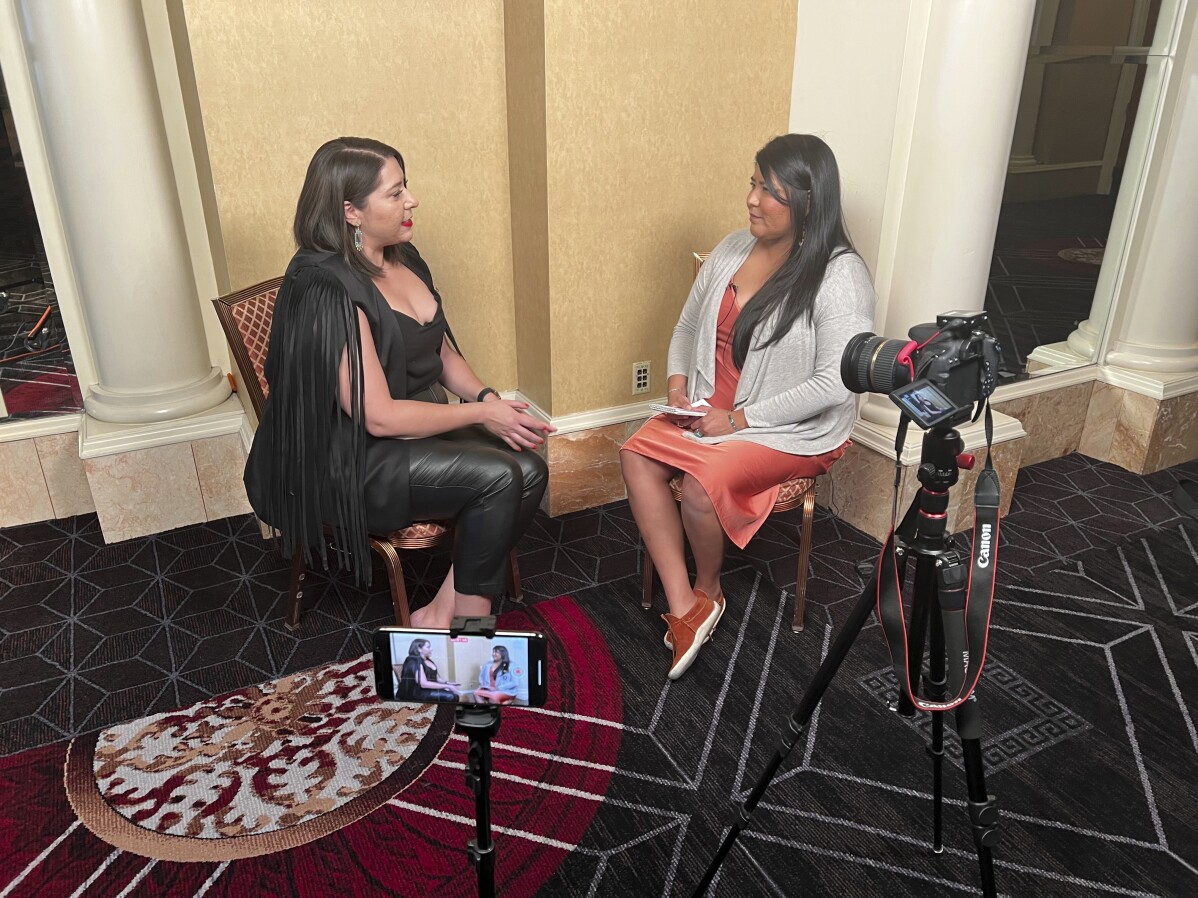 2 of 5

|
This photo provided by Kaitlin Mooney shows Jourdan Bennett-Begaye, the editor of ICT, formerly known as Indian Country Today, interviewing Bethany Yellowtail at the Reservation Economic Summit in Las Vegas on May 26, 2022. Bennett-Begaye is board member of the Native American Journalists Association, whose members are voting on whether to change the name to the Indigenous Journalists Association. (AP Photo/Kaitlin Mooney)
2 of 5
This photo provided by Kaitlin Mooney shows Jourdan Bennett-Begaye, the editor of ICT, formerly known as Indian Country Today, interviewing Bethany Yellowtail at the Reservation Economic Summit in Las Vegas on May 26, 2022. Bennett-Begaye is board member of the Native American Journalists Association, whose members are voting on whether to change the name to the Indigenous Journalists Association. (AP Photo/Kaitlin Mooney)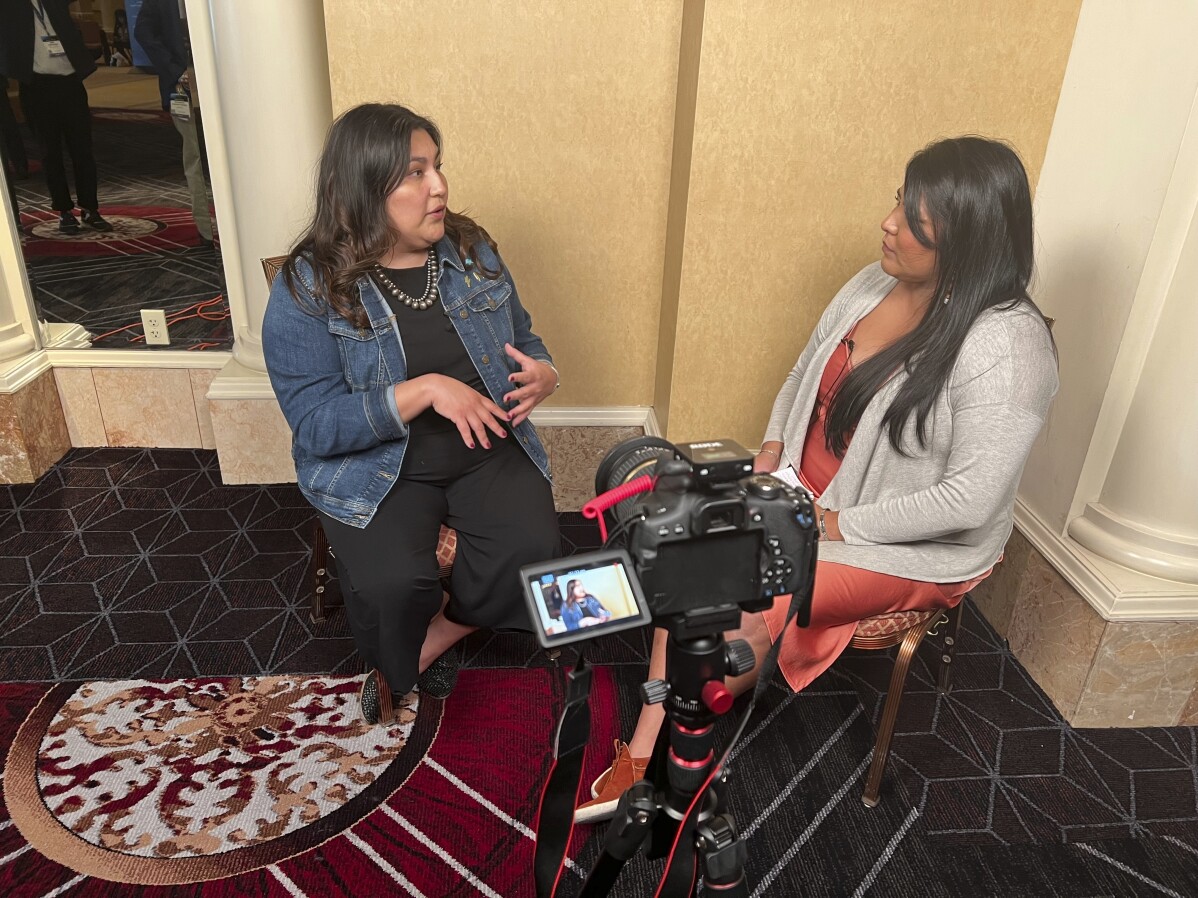 3 of 5

|
This photo provided by Kaitlin Mooney shows Jourdan Bennett-Begaye, the editor of ICT, formerly known as Indian Country Today, interviewing Sierra Teller Ornelas, left, at the Reservation Economic Summit in Las Vegas on May 26, 2022. Bennett-Begaye is board member of the Native American Journalists Association, whose members are voting on whether to change the name to the Indigenous Journalists Association. (AP Photo/Kaitlin Mooney)
3 of 5
This photo provided by Kaitlin Mooney shows Jourdan Bennett-Begaye, the editor of ICT, formerly known as Indian Country Today, interviewing Sierra Teller Ornelas, left, at the Reservation Economic Summit in Las Vegas on May 26, 2022. Bennett-Begaye is board member of the Native American Journalists Association, whose members are voting on whether to change the name to the Indigenous Journalists Association. (AP Photo/Kaitlin Mooney)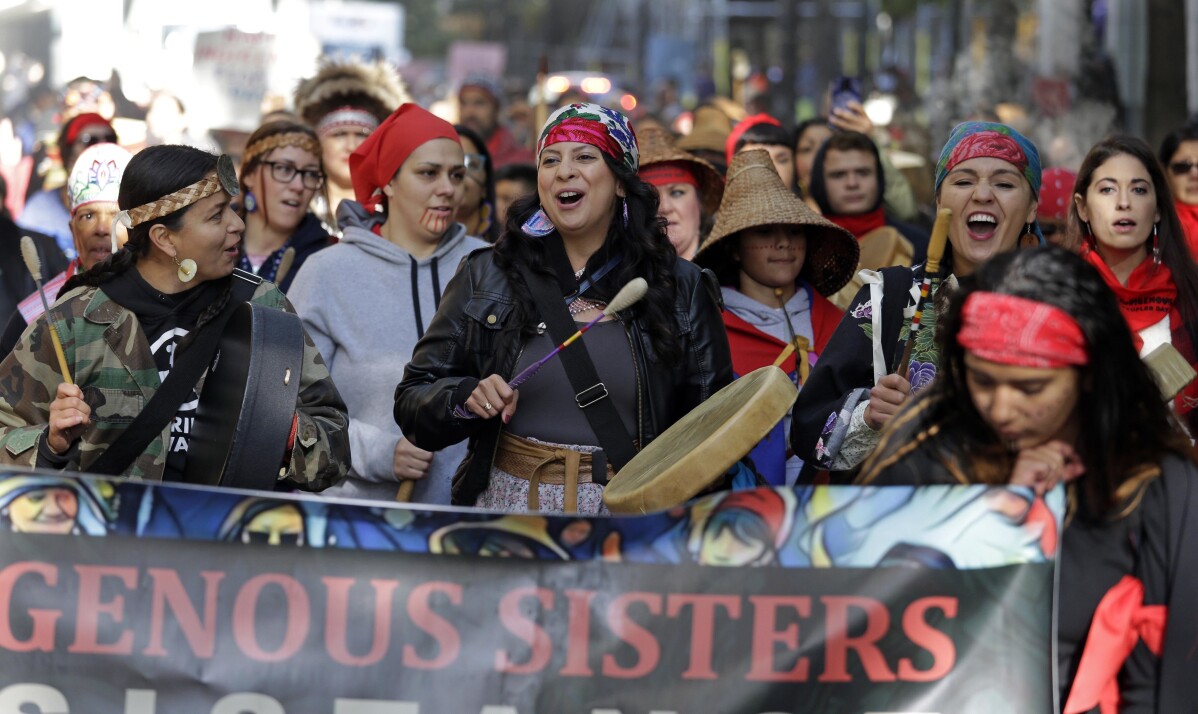 4 of 5

|
FILE - Women drummers sing as they lead a march during an Indigenous Peoples Day event, Oct. 9, 2017, in Seattle. Members of the Native American Journalists Association are voting on whether to change the name to the Indigenous Journalists Association. (AP Photo/Elaine Thompson, file)
4 of 5
FILE - Women drummers sing as they lead a march during an Indigenous Peoples Day event, Oct. 9, 2017, in Seattle. Members of the Native American Journalists Association are voting on whether to change the name to the Indigenous Journalists Association. (AP Photo/Elaine Thompson, file)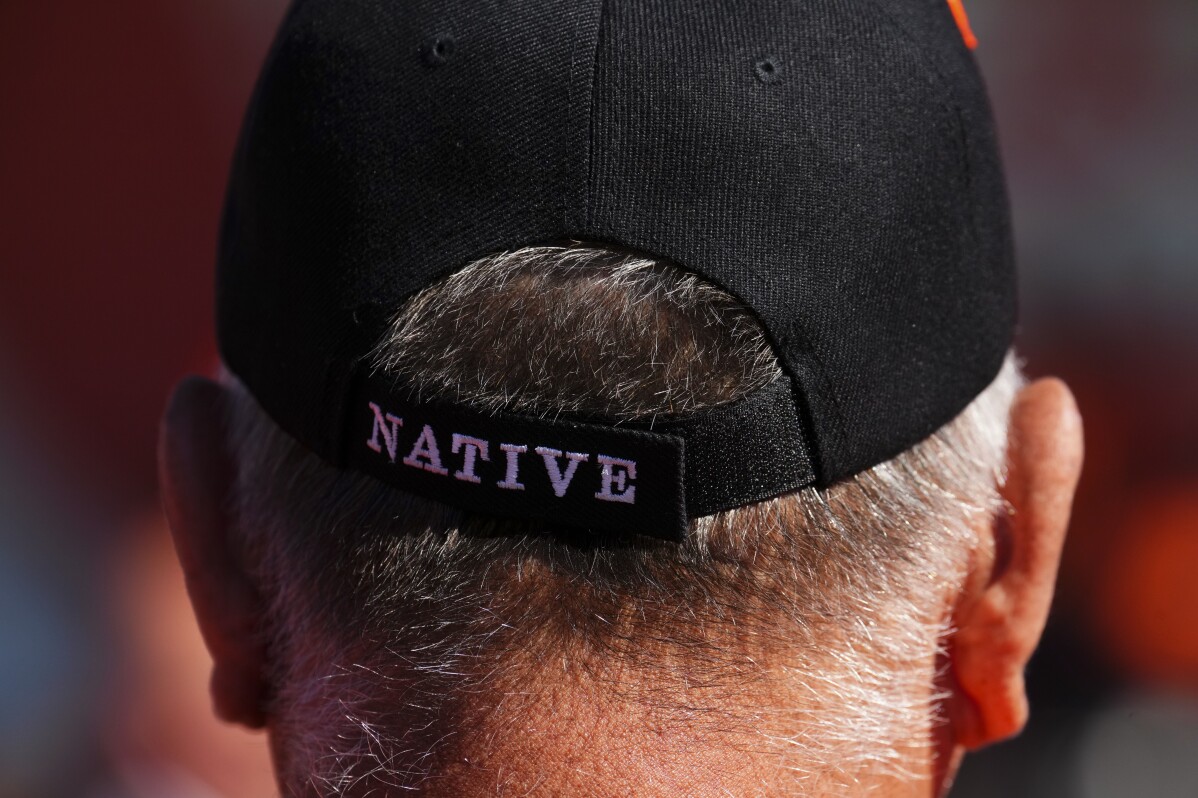 5 of 5

|
FILE - People take part in ceremonies for the National Day of Truth and Reconciliation in Ottawa on Sept. 30, 2022. Members of the Native American Journalists Association are voting on whether to change the name to the Indigenous Journalists Association. (Sean Kilpatrick /The Canadian Press via AP, file)
5 of 5
FILE - People take part in ceremonies for the National Day of Truth and Reconciliation in Ottawa on Sept. 30, 2022. Members of the Native American Journalists Association are voting on whether to change the name to the Indigenous Journalists Association. (Sean Kilpatrick /The Canadian Press via AP, file)
ATLANTA (AP) — The Native American Journalists Association is aiming to become more inclusive as its members vote on whether to rebrand as the Indigenous Journalists Association — a move inspired, in part, by evolving trends in cultural identity.
The group, with more than 950 members mostly in the United States, is expected to approve the change at its annual conference this week in Winnipeg, Canada. Voting on the new name, as well as branding that would replace a feather with an "ija" logo in stylized letters, runs through Thursday, Aug. 10.
Founded in Canada in 1983, NAJA wants to foster inclusion with Indigenous journalists there as well as in Alaska and Hawaii, since " Native American " is a modern alternative for " American Indian " — referring specifically to the millions of descendants of the original inhabitants of what is now the Lower 48 states.
"Essentially, we're going back to our roots and trying to create and provide support and resources for Indigenous journalists all across Turtle Island," board member Jourdan Bennett-Begaye said, invoking the term some Indigenous people use to refer to the North American continent.
More broadly, the proposed change aligns with terminology used by the United Nations and many multinational organizations as the group also seeks allies among Indigenous journalists worldwide. The Māori people in New Zealand, the Sámi people in Arctic Scandinavia and Russia, and the Mapuche people in Patagonia all face similar issues, with journalists who cover climate change, conflicts over land and resources and missing and murdered women, she said.
The change also would reflect an evolution in how Indigenous people see themselves. They're increasingly calling for "decolonizing" language, moving away from terms that were imposed on them, like "Indian" — a legacy of Christopher Columbus' infamous cartographic blunder — and even, in some contexts, "American," which derives from a mapmaker's effort to honor another Italian explorer, Amerigo Vespucci.
"It's part of this larger movement that's happening in Indigenous people, just reclaiming everything that's theirs that should be theirs," Bennett-Begaye said. "Since contact, decisions have been made for us and not by us."
Still, some NAJA members have raised concerns that if the association globalizes, its focus on issues particular to Native Americans might be lost. Board members have proposed creating regional chapters if that happens.
"Indigenous is inoffensive, but it also doesn't do any of the kind of distinct sovereignty work, distinct political work, distinct cultural affiliation ″ that other words do, said Elizabeth Ellis, a historian at Princeton University and an enrolled citizen of the Peoria Tribe of Indians of Oklahoma. "It doesn't tell you much beyond the fact that you're existing in opposition to a history and ongoing legacy of colonization."
Usage of the word "Indigenous" has soared in recent years, particularly after demonstrations against the Dakota Access Pipeline in 2016 forged the largest pan-Indigenous alliance in North American history. Standing Rock marked a before and after for Native American visibility in the media and popular culture, Ellis said.
But the proliferation of its usage doesn't mean other terms should disappear, because they're not always interchangeable, said Ellis. Indian, American Indian, Native American, Native, and even "NDN" — a tongue-in-cheek slang popular in social media — each have distinct meanings and are appropriate in different contexts.
Indian, for example, is a historical reference used to connote barbarism to justify enslaving Indigenous people during the colonial era — settlers equated it to savagery while seizing more land and federal policies invoked it as a racist concept in the 19th century, Ellis said. "Indian Law" remains embedded in the U.S. Constitution and in the official names of many Indigenous nations, so its usage in such contexts is inescapable.
"Indigenous" applies worldwide, including to anyone whose ancestors didn't come from somewhere else, and whose communities have endured oppression of their people. But it doesn't reflect the particular duality that many Native Americans experience as citizens of their tribal nations as well as the U.S., Ellis said.
This is why many Native Americans, when communicating with wider audiences, identify themselves first by their tribal affiliations, and increasingly, in their Indigenous language. Ellis intentionally introduces herself as Peewaalia, just as Bennett-Begaye tells people she's Diné, a member of the Navajo Nation.
Young people in particular are driving these changes in language, Bennett-Begaye said.
"A lot of older folks, and across Indian Country, they still call themselves Indian. My late grandmother, she still calls herself Indian," she said. "But young people ... they see that as derogatory. They're like, 'We don't call ourselves that.' And I think that's the cool part, like, young people owning their identity."
As editor of Indian Country Today, Bennett-Begaye oversaw that media organization's recent name change to ICT, prompted by conversations about identity that were happening across the United States after the police killing of George Floyd in 2020.
For older generations, ICT can still mean Indian Country Today, while for younger folks, it can mean Indigenous Cultures Today, or Indigenous Communities Today, she said. "We really left it up to interpretation for our readers and our audience."