Record-setting Sherpa guide sets a new climbing goal for the world's highest peaks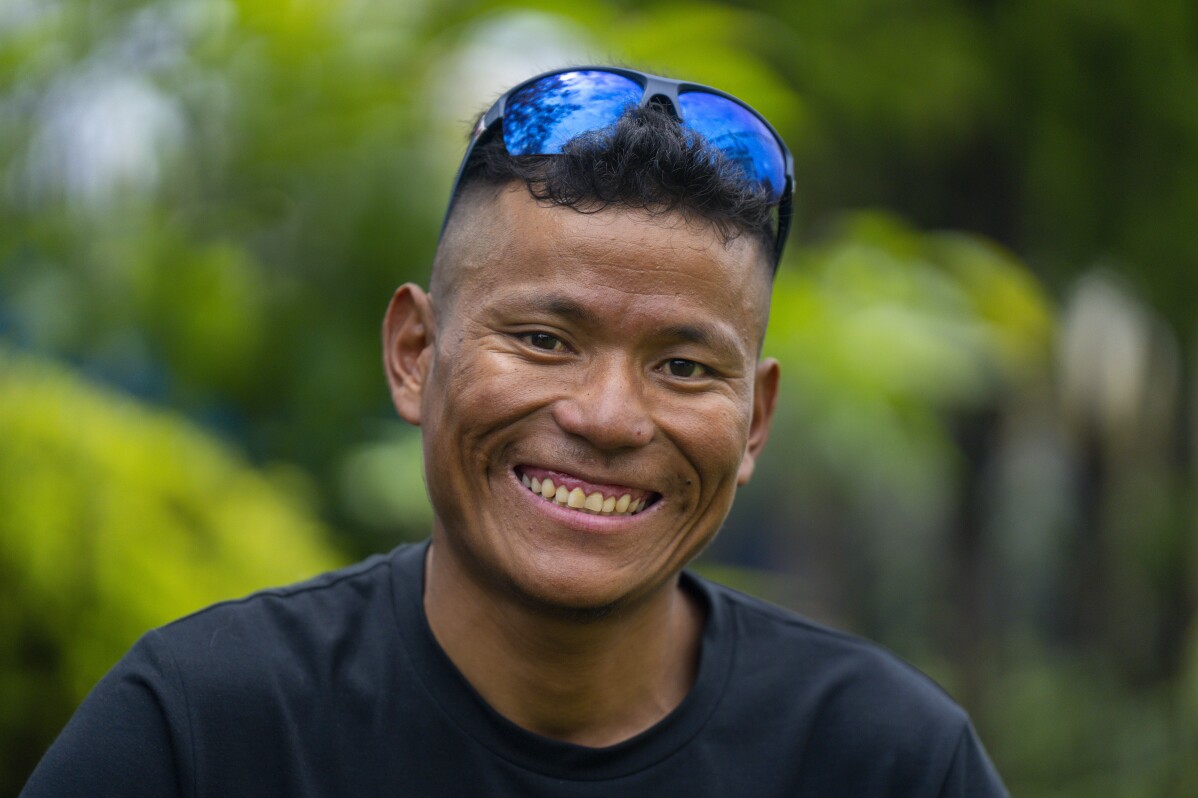 1 of 6

|
Nepal's sherpa guide Tenjen Sherpa, 35, who with Norwegian climber Kristin Harila climbed the world's 14 tallest mountains in record time, poses during an interview with the Associated Press in Kathmandu, Nepal, Wednesday, Aug. 9, 2023. Sherpa and Harila shattered the record for the fastest climb of the 14 mountains more than 8,000 meters (about 26,000 feet) high when they topped Mount K2 in Pakistan late last month. The previous record was 189 days, and the pair did it in 92 days. (AP Photo/Niranjan Shrestha)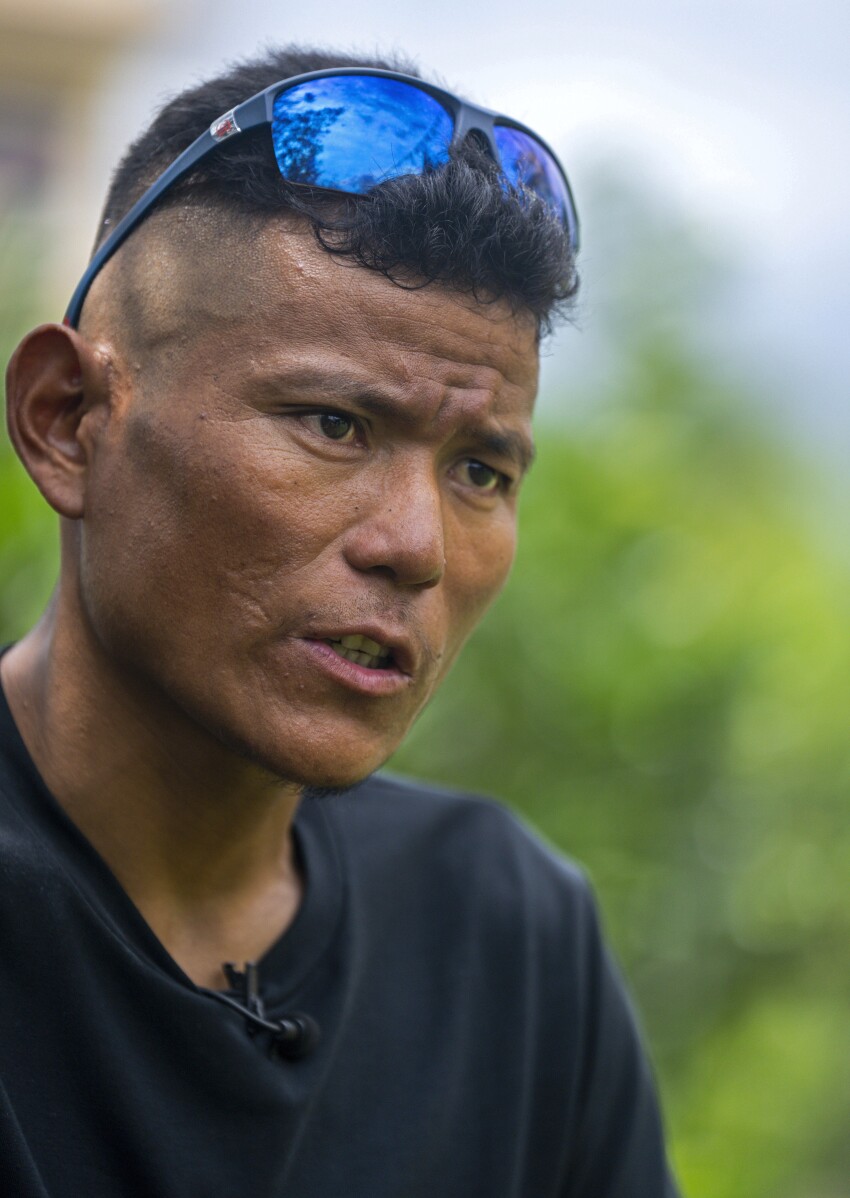 2 of 6

|
Nepal's sherpa guide Tenjen Sherpa, 35, who with Norwegian climber Kristin Harila climbed the world's 14 tallest mountains in record time, speaks during an interview with The Associated Press in Kathmandu, Nepal, Wednesday, Aug. 9, 2023. Sherpa and Harila shattered the record for the fastest climb of the 14 mountains more than 8,000 meters (about 26,000 feet) high when they topped Mount K2 in Pakistan late last month. The previous record was 189 days, and the pair did it in 92 days. (AP Photo/Niranjan Shrestha)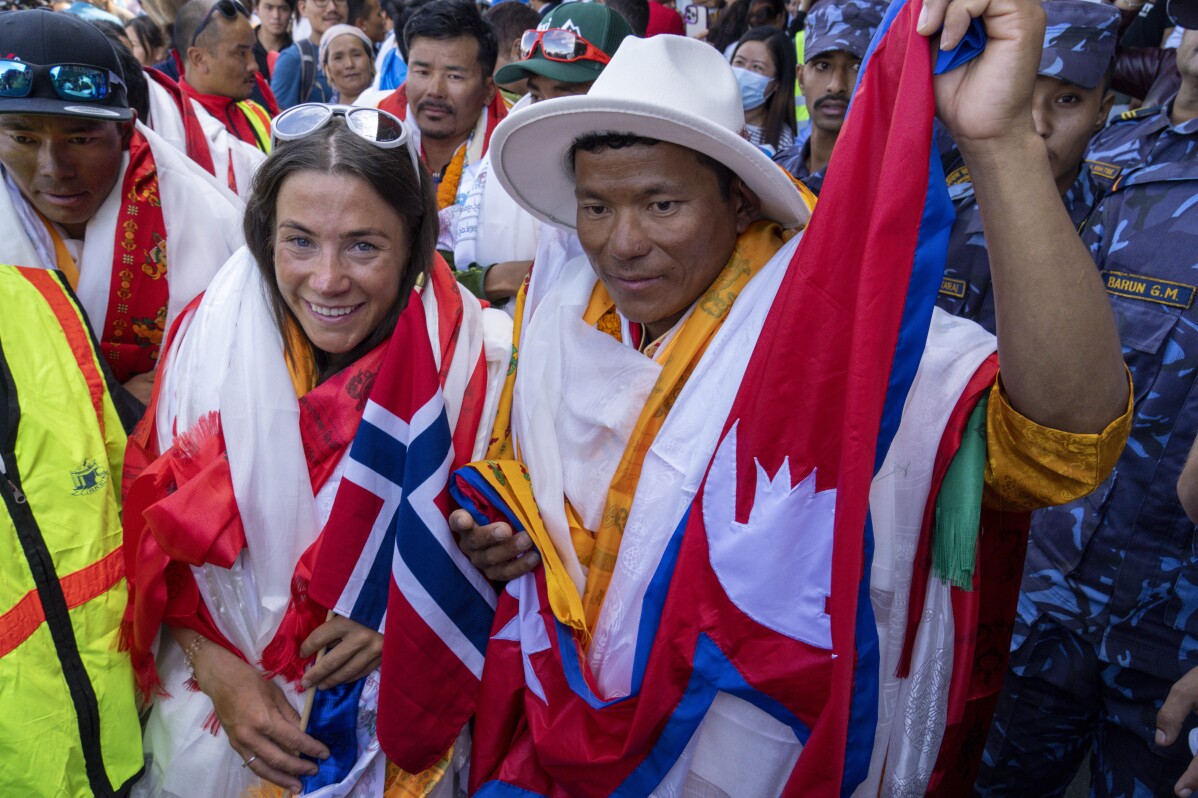 3 of 6

|
Norwegian climber Kristin Harila, left, and her Nepali sherpa guide Tenjen Sherpa, right, who climbed the world's 14 tallest mountains in record time, arrive in Kathmandu, Nepal, Saturday, Aug. 5, 2023. Harila and Sherpa shattered the record for the fastest climb of the 14 mountains more than 8,000 meters (about 26,000 feet) high when they topped Mount K2 in Pakistan late last month. The previous record was 189 days, and the pair did it in 92 days. (AP Photo/Niranjan Shrestha)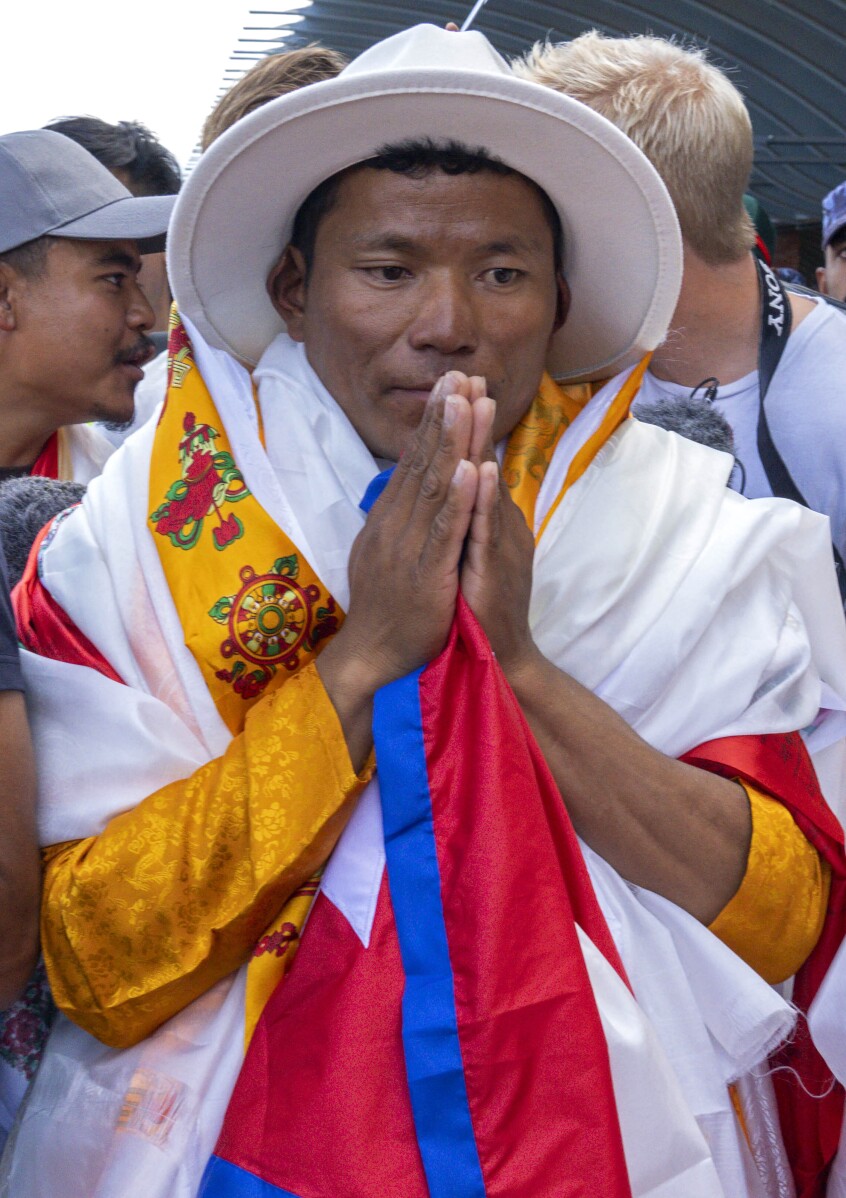 4 of 6

|
Nepali sherpa guide Tenjen Sherpa, 35, who with Norwegian climber Kristin Harila climbed the world's 14 tallest mountains in record time, arrives in Kathmandu, Nepal, Saturday, Aug. 5, 2023. Harila and Sherpa shattered the record for the fastest climb of the 14 mountains more than 8,000 meters (about 26,000 feet) high when they topped Mount K2 in Pakistan late last month. The previous record was 189 days, and the pair did it in 92 days. (AP Photo/Niranjan Shrestha)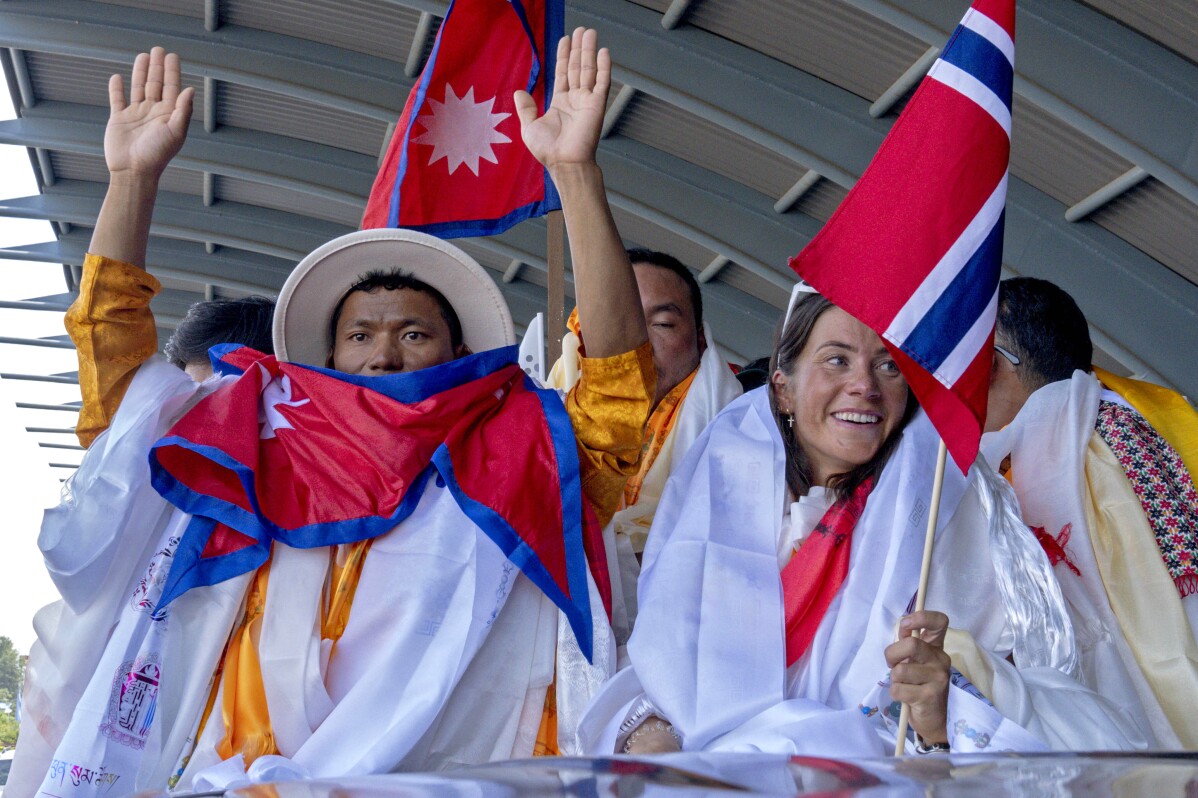 5 of 6

|
Norwegian climber Kristin Harila, right, and her Nepali sherpa guide Tenjen Sherpa, left, who climbed the world's 14 tallest mountains in record time, arrive in Kathmandu, Nepal, Saturday, Aug. 5, 2023. Harila and Sherpa shattered the record for the fastest climb of the 14 mountains more than 8,000 meters (about 26,000 feet) high when they topped Mount K2 in Pakistan late last month. The previous record was 189 days, and the pair did it in 92 days. (AP Photo/Niranjan Shrestha)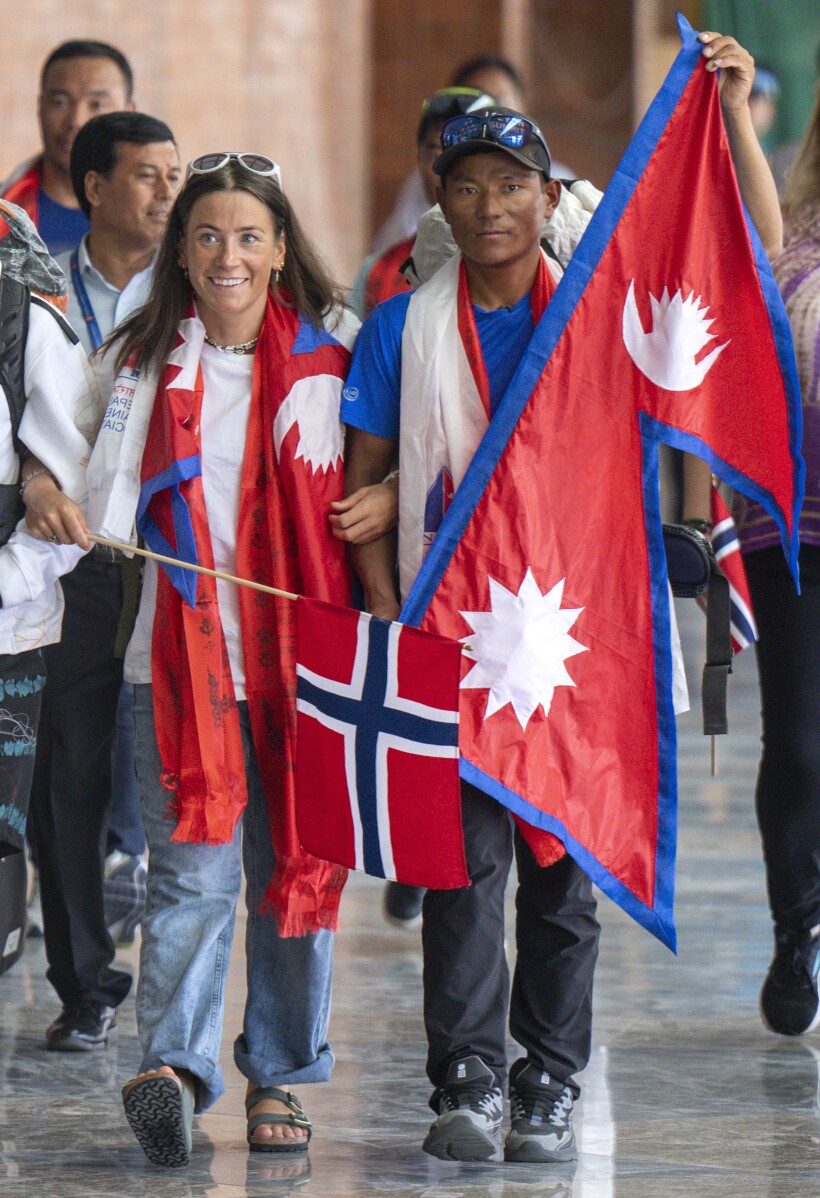 6 of 6

|
Norwegian climber Kristin Harila, left, and her Nepali sherpa guide Tenjen Sherpa, right, who climbed the world's 14 tallest mountains in record time, arrive in Kathmandu, Nepal, Saturday, Aug. 5, 2023. Harila and Sherpa shattered the record for the fastest climb of the 14 mountains more than 8,000 meters (about 26,000 feet) high when they topped Mount K2 in Pakistan late last month. The previous record was 189 days, and the pair did it in 92 days. (AP Photo/Niranjan Shrestha)
Record-setting Sherpa guide sets a new climbing goal for the world's highest peaks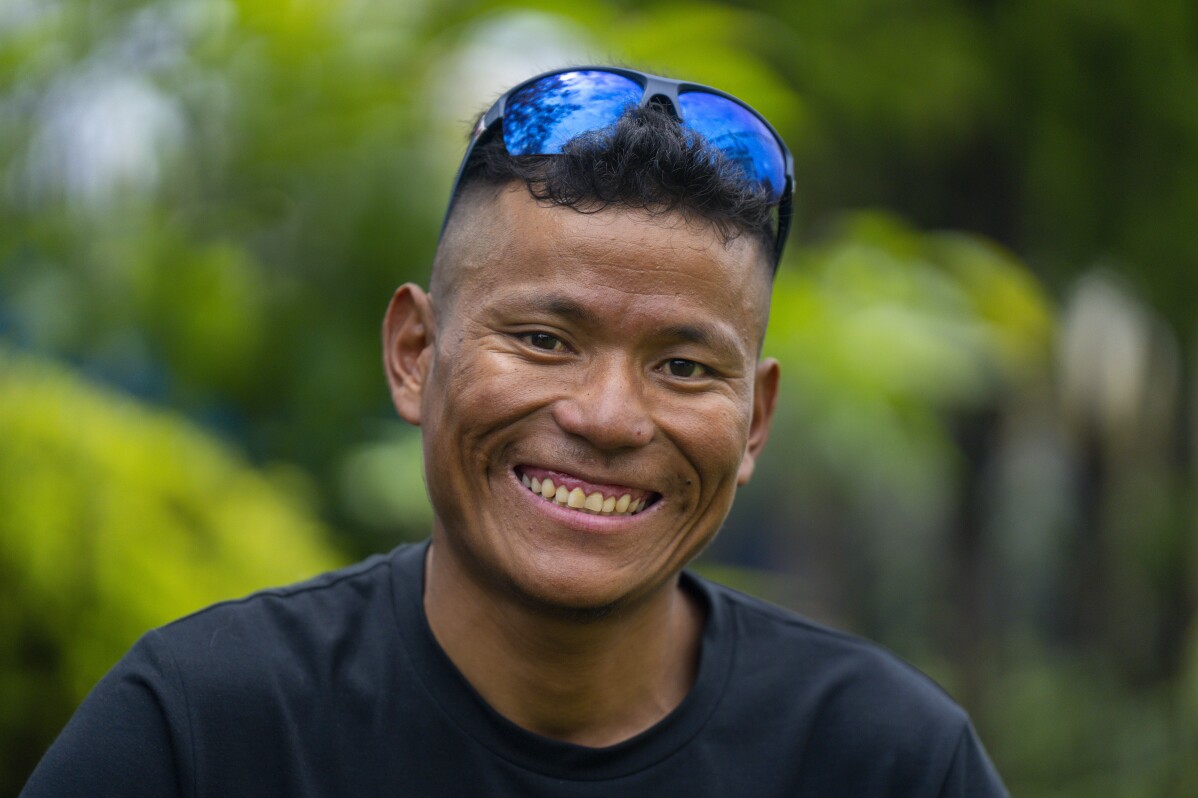 1 of 6

|
Nepal's sherpa guide Tenjen Sherpa, 35, who with Norwegian climber Kristin Harila climbed the world's 14 tallest mountains in record time, poses during an interview with the Associated Press in Kathmandu, Nepal, Wednesday, Aug. 9, 2023. Sherpa and Harila shattered the record for the fastest climb of the 14 mountains more than 8,000 meters (about 26,000 feet) high when they topped Mount K2 in Pakistan late last month. The previous record was 189 days, and the pair did it in 92 days. (AP Photo/Niranjan Shrestha)
1 of 6
Nepal's sherpa guide Tenjen Sherpa, 35, who with Norwegian climber Kristin Harila climbed the world's 14 tallest mountains in record time, poses during an interview with the Associated Press in Kathmandu, Nepal, Wednesday, Aug. 9, 2023. Sherpa and Harila shattered the record for the fastest climb of the 14 mountains more than 8,000 meters (about 26,000 feet) high when they topped Mount K2 in Pakistan late last month. The previous record was 189 days, and the pair did it in 92 days. (AP Photo/Niranjan Shrestha)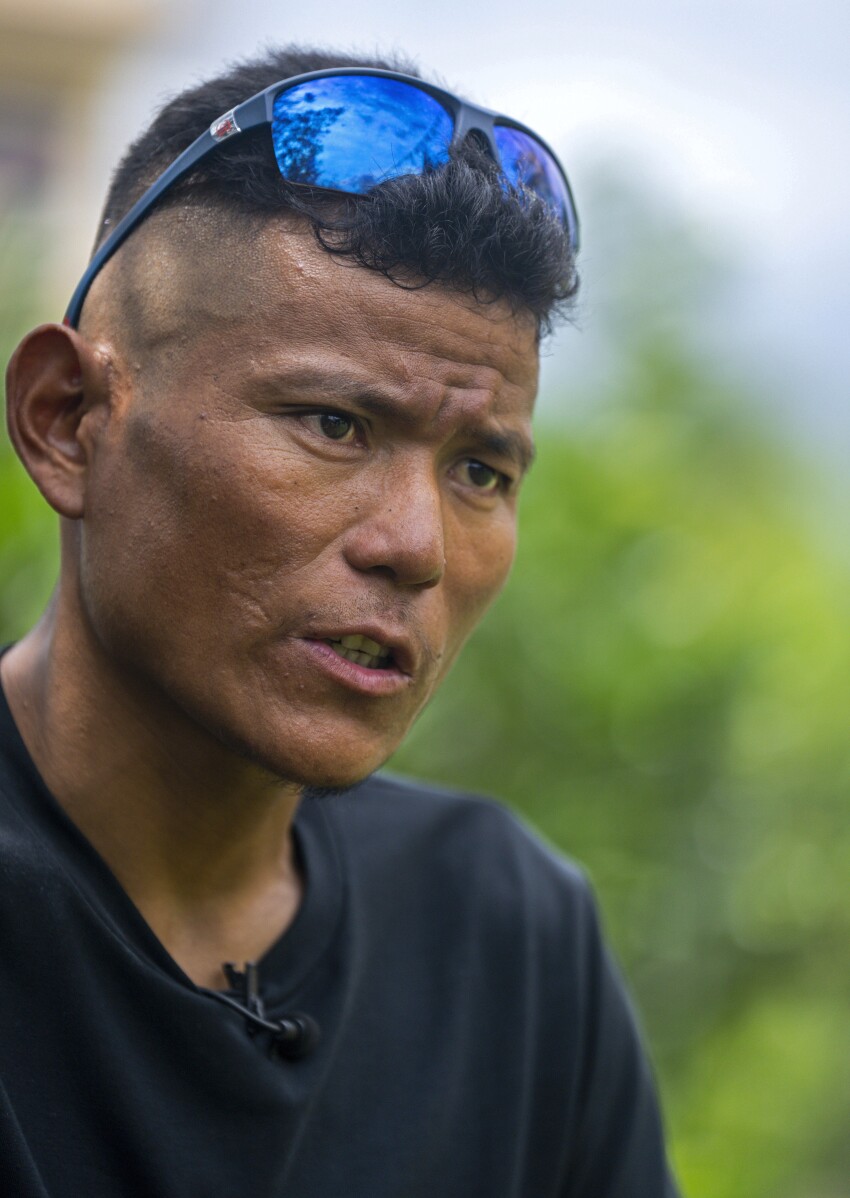 2 of 6

|
Nepal's sherpa guide Tenjen Sherpa, 35, who with Norwegian climber Kristin Harila climbed the world's 14 tallest mountains in record time, speaks during an interview with The Associated Press in Kathmandu, Nepal, Wednesday, Aug. 9, 2023. Sherpa and Harila shattered the record for the fastest climb of the 14 mountains more than 8,000 meters (about 26,000 feet) high when they topped Mount K2 in Pakistan late last month. The previous record was 189 days, and the pair did it in 92 days. (AP Photo/Niranjan Shrestha)
2 of 6
Nepal's sherpa guide Tenjen Sherpa, 35, who with Norwegian climber Kristin Harila climbed the world's 14 tallest mountains in record time, speaks during an interview with The Associated Press in Kathmandu, Nepal, Wednesday, Aug. 9, 2023. Sherpa and Harila shattered the record for the fastest climb of the 14 mountains more than 8,000 meters (about 26,000 feet) high when they topped Mount K2 in Pakistan late last month. The previous record was 189 days, and the pair did it in 92 days. (AP Photo/Niranjan Shrestha)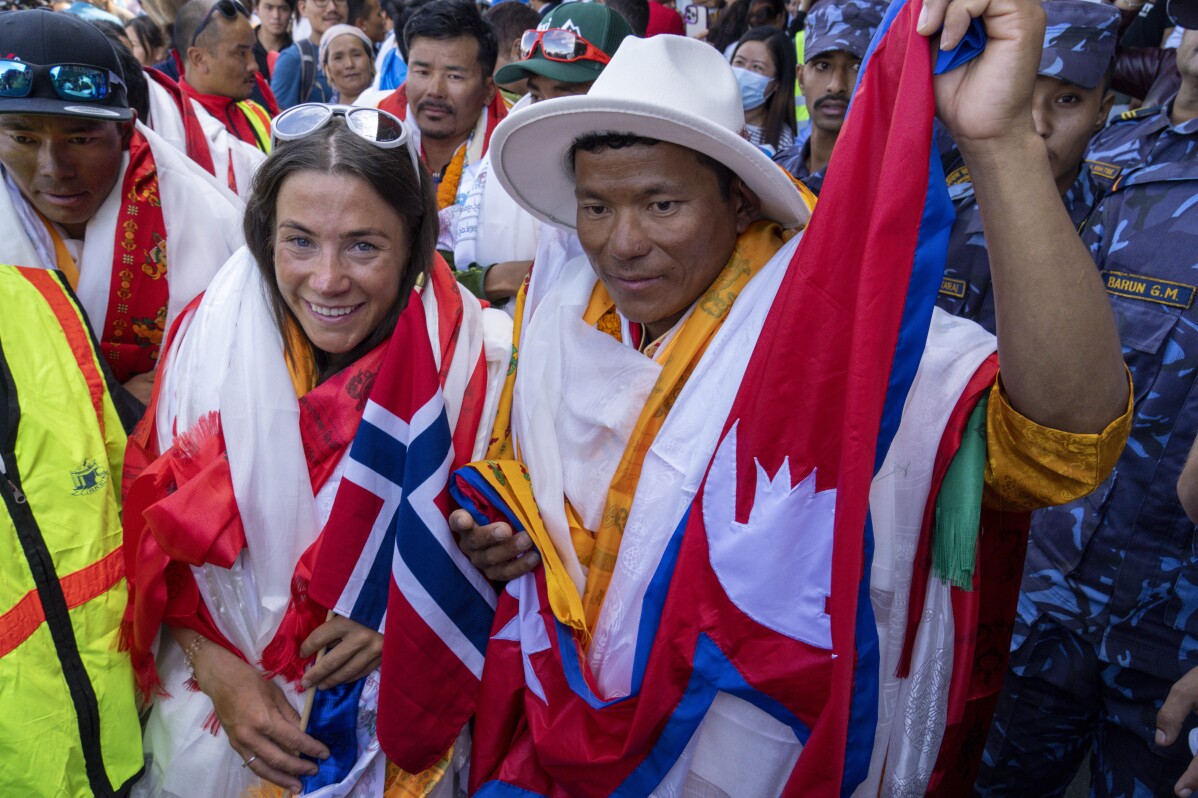 3 of 6

|
Norwegian climber Kristin Harila, left, and her Nepali sherpa guide Tenjen Sherpa, right, who climbed the world's 14 tallest mountains in record time, arrive in Kathmandu, Nepal, Saturday, Aug. 5, 2023. Harila and Sherpa shattered the record for the fastest climb of the 14 mountains more than 8,000 meters (about 26,000 feet) high when they topped Mount K2 in Pakistan late last month. The previous record was 189 days, and the pair did it in 92 days. (AP Photo/Niranjan Shrestha)
3 of 6
Norwegian climber Kristin Harila, left, and her Nepali sherpa guide Tenjen Sherpa, right, who climbed the world's 14 tallest mountains in record time, arrive in Kathmandu, Nepal, Saturday, Aug. 5, 2023. Harila and Sherpa shattered the record for the fastest climb of the 14 mountains more than 8,000 meters (about 26,000 feet) high when they topped Mount K2 in Pakistan late last month. The previous record was 189 days, and the pair did it in 92 days. (AP Photo/Niranjan Shrestha)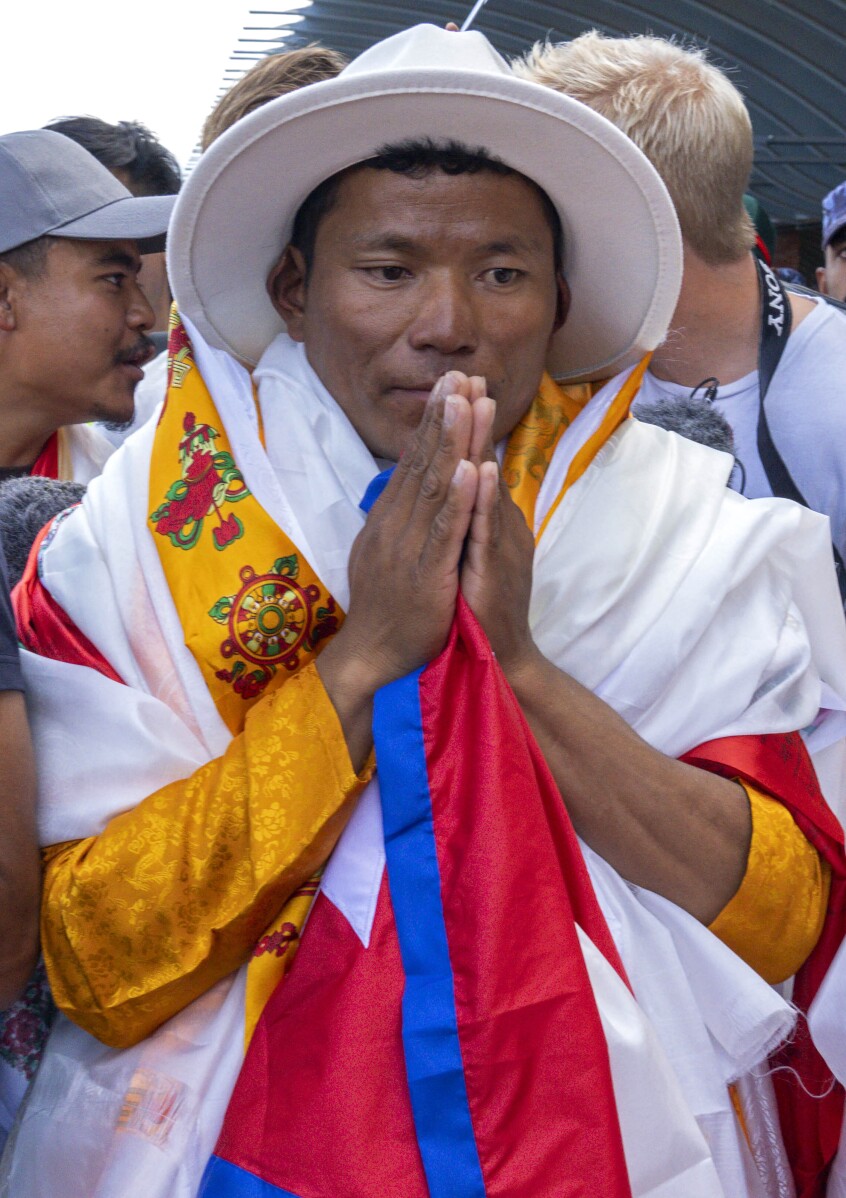 4 of 6

|
Nepali sherpa guide Tenjen Sherpa, 35, who with Norwegian climber Kristin Harila climbed the world's 14 tallest mountains in record time, arrives in Kathmandu, Nepal, Saturday, Aug. 5, 2023. Harila and Sherpa shattered the record for the fastest climb of the 14 mountains more than 8,000 meters (about 26,000 feet) high when they topped Mount K2 in Pakistan late last month. The previous record was 189 days, and the pair did it in 92 days. (AP Photo/Niranjan Shrestha)
4 of 6
Nepali sherpa guide Tenjen Sherpa, 35, who with Norwegian climber Kristin Harila climbed the world's 14 tallest mountains in record time, arrives in Kathmandu, Nepal, Saturday, Aug. 5, 2023. Harila and Sherpa shattered the record for the fastest climb of the 14 mountains more than 8,000 meters (about 26,000 feet) high when they topped Mount K2 in Pakistan late last month. The previous record was 189 days, and the pair did it in 92 days. (AP Photo/Niranjan Shrestha)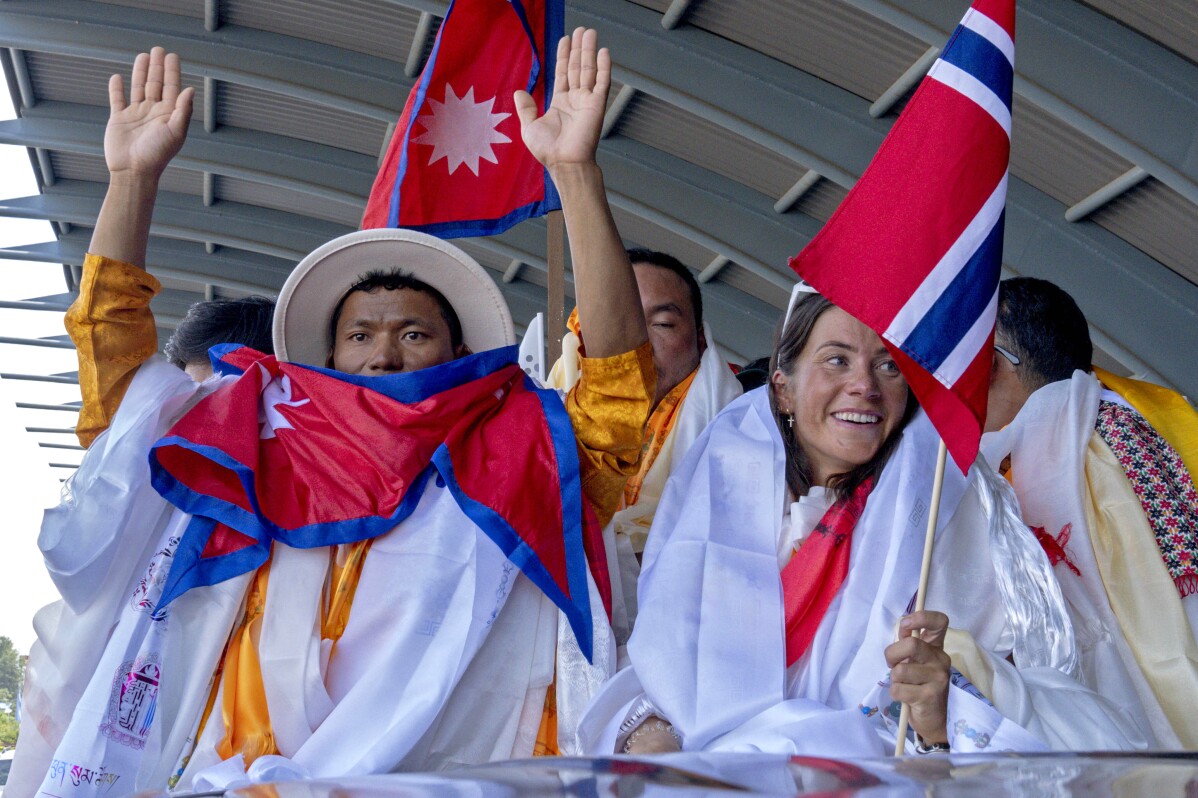 5 of 6

|
Norwegian climber Kristin Harila, right, and her Nepali sherpa guide Tenjen Sherpa, left, who climbed the world's 14 tallest mountains in record time, arrive in Kathmandu, Nepal, Saturday, Aug. 5, 2023. Harila and Sherpa shattered the record for the fastest climb of the 14 mountains more than 8,000 meters (about 26,000 feet) high when they topped Mount K2 in Pakistan late last month. The previous record was 189 days, and the pair did it in 92 days. (AP Photo/Niranjan Shrestha)
5 of 6
Norwegian climber Kristin Harila, right, and her Nepali sherpa guide Tenjen Sherpa, left, who climbed the world's 14 tallest mountains in record time, arrive in Kathmandu, Nepal, Saturday, Aug. 5, 2023. Harila and Sherpa shattered the record for the fastest climb of the 14 mountains more than 8,000 meters (about 26,000 feet) high when they topped Mount K2 in Pakistan late last month. The previous record was 189 days, and the pair did it in 92 days. (AP Photo/Niranjan Shrestha)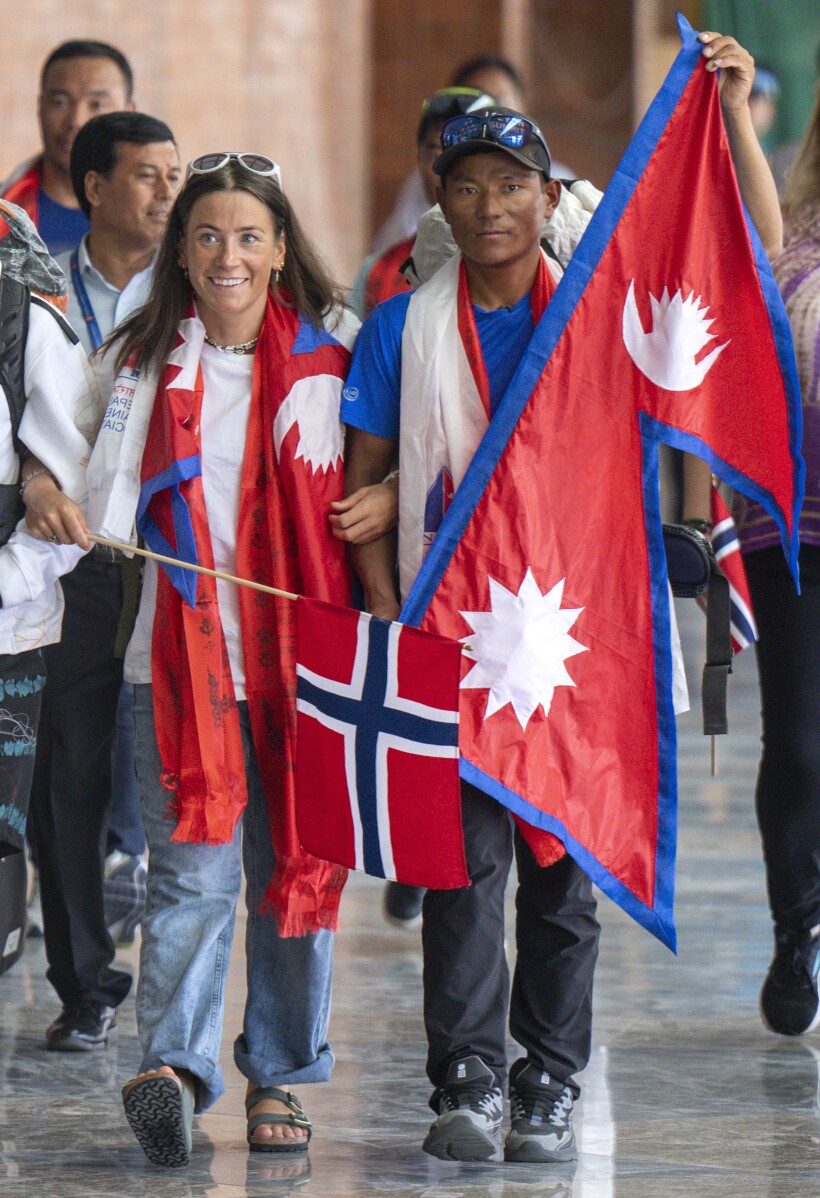 6 of 6

|
Norwegian climber Kristin Harila, left, and her Nepali sherpa guide Tenjen Sherpa, right, who climbed the world's 14 tallest mountains in record time, arrive in Kathmandu, Nepal, Saturday, Aug. 5, 2023. Harila and Sherpa shattered the record for the fastest climb of the 14 mountains more than 8,000 meters (about 26,000 feet) high when they topped Mount K2 in Pakistan late last month. The previous record was 189 days, and the pair did it in 92 days. (AP Photo/Niranjan Shrestha)
6 of 6
Norwegian climber Kristin Harila, left, and her Nepali sherpa guide Tenjen Sherpa, right, who climbed the world's 14 tallest mountains in record time, arrive in Kathmandu, Nepal, Saturday, Aug. 5, 2023. Harila and Sherpa shattered the record for the fastest climb of the 14 mountains more than 8,000 meters (about 26,000 feet) high when they topped Mount K2 in Pakistan late last month. The previous record was 189 days, and the pair did it in 92 days. (AP Photo/Niranjan Shrestha)
KATHMANDU, Nepal (AP) — A Sherpa guide who climbed the world's 14 tallest mountains in record time is eyeing another record, looking to become the youngest person to scale all those peaks twice.
Tenjen Sherpa, 35, and Norwegian climber Kristin Harila, 37, shattered the record for the fastest climb of the 14 mountains more than 8,000 meters (about 26,000 feet) high when they topped Mount K2 in Pakistan late last month. The previous record was 189 days, and the pair did it in 92 days.
Instead of taking a long break, Tenjen intends to start working toward his new goal by joining an expedition to scale Mount Shishapangma in China within the next couple of months.
"I have already done (it) once and I want to double it," he told The Associated Press in Kathmandu on Wednesday. "It is now my new target to be the youngest to scale these peaks twice."
The only other climber to have completed a second round of the 14 peaks is Sanu Sherpa, who is now 48 years old.
Tenjen has already climbed seven of the mountains twice and needs to scale the remaining seven again to reach his new goal, which he hopes to do by next spring.
Tenjen only started climbing the world's "eight-thousanders" ("fourteeners") in 2016, when he scaled Nepal's Mount Dhaulagiri. He has since made several such climbs a year, including four ascents of Mount Everest.
He and his three brothers hold a record as the most siblings to have climbed Mount Kanchenjunga, the world's third-tallest mountain. Mount Everest and K2 are the world's tallest and second-tallest.
Working as a mountain guide was just a job to help support his family before Kathmandu-based Seven Summits Treks hired Tenjen to be part of Harila's expedition to Mount Shishapangma in April. Harila subsequently picked him to join her on all her expeditions.
"It was my good luck and (I) was fortunate to be with her in the team," he said. He described Harila, whom he calls "didi" or big sister, as the strongest and most accomplished climber he knows.
During his own planned trip to Shishapangma in the fall, he wants to take photos of his late brother to the summit and bury them there. The mountain was the only one of the 14 tallest that his brother did not climb before he died.
Speaking to the AP on Wednesday, Tenjen expressed his bitterness over Sherpa not getting enough recognition from the government for their hard work as mountain guides. Many Sherpas are emigrating to seek better lives for their families.
"It is not possible to just continue climbing mountains as you grow older so what else is there than to think of migrating abroad," he said. "That can all be stopped if they were given land, houses to live and other opportunities here."
Tenjen grew up in a village farming potatoes and herding yaks, and never got a chance to attend school. He can barely write his name and is unable to read most trail signs on the trails. He moved his wife and two sons to Kathmandu, Nepal's capital, where the children are getting formal education.
At the same time, Tenjen is concerned that the younger generation of Sherpas is not interested in joining the grueling mountaineering profession or may lack the necessary skills due to growing up in cities.