Ex-Las Vegas Raider Henry Ruggs sentenced to 3-plus years in prison for fatal DUI crash in Nevada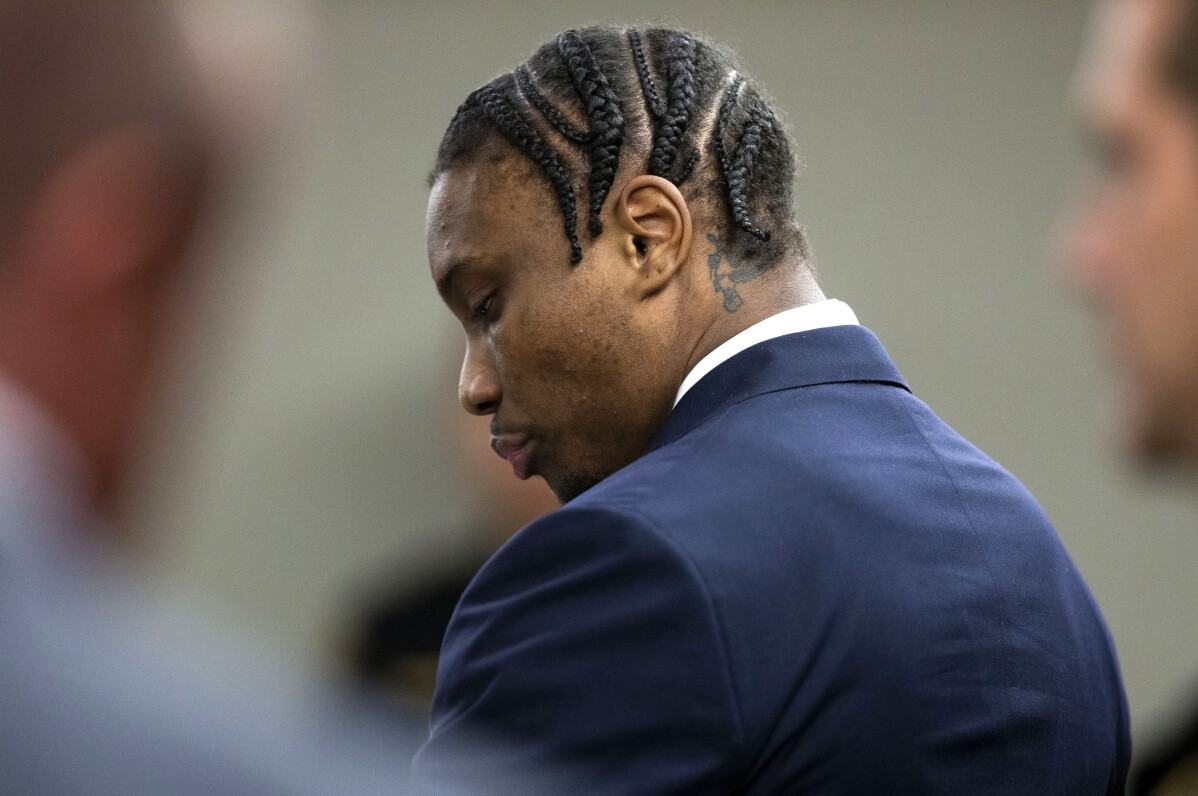 1 of 9

|
Former Las Vegas Raiders NFL football player Henry Ruggs III stands in the courtroom during his sentencing hearing at the Regional Justice Center, Wednesday, Aug. 9, 2023, in Las Vegas. Ruggs pleaded guilty May to felony DUI causing death and misdemeanor vehicular manslaughter. (Steve Marcus/Las Vegas Sun via AP)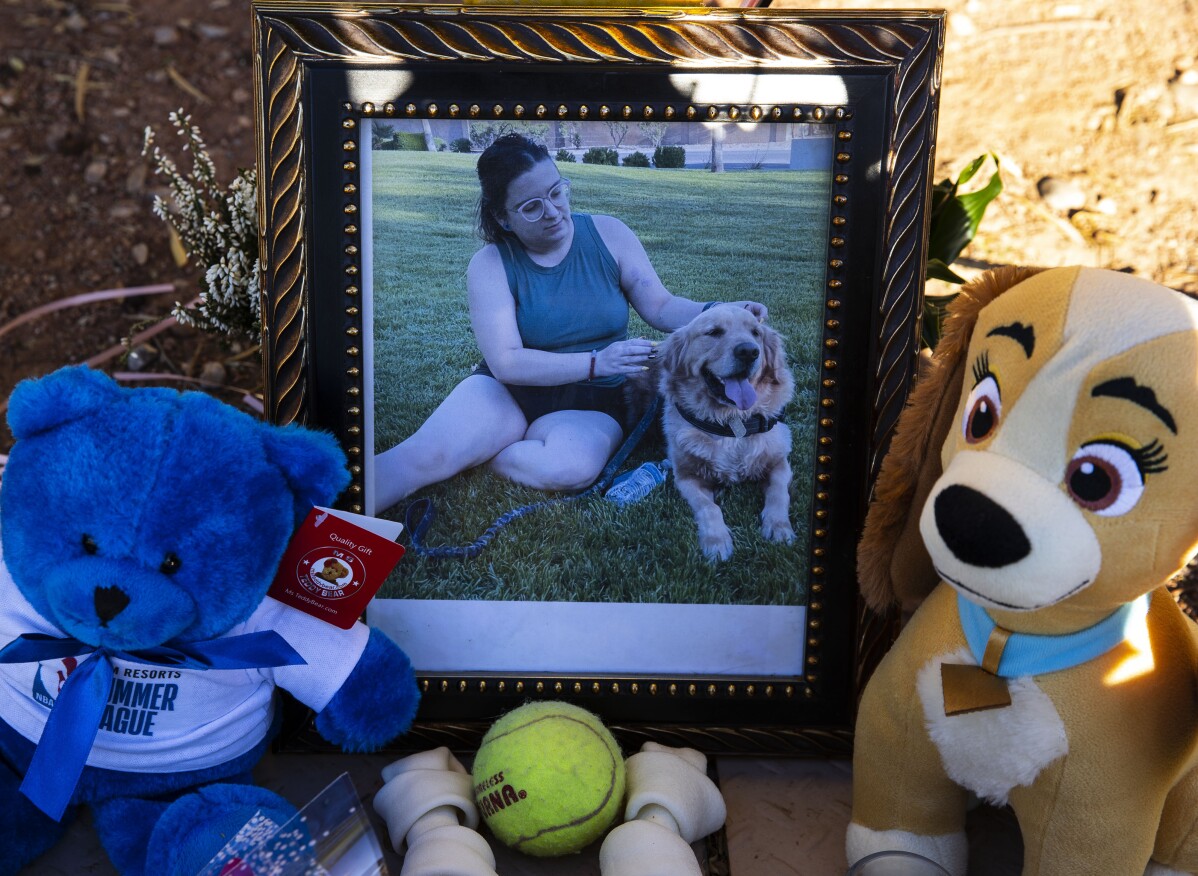 2 of 9

|
FILE - A portrait of Tina Tintor, 23, and her dog is displayed at a makeshift memorial site to honor them at South Rainbow Boulevard and Spring Valley Parkway, on Thursday, Nov. 4, 2021, in Las Vegas. Former Las Vegas Raiders player Henry Ruggs was sentenced Wednesday, Aug. 9, 2023, in Las Vegas, to at least three years in a Nevada prison for killing a TIntor and her dog in a fiery crash while driving his sports car drunk at speeds up to 156 mph on a city street nearly two years ago. (Bizuayehu Tesfaye/Las Vegas Review-Journal via AP)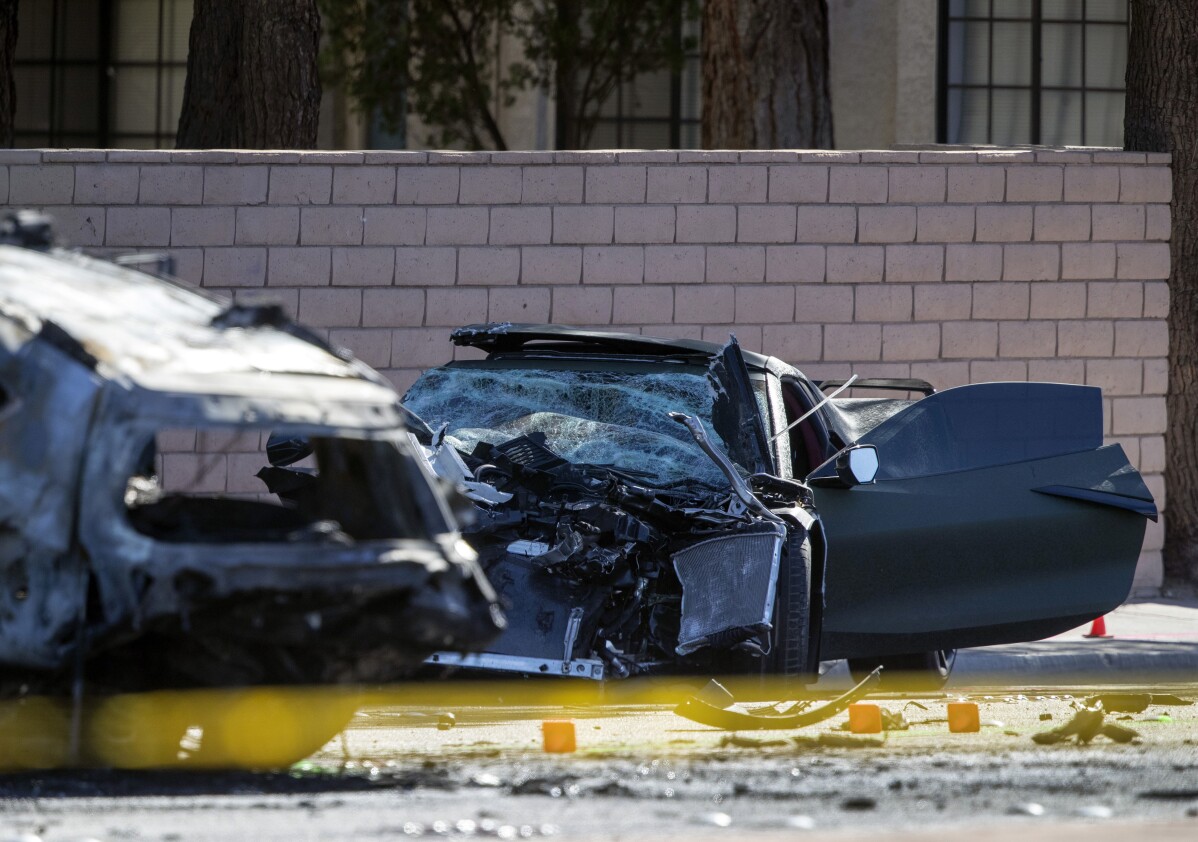 3 of 9

|
FILE - A Chevrolet Corvette is shown at the scene of a fatal crash on South Rainbow Boulevard between Tropicana Avenue and Flamingo Road in Las Vegas, Tuesday, Nov. 2, 2021. Former Las Vegas Raiders player Henry Ruggs was sentenced Wednesday, Aug. 9, 2023, in Las Vegas, to at least three years in a Nevada prison for killing a woman in a fiery crash while driving his sports car drunk at speeds up to 156 mph on a city street nearly two years ago. (Steve Marcus/Las Vegas Sun via AP, File)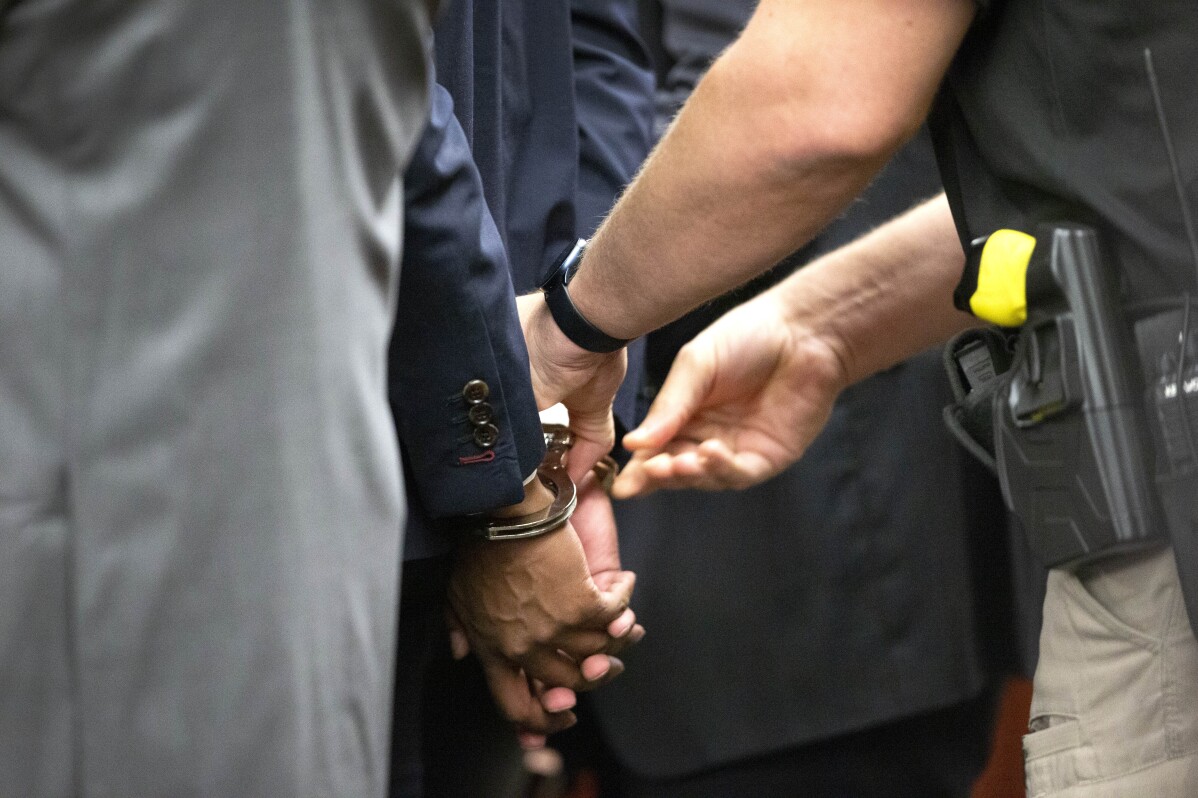 4 of 9

|
Former Las Vegas Raiders NFL football player Henry Ruggs III is taken into custody following his sentencing hearing at the Regional Justice Center, Wednesday, Aug. 9, 2023, in Las Vegas. Ruggs pleaded guilty May to felony DUI causing death and misdemeanor vehicular manslaughter. (Steve Marcus/Las Vegas Sun via AP)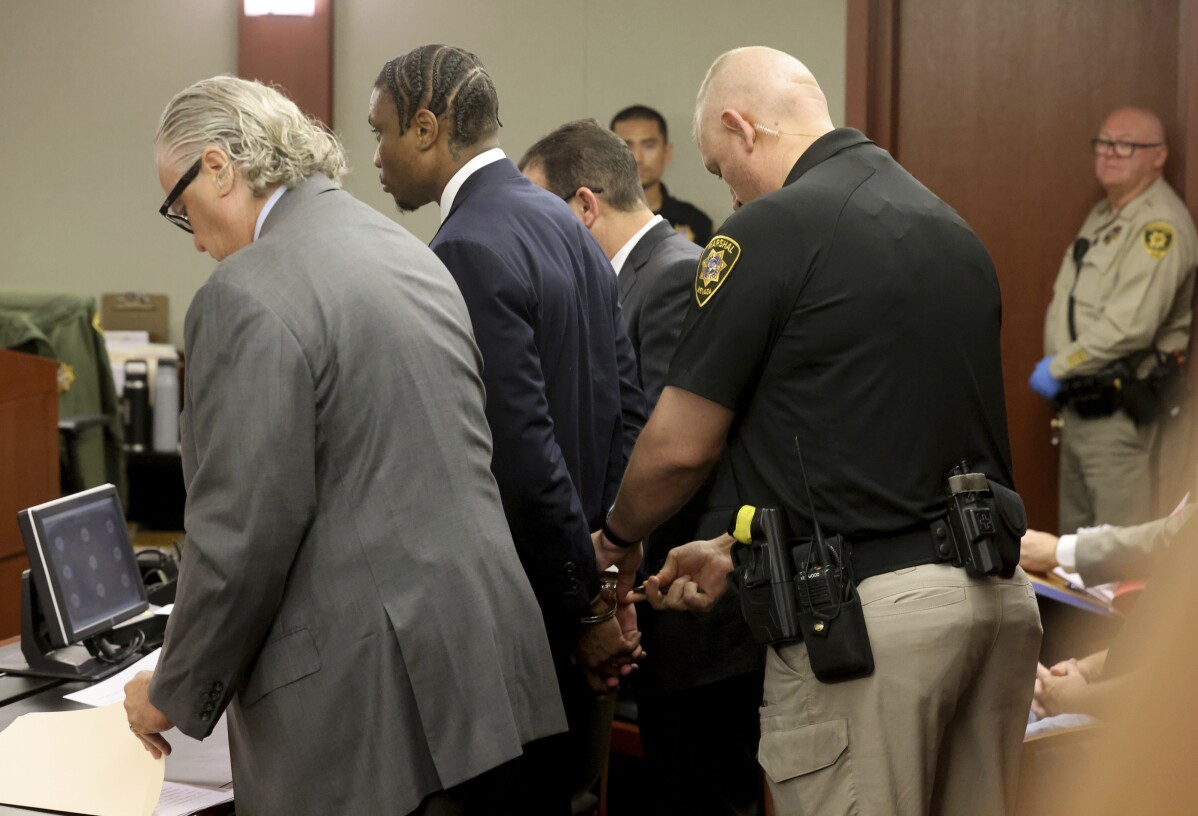 5 of 9

|
Former Las Vegas Raiders NFL football player Henry Ruggs III is taken into custody following his sentencing hearing at the Regional Justice Center, Wednesday, Aug. 9, 2023, in Las Vegas. Ruggs pleaded guilty May to felony DUI causing death and misdemeanor vehicular manslaughter. (K.M. Cannon/Las Vegas Review-Journal via AP)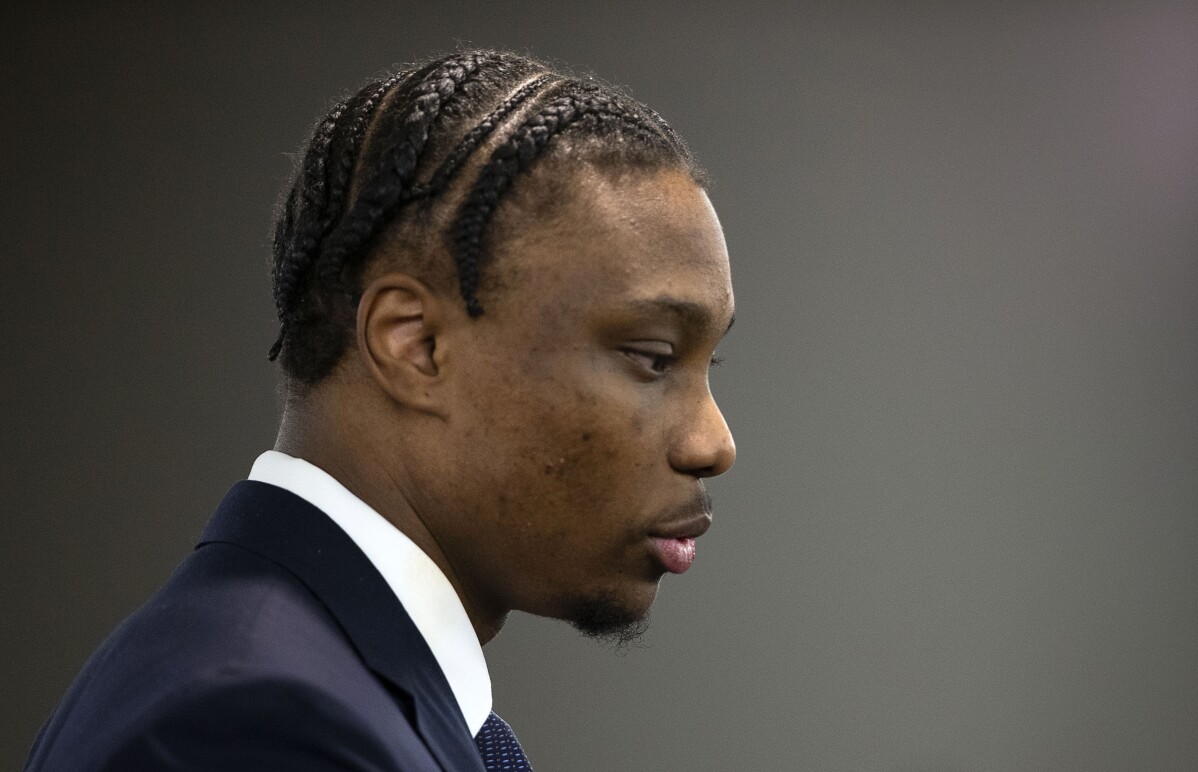 6 of 9

|
Former Raiders wide receiver Henry Ruggs III appears in court during sentencing at the Regional Justice Center Wednesday, Aug. 9, 2023, in Las Vegas. Ruggs entered a guilty plea in May to a felony count of DUI resulting in death relating to the accident that killed Tina Tintor and her dog on Nov. 2, 2021. (Steve Marcus/Las Vegas Sun via AP)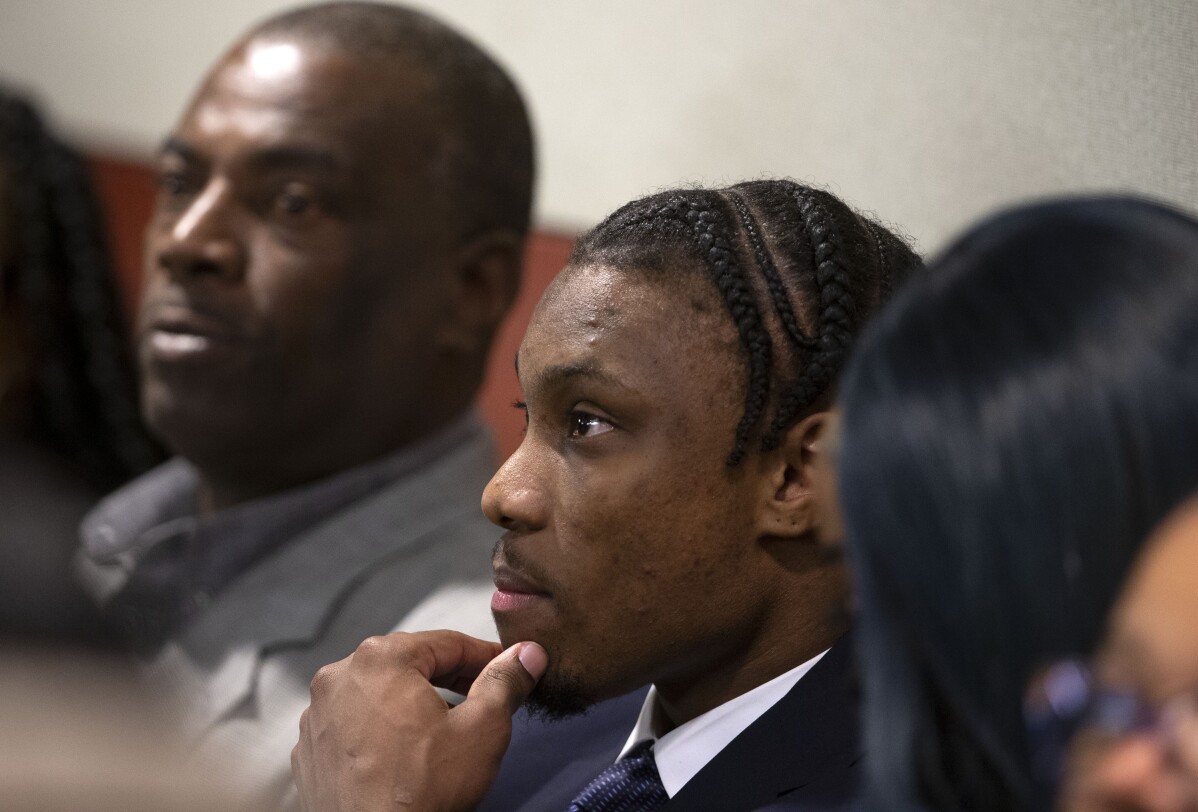 7 of 9

|
Former Las Vegas Raiders NFL football player Henry Ruggs III waits for his sentencing hearing at the Regional Justice Center, Wednesday, Aug. 9, 2023, in Las Vegas. Ruggs pleaded guilty May to felony DUI causing death and misdemeanor vehicular manslaughter. (Steve Marcus/Las Vegas Sun via AP)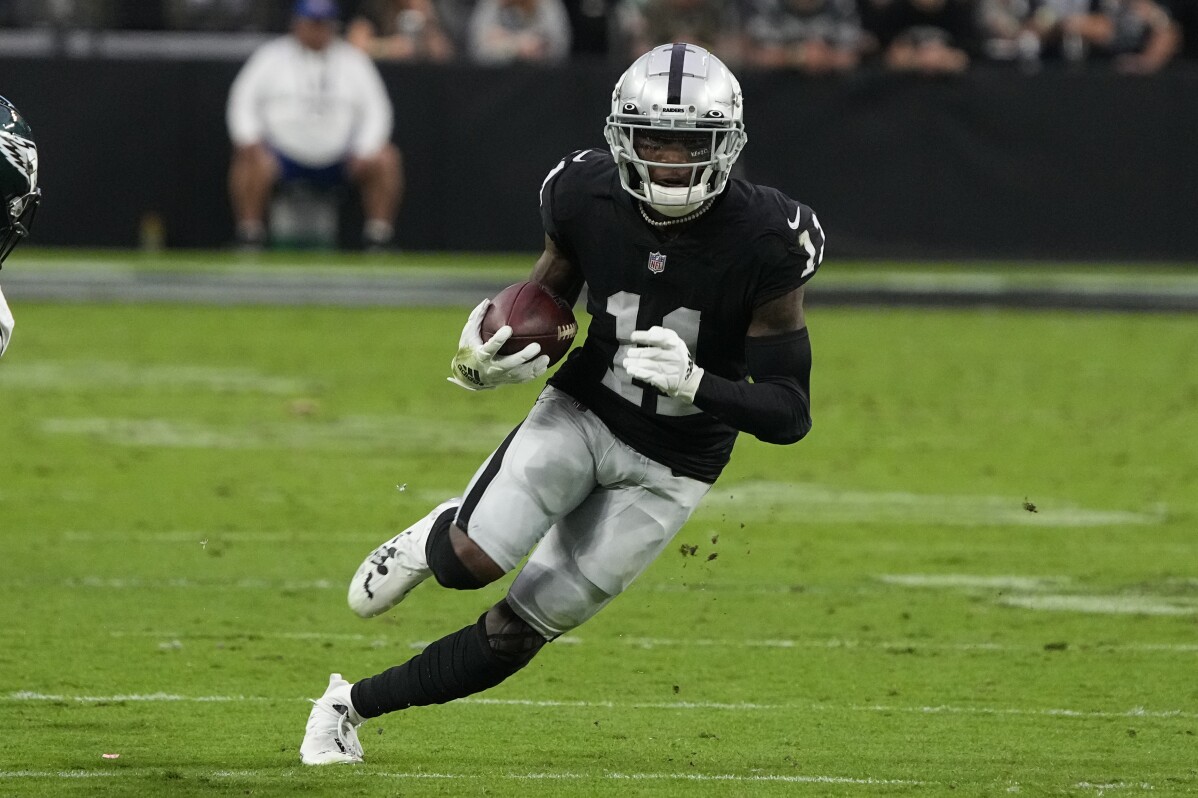 8 of 9

|
Las Vegas Raiders wide receiver Henry Ruggs III (11) carries the ball during the second half of an NFL football game against the Philadelphia Eagles, Sunday, Oct. 24, 2021, in Las Vegas. Former Las Vegas Raiders player Henry Ruggs was sentenced Wednesday, Aug. 9, 2023, in Las Vegas, to at least three years in a Nevada prison for killing a woman in a fiery crash while driving his sports car drunk at speeds up to 156 mph on a city street nearly two years ago. (AP Photo/Rick Scuteri, File)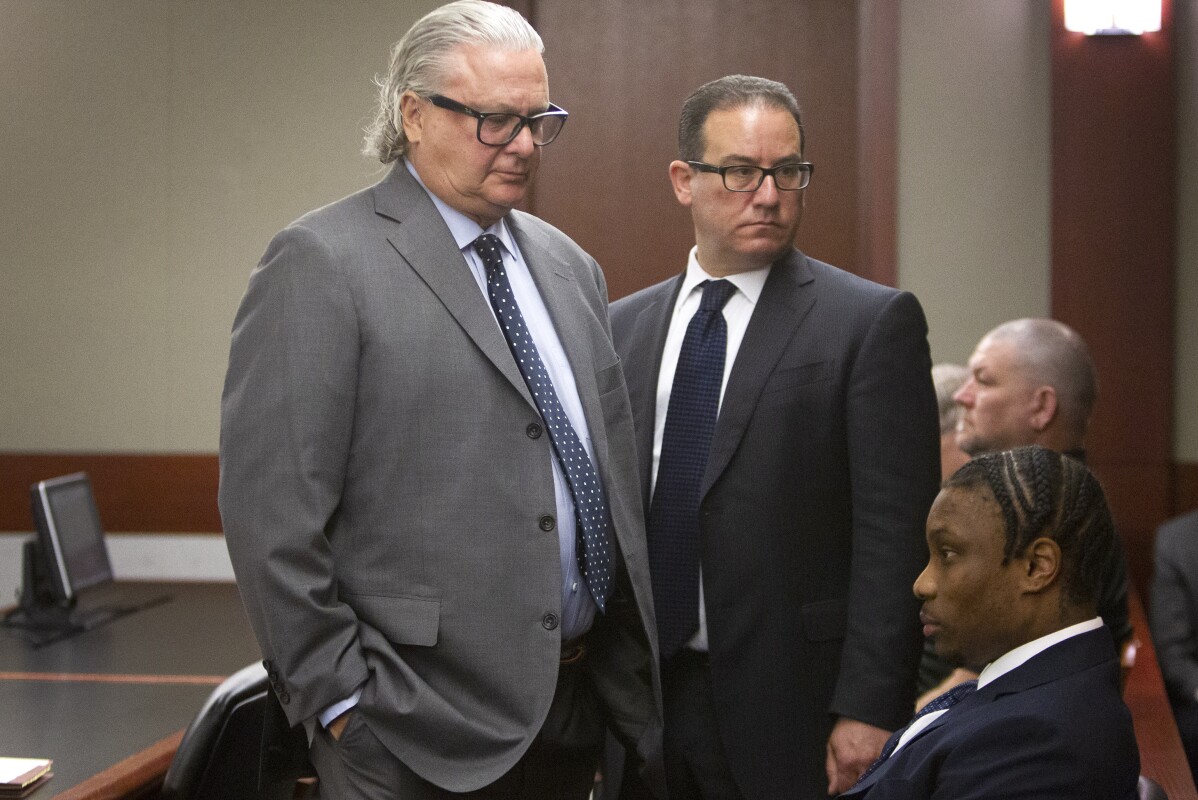 9 of 9

|
Former Las Vegas Raiders NFL football player Henry Ruggs III, seated right, waits with defense attorneys David Chesnoff, left, and Richard Schonfeld before during his sentencing hearing at the Regional Justice Center, Wednesday, Aug. 9, 2023, in Las Vegas. Ruggs pleaded guilty May to felony DUI causing death and misdemeanor vehicular manslaughter. (Steve Marcus/Las Vegas Sun via AP)
Ex-Las Vegas Raider Henry Ruggs sentenced to 3-plus years in prison for fatal DUI crash in Nevada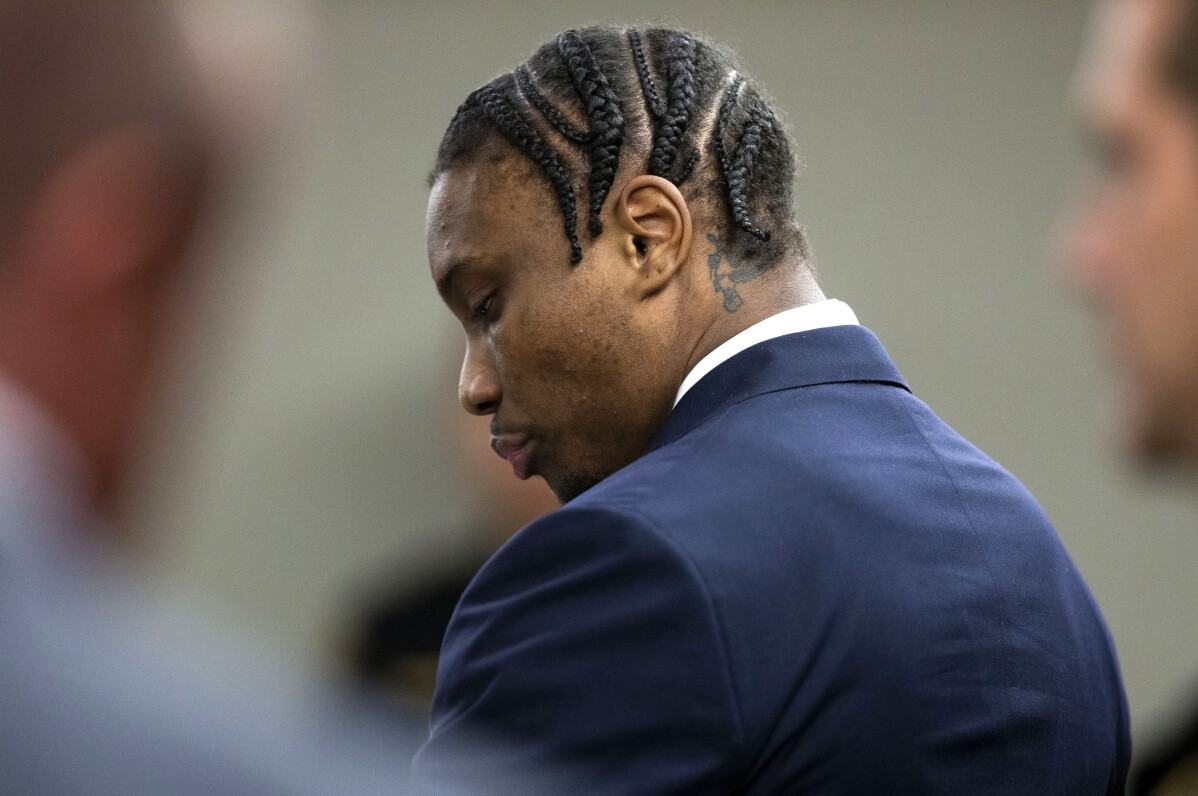 1 of 9

|
Former Las Vegas Raiders NFL football player Henry Ruggs III stands in the courtroom during his sentencing hearing at the Regional Justice Center, Wednesday, Aug. 9, 2023, in Las Vegas. Ruggs pleaded guilty May to felony DUI causing death and misdemeanor vehicular manslaughter. (Steve Marcus/Las Vegas Sun via AP)
1 of 9
Former Las Vegas Raiders NFL football player Henry Ruggs III stands in the courtroom during his sentencing hearing at the Regional Justice Center, Wednesday, Aug. 9, 2023, in Las Vegas. Ruggs pleaded guilty May to felony DUI causing death and misdemeanor vehicular manslaughter. (Steve Marcus/Las Vegas Sun via AP)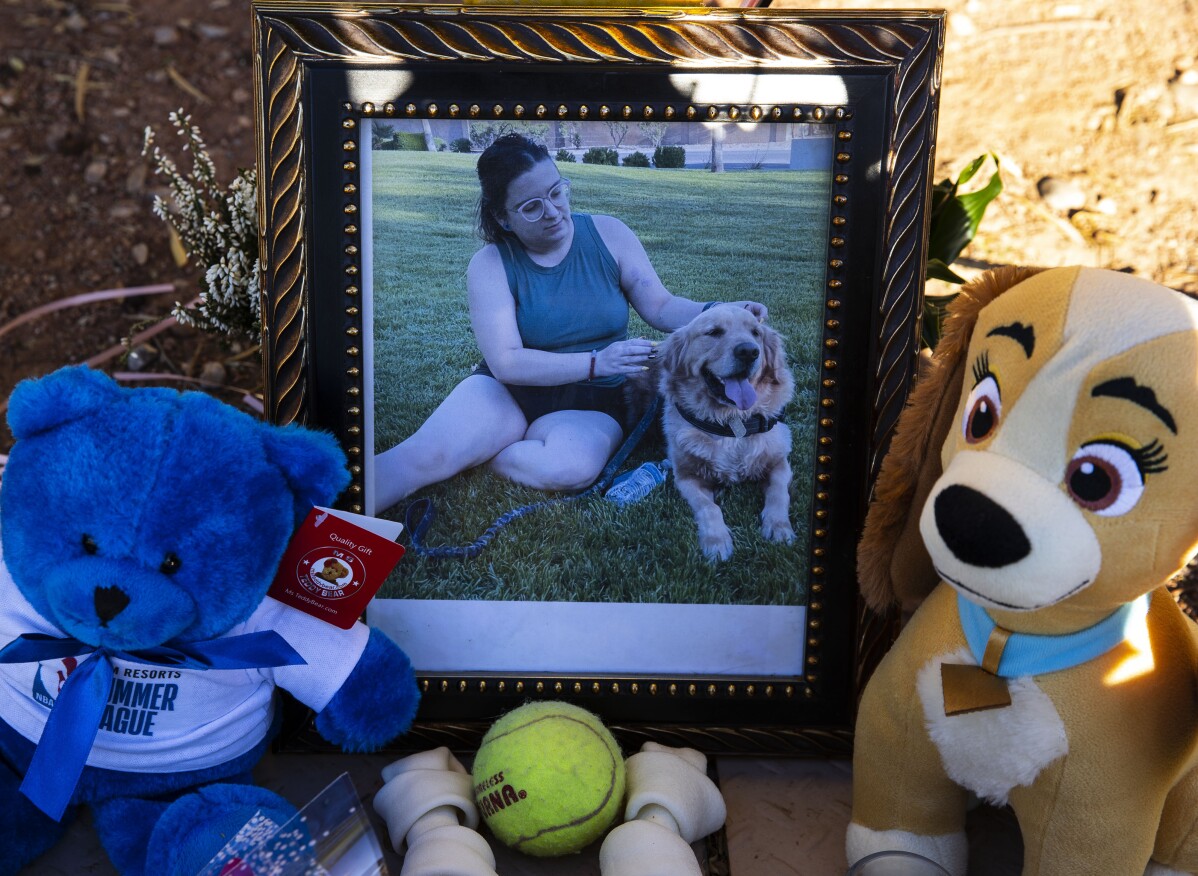 2 of 9

|
FILE - A portrait of Tina Tintor, 23, and her dog is displayed at a makeshift memorial site to honor them at South Rainbow Boulevard and Spring Valley Parkway, on Thursday, Nov. 4, 2021, in Las Vegas. Former Las Vegas Raiders player Henry Ruggs was sentenced Wednesday, Aug. 9, 2023, in Las Vegas, to at least three years in a Nevada prison for killing a TIntor and her dog in a fiery crash while driving his sports car drunk at speeds up to 156 mph on a city street nearly two years ago. (Bizuayehu Tesfaye/Las Vegas Review-Journal via AP)
2 of 9
FILE - A portrait of Tina Tintor, 23, and her dog is displayed at a makeshift memorial site to honor them at South Rainbow Boulevard and Spring Valley Parkway, on Thursday, Nov. 4, 2021, in Las Vegas. Former Las Vegas Raiders player Henry Ruggs was sentenced Wednesday, Aug. 9, 2023, in Las Vegas, to at least three years in a Nevada prison for killing a TIntor and her dog in a fiery crash while driving his sports car drunk at speeds up to 156 mph on a city street nearly two years ago. (Bizuayehu Tesfaye/Las Vegas Review-Journal via AP)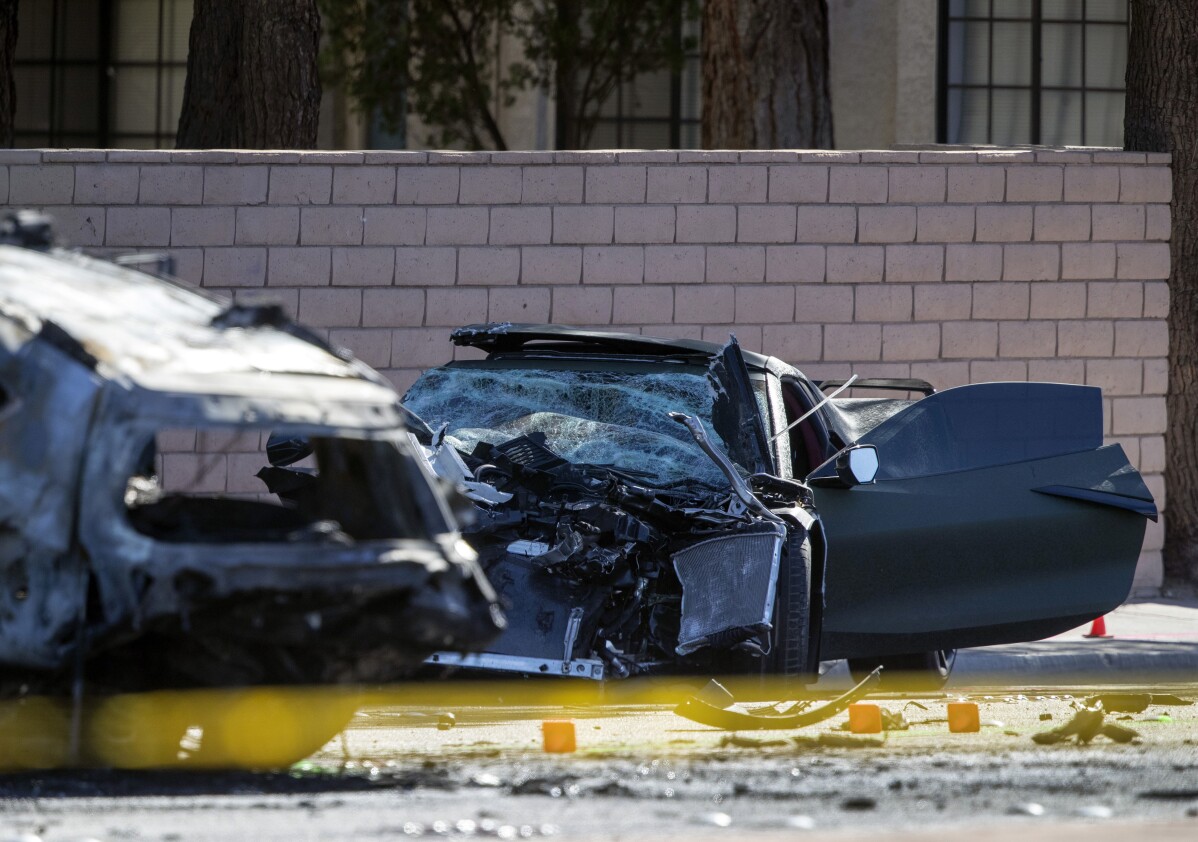 3 of 9

|
FILE - A Chevrolet Corvette is shown at the scene of a fatal crash on South Rainbow Boulevard between Tropicana Avenue and Flamingo Road in Las Vegas, Tuesday, Nov. 2, 2021. Former Las Vegas Raiders player Henry Ruggs was sentenced Wednesday, Aug. 9, 2023, in Las Vegas, to at least three years in a Nevada prison for killing a woman in a fiery crash while driving his sports car drunk at speeds up to 156 mph on a city street nearly two years ago. (Steve Marcus/Las Vegas Sun via AP, File)
3 of 9
FILE - A Chevrolet Corvette is shown at the scene of a fatal crash on South Rainbow Boulevard between Tropicana Avenue and Flamingo Road in Las Vegas, Tuesday, Nov. 2, 2021. Former Las Vegas Raiders player Henry Ruggs was sentenced Wednesday, Aug. 9, 2023, in Las Vegas, to at least three years in a Nevada prison for killing a woman in a fiery crash while driving his sports car drunk at speeds up to 156 mph on a city street nearly two years ago. (Steve Marcus/Las Vegas Sun via AP, File)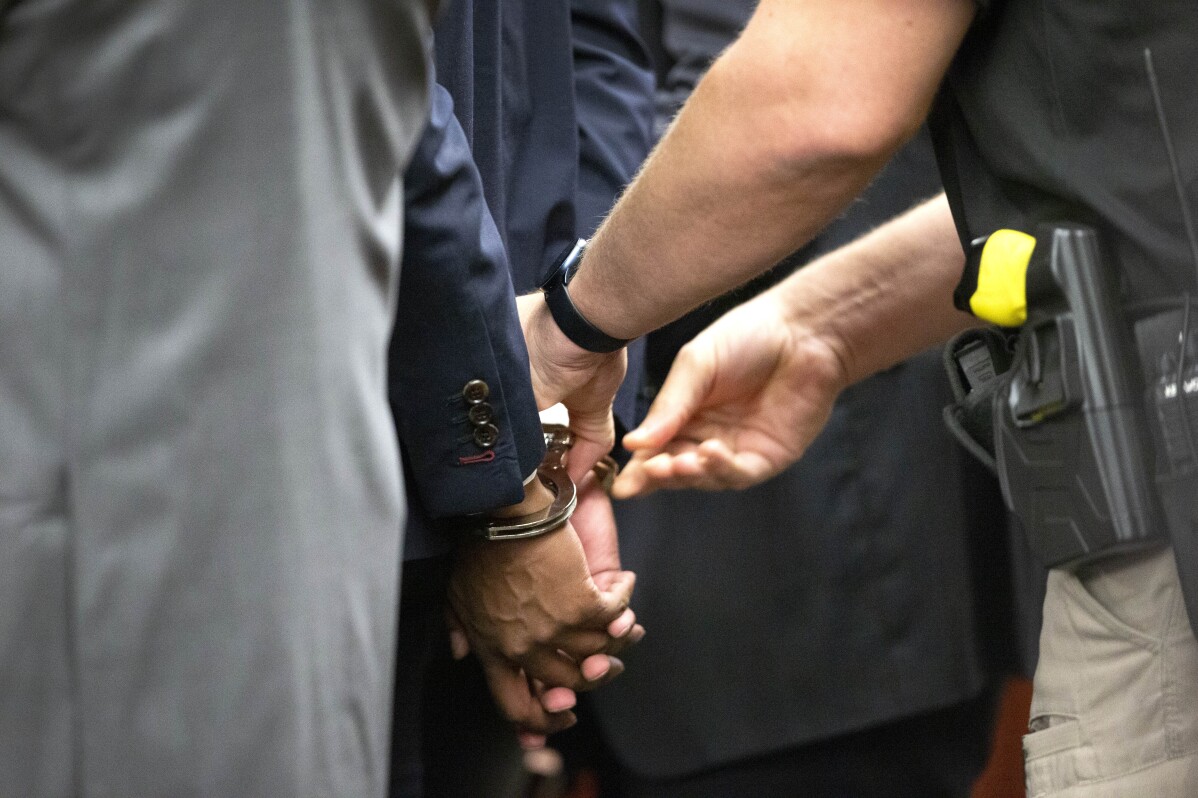 4 of 9

|
Former Las Vegas Raiders NFL football player Henry Ruggs III is taken into custody following his sentencing hearing at the Regional Justice Center, Wednesday, Aug. 9, 2023, in Las Vegas. Ruggs pleaded guilty May to felony DUI causing death and misdemeanor vehicular manslaughter. (Steve Marcus/Las Vegas Sun via AP)
4 of 9
Former Las Vegas Raiders NFL football player Henry Ruggs III is taken into custody following his sentencing hearing at the Regional Justice Center, Wednesday, Aug. 9, 2023, in Las Vegas. Ruggs pleaded guilty May to felony DUI causing death and misdemeanor vehicular manslaughter. (Steve Marcus/Las Vegas Sun via AP)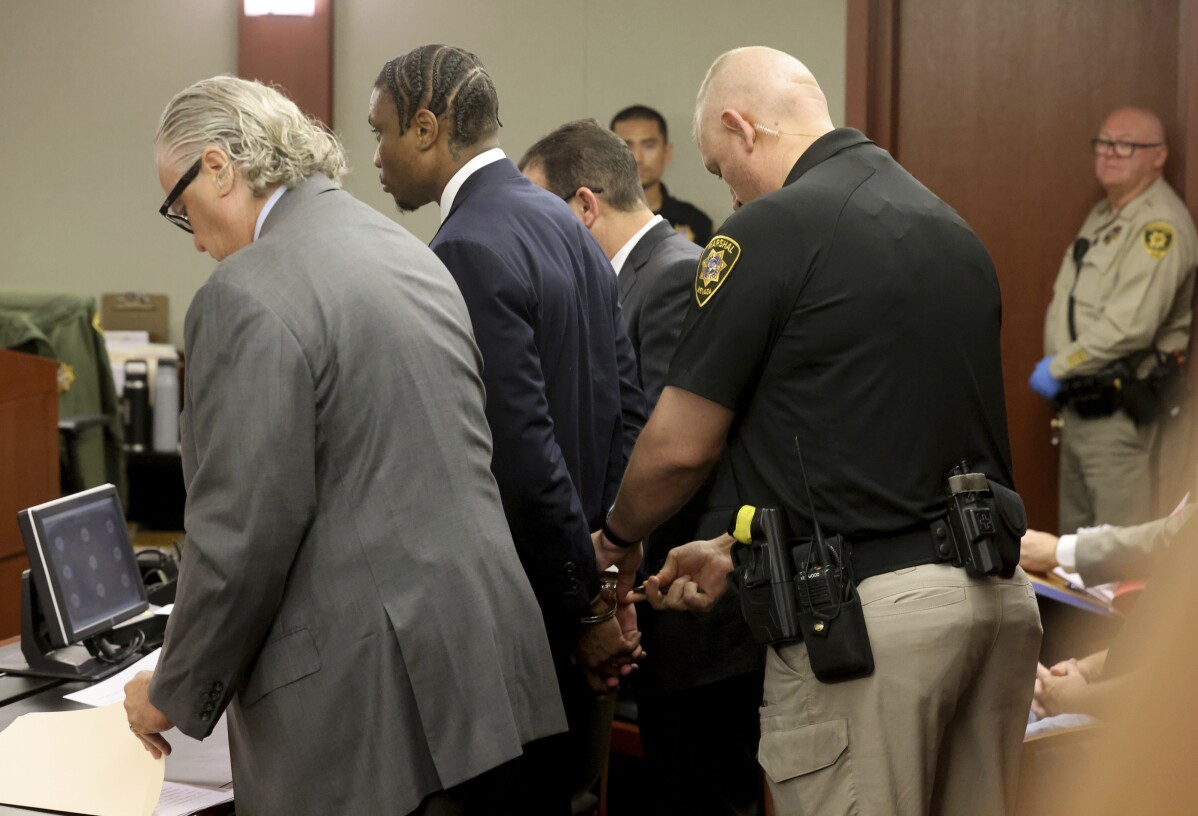 5 of 9

|
Former Las Vegas Raiders NFL football player Henry Ruggs III is taken into custody following his sentencing hearing at the Regional Justice Center, Wednesday, Aug. 9, 2023, in Las Vegas. Ruggs pleaded guilty May to felony DUI causing death and misdemeanor vehicular manslaughter. (K.M. Cannon/Las Vegas Review-Journal via AP)
5 of 9
Former Las Vegas Raiders NFL football player Henry Ruggs III is taken into custody following his sentencing hearing at the Regional Justice Center, Wednesday, Aug. 9, 2023, in Las Vegas. Ruggs pleaded guilty May to felony DUI causing death and misdemeanor vehicular manslaughter. (K.M. Cannon/Las Vegas Review-Journal via AP)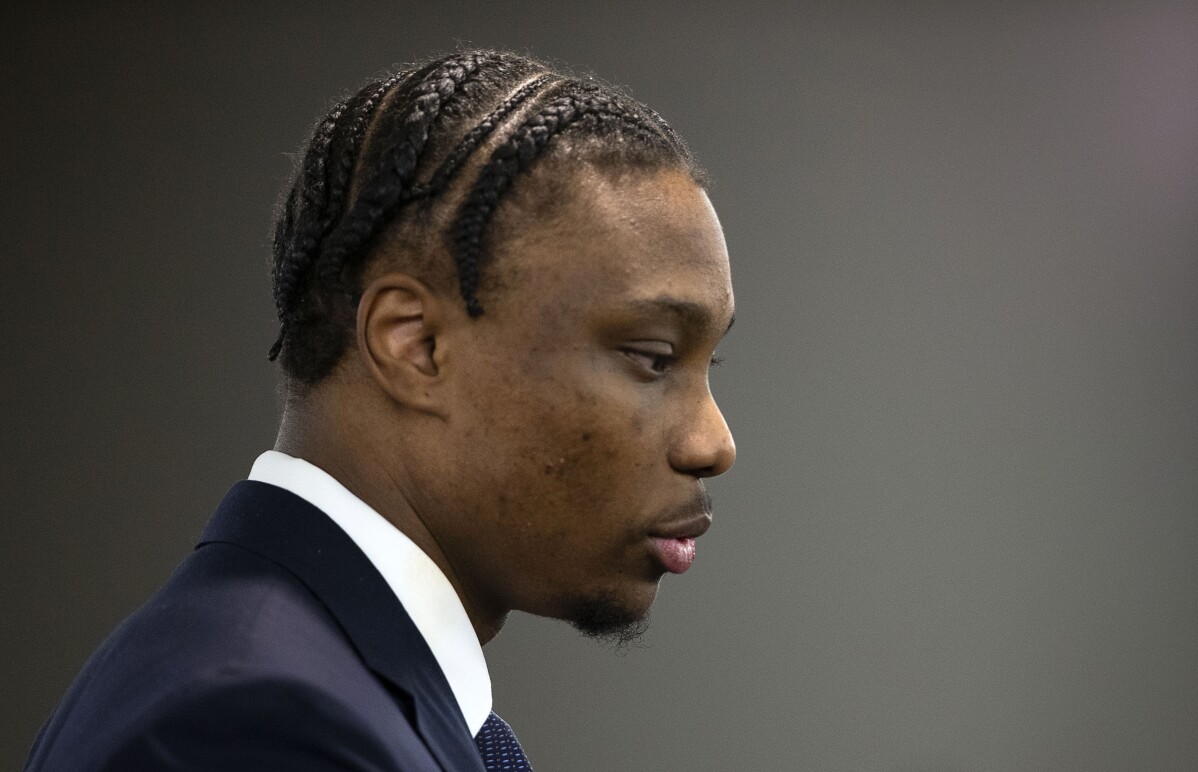 6 of 9

|
Former Raiders wide receiver Henry Ruggs III appears in court during sentencing at the Regional Justice Center Wednesday, Aug. 9, 2023, in Las Vegas. Ruggs entered a guilty plea in May to a felony count of DUI resulting in death relating to the accident that killed Tina Tintor and her dog on Nov. 2, 2021. (Steve Marcus/Las Vegas Sun via AP)
6 of 9
Former Raiders wide receiver Henry Ruggs III appears in court during sentencing at the Regional Justice Center Wednesday, Aug. 9, 2023, in Las Vegas. Ruggs entered a guilty plea in May to a felony count of DUI resulting in death relating to the accident that killed Tina Tintor and her dog on Nov. 2, 2021. (Steve Marcus/Las Vegas Sun via AP)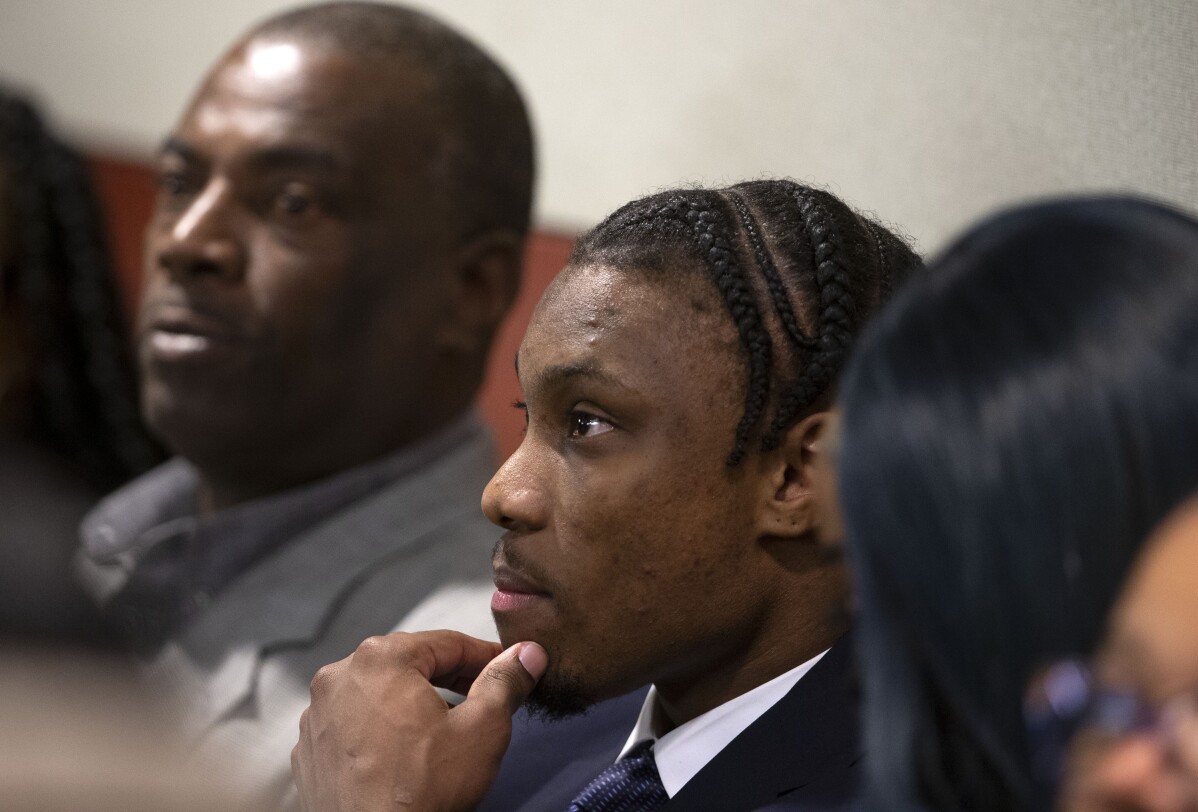 7 of 9

|
Former Las Vegas Raiders NFL football player Henry Ruggs III waits for his sentencing hearing at the Regional Justice Center, Wednesday, Aug. 9, 2023, in Las Vegas. Ruggs pleaded guilty May to felony DUI causing death and misdemeanor vehicular manslaughter. (Steve Marcus/Las Vegas Sun via AP)
7 of 9
Former Las Vegas Raiders NFL football player Henry Ruggs III waits for his sentencing hearing at the Regional Justice Center, Wednesday, Aug. 9, 2023, in Las Vegas. Ruggs pleaded guilty May to felony DUI causing death and misdemeanor vehicular manslaughter. (Steve Marcus/Las Vegas Sun via AP)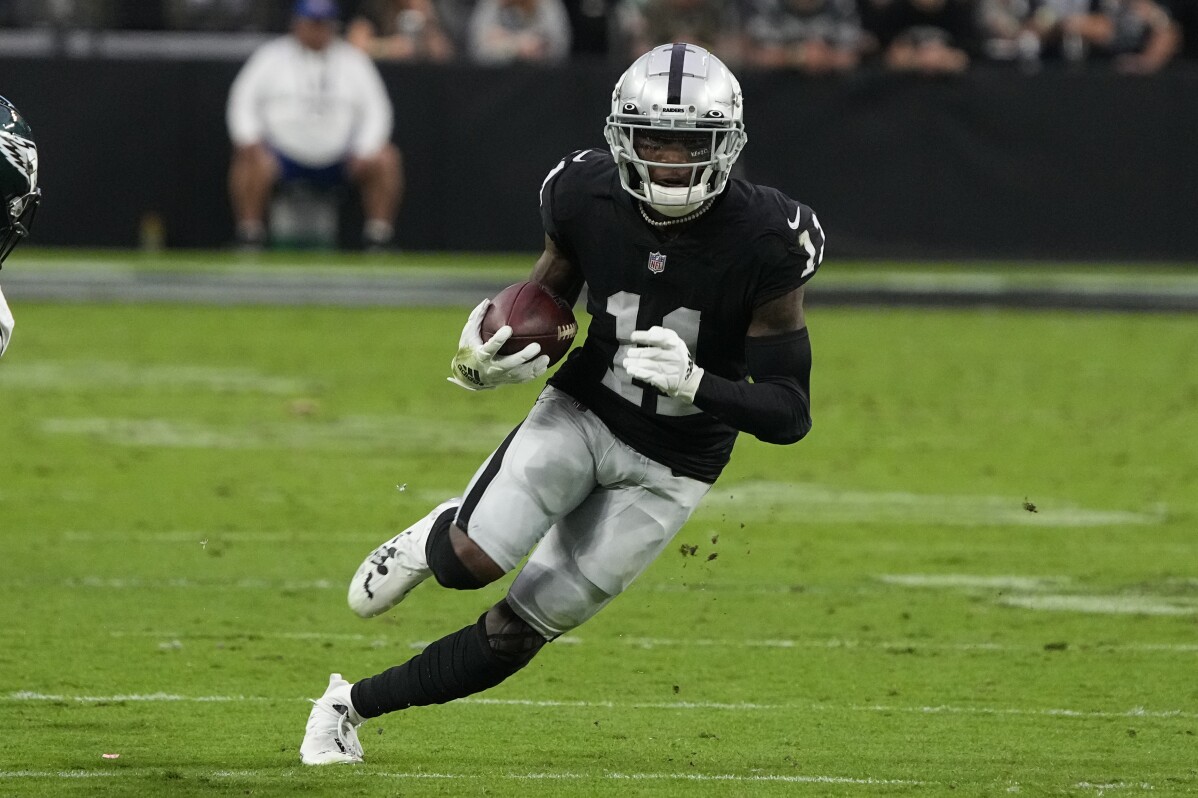 8 of 9

|
Las Vegas Raiders wide receiver Henry Ruggs III (11) carries the ball during the second half of an NFL football game against the Philadelphia Eagles, Sunday, Oct. 24, 2021, in Las Vegas. Former Las Vegas Raiders player Henry Ruggs was sentenced Wednesday, Aug. 9, 2023, in Las Vegas, to at least three years in a Nevada prison for killing a woman in a fiery crash while driving his sports car drunk at speeds up to 156 mph on a city street nearly two years ago. (AP Photo/Rick Scuteri, File)
8 of 9
Las Vegas Raiders wide receiver Henry Ruggs III (11) carries the ball during the second half of an NFL football game against the Philadelphia Eagles, Sunday, Oct. 24, 2021, in Las Vegas. Former Las Vegas Raiders player Henry Ruggs was sentenced Wednesday, Aug. 9, 2023, in Las Vegas, to at least three years in a Nevada prison for killing a woman in a fiery crash while driving his sports car drunk at speeds up to 156 mph on a city street nearly two years ago. (AP Photo/Rick Scuteri, File)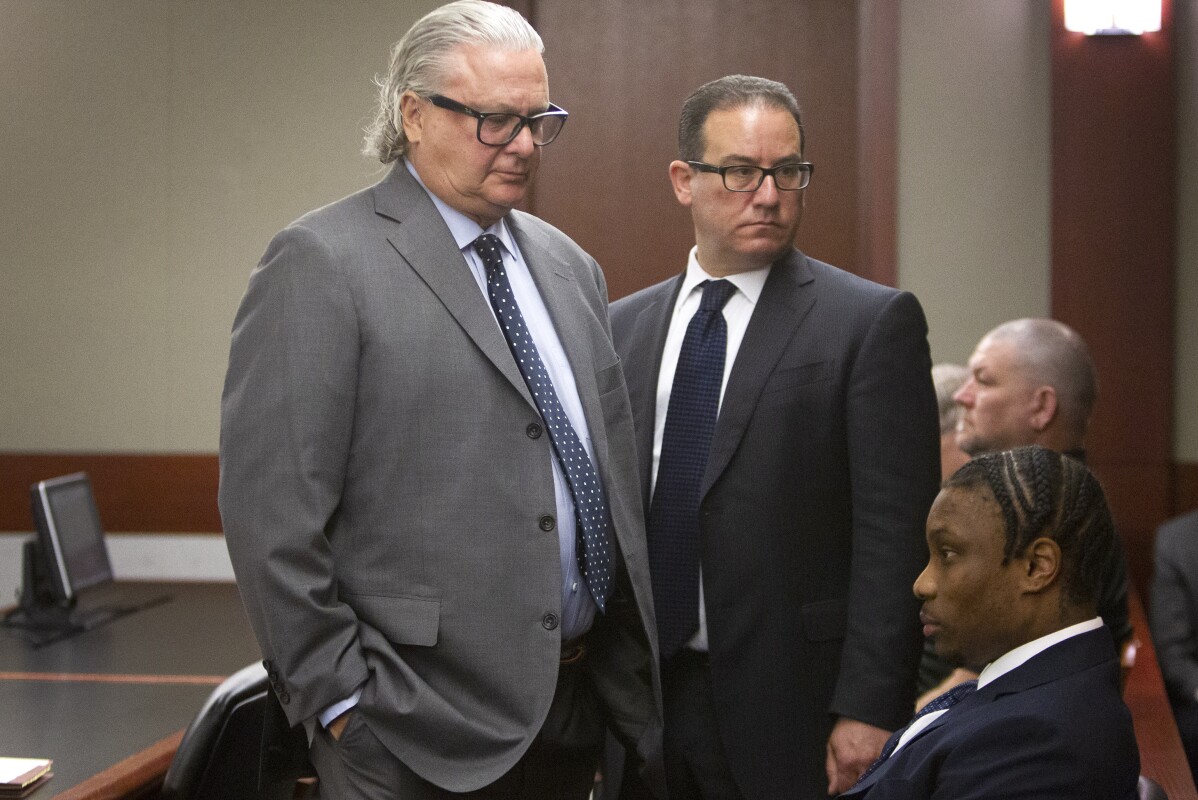 9 of 9

|
Former Las Vegas Raiders NFL football player Henry Ruggs III, seated right, waits with defense attorneys David Chesnoff, left, and Richard Schonfeld before during his sentencing hearing at the Regional Justice Center, Wednesday, Aug. 9, 2023, in Las Vegas. Ruggs pleaded guilty May to felony DUI causing death and misdemeanor vehicular manslaughter. (Steve Marcus/Las Vegas Sun via AP)
9 of 9
Former Las Vegas Raiders NFL football player Henry Ruggs III, seated right, waits with defense attorneys David Chesnoff, left, and Richard Schonfeld before during his sentencing hearing at the Regional Justice Center, Wednesday, Aug. 9, 2023, in Las Vegas. Ruggs pleaded guilty May to felony DUI causing death and misdemeanor vehicular manslaughter. (Steve Marcus/Las Vegas Sun via AP)
LAS VEGAS (AP) — Former Las Vegas Raiders player Henry Ruggs was sentenced Wednesday to at least three years in a Nevada prison for killing a woman in a fiery crash while driving his sports car drunk at speeds up to 156 mph on a city street nearly two years ago.
"I sincerely apologize," the former first-round NFL draft pick said as he stood for sentencing in Las Vegas after pleading guilty in May to felony DUI causing death and misdemeanor vehicular manslaughter, a charge carrying a six-month jail sentence that will be folded in with his three-to-10-year prison term.
Ruggs, now 24, was cut by the Raiders while he was still hospitalized following the predawn crash on Nov. 2, 2021. The collision killed Tina Tintor and her dog, Max, and injured Ruggs' passenger, Kiara Je'nai Kilgo-Washington, his fiancee and mother of their daughter.
"I have no excuses," Ruggs said, citing pain the case has caused his family, teammates and Tintor's family. Ruggs said that after prison, he intends to counsel others "about the dangers of driving at unsafe speed and driving and drinking."
In a statement read in court by Tintor's cousin, David Strbac, Tintor's mother, Mirjana Komazec, offered grief, grace and memories of "what it was like to hug and embrace her, knowing we will never be able to kiss her on her forehead or tell her how much we love her and how absolutely proud of her we are."
"We pray that Henry Ruggs is blessed with the opportunity to be able watch his beautiful daughter grow into the amazing woman she can be," Komazec's statement said. "And we pray that this terrible accident inspires positive change in the world. We pray that we all take away the importance of looking out for one another, remembering everyone we meet is another human's loved one."
Kilgo-Washington and a group of friends and supporters watched as Ruggs, wearing a dark suit, white shirt and blue tie, was handcuffed by a court officer when Clark County District Court Judge Jennifer Schwartz read the sentence. Ruggs was then led away. Ruggs had remained free on house arrest since shortly after the crash.
In court filings ahead of the sentencing, Ruggs' attorneys, David Chesnoff and Richard Schonfeld, included letters from high school administrators and teachers in Montgomery, Alabama, who praised Ruggs, and a testimonial from Democratic Alabama state Rep. Phillip Ensler.
"Mr. Ruggs is a man of good character who made a terrible mistake," the attorneys said in the presentencing memorandum. "His remorse is deep and sincere."
His plea deal avoided a trial that Clark County District Attorney Steve Wolfson said posed obstacles for conviction because Ruggs was not administered a field sobriety test following the crash and his defense attorneys argued that Ruggs' blood-alcohol test was improperly obtained at the hospital.
Wolfson, a Democrat, said the blood test provided "virtually" the only proof that Ruggs was under the influence of alcohol at the time of the crash. It revealed that Ruggs had a blood-alcohol level of 0.16% — twice the legal limit in Nevada — after the rear-end wreck ignited a fire in Tintor's Toyota Rav 4.
Kilgo-Washington also was injured in Ruggs' demolished 2020 Chevrolet Corvette. Prosecutors said Ruggs suffered a leg injury, and Kilgo-Washington received an arm injury. Kilgo-Washington was not cooperative with prosecutors as a victim in the case.
Wolfson had said Ruggs would face a mandatory minimum of two years in prison if convicted and could get more than 50 years. The district attorney said investigators learned that Ruggs spent several hours drinking with friends at a sports entertainment site and golfing venue, and may have been at a friend's home for several more hours before he and Kilgo-Washington headed home.
Tintor was a Serbian immigrant who friends and family members said graduated from a Las Vegas high school, worked at a Target store, wanted to become a computer programmer and was close to obtaining her U.S. citizenship. The family statement called Max her best friend.
"The sentence isn't going to bring Tina back," Farhan Naqvi, an attorney who represented Tintor's family, said outside the courtroom. "What we're hoping for, more than anything, is that other deaths can be prevented from driving under the influence and reckless driving. It ruins lives. It destroys families."