North Korean leader Kim calls for his military to sharpen war plans as his rivals prepare drills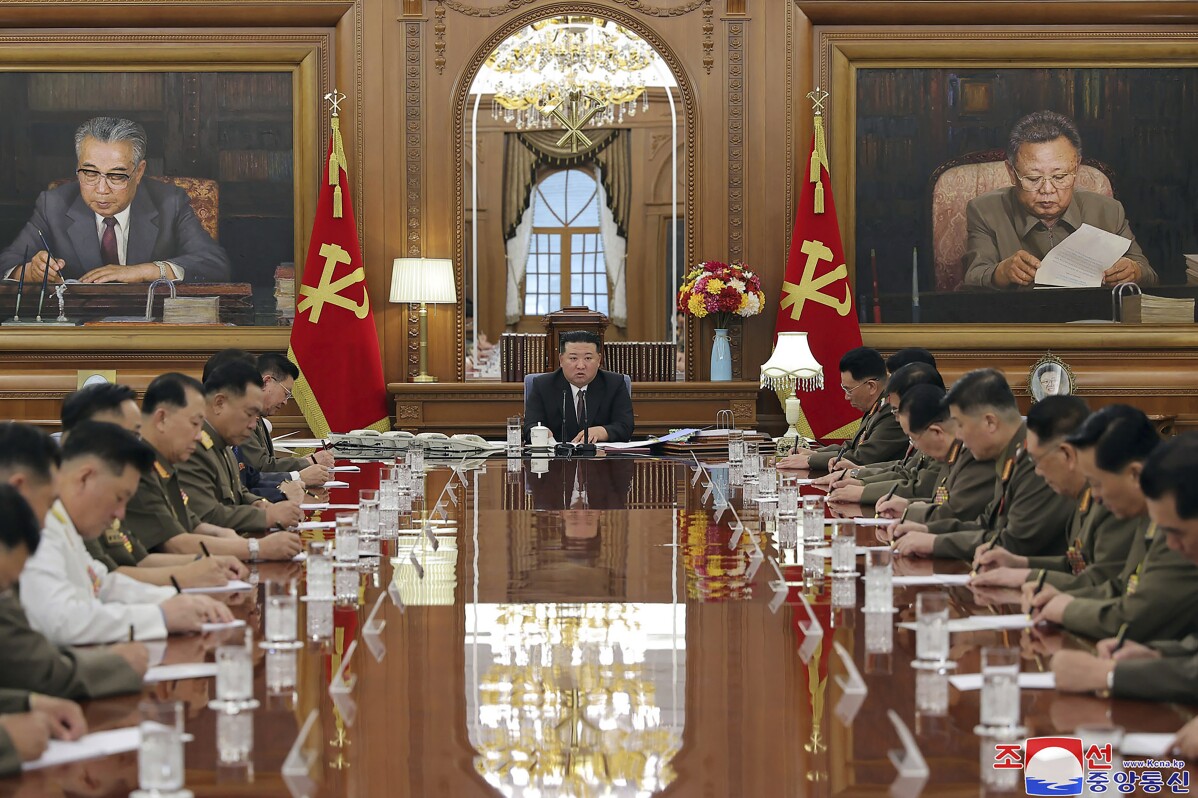 1 of 2

|
In this undated photo provided by the North Korean government, North Korean leader Kim Jong Un, center, attends a meeting of the North Korean ruling Workers' Party's central military commission in Pyongyang, North Korea Wednesday, Aug. 9, 2023. Independent journalists were not given access to cover the event depicted in this image distributed by the North Korean government. The content of this image is as provided and cannot be independently verified. Korean language watermark on image as provided by source reads: "KCNA" which is the abbreviation for Korean Central News Agency. (Korean Central News Agency/Korea News Service via AP)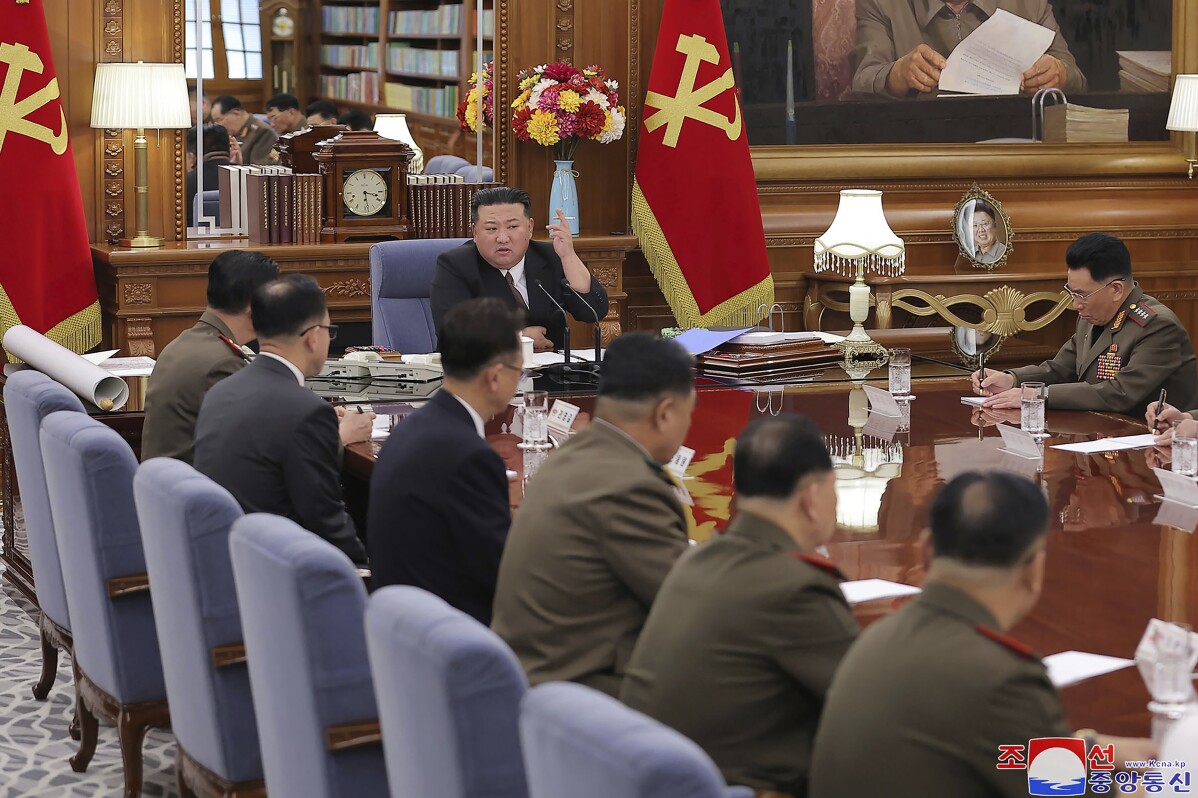 2 of 2

|
In this undated photo provided by the North Korean government, North Korean leader Kim Jong Un, center, attends a meeting of the North Korean ruling Workers' Party's central military commission in Pyongyang, North Korea Wednesday, Aug. 9, 2023. Independent journalists were not given access to cover the event depicted in this image distributed by the North Korean government. The content of this image is as provided and cannot be independently verified. Korean language watermark on image as provided by source reads: "KCNA" which is the abbreviation for Korean Central News Agency. (Korean Central News Agency/Korea News Service via AP)
North Korean leader Kim calls for his military to sharpen war plans as his rivals prepare drills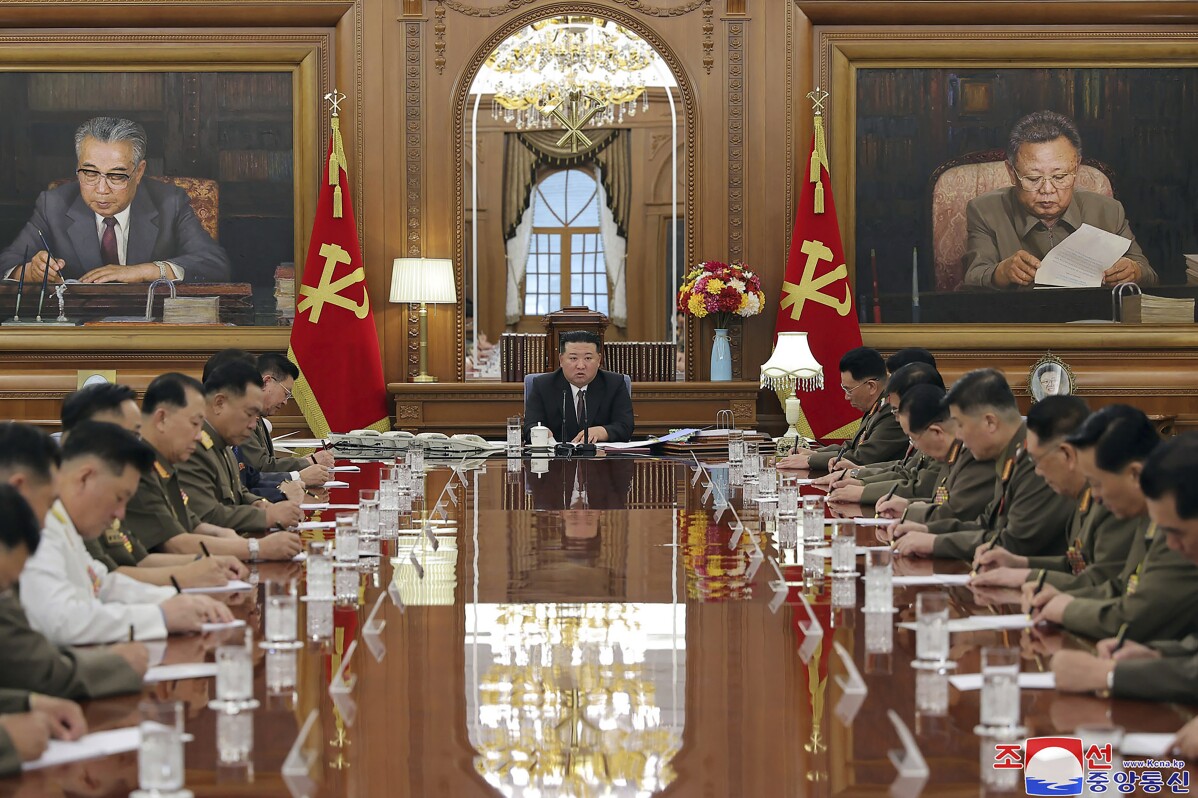 1 of 2

|
In this undated photo provided by the North Korean government, North Korean leader Kim Jong Un, center, attends a meeting of the North Korean ruling Workers' Party's central military commission in Pyongyang, North Korea Wednesday, Aug. 9, 2023. Independent journalists were not given access to cover the event depicted in this image distributed by the North Korean government. The content of this image is as provided and cannot be independently verified. Korean language watermark on image as provided by source reads: "KCNA" which is the abbreviation for Korean Central News Agency. (Korean Central News Agency/Korea News Service via AP)
1 of 2
In this undated photo provided by the North Korean government, North Korean leader Kim Jong Un, center, attends a meeting of the North Korean ruling Workers' Party's central military commission in Pyongyang, North Korea Wednesday, Aug. 9, 2023. Independent journalists were not given access to cover the event depicted in this image distributed by the North Korean government. The content of this image is as provided and cannot be independently verified. Korean language watermark on image as provided by source reads: "KCNA" which is the abbreviation for Korean Central News Agency. (Korean Central News Agency/Korea News Service via AP)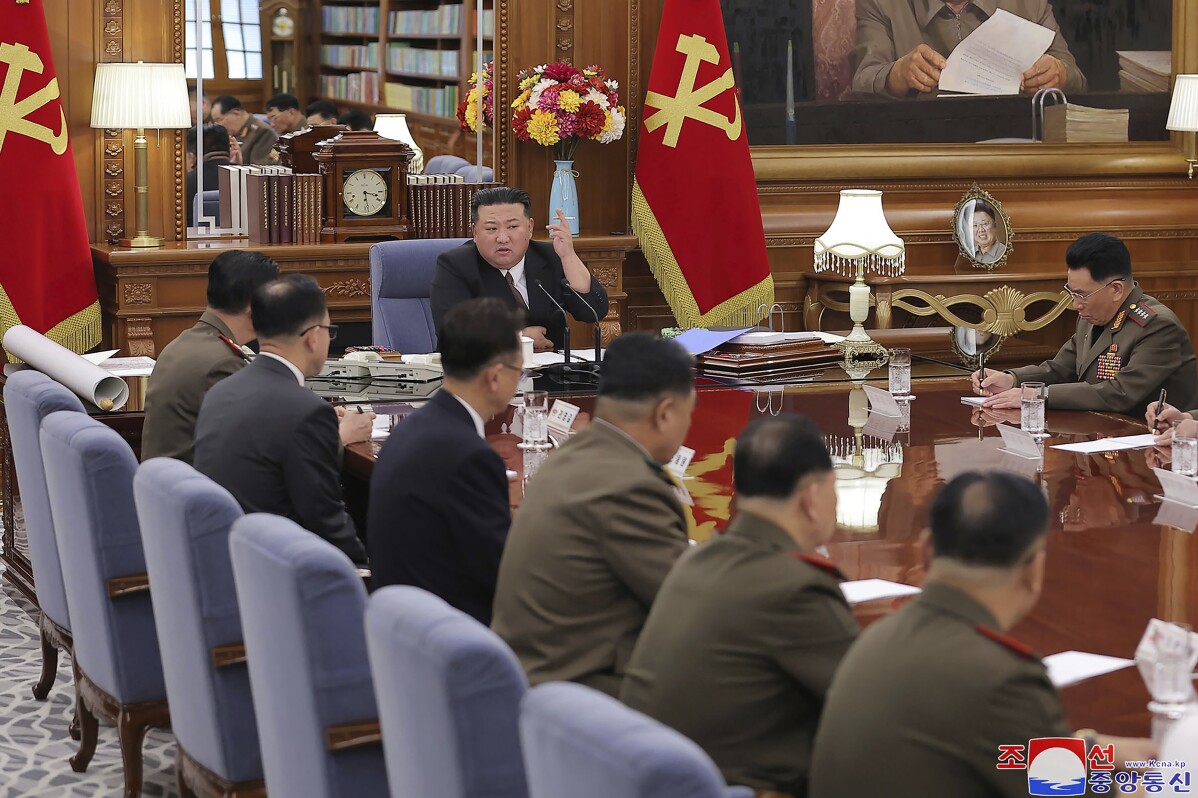 2 of 2

|
In this undated photo provided by the North Korean government, North Korean leader Kim Jong Un, center, attends a meeting of the North Korean ruling Workers' Party's central military commission in Pyongyang, North Korea Wednesday, Aug. 9, 2023. Independent journalists were not given access to cover the event depicted in this image distributed by the North Korean government. The content of this image is as provided and cannot be independently verified. Korean language watermark on image as provided by source reads: "KCNA" which is the abbreviation for Korean Central News Agency. (Korean Central News Agency/Korea News Service via AP)
2 of 2
In this undated photo provided by the North Korean government, North Korean leader Kim Jong Un, center, attends a meeting of the North Korean ruling Workers' Party's central military commission in Pyongyang, North Korea Wednesday, Aug. 9, 2023. Independent journalists were not given access to cover the event depicted in this image distributed by the North Korean government. The content of this image is as provided and cannot be independently verified. Korean language watermark on image as provided by source reads: "KCNA" which is the abbreviation for Korean Central News Agency. (Korean Central News Agency/Korea News Service via AP)
SEOUL, South Korea (AP) — North Korean leader Kim Jong Un ordered his military to sharpen its war plans and signed off on expanding combat operations of frontline units, state media said Thursday, as the United States and South Korea prepare for a large-scale combined military exercise.
Condemning the allies' expanding drills as invasion rehearsals, Kim has used them as a pretext to further accelerate his weapons demonstrations, which have included the testing-firings of more than 100 missiles since the start of 2022, driving tensions on the Korean Peninsula to their highest point in years.
Experts say Kim's nuclear push is aimed at forcing the United States to accept the idea of the North as a nuclear power so he can eventually negotiate economic and security concessions from a position of strength.
Thursday's meeting of the North Korean ruling Workers' Party's central military commission, which Kim controls as chairman, was to discuss advancing his military's war readiness and establishing offensive countermeasure plans to deter his adversaries, which state media said were getting more blatant in their "reckless military confrontation" with the North.
After talks of boosting North Korean frontline units and stepping up war drills to incorporate new strategies and weapons, Kim signed an order to implement unspecified "important military measures," Pyongyang's official Korean Central News Agency said.
During the meeting, Kim stressed that the military must acquire "more powerful strike means" to bolster his nuclear deterrent and make speedier deployments of those weapons to combat units. He called for the country's munitions industry to step up mass production of various weapons and systems, and for the military to actively conduct "actual war drills" to digest those systems and enhance its war-fighting capabilities, KCNA said.
Photos of the meeting published by state media showed Kim pointing to spots in a blurred map of the Korean Peninsula. The spots appeared to be the metropolitan region surrounding the South Korean capital of Seoul, where half of the country's 51 million people live, and an area around the central city of Daejeon, the location of South Korea's army headquarters.
Kim also made personnel changes during the meeting, appointing Vice Marshal Ri Yong Gil as his new chief of general staff to replace Gen. Pak Su Il, KCNA said.
When asked about Kim's comments, Lee Sung Joon, spokesperson of South Korea's Joint Chiefs of Staff, said during a briefing that the U.S. and South Korean intelligence authorities were closely monitoring North Korean weapons development activities and possibilities of provocations. He did not discuss it further.
Kim's comments during the meeting echoed what he said last week during a three-day tour of the country's key weapons factories, including a facility that produces launcher trucks for his intercontinental ballistic missiles designed to target the U.S. mainland, and called for significant improvements to the country's arms and war readiness.
Kim's visits also included an artillery factory that deepened outside concerns that North Korea was preparing to export artillery and other arms supplies to Russia as President Vladimir Putin reaches out to other countries for support in the war in Ukraine.
In the face of deepening confrontations with Washington and Seoul, Kim has been trying boost the visibility of his partnerships with Moscow and Beijing to break out of diplomatic isolation and insert himself into a united front against the U.S.
Kim invited Russian Defense Minister Sergei Shoigu and a Chinese ruling party officials to share center stage at a giant military parade in Pyongyang where he rolled out his most powerful missiles designed to target South Korea and the United States. Shoigu's presence at the July 27 parade came after Kim took him on a tour of a domestic arms exhibition, which demonstrated North Korea's support for Russia's invasion of Ukraine and added to suspicions the North was willing to supply arms to Russia.
During Thursday's meeting, North Korean officials also agreed to hold another military parade to mark the 75th anniversary of its government's founding. The Sept. 9 parade would be the country's third event in 2023 alone. Analysts say the North has never staged military parades more than twice in the same year.