Hit ball gets lodged in red light of Fenway Park's Green Monster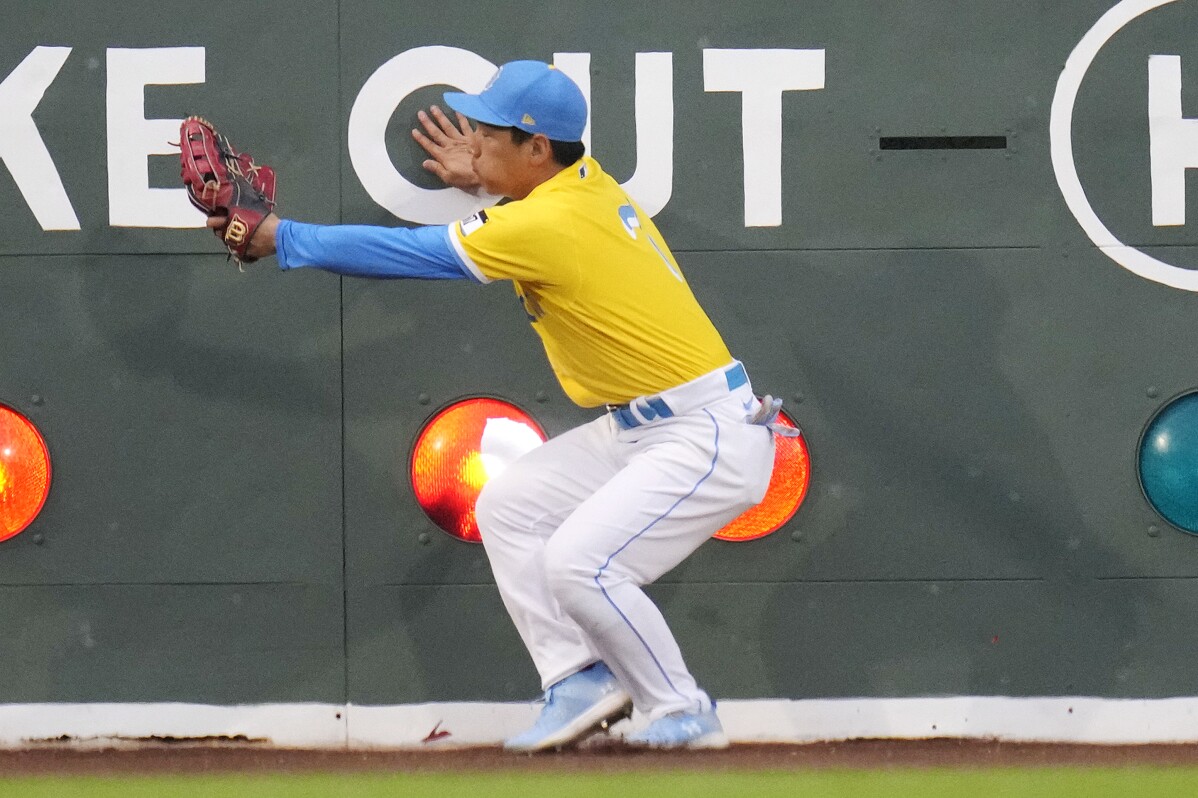 1 of 2

|
Boston Red Sox left fielder Masataka Yoshida hits the wall as he misses catching a ball hit by Kansas City Royals' Kyle Isbel during the second inning of a baseball game at Fenway Park, Wednesday, Aug. 9, 2023, in Boston. The ball broke the lens of the out indicator light, resting inside the scoreboard for a ground-rule double. (AP Photo/Charles Krupa)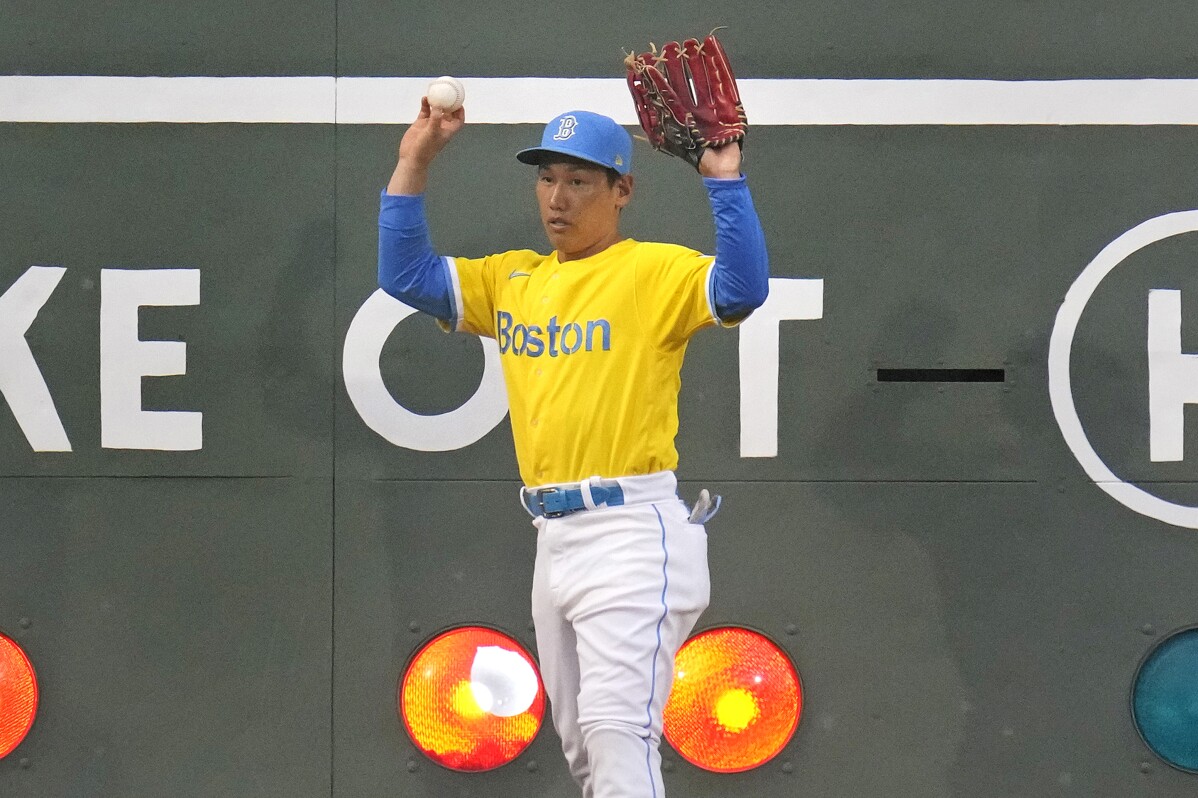 2 of 2

|
Boston Red Sox left fielder Masataka Yoshida holds up the ball after missing the catch on ball hit by Kansas City Royals' Kyle Isbel during the second inning of a baseball game at Fenway Park, Wednesday, Aug. 9, 2023, in Boston. The ball broke the lens of the out indicator light, resting inside the scoreboard for a ground-rule double. (AP Photo/Charles Krupa)
Hit ball gets lodged in red light of Fenway Park's Green Monster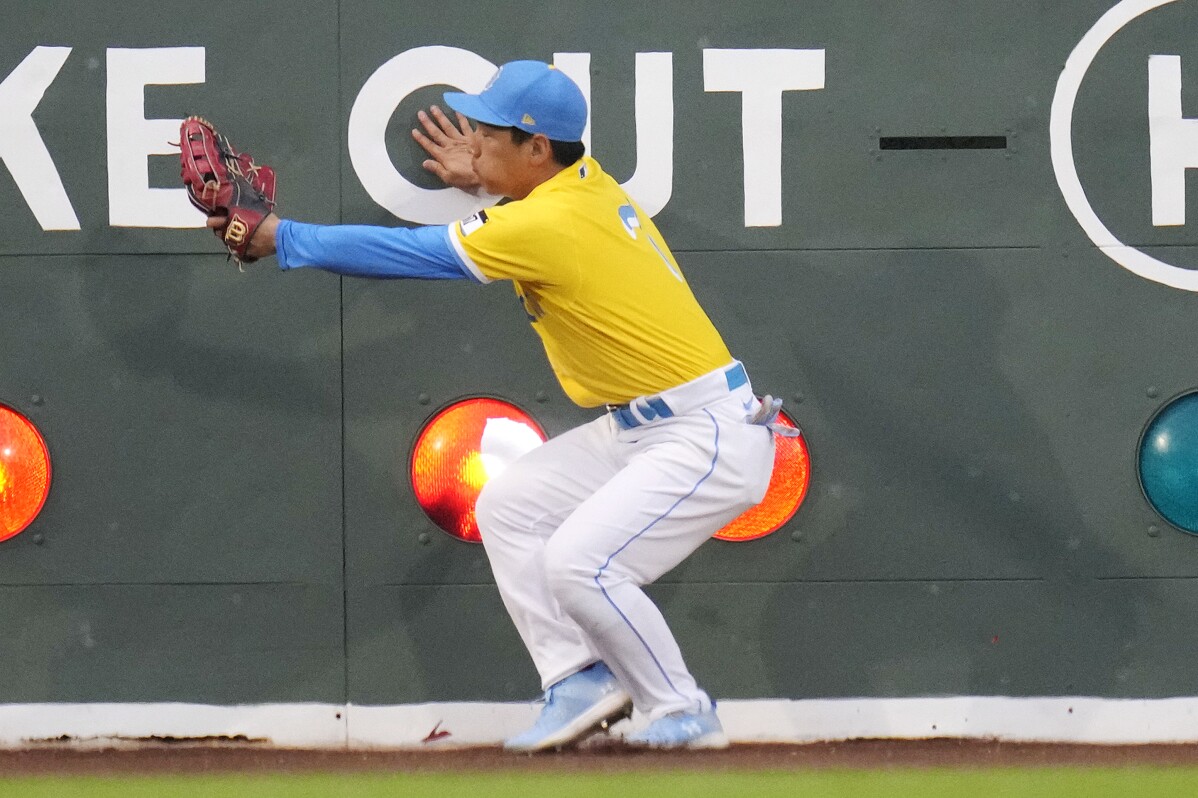 1 of 2

|
Boston Red Sox left fielder Masataka Yoshida hits the wall as he misses catching a ball hit by Kansas City Royals' Kyle Isbel during the second inning of a baseball game at Fenway Park, Wednesday, Aug. 9, 2023, in Boston. The ball broke the lens of the out indicator light, resting inside the scoreboard for a ground-rule double. (AP Photo/Charles Krupa)
1 of 2
Boston Red Sox left fielder Masataka Yoshida hits the wall as he misses catching a ball hit by Kansas City Royals' Kyle Isbel during the second inning of a baseball game at Fenway Park, Wednesday, Aug. 9, 2023, in Boston. The ball broke the lens of the out indicator light, resting inside the scoreboard for a ground-rule double. (AP Photo/Charles Krupa)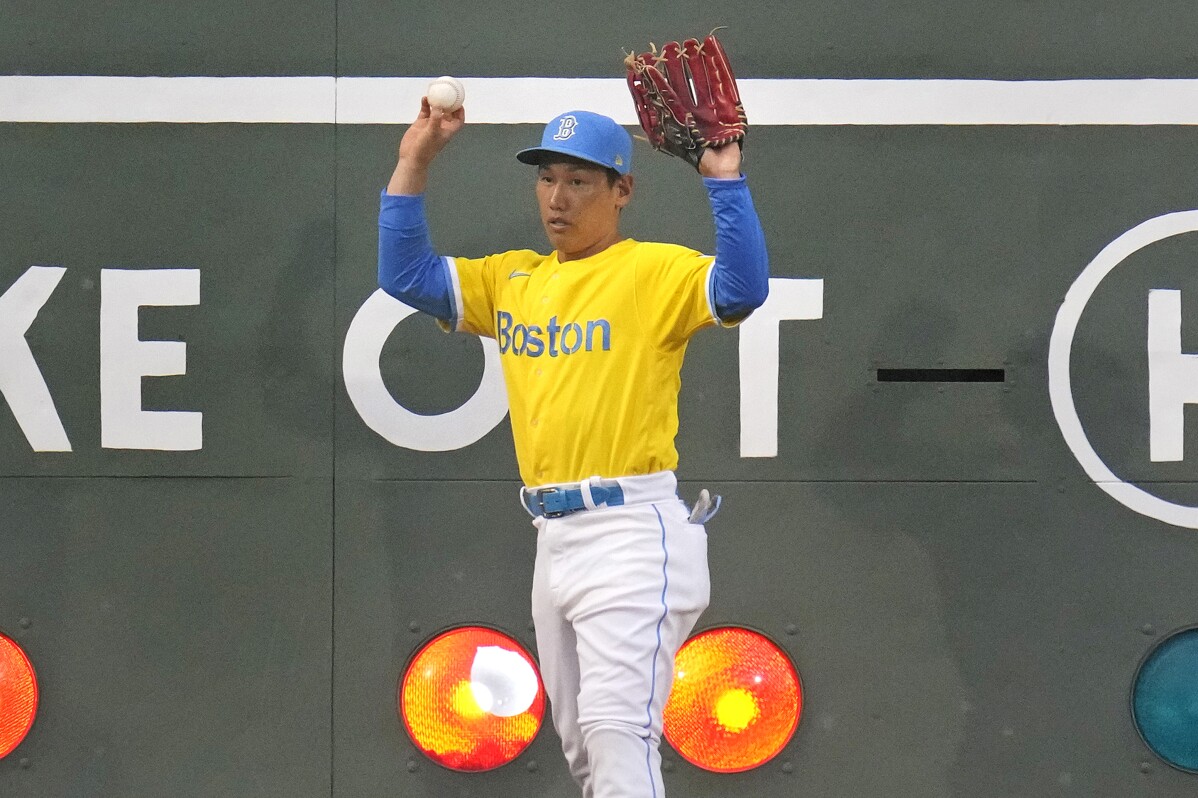 2 of 2

|
Boston Red Sox left fielder Masataka Yoshida holds up the ball after missing the catch on ball hit by Kansas City Royals' Kyle Isbel during the second inning of a baseball game at Fenway Park, Wednesday, Aug. 9, 2023, in Boston. The ball broke the lens of the out indicator light, resting inside the scoreboard for a ground-rule double. (AP Photo/Charles Krupa)
2 of 2
Boston Red Sox left fielder Masataka Yoshida holds up the ball after missing the catch on ball hit by Kansas City Royals' Kyle Isbel during the second inning of a baseball game at Fenway Park, Wednesday, Aug. 9, 2023, in Boston. The ball broke the lens of the out indicator light, resting inside the scoreboard for a ground-rule double. (AP Photo/Charles Krupa)
BOSTON (AP) — Kyle Isbel hit a liner that crashed through a red light near the base of the Green Monster at Fenway Park and lodged inside the broken light for a ground-rule double on Wednesday night.
The Kansas City Royals had just taken a 1-0 lead on MJ Melendez's home run to open the second inning. With two outs and Matt Duffy on first base, Isbel lashed a drive to left field off Boston right-hander Nick Pivetta that looked like it would be caught by Masataka Yoshida, who lunged for the ball and clasped his glove. But Yoshida missed the ball.
The sound of the ball hitting the Green Monster was clearly heard around the park. Yoshida, who crashed into the base of the wall in his futile catch effort, got up and started to run in, attempting to field the ball. Clearly befuddled, Yoshida turned around a couple of times trying to locate the ball. But the ball was not on the field.
Rather than hitting the wall and bouncing off, the ball crashed through one of the red lights that denote the number of outs. Yoshida reached through the hole and pulled out the offending baseball.
"I realized I missed catching the ball, but after that, I tried to find the ball but there was nowhere else. So that was a surprise," said Yoshida, who had never experienced anything like that in his career. "Yeah, getting into the light, definitely that was a first time."
While the play went into the scorebook as a ground rule double, it was anything but routine. And, it prevented the Royals from scoring more runs in the inning.
"I was like, 'Finally, something's going our way,'" said Red Sox manager Alex Cora. "I've never seen that, not even in BP. We go over the rules and they always talk about if the ball gets stuck in the Monster, and I'm like, 'That's not going to happen.' But it did."
"I thought that maybe it hit off (Yoshida) and then maybe got stuck underneath the Monster or something," said Pivetta. "I didn't realize it went through the light, I guess. I think it was a fortunate break."
Kansas City left fielder Melendez got to see the evidence.
"I haven't ever seen that," he said. "When I went over there the next inning, one of the guys working the Monster was out there to check on it, and he said that's never happened before in all the years he's worked here. I don't know how long he's been here, but I'm assuming a long time. The light seemed pretty thick. I went in there and felt them, and they felt like they wouldn't be able to break. I'm assuming they made them so that they wouldn't break on stuff like that. But I guess he just hit it right."
___
AP MLB: https://apnews.com/hub/mlb