Alex Verdugo drives in 2 runs in the Red Sox's 4-3 victory over the Royals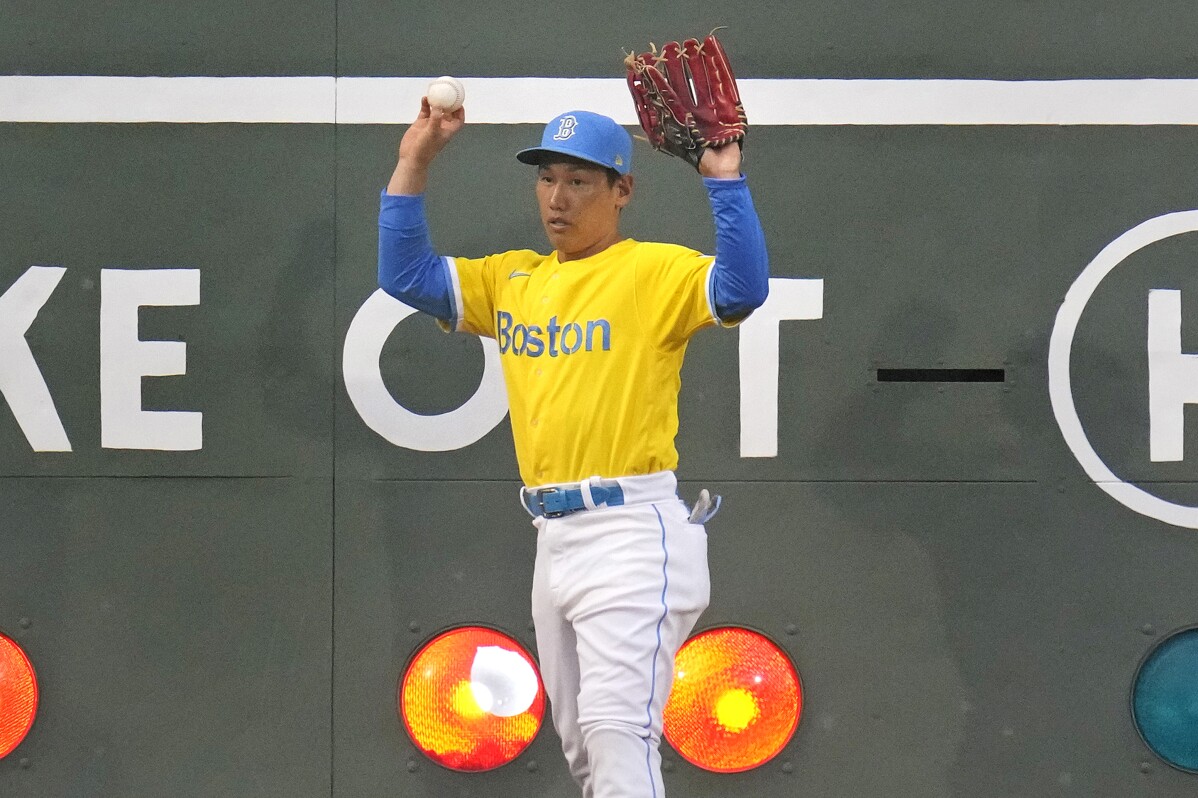 1 of 7

|
Boston Red Sox left fielder Masataka Yoshida holds up the ball after missing the catch on ball hit by Kansas City Royals' Kyle Isbel during the second inning of a baseball game at Fenway Park, Wednesday, Aug. 9, 2023, in Boston. The ball broke the lens of the out indicator light, resting inside the scoreboard for a ground-rule double. (AP Photo/Charles Krupa)
2 of 7

|
Boston Red Sox designated hitter Trevor Story, left, reacts after striking out to end the eighth inning of the team's baseball game against the Kansas City Royals at Fenway Park, Wednesday, Aug. 9, 2023, in Boston. At right is Royals catcher Freddy Fermin. (AP Photo/Charles Krupa)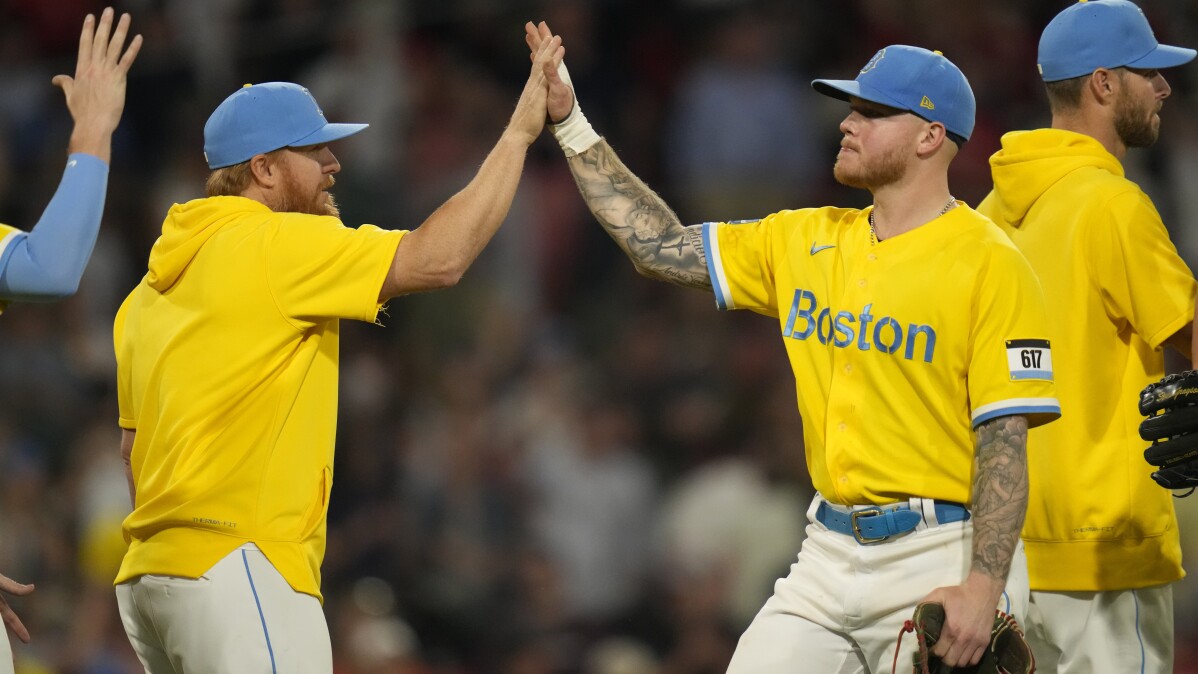 3 of 7

|
Boston Red Sox right fielder Alex Verdugo, right, is congratulated by Justin Turner, left, after the Red Sox defeated the Kansas City Royals 4-3 in a baseball game at Fenway Park, Wednesday, Aug. 9, 2023, in Boston. (AP Photo/Charles Krupa)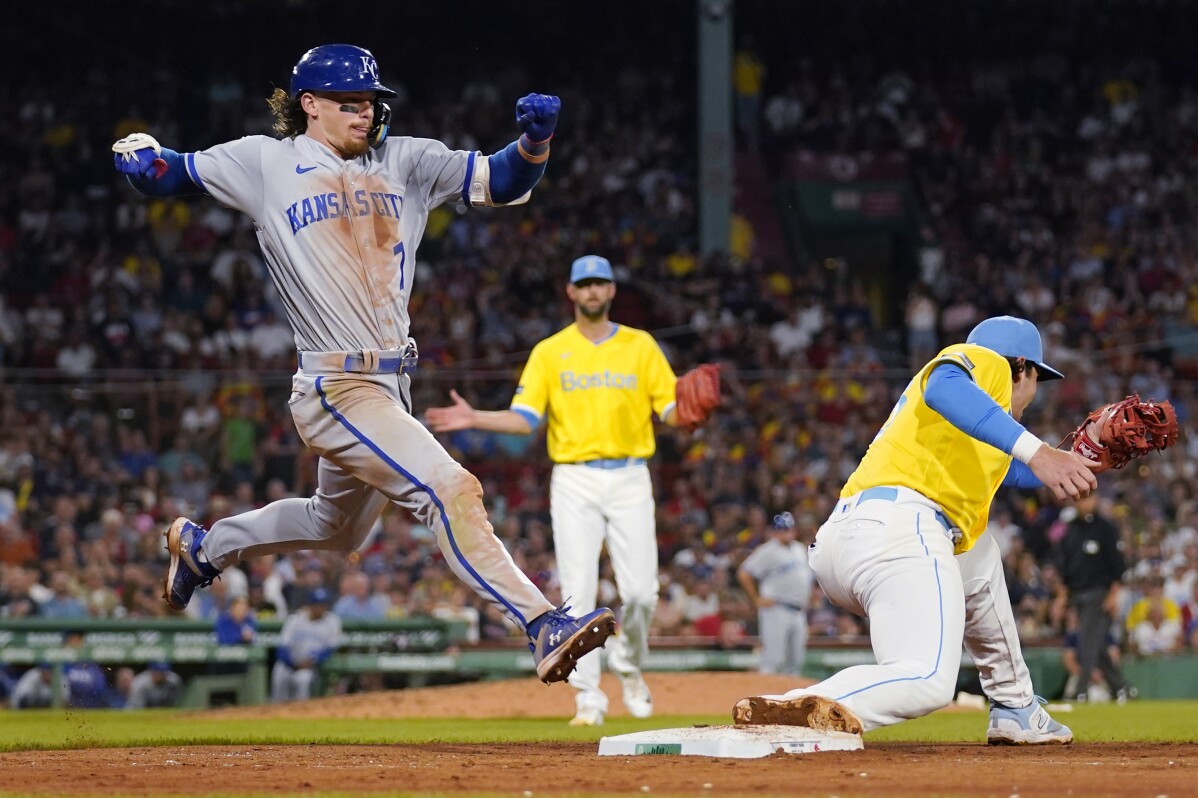 4 of 7

|
Kansas City Royals' Bobby Witt Jr. (7) is put out by Boston Red Sox first baseman Triston Casas, right, after hitting into a double play during the eighth inning of a baseball game at Fenway Park, Wednesday, Aug. 9, 2023, in Boston. (AP Photo/Charles Krupa)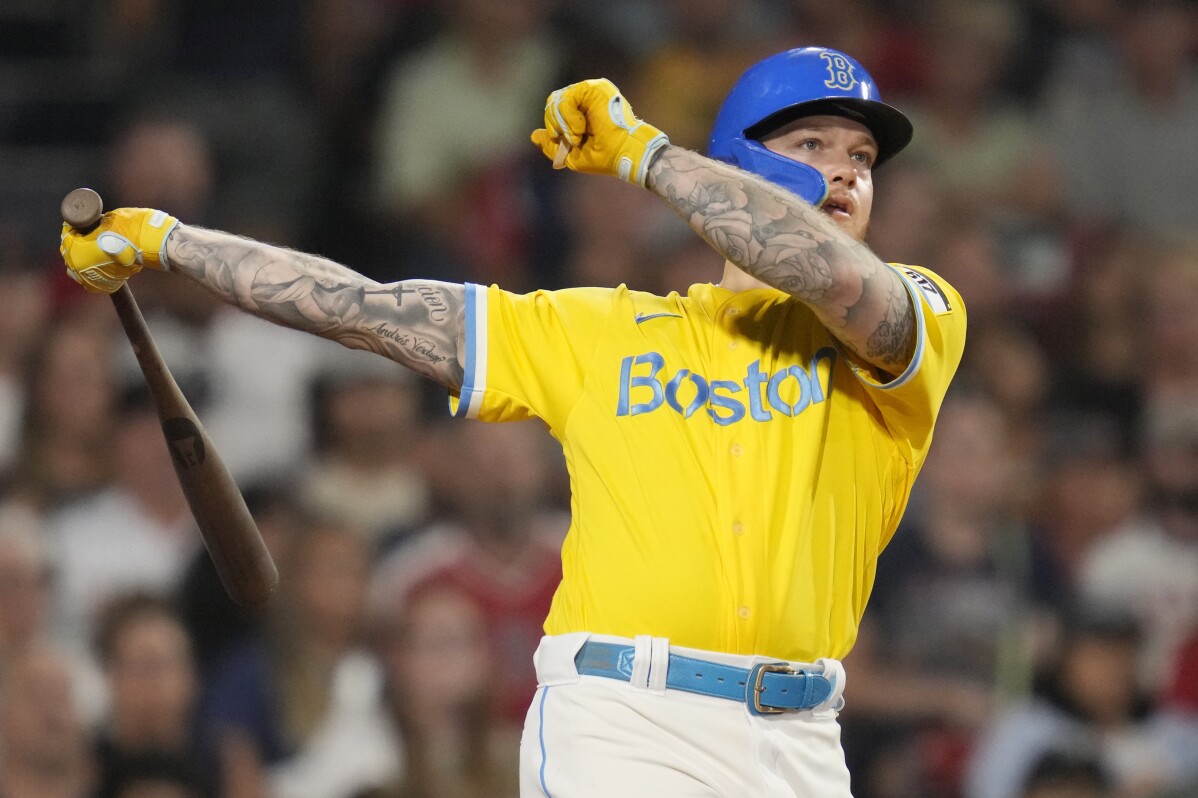 5 of 7

|
Boston Red Sox's Alex Verdugo watches his two-run double against the Kansas City Royals during the fourth inning of a baseball game at Fenway Park, Wednesday, Aug. 9, 2023, in Boston. (AP Photo/Charles Krupa)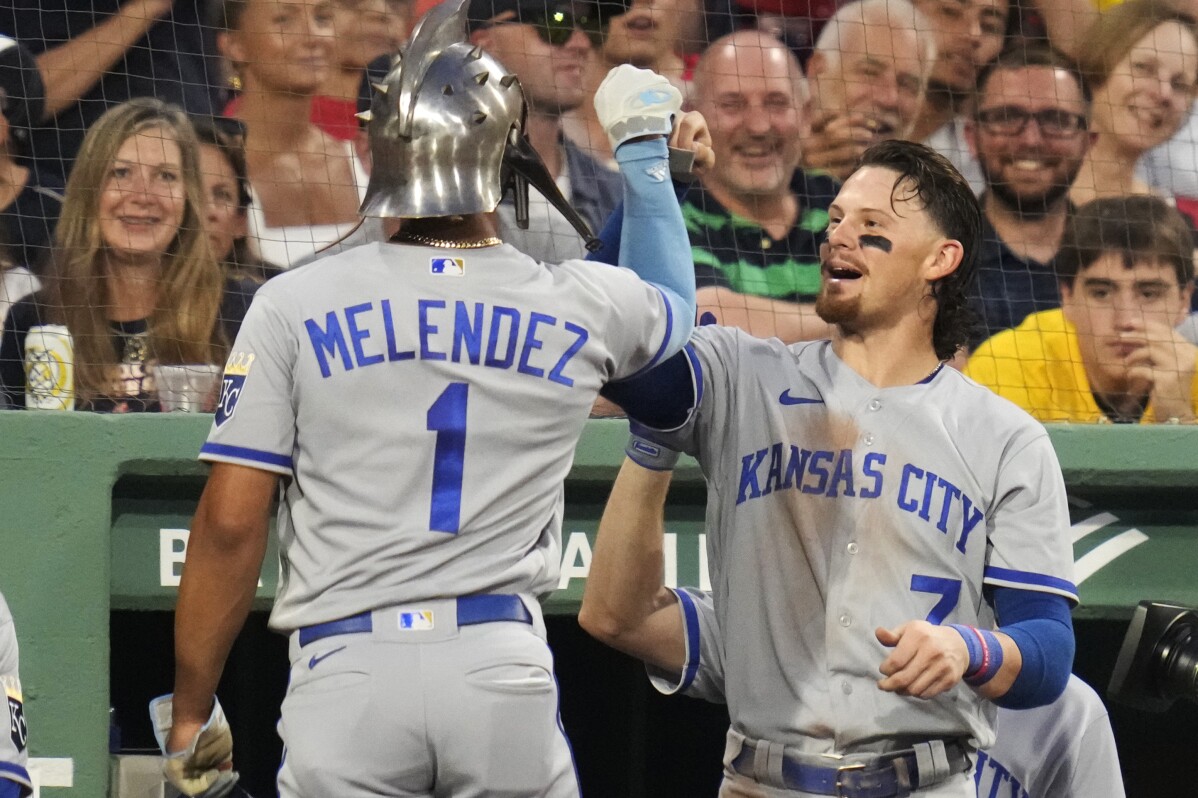 6 of 7

|
Kansas City Royals' MJ Melendez (1) is congratulated by Bobby Witt Jr. (7) after his solo home run against the Boston Red Sox during the fourth inning of a baseball game at Fenway Park, Wednesday, Aug. 9, 2023, in Boston. (AP Photo/Charles Krupa)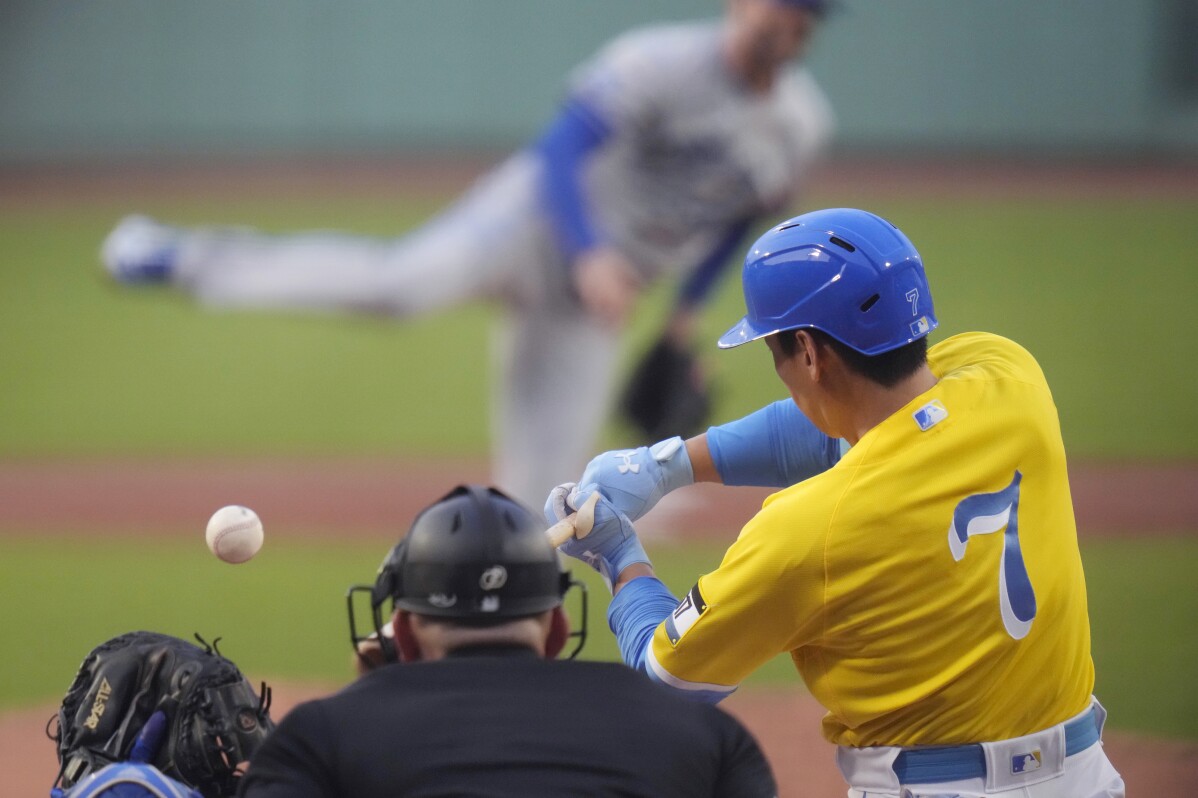 7 of 7

|
Boston Red Sox's Masataka Yoshida (7) takes a swing during the first inning of the team's baseball game against the Kansas City Royals at Fenway Park, Wednesday, Aug. 9, 2023, in Boston. (AP Photo/Charles Krupa)
Alex Verdugo drives in 2 runs in the Red Sox's 4-3 victory over the Royals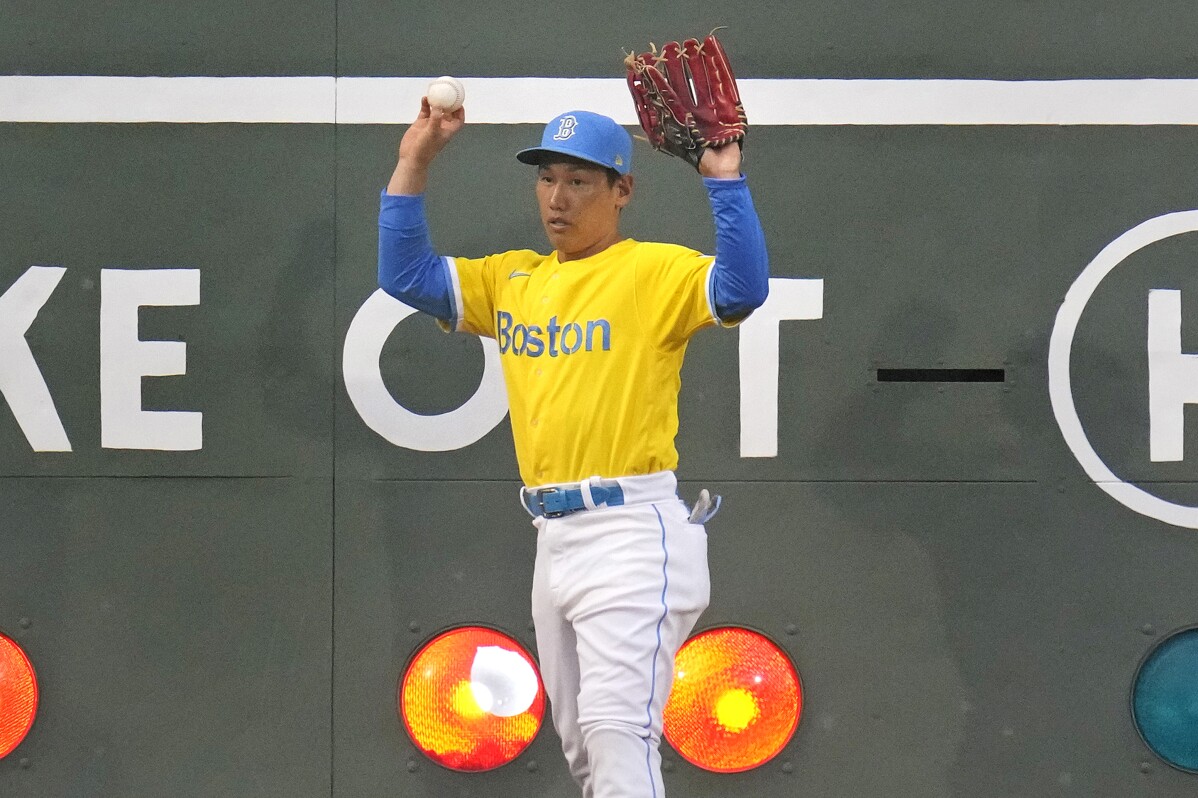 1 of 7

|
Boston Red Sox left fielder Masataka Yoshida holds up the ball after missing the catch on ball hit by Kansas City Royals' Kyle Isbel during the second inning of a baseball game at Fenway Park, Wednesday, Aug. 9, 2023, in Boston. The ball broke the lens of the out indicator light, resting inside the scoreboard for a ground-rule double. (AP Photo/Charles Krupa)
1 of 7
Boston Red Sox left fielder Masataka Yoshida holds up the ball after missing the catch on ball hit by Kansas City Royals' Kyle Isbel during the second inning of a baseball game at Fenway Park, Wednesday, Aug. 9, 2023, in Boston. The ball broke the lens of the out indicator light, resting inside the scoreboard for a ground-rule double. (AP Photo/Charles Krupa)
2 of 7

|
Boston Red Sox designated hitter Trevor Story, left, reacts after striking out to end the eighth inning of the team's baseball game against the Kansas City Royals at Fenway Park, Wednesday, Aug. 9, 2023, in Boston. At right is Royals catcher Freddy Fermin. (AP Photo/Charles Krupa)
2 of 7
Boston Red Sox designated hitter Trevor Story, left, reacts after striking out to end the eighth inning of the team's baseball game against the Kansas City Royals at Fenway Park, Wednesday, Aug. 9, 2023, in Boston. At right is Royals catcher Freddy Fermin. (AP Photo/Charles Krupa)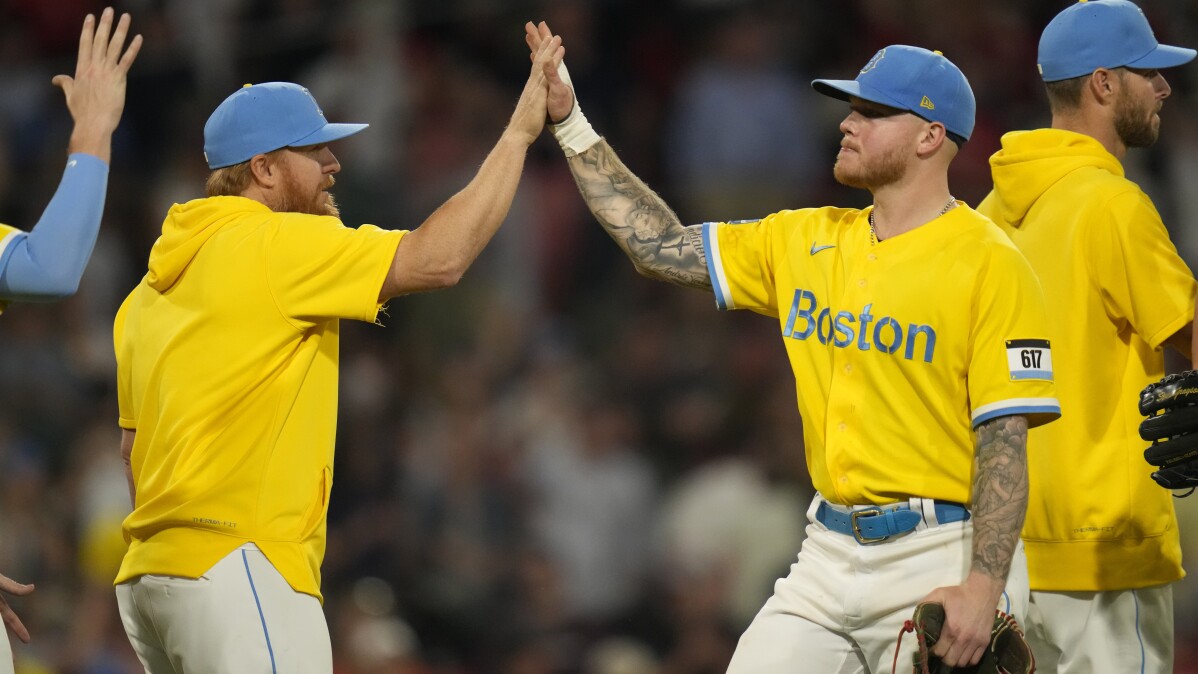 3 of 7

|
Boston Red Sox right fielder Alex Verdugo, right, is congratulated by Justin Turner, left, after the Red Sox defeated the Kansas City Royals 4-3 in a baseball game at Fenway Park, Wednesday, Aug. 9, 2023, in Boston. (AP Photo/Charles Krupa)
3 of 7
Boston Red Sox right fielder Alex Verdugo, right, is congratulated by Justin Turner, left, after the Red Sox defeated the Kansas City Royals 4-3 in a baseball game at Fenway Park, Wednesday, Aug. 9, 2023, in Boston. (AP Photo/Charles Krupa)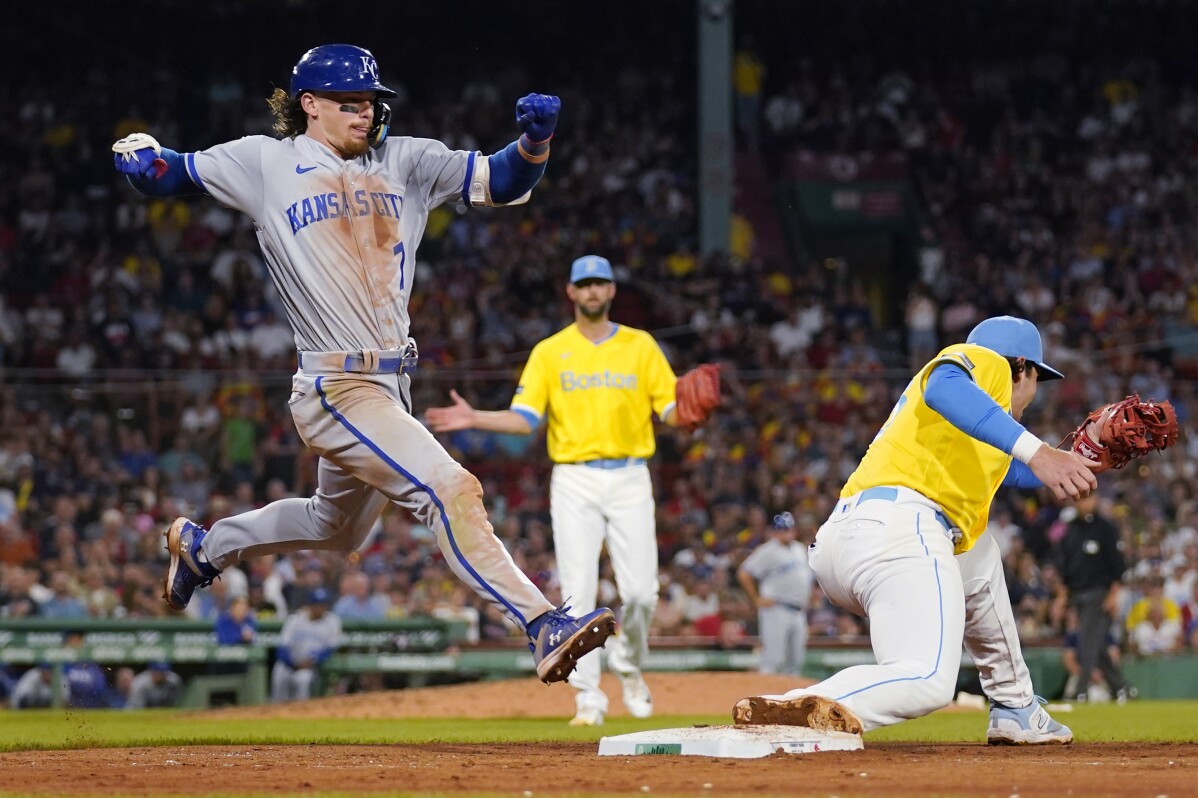 4 of 7

|
Kansas City Royals' Bobby Witt Jr. (7) is put out by Boston Red Sox first baseman Triston Casas, right, after hitting into a double play during the eighth inning of a baseball game at Fenway Park, Wednesday, Aug. 9, 2023, in Boston. (AP Photo/Charles Krupa)
4 of 7
Kansas City Royals' Bobby Witt Jr. (7) is put out by Boston Red Sox first baseman Triston Casas, right, after hitting into a double play during the eighth inning of a baseball game at Fenway Park, Wednesday, Aug. 9, 2023, in Boston. (AP Photo/Charles Krupa)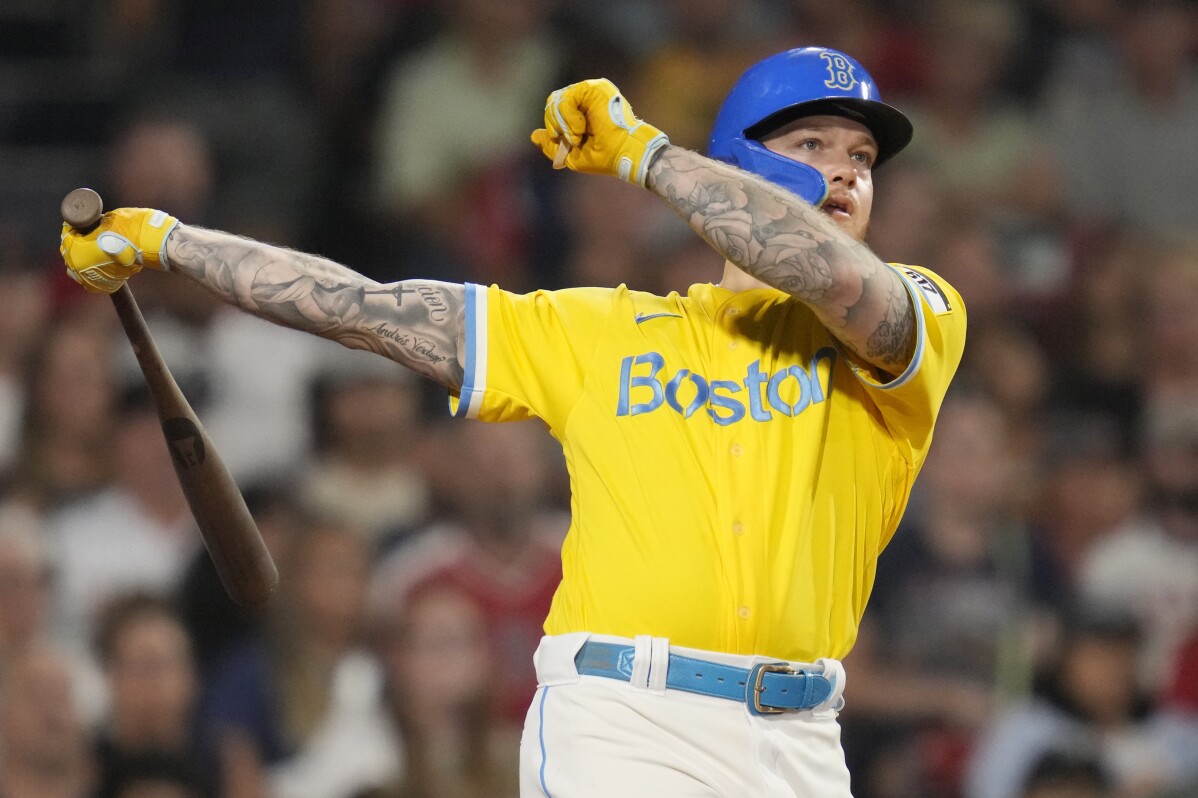 5 of 7

|
Boston Red Sox's Alex Verdugo watches his two-run double against the Kansas City Royals during the fourth inning of a baseball game at Fenway Park, Wednesday, Aug. 9, 2023, in Boston. (AP Photo/Charles Krupa)
5 of 7
Boston Red Sox's Alex Verdugo watches his two-run double against the Kansas City Royals during the fourth inning of a baseball game at Fenway Park, Wednesday, Aug. 9, 2023, in Boston. (AP Photo/Charles Krupa)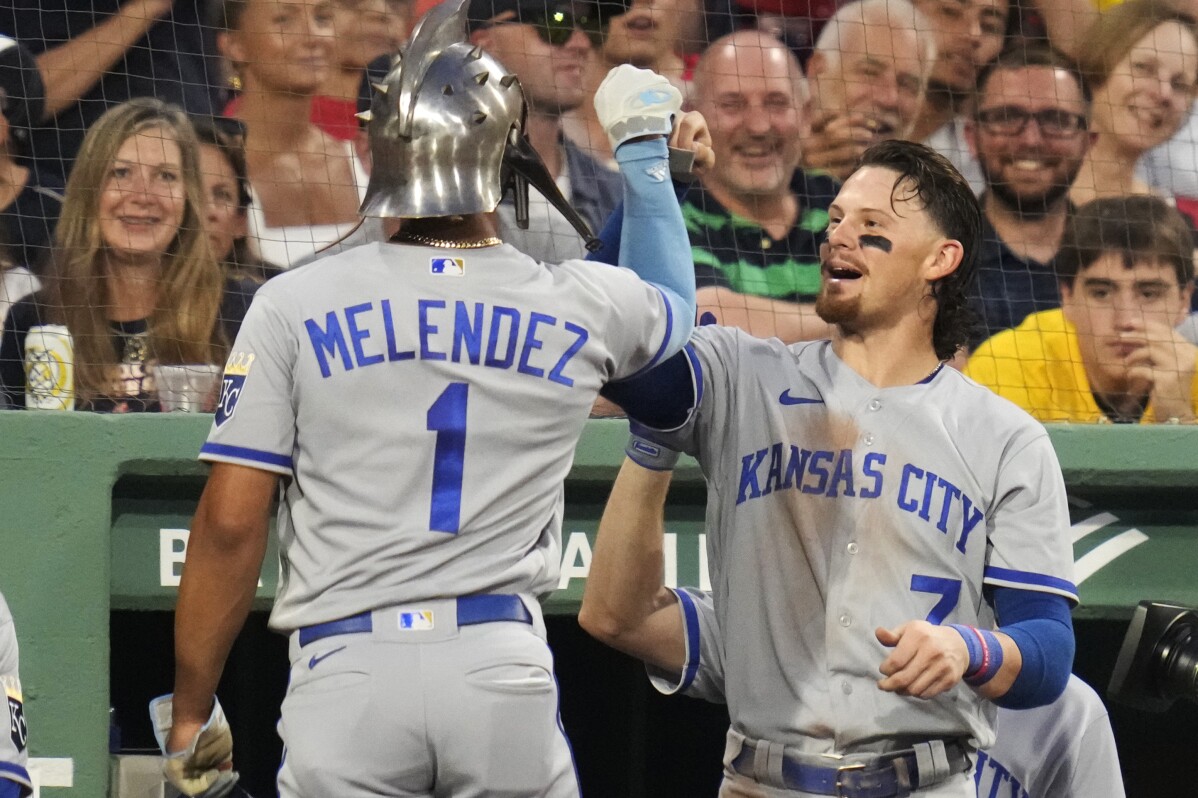 6 of 7

|
Kansas City Royals' MJ Melendez (1) is congratulated by Bobby Witt Jr. (7) after his solo home run against the Boston Red Sox during the fourth inning of a baseball game at Fenway Park, Wednesday, Aug. 9, 2023, in Boston. (AP Photo/Charles Krupa)
6 of 7
Kansas City Royals' MJ Melendez (1) is congratulated by Bobby Witt Jr. (7) after his solo home run against the Boston Red Sox during the fourth inning of a baseball game at Fenway Park, Wednesday, Aug. 9, 2023, in Boston. (AP Photo/Charles Krupa)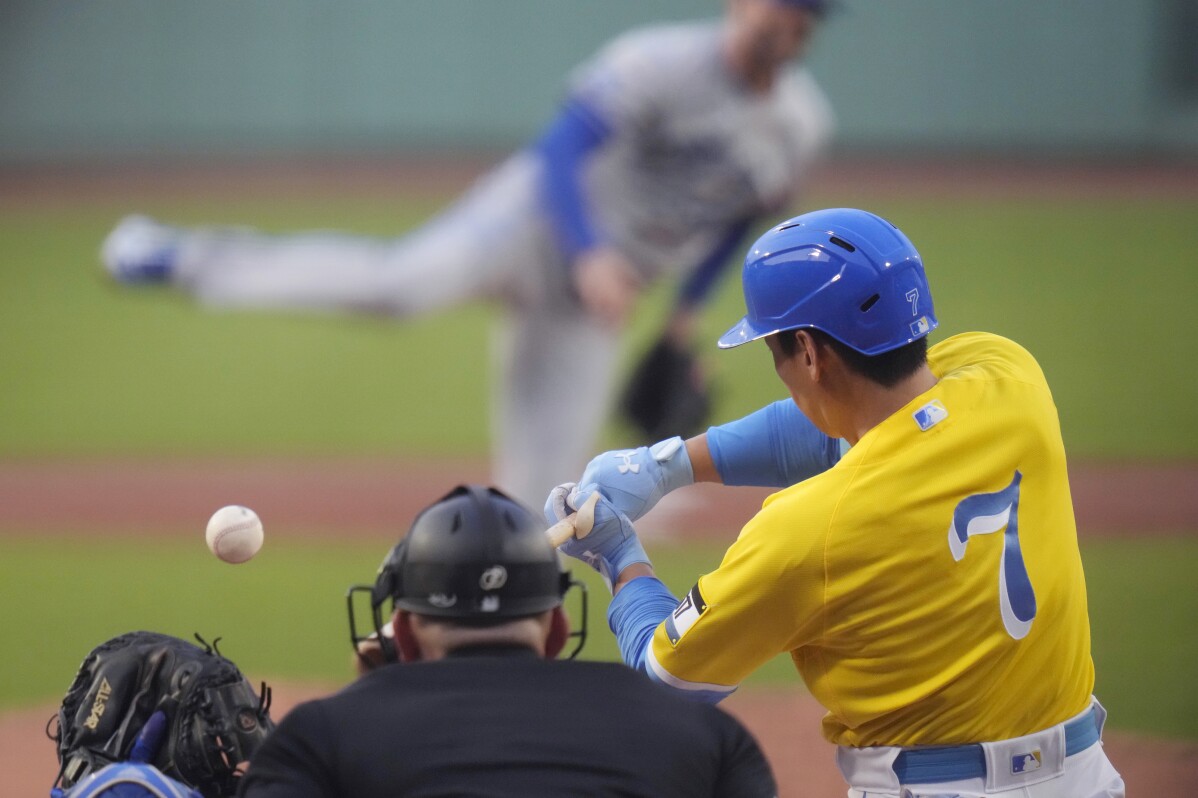 7 of 7

|
Boston Red Sox's Masataka Yoshida (7) takes a swing during the first inning of the team's baseball game against the Kansas City Royals at Fenway Park, Wednesday, Aug. 9, 2023, in Boston. (AP Photo/Charles Krupa)
7 of 7
Boston Red Sox's Masataka Yoshida (7) takes a swing during the first inning of the team's baseball game against the Kansas City Royals at Fenway Park, Wednesday, Aug. 9, 2023, in Boston. (AP Photo/Charles Krupa)
BOSTON (AP) — Alex Verdugo had a two-run double to help the Boston Red Sox beat the Kansas City Royals 4-3 on Wednesday night in a game with one of the strangest ground-rule doubles in Fenway Park history.
In the top of the second inning with two out and Matt Duffy on first base, Kyle Isbel lashed a drive to left field that looked as if it would be caught by Masataka Yoshida, who lunged and clasped his glove. But Yoshida missed the ball, crashing into the wall. He got up, clearly confused, looking around for the ball.
The ball was not on the field. It had smashed through one of the red lights on the wall that denote the number of outs. Yoshida picked the ball through the hole in the light, with the play ruled a ground-rule double.
"I realized I missed catching the ball but after that, I tried to find the ball but there was nowhere else. So that was a surprise," said Yoshida, who had never experienced anything like that in his career. "Yeah, getting into the light definitely that was a first time."
Red Sox manager Alex Cora said: "I was like, 'Finally, something's going our way.' I've never seen that, not even in BP. We go over the rules and they always talk about if the ball gets stuck in the Monster, and I'm like, 'That's not going to happen.' But it did."
The Red Sox scored three runs in fourth to erase a one-run deficit. Yoshida led off with a double and Rafael Devers had a one-out walk, with Verdugo driving in both with his double. Luis Urias reached on catcher's interference, and Reese McGuire's singled to score Verdugo.
"That was good to be able to stay on that pitch and go the other way," Cora said about Verdugo's hit.
Right-hander Nick Pivetta (8-6) went five innings, allowing two runs — on MJ Melendez's home runs — with eight strikeouts.
"I felt like my curveball was much better today so I kind of leaned on that, especially later, was able to utilize that," Pivetta said. "It felt like they were hunting my fastball, regardless of the count, so I was able to use my offs-speed pitches when I needed to and put us in the best position to win."
Kenley Jansen got the save, his 25th of the season, after giving up a homer to Freddy Fermin in the ninth.
Jordan Lyles (3-13) was the loser. He went eight innings, giving up four runs on seven hits with six strikeouts.
Melendez hit his first homer of the night in the second.
Triston Casas' home run in the bottom of the second tied it at 1. Melendez's leadoff homer in the fourth, his 12th of the season for his second career multi-homer game, gave the Royals the lead again.
TRAINER'S ROOM
Red Sox: RHP Garrett Whitlock, out since July 3 with elbow inflammation, made his first rehab start Wednesday, going 2 1/3 scoreless innings with three strikeouts for Triple-A Worcester.
ON THE MOVE
Boston made several roster moves before the game. RHP Kyle Barraclough was selected to the major league roster and LHP Brandon Walter was recalled from Worcester. RHP Nick Robertson was optioned to Worcester, and RHP Dinelson Lamet was designated for assignment.
UP NEXT
The Royals and Red Sox wrap up their series Thursday. Right-hander Alec Marsh (0-5, 6.75 ERA) is scheduled to start for Kansas City against left-hander James Paxton (6-3, 3.60).
___