US commits to releasing more endangered red wolves into the wild, settling lawsuit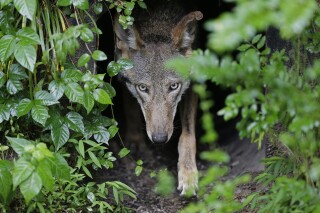 The U.S. government will settle a lawsuit with conservation groups and commit to releasing more endangered red wolves into the wilds of North Carolina, where nearly three dozen of the canine species are believed to still run free.
The conservation groups sued the U.S. Fish and Wildlife Service in 2020 after it stopped releasing captive-bred wolves. Eastern North Carolina is the only place in the world where they roam wild outside of zoos and wildlife refuges.
The Southern Environmental Law Center filed the lawsuit on behalf of the Red Wolf Coalition, Defenders of Wildlife and the Animal Welfare Institute. A settlement agreement was reached Wednesday, according to documents filed in U.S. District Court in North Carolina.
"For 25 years, North Carolina was home to one of the most successful predator reintroductions in the world," Ramona McGee, a Southern Environmental Law Center attorney, said in a statement. "This settlement puts us on a path to restoring the red wolf to its rightful place as a celebrated success story."
Red wolves once occupied much of the Eastern U.S. but were driven to near extinction by trapping, hunting and habitat loss before they were reintroduced to North Carolina in 1987. Their range is limited to five North Carolina counties. Scientists at zoos and other sites have maintained a captive population of nearly 300 wolves in recent years.
After red wolves were reintroduced, the state's wild population grew beyond 100 and remained stable through 2012.
Wolf numbers were bolstered by releases of captive-born pups and sterilization of coyotes that competed for space. But those approaches were halted in 2015 amid pressure from conservative politicians and landowners who deemed wolves a nuisance.
Red wolves are in an area dominated by farms and private land. At least 96 red wolves died of gunshot wounds over the decades.
Some landowners have said that the wolves have made it harder to fight coyotes. A federal judge in 2014 banned night hunting of coyotes in red wolf territory because the canines are easily mixed up.
By the time conservation groups filed their 2020 lawsuit, they said there could be as few as seven red wolves living in the wild. The groups argued that federal wildlife officials violated the Endangered Species Act through actions that included halting the release of captive-bred wolves in 2015.
The lawsuit prompted a federal judge in 2021 to order the Fish and Wildlife Service to produce a plan to bolster the wild wolves' numbers as the lawsuit continued.
U.S. District Judge Terrence Boyle noted in his order that the conservation groups were likely to succeed, while demonstrating that "extinction is a very real possibility."
According to the settlement agreement, the Fish and Wildlife Service will develop and publish red wolf release plans for a period of eight years. The plans will include "metrics that can be used to measure performance."
The agency wrote that it "acknowledges the importance of the Eastern North Carolina red wolf population" and committed to managing in a way that's consistent with the Endangered Species Act.
As of June, the Fish and Wildlife Service said there 16 known or collared red wolves living in the wild, while estimating the total wild population to be 32 to 34. There were 278 red wolves in the captive population.
Johanna Hamburger, a senior attorney with the Animal Welfare Institute, said in a statement Wednesday that the agreement "pulls wild red wolves back from the brink of extinction."
"When we filed this lawsuit, scientists warned that if the (Fish and Wildlife Service) continued down that path, red wolves could be extinct in the wild by 2024," she said.