Robbie Robertson, lead guitarist and songwriter of The Band, dies at 80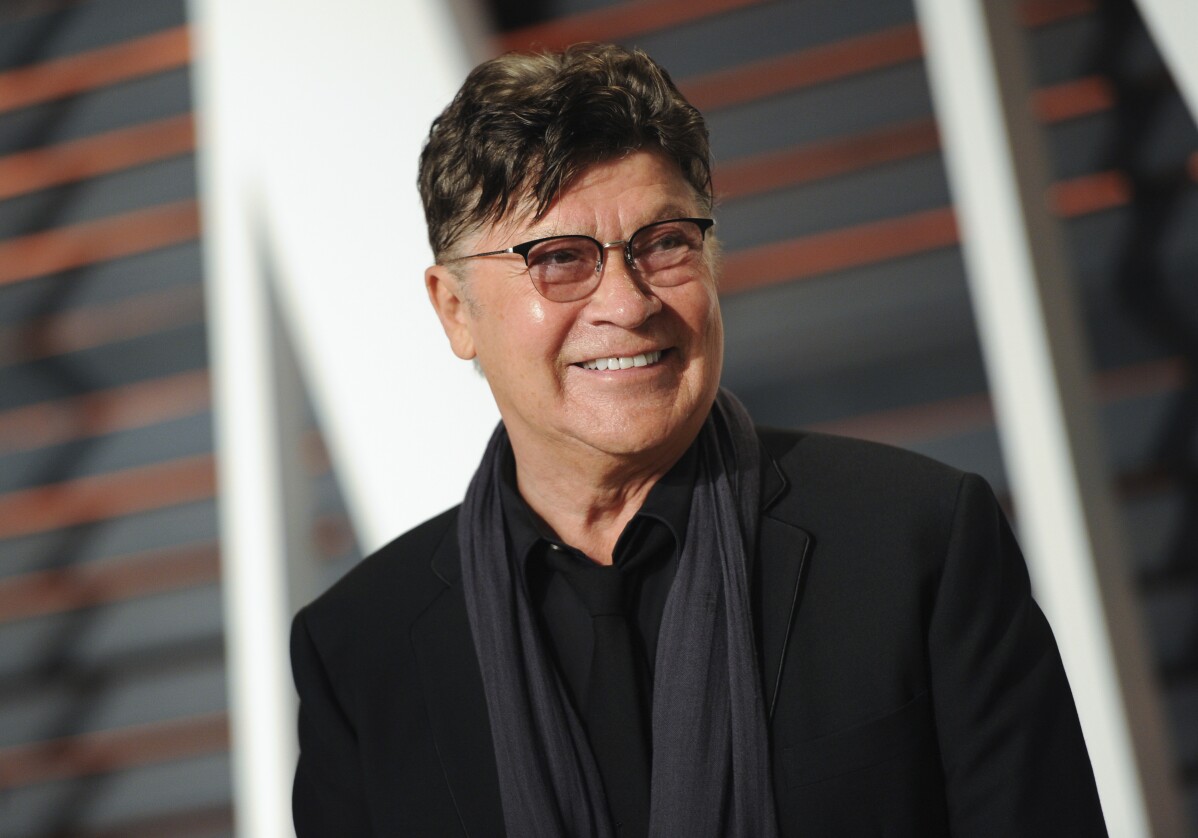 1 of 7

|
FILE - Musician Robbie Robertson arrives at the Vanity Fair Oscar Party on Sunday, Feb. 22, 2015, in Beverly Hills, Calif. Robertson, the lead guitarist and songwriter for The Band, whose classics include "The Weight," "Up on Cripple Creek" and "The Night They Drove Old Dixie Down," has died at 80, according to a statement from his manager. (Photo by Evan Agostini/Invision/AP, File)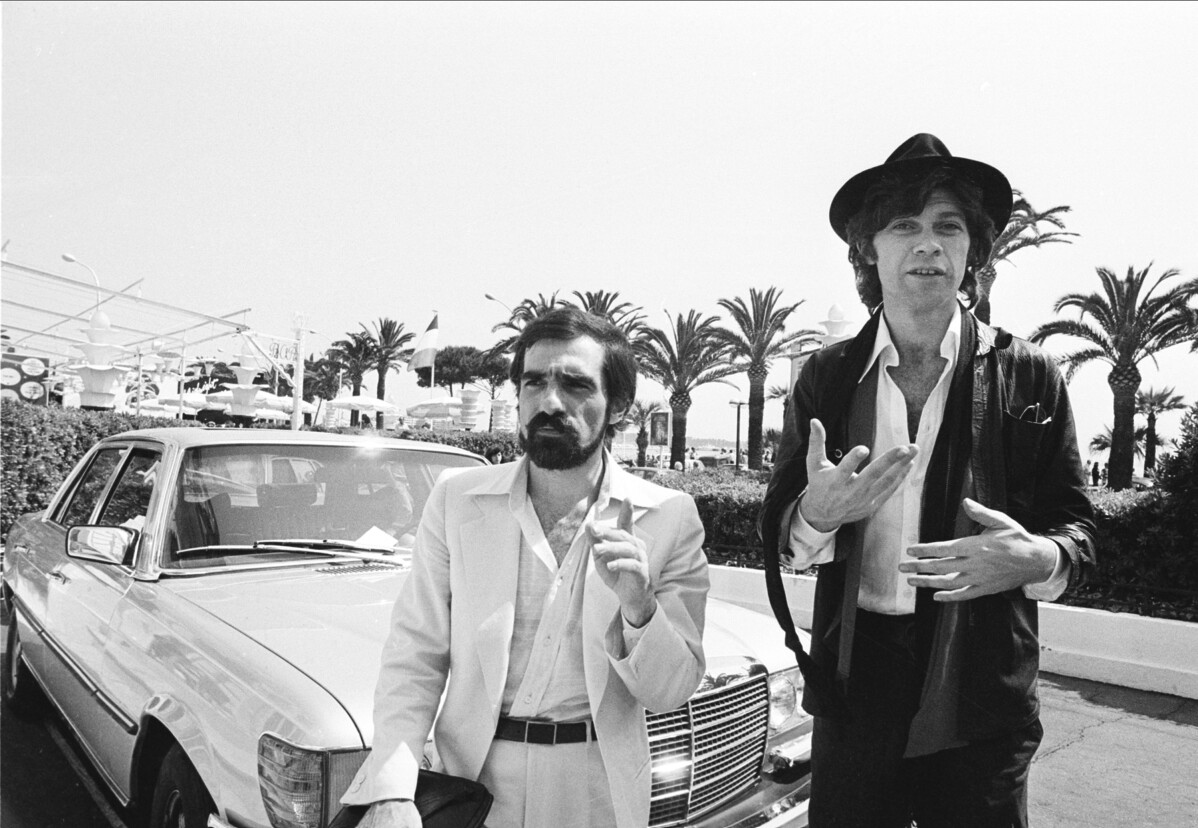 2 of 7

|
FILE - Director Martin Scorsese, left, and Robbie Robertson attend the 31st Cannes International Film Festival, in Cannes, France, where they will present "Last Waltz" on May 29, 1978. Robertson, the lead guitarist and songwriter for The Band, whose classics include "The Weight," "Up on Cripple Creek" and "The Night They Drove Old Dixie Down," has died at 80, according to a statement from his manager. (AP Photo, File)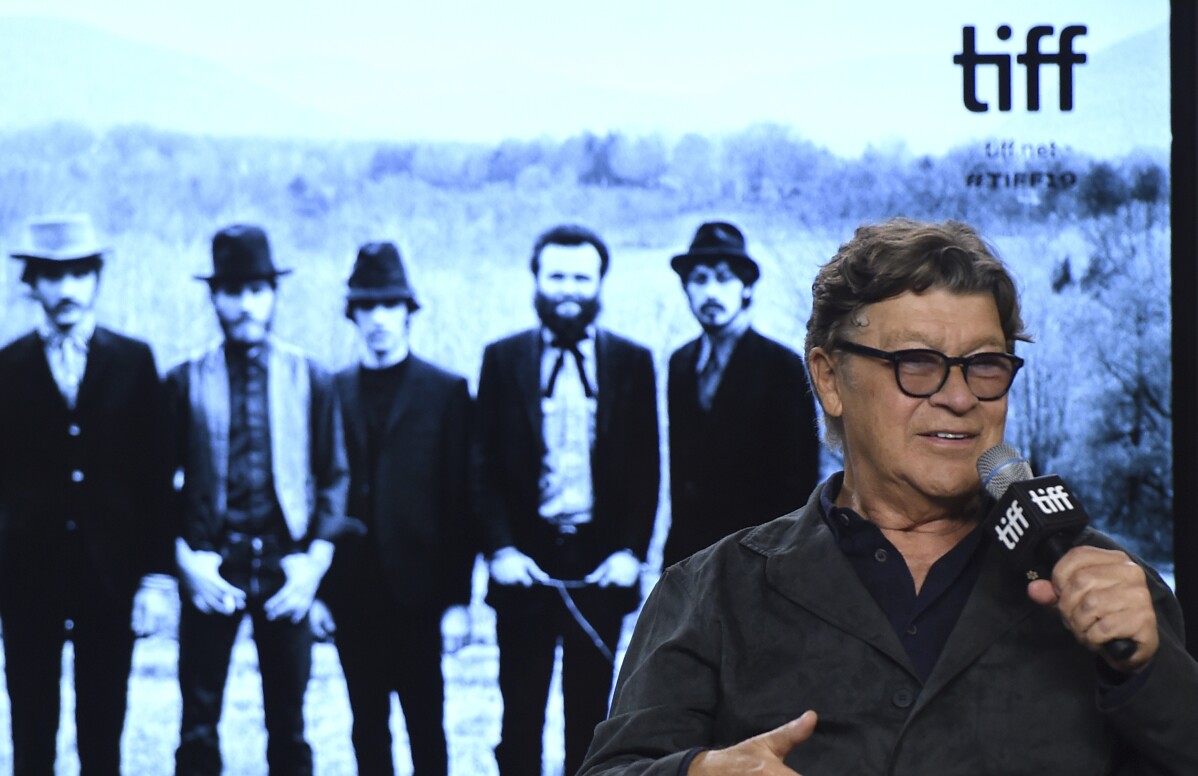 3 of 7

|
FILE - Robbie Robertson speaks during a press conference for "Once Were Brothers: Robbie Robertson and The Band" on day one of the Toronto International Film Festival on Thursday, Sept. 5, 2019, in Toronto. Robertson, the lead guitarist and songwriter for The Band, whose classics include "The Weight," "Up on Cripple Creek" and "The Night They Drove Old Dixie Down," has died at 80, according to a statement from his manager. (Photo by Chris Pizzello/Invision/AP, File)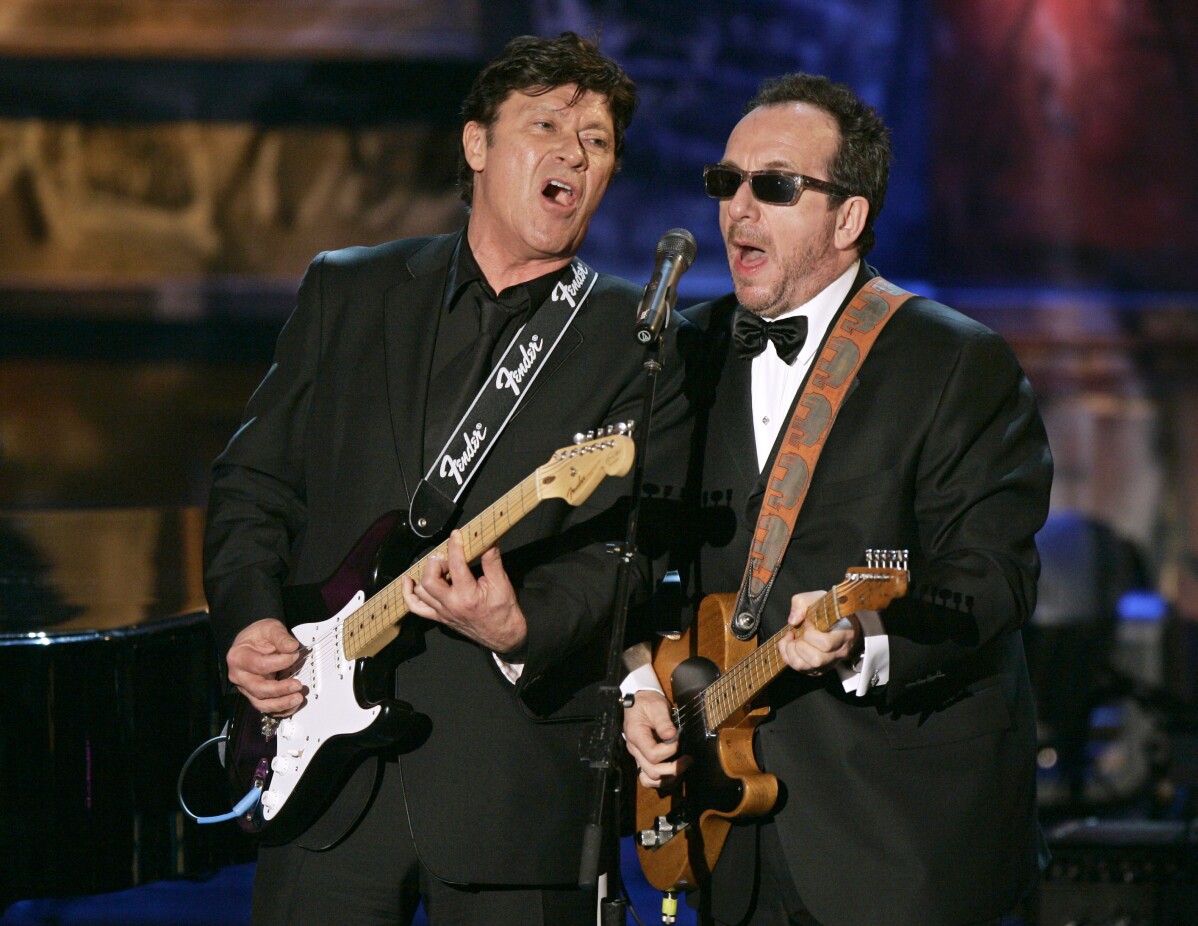 4 of 7

|
FILE - Robbie Robertson, left, and Elvis Costello play in an all-star tribute to New Orleans at the end of the Rock & Roll Hall of Fame induction ceremonies, Monday, March 13, 2006, in New York. Robertson, the lead guitarist and songwriter for The Band, whose classics include "The Weight," "Up on Cripple Creek" and "The Night They Drove Old Dixie Down," has died at 80 according to a statement from his manager. (AP Photo/Jeff Christensen, File)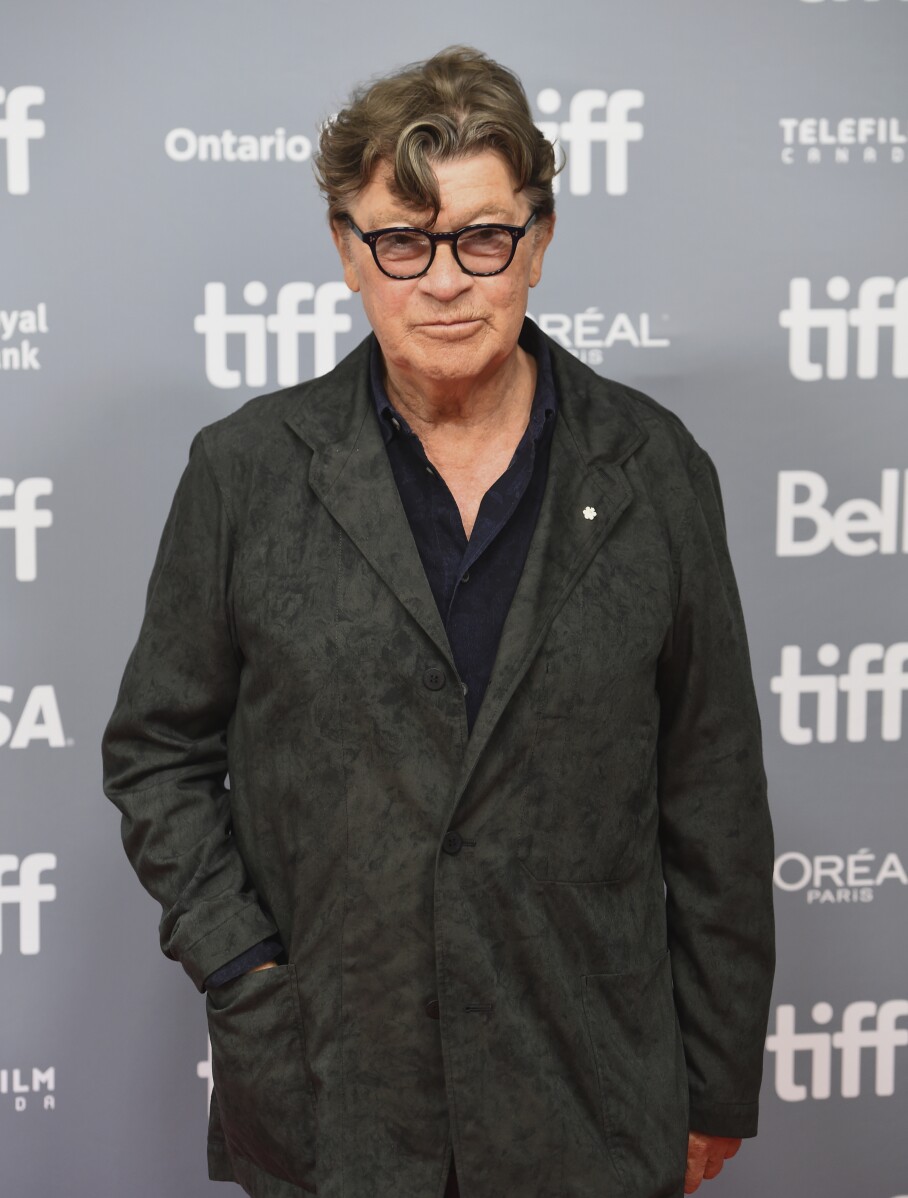 5 of 7

|
FILE - Robbie Robertson attends a press conference for "Once Were Brothers: Robbie Robertson and The Band" on day one of the Toronto International Film Festival on Thursday, Sept. 5, 2019, in Toronto. Robertson, the lead guitarist and songwriter for The Band, whose classics include "The Weight," "Up on Cripple Creek" and "The Night They Drove Old Dixie Down," has died at 80, according to a statement from his manager. (Photo by Chris Pizzello/Invision/AP, File)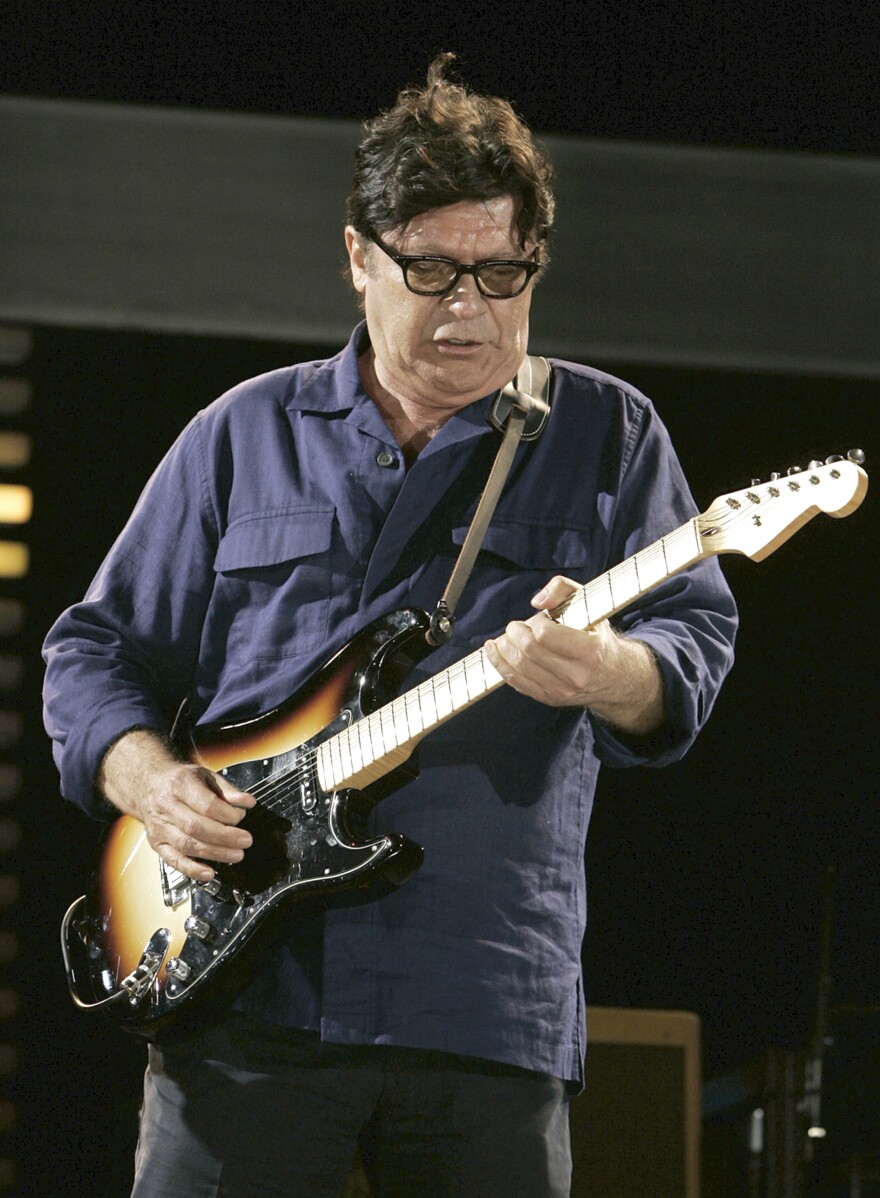 6 of 7

|
FILE - Robbie Robertson performs at the Crossroads Guitar Festival in Chicago, Saturday, July 28, 2007. Robertson, the lead guitarist and songwriter for The Band, whose classics include "The Weight," "Up on Cripple Creek" and "The Night They Drove Old Dixie Down," has died at 80 according to a statement from his manager. (AP Photo/Charles Rex Arbogast, File)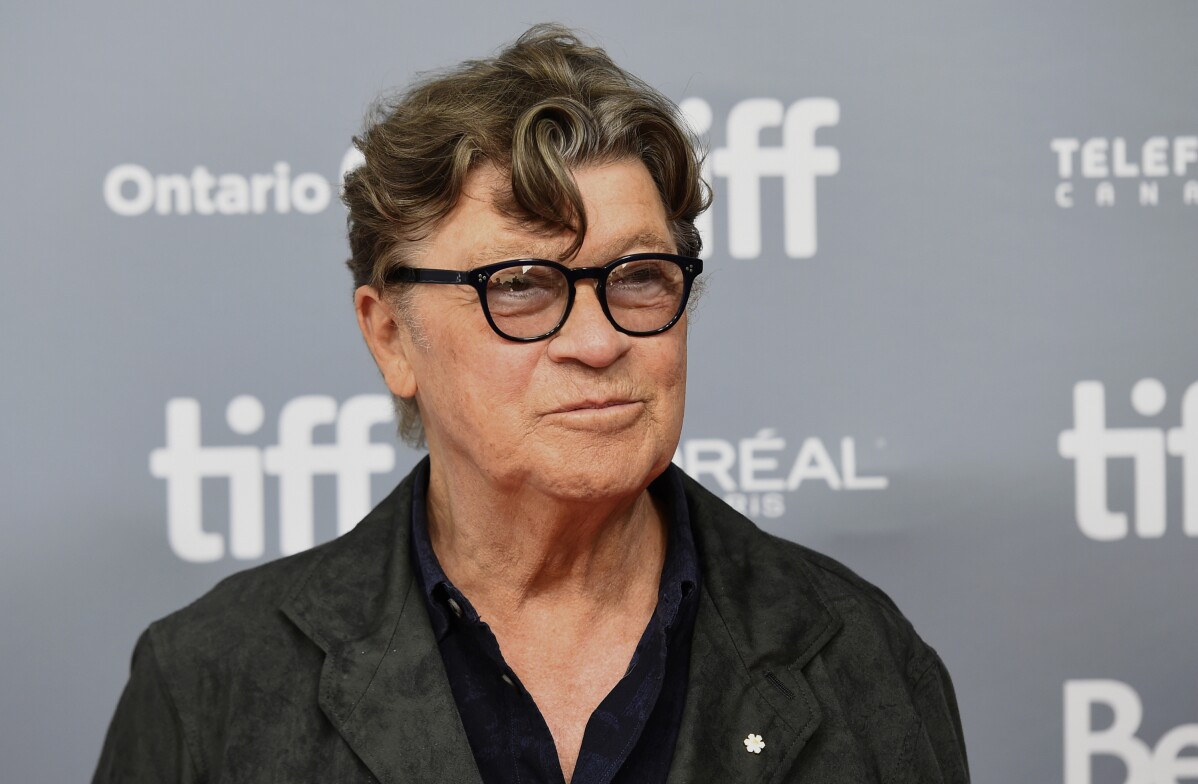 7 of 7

|
FILE - Robbie Robertson attends a press conference for "Once Were Brothers: Robbie Robertson and The Band" on day one of the Toronto International Film Festival on Thursday, Sept. 5, 2019, in Toronto. Robertson, the lead guitarist and songwriter for The Band, whose classics include "The Weight," "Up on Cripple Creek" and "The Night They Drove Old Dixie Down," has died at 80, according to a statement from his manager. (Photo by Chris Pizzello/Invision/AP, File)
Robbie Robertson, lead guitarist and songwriter of The Band, dies at 80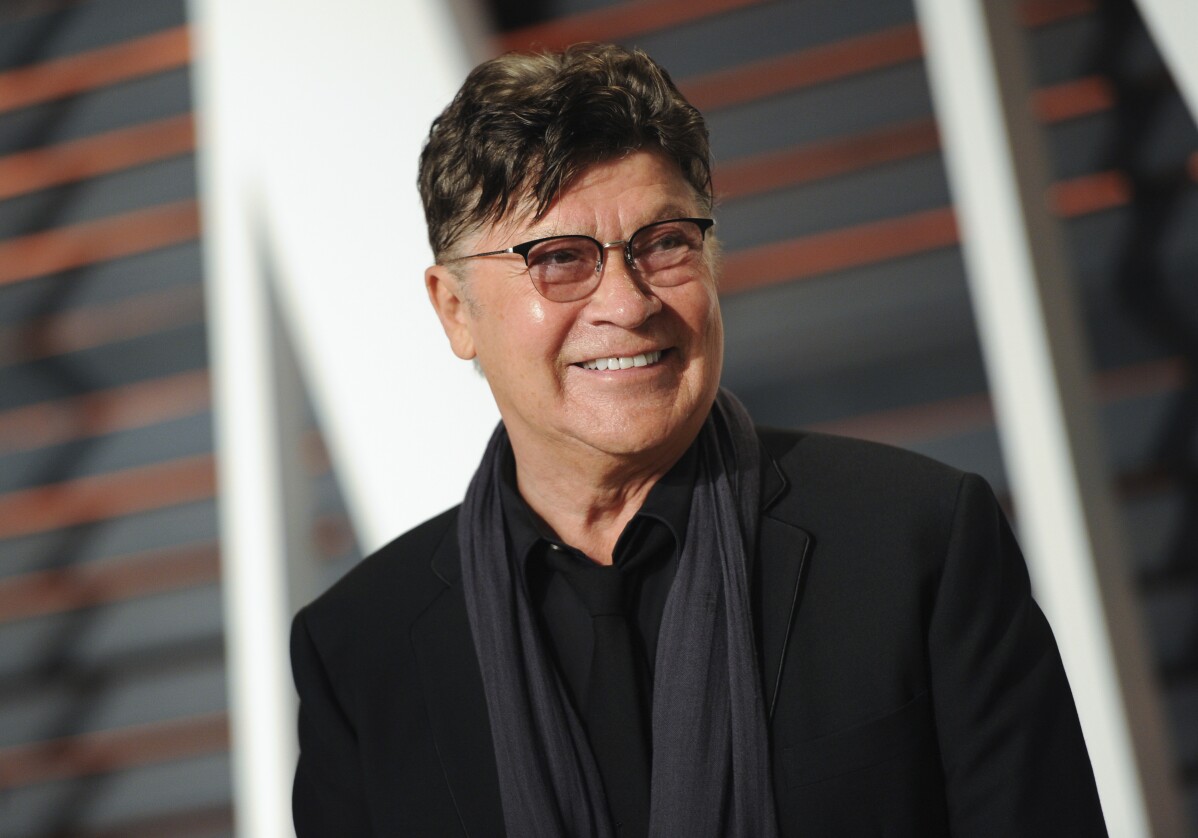 1 of 7

|
FILE - Musician Robbie Robertson arrives at the Vanity Fair Oscar Party on Sunday, Feb. 22, 2015, in Beverly Hills, Calif. Robertson, the lead guitarist and songwriter for The Band, whose classics include "The Weight," "Up on Cripple Creek" and "The Night They Drove Old Dixie Down," has died at 80, according to a statement from his manager. (Photo by Evan Agostini/Invision/AP, File)
1 of 7
FILE - Musician Robbie Robertson arrives at the Vanity Fair Oscar Party on Sunday, Feb. 22, 2015, in Beverly Hills, Calif. Robertson, the lead guitarist and songwriter for The Band, whose classics include "The Weight," "Up on Cripple Creek" and "The Night They Drove Old Dixie Down," has died at 80, according to a statement from his manager. (Photo by Evan Agostini/Invision/AP, File)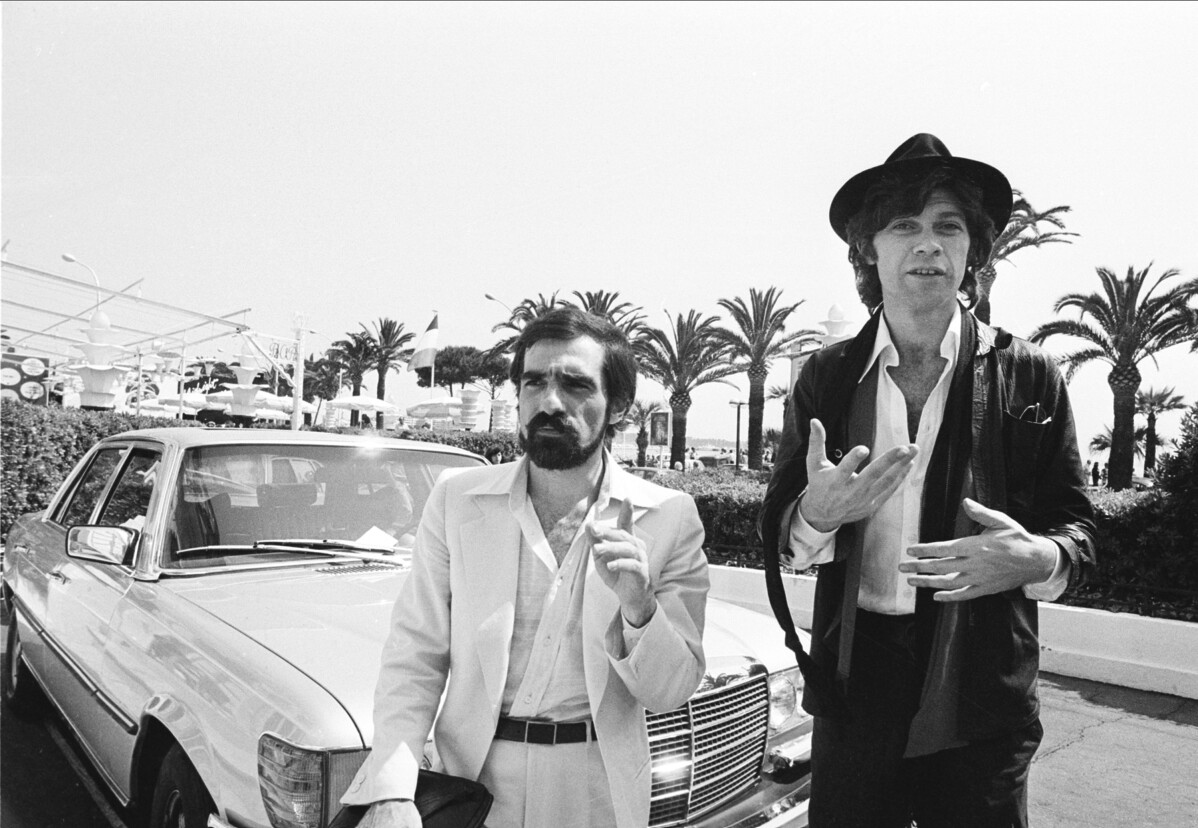 2 of 7

|
FILE - Director Martin Scorsese, left, and Robbie Robertson attend the 31st Cannes International Film Festival, in Cannes, France, where they will present "Last Waltz" on May 29, 1978. Robertson, the lead guitarist and songwriter for The Band, whose classics include "The Weight," "Up on Cripple Creek" and "The Night They Drove Old Dixie Down," has died at 80, according to a statement from his manager. (AP Photo, File)
2 of 7
FILE - Director Martin Scorsese, left, and Robbie Robertson attend the 31st Cannes International Film Festival, in Cannes, France, where they will present "Last Waltz" on May 29, 1978. Robertson, the lead guitarist and songwriter for The Band, whose classics include "The Weight," "Up on Cripple Creek" and "The Night They Drove Old Dixie Down," has died at 80, according to a statement from his manager. (AP Photo, File)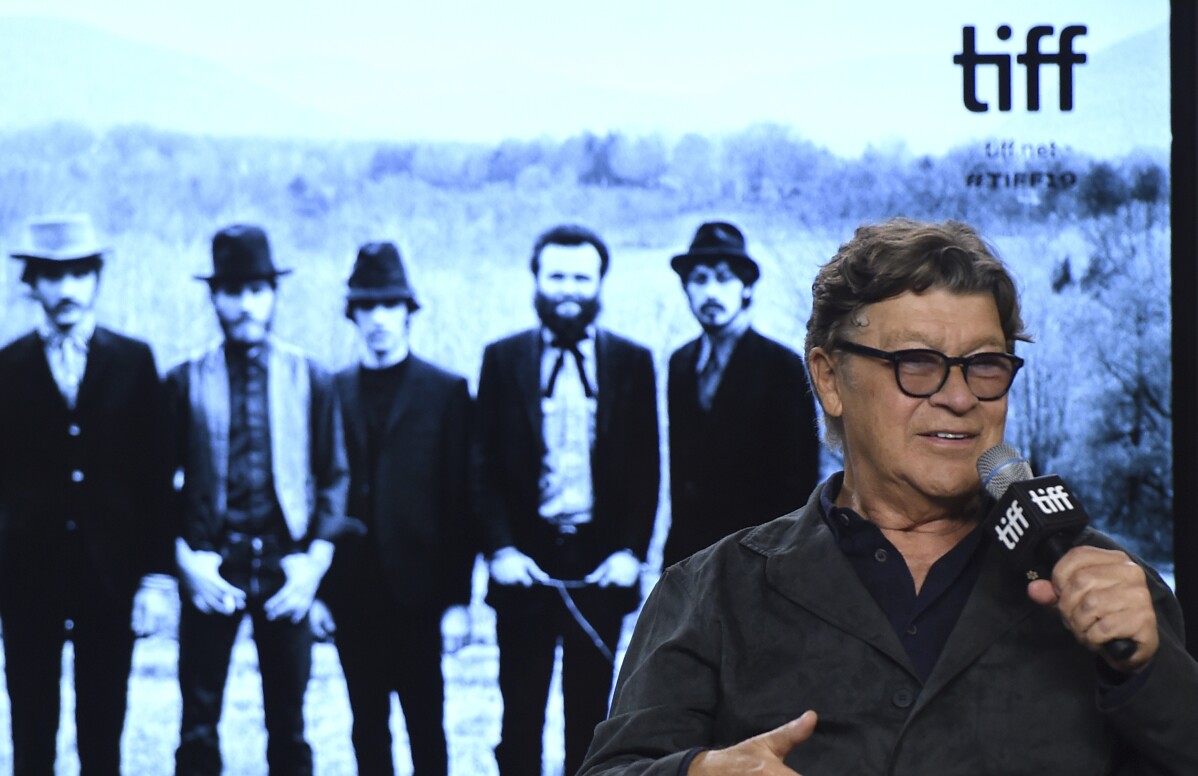 3 of 7

|
FILE - Robbie Robertson speaks during a press conference for "Once Were Brothers: Robbie Robertson and The Band" on day one of the Toronto International Film Festival on Thursday, Sept. 5, 2019, in Toronto. Robertson, the lead guitarist and songwriter for The Band, whose classics include "The Weight," "Up on Cripple Creek" and "The Night They Drove Old Dixie Down," has died at 80, according to a statement from his manager. (Photo by Chris Pizzello/Invision/AP, File)
3 of 7
FILE - Robbie Robertson speaks during a press conference for "Once Were Brothers: Robbie Robertson and The Band" on day one of the Toronto International Film Festival on Thursday, Sept. 5, 2019, in Toronto. Robertson, the lead guitarist and songwriter for The Band, whose classics include "The Weight," "Up on Cripple Creek" and "The Night They Drove Old Dixie Down," has died at 80, according to a statement from his manager. (Photo by Chris Pizzello/Invision/AP, File)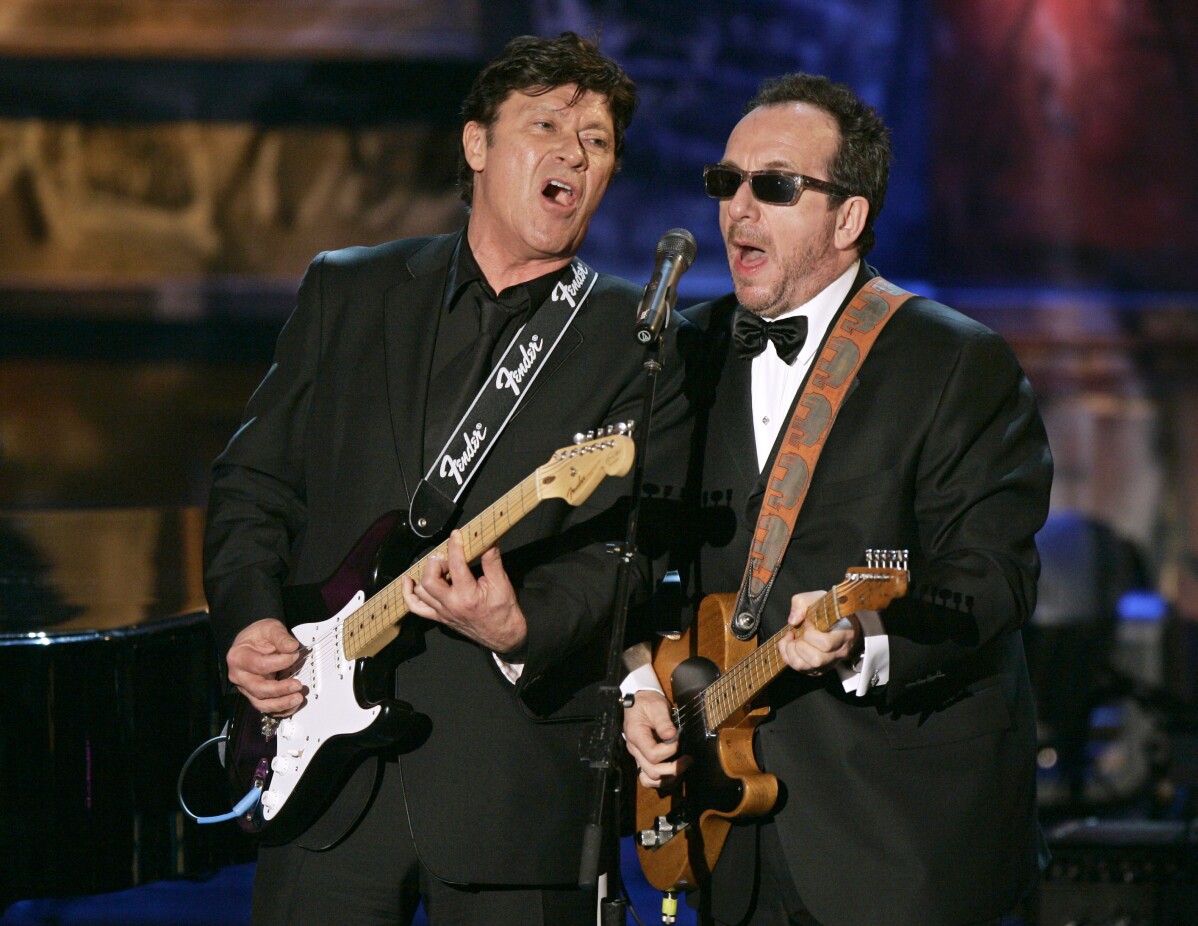 4 of 7

|
FILE - Robbie Robertson, left, and Elvis Costello play in an all-star tribute to New Orleans at the end of the Rock & Roll Hall of Fame induction ceremonies, Monday, March 13, 2006, in New York. Robertson, the lead guitarist and songwriter for The Band, whose classics include "The Weight," "Up on Cripple Creek" and "The Night They Drove Old Dixie Down," has died at 80 according to a statement from his manager. (AP Photo/Jeff Christensen, File)
4 of 7
FILE - Robbie Robertson, left, and Elvis Costello play in an all-star tribute to New Orleans at the end of the Rock & Roll Hall of Fame induction ceremonies, Monday, March 13, 2006, in New York. Robertson, the lead guitarist and songwriter for The Band, whose classics include "The Weight," "Up on Cripple Creek" and "The Night They Drove Old Dixie Down," has died at 80 according to a statement from his manager. (AP Photo/Jeff Christensen, File)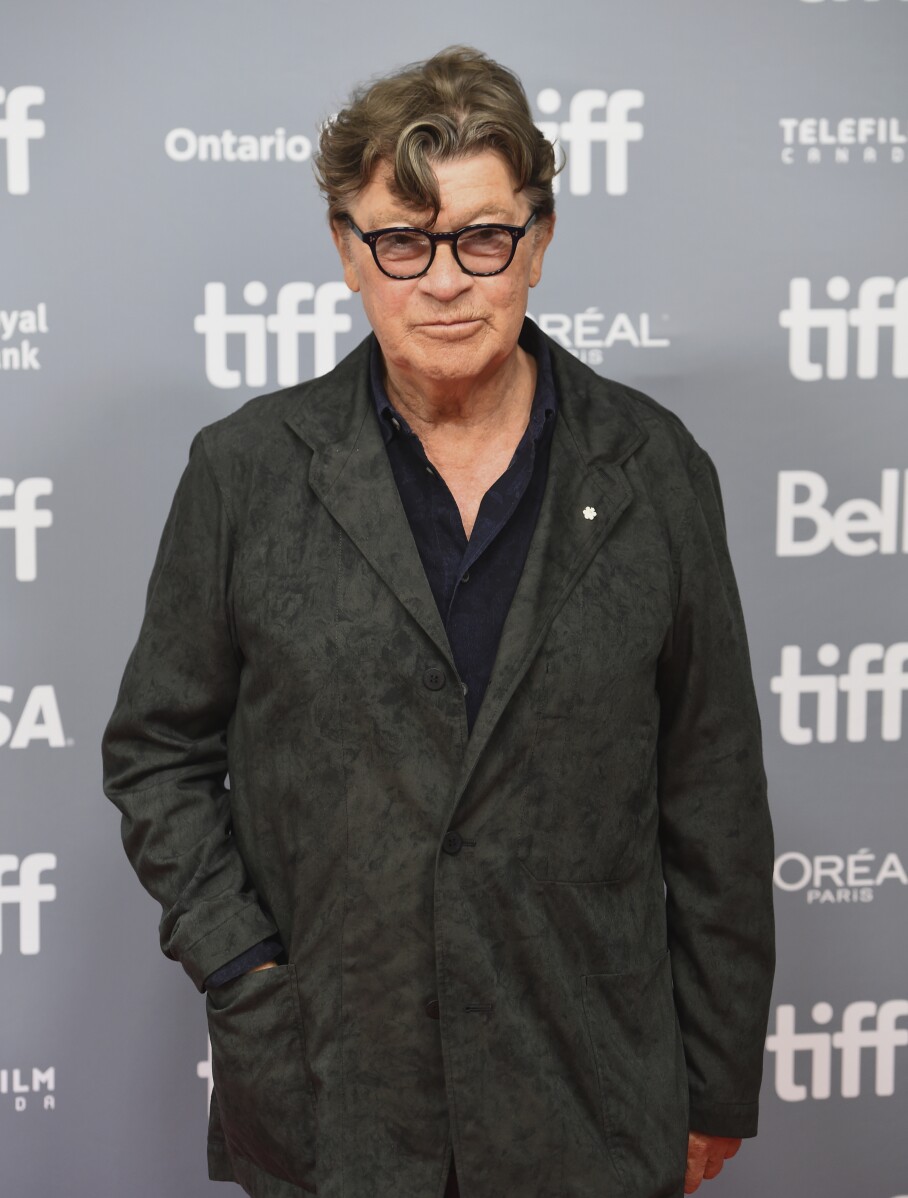 5 of 7

|
FILE - Robbie Robertson attends a press conference for "Once Were Brothers: Robbie Robertson and The Band" on day one of the Toronto International Film Festival on Thursday, Sept. 5, 2019, in Toronto. Robertson, the lead guitarist and songwriter for The Band, whose classics include "The Weight," "Up on Cripple Creek" and "The Night They Drove Old Dixie Down," has died at 80, according to a statement from his manager. (Photo by Chris Pizzello/Invision/AP, File)
5 of 7
FILE - Robbie Robertson attends a press conference for "Once Were Brothers: Robbie Robertson and The Band" on day one of the Toronto International Film Festival on Thursday, Sept. 5, 2019, in Toronto. Robertson, the lead guitarist and songwriter for The Band, whose classics include "The Weight," "Up on Cripple Creek" and "The Night They Drove Old Dixie Down," has died at 80, according to a statement from his manager. (Photo by Chris Pizzello/Invision/AP, File)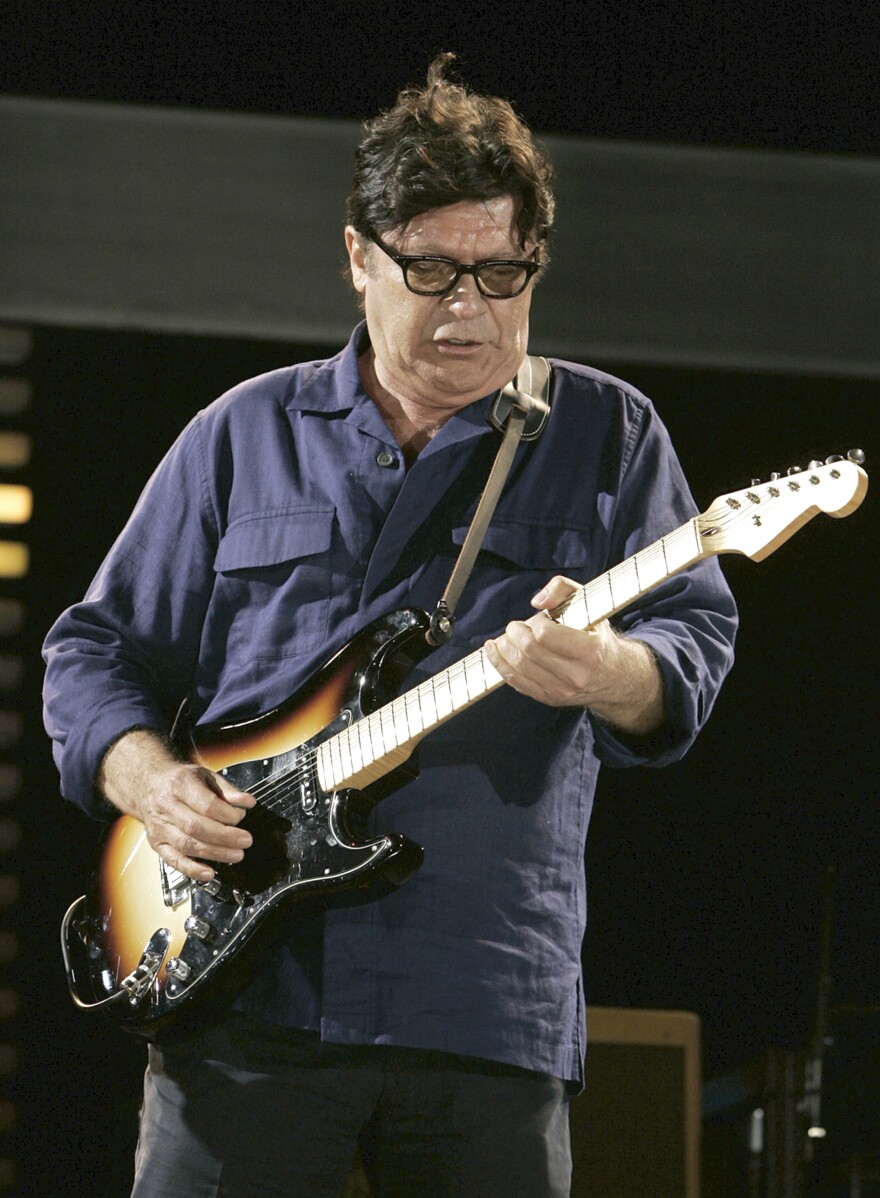 6 of 7

|
FILE - Robbie Robertson performs at the Crossroads Guitar Festival in Chicago, Saturday, July 28, 2007. Robertson, the lead guitarist and songwriter for The Band, whose classics include "The Weight," "Up on Cripple Creek" and "The Night They Drove Old Dixie Down," has died at 80 according to a statement from his manager. (AP Photo/Charles Rex Arbogast, File)
6 of 7
FILE - Robbie Robertson performs at the Crossroads Guitar Festival in Chicago, Saturday, July 28, 2007. Robertson, the lead guitarist and songwriter for The Band, whose classics include "The Weight," "Up on Cripple Creek" and "The Night They Drove Old Dixie Down," has died at 80 according to a statement from his manager. (AP Photo/Charles Rex Arbogast, File)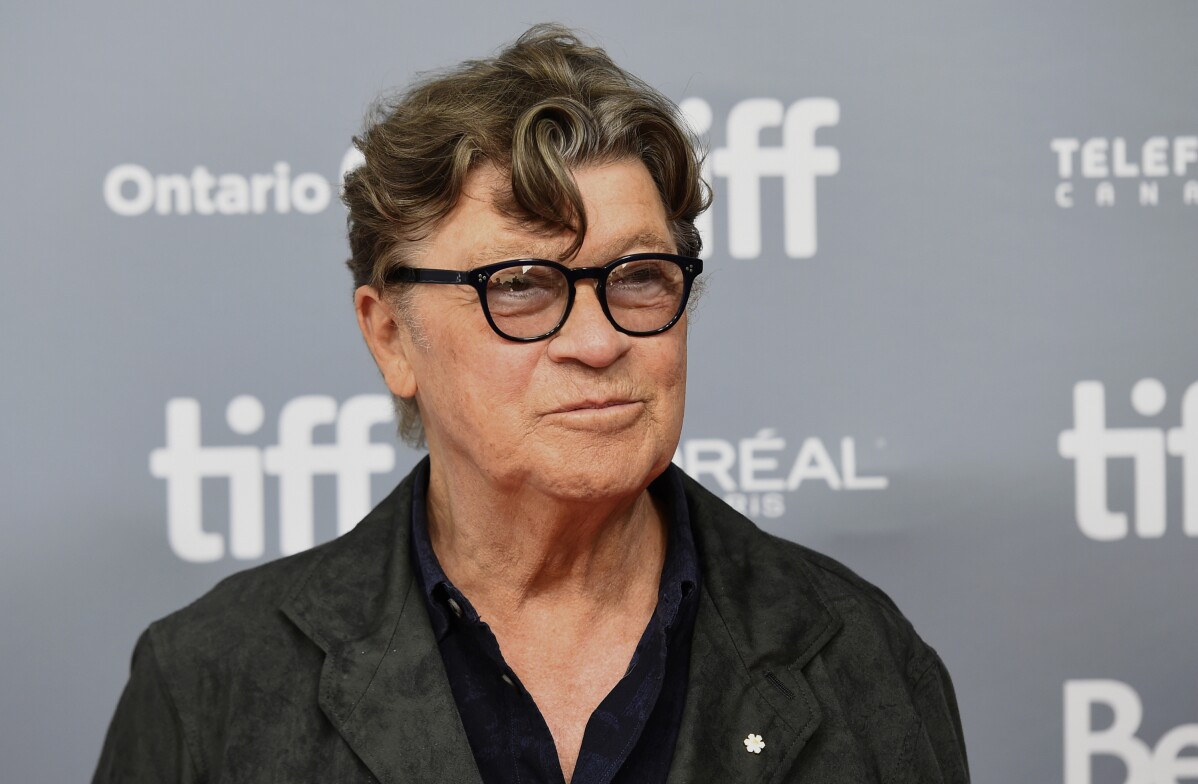 7 of 7

|
FILE - Robbie Robertson attends a press conference for "Once Were Brothers: Robbie Robertson and The Band" on day one of the Toronto International Film Festival on Thursday, Sept. 5, 2019, in Toronto. Robertson, the lead guitarist and songwriter for The Band, whose classics include "The Weight," "Up on Cripple Creek" and "The Night They Drove Old Dixie Down," has died at 80, according to a statement from his manager. (Photo by Chris Pizzello/Invision/AP, File)
7 of 7
FILE - Robbie Robertson attends a press conference for "Once Were Brothers: Robbie Robertson and The Band" on day one of the Toronto International Film Festival on Thursday, Sept. 5, 2019, in Toronto. Robertson, the lead guitarist and songwriter for The Band, whose classics include "The Weight," "Up on Cripple Creek" and "The Night They Drove Old Dixie Down," has died at 80, according to a statement from his manager. (Photo by Chris Pizzello/Invision/AP, File)
Robbie Robertson, The Band's lead guitarist and songwriter who in such classics as "The Weight" and "Up on Cripple Creek" mined American music and folklore and helped reshape contemporary rock, died Wednesday at 80.
Robertson died surrounded by family in Los Angeles "after a long illness," publicist Ray Costa said in a statement.
From their years as Bob Dylan's masterful backing group to their own stardom as embodiments of old-fashioned community and virtuosity, The Band profoundly influenced popular music in the 1960s and '70s, first by literally amplifying Dylan's polarizing transition from folk artist to rock star and then by absorbing the works of Dylan and Dylan's influences as they fashioned a new sound immersed in the American past.
"Long before we ever met, his music played a central role in my life — me and millions and millions of other people all over this world," Martin Scorsese, Robertson's close friend and frequent collaborator, said in a statement. "The Band's music, and Robbie's own later solo music, seemed to come from the deepest place at the heart of this continent, its traditions and tragedies and joys."
The Canadian-born Robertson was a high school dropout and one-man melting pot — part-Jewish, part-Mohawk and Cayuga — who fell in love with the seemingly limitless sounds and byways of his adopted country and wrote out of a sense of amazement and discovery at a time when the Vietnam War had alienated millions of young Americans. His life had a "Candide"-like quality as he found himself among many of the giants of the rock era — getting guitar tips from Buddy Holly, taking in early performances by Aretha Franklin and by the Velvet Underground, smoking pot with the Beatles, watching the songwriting team of Leiber and Stoller develop material, chatting with Jimi Hendrix when he was a struggling musician calling himself Jimmy James.
The Band began as supporting players for rockabilly star Ronnie Hawkins in the early 1960s and through their years together in bars and juke joints forged a depth and versatility that opened them to virtually any kind of music in any kind of setting. Besides Robertson, the group featured Arkansan drummer-singer Levon Helm and three other Canadians: bassist-singer-songwriter Rick Danko, keyboardist singer-songwriter Richard Manuel and all-around musical wizard Garth Hudson. They were originally called the Hawks, but ended up as The Band — a conceit their fans would say they earned — because people would point to them when they were with Dylan and refer to them as "the band."
They remain defined by their first two albums, "Music from Big Pink" and "The Band," both released in the late 1960s. The rock scene was turning away from the psychedelic extravagances of the Beatles' "Sgt Pepper's Lonely Hearts Club Band" and a wave of sound effects, long jams and lysergic lyrics. "Music from Big Pink," named for the old house near Woodstock, New York, where Band members lived and gathered, was for many the sound of coming home. The mood was intimate, the lyrics alternately playful, cryptic and yearning, drawn from blues, gospel, folk and country music. The Band itself seemed to stand for selflessness and a shared and vital history, with all five members making distinctive contributions and appearing in publicity photos in plain, dark clothes.
Through the "Basement Tapes" they had made with Dylan in 1967 and through their own albums, The Band has been widely credited as a founding source for Americana — or roots music. Fans and peers would speak of their lives being changed. Eric Clapton broke up with his British supergroup Cream and journeyed to Woodstock in hopes he could join The Band, which influenced albums ranging from The Grateful Dead's "Workingman's Dead" to Elton John's "Tumbleweed Connection." The Band's songs were covered by Franklin, Joan Baez, the Staple Singers and many others. During a television performance by the Beatles of "Hey Jude," Paul McCartney shouted out lyrics from "The Weight."
Like Dylan, Robertson was a self-taught musicologist and storyteller influenced by everything American from the novels of William Faulkner to the scorching blues of Howlin' Wolf to the gospel harmonies of the Swan Silvertones. At times his songs sounded not just created, but unearthed. In "The Night They Drove Old Dixie Down," he imagined the Civil War through the eyes of a defeated Confederate. In "The Weight," with its lead vocals passed around among group members like a communal wine glass, he evoked a pilgrim's arrival to a town where nothing seems impossible:
"I pulled into Nazareth, was feelin' about half past dead / I just need some place where I can lay my head / Hey, mister, can you tell me where a man might find a bed? / He just grinned and shook my hand, 'No,' was all he said."
The Band played at the 1969 Woodstock festival, not far from where they lived, and became newsworthy enough to appear on the cover of Time magazine. But the spirit behind their best work was already dissolving. Albums such as "Stage Fright" and "Cahoots" were disappointing even for Robertson, who would acknowledge that he was struggling to find fresh ideas. While Manuel and Danko were both frequent contributors to songs during their "Basement Tapes" days, by the time "Cahoots" was released in 1971, Robertson was the dominant writer.
They toured frequently, recording the acclaimed live album "Rock of Ages" at Madison Square Garden and joining Dylan for 1974 shows that led to another highly praised concert release, "Before the Flood." But in 1976, after Manuel broke his neck in a boating accident, Robertson decided he needed a break from the road and organized rock's ultimate sendoff, an all-star gathering at San Francisco's Winterland Ballroom that included Dylan, Van Morrison, Neil Young, Muddy Waters and many others. The concert was filmed by Scorsese and the basis for his celebrated documentary "The Last Waltz," released in 1978.
Robertson had intended The Band to continue recording together but "The Last Waltz" helped permanently sever his friendship with Helm, whom he had once looked to as an older brother. In interviews and in his 1993 memoir "Wheel on Fire," Helm accused of Robertson of greed and outsized ego, noting that Robertson had ended up owning their musical catalog and calling "The Last Waltz" a vanity project designed to glorify Robertson. In response, Robertson contended that he had taken control of the group because the others — excepting Hudson — were too burdened by drug and alcohol problems to make decisions on their own.
"It hit me hard that in a band like ours, if we weren't operating on all cylinders, it threw the whole machine off course," Robertson wrote in his memoir "Testimony," published in 2016.
The Band regrouped without Robertson in the early 1980s, and Robertson went on to a long career as a solo artist and soundtrack composer. His self-titled 1987 album was certified gold and featured the hit single "Show Down at Big Sky" and the ballad "Fallen Angel," a tribute to Manuel, who was found dead in 1986 in what was ruled a suicide (Danko died of heart failure in 1999, and Helm of cancer in 2012).
Robertson, who moved to Los Angeles in the 1970s while the others stayed near Woodstock, remained close to Scorsese and helped oversee the soundtracks for "The Color of Money," "The King of Comedy," "The Departed" "The Irishman" and the upcoming "Killers of the Flower Moon." among others. He also produced the Neil Diamond album "Beautiful Noise" and explored his heritage through such albums as "Music for the Native Americans" and "Contact from the Underworld of Redboy."
The Band was inducted into the Rock and Roll Hall of Fame in 1994; Robertson attended, Helm did not. In 2020, Robertson looked back and mourned in the documentary "Once Were Brothers" and in the title ballad, on which Robertson sang "When the light goes out and you can't go on / You miss your brothers, but now they're gone."
Robertson married the Canadian journalist Dominique Bourgeois in 1967. They had three children before divorcing. His other survivors include his second wife, Janet Zuccarini, and five grandchildren.
Jaime Royal Robertson was born in Toronto and spent summers at the Six Nations of the Grand River reserve where his mother Rosemarie Dolly Chrysler grew up. He never met his father, Alexander David Klegerman, who died before he was born and whose existence Robertson only learned of years later. His mother had since married a factory worker, James Robertson, whom Robbie Robertson at first believed was his biological parent.
Music was an escape from what he remembered as a violent and abusive household; his parents separated when he was in his early teens. He would watch relatives play guitar and sing at the Six Nations reserve, and became "mesmerized" by how absorbed they were in their own performances. Robertson was soon practicing guitar himself and was playing in bands and writing songs in his teens.
He had a knack for impressing his elders. When he was 15, his group opened for Hawkins at a club in Toronto. After overhearing Hawkins say he was in need of new material, Robertson hurried home, worked up a couple of songs and brought them over to his hotel. Hawkins recorded both of them, "Someone Like You," and "Hey Boba Lu," and Robertson would soon find himself on a train to Hawkins' home base in Fayetteville, Arkansas.
Over the next few years, he toured with Hawkins in the U.S. and Canada as members left and the performers who eventually became The Band were brought in. By 1963, Robertson and the others had grown apart from Hawkins and were ready to work on their own, recording a handful of singles as the Canadian Squires and stepping into rock history when mutual acquaintances suggested they should tour behind Dylan, then rebelling against his image as folk troubadour and infuriating fans who thought he had sold out.
In 1965-66, they were Dylan's co-adventurers in some of rock's most momentous shows, with Dylan playing an acoustic opening set, then joined by the Hawks for an electric set that was booed so fiercely, Helm dropped out and was replaced on the road by Mickey Jones. As captured in audio recordings and in footage by filmmaker D.A. Pennebaker seen decades later in the Dylan documentary "No Direction Home," the music on stage for such Dylan songs as "Just Like Tom Thumb's Blues" and "Ballad of a Thin Man" more than equaled the fury of its detractors, culminating in a May 1966 show at Manchester, England, when one fan screamed out "Judas!"
"I don't belieeeeve you," Dylan snarled in response. "You're a liar!" Calling on the Hawks to "play f----ing loud," he led them through an all-out finale, "Like a Rolling Stone."
"A kind of madness was percolating," Robertson wrote in his memoir. "The whole atmosphere was heightened. I adjusted the strap on my Telecaster so I could release it with a quick thumb movement and use the guitar as a weapon. The concerts were starting to feel that unpredictable."
Later in 1966, Dylan was badly injured in a motorcycle accident and recuperated in the Woodstock area, where The Band also soon settled. Under no contractual obligations or any sort of deadlines, Dylan and his fellow musicians stepped out of time altogether. They jammed on old country and Appalachian songs and worked on such originals as "Tears of Rage" and "I Shall Be Released" that were originally intended as demo recordings for other artists. "The Basement Tapes," as they were eventually called, were among rock's first bootlegs before being released officially — in part in 1975, and in a full six-CD set in 2014.
Working and writing with Dylan encouraged The Band to try an album of its own. "Music from Big Pink" featured the Dylan-Danko collaboration "This Wheel's On Fire" and Dylan-Manuel's "Tears of Rage," along with such Band originals as Manuel's "In a Station" and Robertson's "Caledonia Mission."
In his memoir, Robertson remembered the first time their old boss listened to "Music from Big Pink."
"After each song, Bob looked at 'his' band with proud eyes. When 'The Weight' came on, he said, 'This is fantastic. Who wrote that song?'" he wrote. "'Me,' I answered. He shook his head, slapped me on the arm, and said, 'Damn! You wrote that song?'"