2 robotaxi services seeking to bypass safety concerns and expand in San Francisco face pivotal vote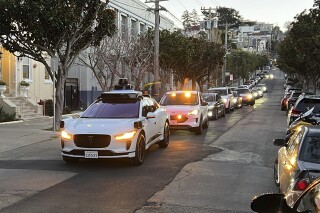 SAN FRANCISCO (AP) — California regulators are poised to decide whether two rival robotaxi services can provide around-the-clock rides throughout San Francisco, despite escalating fears about recurring incidents that have caused the driverless vehicles to block traffic or imperil public safety.
If the state's Public Utilities Commission approves expansions sought by robotaxi services Cruise and Waymo in a vote scheduled Thursday, San Francisco will become the first major U.S. city with two fleets of driverless vehicles competing for passengers against ride-hailing and taxi services dependent on humans to operate the cars.
It's a distinction San Francisco officials don't want, largely because of the headaches that Cruise and Waymo have been causing in the city while testing their robotaxis on a restricted basis during the past year.
Although they have so far been able to drive millions of cumulative miles without causing any major accidents, the robotaxis have come to unexpected stops that have created road blocks that have at times impeded firefighters and police, in addition to normal traffic. The robotaxis have also driven into areas where traffic is prohibited, including repeated incursions into places where firefighters and police officers have been responding to emergencies.
"They are still not ready for prime time because of the way they have impacted our operations," San Francisco Fire Department Chief Jeanine Nicholson said during a four-hour hearing held Monday in advance of Thursday's pivotal vote.
To underscore her point, Nicholson cited 55 written reports of the robotaxis interfering with emergency responses. She said she is worried the problems will get worse if Cruise and Waymo are allowed to operate their services wherever and whenever they want in San Francisco — raising the risk of their disruptions resulting in injury, death or the loss of property that could have been saved.
Officials for both Cruise, a subsidiary of General Motors, and Waymo, a spin-off from a secret project within Google, point to the mostly unblemished safety records that have proven their robotaxis are less dangerous than vehicles operated by people who can be distracted, intoxicated or just lousy drivers.
Both companies view approval of their San Francisco expansions as a major springboard to launching similar services in other congested cities that would benefit from a technology that they contend will be more reliable, convenient and cheaper than ride-hailing and taxi services reliant on human drivers.
Cruise on Monday disclosed it is currently testing 300 robotaxis during the day when it can only give rides for free, and 100 robotaxis at night when it has been allowed to charge for rides in less congested parts of San Francisco for the past 14 months. Waymo told regulators Monday that it is operating 250 robotaxis that so far have only been able to give free rides to volunteers and employees in San Francisco.
If their proposed expansions are approved, neither Cruise nor Waymo would be limited on how many robotaxis they could deploy in San Francisco. In a conference call with analysts last month, Cruise CEO Kyle Vogt suggested his service might eventually build a fleet large enough to compete against the more than 10,000 human drivers now working for ride-hailing services such as Uber and Lyft in San Francisco.
But the proposed San Francisco expansion has been facing increasingly staunch resistance, prompting regulators to postpone two previously scheduled votes on the issue in June and July.
In a May 31 letter urging state regulators to continue to restrict the operations of Cruise and Waymo, San Francisco transportation officials asserted the driverless vehicles rely on a "developmental technology that is not ready for unconstrainted commercial deployment."
In a June 22 letter, the president of the union for San Francisco police officers warned of potentially dire consequences if Cruise and Waymo are allowed to expand throughout the city. Tracy McCray, the union president, cited a robotaxi obstructing emergency vehicles responding to a recent mass shooting that injured nine people as a chilling example of how the technology could imperil the public.
"While we all applaud advancements in technology, we must not be in such a rush that we forget the human element and the effects such technology unchecked can cause in dangerous situations," McCray wrote. "Delays of even seconds in our line of work can be a matter of life or death."
Officials for both both Cruise and Waymo on Monday sought to reassure regulators that they believe they have been able to fix most of the flaws that have cropping up and have set up response teams to help move stopped robotaxis within a few minutes.
Besides tinkering the technology controlling the robotaxis, Cruise and Waymo also said they have trained hundreds of San Francisco police and firefighters how to interact with the driverless vehicles. The training included instructions on how to gain manual control of the robotaxis — a process that can involve removing hundreds of pounds of equipment from the vehicles.
The training sessions haven't appeased Nicholson, the San Francisco fire chief, who expressed frustration at the notion that firefighters responding to emergency situations should be expected to "babysit" robotaxis entering places where they shouldn't be when every second counts.
"If we don't get to one person, that's one person too many we didn't get to," Nicholson said.