2 dead in a Russian attack on a Ukrainian city while a blast near Moscow kills 1 and wounds dozens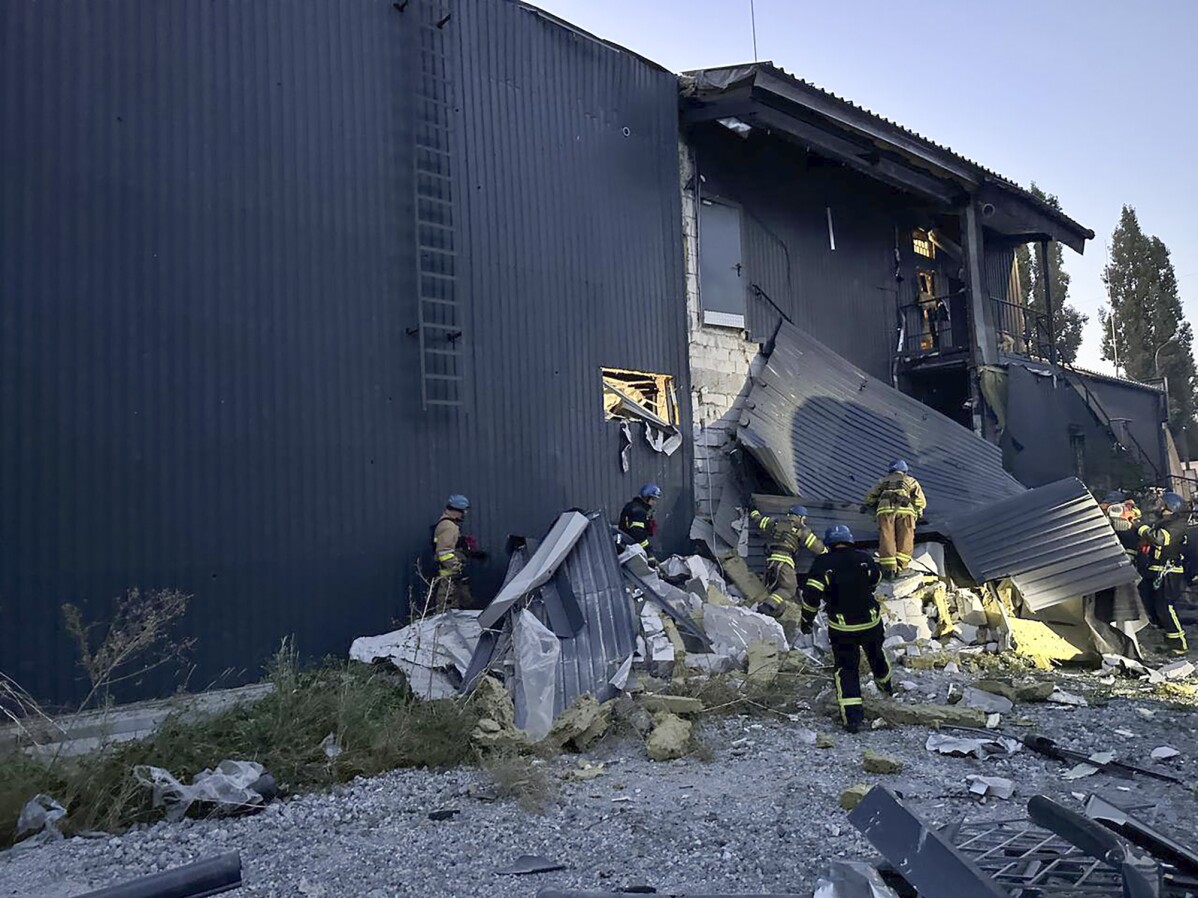 1 of 10

|
In this photo provided by the Zaporizhzhia administration Press Office, rescuers work on the scene of a building damaged after Russian missile strikes in Zaporizhzhia, Ukraine, Wednesday, Aug. 9, 2023. (Zaporizhzhia administration Press Office via AP)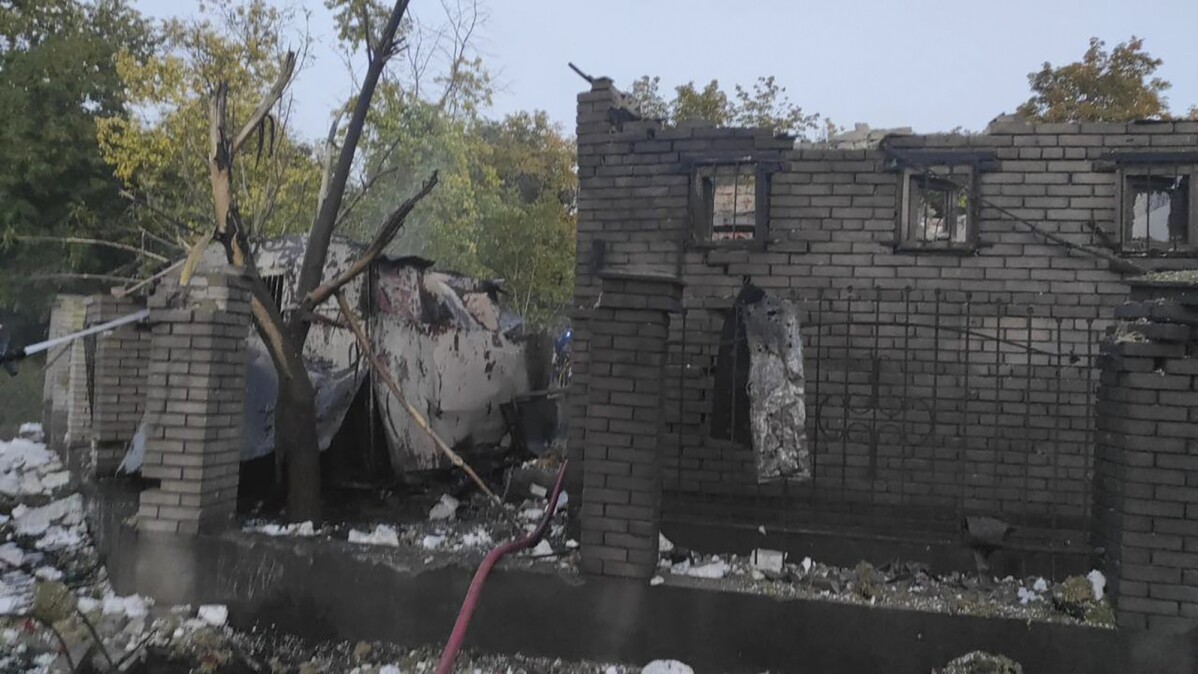 2 of 10

|
In this photo provided by the Zaporizhzhia administration Press Office, rescuers work on the scene of a building damaged after Russian missile strikes in Zaporizhzhia, Ukraine, Wednesday, Aug. 9, 2023. (Zaporizhzhia administration Press Office via AP)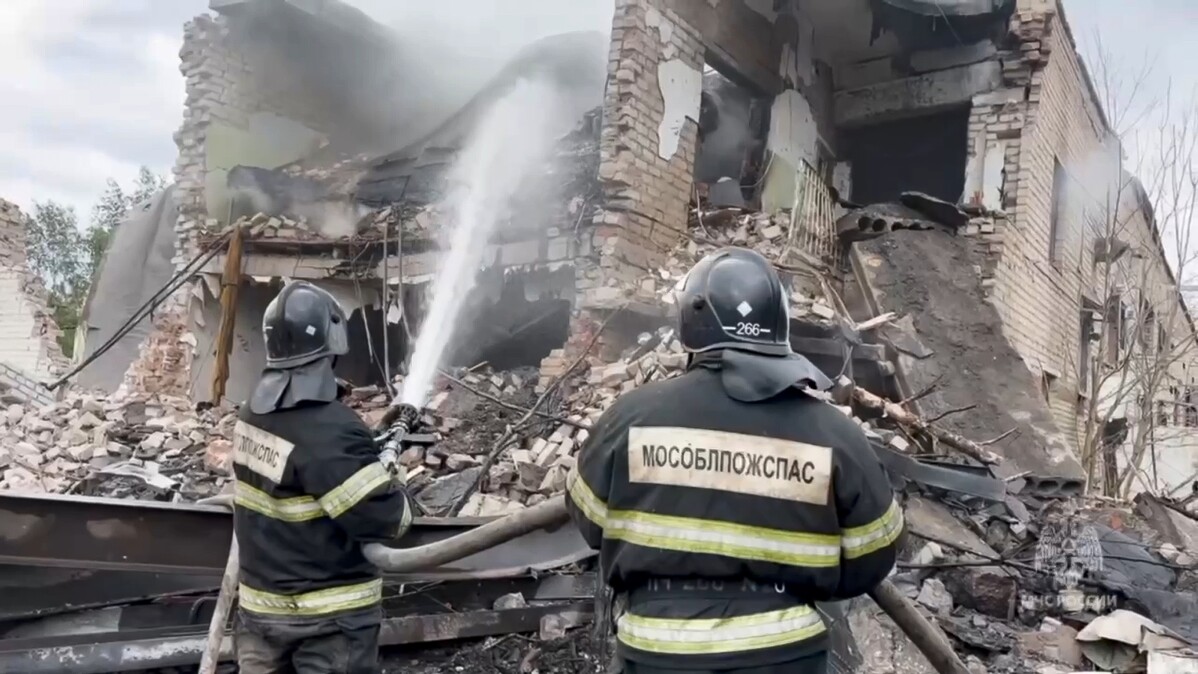 3 of 10

|
In this photo released by Russian Emergency Ministry Press Service on Wednesday, Aug. 9, 2023, firefighters work at the side of the Zagorsk Optical and Mechanical Plant after a blast in the city of Sergiev Posad, Moscow Region, about 65 km (41miles) north-east of Moscow, Russia. An explosion Wednesday, on the grounds of a factory north of Moscow that makes optical equipment for Russia's security forces wounded dozens people, six of them severely, officials said. The blast occurred at a warehouse storing fireworks, though it was on the grounds of the Zagorsk optics manufacturing plant, according to Andrei Vorobyov, the governor of the region surrounding the Russian capital. (Russian Emergency Ministry Press Service via AP)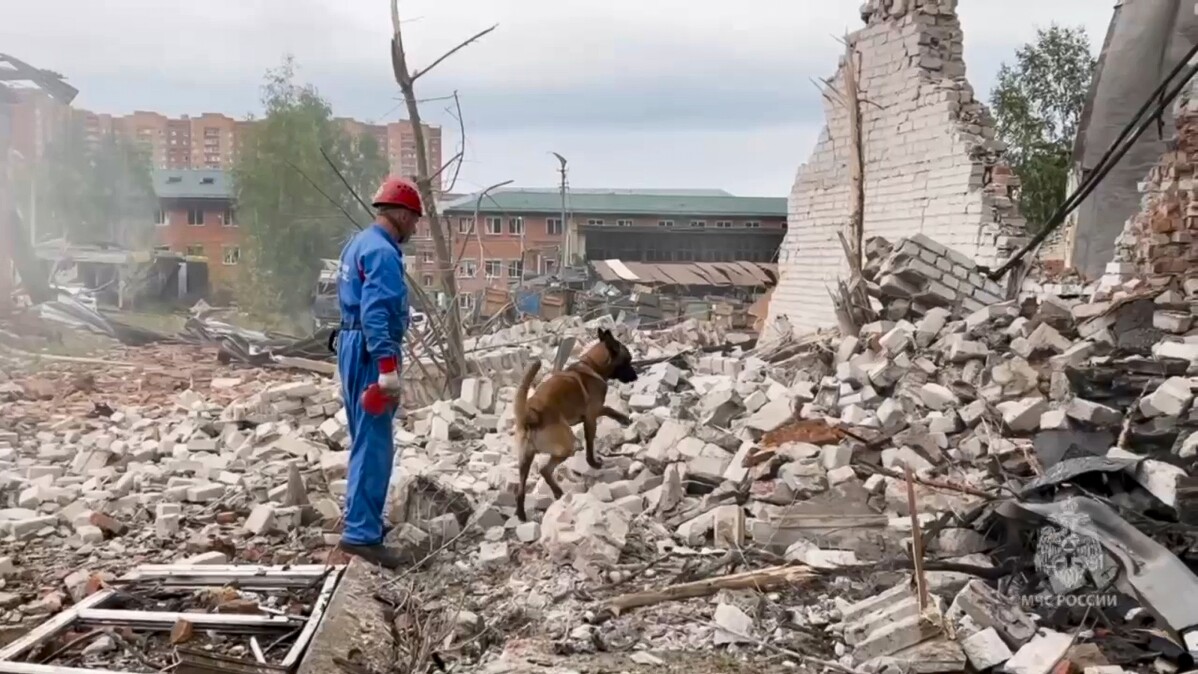 4 of 10

|
In this photo released by Russian Emergency Ministry Press Service on Wednesday, Aug. 9, 2023, An emergency Ministry employee and his dog work at the side of the Zagorsk Optical and Mechanical Plant after the blast in the city of Sergiev Posad, Moscow Region, about 65 km (41miles) north-east of Moscow, Russia. An explosion Wednesday, on the grounds of a factory north of Moscow that makes optical equipment for Russia's security forces wounded dozens people, six of them severely, officials said. (Russian Emergency Ministry Press Service via AP)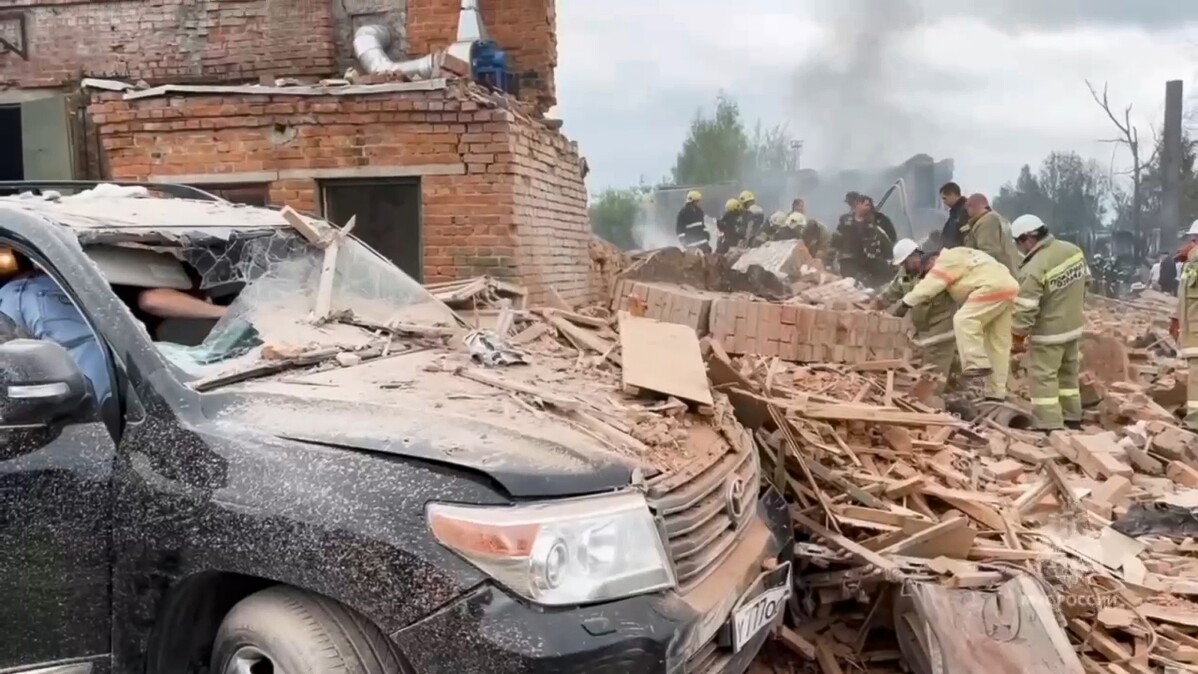 5 of 10

|
In this photo released by Russian Emergency Ministry Press Service on Wednesday, Aug. 9, 2023, Emergency Ministry employees work at the side of the Zagorsk Optical and Mechanical Plant after the blast in the city of Sergiev Posad, Moscow Region, about 65 km (41miles) north-east of Moscow, Russia. An explosion Wednesday, on the grounds of a factory north of Moscow that makes optical equipment for Russia's security forces wounded dozens people, six of them severely, officials said. (Russian Emergency Ministry Press Service via AP)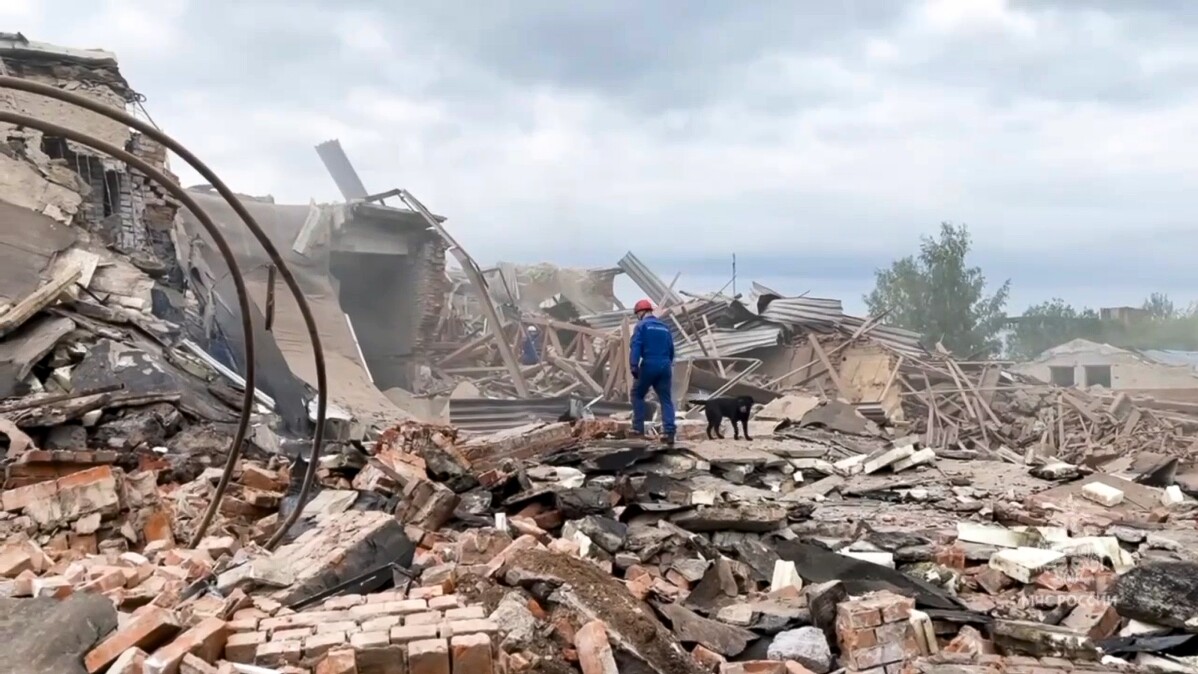 6 of 10

|
In this photo released by Russian Emergency Ministry Press Service on Wednesday, Aug. 9, 2023, An emergency Ministry employee and his dog work at the side of the Zagorsk Optical and Mechanical Plant after the blast in the city of Sergiev Posad, Moscow Region, about 65 km (41miles) north-east of Moscow, Russia. An explosion Wednesday, on the grounds of a factory north of Moscow that makes optical equipment for Russia's security forces wounded dozens people, six of them severely, officials said. (Russian Emergency Ministry Press Service via AP)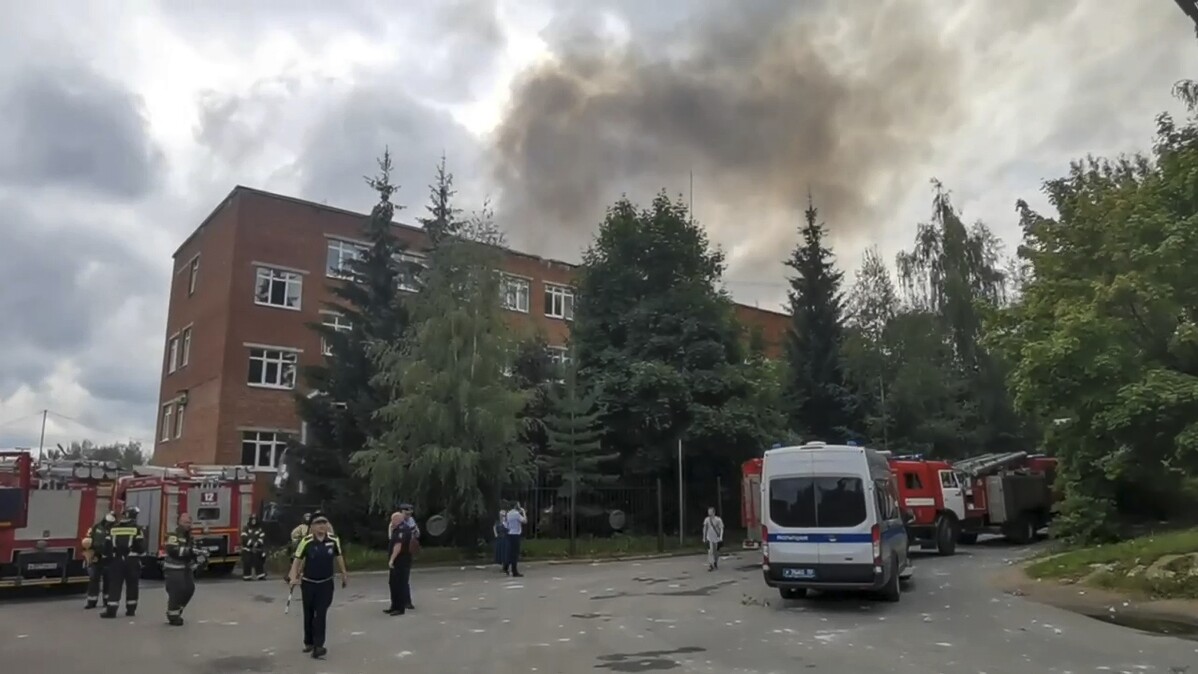 7 of 10

|
In this photo taken from video and released by the Administration of Sergiev Posad municipal district of Moscow region telegram channel on Wednesday, Aug. 9, 2023, smoke rises from the Zagorsk Optical and Mechanical Plant in the city of Sergiev Posad, Moscow Region, about 65 km (41miles) north-east of Moscow, Russia. The governor of the Moscow region, Andrei Vorobyov, said at least 31 people were injured after a warehouse containing pyrotechnics exploded at a factory north of Moscow. Russian social media channels shared footage which showed huge plumes of smoke billowing into the air and shattered windows. (Administration of Sergiev Posad municipal district of Moscow region telegram channel via AP)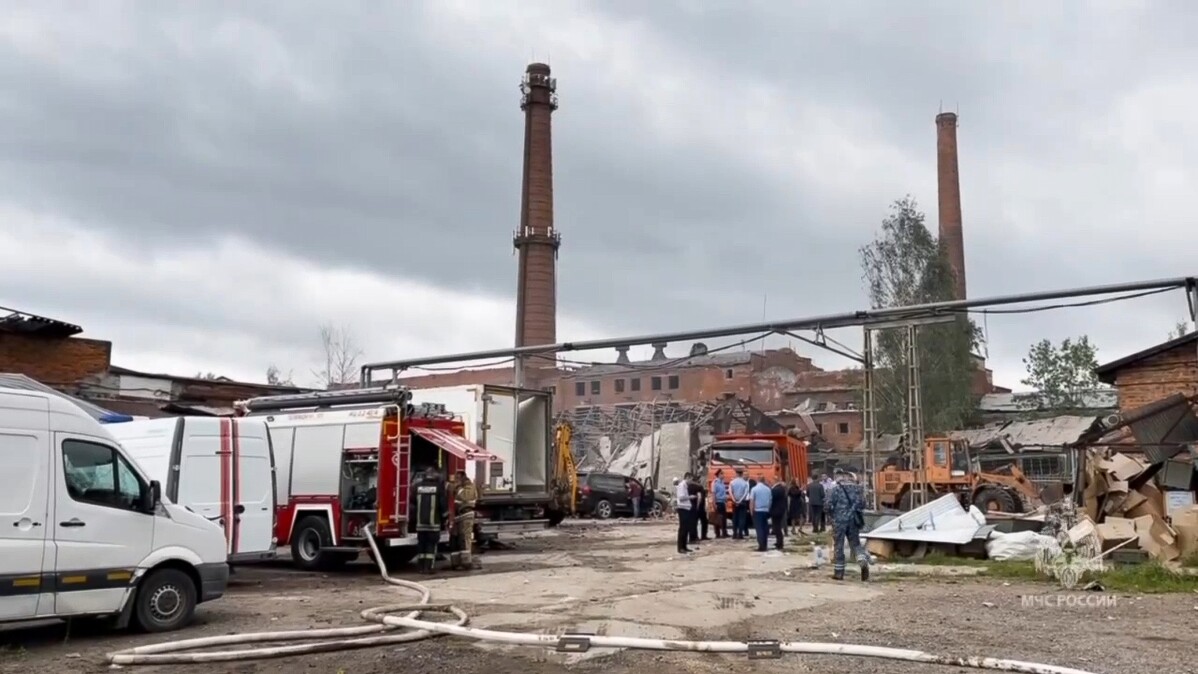 8 of 10

|
In this photo released by Russian Emergency Ministry Press Service on Wednesday, Aug. 9, 2023, a view of the Zagorsk Optical and Mechanical Plant after the blast in the city of Sergiev Posad, Moscow Region, about 65 km (41miles) north-east of Moscow, Russia. An explosion Wednesday, on the grounds of a factory north of Moscow that makes optical equipment for Russia's security forces wounded dozens people, six of them severely, officials said. The blast occurred at a warehouse storing fireworks, though it was on the grounds of the Zagorsk optics manufacturing plant, according to Andrei Vorobyov, the governor of the region surrounding the Russian capital. (Russian Emergency Ministry Press Service via AP)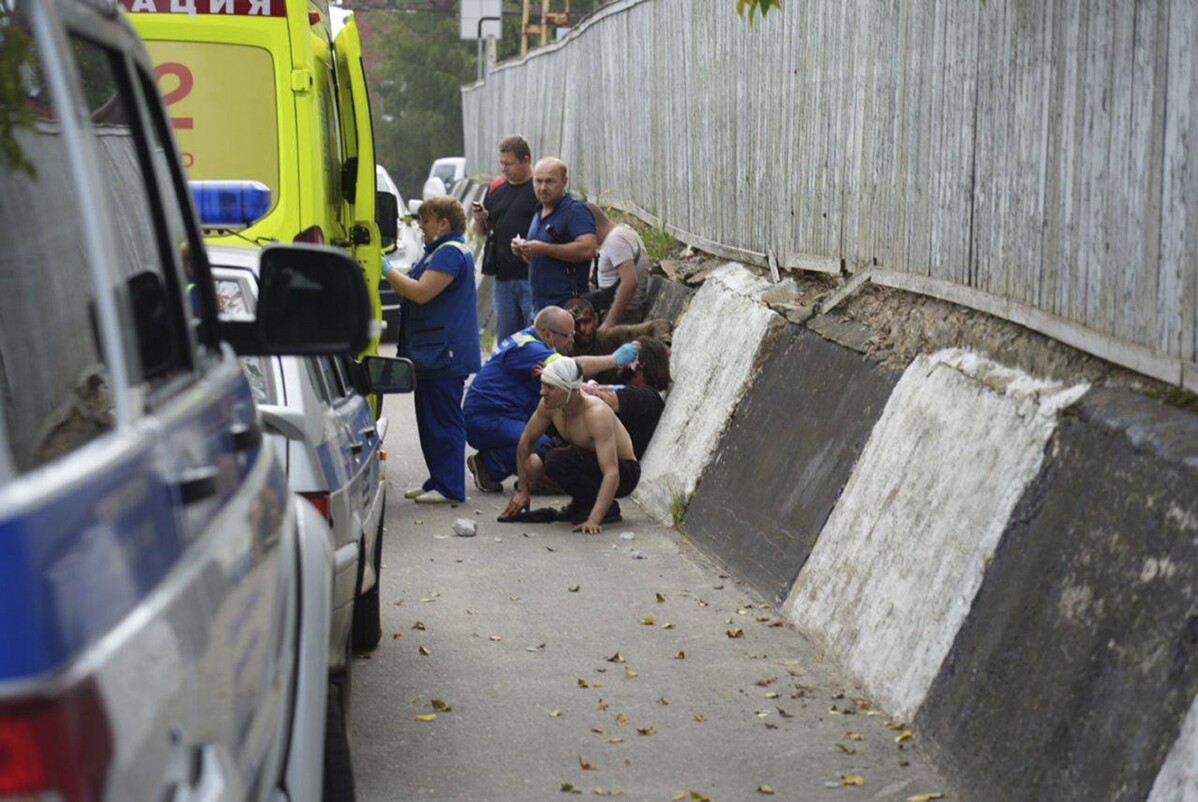 9 of 10

|
In this photo released by Moscow Region Governor Andrey Vorobyov telegram channel on Wednesday, Aug. 9, 2023, emergency medics treat injured people at the Zagorsk Optical and Mechanical Plant in the city of Sergiev Posad, Moscow Region, about 65 km (41miles) north-east of Moscow, Russia. The governor of the Moscow region, Andrei Vorobyov, said dozens people were injured after a warehouse containing pyrotechnics exploded at a factory north of Moscow. Russian social media channels shared footage which showed huge plumes of smoke billowing into the air and shattered windows. (Moscow Region Governor Andrey Vorobyov telegram channel via AP)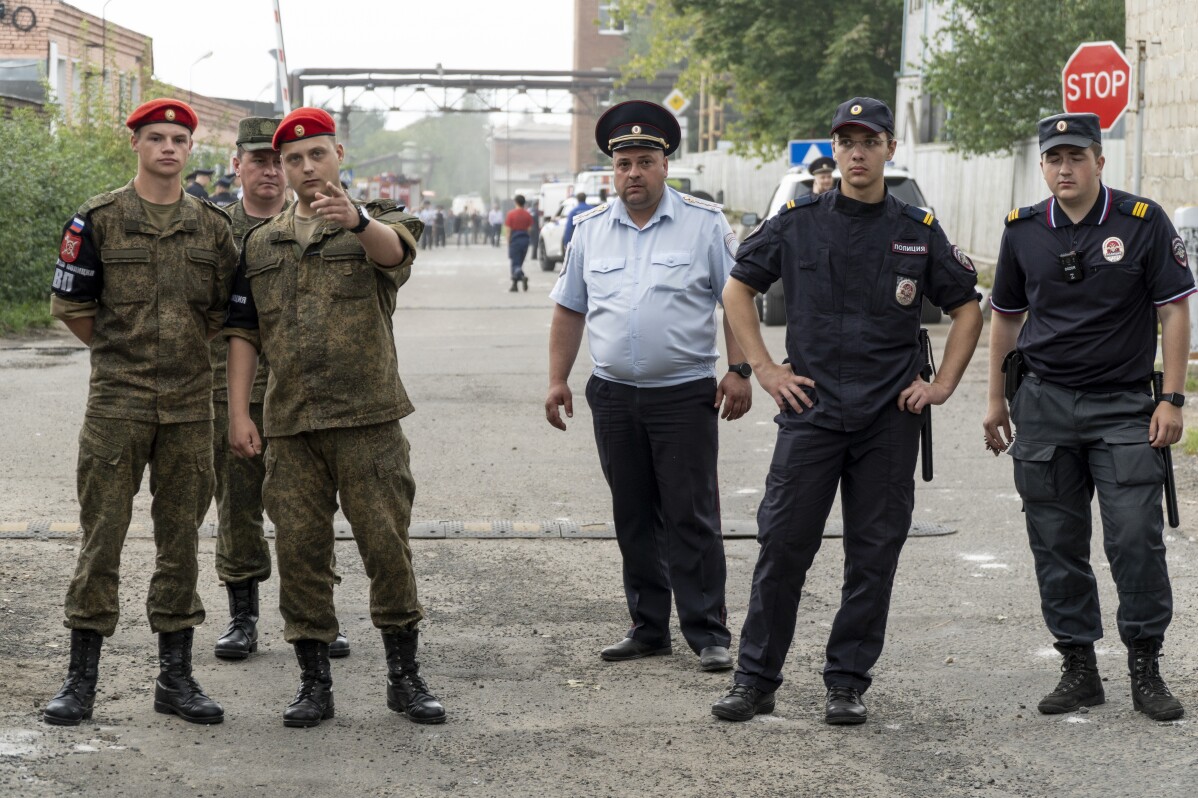 10 of 10

|
Military police and police officers guard an entrance of the side of the Zagorsk Optical and Mechanical Plant after the blast in the city of Sergiev Posad, Moscow Region, about 65 km (41miles) north-east of Moscow, Russia on Wednesday, Aug. 9, 2023. An explosion Wednesday, on the grounds of a factory north of Moscow that makes optical equipment for Russia's security forces wounded dozens people, six of them severely, officials said. (AP Photo)
2 dead in a Russian attack on a Ukrainian city while a blast near Moscow kills 1 and wounds dozens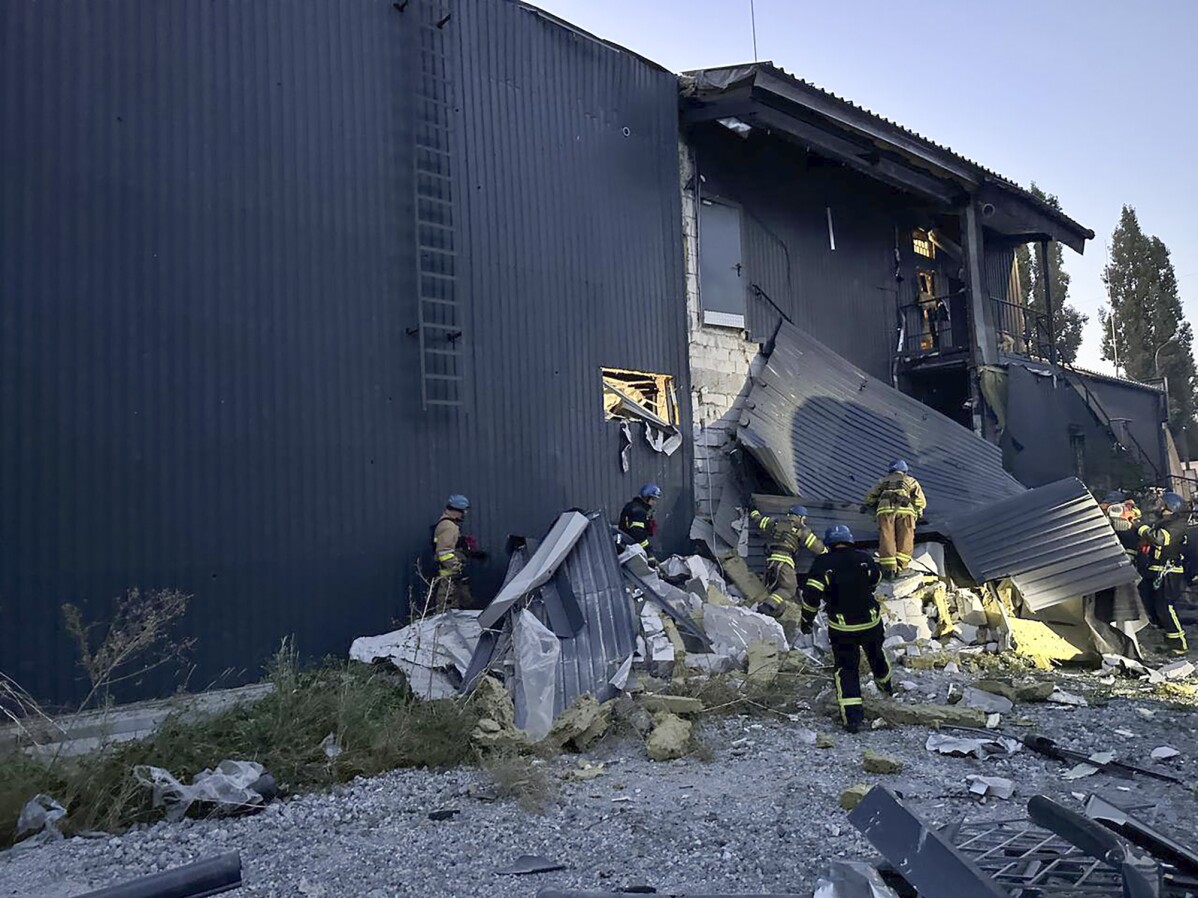 1 of 10

|
In this photo provided by the Zaporizhzhia administration Press Office, rescuers work on the scene of a building damaged after Russian missile strikes in Zaporizhzhia, Ukraine, Wednesday, Aug. 9, 2023. (Zaporizhzhia administration Press Office via AP)
1 of 10
In this photo provided by the Zaporizhzhia administration Press Office, rescuers work on the scene of a building damaged after Russian missile strikes in Zaporizhzhia, Ukraine, Wednesday, Aug. 9, 2023. (Zaporizhzhia administration Press Office via AP)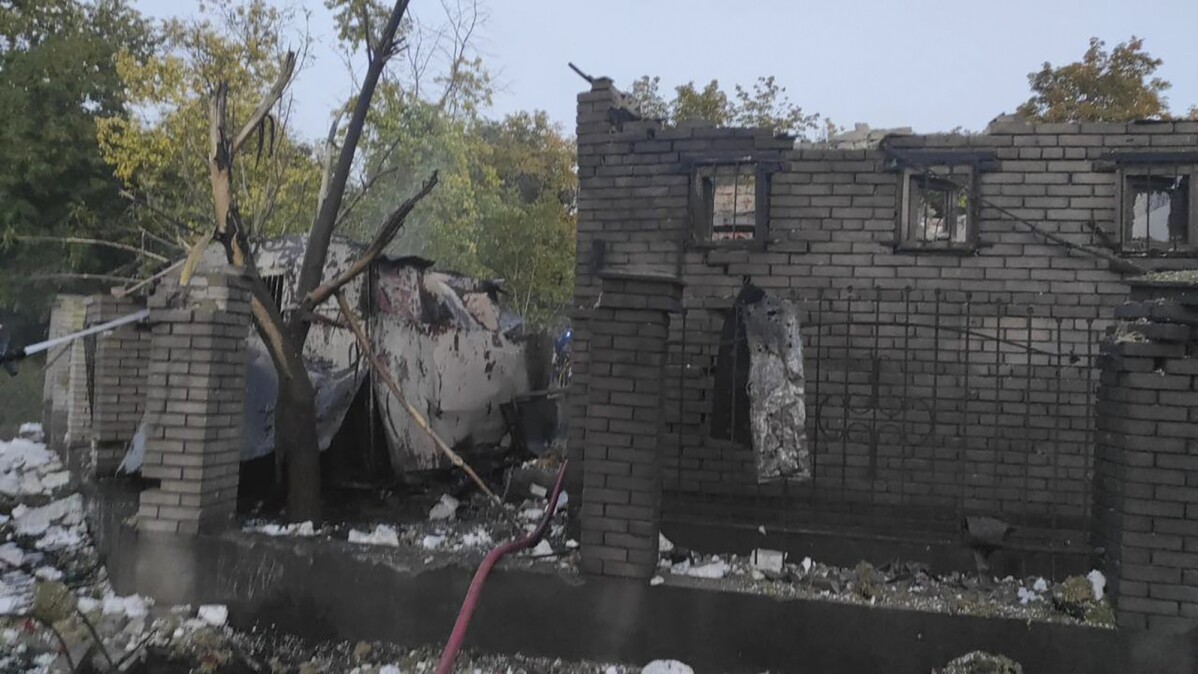 2 of 10

|
In this photo provided by the Zaporizhzhia administration Press Office, rescuers work on the scene of a building damaged after Russian missile strikes in Zaporizhzhia, Ukraine, Wednesday, Aug. 9, 2023. (Zaporizhzhia administration Press Office via AP)
2 of 10
In this photo provided by the Zaporizhzhia administration Press Office, rescuers work on the scene of a building damaged after Russian missile strikes in Zaporizhzhia, Ukraine, Wednesday, Aug. 9, 2023. (Zaporizhzhia administration Press Office via AP)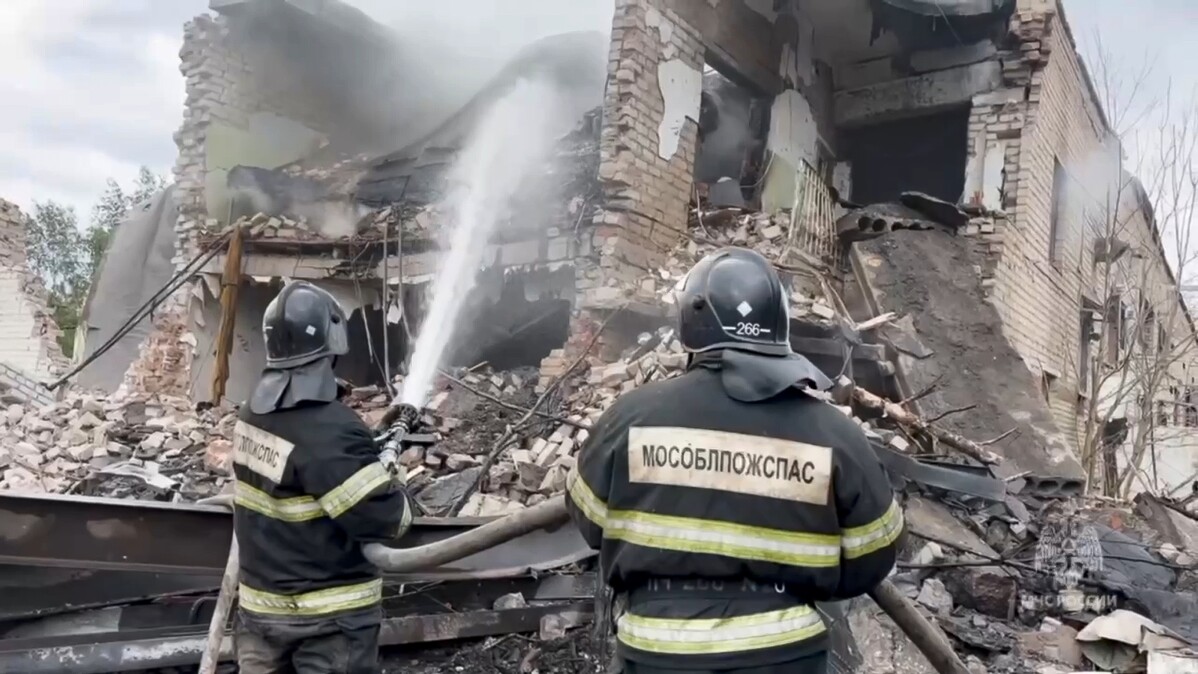 3 of 10

|
In this photo released by Russian Emergency Ministry Press Service on Wednesday, Aug. 9, 2023, firefighters work at the side of the Zagorsk Optical and Mechanical Plant after a blast in the city of Sergiev Posad, Moscow Region, about 65 km (41miles) north-east of Moscow, Russia. An explosion Wednesday, on the grounds of a factory north of Moscow that makes optical equipment for Russia's security forces wounded dozens people, six of them severely, officials said. The blast occurred at a warehouse storing fireworks, though it was on the grounds of the Zagorsk optics manufacturing plant, according to Andrei Vorobyov, the governor of the region surrounding the Russian capital. (Russian Emergency Ministry Press Service via AP)
3 of 10
In this photo released by Russian Emergency Ministry Press Service on Wednesday, Aug. 9, 2023, firefighters work at the side of the Zagorsk Optical and Mechanical Plant after a blast in the city of Sergiev Posad, Moscow Region, about 65 km (41miles) north-east of Moscow, Russia. An explosion Wednesday, on the grounds of a factory north of Moscow that makes optical equipment for Russia's security forces wounded dozens people, six of them severely, officials said. The blast occurred at a warehouse storing fireworks, though it was on the grounds of the Zagorsk optics manufacturing plant, according to Andrei Vorobyov, the governor of the region surrounding the Russian capital. (Russian Emergency Ministry Press Service via AP)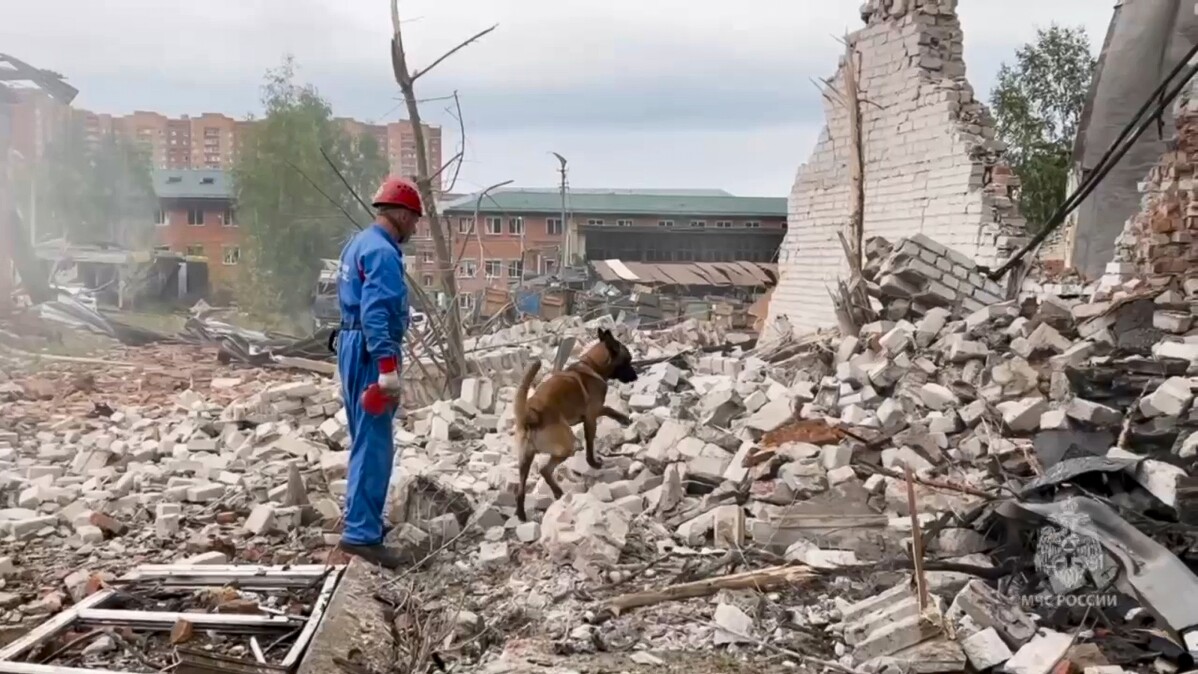 4 of 10

|
In this photo released by Russian Emergency Ministry Press Service on Wednesday, Aug. 9, 2023, An emergency Ministry employee and his dog work at the side of the Zagorsk Optical and Mechanical Plant after the blast in the city of Sergiev Posad, Moscow Region, about 65 km (41miles) north-east of Moscow, Russia. An explosion Wednesday, on the grounds of a factory north of Moscow that makes optical equipment for Russia's security forces wounded dozens people, six of them severely, officials said. (Russian Emergency Ministry Press Service via AP)
4 of 10
In this photo released by Russian Emergency Ministry Press Service on Wednesday, Aug. 9, 2023, An emergency Ministry employee and his dog work at the side of the Zagorsk Optical and Mechanical Plant after the blast in the city of Sergiev Posad, Moscow Region, about 65 km (41miles) north-east of Moscow, Russia. An explosion Wednesday, on the grounds of a factory north of Moscow that makes optical equipment for Russia's security forces wounded dozens people, six of them severely, officials said. (Russian Emergency Ministry Press Service via AP)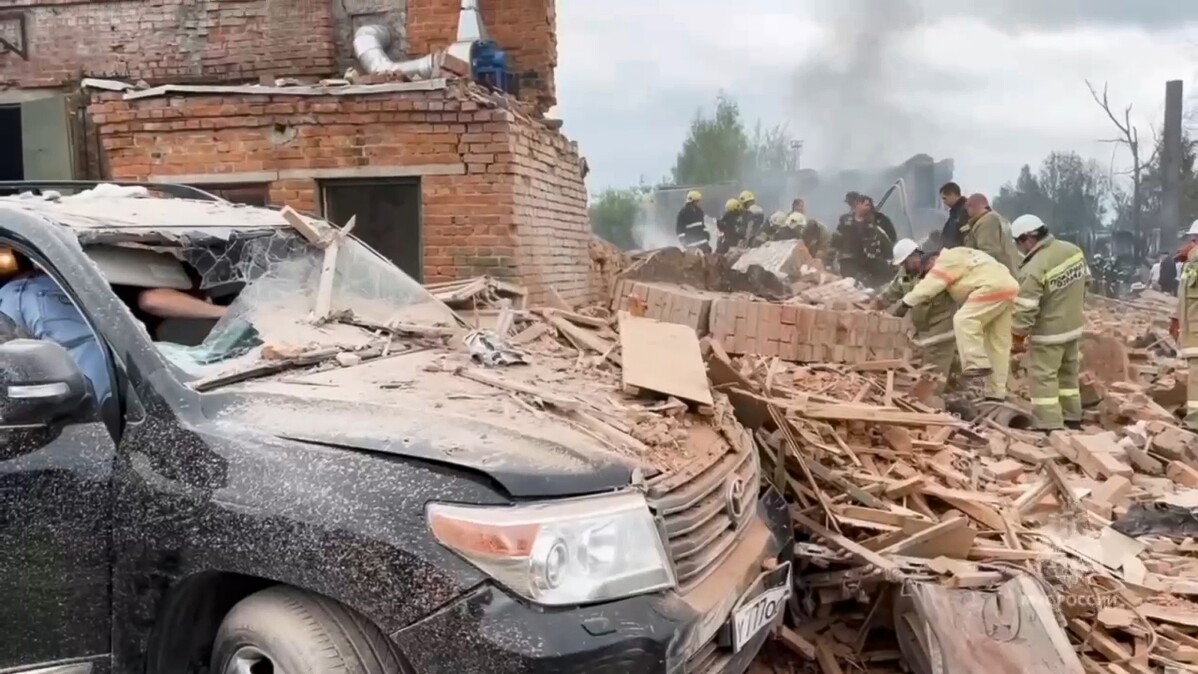 5 of 10

|
In this photo released by Russian Emergency Ministry Press Service on Wednesday, Aug. 9, 2023, Emergency Ministry employees work at the side of the Zagorsk Optical and Mechanical Plant after the blast in the city of Sergiev Posad, Moscow Region, about 65 km (41miles) north-east of Moscow, Russia. An explosion Wednesday, on the grounds of a factory north of Moscow that makes optical equipment for Russia's security forces wounded dozens people, six of them severely, officials said. (Russian Emergency Ministry Press Service via AP)
5 of 10
In this photo released by Russian Emergency Ministry Press Service on Wednesday, Aug. 9, 2023, Emergency Ministry employees work at the side of the Zagorsk Optical and Mechanical Plant after the blast in the city of Sergiev Posad, Moscow Region, about 65 km (41miles) north-east of Moscow, Russia. An explosion Wednesday, on the grounds of a factory north of Moscow that makes optical equipment for Russia's security forces wounded dozens people, six of them severely, officials said. (Russian Emergency Ministry Press Service via AP)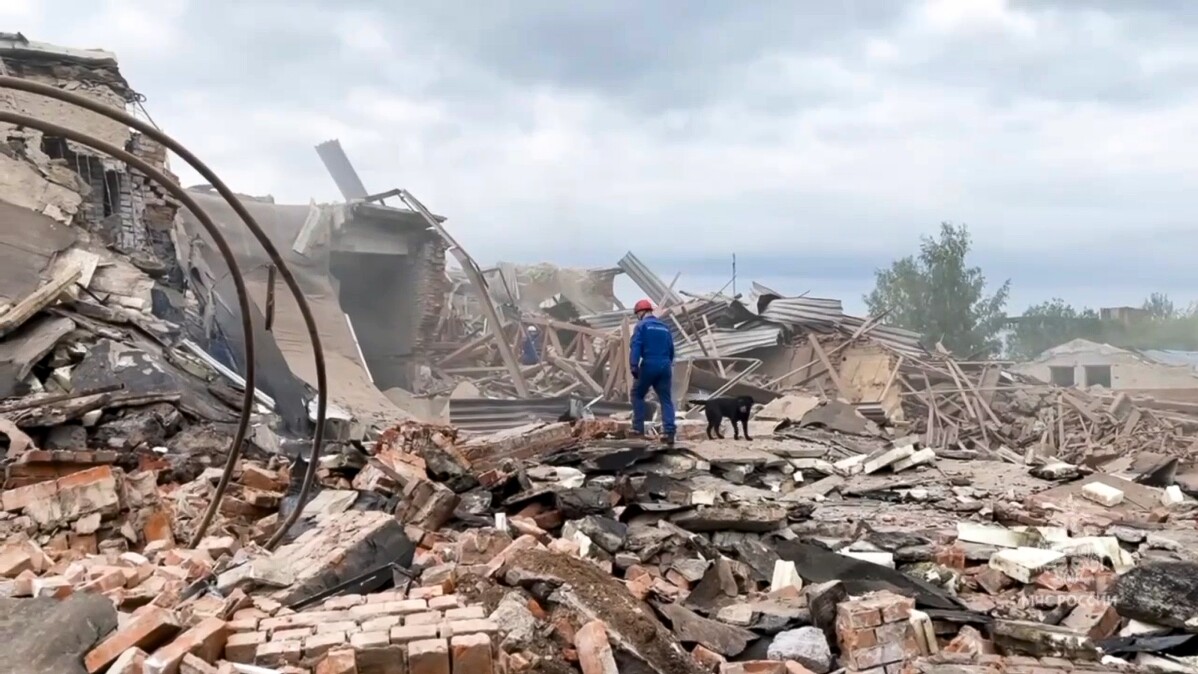 6 of 10

|
In this photo released by Russian Emergency Ministry Press Service on Wednesday, Aug. 9, 2023, An emergency Ministry employee and his dog work at the side of the Zagorsk Optical and Mechanical Plant after the blast in the city of Sergiev Posad, Moscow Region, about 65 km (41miles) north-east of Moscow, Russia. An explosion Wednesday, on the grounds of a factory north of Moscow that makes optical equipment for Russia's security forces wounded dozens people, six of them severely, officials said. (Russian Emergency Ministry Press Service via AP)
6 of 10
In this photo released by Russian Emergency Ministry Press Service on Wednesday, Aug. 9, 2023, An emergency Ministry employee and his dog work at the side of the Zagorsk Optical and Mechanical Plant after the blast in the city of Sergiev Posad, Moscow Region, about 65 km (41miles) north-east of Moscow, Russia. An explosion Wednesday, on the grounds of a factory north of Moscow that makes optical equipment for Russia's security forces wounded dozens people, six of them severely, officials said. (Russian Emergency Ministry Press Service via AP)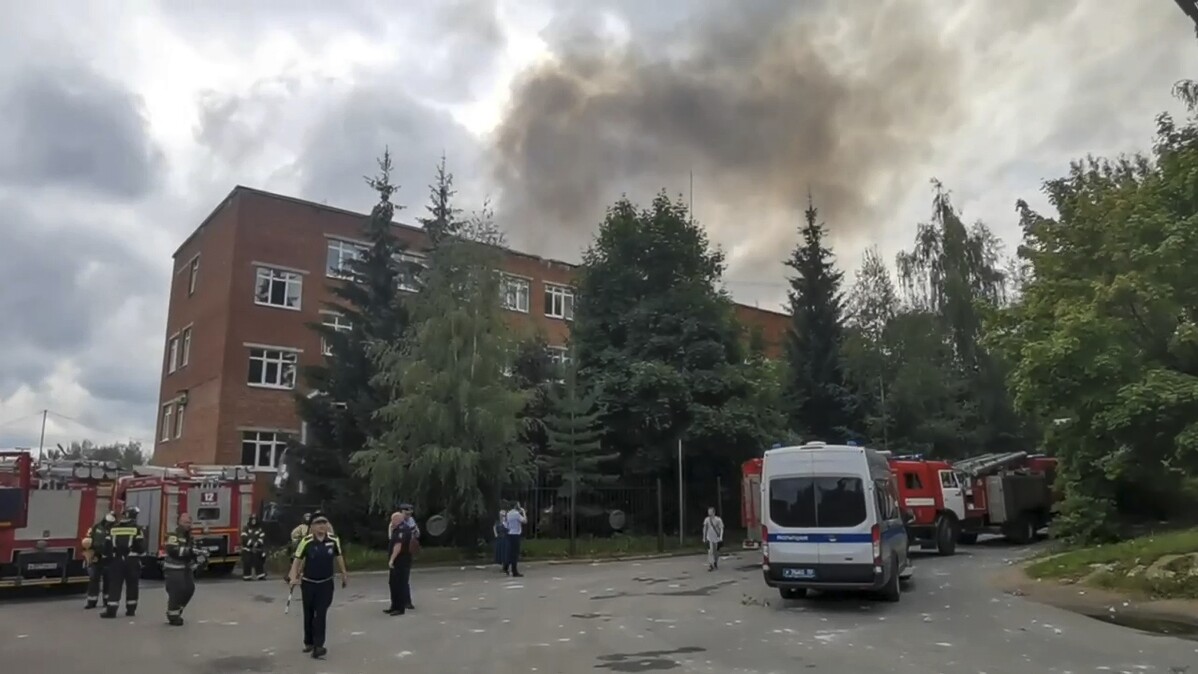 7 of 10

|
In this photo taken from video and released by the Administration of Sergiev Posad municipal district of Moscow region telegram channel on Wednesday, Aug. 9, 2023, smoke rises from the Zagorsk Optical and Mechanical Plant in the city of Sergiev Posad, Moscow Region, about 65 km (41miles) north-east of Moscow, Russia. The governor of the Moscow region, Andrei Vorobyov, said at least 31 people were injured after a warehouse containing pyrotechnics exploded at a factory north of Moscow. Russian social media channels shared footage which showed huge plumes of smoke billowing into the air and shattered windows. (Administration of Sergiev Posad municipal district of Moscow region telegram channel via AP)
7 of 10
In this photo taken from video and released by the Administration of Sergiev Posad municipal district of Moscow region telegram channel on Wednesday, Aug. 9, 2023, smoke rises from the Zagorsk Optical and Mechanical Plant in the city of Sergiev Posad, Moscow Region, about 65 km (41miles) north-east of Moscow, Russia. The governor of the Moscow region, Andrei Vorobyov, said at least 31 people were injured after a warehouse containing pyrotechnics exploded at a factory north of Moscow. Russian social media channels shared footage which showed huge plumes of smoke billowing into the air and shattered windows. (Administration of Sergiev Posad municipal district of Moscow region telegram channel via AP)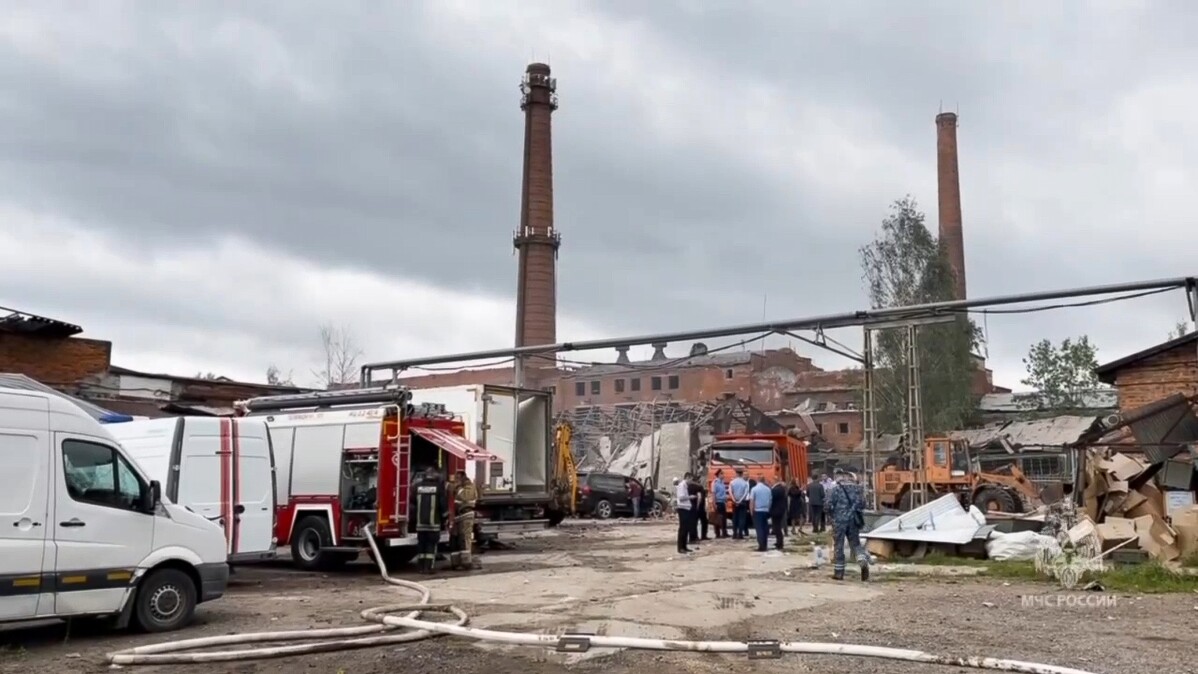 8 of 10

|
In this photo released by Russian Emergency Ministry Press Service on Wednesday, Aug. 9, 2023, a view of the Zagorsk Optical and Mechanical Plant after the blast in the city of Sergiev Posad, Moscow Region, about 65 km (41miles) north-east of Moscow, Russia. An explosion Wednesday, on the grounds of a factory north of Moscow that makes optical equipment for Russia's security forces wounded dozens people, six of them severely, officials said. The blast occurred at a warehouse storing fireworks, though it was on the grounds of the Zagorsk optics manufacturing plant, according to Andrei Vorobyov, the governor of the region surrounding the Russian capital. (Russian Emergency Ministry Press Service via AP)
8 of 10
In this photo released by Russian Emergency Ministry Press Service on Wednesday, Aug. 9, 2023, a view of the Zagorsk Optical and Mechanical Plant after the blast in the city of Sergiev Posad, Moscow Region, about 65 km (41miles) north-east of Moscow, Russia. An explosion Wednesday, on the grounds of a factory north of Moscow that makes optical equipment for Russia's security forces wounded dozens people, six of them severely, officials said. The blast occurred at a warehouse storing fireworks, though it was on the grounds of the Zagorsk optics manufacturing plant, according to Andrei Vorobyov, the governor of the region surrounding the Russian capital. (Russian Emergency Ministry Press Service via AP)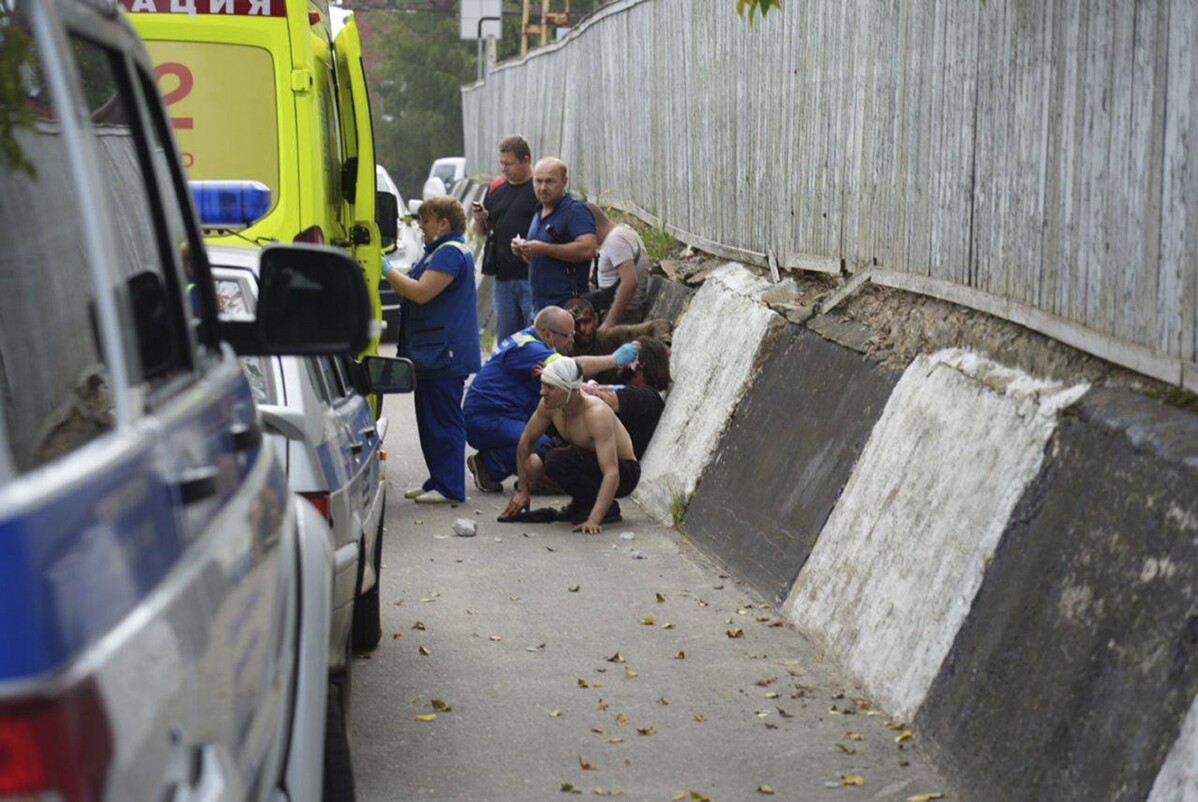 9 of 10

|
In this photo released by Moscow Region Governor Andrey Vorobyov telegram channel on Wednesday, Aug. 9, 2023, emergency medics treat injured people at the Zagorsk Optical and Mechanical Plant in the city of Sergiev Posad, Moscow Region, about 65 km (41miles) north-east of Moscow, Russia. The governor of the Moscow region, Andrei Vorobyov, said dozens people were injured after a warehouse containing pyrotechnics exploded at a factory north of Moscow. Russian social media channels shared footage which showed huge plumes of smoke billowing into the air and shattered windows. (Moscow Region Governor Andrey Vorobyov telegram channel via AP)
9 of 10
In this photo released by Moscow Region Governor Andrey Vorobyov telegram channel on Wednesday, Aug. 9, 2023, emergency medics treat injured people at the Zagorsk Optical and Mechanical Plant in the city of Sergiev Posad, Moscow Region, about 65 km (41miles) north-east of Moscow, Russia. The governor of the Moscow region, Andrei Vorobyov, said dozens people were injured after a warehouse containing pyrotechnics exploded at a factory north of Moscow. Russian social media channels shared footage which showed huge plumes of smoke billowing into the air and shattered windows. (Moscow Region Governor Andrey Vorobyov telegram channel via AP)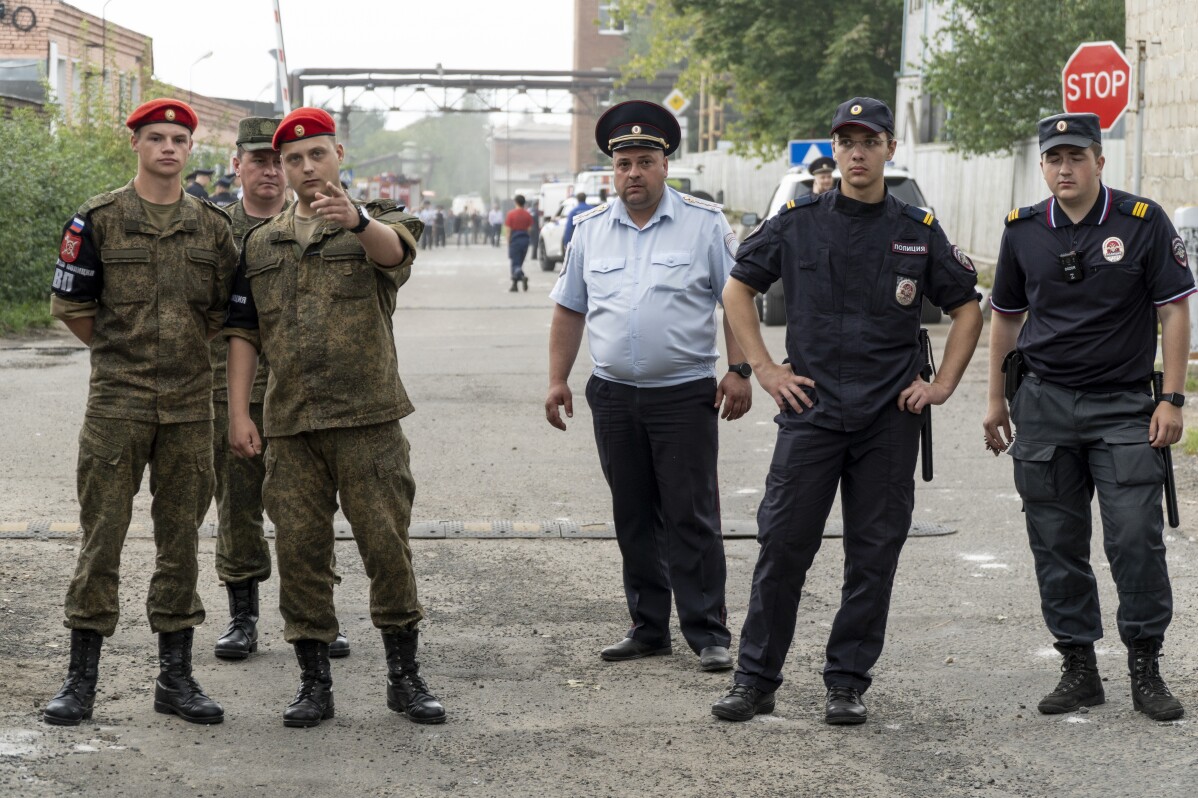 10 of 10

|
Military police and police officers guard an entrance of the side of the Zagorsk Optical and Mechanical Plant after the blast in the city of Sergiev Posad, Moscow Region, about 65 km (41miles) north-east of Moscow, Russia on Wednesday, Aug. 9, 2023. An explosion Wednesday, on the grounds of a factory north of Moscow that makes optical equipment for Russia's security forces wounded dozens people, six of them severely, officials said. (AP Photo)
10 of 10
Military police and police officers guard an entrance of the side of the Zagorsk Optical and Mechanical Plant after the blast in the city of Sergiev Posad, Moscow Region, about 65 km (41miles) north-east of Moscow, Russia on Wednesday, Aug. 9, 2023. An explosion Wednesday, on the grounds of a factory north of Moscow that makes optical equipment for Russia's security forces wounded dozens people, six of them severely, officials said. (AP Photo)
TALLINN, Estonia (AP) — A Russian rocket attack on Wednesday killed two people and wounded at least seven others in the Ukrainian city of Zaporizhzhia, which is near Europe's largest nuclear power plant, Ukrainian officials said.
Although regional governor Yuriy Malashko initially said three people died in the attack on a residential area, Interior Minister Ihor Klymenko later said two people died and one other person had been resuscitated.
The city lies about 50 kilometers (30 miles) northeast of the Zaporizhzhia Nuclear Power Plant, which has been occupied by Russian forces since the early weeks of the war. Shelling in the plant's surroundings have raised persistent fears of a nuclear accident.
In Russia, an explosion on the grounds of a factory that makes optical equipment for Russia's security forces north of Moscow killed one person, wounded 60 others and left at least eight people unaccounted for, officials said.
Russian officials did not provide a suspected cause of the explosion in the city of Sergiev Posad, which produced a tall plume of black smoke and added to jitters over recent nighttime drone attacks on Moscow. Earlier, officials said Russian air defenses shot down two drones aimed at the capital overnight, and they accused Ukraine of an attempted attack.
The blast occurred at a warehouse storing fireworks but was on the grounds of the Zagorsk optics manufacturing plant, said Andrei Vorobyov, the governor of the region surrounding the Russian capital. The explosion damaged 38 apartment buildings and prompted an evacuation of nearby areas, he said.
Vorobyov said the company rented out the warehouse for storage, but he later claimed the plant itself was mostly producing pyrotechnics. He said the Zagorsk Optical-Mechanical Plant "has had nothing to do with optics or mechanics for a long time."
The company's website says it still manufactures those products, as well as medical equipment. A 1995 report by the U.S. Department of Commerce described the factory as "a producer of precision optical equipment for the military."
Russian investigative news outlet Agentstvo reported Wednesday that state procurement data from recent years showed the plant supplied binoculars and dosimeters to Russia's National Guard, produced equipment for military aircraft and was involved in the development of a new fighter-bomber.
Russian authorities feared five people were missing in the aftermath of the explosion. Emergency crews with sniffer dogs walked over the rubble of low brick buildings, video from the scene showed. Firefighters hosed down the mangled industrial wreckage.
Some Russian media reported that a drone attack caused the blast at the manufacturing plant site. Multiple Russian authorities, including Vorobyov and Russia's Investigative Committee, denied that.
The Investigative Committee, Russia's top criminal investigations agency, said in a statement it has launched a criminal inquiry on charges of violating industrial safety requirements at hazardous production facilities.
Russian officials described the downed drones as Ukraine's latest attempt to strike the Russian capital in an alleged campaign to unnerve Muscovites and take the war in Ukraine to Russia.
The drones were intercepted on their approach to Moscow and there were no casualties, Mayor Sergei Sobyanin said. The Russian Defense Ministry described the incident as a "terrorist attack."
One of the drones came down in the Domodedovo district south of Moscow, and the other fell near the Minsk highway west of the city, according to Sobyanin. Moscow Domodedovo Airport is one of the Russian capital's busiest airports.
It wasn't clear where the drones were launched, and Ukrainian officials made no immediate comment. Ukraine usually neither confirms nor denies such attacks.
Flights were briefly halted at Moscow's Vnukovo airport on July 30 and Aug. 1, when drones smashed into Moscow's business district after being jammed by air defenses in two separate incidents.
In May, Russian authorities accused Ukraine of attempting to attack the Kremlin with two drones in an effort to assassinate President Vladimir Putin. Recent drone attacks have aimed at targets from the Russian capital to the Russia-annexed Crimean Peninsula.
In another incident that caused alarm, Ukrainian media reported social media blogs as saying that a thick plume of smoke billowed over Sevastopol, the headquarters of Russia's Black Sea Fleet.
The governor of Sevastopol, Mikhail Razvozhayev, said the smoke came from a "fleet training exercise" and urged local residents not to worry.
"Yes, the smell is unpleasant, but it is absolutely safe," he said on Telegram. "Everything is calm in the city."
Those incidents occurred against the backdrop of Ukraine's ongoing counteroffensive, which Ukrainian and Western officials have warned will be a long slog against the Kremlin's deeply entrenched forces.
Russia is pushing back against the Ukrainians in eastern areas, where tough battles are taking place, Hanna Maliar, Ukraine's deputy defense minister, said Wednesday on her official Telegram channel.
"In some parts of the front-line multiple changes in position take place within a day," she said.
She claimed that Ukraine's efforts had achieved "partial success" in the south. She gave no details.
It wasn't possible to independently verify either side's claims.
___
Emma Burrows reported from London.
___
Follow AP's coverage of the war in Ukraine at https://apnews.com/hub/russia-ukraine
___
A previous version of this story was corrected to show that the last name of the Sevastopol governor is Razvozhayev, not Razvozzhayev.