Shohei Ohtani gets his 10th mound victory of the season in the Angels' 4-1 win over the Giants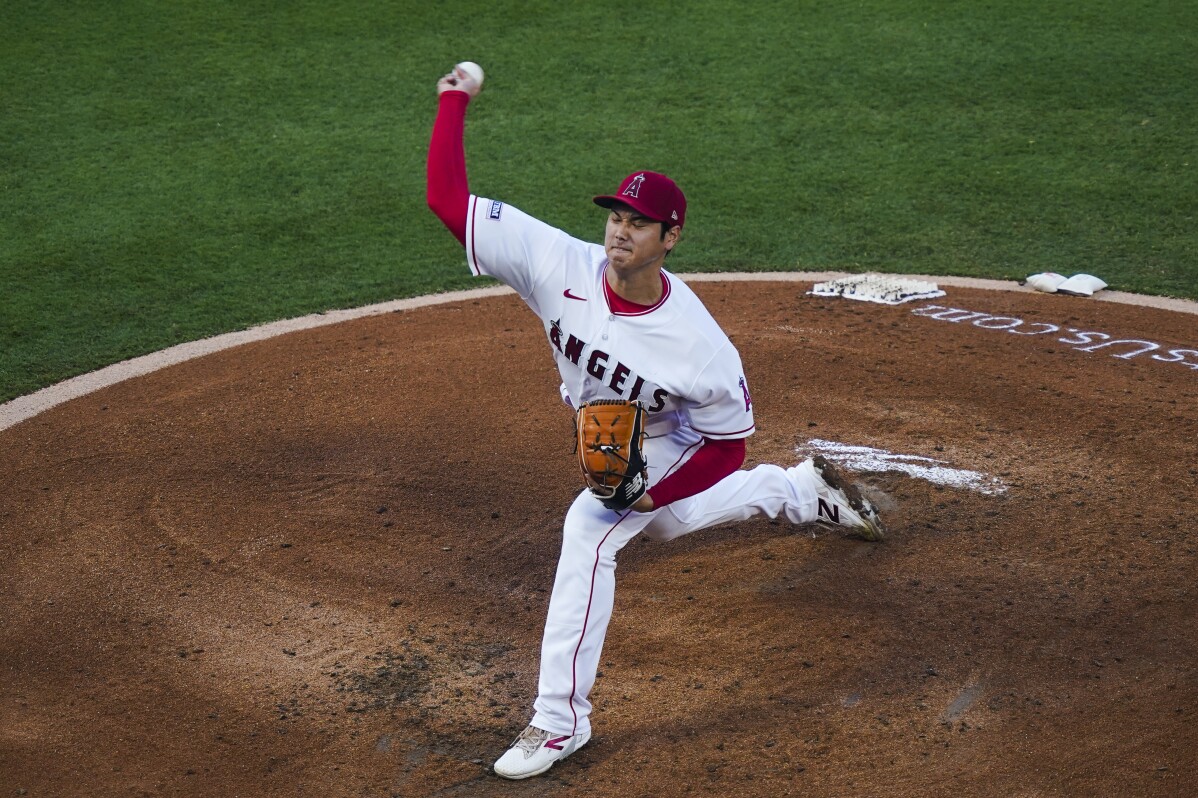 1 of 4

|
Los Angeles Angels starting pitcher Shohei Ohtani delivers during the second inning of the tema's baseball game against the San Francisco Giants, Wednesday, Aug. 9, 2023, in Anaheim, Calif. (AP Photo/Ryan Sun)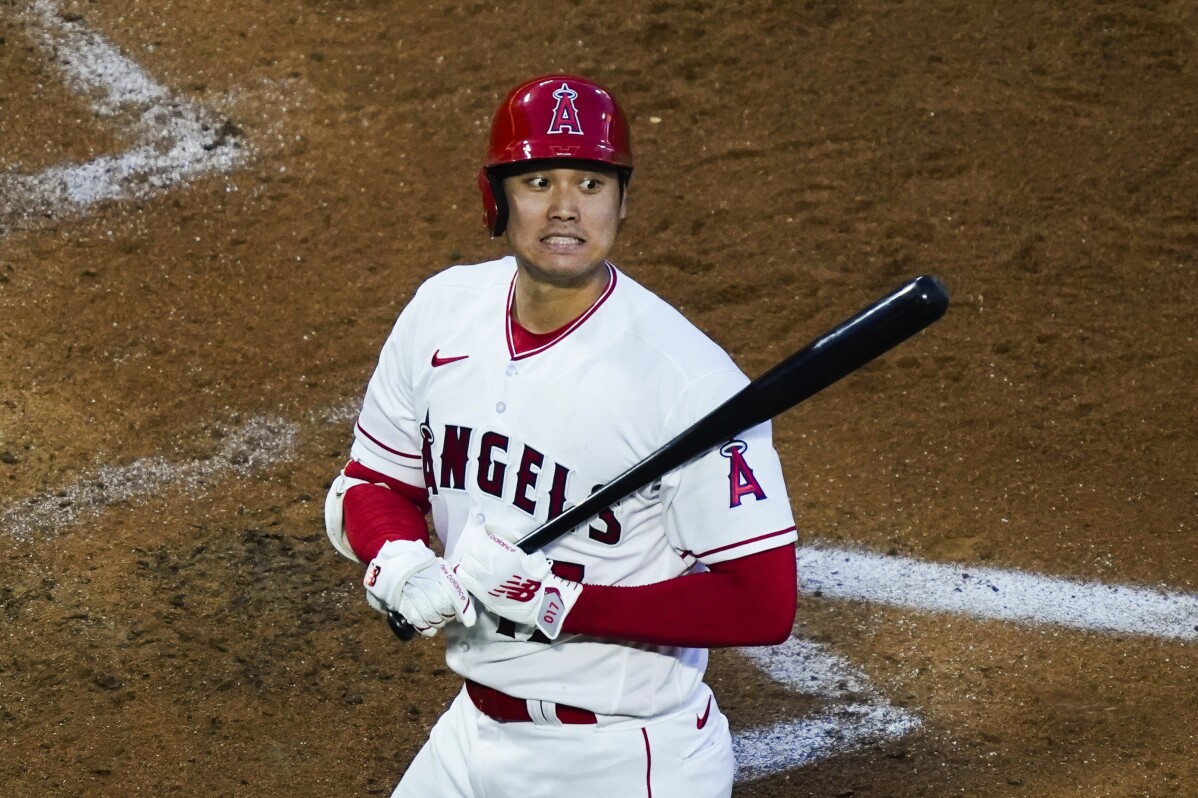 2 of 4

|
Los Angeles Angels' Shohei Ohtani reacts after a swinging strike during the third inning of the team's baseball game against the San Francisco Giants, Wednesday, Aug. 9, 2023, in Anaheim, Calif. (AP Photo/Ryan Sun)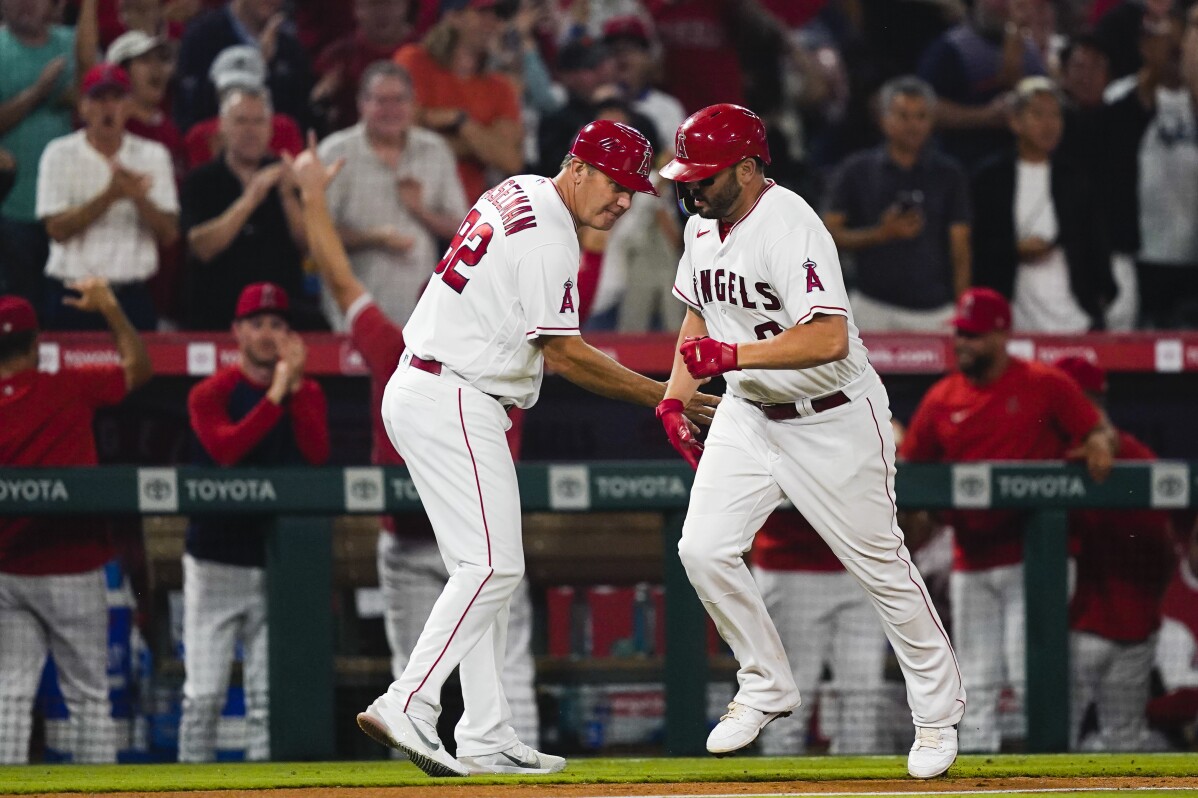 3 of 4

|
Los Angeles Angels' Mike Moustakas is congratulated by third base coach Bill Haselman (82) after hitting a three-run home run against the San Francisco Giants during the sixth inning of a baseball game Wednesday, Aug. 9, 2023, in Anaheim, Calif. (AP Photo/Ryan Sun)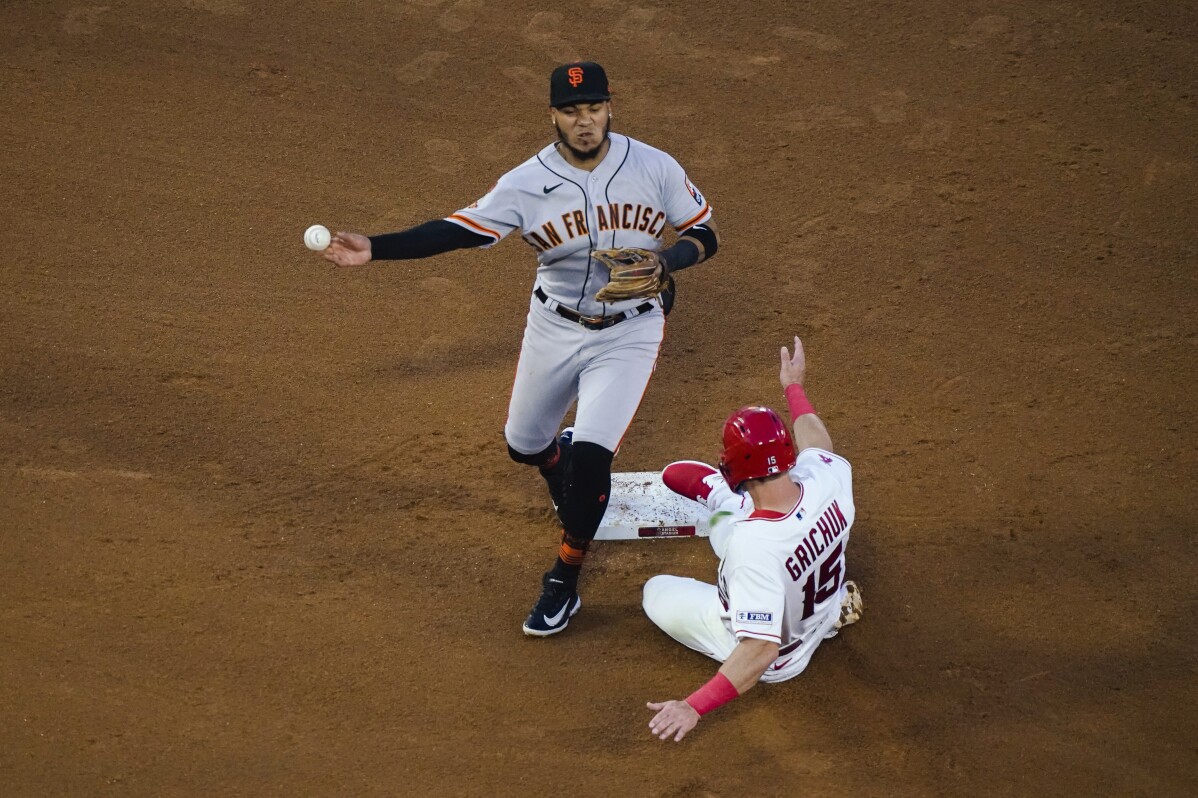 4 of 4

|
San Francisco Giants second baseman Thairo Estrada throws to first after forcing out Randal Grichuk (15) on a ball hit by Luis Rengifo, who was safe, during the third inning of a baseball game Wednesday, Aug. 9, 2023, in Anaheim, Calif. (AP Photo/Ryan Sun)
Shohei Ohtani gets his 10th mound victory of the season in the Angels' 4-1 win over the Giants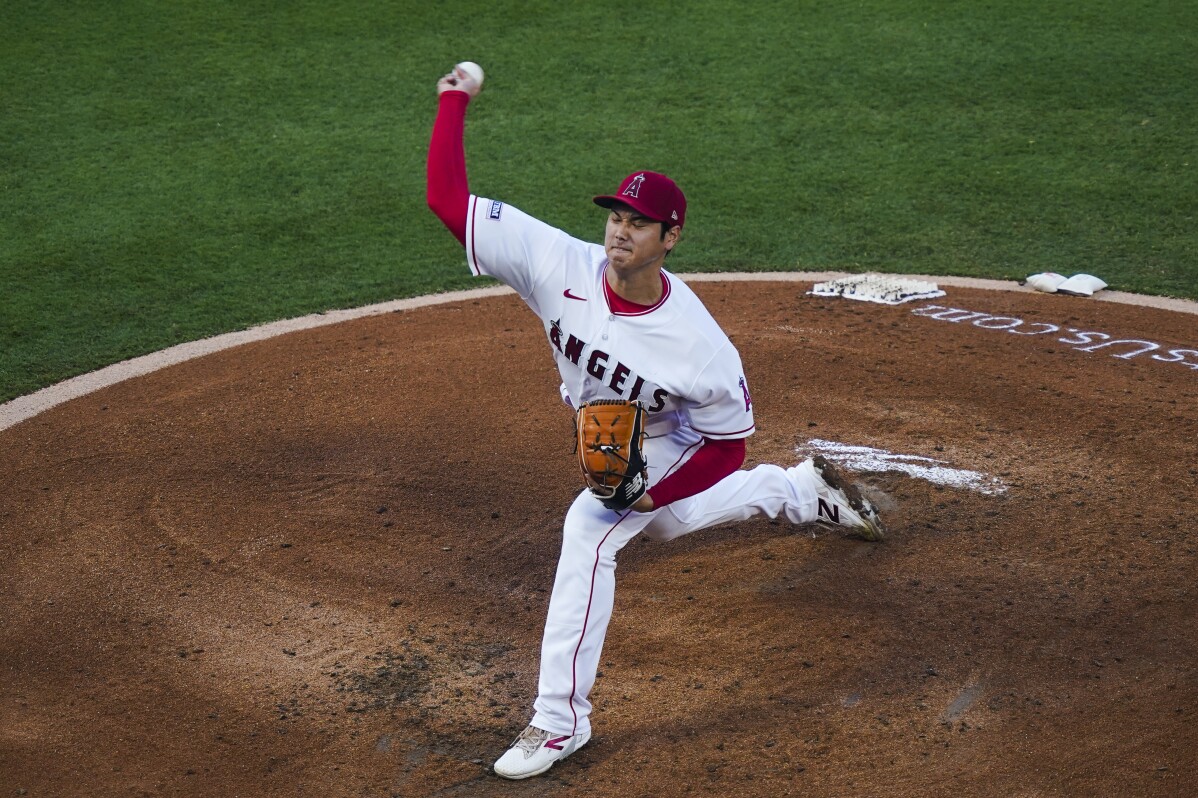 1 of 4

|
Los Angeles Angels starting pitcher Shohei Ohtani delivers during the second inning of the tema's baseball game against the San Francisco Giants, Wednesday, Aug. 9, 2023, in Anaheim, Calif. (AP Photo/Ryan Sun)
1 of 4
Los Angeles Angels starting pitcher Shohei Ohtani delivers during the second inning of the tema's baseball game against the San Francisco Giants, Wednesday, Aug. 9, 2023, in Anaheim, Calif. (AP Photo/Ryan Sun)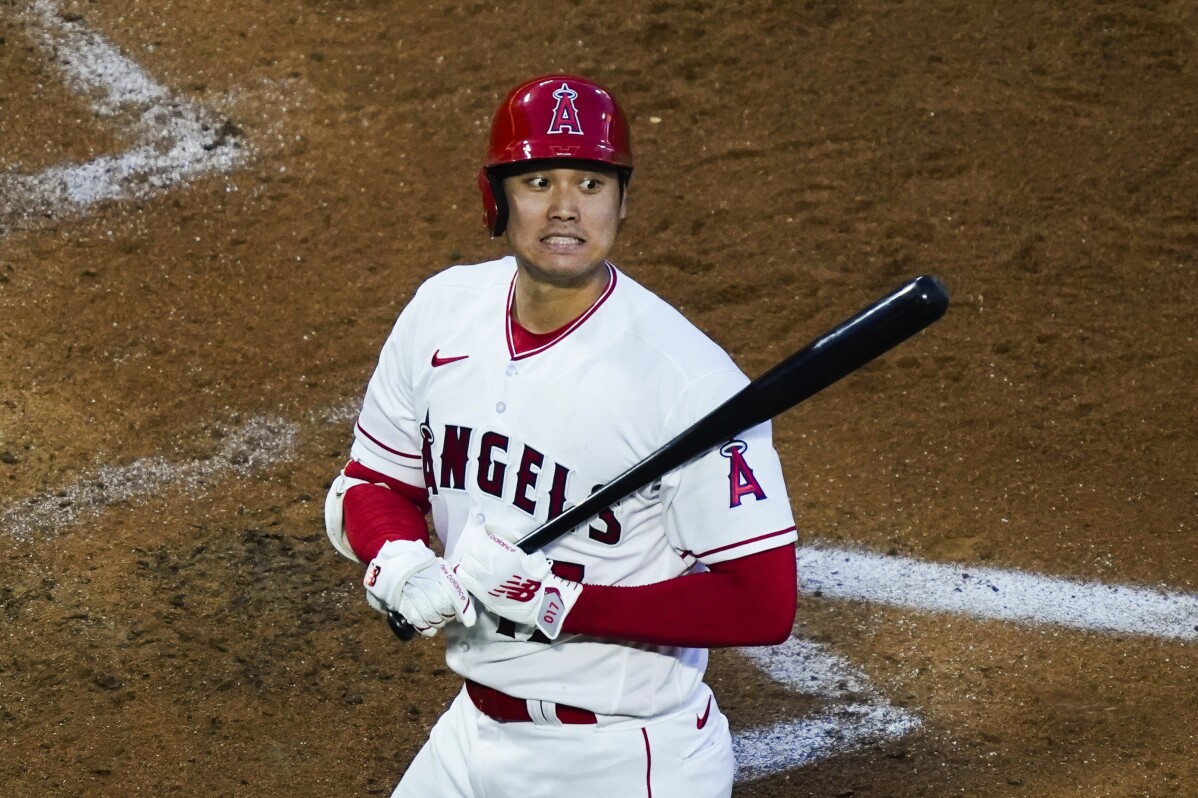 2 of 4

|
Los Angeles Angels' Shohei Ohtani reacts after a swinging strike during the third inning of the team's baseball game against the San Francisco Giants, Wednesday, Aug. 9, 2023, in Anaheim, Calif. (AP Photo/Ryan Sun)
2 of 4
Los Angeles Angels' Shohei Ohtani reacts after a swinging strike during the third inning of the team's baseball game against the San Francisco Giants, Wednesday, Aug. 9, 2023, in Anaheim, Calif. (AP Photo/Ryan Sun)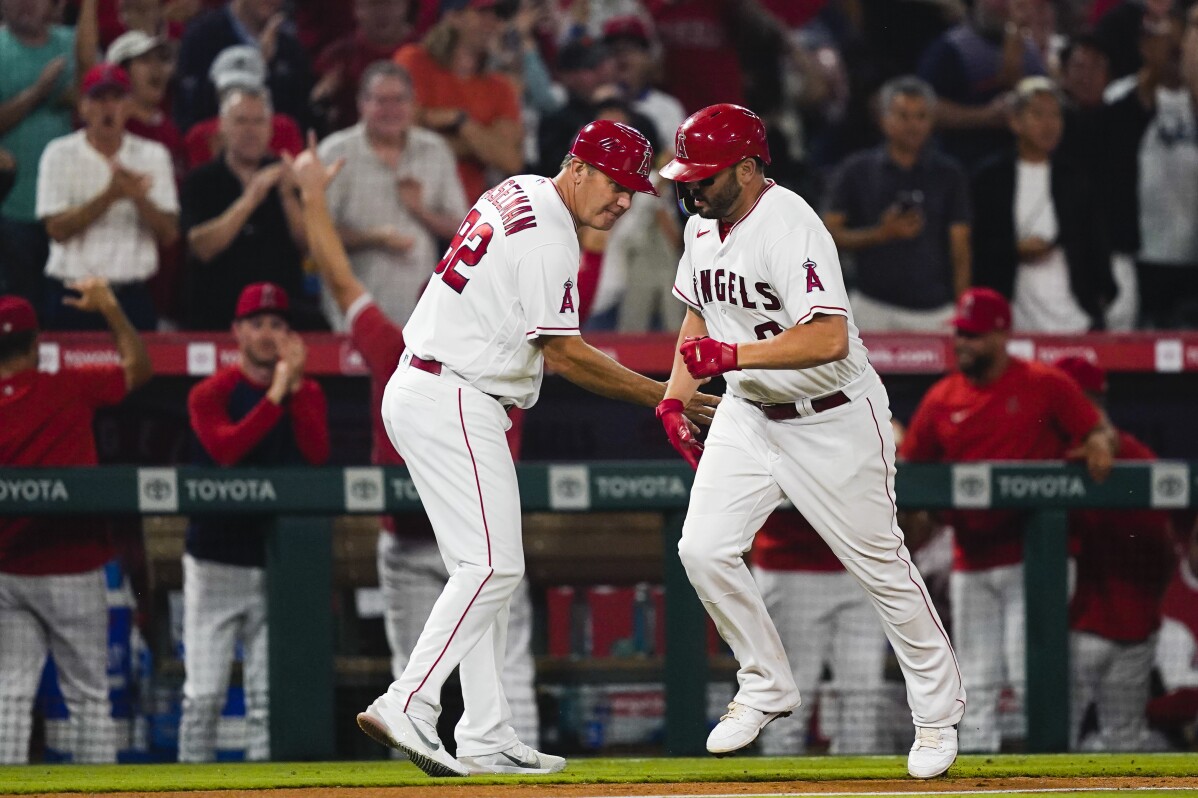 3 of 4

|
Los Angeles Angels' Mike Moustakas is congratulated by third base coach Bill Haselman (82) after hitting a three-run home run against the San Francisco Giants during the sixth inning of a baseball game Wednesday, Aug. 9, 2023, in Anaheim, Calif. (AP Photo/Ryan Sun)
3 of 4
Los Angeles Angels' Mike Moustakas is congratulated by third base coach Bill Haselman (82) after hitting a three-run home run against the San Francisco Giants during the sixth inning of a baseball game Wednesday, Aug. 9, 2023, in Anaheim, Calif. (AP Photo/Ryan Sun)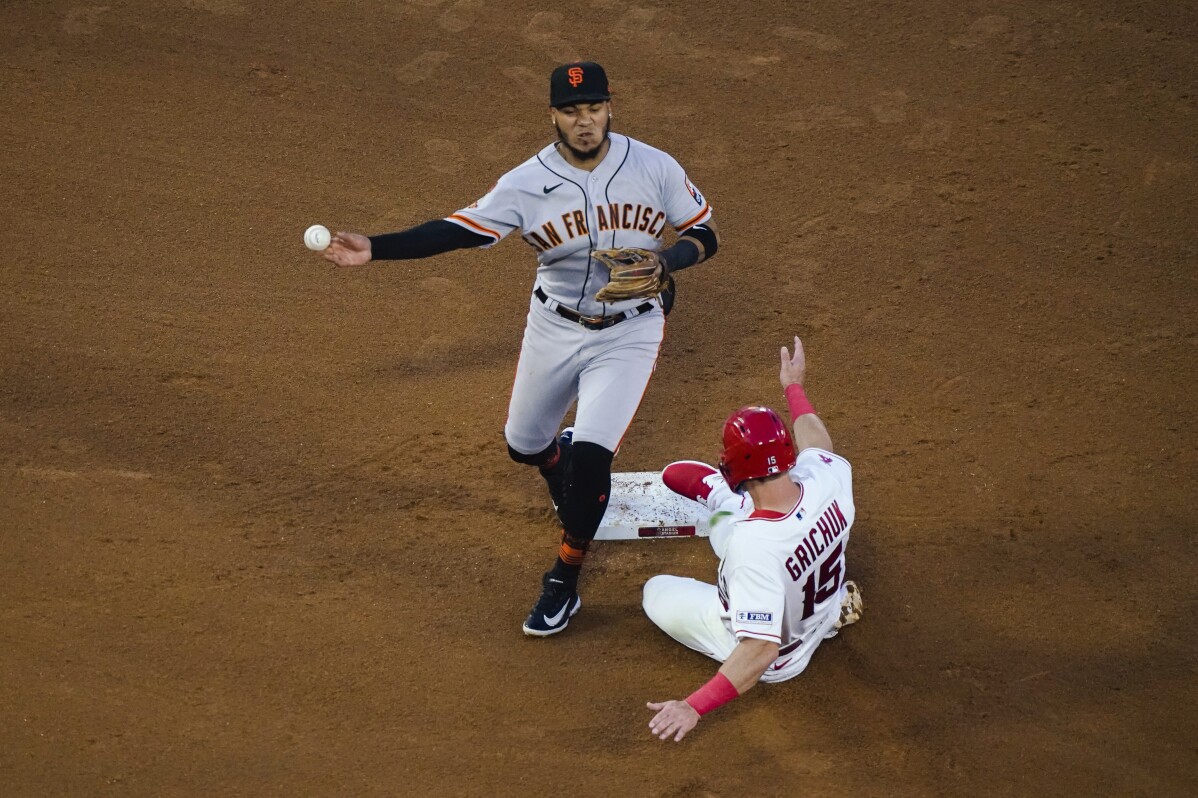 4 of 4

|
San Francisco Giants second baseman Thairo Estrada throws to first after forcing out Randal Grichuk (15) on a ball hit by Luis Rengifo, who was safe, during the third inning of a baseball game Wednesday, Aug. 9, 2023, in Anaheim, Calif. (AP Photo/Ryan Sun)
4 of 4
San Francisco Giants second baseman Thairo Estrada throws to first after forcing out Randal Grichuk (15) on a ball hit by Luis Rengifo, who was safe, during the third inning of a baseball game Wednesday, Aug. 9, 2023, in Anaheim, Calif. (AP Photo/Ryan Sun)
ANAHEIM, Calif. (AP) — Shohei Ohtani left the mound muttering to himself after his 97th and final pitch ended the sixth inning. He even unleashed a yell of frustration when he reached the dugout steps.
On a night that drained him physically and mentally, the Angels' two-way superstar fought through fatigue to victory — and even made one more bit of baseball history.
Ohtani allowed one unearned run over six innings of three-hit ball, and he earned his 10th victory of the season after Mike Moustakas hit a tiebreaking three-run homer in Los Angeles' 4-1 win over the San Francisco Giants on Wednesday night.
Ohtani (10-5) surpassed Babe Ruth in yet another measure of two-way transcendence at the Big A, becoming the first player in major league history to have multiple seasons with both 10 victories and 10 homers. He's also the only player to record 10 mound wins and 40 homers in the same MLB season.
The achievements barely registered to Ohtani, who acknowledged he was tired and struggling in his latest dominant performance. The Angels' training staff visited him on the mound in the sixth before he closed it out.
"I was pretty frustrated with the way I was pitching," Ohtani said through his translator. "I didn't really feel right throughout the whole game."
After the game, Ohtani even acknowledged he might consider taking a day off — something he has been loathe to do, particularly with Mike Trout out of the Angels' lineup since July 3 with a broken hand.
"I think everyone is going through the peak of their fatigue right now, around this time of the year," Ohtani said. "I'm not the only one. Going into an off day tomorrow, I'll see how I feel the next day, and if I feel like I need a day or two, I'll talk to the team about it."
Ohtani is reluctant to rest because he is realistic about the chances of earning his first major league postseason appearance with the Angels (58-58), who finished their homestand with back-to-back wins after a seven-game skid imperiled their playoff chances. Los Angeles is seven games out of the final wild card spot with 46 games to play.
"I know it's not extremely high right now, but there's obviously a possibility there," Ohtani said. "We're trying our best every game. We're trying to get some wins, and we've got two in a row now."
Ohtani hasn't allowed an earned run in 19 innings over his last three starts, but the AL MVP frontrunner had to grind against the Giants' tenacious lineup while issuing three walks and striking out five. The major league homers leader also walked twice and struck out twice at the plate, scoring a run in the Angels' decisive four-run rally.
Luis Rengifo doubled and scored the tying run on Brandon Drury's single before Moustakas hammered a no-doubt homer to right.
Ohtani threw 13 consecutive scoreless innings in his last two starts, a one-hitter in Detroit followed by a homestand-opening appearance against Seattle that ended after only four innings because of hand cramping. Ohtani and the Angels both said he was fine to take his normal turn in the rotation again, and he quickly proved it.
But the Giants extended several early at-bats against Ohtani, and they went ahead with an unearned run in the second when Michael Conforto doubled, advanced on catcher Matt Thaiss' ill-conceived pickoff attempt and scored on Brandon Crawford's flyout. Ohtani threw 47 pitches in the first two innings before settling down.
"I think it's fair to say he didn't have his best stuff, but he just fought hard and competed the whole game," Thaiss said. "That's what aces do."
Moustakas homered off rookie Tristan Beck (3-1), who took his first major league loss. The Giants have lost four of five.
"I think (Beck) wants to get that pitch (to Moustakas) underneath the zone, but both (Moustakas and Drury) put good swings on the ball," Giants manager Gabe Kapler said.
After blowing his past two save opportunities in spectacular fashion, All-Star closer Carlos Estévez hung on to secure his 24th save. Moustakas made a slick fielding play on Thairo Estrada's hard-hit grounder to third with runners on the corners.
The 34-year-old Moustakas has become an Anaheim fan favorite and a clutch performer since coming home to his native Los Angeles area in a trade with Colorado, hitting seven homers with 23 RBIs in just 33 games for the Halos.
"I'm finally healthy and not fighting any injuries, so I'm able to play at the level I'm used to playing at," Moustakas said. "The fun part of being in these games is having a chance to drive big runs in. I love being in those situations and getting the job done."
TRAINER'S ROOM
Giants: New OF AJ Pollock went on the 10-day injured list with a left oblique strain that will sideline him for about three weeks.
Angels: Rookie C Logan O'Hoppe has begun his rehab assignment with Low-A Inland Empire, catching three innings Tuesday night.
UP NEXT
Giants: After a day off, San Francisco welcomes Texas for a three-game series Friday. Ross Stripling is the Giants' likely starter, but they haven't made it official.
Angels: After their first scheduled day off since July 24, Reid Detmers (2-8, 4.78 ERA) takes the mound for the Halos in Houston on Friday.
___
AP MLB: https://apnews.com/hub/MLB