Mar-a-Lago property manager and Trump's aide are due back in court in the classified documents case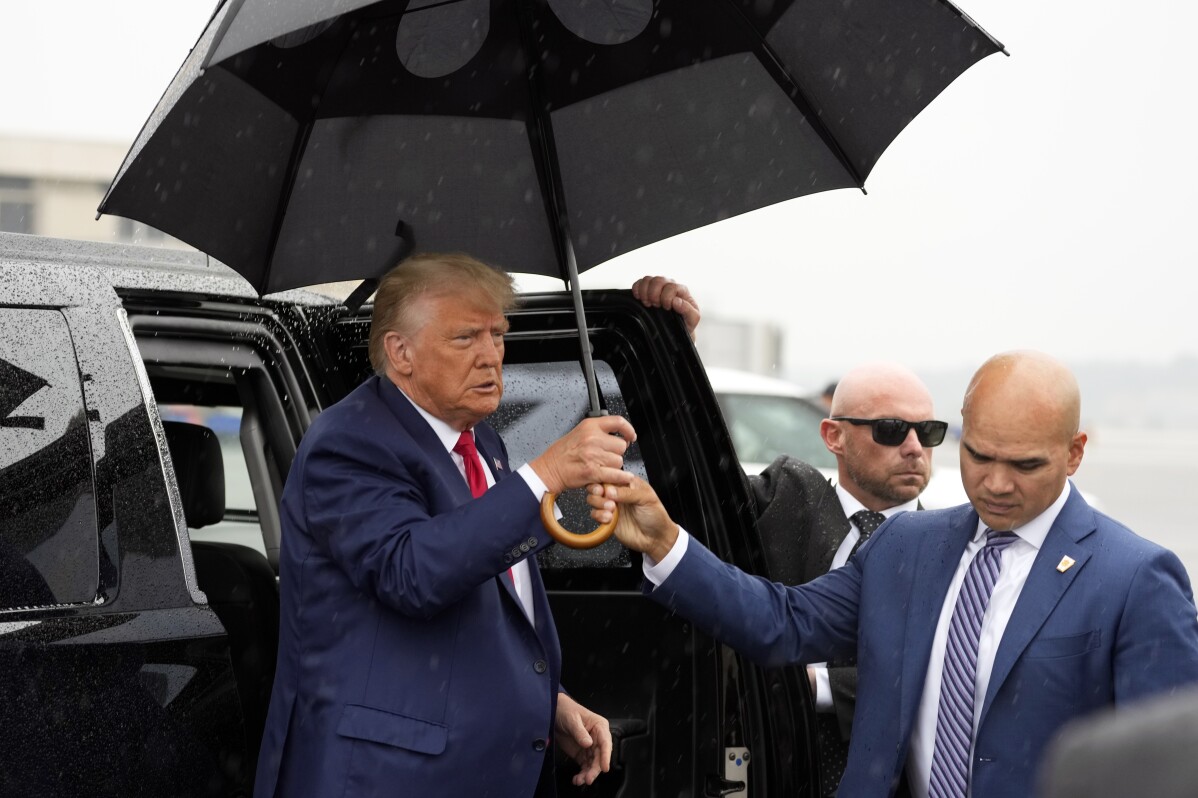 1 of 3

|
FILE - Valet Walt Nauta hands former President Donald Trump an umbrella before he speaks at Ronald Reagan Washington National Airport, Aug. 3, 2023, in Arlington, Va. The property manager of Donald Trump's Mar-a-Lago estate and an aide to the former president are due back in federal court in Florida to face charges in the case accusing Trump of illegally hoarding classified documents at his club. (AP Photo/Alex Brandon, File)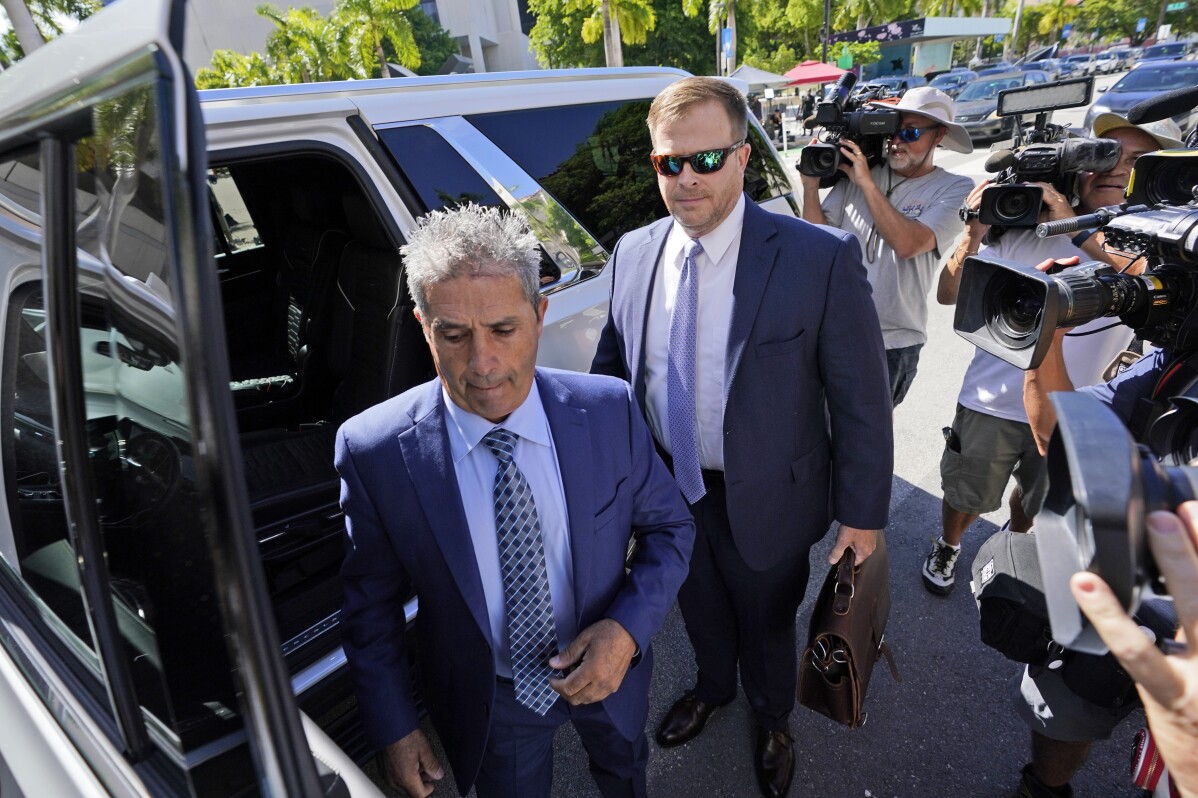 2 of 3

|
FILE - Carlos De Oliveira, center, an employee of Donald Trump's Mar-a-Lago estate, arrives for a court appearance with attorney John Irving, at the James Lawrence King Federal Justice Building, July 31, 2023, in Miami. The property manager of Donald Trump's Mar-a-Lago estate and an aide to the former president are due back in federal court in Florida to face charges in the case accusing Trump of illegally hoarding classified documents at his club. (AP Photo/Wilfredo Lee, File)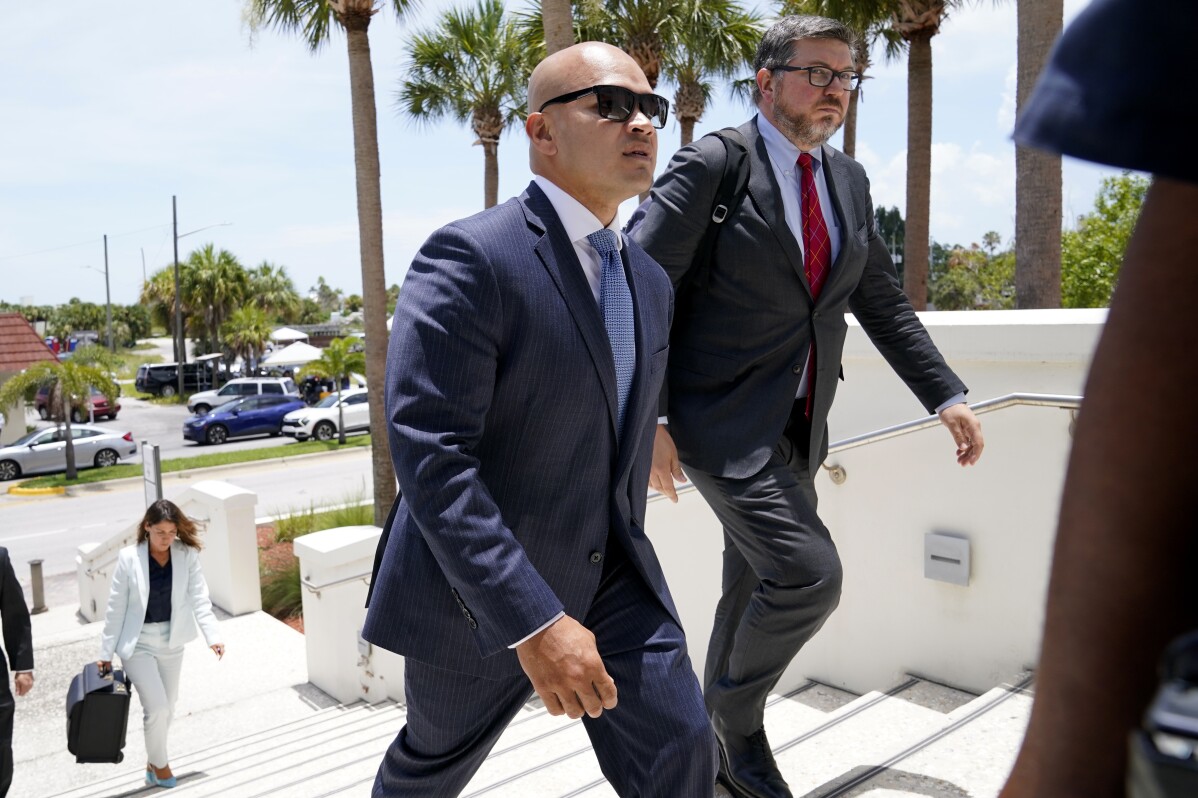 3 of 3

|
FILE - Walt Nauta, a valet to former President Donald Trump, left, arrives with defense attorney Stanley Woodward, right, at the Alto Lee Adams Sr. U.S. Courthouse for a pretrial conference to discuss procedures for handling classified information, July 18, 2023, in Fort Pierce, Fla. The property manager of Donald Trump's Mar-a-Lago estate and an aide to the former president are due back in federal court in Florida to face charges in the case accusing Trump of illegally hoarding classified documents at his club. (AP Photo/Lynne Sladky, File)
Mar-a-Lago property manager and Trump's aide are due back in court in the classified documents case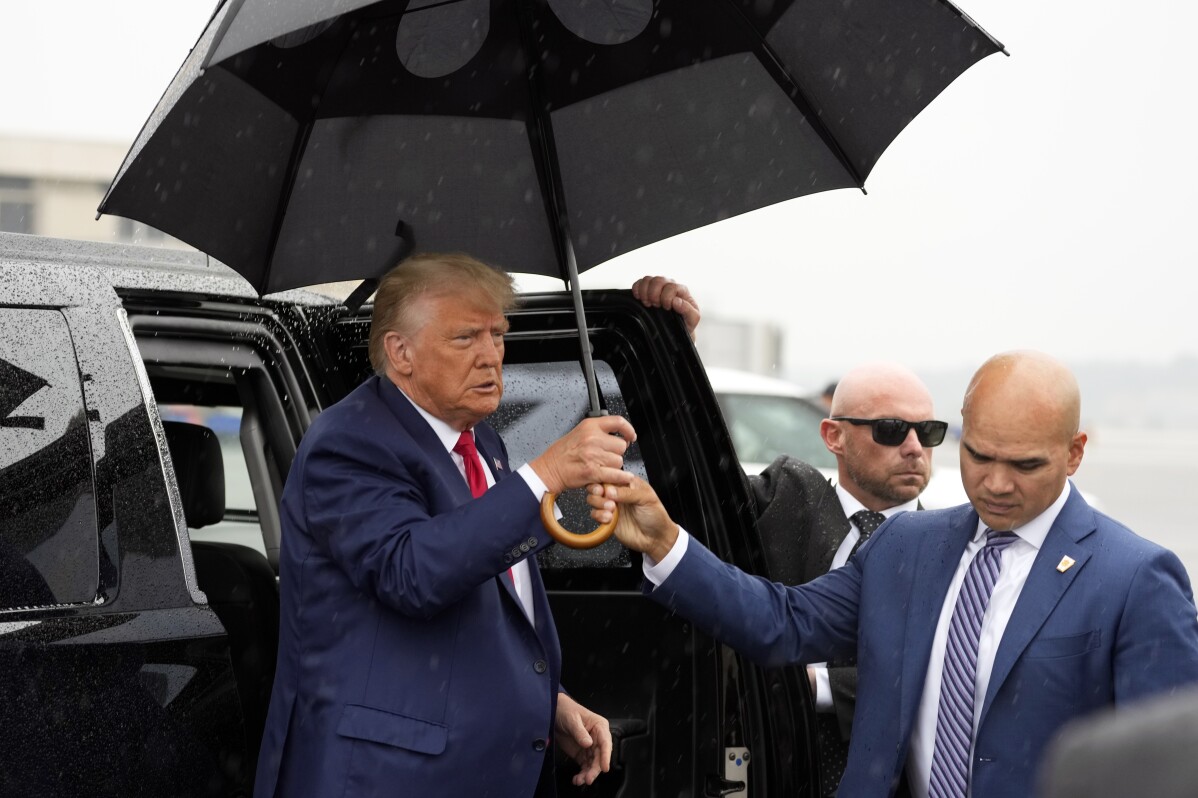 1 of 3

|
FILE - Valet Walt Nauta hands former President Donald Trump an umbrella before he speaks at Ronald Reagan Washington National Airport, Aug. 3, 2023, in Arlington, Va. The property manager of Donald Trump's Mar-a-Lago estate and an aide to the former president are due back in federal court in Florida to face charges in the case accusing Trump of illegally hoarding classified documents at his club. (AP Photo/Alex Brandon, File)
1 of 3
FILE - Valet Walt Nauta hands former President Donald Trump an umbrella before he speaks at Ronald Reagan Washington National Airport, Aug. 3, 2023, in Arlington, Va. The property manager of Donald Trump's Mar-a-Lago estate and an aide to the former president are due back in federal court in Florida to face charges in the case accusing Trump of illegally hoarding classified documents at his club. (AP Photo/Alex Brandon, File)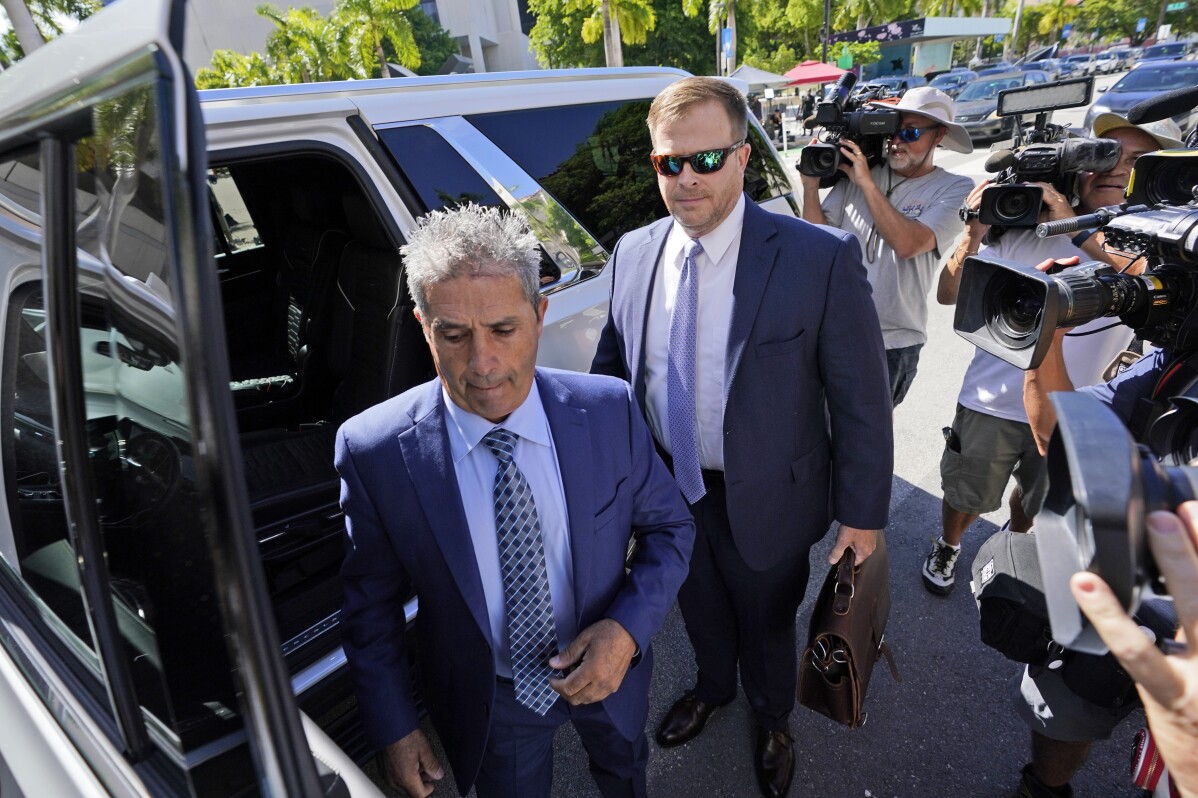 2 of 3

|
FILE - Carlos De Oliveira, center, an employee of Donald Trump's Mar-a-Lago estate, arrives for a court appearance with attorney John Irving, at the James Lawrence King Federal Justice Building, July 31, 2023, in Miami. The property manager of Donald Trump's Mar-a-Lago estate and an aide to the former president are due back in federal court in Florida to face charges in the case accusing Trump of illegally hoarding classified documents at his club. (AP Photo/Wilfredo Lee, File)
2 of 3
FILE - Carlos De Oliveira, center, an employee of Donald Trump's Mar-a-Lago estate, arrives for a court appearance with attorney John Irving, at the James Lawrence King Federal Justice Building, July 31, 2023, in Miami. The property manager of Donald Trump's Mar-a-Lago estate and an aide to the former president are due back in federal court in Florida to face charges in the case accusing Trump of illegally hoarding classified documents at his club. (AP Photo/Wilfredo Lee, File)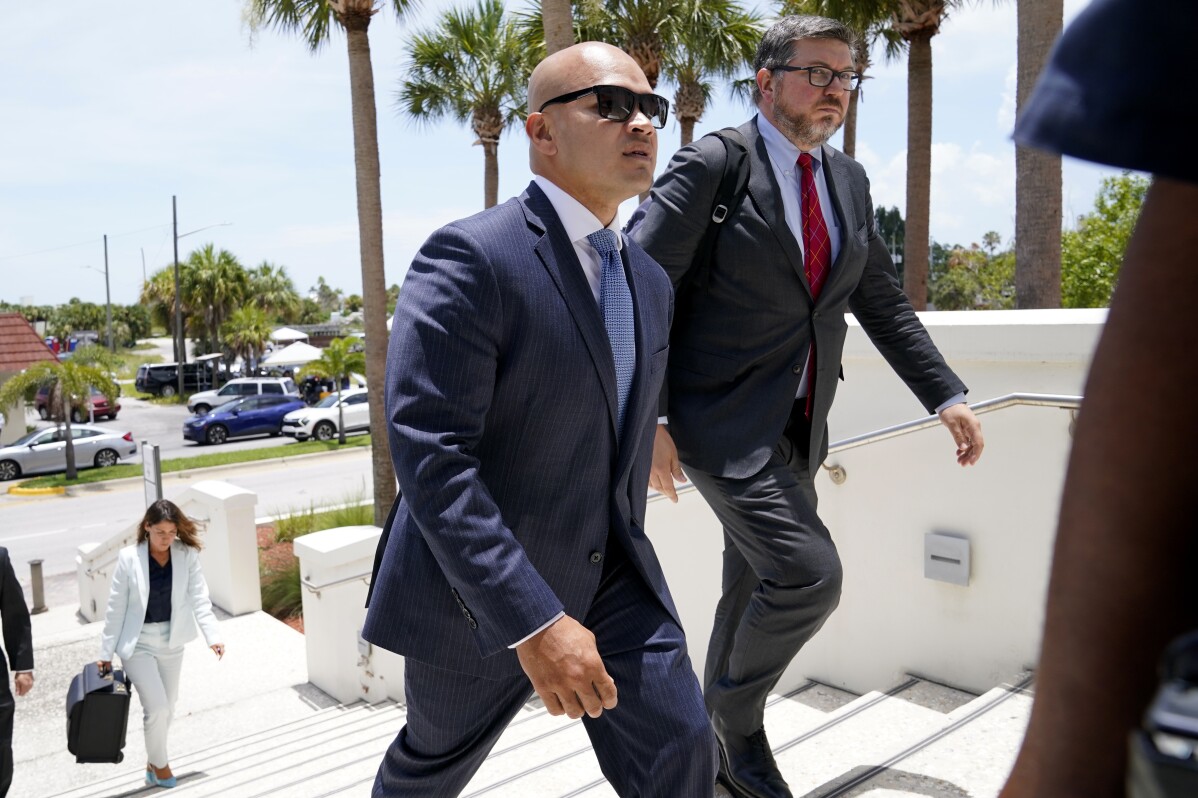 3 of 3

|
FILE - Walt Nauta, a valet to former President Donald Trump, left, arrives with defense attorney Stanley Woodward, right, at the Alto Lee Adams Sr. U.S. Courthouse for a pretrial conference to discuss procedures for handling classified information, July 18, 2023, in Fort Pierce, Fla. The property manager of Donald Trump's Mar-a-Lago estate and an aide to the former president are due back in federal court in Florida to face charges in the case accusing Trump of illegally hoarding classified documents at his club. (AP Photo/Lynne Sladky, File)
3 of 3
FILE - Walt Nauta, a valet to former President Donald Trump, left, arrives with defense attorney Stanley Woodward, right, at the Alto Lee Adams Sr. U.S. Courthouse for a pretrial conference to discuss procedures for handling classified information, July 18, 2023, in Fort Pierce, Fla. The property manager of Donald Trump's Mar-a-Lago estate and an aide to the former president are due back in federal court in Florida to face charges in the case accusing Trump of illegally hoarding classified documents at his club. (AP Photo/Lynne Sladky, File)
FORT PIERCE, Fla. (AP) — The property manager of Donald Trump's Mar-a-Lago estate and an aide to the former president are due back in federal court in Florida on Thursday to face charges in the case accusing Trump of illegally hoarding classified documents at his resort after leaving the White House.
Carlos De Oliveira, the property manager, is scheduled to be arraigned in Fort Pierce before a magistrate judge on charges including conspiracy to obstruct justice in the case brought by special counsel Jack Smith. De Oliveira made an initial appearance in court late last month but didn't enter a plea because he hadn't yet found a Florida-based attorney to represent him, as is required under court rules.
Walt Nauta, a Trump aide, is expected to enter a plea for a second time in the case — this time on a new indictment with additional charges recently handed down. Nauta pleaded not guilty last month after the case was first brought in June.
The former president was also scheduled to be arraigned Thursday on the new indictment, which includes allegations that Trump schemed with De Oliveira and Nauta to try to delete Mar-a-Lago security footage sought by investigators.
But Trump filed court papers last week saying that he is not guilty of the charges and waived his right to appear at the hearing. The indictment includes new counts of obstruction and willful retention of national defense information.
Trump has pleaded not guilty to criminal charges in three different cases this year as he tries to reclaim the White House in 2024. The Republican has denied any wrongdoing and has characterized all the cases against him as politically motivated.
Trump pleaded not guilty in Washington's federal court last week in a second case brought by Smith that accuses Trump of conspiring with allies to overturn his 2020 election loss to Democrat Joe Biden.
The updated indictment in the documents case centers on surveillance footage at Trump's Mar-a-Lago estate in Palm Beach. Trump is alleged to have asked for the footage to be deleted after FBI and Justice Department investigators visited in June 2022 to collect classified documents he took with him after leaving the White House.
Video from Mar-a-Lago would ultimately become vital to the government's case because, prosecutors said, it shows Nauta moving boxes in and out of a storage room — an act alleged to have been done at Trump's direction and in an effort to hide records not only from investigators but also from Trump's own lawyers.
Days after the Justice Department sent a subpoena for video footage at Mar-a-Lago to the Trump Organization in June 2022, prosecutors say, De Oliveira asked an information technology staffer how long the server retained footage and told the employee "the boss" wanted it deleted. When the employee said he didn't believe he was able to do that, De Oliveira insisted the "boss" wanted it done, asking, "What are we going to do?"
Prosecutors allege that De Oliveira later lied in interviews with investigators, falsely claiming that he hadn't even seen boxes moved into Mar-a-Lago after Trump left the White House.
De Oliveira's attorney, John Irving, told reporters after the last hearing that he looks forward to seeing what potential evidence the Justice Department has, and declined to comment about whether De Oliveira has been asked to testify against Trump.
The new indictment also charges Trump with illegally holding on to a document he's alleged to have shown off to visitors in New Jersey.
Trump is charged separately in New York state court with falsifying business records related to hush money payments made during the 2016 election.
___
Richer reported from Boston.