Torkelson, Cabrera lead Tigers to 9-5 win over Twins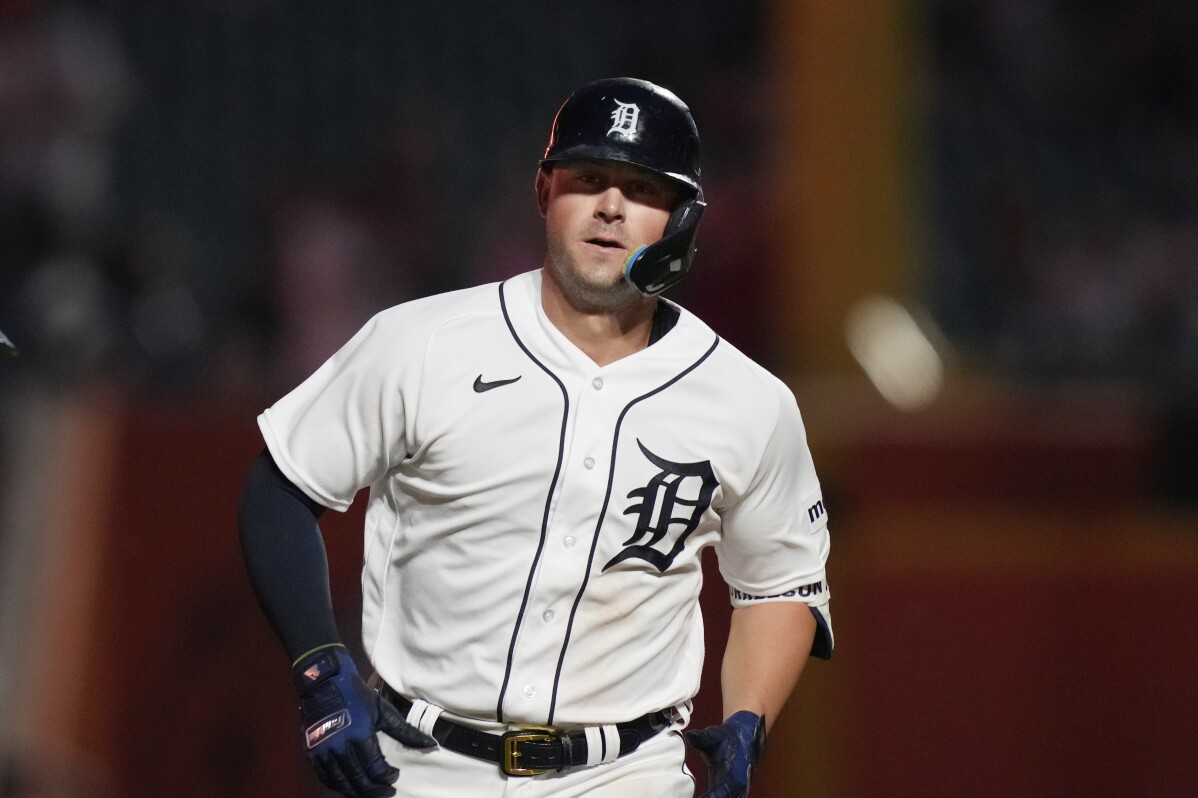 1 of 5

|
Detroit Tigers' Spencer Torkelson rounds the bases after a solo home run during the seventh inning of a baseball game against the Minnesota Twins, Wednesday, Aug. 9, 2023, in Detroit. (AP Photo/Carlos Osorio)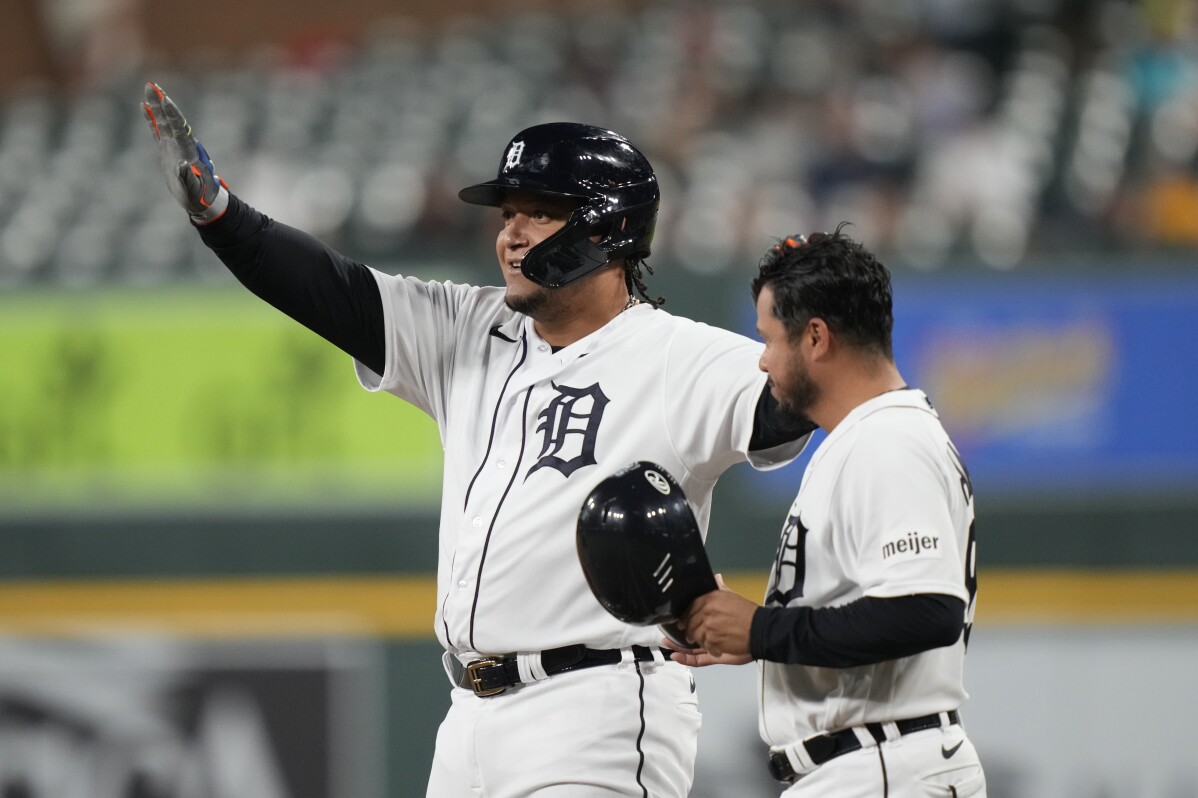 2 of 5

|
Detroit Tigers designated hitter Miguel Cabrera pats first base coach Alfredo Amezaga on the head after a single during the seventh inning of a baseball game against the Minnesota Twins, Wednesday, Aug. 9, 2023, in Detroit. (AP Photo/Carlos Osorio)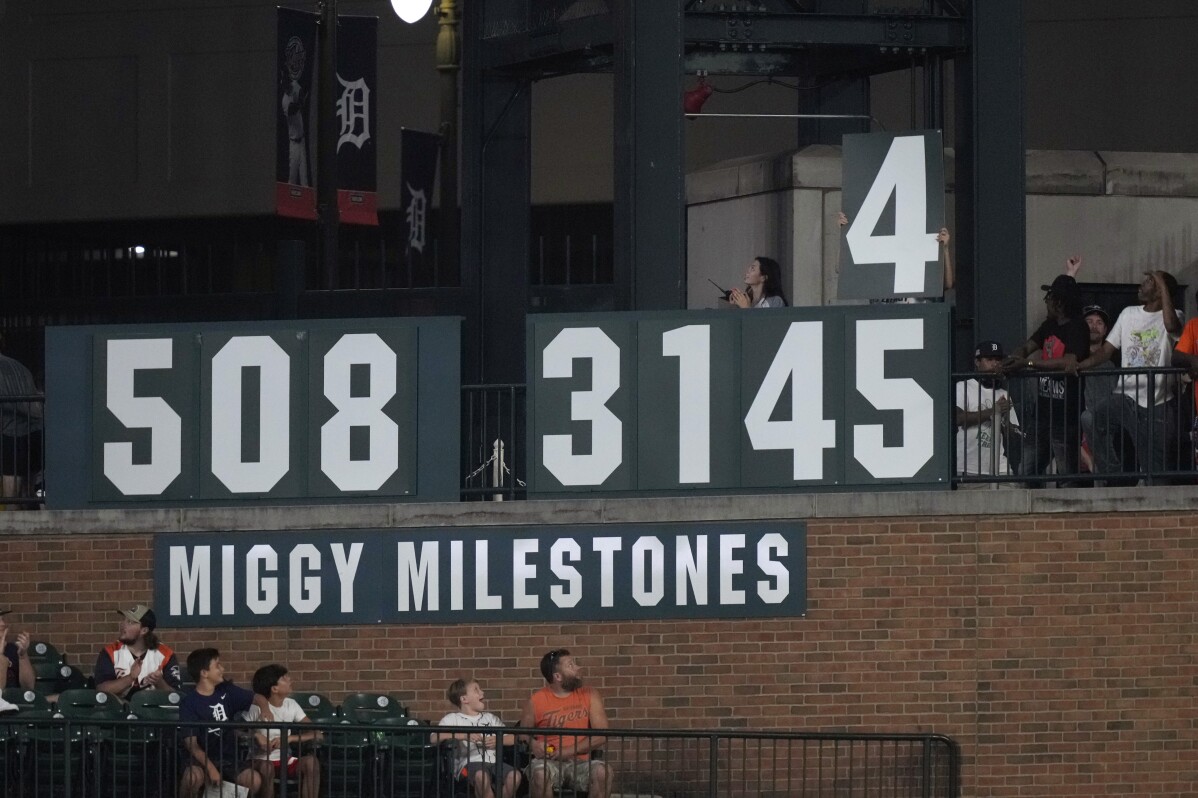 3 of 5

|
Detroit Tigers designated hitter Miguel Cabrera's Miggy Milestones tally board is changed after his 3,145 major league hit during the seventh inning of a baseball game against the Minnesota Twins, Wednesday, Aug. 9, 2023, in Detroit. (AP Photo/Carlos Osorio)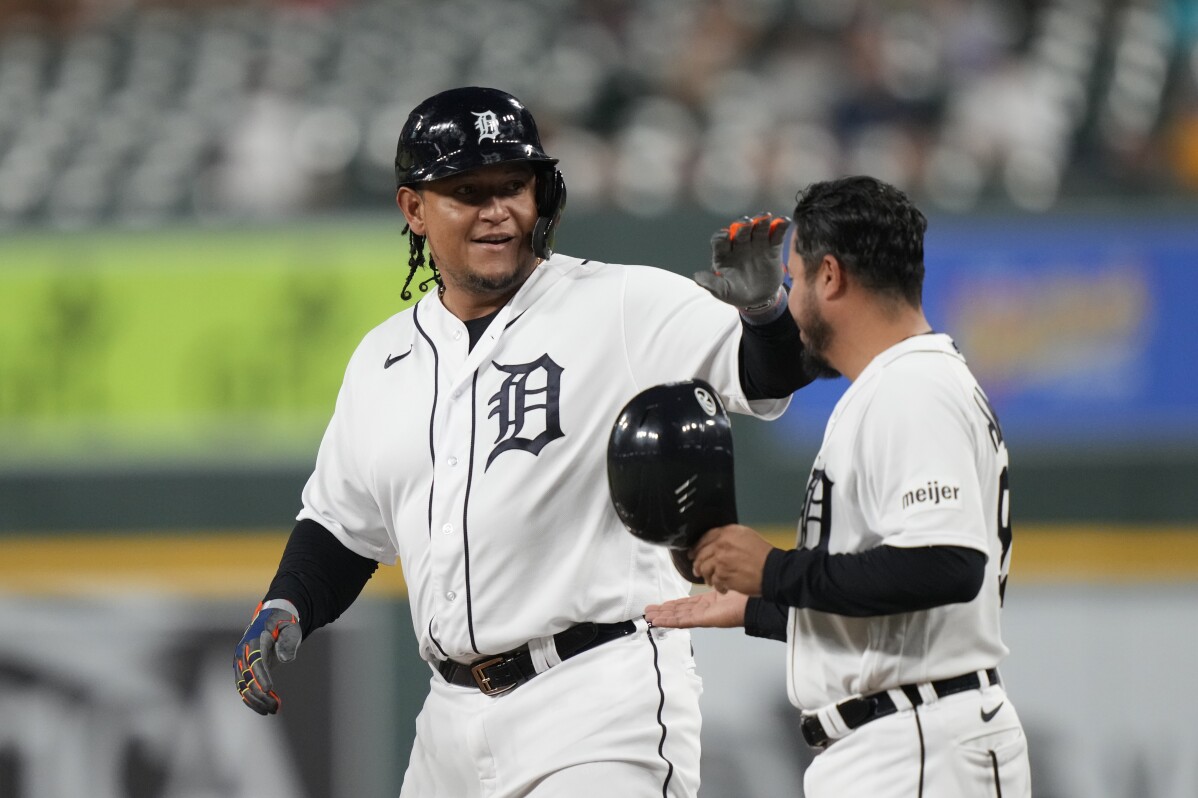 4 of 5

|
Detroit Tigers designated hitter Miguel Cabrera pats first base coach Alfredo Amezaga on the head after a single during the seventh inning of a baseball game against the Minnesota Twins, Wednesday, Aug. 9, 2023, in Detroit. (AP Photo/Carlos Osorio)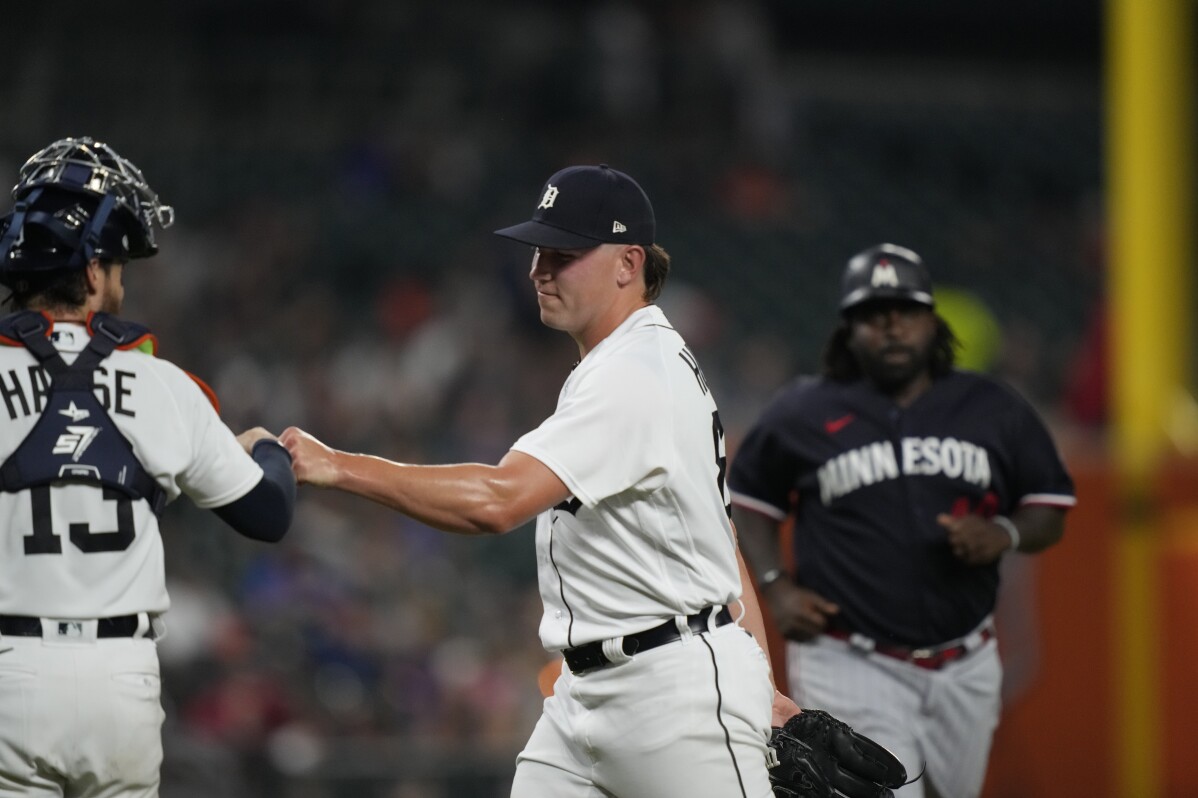 5 of 5

|
Detroit Tigers relief pitcher Tyler Holton greets catcher Eric Haase after during the seventh inning of a baseball game against the Minnesota Twins, Wednesday, Aug. 9, 2023, in Detroit. (AP Photo/Carlos Osorio)
Torkelson, Cabrera lead Tigers to 9-5 win over Twins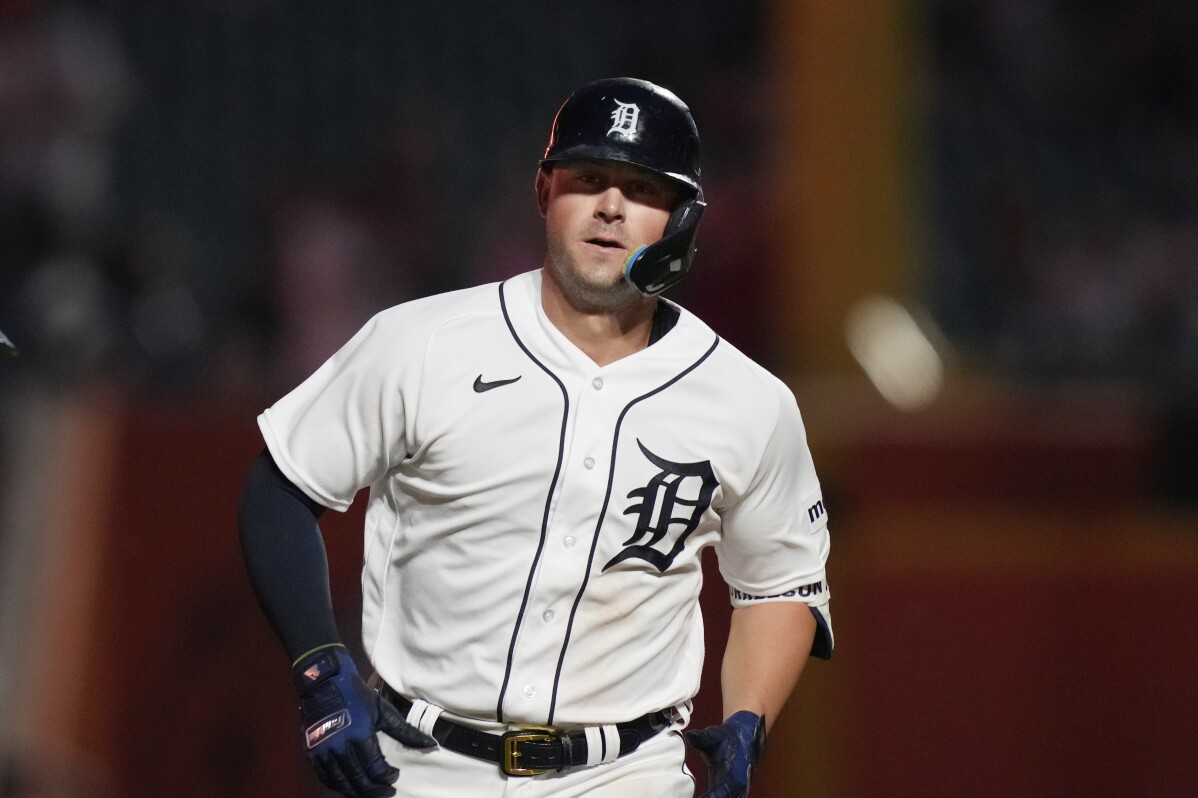 1 of 5

|
Detroit Tigers' Spencer Torkelson rounds the bases after a solo home run during the seventh inning of a baseball game against the Minnesota Twins, Wednesday, Aug. 9, 2023, in Detroit. (AP Photo/Carlos Osorio)
1 of 5
Detroit Tigers' Spencer Torkelson rounds the bases after a solo home run during the seventh inning of a baseball game against the Minnesota Twins, Wednesday, Aug. 9, 2023, in Detroit. (AP Photo/Carlos Osorio)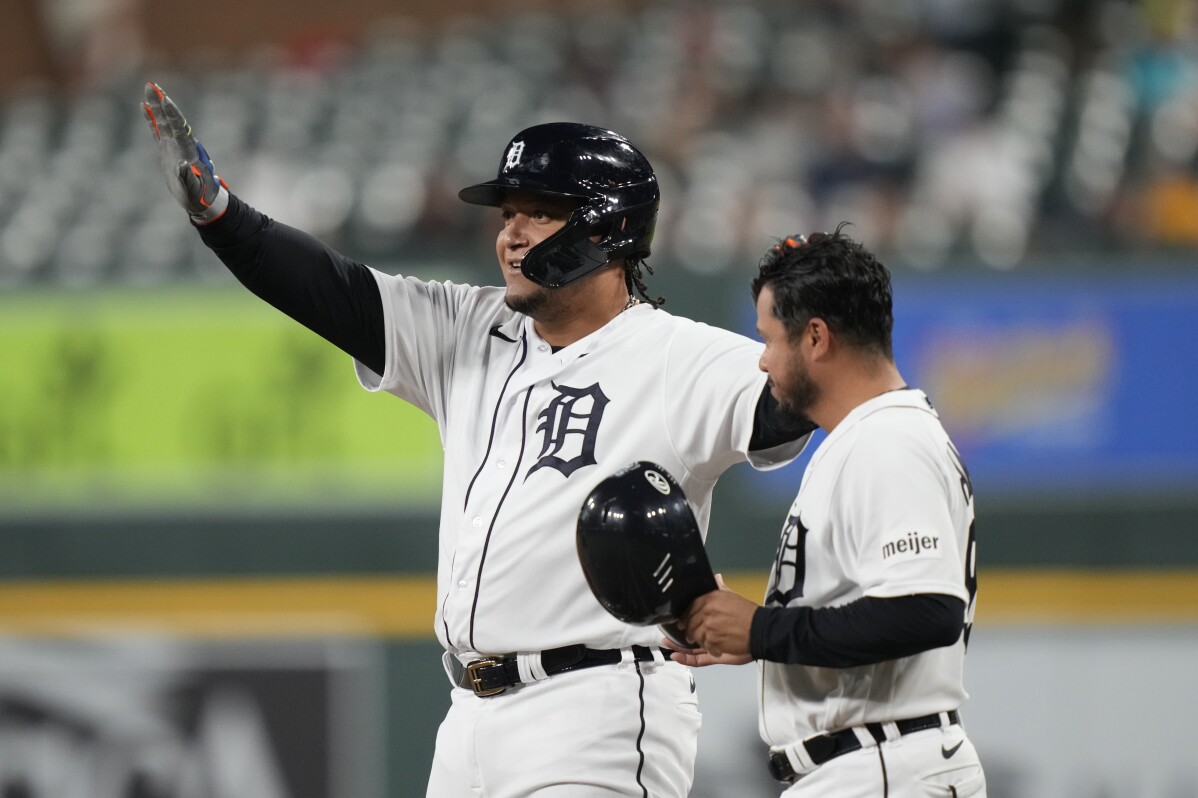 2 of 5

|
Detroit Tigers designated hitter Miguel Cabrera pats first base coach Alfredo Amezaga on the head after a single during the seventh inning of a baseball game against the Minnesota Twins, Wednesday, Aug. 9, 2023, in Detroit. (AP Photo/Carlos Osorio)
2 of 5
Detroit Tigers designated hitter Miguel Cabrera pats first base coach Alfredo Amezaga on the head after a single during the seventh inning of a baseball game against the Minnesota Twins, Wednesday, Aug. 9, 2023, in Detroit. (AP Photo/Carlos Osorio)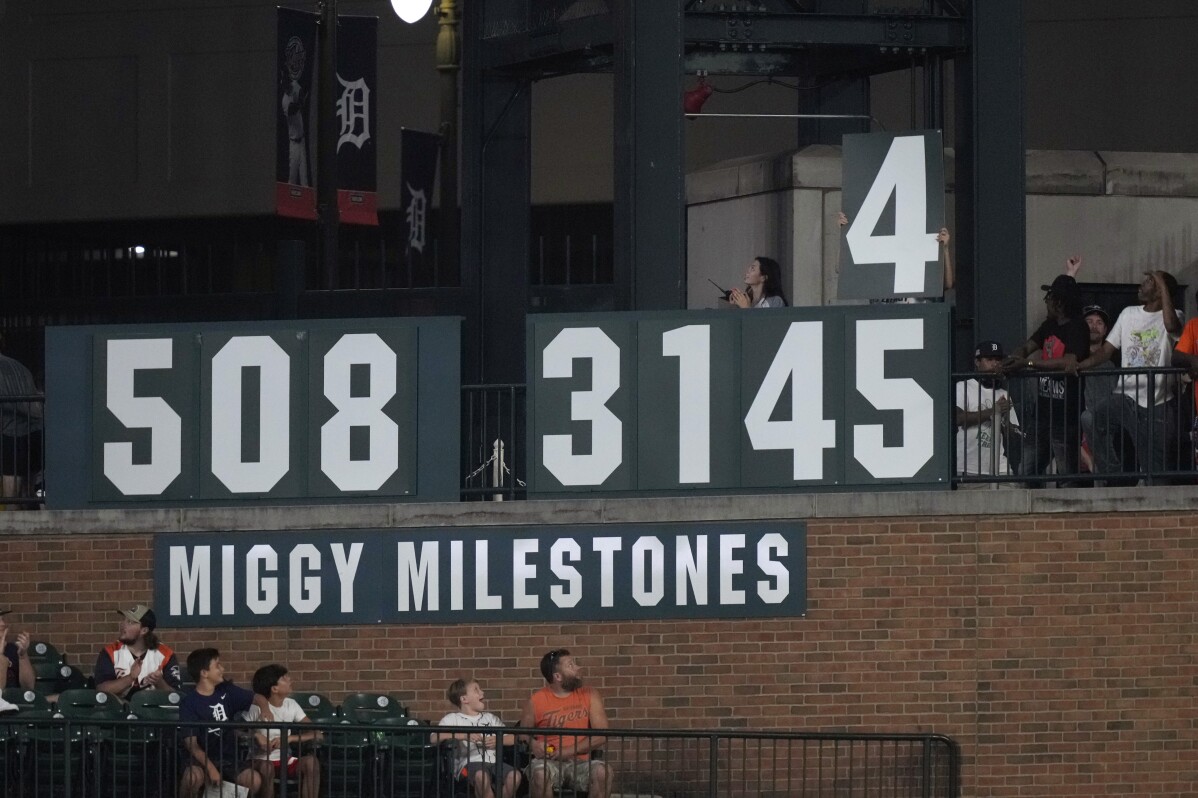 3 of 5

|
Detroit Tigers designated hitter Miguel Cabrera's Miggy Milestones tally board is changed after his 3,145 major league hit during the seventh inning of a baseball game against the Minnesota Twins, Wednesday, Aug. 9, 2023, in Detroit. (AP Photo/Carlos Osorio)
3 of 5
Detroit Tigers designated hitter Miguel Cabrera's Miggy Milestones tally board is changed after his 3,145 major league hit during the seventh inning of a baseball game against the Minnesota Twins, Wednesday, Aug. 9, 2023, in Detroit. (AP Photo/Carlos Osorio)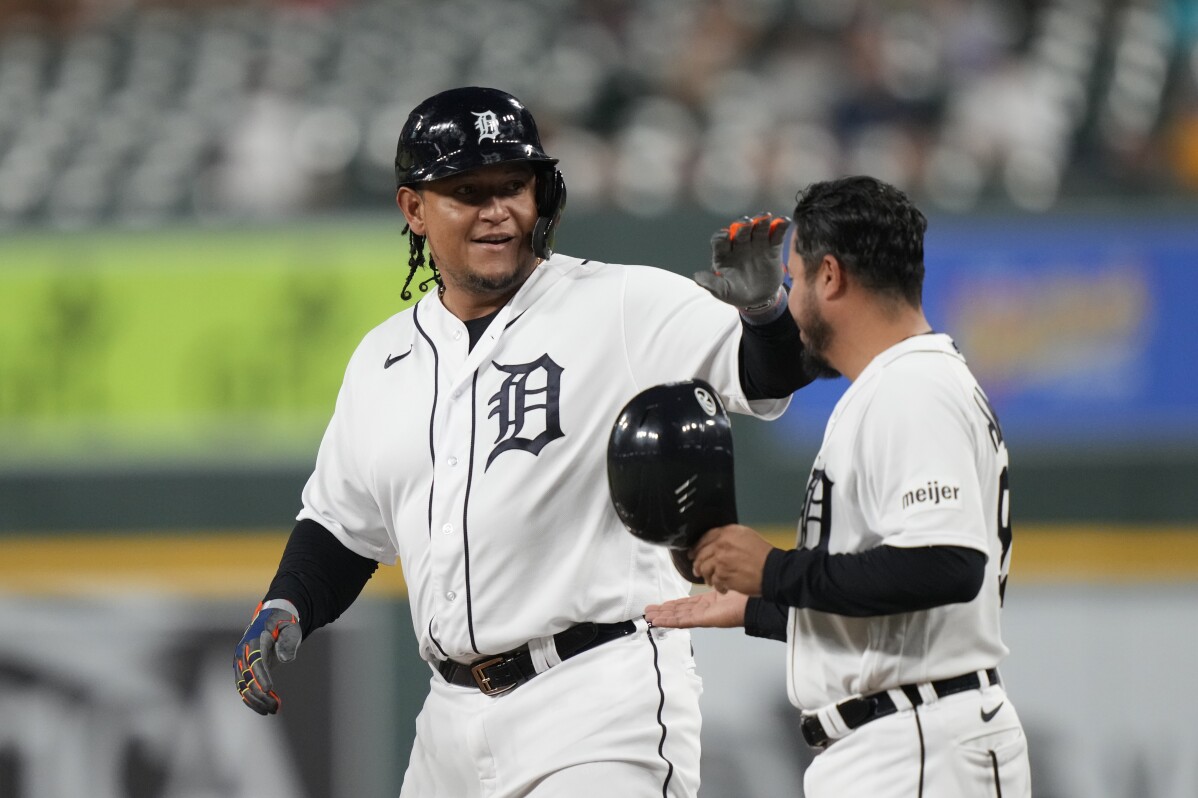 4 of 5

|
Detroit Tigers designated hitter Miguel Cabrera pats first base coach Alfredo Amezaga on the head after a single during the seventh inning of a baseball game against the Minnesota Twins, Wednesday, Aug. 9, 2023, in Detroit. (AP Photo/Carlos Osorio)
4 of 5
Detroit Tigers designated hitter Miguel Cabrera pats first base coach Alfredo Amezaga on the head after a single during the seventh inning of a baseball game against the Minnesota Twins, Wednesday, Aug. 9, 2023, in Detroit. (AP Photo/Carlos Osorio)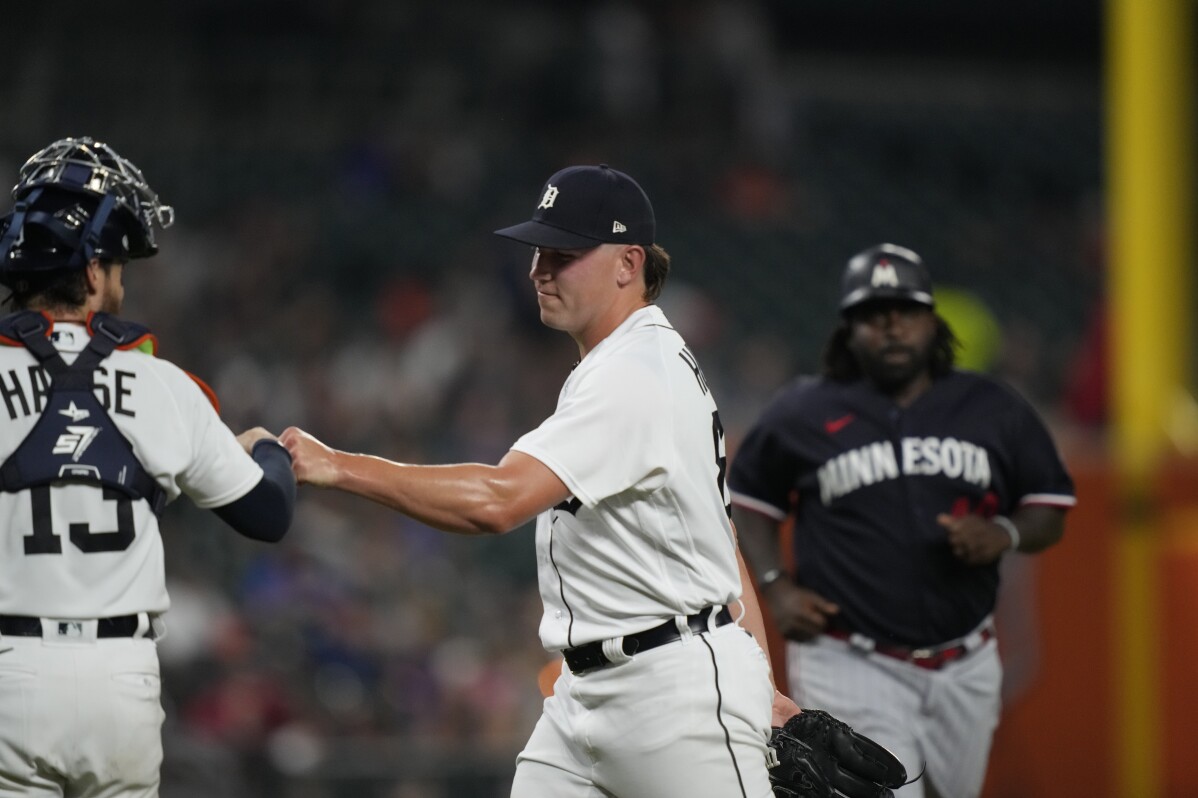 5 of 5

|
Detroit Tigers relief pitcher Tyler Holton greets catcher Eric Haase after during the seventh inning of a baseball game against the Minnesota Twins, Wednesday, Aug. 9, 2023, in Detroit. (AP Photo/Carlos Osorio)
5 of 5
Detroit Tigers relief pitcher Tyler Holton greets catcher Eric Haase after during the seventh inning of a baseball game against the Minnesota Twins, Wednesday, Aug. 9, 2023, in Detroit. (AP Photo/Carlos Osorio)
DETROIT (AP) — Spencer Torkelson homered twice and the Detroit Tigers had 17 hits in a 9-5 win over the Minnesota Twins on Wednesday night.
"I wasn't seeing the ball well the last week or so," said Torkelson, who struck out in his first two at-bats. "I just tried to get back to basics, and after he got me the first two times, I was able to put a good swing on a couple pitches."
Miguel Cabrera went 3-for-4, giving him 3,145 career hits and moving him past Robin Yount into sole possession of 19th place on the career list. Cabrera, who is hitting .331 in his last 40 games, received a standing ovation after being replaced by a pinch-runner after his third single.
Matt Vierling, Zach McKinstry and Eric Haase also had three hits for Detroit.
"We had a really good approach tonight and we got some results," Tigers manager A.J. Hinch said.
Bailey Ober (6-6) took the loss for Minnesota, which has lost two in a row after a five-game winning streak.
"You don't anticipate having two games like this after we had played so well, but it happens," Twins manager Rocco Baldelli said. "We have to come out tomorrow and avoid a third game like this."
The Tigers scored twice in each of the first two innings, but only led 4-3.
Kerry Carpenter's RBI single and Max Kepler's error in right brought home two runs in the first, but Carlos Correa led off the second with a homer off Alex Faedo before Joey Gallo made it 3-2 later in the inning with his 18th home run.
McKinstry doubled with one out in the Tigers second and took third on a Haase single. Ober struck out Akil Baddoo, but Riley Greene and Vierling followed with RBI singles.
"We had the lead, so I just wanted to go out there and throw strikes," Ober said. "I felt like I did that, but there were just a lot of bleeders that found holes and they put some decent swings on my off-speed pitches."
Torkelson led off the fifth with a homer to make it 5-3, but Willi Castro's RBI double pulled Minnesota back within a run in the sixth. He hit another one to lead off the seventh.
Tyler Holton (1-2) got seven outs with normal set-up man Jason Foley on the bereavement list and closer Alex Lange struggling with his control. He was awarded his first career win since Faedo only pitched 4 2/3 innings.
"I didn't know how long I was going to go, but A.J. kept sending me back out there," he said. "This was a fun night to be a part of this team."
Vierling tripled and scored on a wild pitch in the eighth while Torkelson scored on an error by pitcher Jordan Balazovic.
The Twins scored once in the ninth and had the bases loaded before Jose Cisnero struck out Correa to get his second save.
"Those add-on runs in the seventh and eighth got a lot more important in the ninth," Hinch said.
STILL A TIGER
The Tigers paid tribute to Michael Lorenzen's no-hitter for the Phillies during the seventh-inning stretch, showing the final out and the celebration. Lorenzen was Detroit's All-Star representative this season before being traded to Philadelphia at the deadline.
SLOW RESPONSE
The game was delayed for about five minutes in the third inning while four security officers haplessly chased an intruder around the field. Order was not restored until the intruder appear to get bored and surrender, at which point several more guards sprinted onto the field.
UP NEXT
The teams finish the four-game series on Thursday afternoon, with Minnesota RHP Kenta Maeda (3-6, 4.22) facing RHP Reese Olson (1-5, 4.94).