The US Open is adding video review for double bounces. It's a first for Grand Slam tennis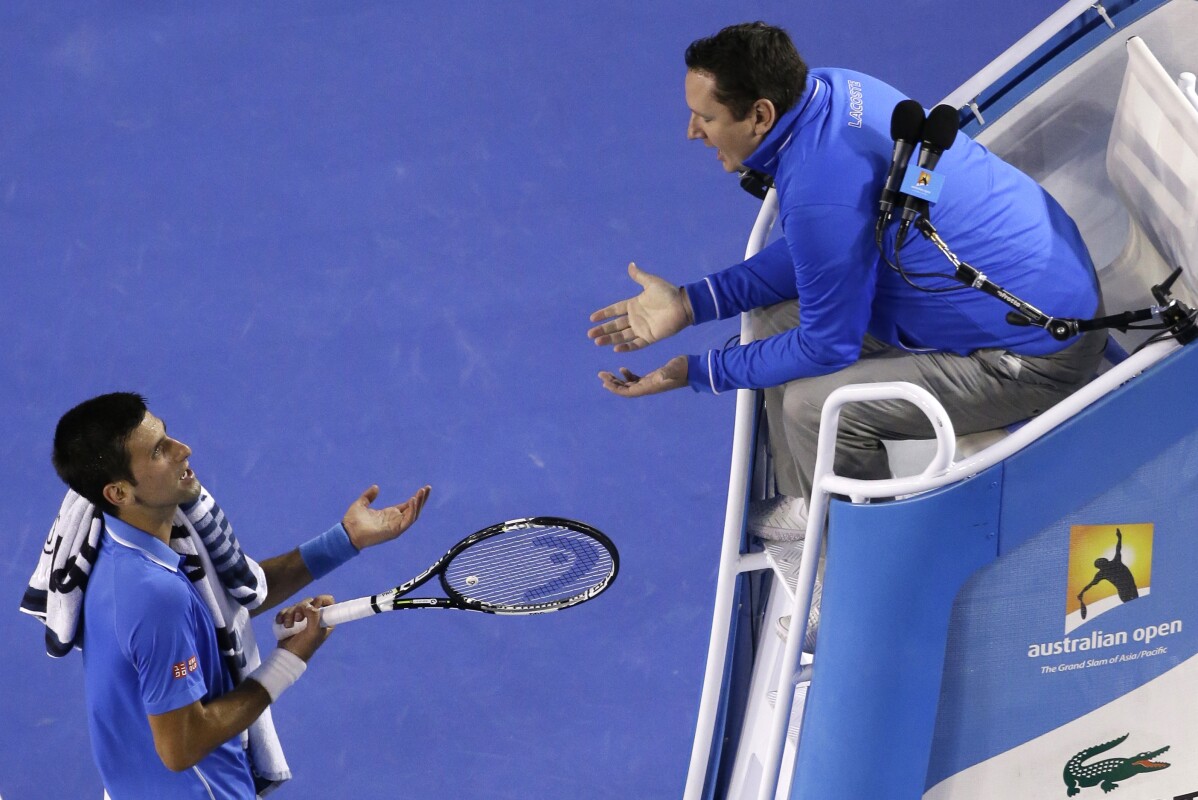 1 of 6

|
FILE - Novak Djokovic of Serbia, left, talks with chair umpire Jake Garner of the U.S. as he plays Andy Murray of Britain during the men's singles final at the Australian Open tennis championship in Melbourne, Australia, Sunday, Feb. 1, 2015. Video review for double bounces and certain other rulings will be making its Grand Slam tennis debut when main-draw competition begins at the U.S. Open later this month. New U.S. Open tournament referee Jake Garner recalls when he was a chair umpire and it was too tough to tell in the moment whether a ball bounced twice before a player got it back over the net. (AP Photo/Lee Jin-man, File)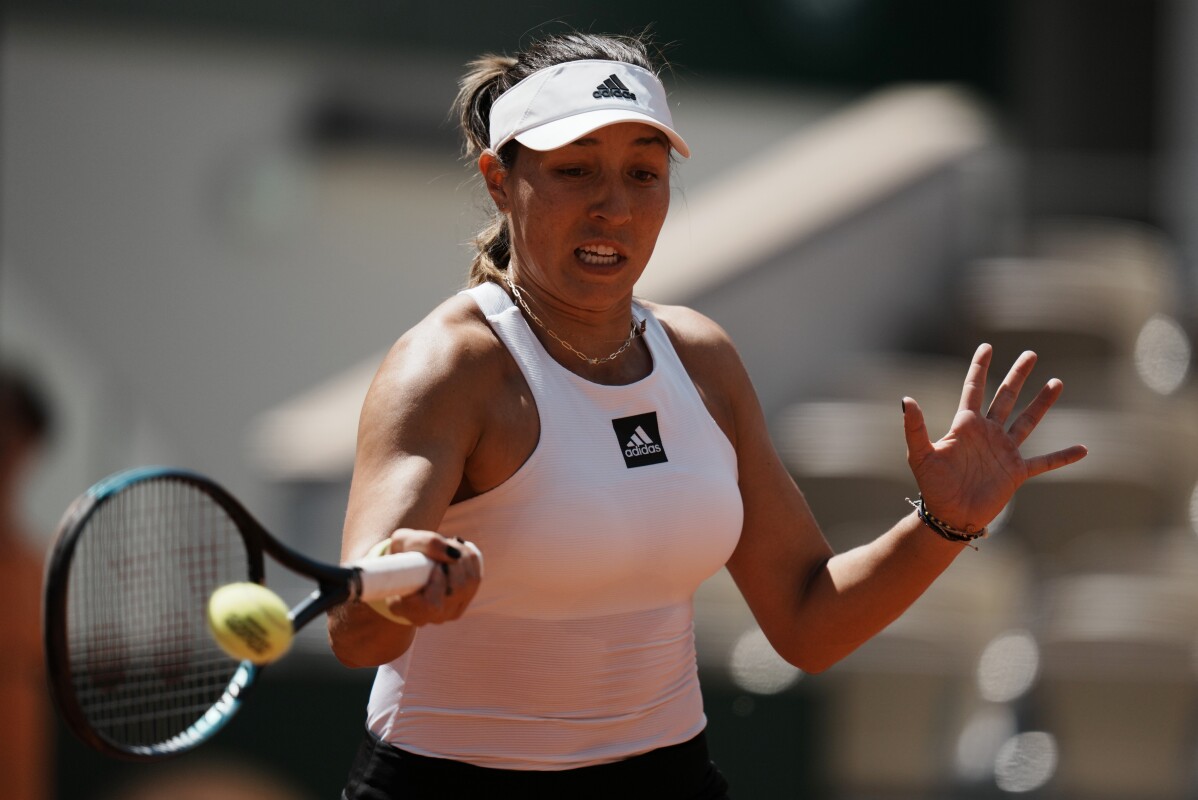 2 of 6

|
FILE - Jessica Pegula returns the ball to Poland's Iga Swiatek during their quarterfinal match of the French Open tennis tournament at the Roland Garros stadium Wednesday, June 1, 2022 in Paris. Video review for double bounces and certain other rulings will be making its Grand Slam tennis debut when main-draw competition begins at the U.S. Open later this month. "I had pushed for this for a while, so I am glad to see the U.S. Open is going to allow it," said Jessica Pegula, an American who is ranked No. 3. (AP Photo/Thibault Camus, File)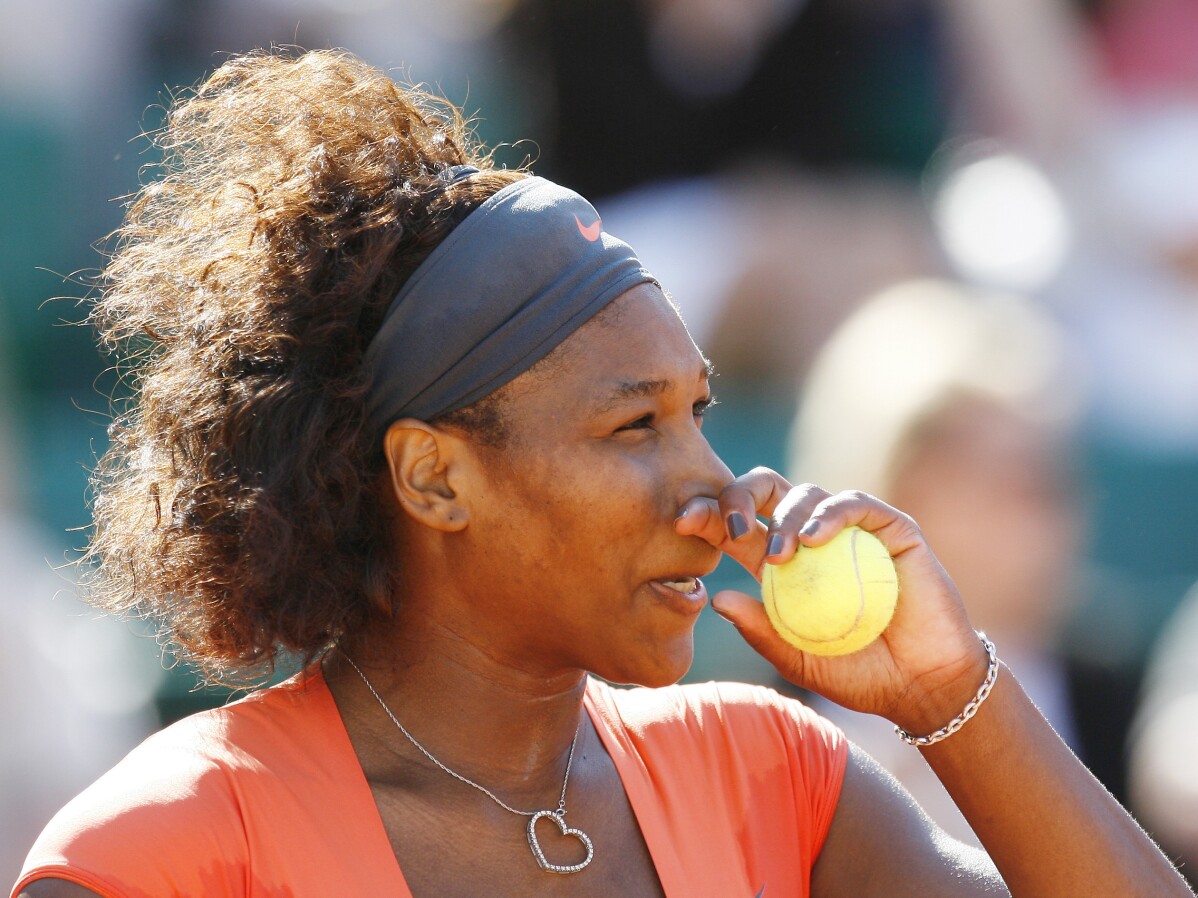 3 of 6

|
FILE - Serena Williams reacts as she plays Spain's Maria Jose Martinez Sanchez during their third round match of the French Open tennis tournament at Roland Garros stadium in Paris, Saturday May 30, 2009. Every so often, there is a high-profile officiating mistake on a point during one of the sport's most important tournaments. At the 2009 French Open, for example, Serena Williams hit a shot that went off her opponent's arm but wasn't called that way. Video review for double bounces and certain other rulings will be making its Grand Slam tennis debut when main-draw competition begins at the U.S. Open later this month. (AP Photo/Michel Euler, File)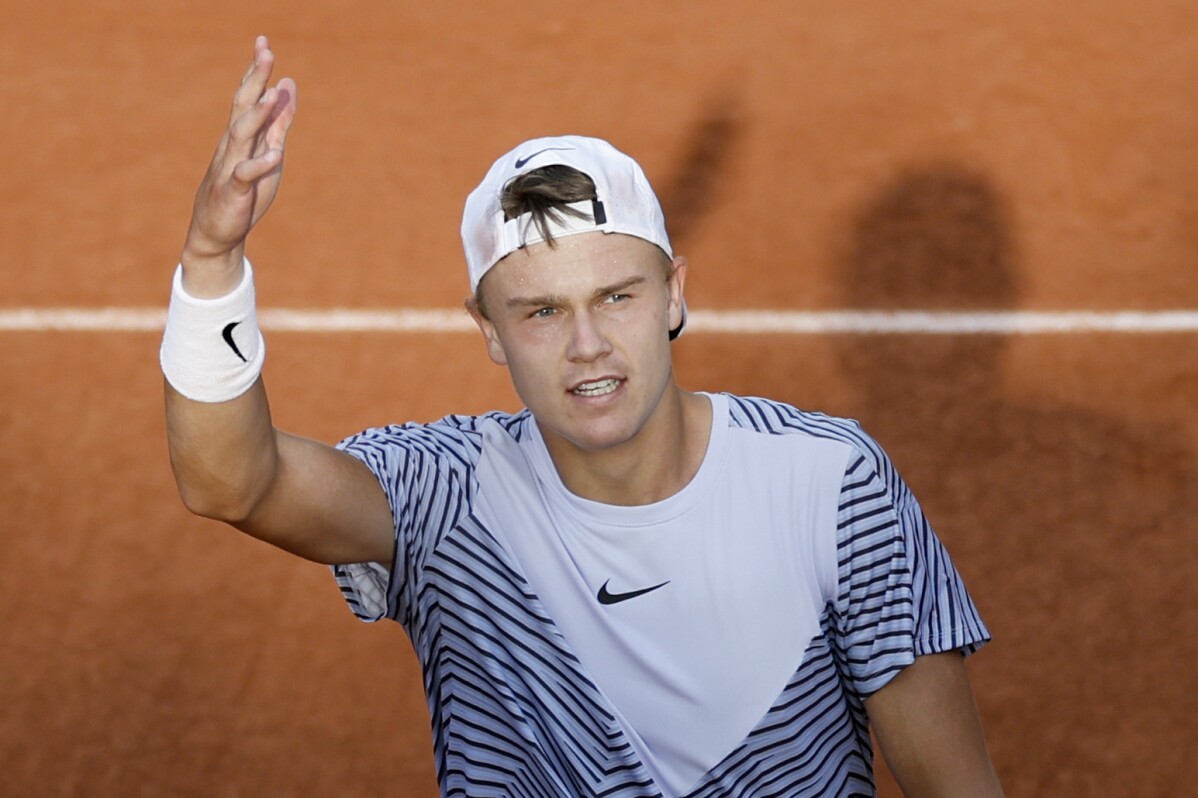 4 of 6

|
FILE - Denmark's Holger Rune celebrates after beating Argentina's Francisco Cerundolo during their fourth round match of the French Open tennis tournament at Roland Garros stadium in Paris, Monday, June 5, 2023. This year in Paris, Rune won a point even though he hit a shot following a double bounce. "Some umpires, they make mistakes. Some for me; some for him," Rune said. "That's life." Video review for double bounces and certain other rulings will be making its Grand Slam tennis debut when main-draw competition begins at the U.S. Open later this month. (AP Photo/Jean-Francois Badias, File)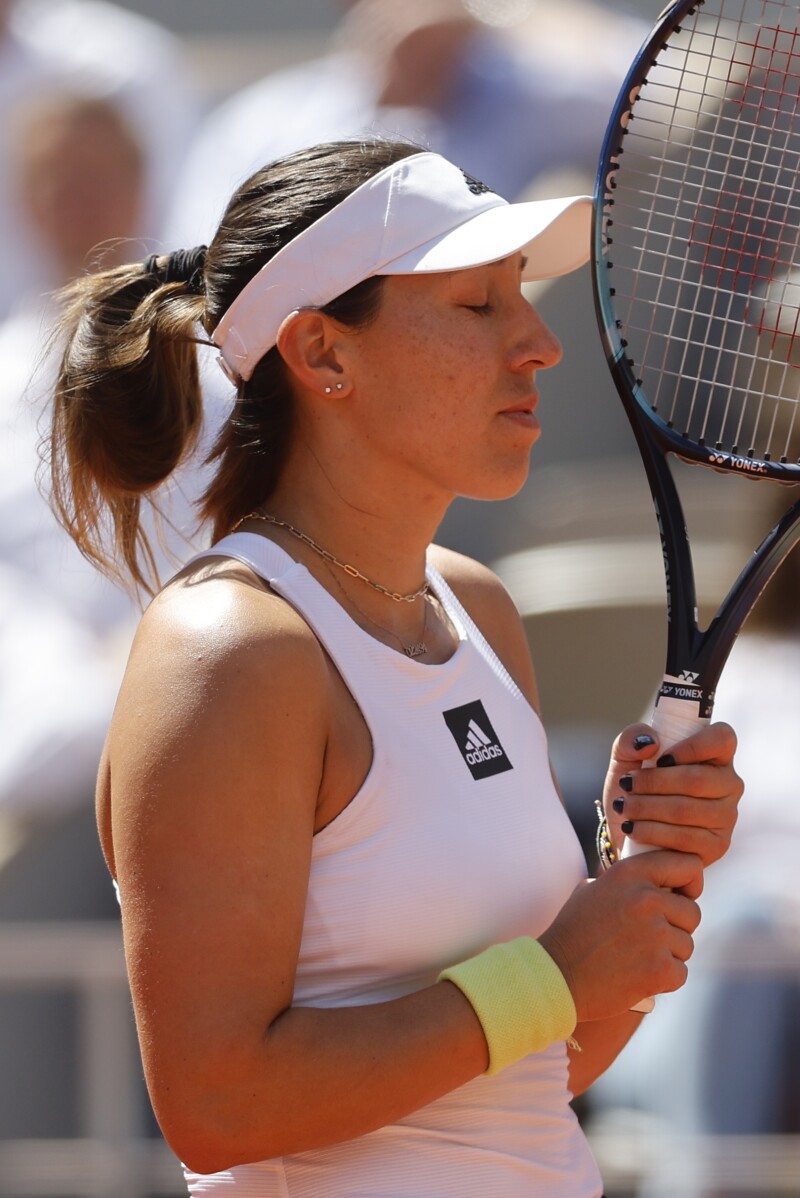 5 of 6

|
FILE - Jessica Pegula reacts as she plays Poland's Iga Swiatek during their quarterfinal match of the French Open tennis tournament at the Roland Garros stadium Wednesday, June 1, 2022 in Paris. Video review for double bounces and certain other rulings will be making its Grand Slam tennis debut when main-draw competition begins at the U.S. Open later this month. "I had pushed for this for a while, so I am glad to see the U.S. Open is going to allow it," said Jessica Pegula, an American who is ranked No. 3. (AP Photo/Jean-Francois Badias, File)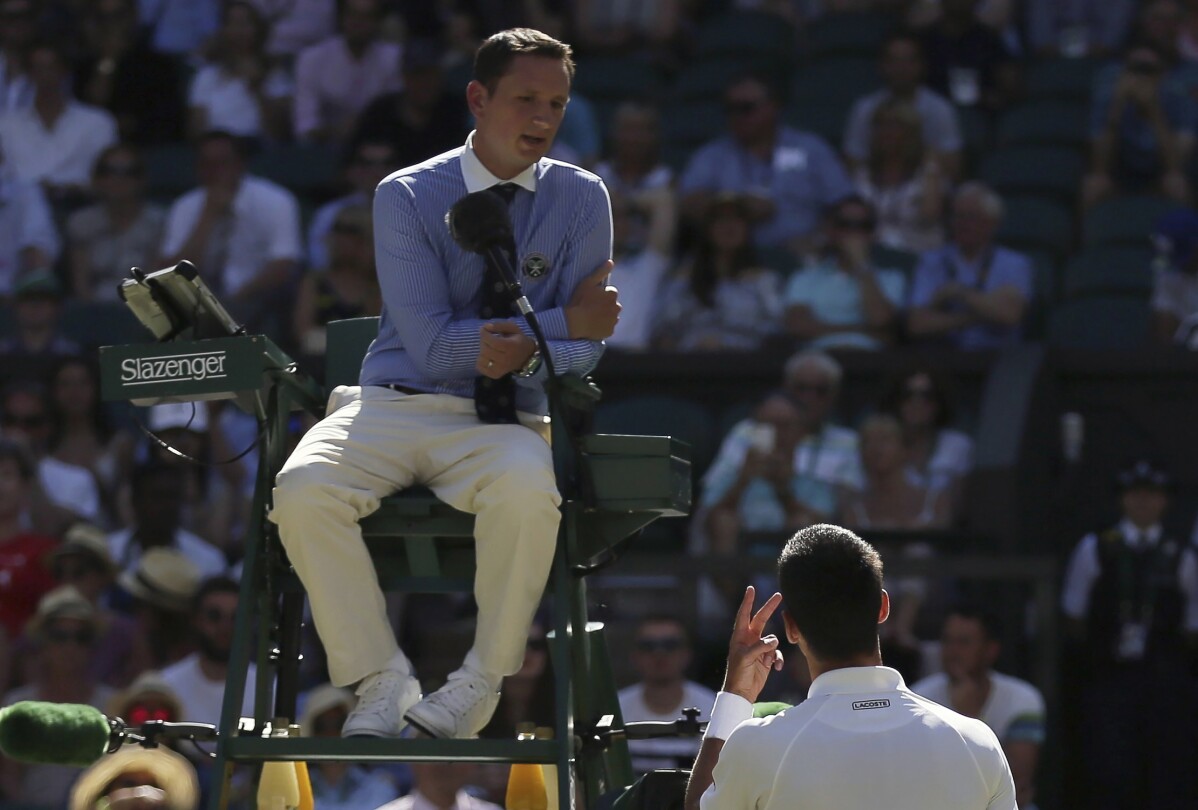 6 of 6

|
FILE - Serbia's Novak Djokovic gestures to umpire Jake Garner as he disputes a call in his men's singles match with Latvia's Ernests Gulbis on day six at the Wimbledon Tennis Championships in London, Saturday, July 8, 2017. Video review for double bounces and certain other rulings will be making its Grand Slam tennis debut when main-draw competition begins at the U.S. Open later this month. New U.S. Open tournament referee Jake Garner recalls when he was a chair umpire and it was too tough to tell in the moment whether a ball bounced twice before a player got it back over the net. (AP Photo/Tim Ireland, File)
The US Open is adding video review for double bounces. It's a first for Grand Slam tennis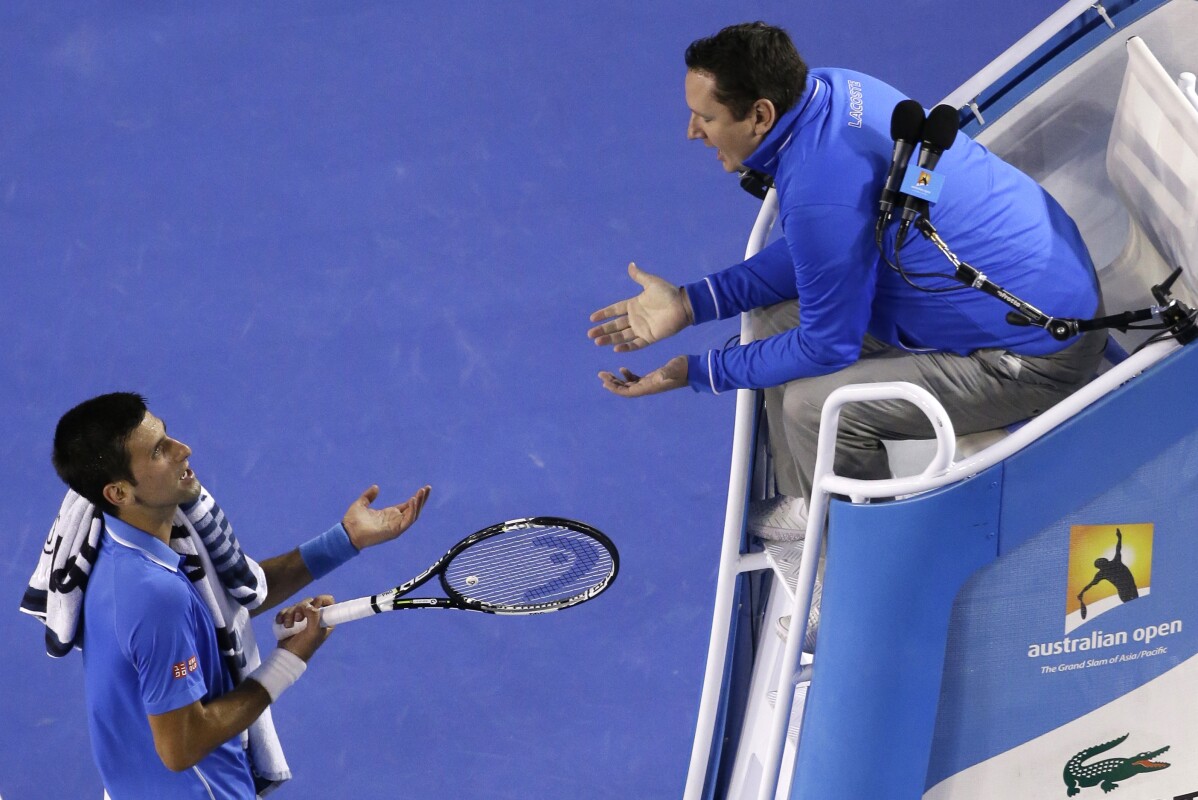 1 of 6

|
FILE - Novak Djokovic of Serbia, left, talks with chair umpire Jake Garner of the U.S. as he plays Andy Murray of Britain during the men's singles final at the Australian Open tennis championship in Melbourne, Australia, Sunday, Feb. 1, 2015. Video review for double bounces and certain other rulings will be making its Grand Slam tennis debut when main-draw competition begins at the U.S. Open later this month. New U.S. Open tournament referee Jake Garner recalls when he was a chair umpire and it was too tough to tell in the moment whether a ball bounced twice before a player got it back over the net. (AP Photo/Lee Jin-man, File)
1 of 6
FILE - Novak Djokovic of Serbia, left, talks with chair umpire Jake Garner of the U.S. as he plays Andy Murray of Britain during the men's singles final at the Australian Open tennis championship in Melbourne, Australia, Sunday, Feb. 1, 2015. Video review for double bounces and certain other rulings will be making its Grand Slam tennis debut when main-draw competition begins at the U.S. Open later this month. New U.S. Open tournament referee Jake Garner recalls when he was a chair umpire and it was too tough to tell in the moment whether a ball bounced twice before a player got it back over the net. (AP Photo/Lee Jin-man, File)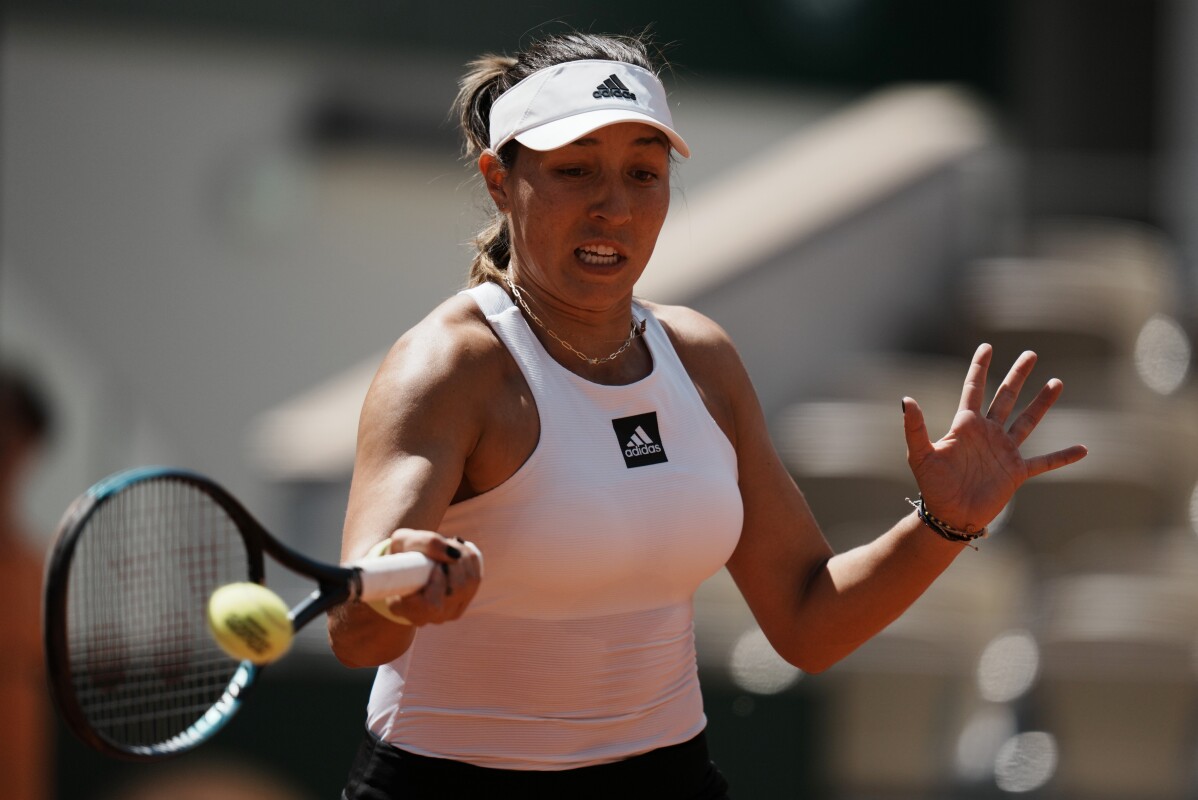 2 of 6

|
FILE - Jessica Pegula returns the ball to Poland's Iga Swiatek during their quarterfinal match of the French Open tennis tournament at the Roland Garros stadium Wednesday, June 1, 2022 in Paris. Video review for double bounces and certain other rulings will be making its Grand Slam tennis debut when main-draw competition begins at the U.S. Open later this month. "I had pushed for this for a while, so I am glad to see the U.S. Open is going to allow it," said Jessica Pegula, an American who is ranked No. 3. (AP Photo/Thibault Camus, File)
2 of 6
FILE - Jessica Pegula returns the ball to Poland's Iga Swiatek during their quarterfinal match of the French Open tennis tournament at the Roland Garros stadium Wednesday, June 1, 2022 in Paris. Video review for double bounces and certain other rulings will be making its Grand Slam tennis debut when main-draw competition begins at the U.S. Open later this month. "I had pushed for this for a while, so I am glad to see the U.S. Open is going to allow it," said Jessica Pegula, an American who is ranked No. 3. (AP Photo/Thibault Camus, File)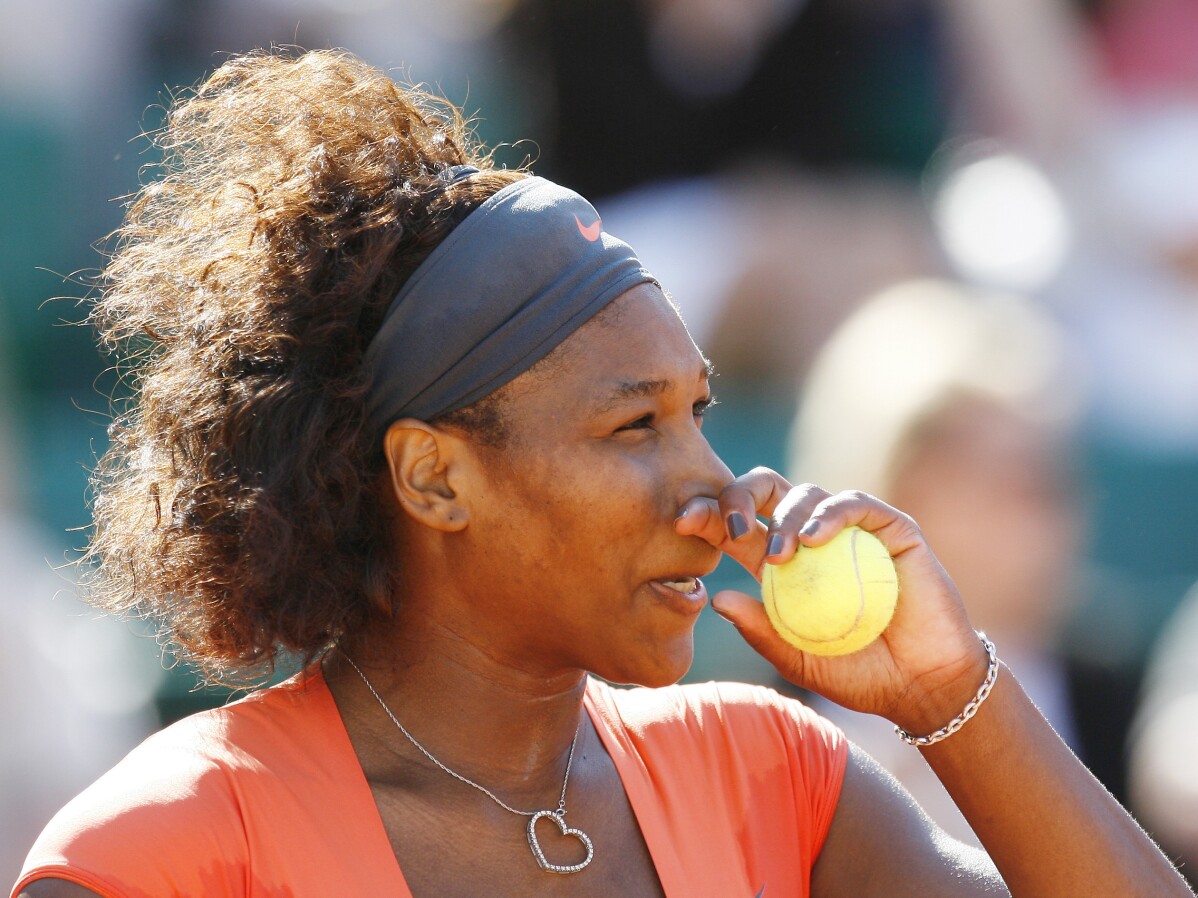 3 of 6

|
FILE - Serena Williams reacts as she plays Spain's Maria Jose Martinez Sanchez during their third round match of the French Open tennis tournament at Roland Garros stadium in Paris, Saturday May 30, 2009. Every so often, there is a high-profile officiating mistake on a point during one of the sport's most important tournaments. At the 2009 French Open, for example, Serena Williams hit a shot that went off her opponent's arm but wasn't called that way. Video review for double bounces and certain other rulings will be making its Grand Slam tennis debut when main-draw competition begins at the U.S. Open later this month. (AP Photo/Michel Euler, File)
3 of 6
FILE - Serena Williams reacts as she plays Spain's Maria Jose Martinez Sanchez during their third round match of the French Open tennis tournament at Roland Garros stadium in Paris, Saturday May 30, 2009. Every so often, there is a high-profile officiating mistake on a point during one of the sport's most important tournaments. At the 2009 French Open, for example, Serena Williams hit a shot that went off her opponent's arm but wasn't called that way. Video review for double bounces and certain other rulings will be making its Grand Slam tennis debut when main-draw competition begins at the U.S. Open later this month. (AP Photo/Michel Euler, File)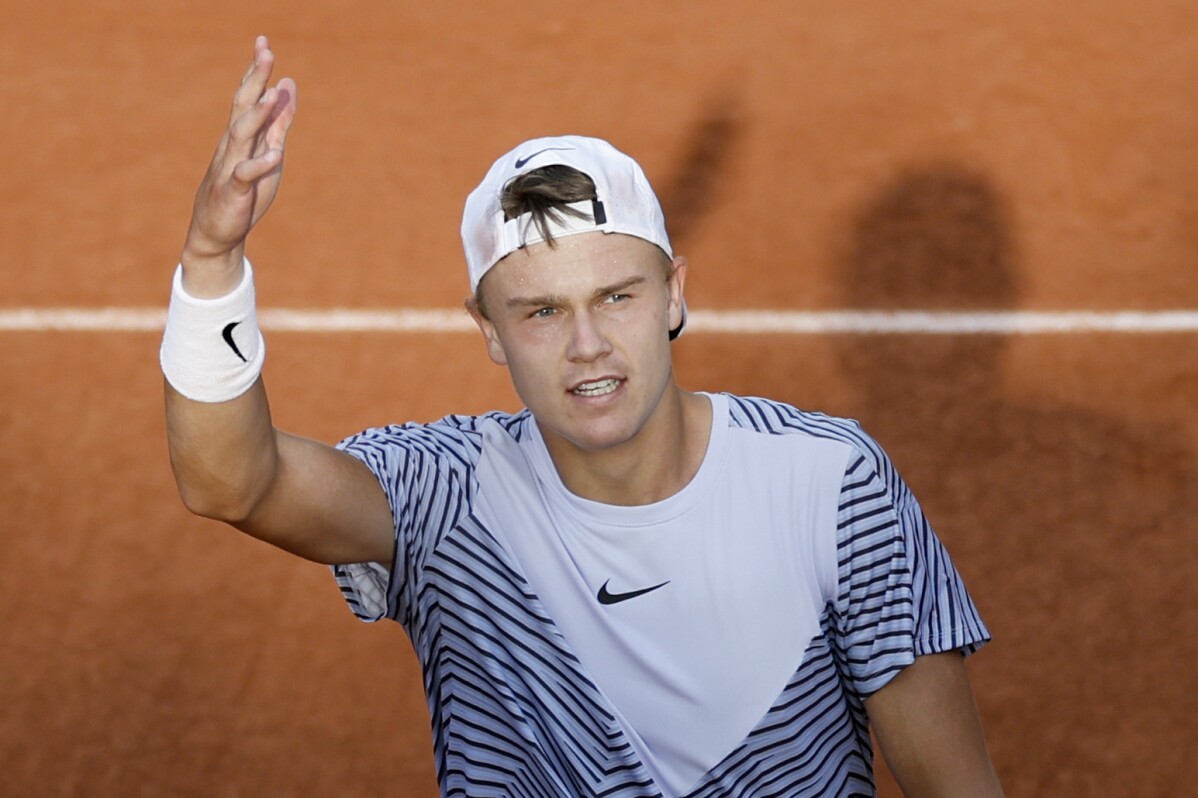 4 of 6

|
FILE - Denmark's Holger Rune celebrates after beating Argentina's Francisco Cerundolo during their fourth round match of the French Open tennis tournament at Roland Garros stadium in Paris, Monday, June 5, 2023. This year in Paris, Rune won a point even though he hit a shot following a double bounce. "Some umpires, they make mistakes. Some for me; some for him," Rune said. "That's life." Video review for double bounces and certain other rulings will be making its Grand Slam tennis debut when main-draw competition begins at the U.S. Open later this month. (AP Photo/Jean-Francois Badias, File)
4 of 6
FILE - Denmark's Holger Rune celebrates after beating Argentina's Francisco Cerundolo during their fourth round match of the French Open tennis tournament at Roland Garros stadium in Paris, Monday, June 5, 2023. This year in Paris, Rune won a point even though he hit a shot following a double bounce. "Some umpires, they make mistakes. Some for me; some for him," Rune said. "That's life." Video review for double bounces and certain other rulings will be making its Grand Slam tennis debut when main-draw competition begins at the U.S. Open later this month. (AP Photo/Jean-Francois Badias, File)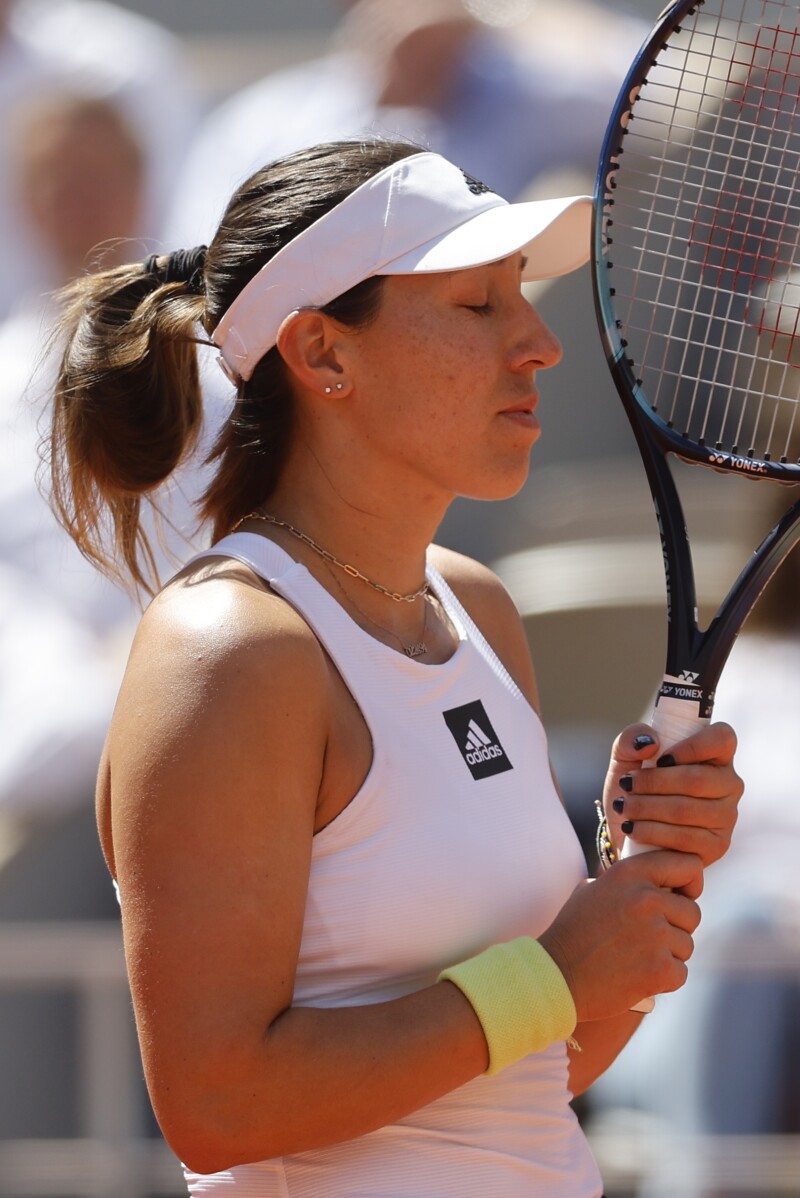 5 of 6

|
FILE - Jessica Pegula reacts as she plays Poland's Iga Swiatek during their quarterfinal match of the French Open tennis tournament at the Roland Garros stadium Wednesday, June 1, 2022 in Paris. Video review for double bounces and certain other rulings will be making its Grand Slam tennis debut when main-draw competition begins at the U.S. Open later this month. "I had pushed for this for a while, so I am glad to see the U.S. Open is going to allow it," said Jessica Pegula, an American who is ranked No. 3. (AP Photo/Jean-Francois Badias, File)
5 of 6
FILE - Jessica Pegula reacts as she plays Poland's Iga Swiatek during their quarterfinal match of the French Open tennis tournament at the Roland Garros stadium Wednesday, June 1, 2022 in Paris. Video review for double bounces and certain other rulings will be making its Grand Slam tennis debut when main-draw competition begins at the U.S. Open later this month. "I had pushed for this for a while, so I am glad to see the U.S. Open is going to allow it," said Jessica Pegula, an American who is ranked No. 3. (AP Photo/Jean-Francois Badias, File)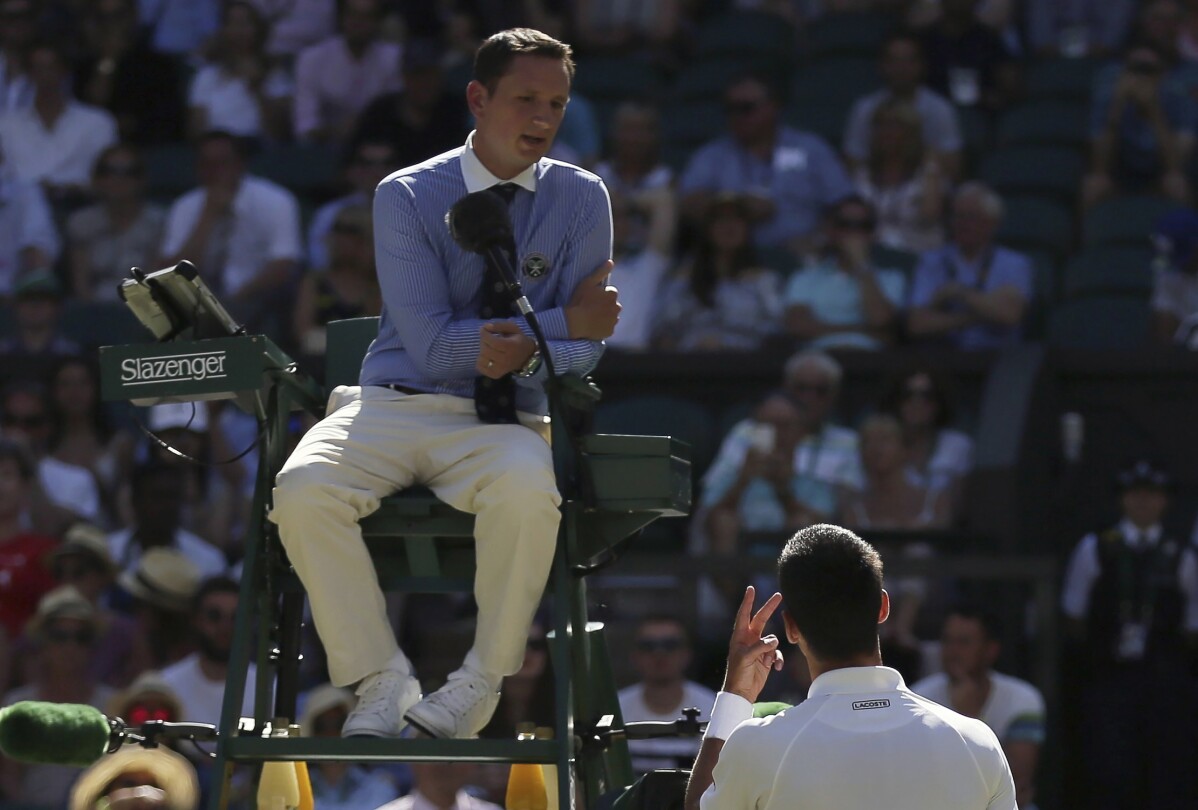 6 of 6

|
FILE - Serbia's Novak Djokovic gestures to umpire Jake Garner as he disputes a call in his men's singles match with Latvia's Ernests Gulbis on day six at the Wimbledon Tennis Championships in London, Saturday, July 8, 2017. Video review for double bounces and certain other rulings will be making its Grand Slam tennis debut when main-draw competition begins at the U.S. Open later this month. New U.S. Open tournament referee Jake Garner recalls when he was a chair umpire and it was too tough to tell in the moment whether a ball bounced twice before a player got it back over the net. (AP Photo/Tim Ireland, File)
6 of 6
FILE - Serbia's Novak Djokovic gestures to umpire Jake Garner as he disputes a call in his men's singles match with Latvia's Ernests Gulbis on day six at the Wimbledon Tennis Championships in London, Saturday, July 8, 2017. Video review for double bounces and certain other rulings will be making its Grand Slam tennis debut when main-draw competition begins at the U.S. Open later this month. New U.S. Open tournament referee Jake Garner recalls when he was a chair umpire and it was too tough to tell in the moment whether a ball bounced twice before a player got it back over the net. (AP Photo/Tim Ireland, File)
New U.S. Open tournament referee Jake Garner recalls being a chair umpire and having a tough time figuring out in the moment whether a ball bounced twice before a player got it back over the net.
If that happens at Flushing Meadows this year, though, an official can check a replay: Video review will make its Grand Slam tennis debut when main-draw competition begins in New York on Aug. 28.
"There were certain situations, of course, where you would see a video post-match and wish you had made a different decision," Garner told The Associated Press, "or wish you had assistance in making that decision."
Video review — which is separate from the electronic line-calling used for ruling balls in or out at all matches — will be set up for five of the Open's 17 competition courts: Arthur Ashe Stadium, Louis Armstrong Stadium, Grandstand, Court 5 and Court 17. That sampling, which should include a little more than 50% of singles matches, according to Garner, will be studied before deciding whether to expand the system in 2024.
This year, players in singles, doubles and mixed doubles will get three challenges per set for things such as double bounces, a ball touching a player's body, a player touching the net or a player being hindered by noise. They'll hold onto a challenge if they're correct and receive an additional one in tiebreakers.
"I had pushed for this for a while, so I am glad to see the U.S. Open is going to allow it," said Jessica Pegula, an American who is ranked No. 3 and was involved in a high-profile missed call on a double bounce that helped her opponent, Iga Swiatek, at last year's French Open. "It will be great for both the players and the fans."
It's the latest example of modern assistance for officials in sports — and the latest example of the U.S. Open leading the way when it comes to recent rules changes at major tennis tournaments.
"We're always looking to innovate," Garner said.
The U.S. Open was the first Slam event with electronic line-calling (in 2006), the first with a serve clock (2018) and the first to allow in-match communication with coaches (2022).
Video review was tested at lower-profile men's events such as the ATP Cup and the Next Gen Finals. It has not been tried at a women's tournament.
"It's a good step in the right direction," Chris Eubanks, an American ranked No. 29, said about video review. "If the technology's there, why not use it?"
One additional element Garner said was adopted in 2021 but formally written into the rules this year: If a player does something that could result in a default — such as when Novak Djokovic inadvertently hit a line judge with a ball at the 2020 U.S. Open — video can help determine whether disqualification is warranted.
Several players asked about the new video review setup were not aware of it.
They were uniformly in favor.
"It completely makes sense," said Caroline Garcia, a 2022 U.S. Open semifinalist from France. "It can be super frustrating if you think you saw a double bounce and the umpire didn't see it, for some reason. It's always better to know right away than to be mad at someone. You just want to know."
When there is a challenge, two people away from the court will send the best replay to the chair umpire's screen and videoboards in the arena. The umpire will have three options: confirm the original call, overturn it or let the call stand if there isn't clear video evidence one way or the other.
All reviews will be prompted by players and should help reduce — if not eliminate — disagreements over these types of episodes, which happen every so often.
"If you think something didn't go your way, just challenge it. Then there's no more arguing," said Jordan Thompson, an Australian ranked No. 55.
He lost a point in the last game of a match at a U.S. Open tuneup in Washington two years ago even though his opponent connected with the ball after an extra bounce. The two players got in each other's faces afterward, and the chair umpire climbed down to separate them.
At the 2009 French Open, for example, Serena Williams hit a shot that went off her opponent's arm but wasn't called that way. This year in Paris, Holger Rune won a point that he shouldn't have because of a double bounce.
"Some umpires, they make mistakes. Some for me; some for him," Rune said. "That's life."
Such errors should be more avoidable now.
___
AP tennis: https://apnews.com/hub/tennis