Las Vegas food service workers demanding better pay and benefits are set to rally on the Strip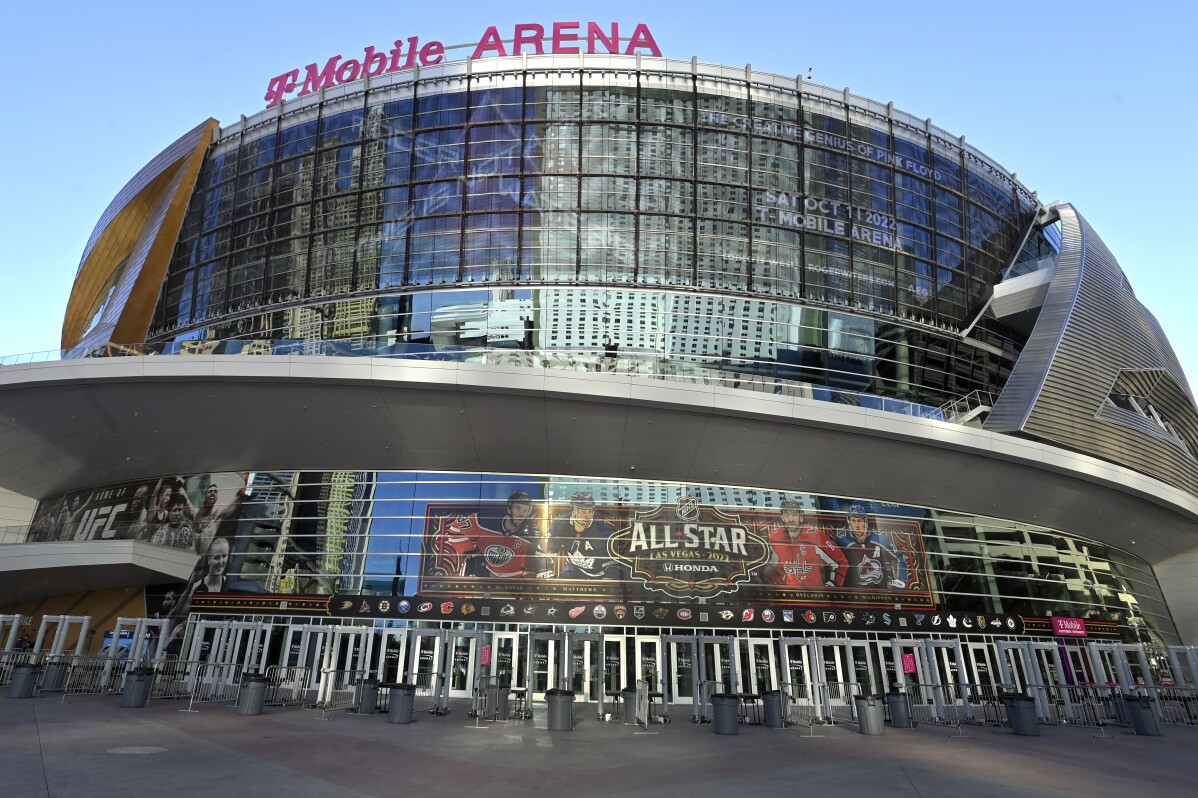 1 of 2

|
FILE - T-Mobile Arena stands in Las Vegas on Feb. 1, 2022, in Las Vegas. Food service workers at a Las Vegas Strip arena demanding higher pay and better benefits are set to march Thursday evening beneath the glittery lights of the famed tourist corridor amid ongoing negotiations for a union contract. (AP Photo/David Becker, File)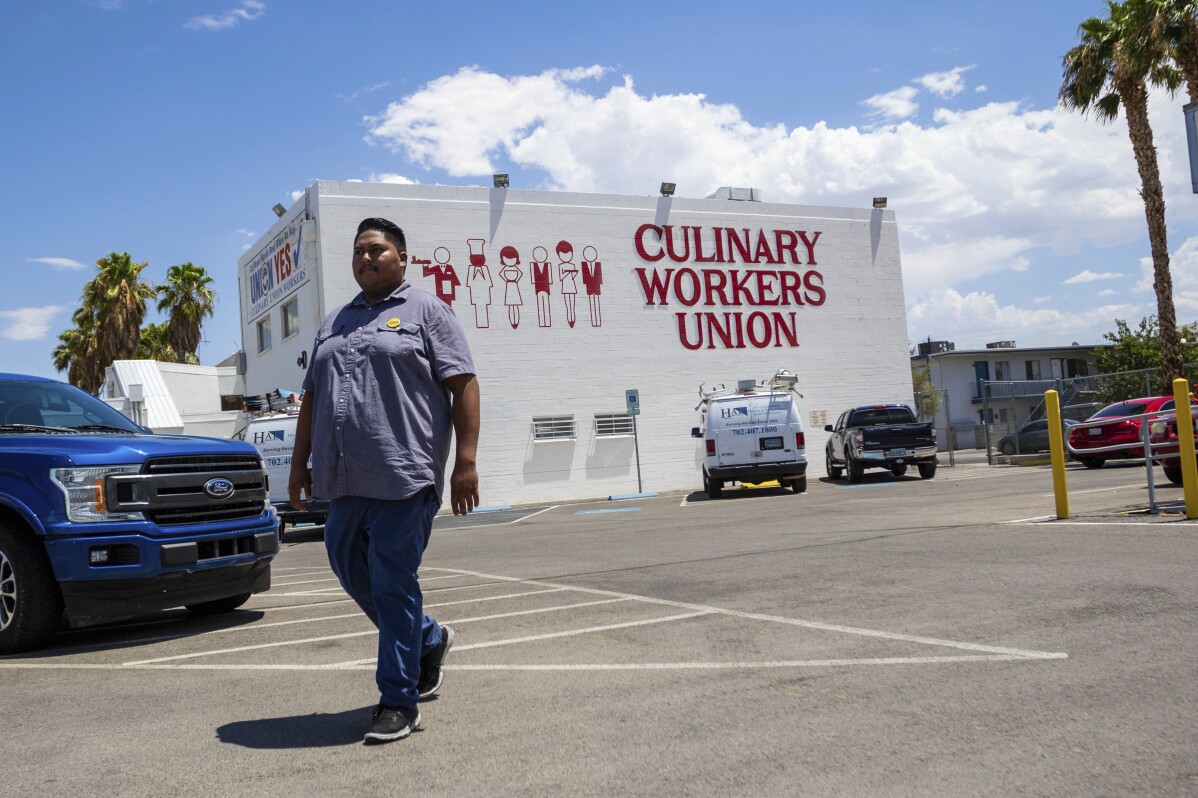 2 of 2

|
FILE - Alberto Rodriguez, 24, walks to his car outside the Culinary Union on July 26, 2023, in Las Vegas. Food service workers at a Las Vegas Strip arena demanding higher pay and better benefits are set to march Thursday evening beneath the glittery lights of the famed tourist corridor amid ongoing negotiations for a union contract. (AP Photo/Ty ONeil, File)
Las Vegas food service workers demanding better pay and benefits are set to rally on the Strip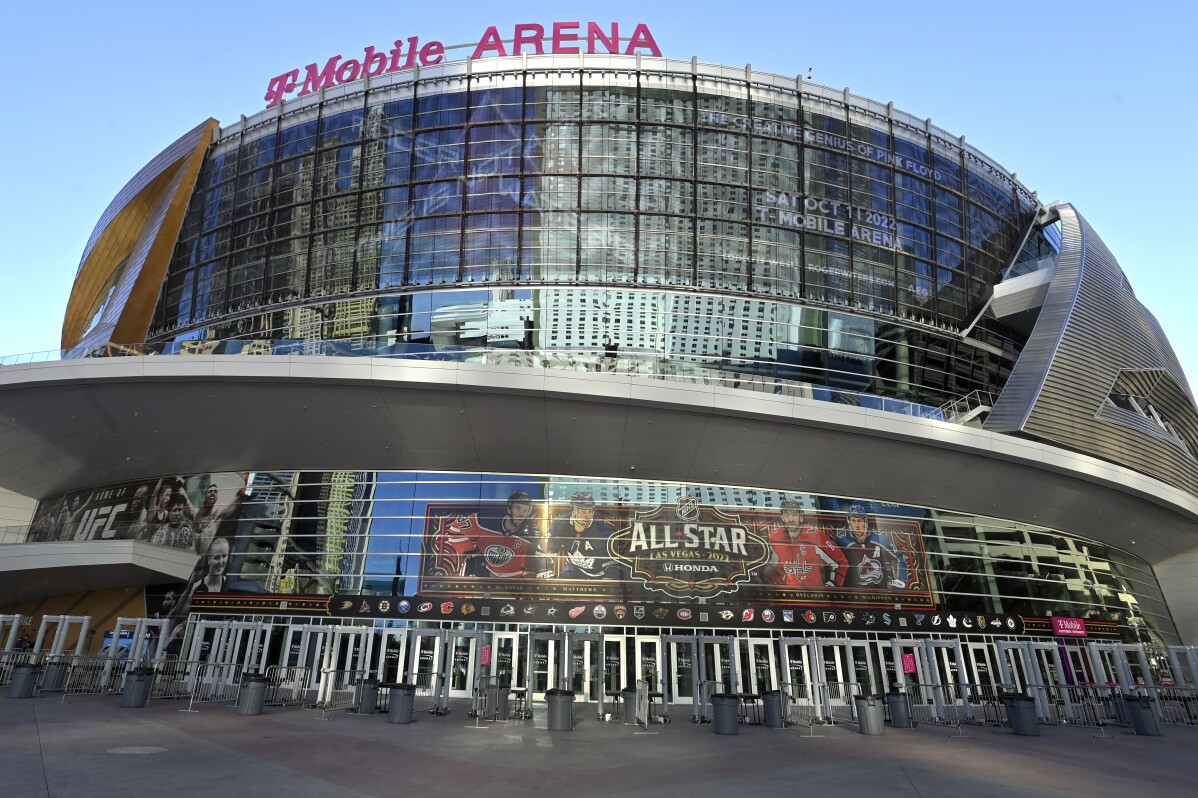 1 of 2

|
FILE - T-Mobile Arena stands in Las Vegas on Feb. 1, 2022, in Las Vegas. Food service workers at a Las Vegas Strip arena demanding higher pay and better benefits are set to march Thursday evening beneath the glittery lights of the famed tourist corridor amid ongoing negotiations for a union contract. (AP Photo/David Becker, File)
1 of 2
FILE - T-Mobile Arena stands in Las Vegas on Feb. 1, 2022, in Las Vegas. Food service workers at a Las Vegas Strip arena demanding higher pay and better benefits are set to march Thursday evening beneath the glittery lights of the famed tourist corridor amid ongoing negotiations for a union contract. (AP Photo/David Becker, File)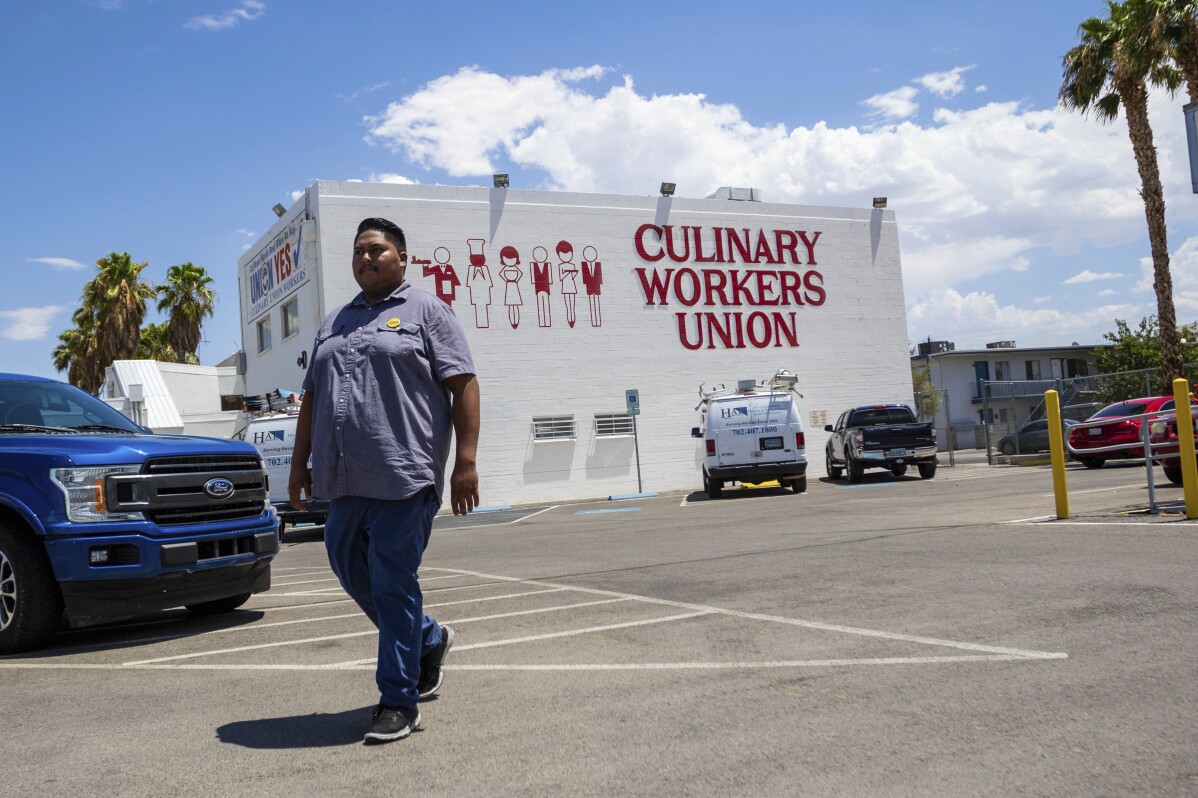 2 of 2

|
FILE - Alberto Rodriguez, 24, walks to his car outside the Culinary Union on July 26, 2023, in Las Vegas. Food service workers at a Las Vegas Strip arena demanding higher pay and better benefits are set to march Thursday evening beneath the glittery lights of the famed tourist corridor amid ongoing negotiations for a union contract. (AP Photo/Ty ONeil, File)
2 of 2
FILE - Alberto Rodriguez, 24, walks to his car outside the Culinary Union on July 26, 2023, in Las Vegas. Food service workers at a Las Vegas Strip arena demanding higher pay and better benefits are set to march Thursday evening beneath the glittery lights of the famed tourist corridor amid ongoing negotiations for a union contract. (AP Photo/Ty ONeil, File)
LAS VEGAS (AP) — Food service workers at a Las Vegas Strip arena demanding higher pay and better benefits are set to rally Thursday evening beneath the glittery lights of the famed tourist corridor amid ongoing negotiations for a union contract.
The Culinary Workers Union, a political powerhouse in Nevada, said in a statement ahead of the rally that servers, dishwashers, cooks and bartenders who work at T-Mobile Arena have been locked in contract negotiations for nearly a year with their employer, Levy Premium Food Service. The workers say they want a fair contract that will ensure "one job is enough to provide for their families."
The union represents 60,000 hospitality workers in Las Vegas and Reno, including 200 Levy employees who work at the arena, the home stadium of the Vegas Golden Knights.
The rally is scheduled to be held near the arena, and thousands are expected to participate. It comes two weeks after members voted 97% in favor of authorizing a strike if a contract isn't reached soon and is the union's second gathering on the Strip in recent months highlighting the ongoing negotiations with Levy, which provides food and drink services to arenas, convention centers and other venues nationwide.
In a statement, Levy said it was discouraged by the union's decision to rally after several months of negotiations.
"We remain committed to working diligently with the Union to reach a fair agreement that shows our team members how much we value them," the statement said, "and we look forward to returning to the bargaining table soon."
MGM Resorts International, which operates T-Mobile Arena, did not immediately respond to a request for comment.
Lucia Orozco has worked as a cook at the arena since it opened in 2016. She described herself and her husband, a hospitality worker at a nearby Strip casino, as hard workers who don't spend outside of their means. Yet they live paycheck to paycheck and don't have money saved to retire anytime soon.
"I worry about it because I'm very close to retirement," the 56-year-old said. "I don't have too much time left."
Orozco, who was among the block of union members who voted to authorize a strike, said she wasn't surprised by the results of the vote.
"Everybody's tired of not making enough," she said.
A date for a strike has not been set, but the union said its members have taken major steps toward walking off the job, including making picket signs and signing up for shifts on the picket line.
The possible strike looms ahead of the Golden Knights' first preseason home hockey game Sept. 27 against the Los Angeles Kings and the team's season opener at home Oct. 10 against the Seattle Kraken. If the union strikes, it would happen against the backdrop of thousands of hospitality workers in Southern California, also demanding higher pay and improved benefits, walking off the job last month. The union there described it as the largest strike in its history.
Other union members who work on the Strip and in downtown Las Vegas are expected to participate in Thursday's rally. In June, hundreds of members dressed in red assembled on the Strip to bring attention to the contract negotiations with Levy, filling entire walkways as they waved signs that read "ONE JOB SHOULD BE ENOUGH" at cars driving by.