Virginia prison officials won't divulge complaints about facility where inmate died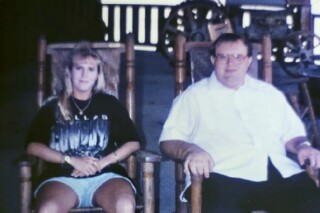 RICHMOND, Va. (AP) — The Virginia Department of Corrections, under scrutiny over the death of an inmate that raised broader questions about conditions at a southwest Virginia prison, is refusing to release public records documenting inmate complaints about the facility.
Allegations that multiple inmates were treated for hypothermia arose as part of a lawsuit over Charles Givens' death last year at the Marion Correctional Treatment Center. The lawsuit alleges Givens was tortured and beaten by guards off-camera.
The Department of Corrections said Wednesday that it isn't required to turn over dozens of pages of documents because they involve incarcerated people and relate to their imprisonment. The agency refused to hand over the documents even with the names of prisoners' and corrections officers redacted.
The Associated Press had asked the department for two years' worth of any inmate complaints related to topics such as uncomfortably cold temperatures at the prison, nonfunctioning or poorly functioning heating systems, and windows being left open during cold months. Those and other claims were made in the lawsuit filed on behalf of Givens' sister, Kym Hobbs.
Colleen Maxwell, who handles public records requests for the department, said in an email Wednesday that she had identified 46 pages of responsive records. But the agency invoked an exemption in the state's open records law that deals with "records of persons imprisoned in penal institutions" to withhold the documents.
Paul Stanley, an attorney representing Givens' sister, said the agency is likely "ashamed" of the information contained in the inmate complaints.
"If they've got 46 pages ... and they are redacting the names of the inmates, what are they afraid the public may see?" Stanley said in an interview.
The lawsuit filed against five correctional officers alleges that Givens, who was intellectually disabled, was "sadistically tortured" and beaten in an off-camera shower area of the facility before being found unresponsive in his cell on Feb. 5, 2022. In the year before his death, Givens was taken to a hospital emergency room multiple times for hypothermia treatment, according to the lawsuit and medical records reviewed by AP.
During a hospital visit in February 2021, Givens' initial body temperature was 87.2 Fahrenheit (30.6 Celsius) — well below the normal body temperature of 97.6 to 99.6 (36.4 to 37.5 Celsius). A hospital admission record states that Givens was "found down on the cold concrete and hypothermic."
A special grand jury impaneled last year found Givens' death was "suspicious" and said in a report that "nearly every witness" described living conditions in the prison sector housing mentally ill inmates as "unsuitable." The report also said that more than one witness had seen ice form on the water in toilets.
"We find these conditions to be inhumane and deplorable," the report said.
Department spokesperson Kyle Gibson did not immediately respond to a request for comment Wednesday on the decision to withhold copies of the complaints. He said the agency does not routinely comment on active litigation.
In response to the grand jury's findings, he said that department facilities are regularly inspected by a range of groups and agencies.
The AP reported last month that Givens' death is under investigation by the FBI. The bureau has declined to comment.
The Department of Corrections has also declined to comment on the FBI investigation, besides noting that the department cooperates with law enforcement probes. In an email last month, department spokesperson Carla Miles declined to comment on why Givens or any other inmate may have needed to be treated for hypothermia, but wrote "there are other triggers" that cause hypothermia including "anti-psychotic medicines."
According to the lawsuit, Givens had been incarcerated at Marion since shortly after he pleaded guilty to two felonies in connection with the fatal 2010 shooting of Misty Leann Garrett. She was employed as a home health nurse for Givens' mother, according to local news accounts.
The lawsuit said Givens suffered a traumatic brain injury after falling down a flight of stairs as a young child and he needed assistance and supervision with daily functioning for the rest of his life.
An autopsy report reviewed by the AP said that Givens' cause of death was blunt force trauma of the torso and his manner of death was undetermined.
The correctional officers named as defendants in the lawsuit have denied the allegations in their answer to the complaint, and none have been charged with a crime.
Under the open records law, the AP also sought a copy of a report pertaining to Givens' death produced by the Department of Corrections' special investigations unit and other related records.
Both the office of state Attorney General Jason Miyares — which said it had about 150 pages of records — and the department have withheld documents in their custody. The department said it identified 65 gigabytes of digital media and 6,795 pages of responsive records.
Both the attorney general's office and department cited a wide range of exemptions in withholding the documents.