France coach sends a spoiler alert ahead of the Women's World Cup quarterfinal against Australia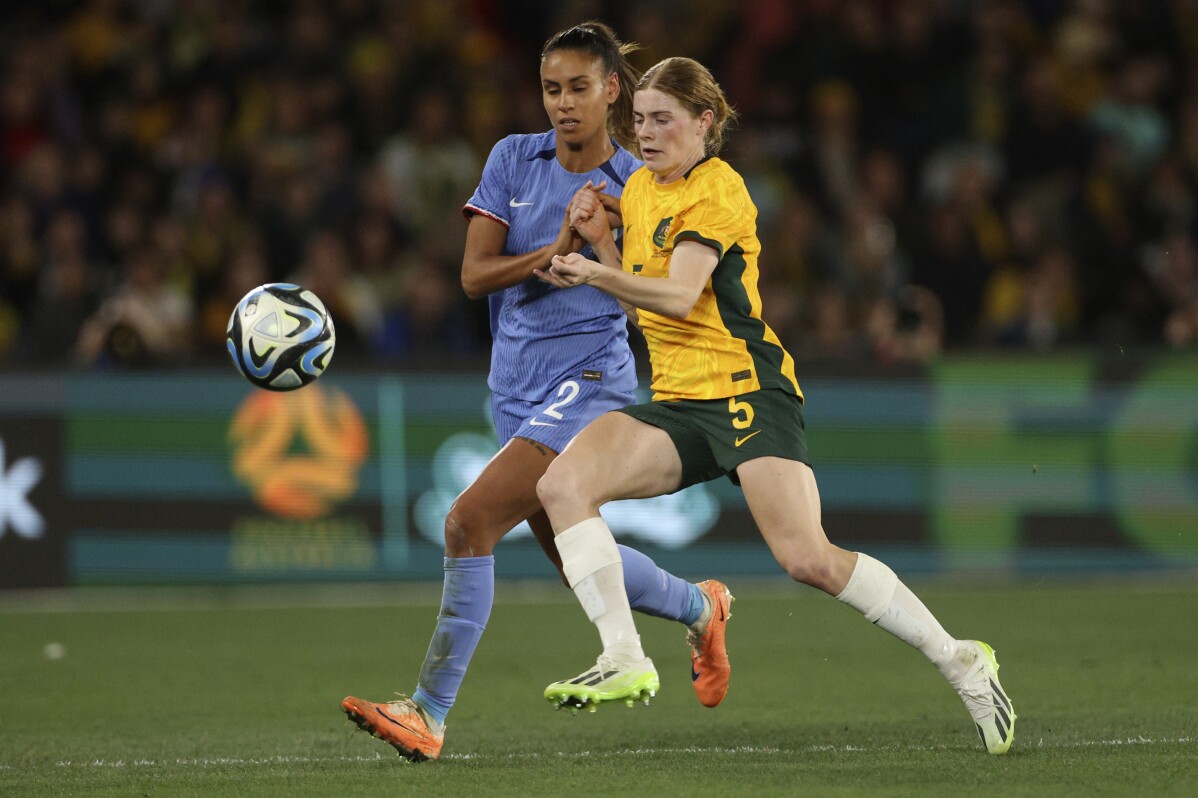 1 of 8

|
France's Maelle Lakrar, left, and Australia's Cortnee Vine compete for the ball during their friendly soccer match in Melbourne, Friday, July 14, 2023, ahead of the Women's World Cup. (AP Photo/Hamish Blair)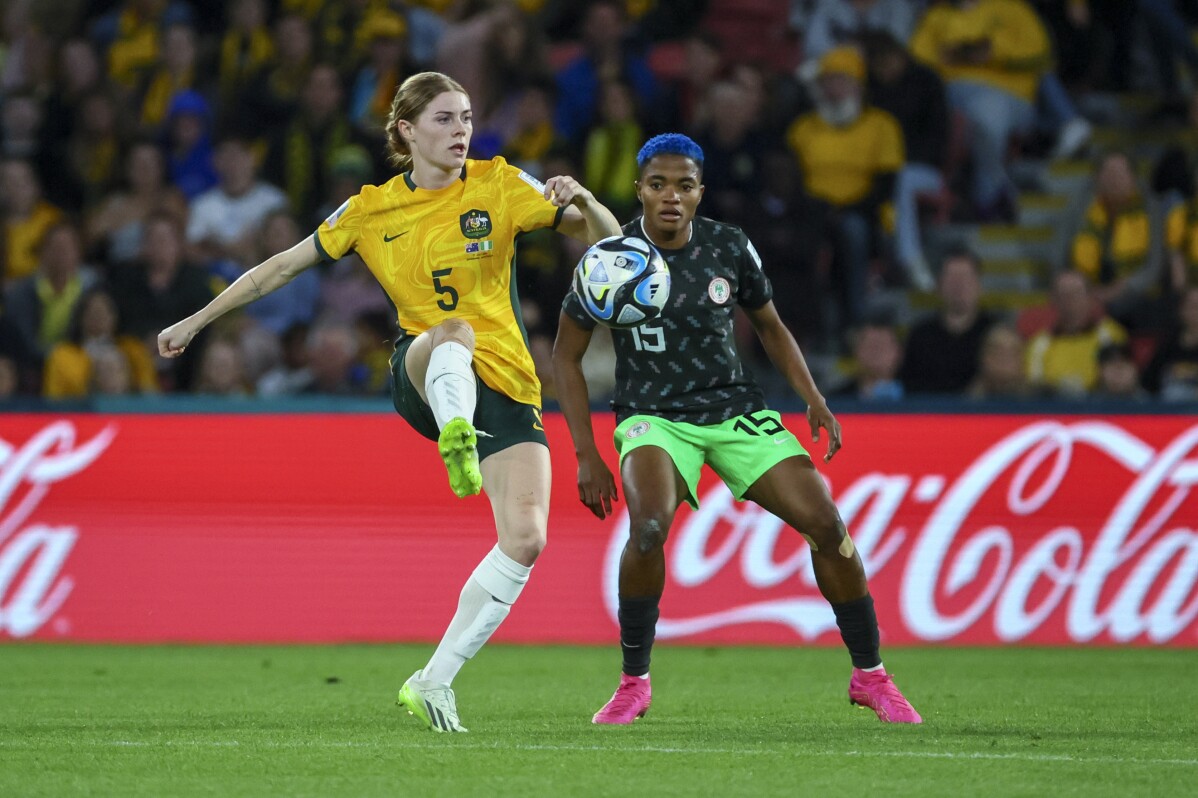 2 of 8

|
Australia's Cortnee Vine, left, shoots the ball next to Nigeria's Rasheedat Ajibade during the Women's World Cup Group B soccer match between Australia and Nigeria In Brisbane, Australia, Thursday, July 27, 2023. (AP Photo/Tertius Pickard)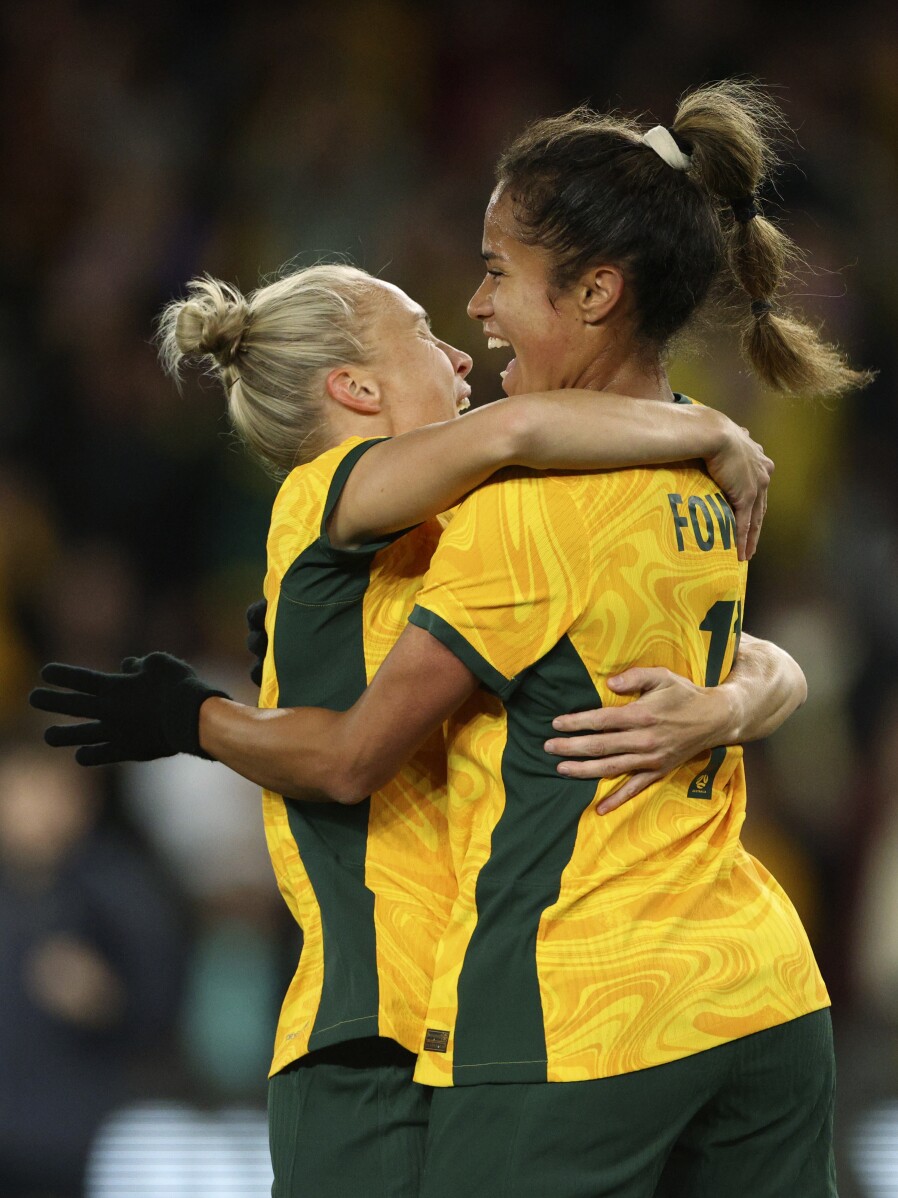 3 of 8

|
Australia's Mary Fowler, right, is congratulated by teammate Tameka Yallop after scoring against France during their friendly soccer match in Melbourne, Friday, July 14, 2023, ahead of the Women's World Cup. (AP Photo/Hamish Blair)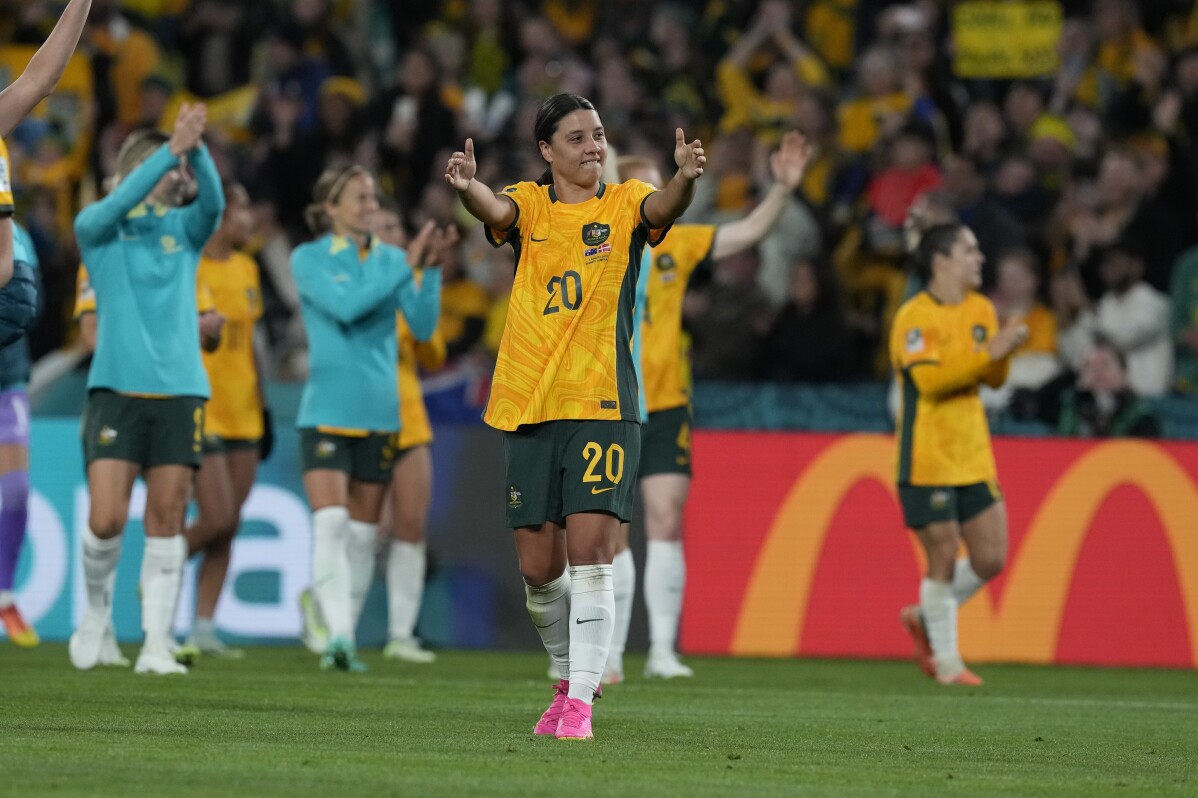 4 of 8

|
Australia's Sam Kerr applauds after the Women's World Cup round of 16 soccer match between Australia and Denmark at Stadium Australia in Sydney, Australia, Monday, Aug. 7, 2023. Australia won 2-0. (AP Photo/Mark Baker)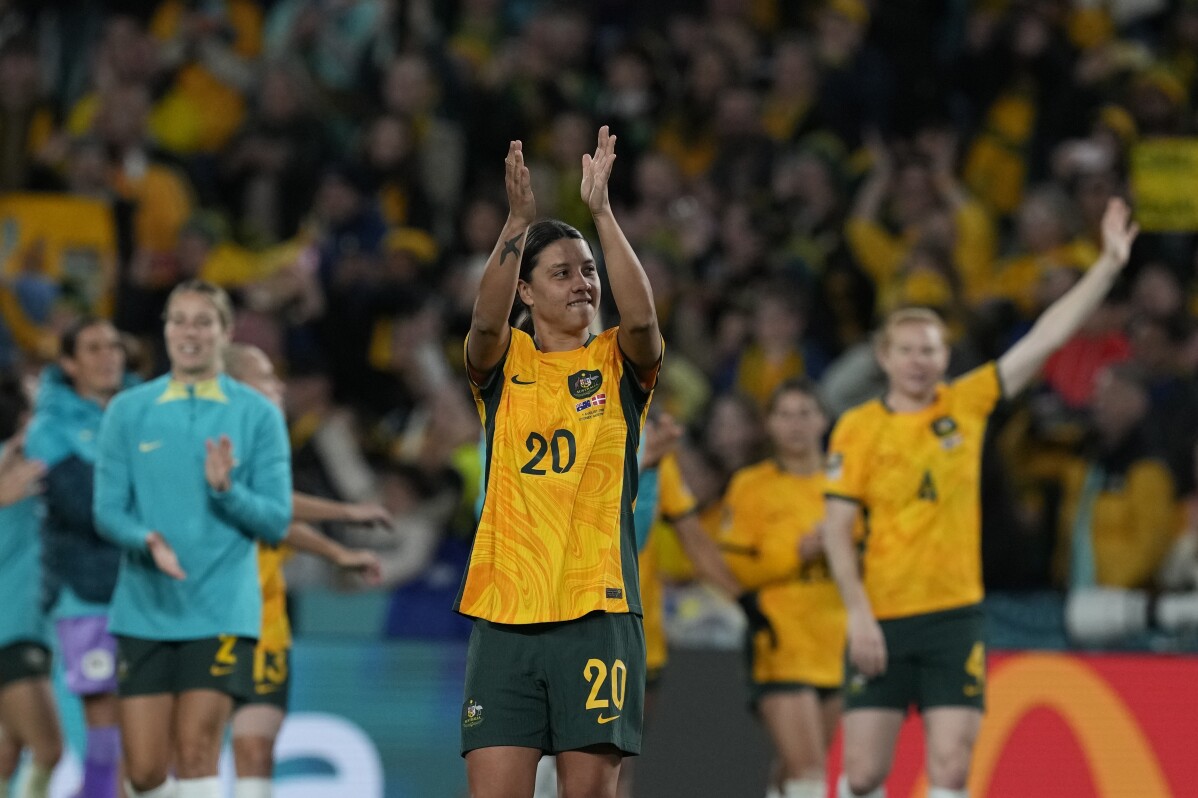 5 of 8

|
Australia's Sam Kerr applauds after the Women's World Cup round of 16 soccer match between Australia and Denmark at Stadium Australia in Sydney, Australia, Monday, Aug. 7, 2023. Australia won 2-0. (AP Photo/Mark Baker)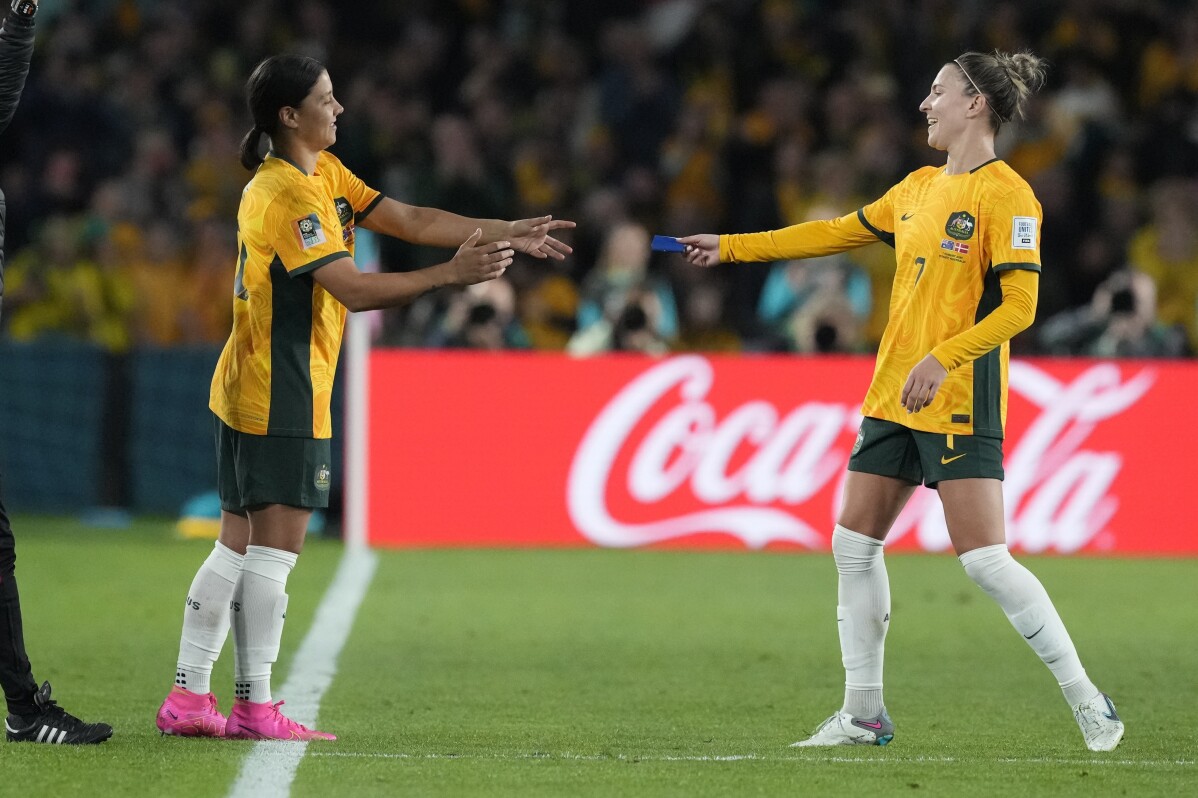 6 of 8

|
Australia's Sam Kerr, left, enters the pitch during the Women's World Cup round of 16 soccer match between Australia and Denmark at Stadium Australia in Sydney, Australia, Monday, Aug. 7, 2023. (AP Photo/Mark Baker)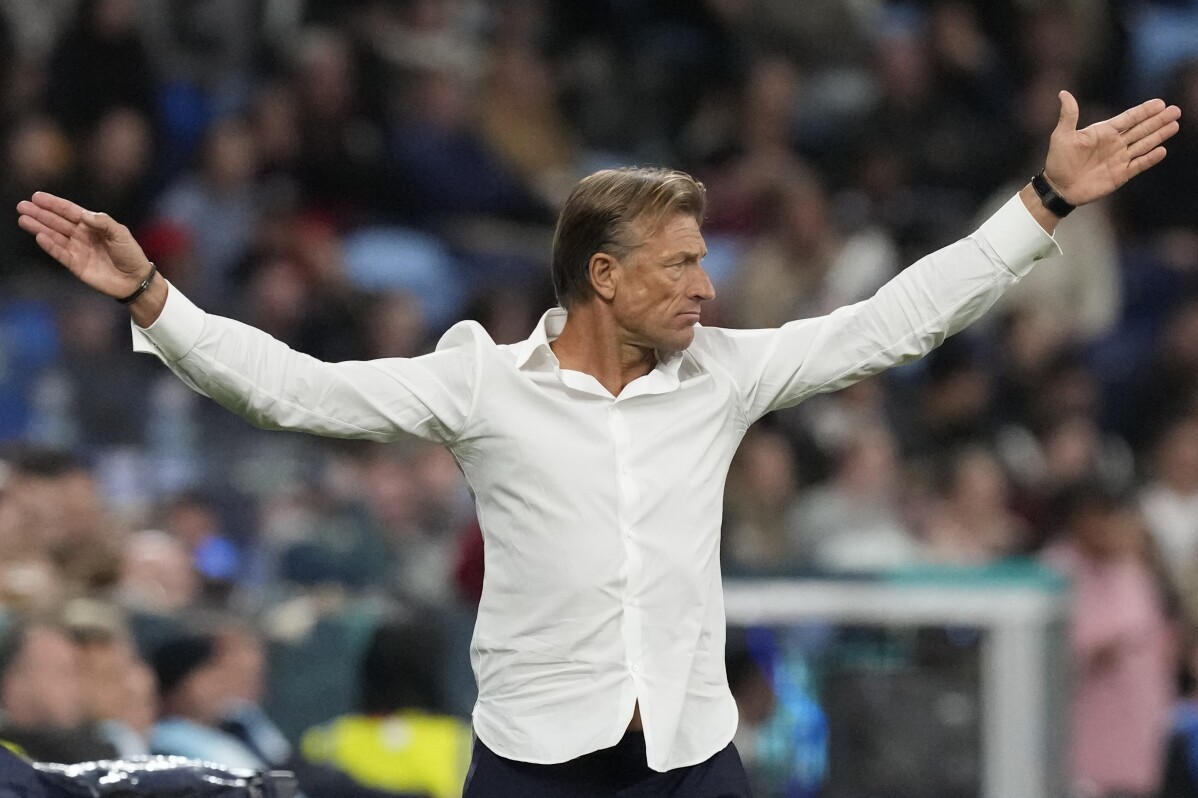 7 of 8

|
France's head coach Herve Renard gestures during the Women's World Cup Group F soccer match between France and Panama at the Sydney Football Stadium in Sydney, Australia, Wednesday, Aug. 2, 2023. (AP Photo/Mark Baker)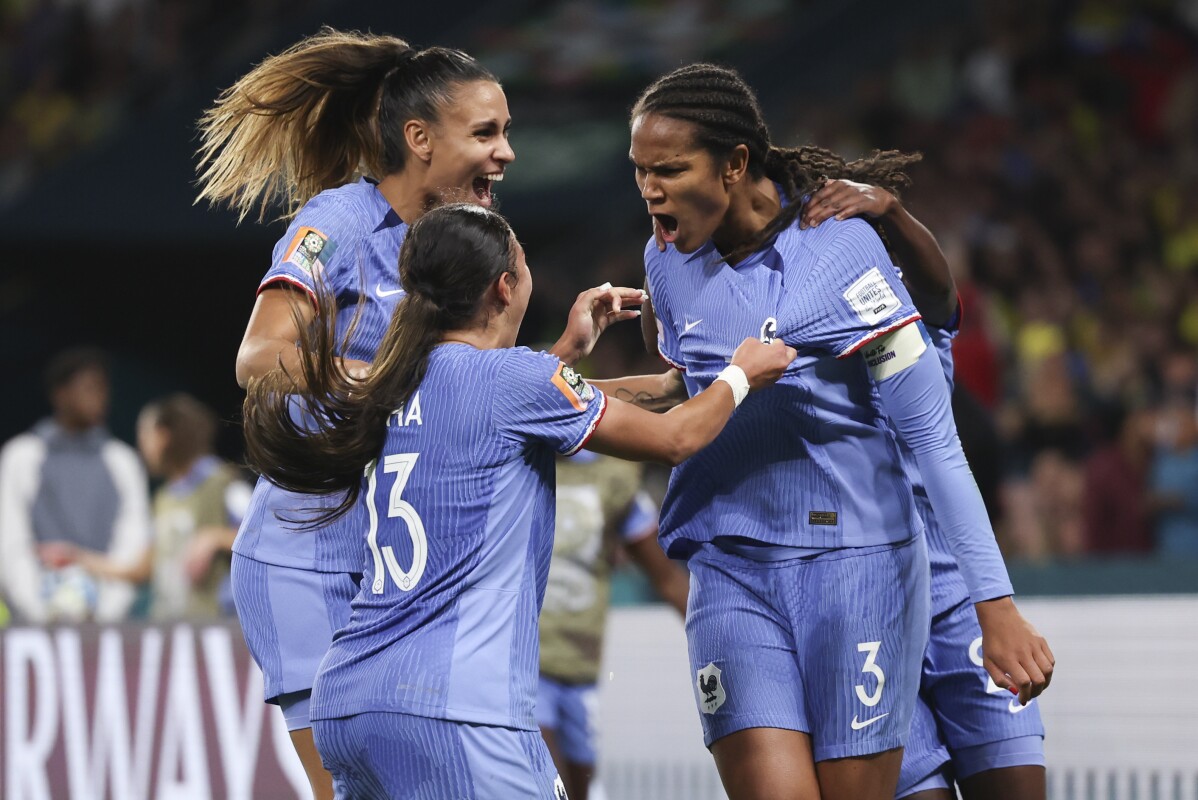 8 of 8

|
France's Wendie Renard, right, celebrates with teammates after scoring her team's second goal during the Women's World Cup Group F soccer match between France and Brazil in Brisbane, Australia, Saturday, July 29, 2023. (AP Photo/Aisha Schulz)
France coach sends a spoiler alert ahead of the Women's World Cup quarterfinal against Australia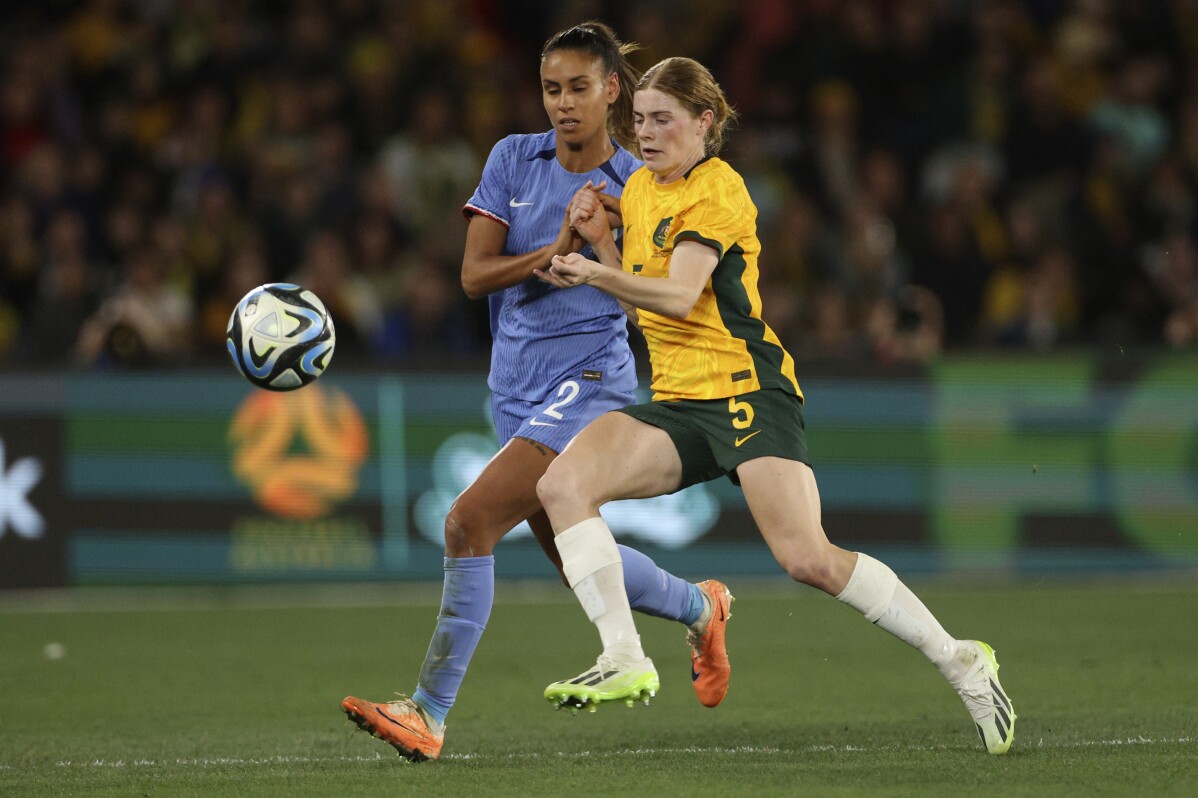 1 of 8

|
France's Maelle Lakrar, left, and Australia's Cortnee Vine compete for the ball during their friendly soccer match in Melbourne, Friday, July 14, 2023, ahead of the Women's World Cup. (AP Photo/Hamish Blair)
1 of 8
France's Maelle Lakrar, left, and Australia's Cortnee Vine compete for the ball during their friendly soccer match in Melbourne, Friday, July 14, 2023, ahead of the Women's World Cup. (AP Photo/Hamish Blair)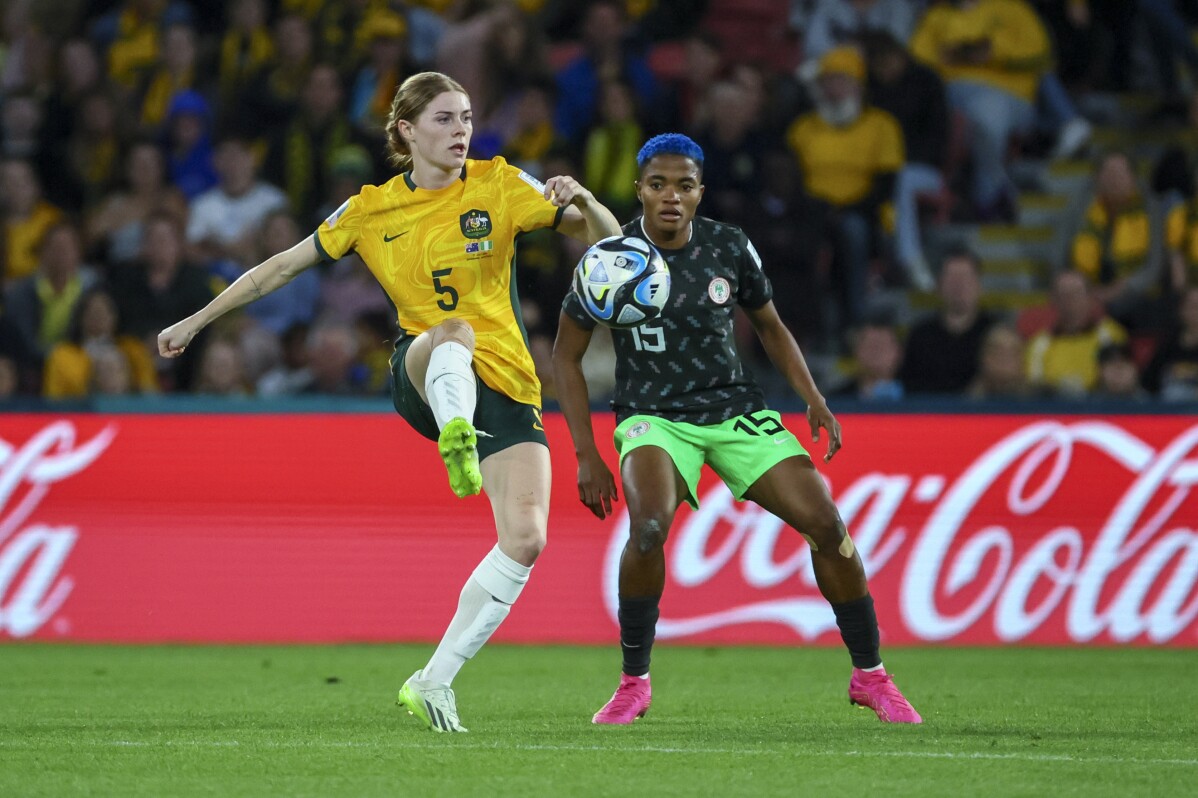 2 of 8

|
Australia's Cortnee Vine, left, shoots the ball next to Nigeria's Rasheedat Ajibade during the Women's World Cup Group B soccer match between Australia and Nigeria In Brisbane, Australia, Thursday, July 27, 2023. (AP Photo/Tertius Pickard)
2 of 8
Australia's Cortnee Vine, left, shoots the ball next to Nigeria's Rasheedat Ajibade during the Women's World Cup Group B soccer match between Australia and Nigeria In Brisbane, Australia, Thursday, July 27, 2023. (AP Photo/Tertius Pickard)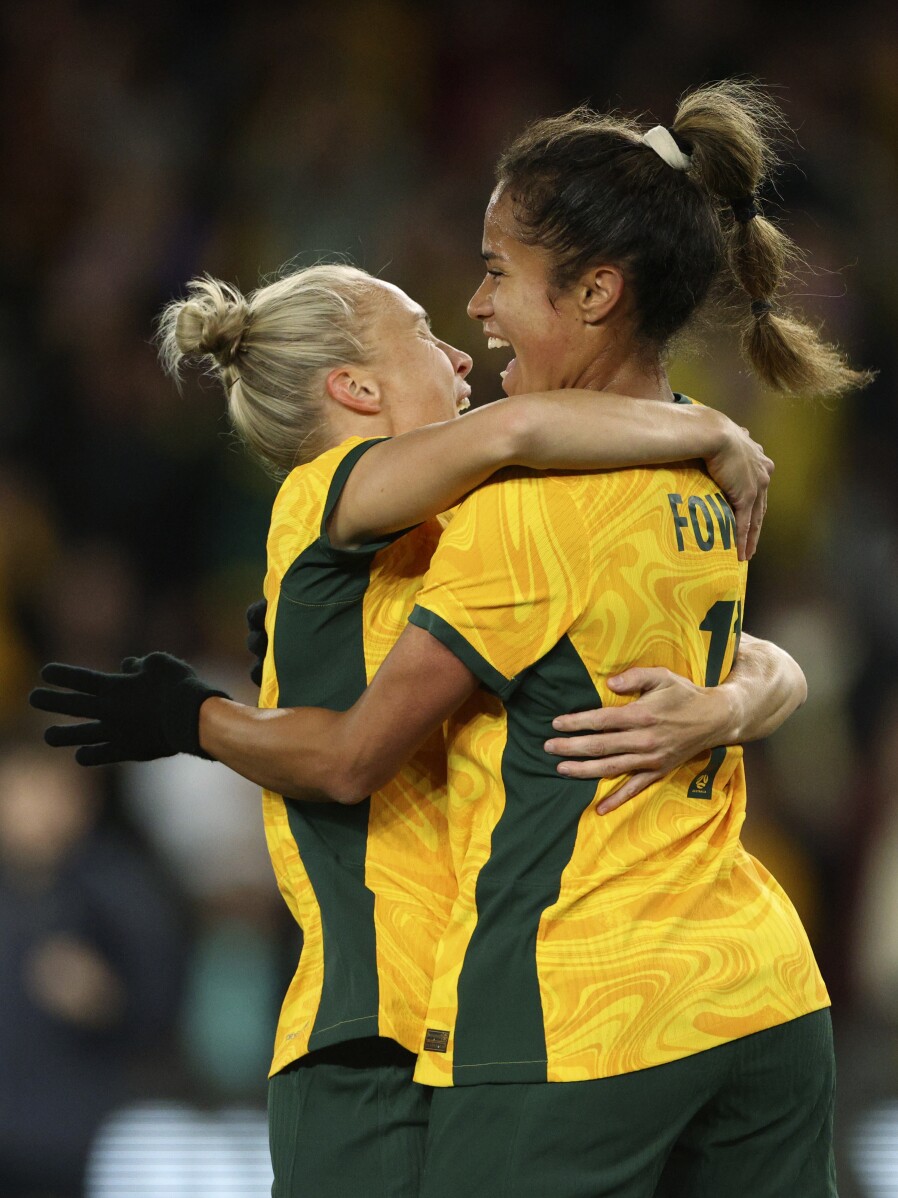 3 of 8

|
Australia's Mary Fowler, right, is congratulated by teammate Tameka Yallop after scoring against France during their friendly soccer match in Melbourne, Friday, July 14, 2023, ahead of the Women's World Cup. (AP Photo/Hamish Blair)
3 of 8
Australia's Mary Fowler, right, is congratulated by teammate Tameka Yallop after scoring against France during their friendly soccer match in Melbourne, Friday, July 14, 2023, ahead of the Women's World Cup. (AP Photo/Hamish Blair)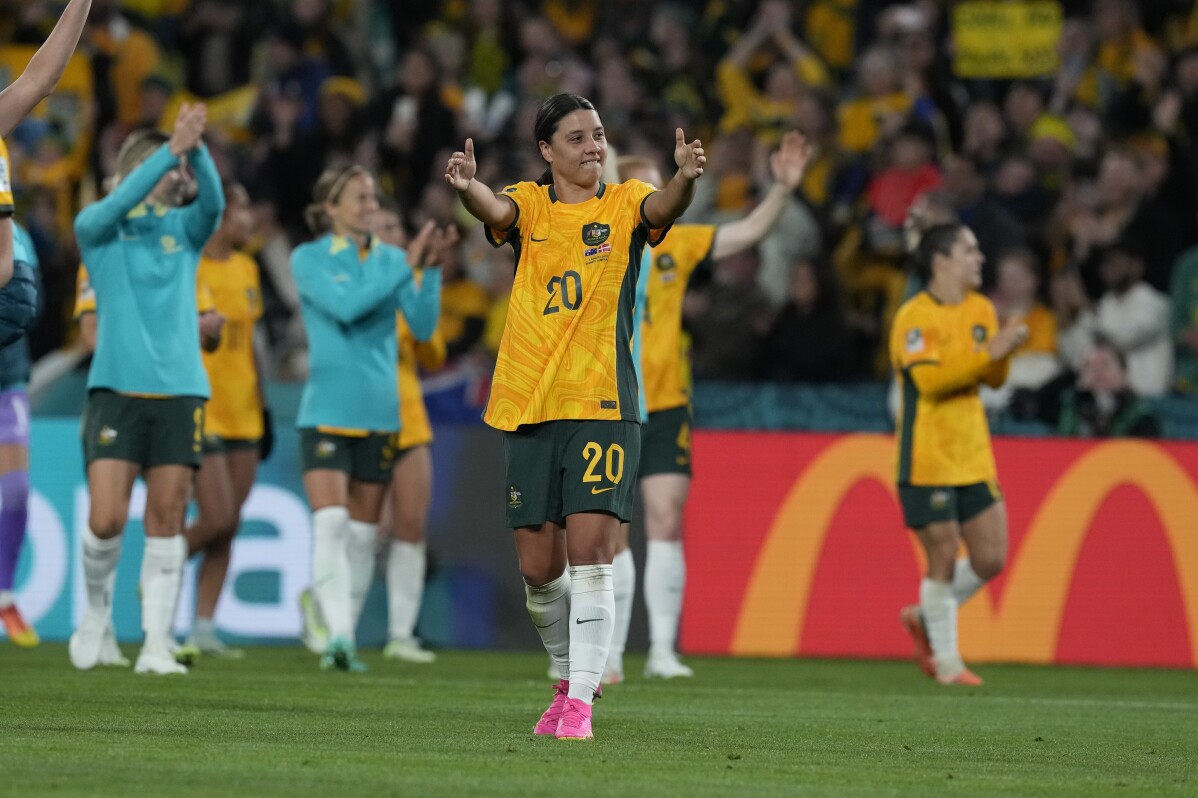 4 of 8

|
Australia's Sam Kerr applauds after the Women's World Cup round of 16 soccer match between Australia and Denmark at Stadium Australia in Sydney, Australia, Monday, Aug. 7, 2023. Australia won 2-0. (AP Photo/Mark Baker)
4 of 8
Australia's Sam Kerr applauds after the Women's World Cup round of 16 soccer match between Australia and Denmark at Stadium Australia in Sydney, Australia, Monday, Aug. 7, 2023. Australia won 2-0. (AP Photo/Mark Baker)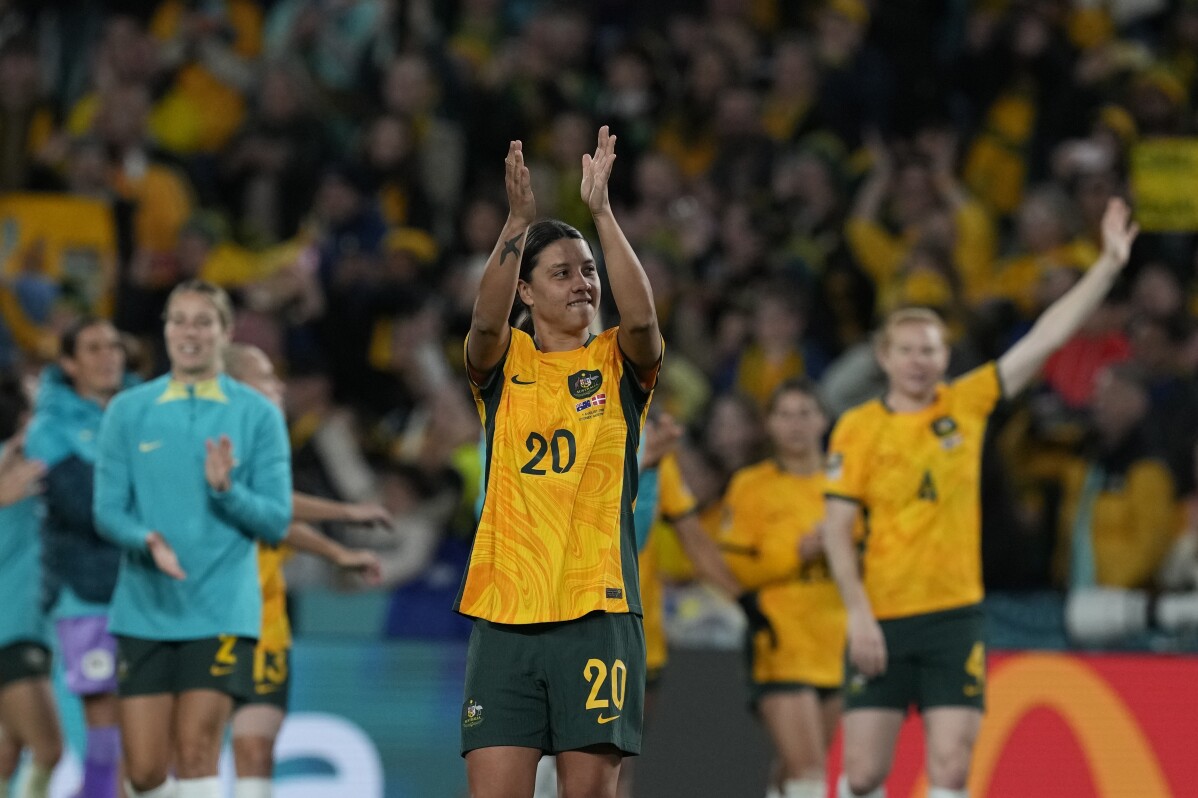 5 of 8

|
Australia's Sam Kerr applauds after the Women's World Cup round of 16 soccer match between Australia and Denmark at Stadium Australia in Sydney, Australia, Monday, Aug. 7, 2023. Australia won 2-0. (AP Photo/Mark Baker)
5 of 8
Australia's Sam Kerr applauds after the Women's World Cup round of 16 soccer match between Australia and Denmark at Stadium Australia in Sydney, Australia, Monday, Aug. 7, 2023. Australia won 2-0. (AP Photo/Mark Baker)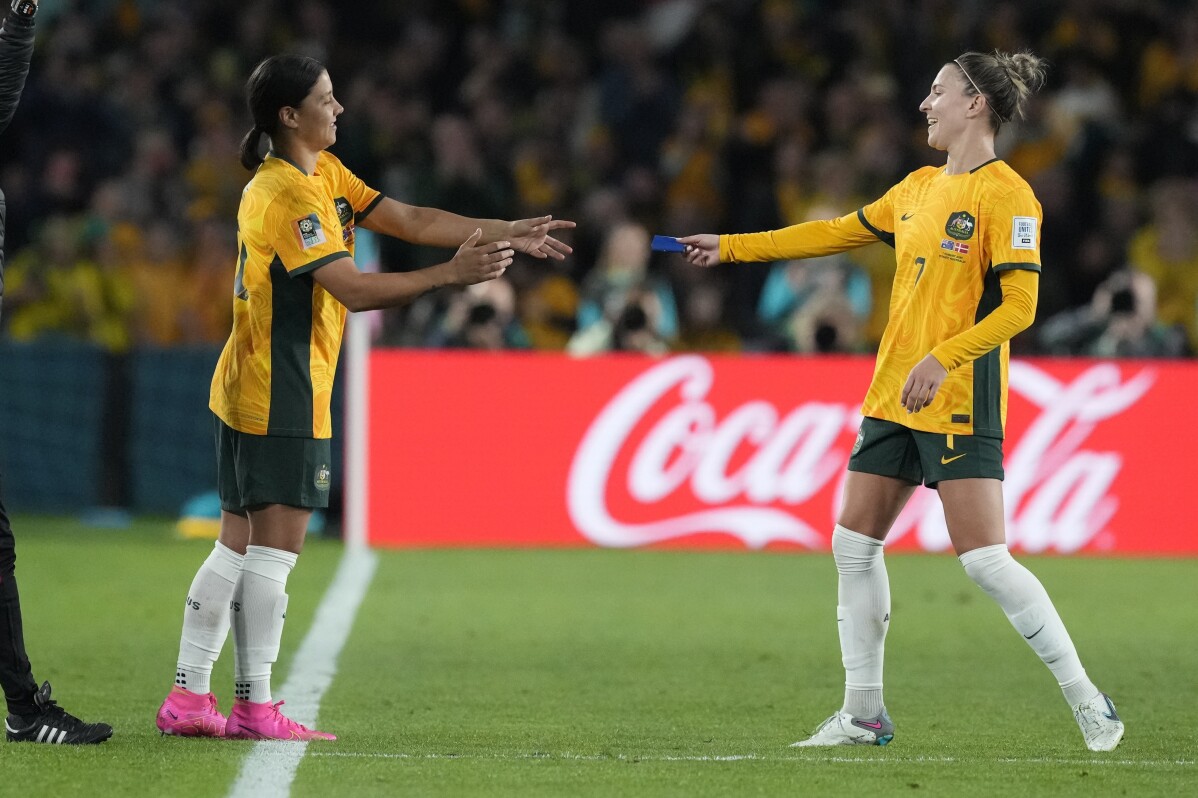 6 of 8

|
Australia's Sam Kerr, left, enters the pitch during the Women's World Cup round of 16 soccer match between Australia and Denmark at Stadium Australia in Sydney, Australia, Monday, Aug. 7, 2023. (AP Photo/Mark Baker)
6 of 8
Australia's Sam Kerr, left, enters the pitch during the Women's World Cup round of 16 soccer match between Australia and Denmark at Stadium Australia in Sydney, Australia, Monday, Aug. 7, 2023. (AP Photo/Mark Baker)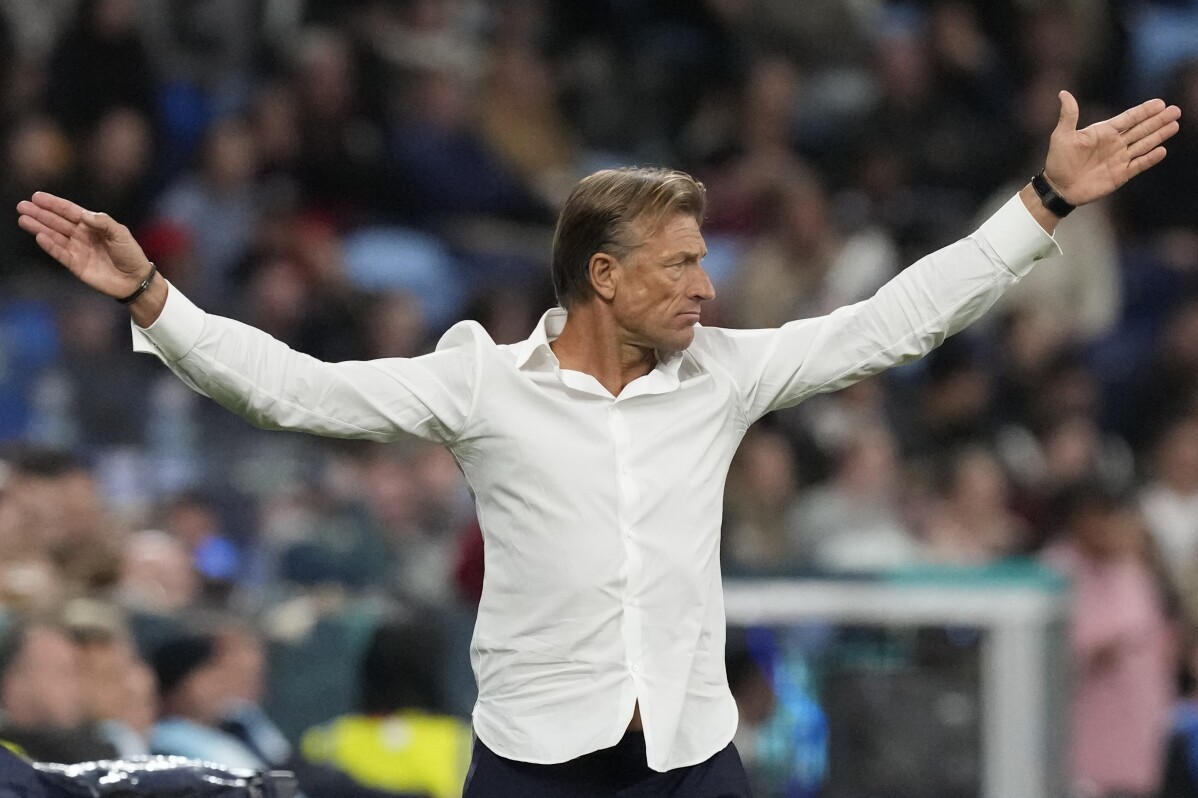 7 of 8

|
France's head coach Herve Renard gestures during the Women's World Cup Group F soccer match between France and Panama at the Sydney Football Stadium in Sydney, Australia, Wednesday, Aug. 2, 2023. (AP Photo/Mark Baker)
7 of 8
France's head coach Herve Renard gestures during the Women's World Cup Group F soccer match between France and Panama at the Sydney Football Stadium in Sydney, Australia, Wednesday, Aug. 2, 2023. (AP Photo/Mark Baker)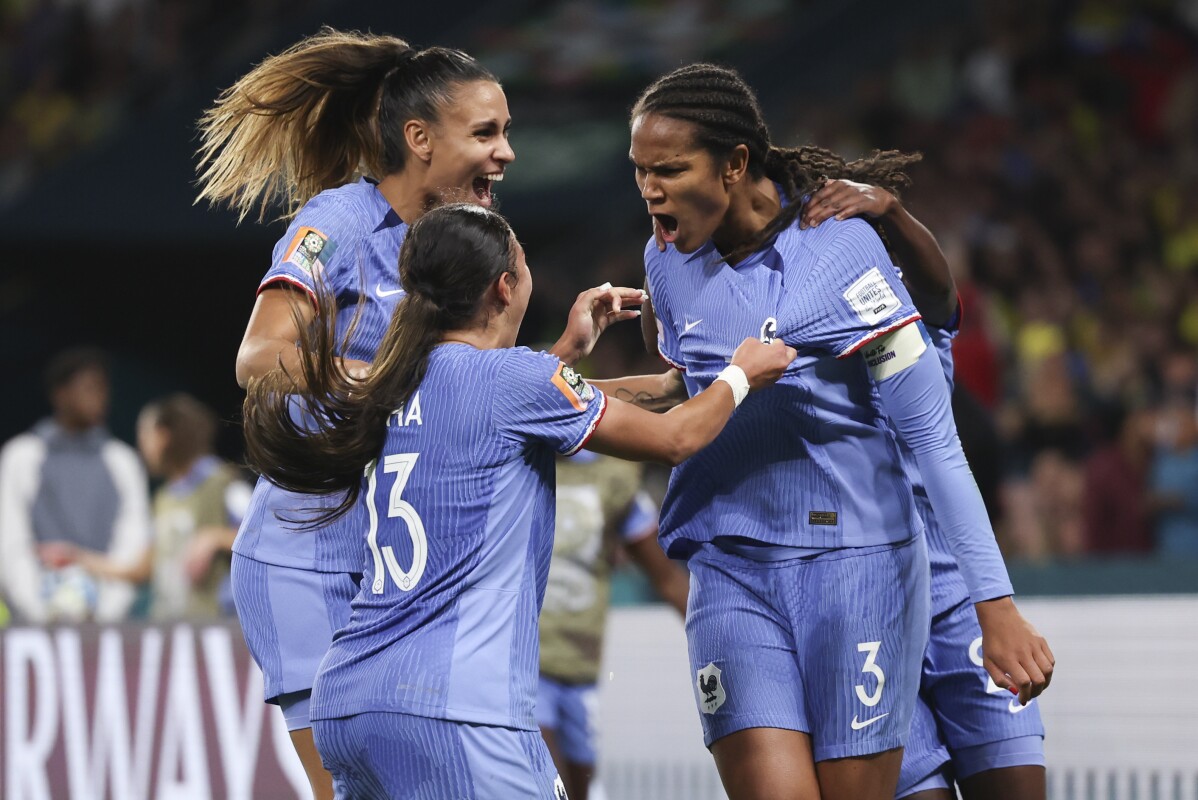 8 of 8

|
France's Wendie Renard, right, celebrates with teammates after scoring her team's second goal during the Women's World Cup Group F soccer match between France and Brazil in Brisbane, Australia, Saturday, July 29, 2023. (AP Photo/Aisha Schulz)
8 of 8
France's Wendie Renard, right, celebrates with teammates after scoring her team's second goal during the Women's World Cup Group F soccer match between France and Brazil in Brisbane, Australia, Saturday, July 29, 2023. (AP Photo/Aisha Schulz)
BRISBANE, Australia (AP) — Spoiler alert. Hervé Renard's French lineup knows what the atmosphere and the tension is like playing a Women's World Cup quarterfinal on home soil, and is projecting that onto Australia's Matildas.
The French hosted the 2019 tournament and lost in the quarterfinals to the U.S. team, which went on to successfully defend its title.
France is coming off a comprehensive 4-0 win over Morocco that set up a quarterfinal against the host team on Saturday in Brisbane, where almost 50,000 people will pack the stadium to continue a tournament that has already beaten France '19 for ticket sales.
Renard said record crowds have no doubt been inspiring the Australian team but he warned: "It can be hugely disappointing."
"And it was for France when they went out to the U.S. in the quarterfinals," Renard said. "We're hoping to put Australia through exactly what France went through when they were the host country.
"We've come with great ambition. And when you come with great ambition, you have to be capable of beating the best teams. There's nothing to fear."
The Australians have what they're considering another advantage, a 1-0 win over the French in a warmup game in Melbourne the week before the World Cup began.
"We learned a lot from that game and now we have images of us versing them in our formation and what we can improve on," Matildas forward Cortnee Vine said on a warm and sunny Wednesday at Matildas training headquarters in Brisbane. "We'll be going back and analyzing our own game against them and just picking apart what we can expose.
"That's a good thing, that we know we can win, but when we play our way, we can beat anyone."
Renard became the first coach to guide teams to wins in both the men's and women's World Cups when veterans Wendie Renard and Eugénie Le Sommer combined to help France beat Brazil 2-1 in Brisbane in the group stage of the tournament.
Fifth-ranked France opened with a scoreless draw against Jamaica and has since won three games, outscoring rivals 12-4, and cruised into the quarterfinals.
The well-traveled Renard, who was hired in March to replace Corinne Diacre in charge of the French women's team, guided Saudi Arabia to a surprise upset over eventual champion Argentina at the men's World Cup in Qatar last year.
If he'd had his way, there wouldn't have been a friendly against Australia so close to the World Cup.
"We just arrived four days before, the players didn't sleep very well — that's no excuse (but) we weren't at 100%," he said. "The setup for this game is completely different.
"We're talking about a quarterfinal at the World Cup. This team knows exactly how much it can sting when your journey is cut short."
France's best result remains a fourth-place finish at the Women's World Cup, and it is 1-2 in quarterfinals.
Australia has lost all three quarterfinals it has played at the Women's World Cup, and was beaten in the round of 16 four years ago in a penalty shootout.
But even without superstar striker Sam Kerr for the entire group stage, and for all but 10 minutes of Australia's 2-0 win over Denmark in the round of 16, the Matildas have handled the pressure except for a 3-2 upset loss to Nigeria here in the group stage. Two of their games have pulled crowds above 75,000, record numbers for women's soccer Down Under. Mary Fowler has played a larger role than expected and Caitlin Foord has led the attack in the absence of the injured Kerr, who is expected to play a bigger role from now.
And regardless of what Renard says, Australia is framing up the win in Melbourne last month as an advantage, particularly as it's France's only loss in 11 games.
Australia's veteran midfielder Tameka Yallop said France had gathered moment but still had vulnerabilities.
"They've made some changes to their formation and the way they played from when they played us, and in their group as well," Yallop said. "The focus is just really the finer details and how we can play our best game against them."
___
AP Women's World Cup coverage: https://apnews.com/hub/fifa-womens-world-cup