Caicedo, James, Fowler; these are the rising stars of the Women's World Cup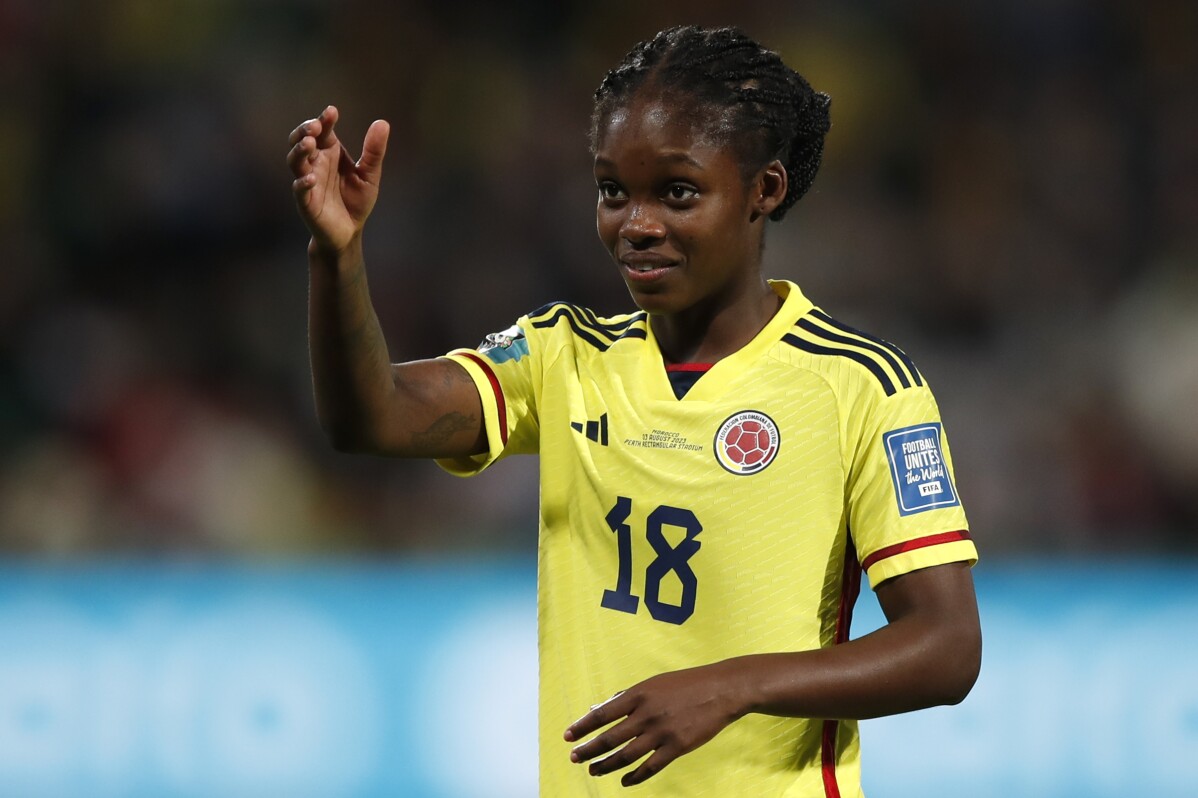 1 of 8

|
Colombia's Linda Caicedo gestures during the Women's World Cup Group H soccer match between Morocco and Colombia in Perth, Australia, Thursday, Aug. 3, 2023. (AP Photo/Gary Day)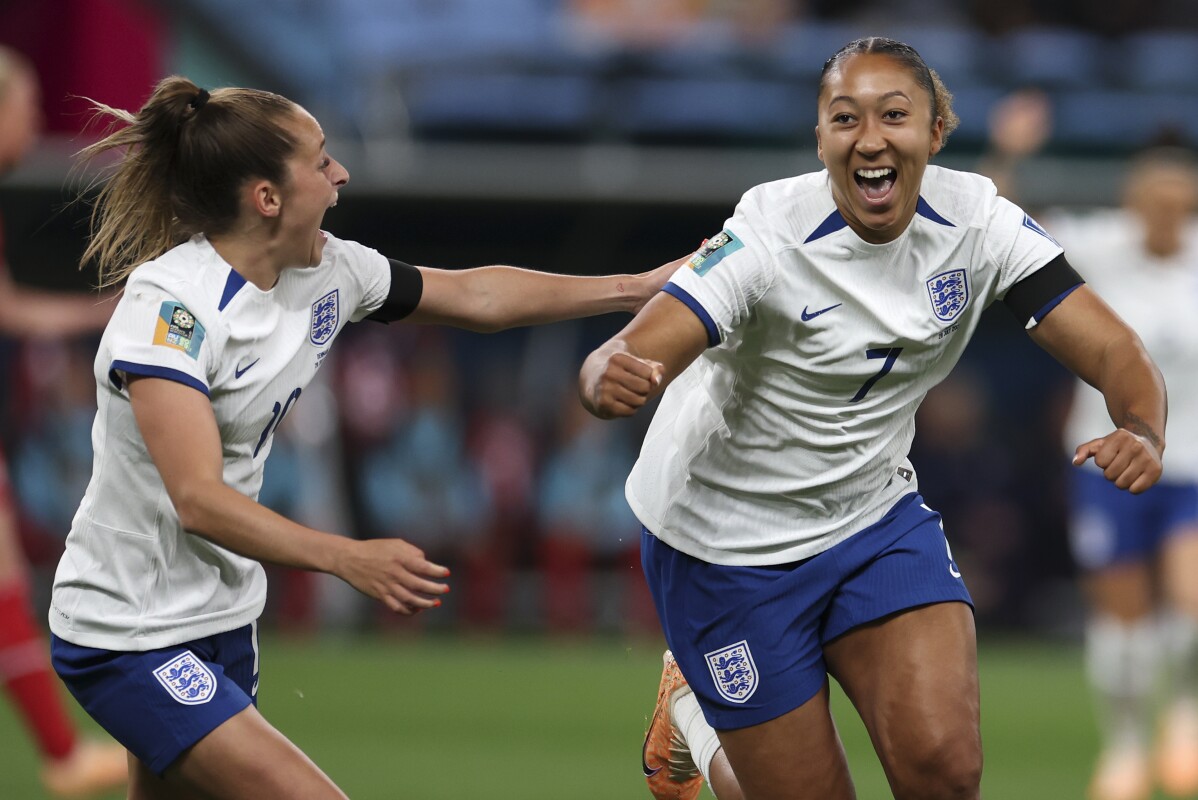 2 of 8

|
England's Lauren James, right, celebrates a first half goal with teammate England's Ella Toone during the Women's World Cup Group D soccer match between England and Denmark at Sydney Football Stadium in Sydney, Australia, Friday, July 28, 2023. (AP Photo/Sophie Ralph)
3 of 8

|
Australia's Mary Fowler, right, vies for the ball with Ireland's Ruesha Littlejohn during the Women's World Cup soccer match between Australia and Ireland at Stadium Australia in Sydney, Australia, Thursday, July 20, 2023. (AP Photo/Rick Rycroft)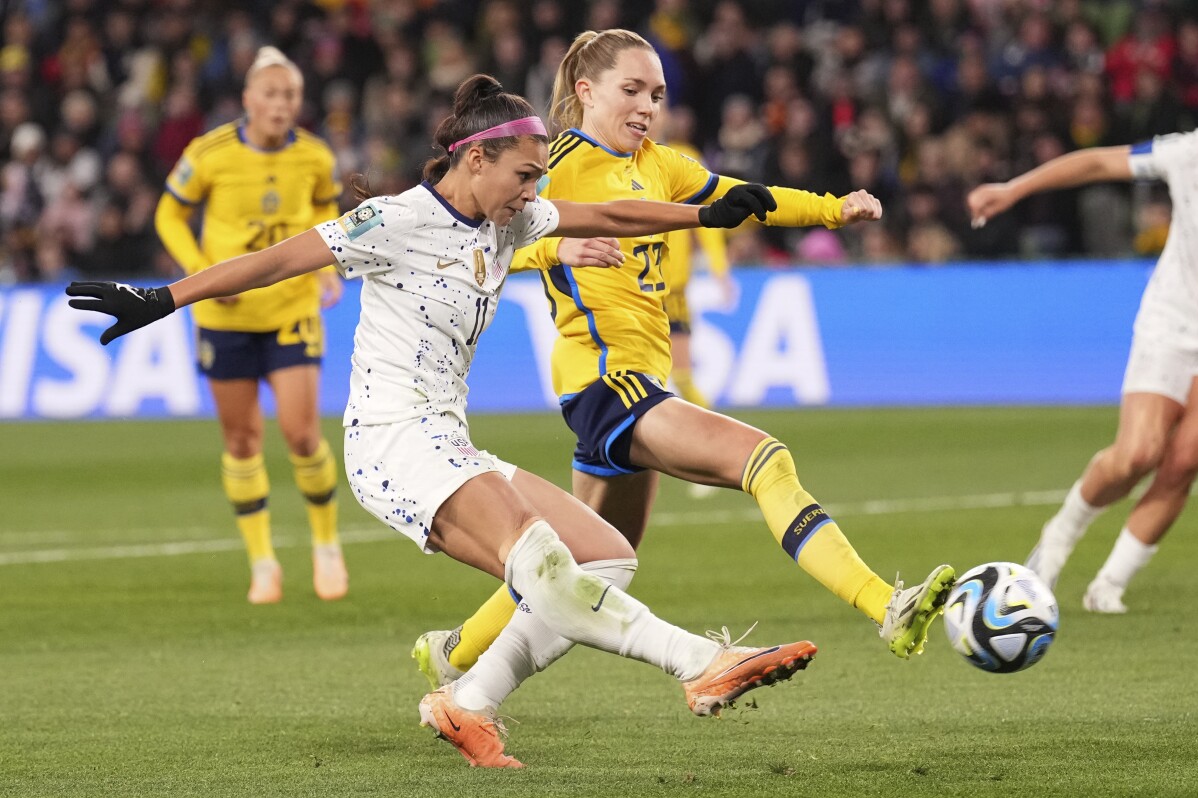 4 of 8

|
United States' Sophia Smith, left, takes a shot at goal during the Women's World Cup round of 16 soccer match between Sweden and the United States in Melbourne, Australia, Sunday, Aug. 6, 2023. (AP Photo/Scott Barbour)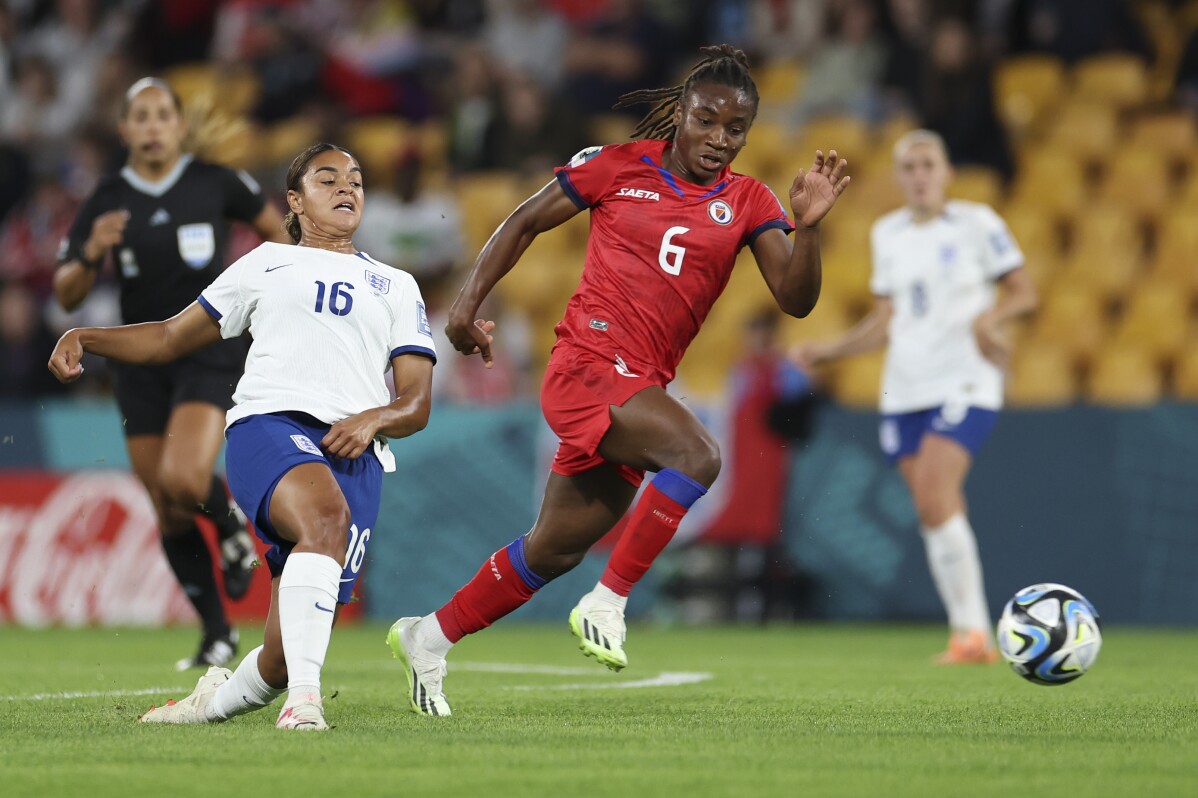 5 of 8

|
Haiti's Melchie Dumornay, right, gets away from England's Jessica Carter during the Women's World Cup Group D soccer match between England and Haiti in Brisbane, Australia, Saturday, July 22, 2023. (AP Photo/Katie Tucker)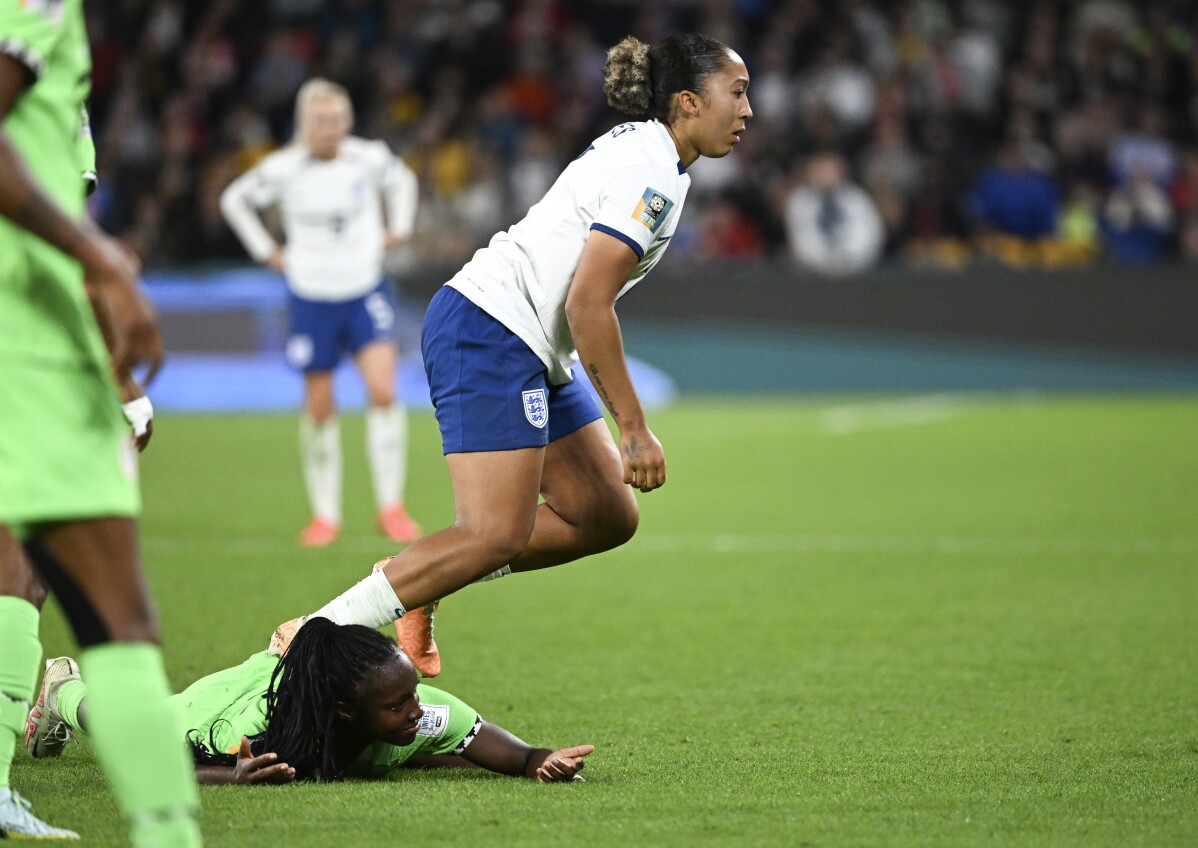 6 of 8

|
Lauren James of England steps on Michelle Alozie of Nigeria during the Women's World Cup round of 16 soccer match between England and Nigeria in Brisbane, Monday, Aug. 7, 2023. James stepped on the Nigerian defender late in a tense round-of-16 game and received a red card that could rule her out of the remainder of the Women's World Cup. (Darren England/AAP Image via AP)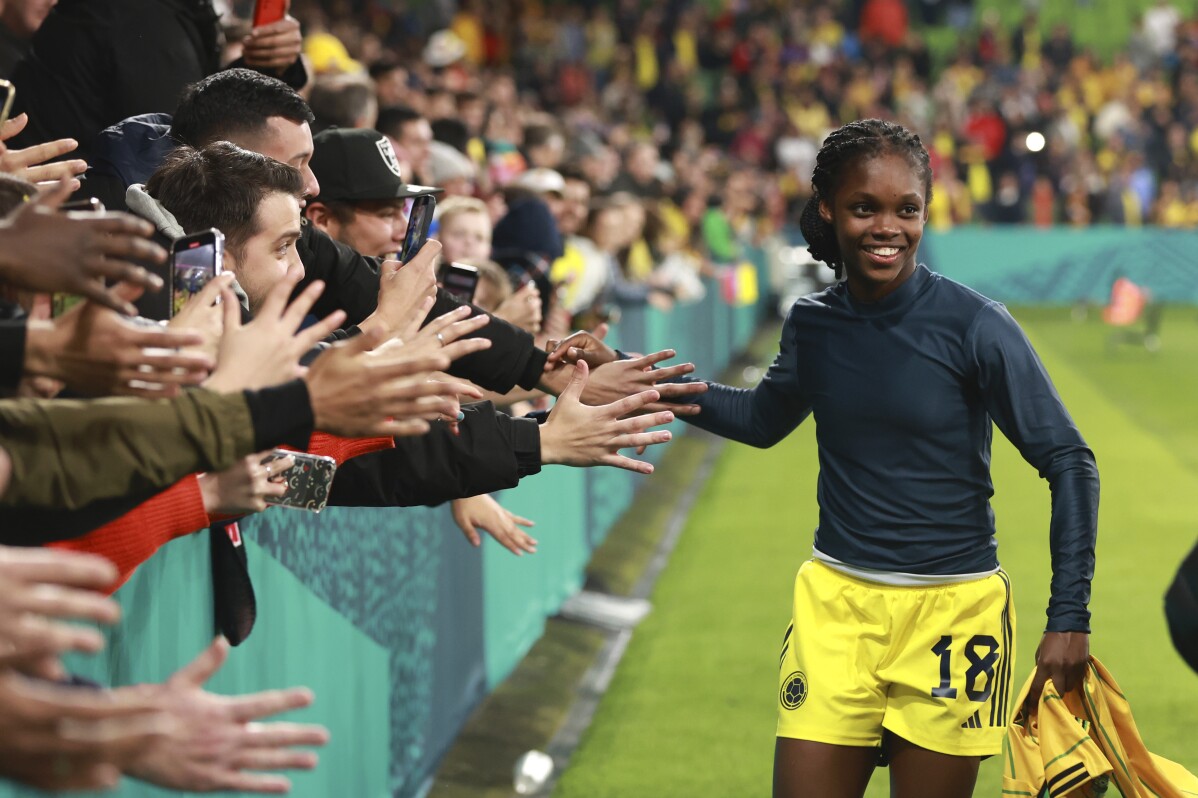 7 of 8

|
Colombia's Linda Caicedo celebrates at the end of the Women's World Cup round of 16 soccer match between Jamaica and Colombia in Melbourne, Australia, Tuesday, Aug. 8, 2023. (AP Photo/Hamish Blair)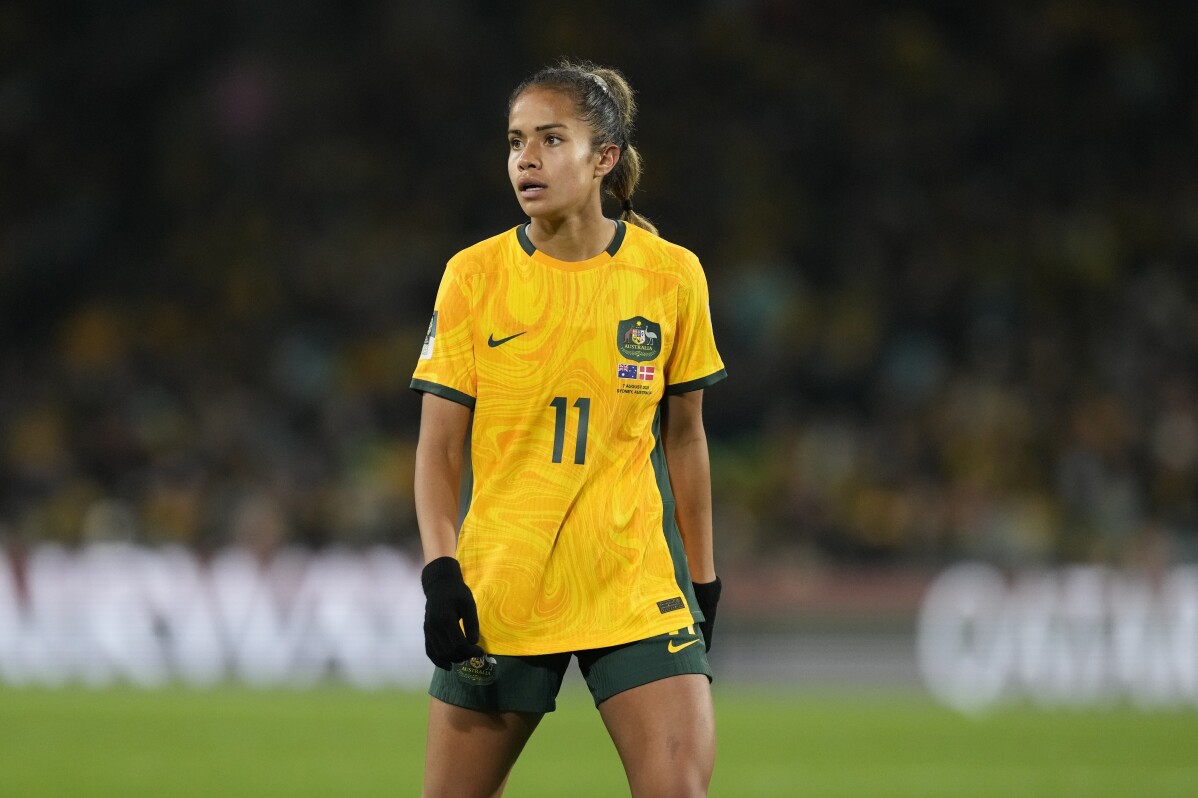 8 of 8

|
Australia's Mary Fowler during the Women's World Cup round of 16 soccer match between Australia and Denmark at Stadium Australia in Sydney, Australia, Monday, Aug. 7, 2023. (AP Photo/Mark Baker)
Caicedo, James, Fowler; these are the rising stars of the Women's World Cup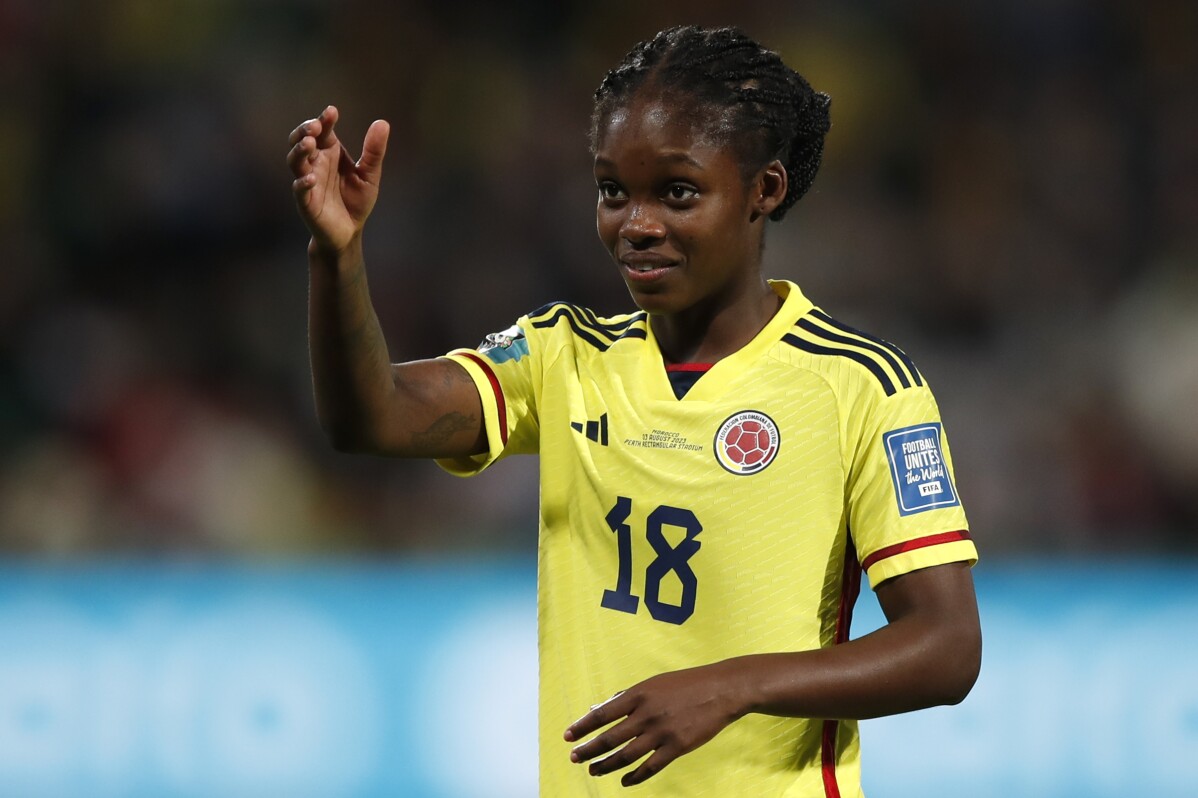 1 of 8

|
Colombia's Linda Caicedo gestures during the Women's World Cup Group H soccer match between Morocco and Colombia in Perth, Australia, Thursday, Aug. 3, 2023. (AP Photo/Gary Day)
1 of 8
Colombia's Linda Caicedo gestures during the Women's World Cup Group H soccer match between Morocco and Colombia in Perth, Australia, Thursday, Aug. 3, 2023. (AP Photo/Gary Day)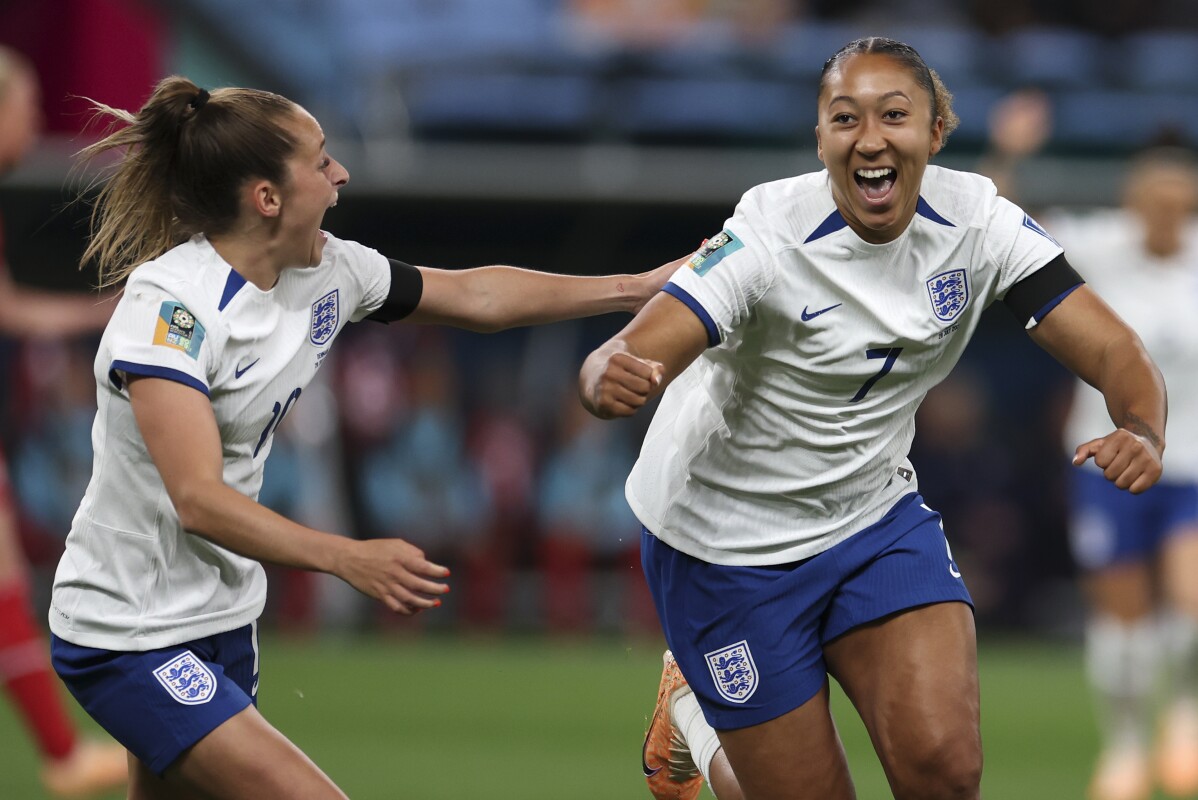 2 of 8

|
England's Lauren James, right, celebrates a first half goal with teammate England's Ella Toone during the Women's World Cup Group D soccer match between England and Denmark at Sydney Football Stadium in Sydney, Australia, Friday, July 28, 2023. (AP Photo/Sophie Ralph)
2 of 8
England's Lauren James, right, celebrates a first half goal with teammate England's Ella Toone during the Women's World Cup Group D soccer match between England and Denmark at Sydney Football Stadium in Sydney, Australia, Friday, July 28, 2023. (AP Photo/Sophie Ralph)
3 of 8

|
Australia's Mary Fowler, right, vies for the ball with Ireland's Ruesha Littlejohn during the Women's World Cup soccer match between Australia and Ireland at Stadium Australia in Sydney, Australia, Thursday, July 20, 2023. (AP Photo/Rick Rycroft)
3 of 8
Australia's Mary Fowler, right, vies for the ball with Ireland's Ruesha Littlejohn during the Women's World Cup soccer match between Australia and Ireland at Stadium Australia in Sydney, Australia, Thursday, July 20, 2023. (AP Photo/Rick Rycroft)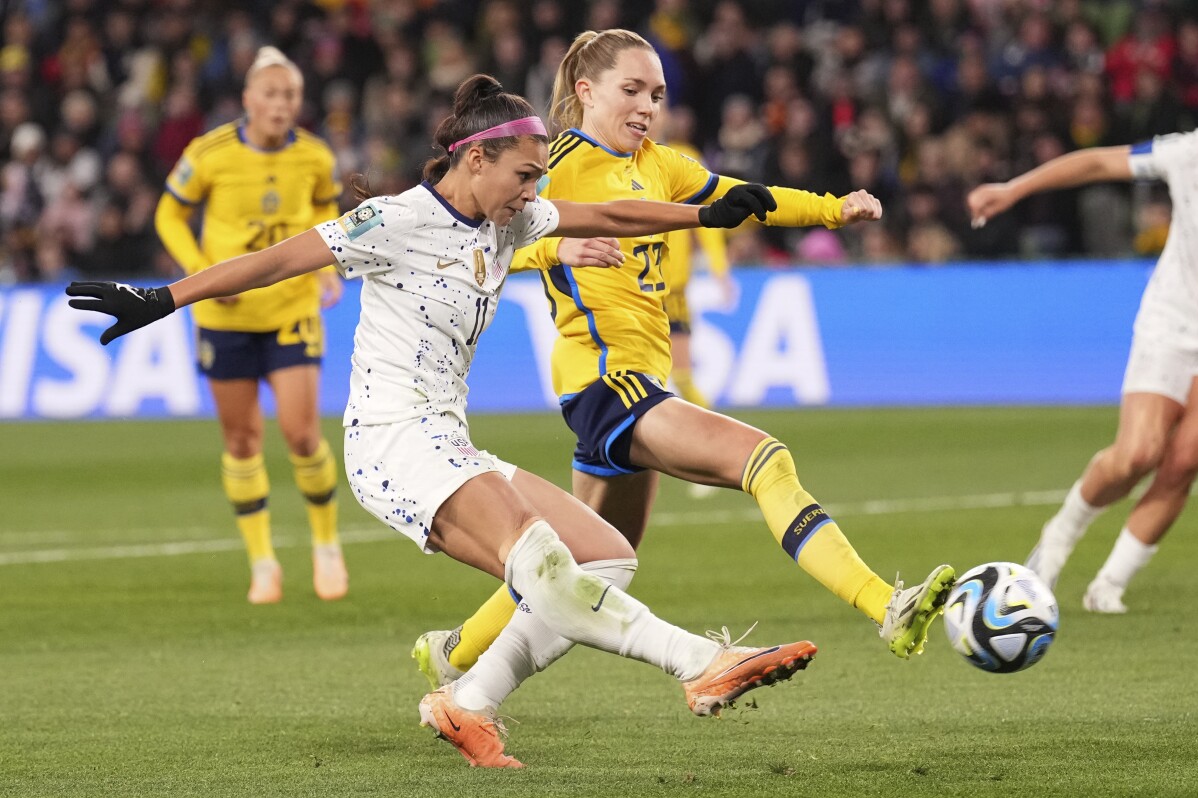 4 of 8

|
United States' Sophia Smith, left, takes a shot at goal during the Women's World Cup round of 16 soccer match between Sweden and the United States in Melbourne, Australia, Sunday, Aug. 6, 2023. (AP Photo/Scott Barbour)
4 of 8
United States' Sophia Smith, left, takes a shot at goal during the Women's World Cup round of 16 soccer match between Sweden and the United States in Melbourne, Australia, Sunday, Aug. 6, 2023. (AP Photo/Scott Barbour)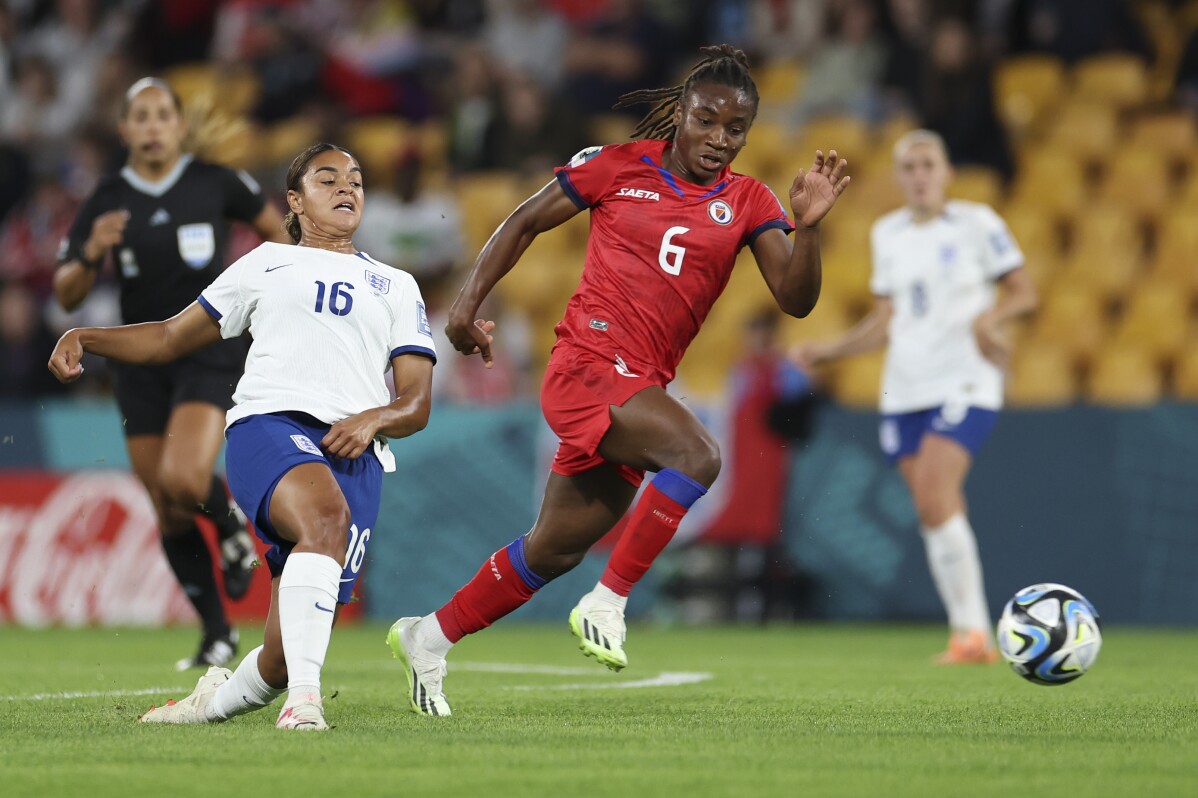 5 of 8

|
Haiti's Melchie Dumornay, right, gets away from England's Jessica Carter during the Women's World Cup Group D soccer match between England and Haiti in Brisbane, Australia, Saturday, July 22, 2023. (AP Photo/Katie Tucker)
5 of 8
Haiti's Melchie Dumornay, right, gets away from England's Jessica Carter during the Women's World Cup Group D soccer match between England and Haiti in Brisbane, Australia, Saturday, July 22, 2023. (AP Photo/Katie Tucker)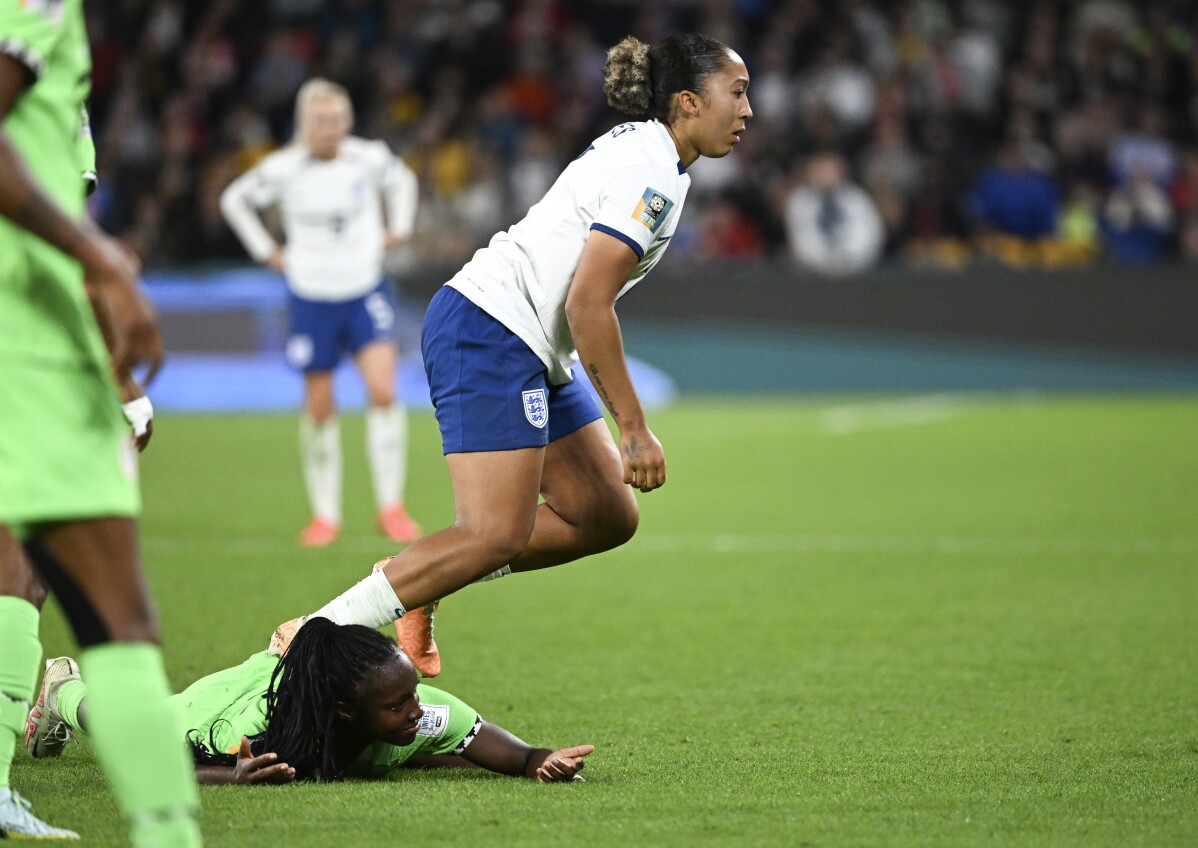 6 of 8

|
Lauren James of England steps on Michelle Alozie of Nigeria during the Women's World Cup round of 16 soccer match between England and Nigeria in Brisbane, Monday, Aug. 7, 2023. James stepped on the Nigerian defender late in a tense round-of-16 game and received a red card that could rule her out of the remainder of the Women's World Cup. (Darren England/AAP Image via AP)
6 of 8
Lauren James of England steps on Michelle Alozie of Nigeria during the Women's World Cup round of 16 soccer match between England and Nigeria in Brisbane, Monday, Aug. 7, 2023. James stepped on the Nigerian defender late in a tense round-of-16 game and received a red card that could rule her out of the remainder of the Women's World Cup. (Darren England/AAP Image via AP)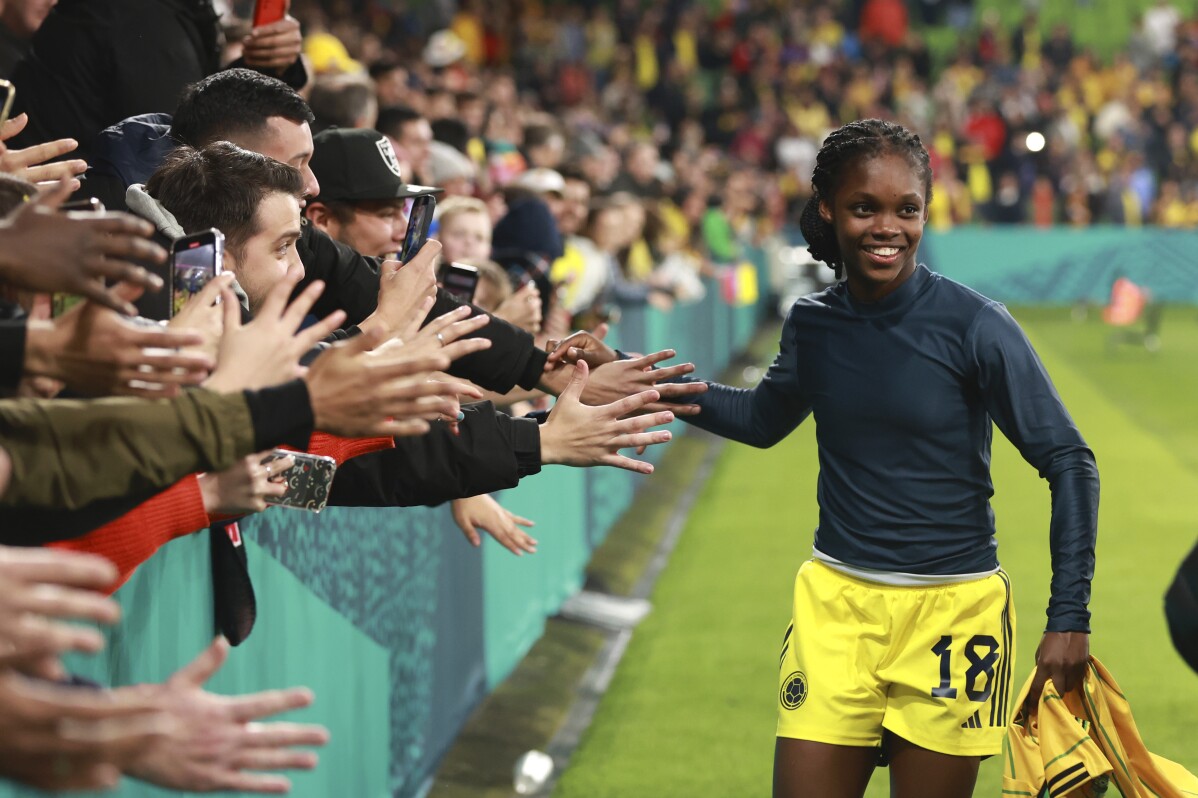 7 of 8

|
Colombia's Linda Caicedo celebrates at the end of the Women's World Cup round of 16 soccer match between Jamaica and Colombia in Melbourne, Australia, Tuesday, Aug. 8, 2023. (AP Photo/Hamish Blair)
7 of 8
Colombia's Linda Caicedo celebrates at the end of the Women's World Cup round of 16 soccer match between Jamaica and Colombia in Melbourne, Australia, Tuesday, Aug. 8, 2023. (AP Photo/Hamish Blair)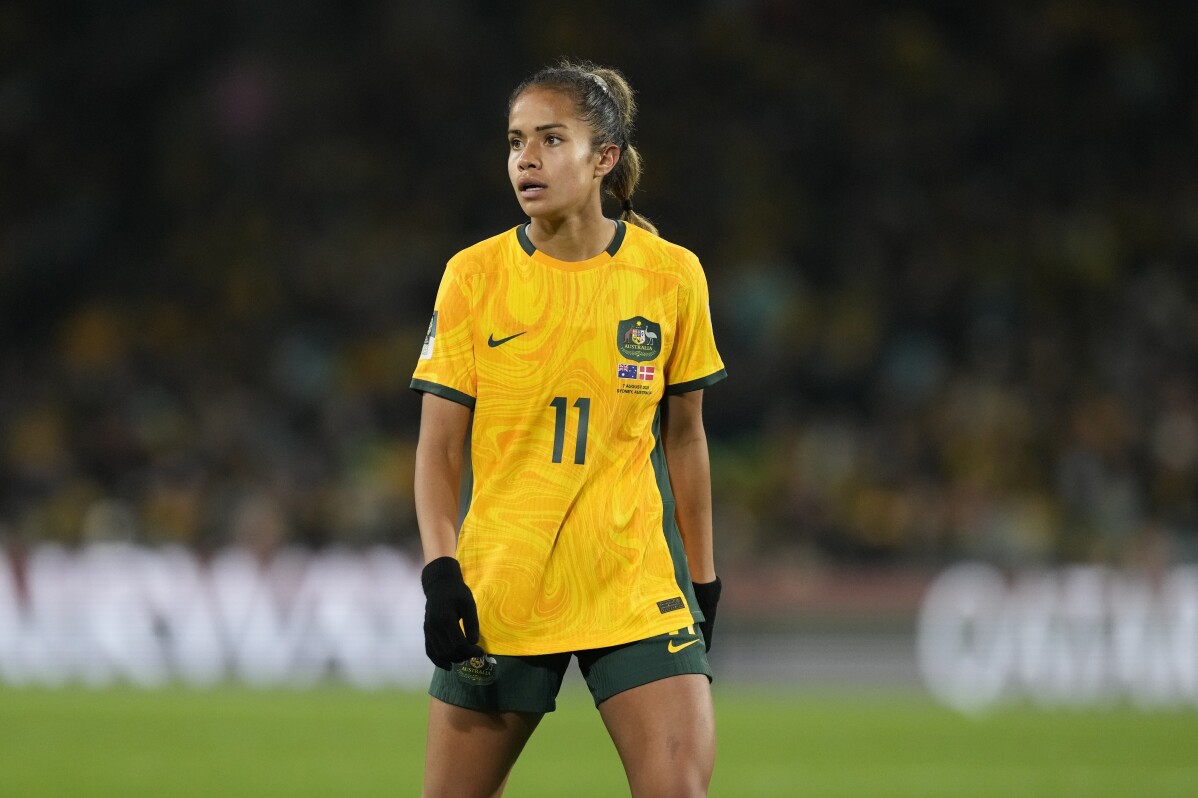 8 of 8

|
Australia's Mary Fowler during the Women's World Cup round of 16 soccer match between Australia and Denmark at Stadium Australia in Sydney, Australia, Monday, Aug. 7, 2023. (AP Photo/Mark Baker)
8 of 8
Australia's Mary Fowler during the Women's World Cup round of 16 soccer match between Australia and Denmark at Stadium Australia in Sydney, Australia, Monday, Aug. 7, 2023. (AP Photo/Mark Baker)
SYDNEY (AP) — A new generation of stars has emerged at the Women's World Cup.
While the likes of Brazil's Marta, Canada's Christine Sinclair and America's Megan Rapinoe have played in the tournament for the last time, there is a rich flow of talent coming through to take their places.
"We are on the cusp, and what a special moment to be able to sit in a stadium and watch a superstar like Marta and watch her final matches for her national team at a World Cup and watch an up and comer like Lauren James," FIFA's head of women's football, Sarai Bareman, told The Associated Press. "Those young athletes that are coming through now, they're picking up the challenge from those senior players."
England forward James and Colombia star Linda Caicedo have been among the brightest talents in the tournament so far.
South Korea's Casey Phair, meanwhile, made history by becoming the youngest person to play at a World Cup when she went on against Colombia in the group stage, aged 16 years and 26 days. While she only had a cameo role at this tournament, she is a name to watch in the future.
The AP takes a look at the rising stars of the World Cup:
LAUREN JAMES (England)
It has been a tournament of highs and lows for Chelsea star James.
Having been tipped to be the Lionesses' breakout star at the World Cup, she started on the bench for their opening game against Haiti.
She started the following game against Denmark and scored within six minutes to earn England a 1-0 win.
James wasn't finished yet. She scored two stunning goals and assisted on three others in a 6-1 win against China. Her side-footed volley was one of the goals of the tournament so far and she was only denied a hat trick when a potential wonder goal was ruled out on VAR review for offside.
But the 21-year-old forward was sent off in England's round-of-16 game after receiving a red card for standing on Nigeria defender Michelle Alozie. She will miss the quarterfinals because of a mandatory minimum one-game ban. The suspension could also be extended after a review by a FIFA disciplinary committee.
LINDA CAICEDO (Colombia)
Caicedo has lit up the tournament with her dazzling footwork and goals.
Her big moment came in her country's 2-1 win against Germany in the group stages when beating two players in the box and curling a shot into the top corner.
Caicedo's performances have helped her team advance to the quarterfinals of the World Cup for the first time, with Colombia being the only team from the Americas left in the tournament.
But there have also been concerns around the health of the 18-year-old Real Madrid forward.
Caicedo, who recovered after being diagnosed with ovarian cancer at the age of 15, has shown signs of serious fatigue and exhaustion at times during the tournament. She was seen holding her chest and then dropping to the ground during a practice session. In a group game against Germany, she dropped to her knees behind play before lying face down on the grass as team medical staff went to her aid.
Precautionary medical tests came back clear, and there were no obvious signs of problems in her following two games against Morocco and Jamaica.
A child sensation, who made her senior debut at 14, Caicedo has lived up to her billing as one of the brightest prospects in soccer at this World Cup and will pose a big attacking threat to England in the quarterfinals.
MARY FOWLER (Australia)
In the absence of star striker Sam Kerr for most of the tournament so far, Australia has had to look to others for inspiration.
Step forward Manchester City striker Fowler, who has grown into the World Cup and produced arguably her best performance of the competition in Australia's 2-0 win over Denmark to advance to the quarterfinals.
Fowler's perfectly-weighted pass set up Caitlin Foord's opening goal in the game in Sydney. She was involved again as Hayley Raso scored in the second half.
The 20-year-old Fowler was on target herself in Australia's 4-0 win over Olympic champion Canada in its final group game.
"I think Mary has been class this whole tournament. When she's on the ball she's going to create or get a shot off or score a goal," Foord said.
It is not clear how much of a role Fowler will play once Kerr fully recovers from a calf injury she sustained on the eve of the World Cup, but it will be difficult for Australia coach Tony Gustavsson to bench her.
SOPHIA SMITH (United States)
It all started so well for Smith, who is part of a new generation of American stars.
She scored twice in the United States' opening 3-0 win over Vietnam, but struggled along with her teammates after that.
Smith didn't score again in the tournament as the back-to-back defending champions were eliminated in the round of 16 on penalty kicks against Sweden. To make matters worse, she missed her spot kick in the shootout and was in tears as the Americans made an early exit.
The 22-year-old Smith can still return to her peak despite failing to live up to expectations placed on her heading into the tournament.
The fact that U.S. coach Vlatko Andonovski kept Smith on for the entire knockout match against Sweden, while substituting Alex Morgan in extra time, was evidence that she is part of the future for the country.
MELCHIE DUMORNAY (Haiti)
Dumornay was a near-constant threat to England in Haiti's opening game on debut at the World Cup.
While Haiti lost 1-0 after a twice-taken Georgia Stanway penalty, the 19-year-old Dumornay repeatedly had the Lionesses on the back foot.
Haiti, ranked 53rd by FIFA, was eliminated after finishing bottom of Group D. It lost all three of its games and was one of only two teams not to score in the tournament, along with Vietnam.
But Dumornay, who will play for European powerhouse Lyon next season, appears to be a star in the making.
___
James Robson is at https://twitter.com/jamesalanrobson
___
More AP Women's World Cup coverage: https://apnews.com/hub/fifa-womens-world-cup