Marta, Sinclair and Rapinoe among the generational talents retiring after Women's World Cup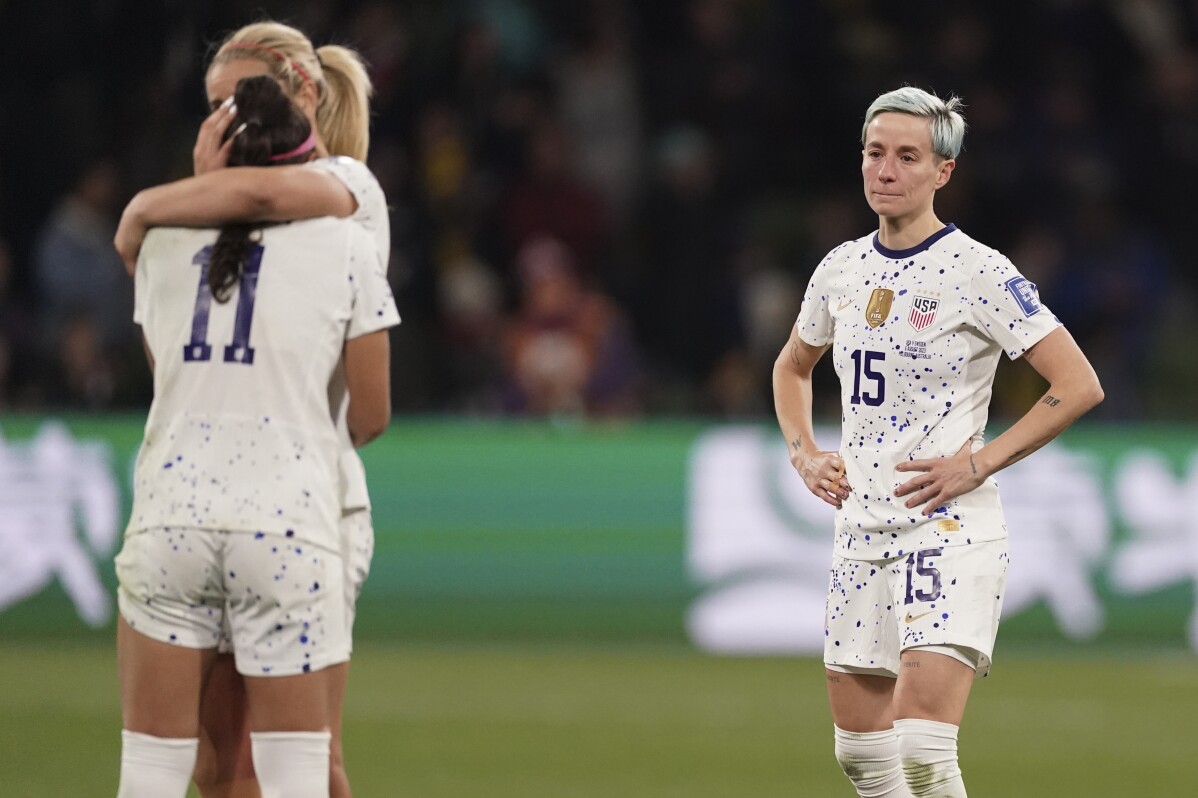 1 of 8

|
United States' Megan Rapinoe, right, reacts with her teammates following their loss to Sweden in their Women's World Cup round of 16 soccer match in Melbourne, Australia, Sunday, Aug. 6, 2023. (AP Photo/Scott Barbour)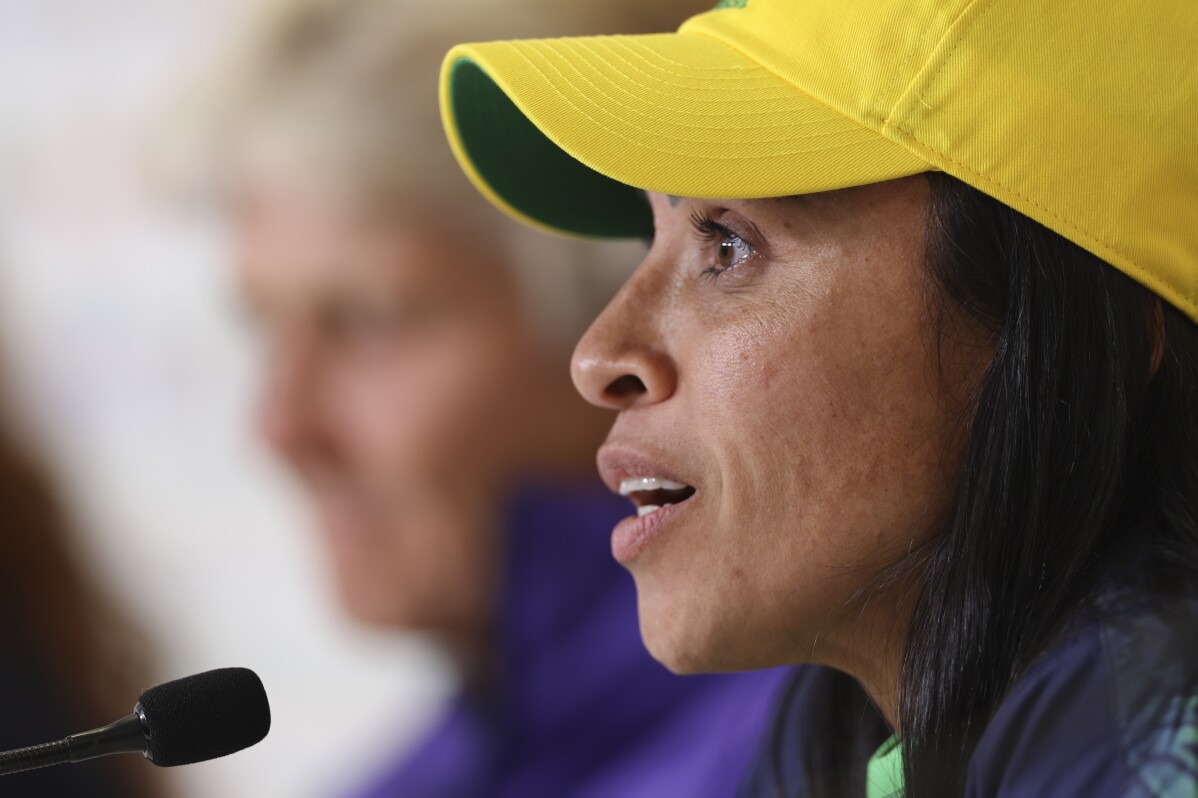 2 of 8

|
Brazil's Marta reacts at a news conference ahead of what could be her last Women's World Cup match in Melbourne, Australia, Tuesday, Aug. 1, 2023. "When I started playing, I didn't have an idol - a female idol. (AP Photo/Victoria Adkins)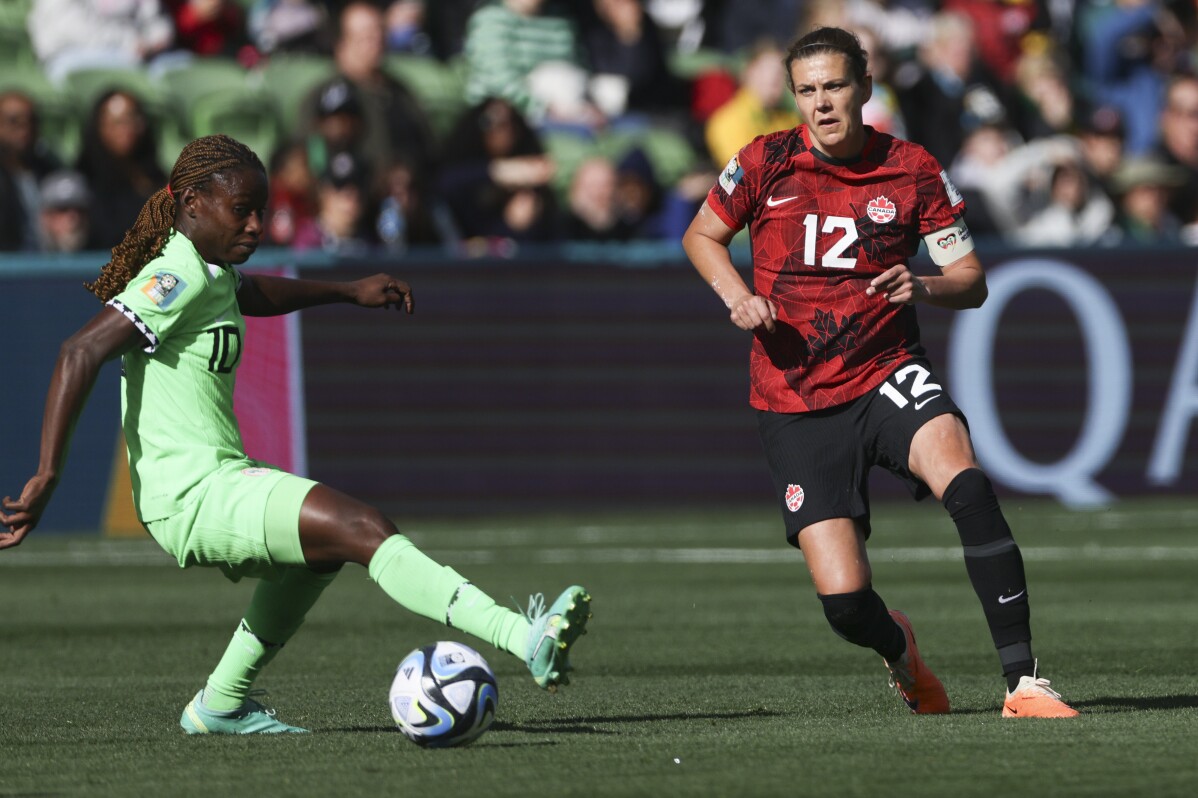 3 of 8

|
Nigeria's Christy Ucheibe, left, and Canada's Christine Sinclair compete for the ball during the Women's World Cup Group B soccer match between Nigeria and Canada in Melbourne, Australia, Friday, July 21, 2023. (AP Photo/Hamish Blair)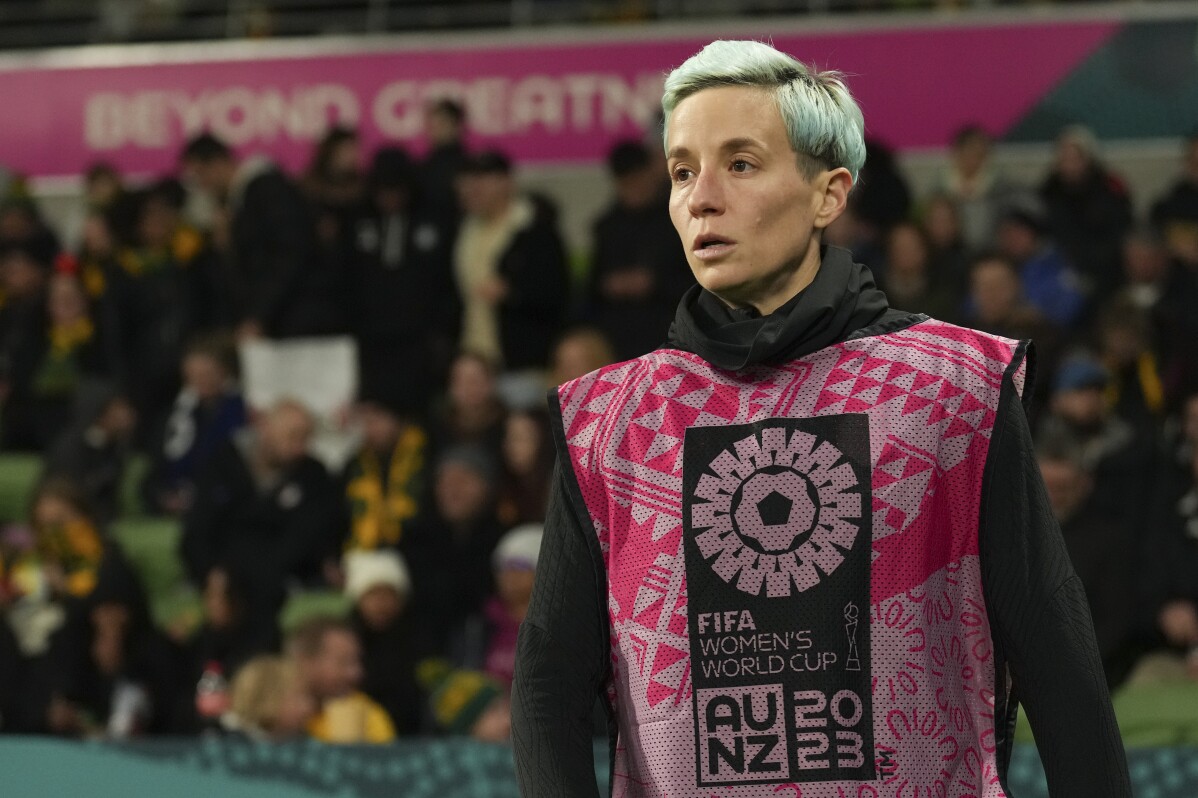 4 of 8

|
United States' Megan Rapinoe warms up on the sideline during the Women's World Cup round of 16 soccer match between Sweden and the United States in Melbourne, Australia, Sunday, Aug. 6, 2023. (AP Photo/Scott Barbour)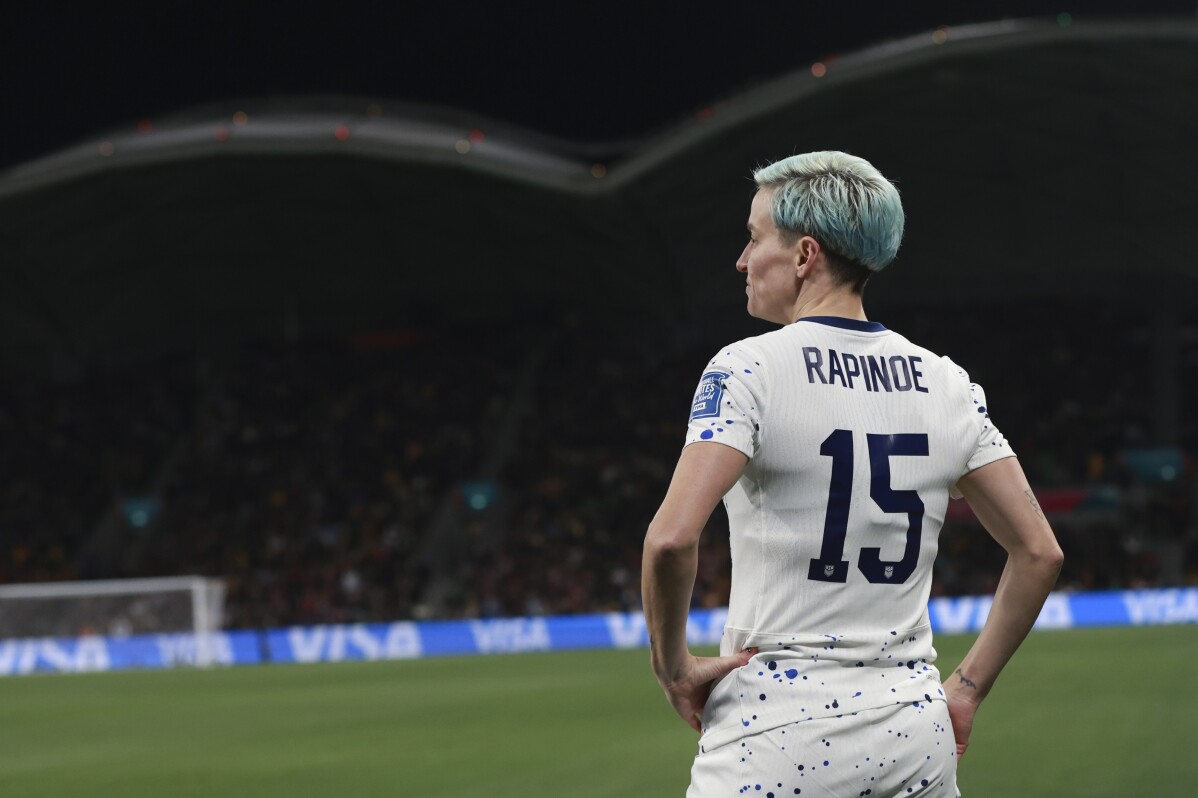 5 of 8

|
United States' Megan Rapinoe stands in the corner during the Women's World Cup round of 16 soccer match between Sweden and the United States in Melbourne, Australia, Sunday, Aug. 6, 2023. (AP Photo/Hamish Blair)
6 of 8

|
Argentina's Estefania Banini gestures to supporters following the Women's World Cup Group G soccer match between Argentina and Sweden in Hamilton, New Zealand, Wednesday, Aug. 2, 2023. (AP Photo/Andrew Cornaga)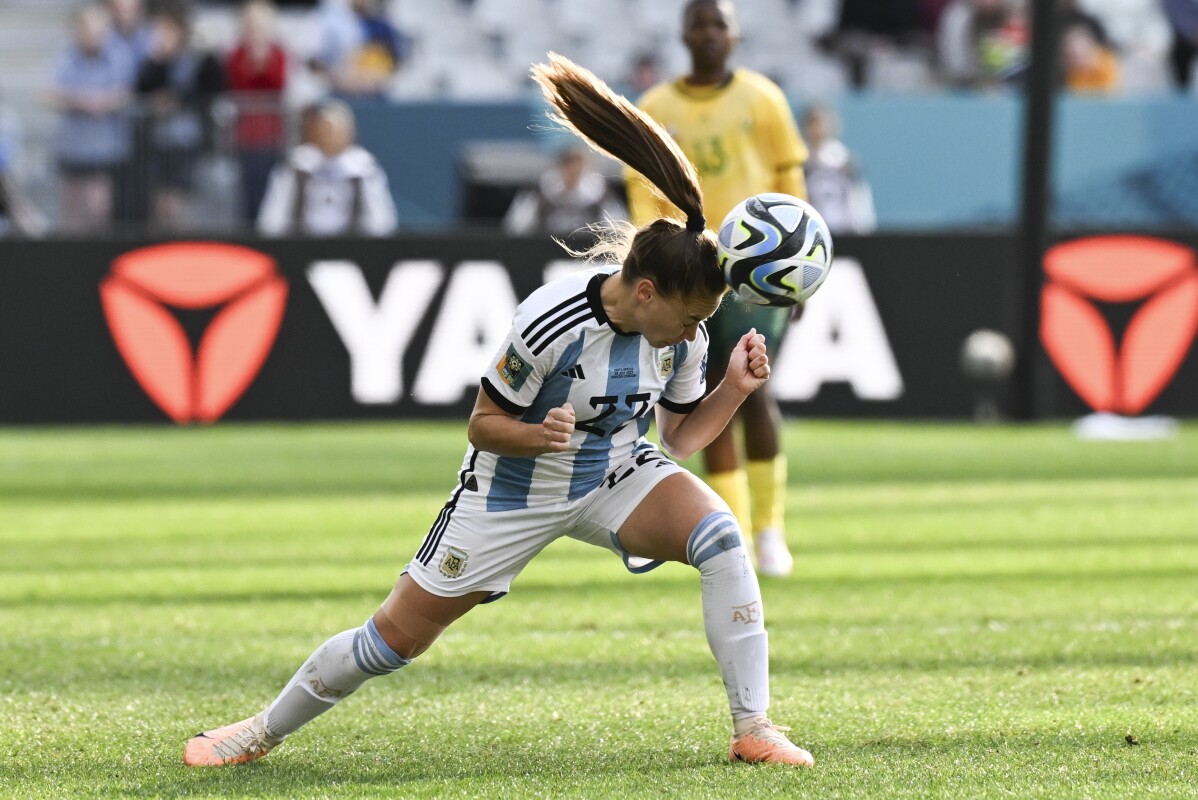 7 of 8

|
Argentina's Estefania Banini heads the ball during the Women's World Cup Group G soccer match between Argentina and South Africa in Dunedin, New Zealand, Friday, July 28, 2023. (AP Photo/Andrew Cornaga)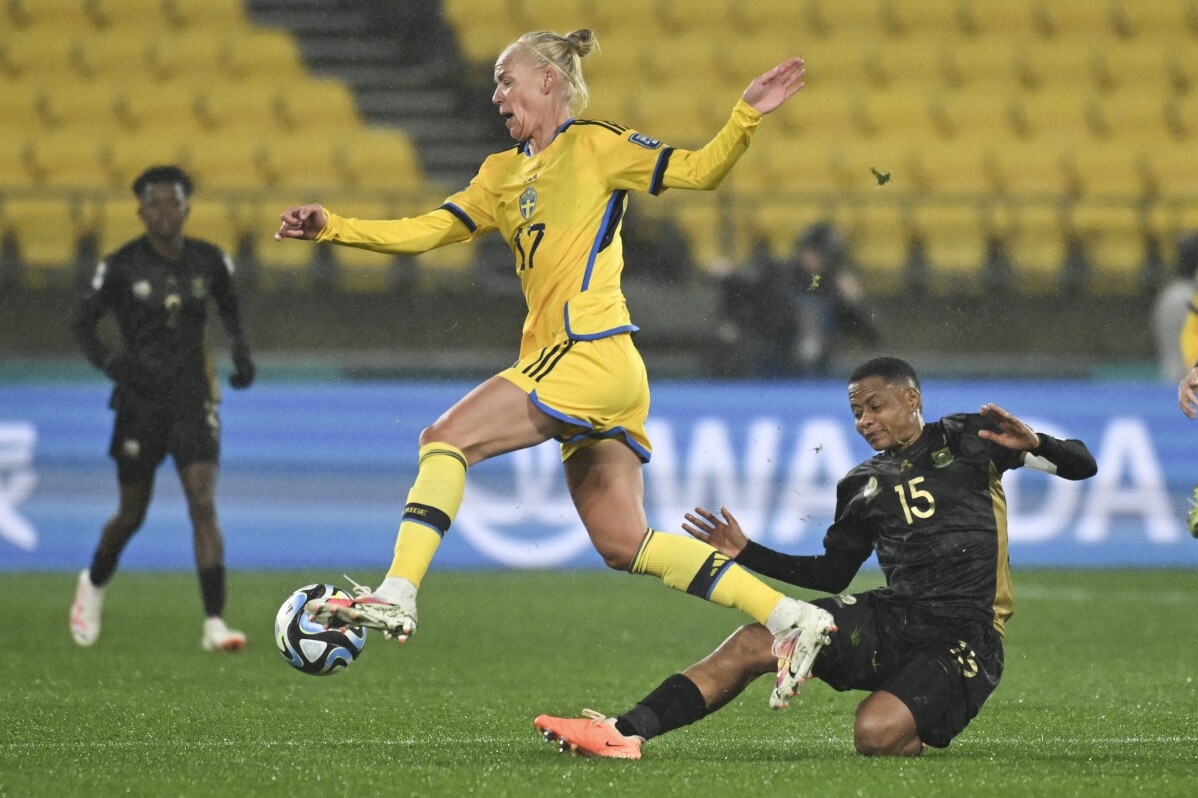 8 of 8

|
Sweden's Caroline Seger leaps over defender South Africa's Refiloe Jane during the Women's World Cup Group G soccer match between Sweden and South Africa in Wellington, New Zealand, Sunday, July 23, 2023. (AP Photo/Andrew Cornaga)
Marta, Sinclair and Rapinoe among the generational talents retiring after Women's World Cup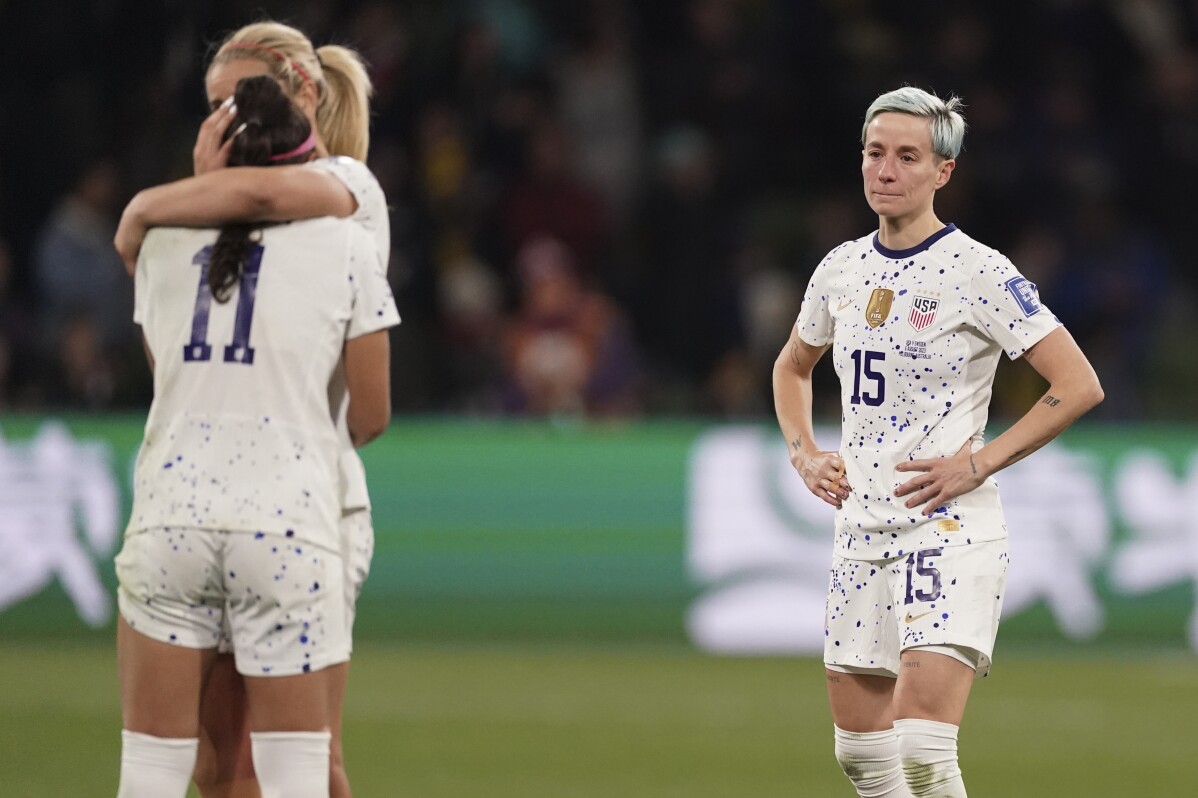 1 of 8

|
United States' Megan Rapinoe, right, reacts with her teammates following their loss to Sweden in their Women's World Cup round of 16 soccer match in Melbourne, Australia, Sunday, Aug. 6, 2023. (AP Photo/Scott Barbour)
1 of 8
United States' Megan Rapinoe, right, reacts with her teammates following their loss to Sweden in their Women's World Cup round of 16 soccer match in Melbourne, Australia, Sunday, Aug. 6, 2023. (AP Photo/Scott Barbour)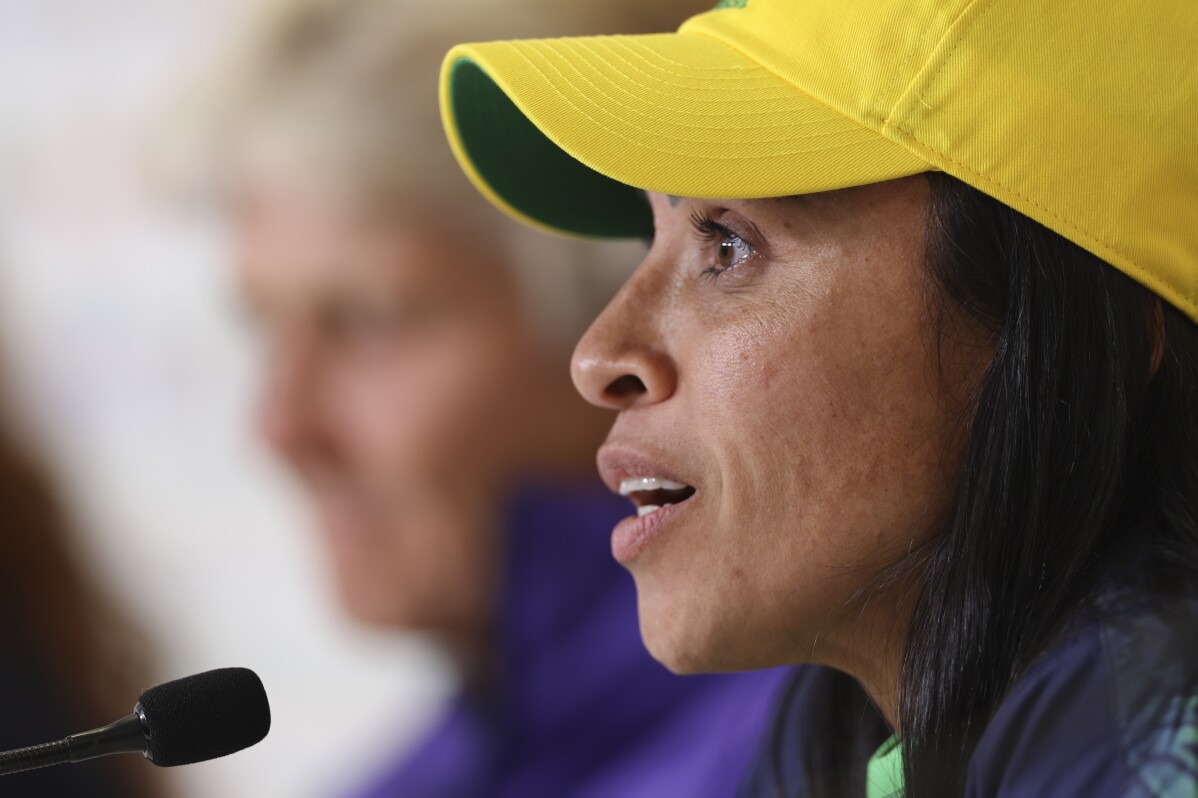 2 of 8

|
Brazil's Marta reacts at a news conference ahead of what could be her last Women's World Cup match in Melbourne, Australia, Tuesday, Aug. 1, 2023. "When I started playing, I didn't have an idol - a female idol. (AP Photo/Victoria Adkins)
2 of 8
Brazil's Marta reacts at a news conference ahead of what could be her last Women's World Cup match in Melbourne, Australia, Tuesday, Aug. 1, 2023. "When I started playing, I didn't have an idol - a female idol. (AP Photo/Victoria Adkins)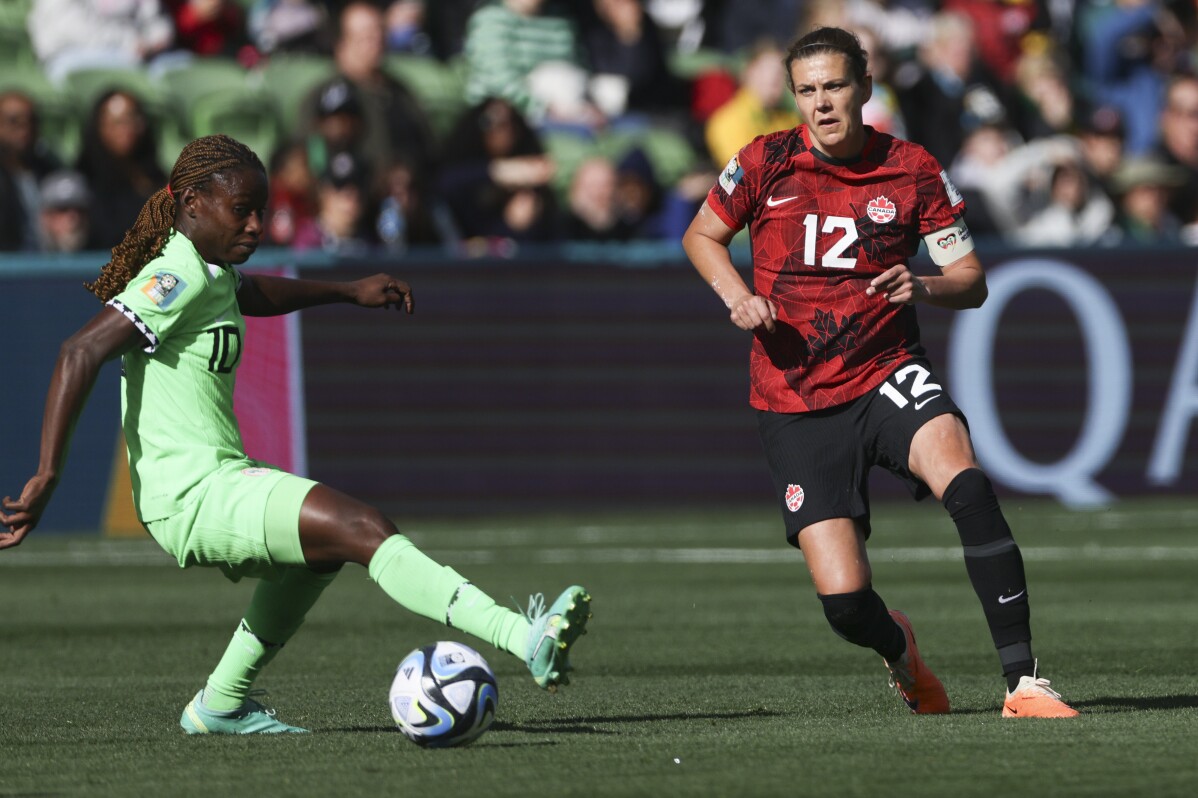 3 of 8

|
Nigeria's Christy Ucheibe, left, and Canada's Christine Sinclair compete for the ball during the Women's World Cup Group B soccer match between Nigeria and Canada in Melbourne, Australia, Friday, July 21, 2023. (AP Photo/Hamish Blair)
3 of 8
Nigeria's Christy Ucheibe, left, and Canada's Christine Sinclair compete for the ball during the Women's World Cup Group B soccer match between Nigeria and Canada in Melbourne, Australia, Friday, July 21, 2023. (AP Photo/Hamish Blair)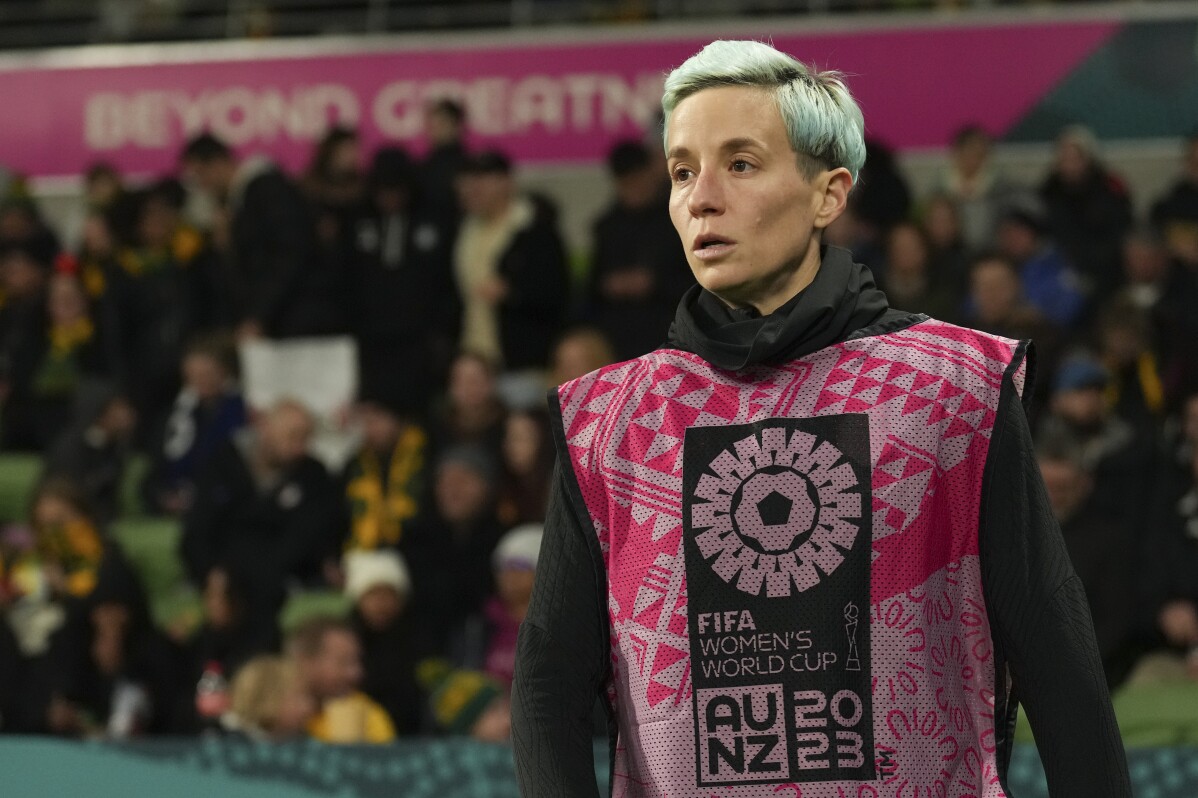 4 of 8

|
United States' Megan Rapinoe warms up on the sideline during the Women's World Cup round of 16 soccer match between Sweden and the United States in Melbourne, Australia, Sunday, Aug. 6, 2023. (AP Photo/Scott Barbour)
4 of 8
United States' Megan Rapinoe warms up on the sideline during the Women's World Cup round of 16 soccer match between Sweden and the United States in Melbourne, Australia, Sunday, Aug. 6, 2023. (AP Photo/Scott Barbour)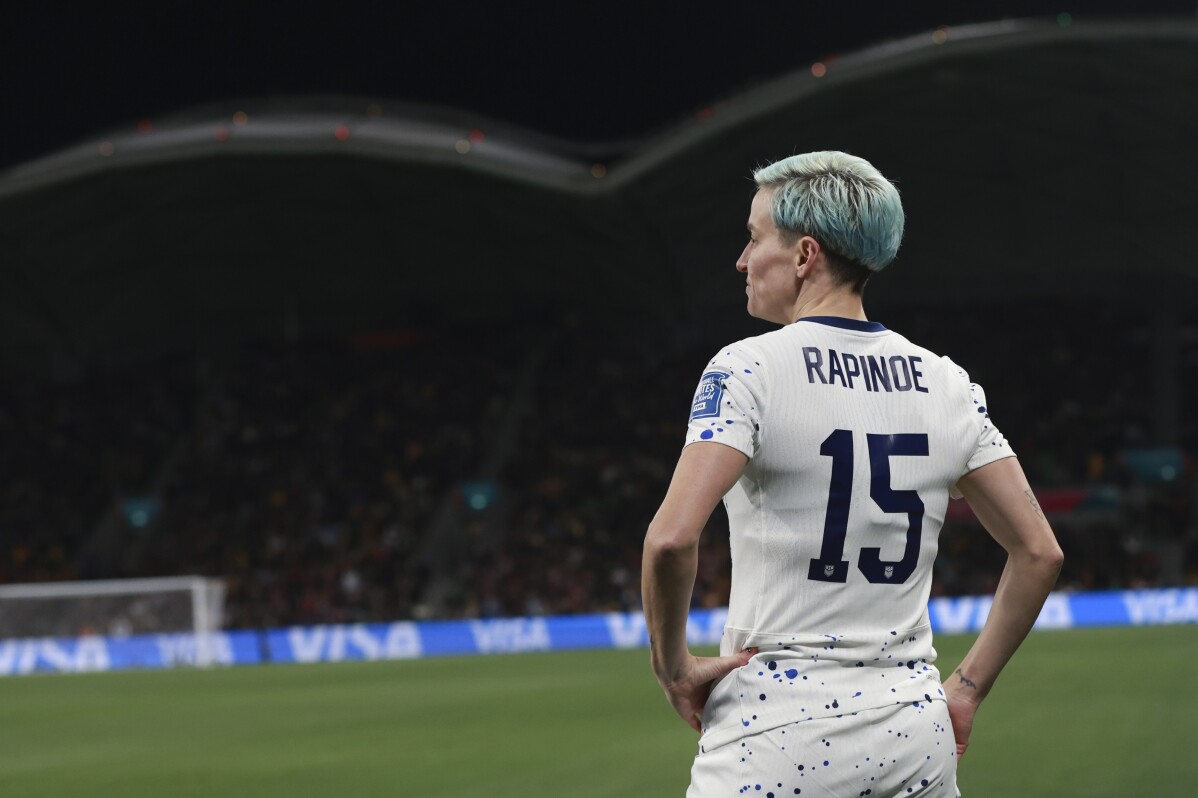 5 of 8

|
United States' Megan Rapinoe stands in the corner during the Women's World Cup round of 16 soccer match between Sweden and the United States in Melbourne, Australia, Sunday, Aug. 6, 2023. (AP Photo/Hamish Blair)
5 of 8
United States' Megan Rapinoe stands in the corner during the Women's World Cup round of 16 soccer match between Sweden and the United States in Melbourne, Australia, Sunday, Aug. 6, 2023. (AP Photo/Hamish Blair)
6 of 8

|
Argentina's Estefania Banini gestures to supporters following the Women's World Cup Group G soccer match between Argentina and Sweden in Hamilton, New Zealand, Wednesday, Aug. 2, 2023. (AP Photo/Andrew Cornaga)
6 of 8
Argentina's Estefania Banini gestures to supporters following the Women's World Cup Group G soccer match between Argentina and Sweden in Hamilton, New Zealand, Wednesday, Aug. 2, 2023. (AP Photo/Andrew Cornaga)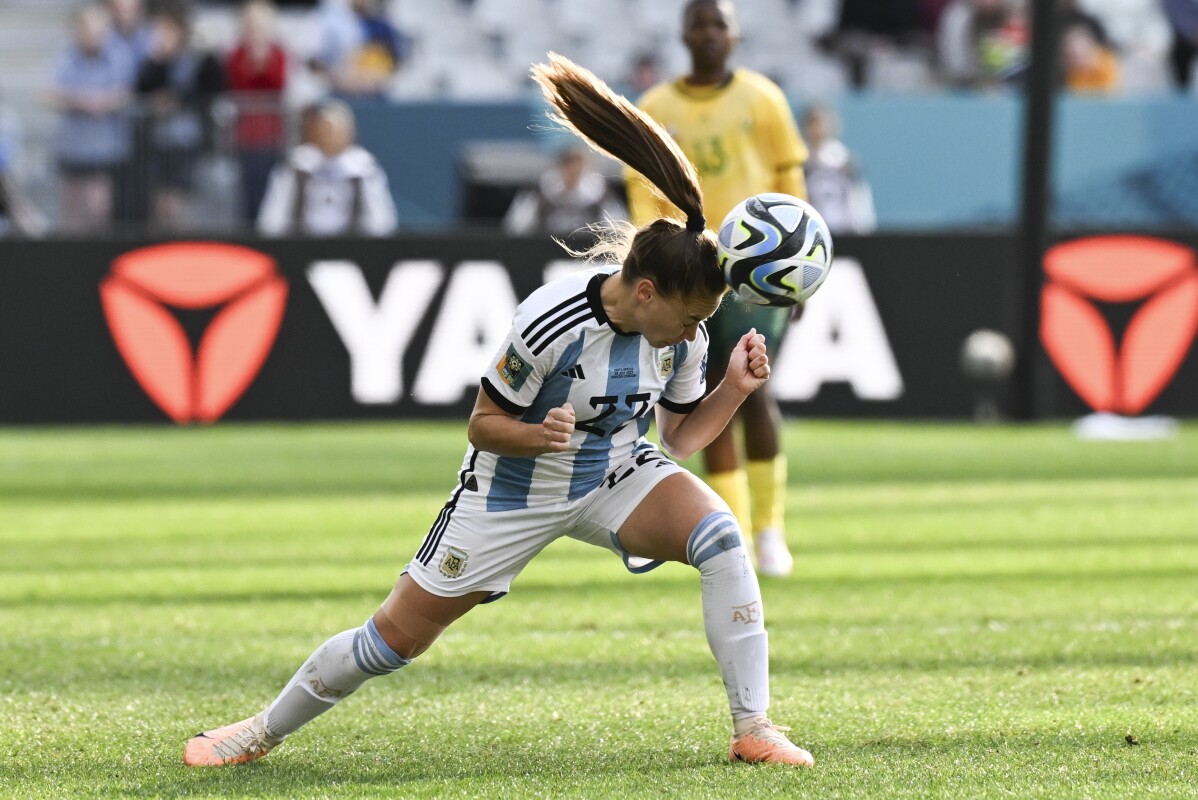 7 of 8

|
Argentina's Estefania Banini heads the ball during the Women's World Cup Group G soccer match between Argentina and South Africa in Dunedin, New Zealand, Friday, July 28, 2023. (AP Photo/Andrew Cornaga)
7 of 8
Argentina's Estefania Banini heads the ball during the Women's World Cup Group G soccer match between Argentina and South Africa in Dunedin, New Zealand, Friday, July 28, 2023. (AP Photo/Andrew Cornaga)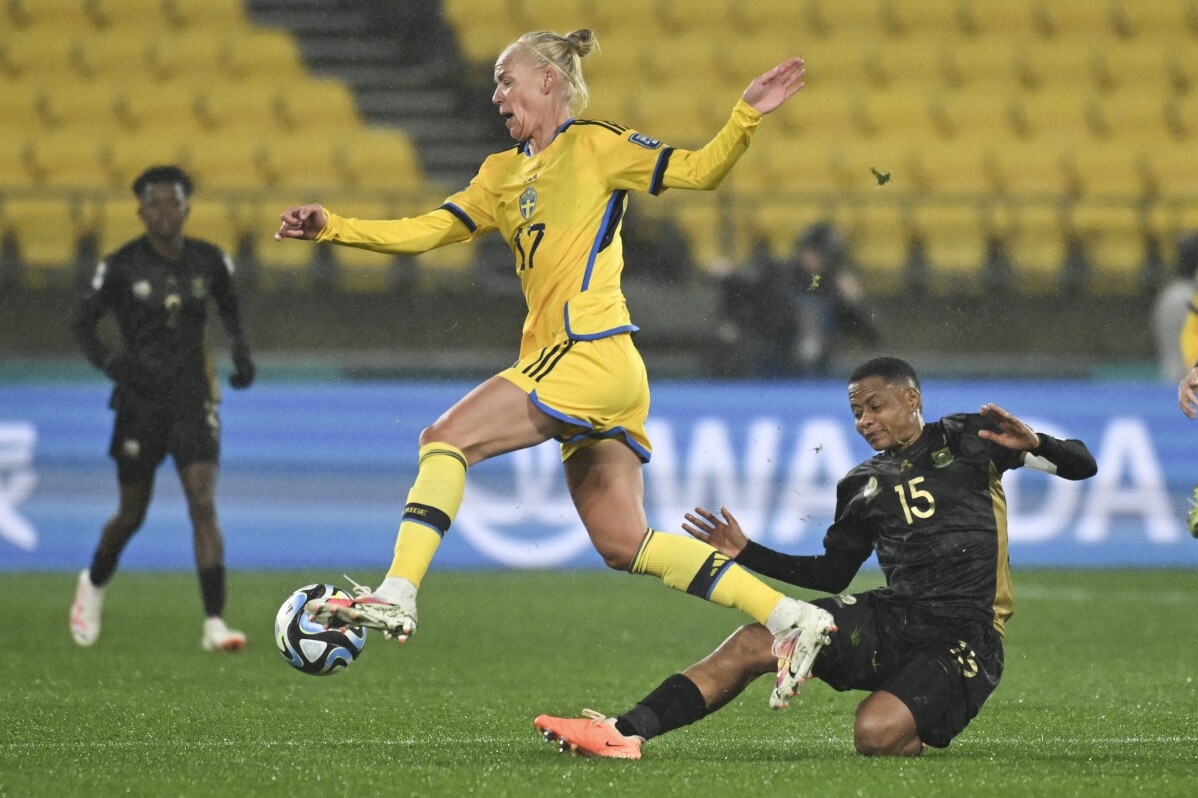 8 of 8

|
Sweden's Caroline Seger leaps over defender South Africa's Refiloe Jane during the Women's World Cup Group G soccer match between Sweden and South Africa in Wellington, New Zealand, Sunday, July 23, 2023. (AP Photo/Andrew Cornaga)
8 of 8
Sweden's Caroline Seger leaps over defender South Africa's Refiloe Jane during the Women's World Cup Group G soccer match between Sweden and South Africa in Wellington, New Zealand, Sunday, July 23, 2023. (AP Photo/Andrew Cornaga)
AUCKLAND, New Zealand (AP) — Generational talents Marta, Christine Sinclair and Megan Rapinoe have all played in their final Women's World Cup and are leaving the game in a much different place than when they started.
Joining them in the group of players ending their international careers is Estefania Banini of Argentina, who said it's time to make way for younger players. Caroline Seger of Sweden is still playing in the tournament, but she has already said that it will be her last.
"It's emotional. Those are some of the greatest football players of all time, players that I've looked up to," said United States captain Lindsey Horan as her eyes filled with tears. "Pinoe, Sinc, both of them I got to play with. Marta, one of the GOATs. It's hard as a football player to see these guys exiting like this, but look at how much they did for women's football. Them on the field, their character, everything. They're the reason we're all here today."
Marta, the Brazilian player once dubbed "Pele in Skirts" by the legendary Pele himself, raised the profile of women's soccer in her home country with her dazzling play that she learned from boys on the streets of Dois Riachos.
The 37-year-old was tearful when Brazil was surprisingly eliminated from the tournament in the group stage. It was her sixth World Cup and she fell short of becoming the first player — male or female — to score in all six.
At the team's final match she looked across the field at young teammates Laurinha and Bruninha, and realized that there's more work to be done for the Brazilian national team.
"Women's football doesn't end here. Women's football in Brazil doesn't end here. We need to understand this," she said.
Marta has scored 115 goals for Brazil, including a record 17 goals at the World Cup. She has been named the FIFA women's player of the year a record six times.
Rapinoe, 38, announced before the World Cup that it would be her last. She will play out the season with her club team, OL Reign, before retiring from the game.
She finishes as one of the most decorated U.S. players ever. In addition to two World Cup titles, and Olympic gold and bronze medals, she won the prestigious Ballon d'Or as well as a FIFA best player award. She was also awarded the nation's highest civilian honor, the Presidential Medal of Freedom, for her social justice work.
Rapinoe was among the players who fought for, and won, equal pay with the men's national team.
Rapinoe's World Cup career ended with a missed penalty. The United States were sent out of the tournament in a shootout in the Round of 16 with Sweden after a scoreless draw. It was the team's earliest ever exit.
Rapinoe posted heartfelt farewell on Instagram on Thursday.
"This group was so very special, and I'm immensely proud of every single one of us," she wrote. "This team is in special hands as I walk away, just like it always was, and always will be. Because that is what this team is all about. We lay it out on the line every single time. Fighting with everything that we have, for everything we deserve, for every person we possibly can.
"It has been my honor to play for our country, with so many incredible women, for so many years. Thank you, a million times over."
Sinclair's future with the Canadian national team is unsettled, although at 40 this was assuredly her final World Cup. Canada is set to face Jamaica on Sept. 26 in Toronto for a spot in the Paris Olympics next year, and Sinclair hasn't said whether she'll play.
Sinclair has scored a record 190 international goals, most among men and women. As captain of the team, she was dogged throughout the World Cup by questions about an ongoing contract dispute between the players and Canada Soccer.
The women's team has been playing without a contract for more than a year, demanding better pay and treatment.
After Canada was eliminated in the group stage, Sinclair called on her federation to support the team to avoid future early exits.
"I think more of it is like a wake-up call for our federation — the lack of a professional league, the lack of support for our youth national teams," she said. "I think you're just going to continue to see teams reach our level, surpass us, whatever you want to call it, if things don't change."
Seger, 38, has been struggling with a calf injury at the World Cup. Sweden advanced to the quarterfinals, by defeating the United States on penalties after a scoreless draw, and will face Japan on Friday in Auckland. It is Seger's fifth World Cup.
Seger's 235 appearances for Sweden are the most for any female player in Europe, and although she has two Olympic silver medals and two World Cup third-place finishes, Sweden has never won a major tournament.
"For me to be here with this national team and trying to do that, it's my last chance. I mean, I'm not going to play any more World Cups so for me that's the end," she said. "To be able to hopefully help the team in every way I can to bring home the gold would be of course a dream come true."
Banini was in tears following Argentina's final match at the World Cup against Sweden. Known as the "Mendoza Messi" in reference to her hometown, she returned to La Albiceleste last year after a lengthy absence over what she said was the poor treatment of the women's team.
"I was able to fulfill what I wanted: play in the United States, play on a great team and play in a World Cup with the national team, that was my great dream. I'm living what I always dreamed of," she said. "I think I achieved everything I fought to improve, and now I have to step aside. I hope they continue fighting for women's football."
___
AP World Cup coverage: https://apnews.com/hub/fifa-womens-world-cup