White Sox top Yankees 9-2 behind strong outing from Clevinger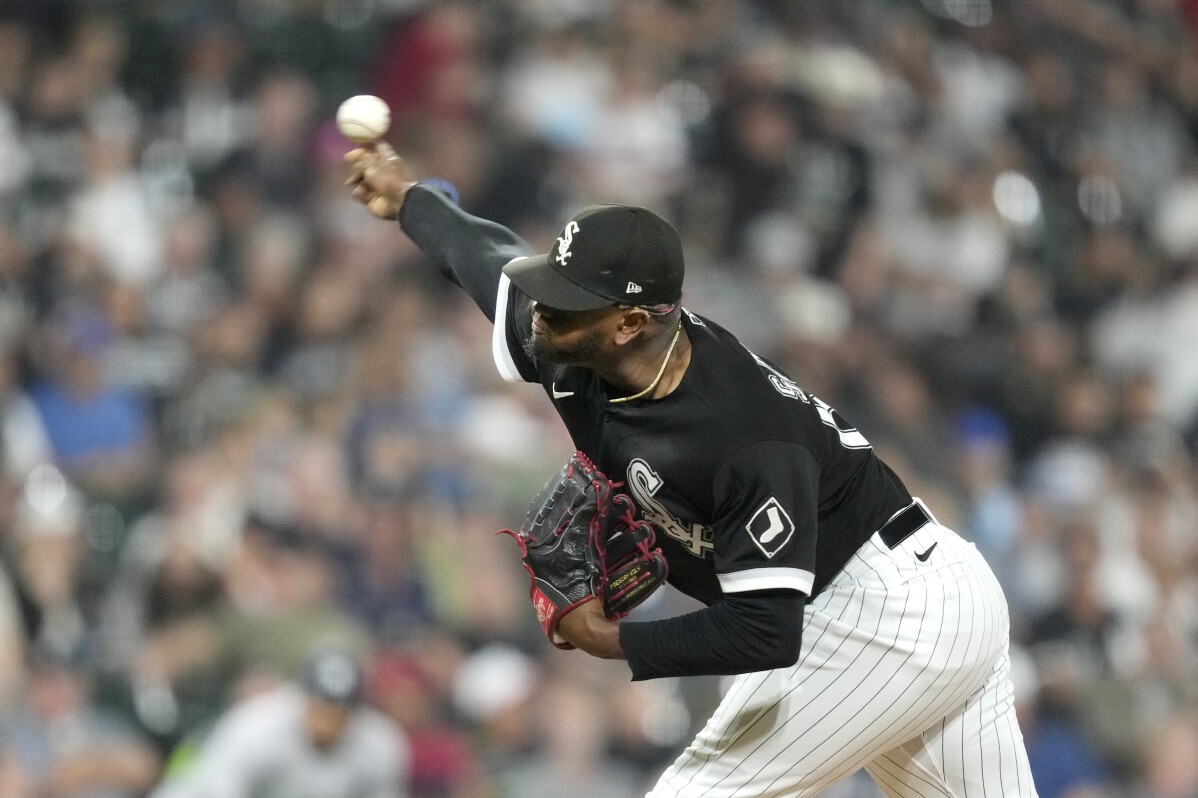 1 of 6

|
Chicago White Sox relief pitcher Gregory Santos delivers to a New York Yankees batter during the eighth inning of a baseball game Wednesday, Aug. 9, 2023, in Chicago. (AP Photo/Charles Rex Arbogast)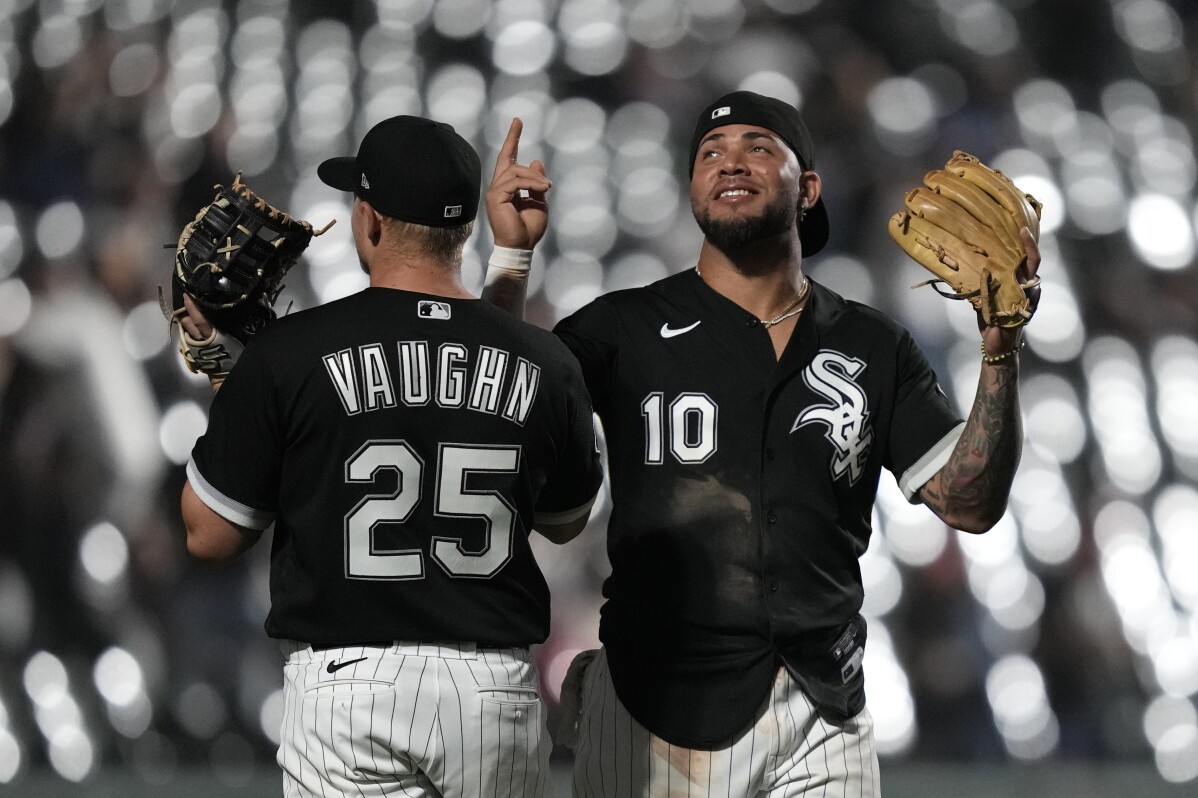 2 of 6

|
Chicago White Sox first baseman Andrew Vaughn (25) and third baseman Yoan Moncada celebrate the team's 9-2 win over the New York Yankees in a baseball game Wednesday, Aug. 9, 2023, in Chicago. (AP Photo/Charles Rex Arbogast)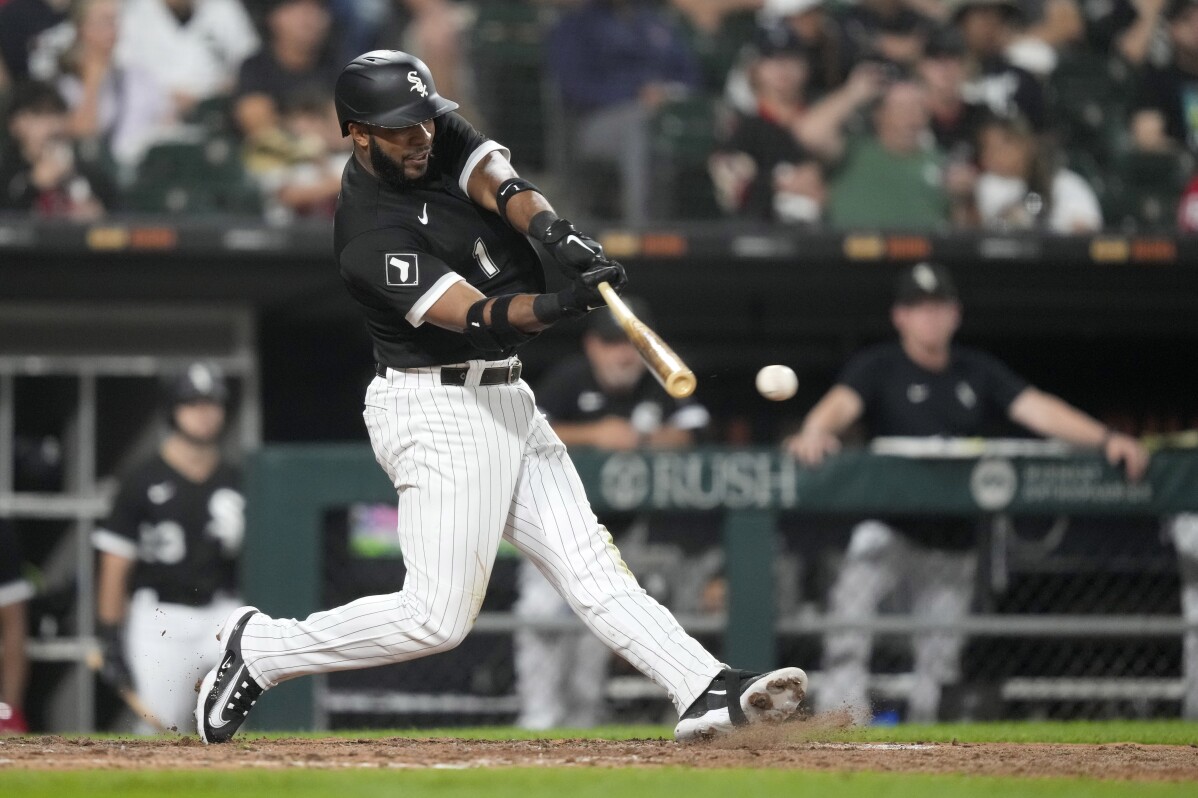 3 of 6

|
Chicago White Sox's Elvis Andrus hits a three-run double off New York Yankees relief pitcher Nick Ramirez during the eighth inning of a baseball game Wednesday, Aug. 9, 2023, in Chicago. (AP Photo/Charles Rex Arbogast)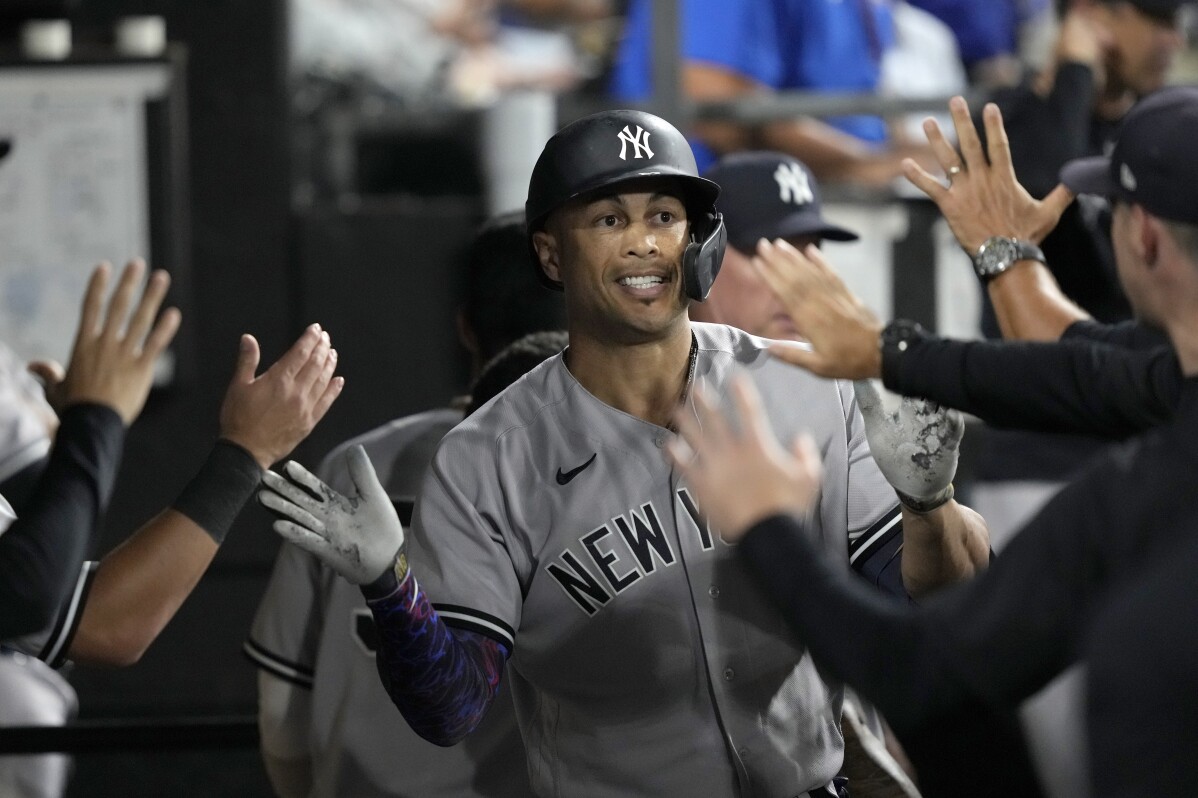 4 of 6

|
New York Yankees' Giancarlo Stanton is congratulated in the dugout after his home run off Chicago White Sox relief pitcher Jimmy Lambert during the seventh inning of a baseball game, Wednesday, Aug. 9, 2023, in Chicago. (AP Photo/Charles Rex Arbogast)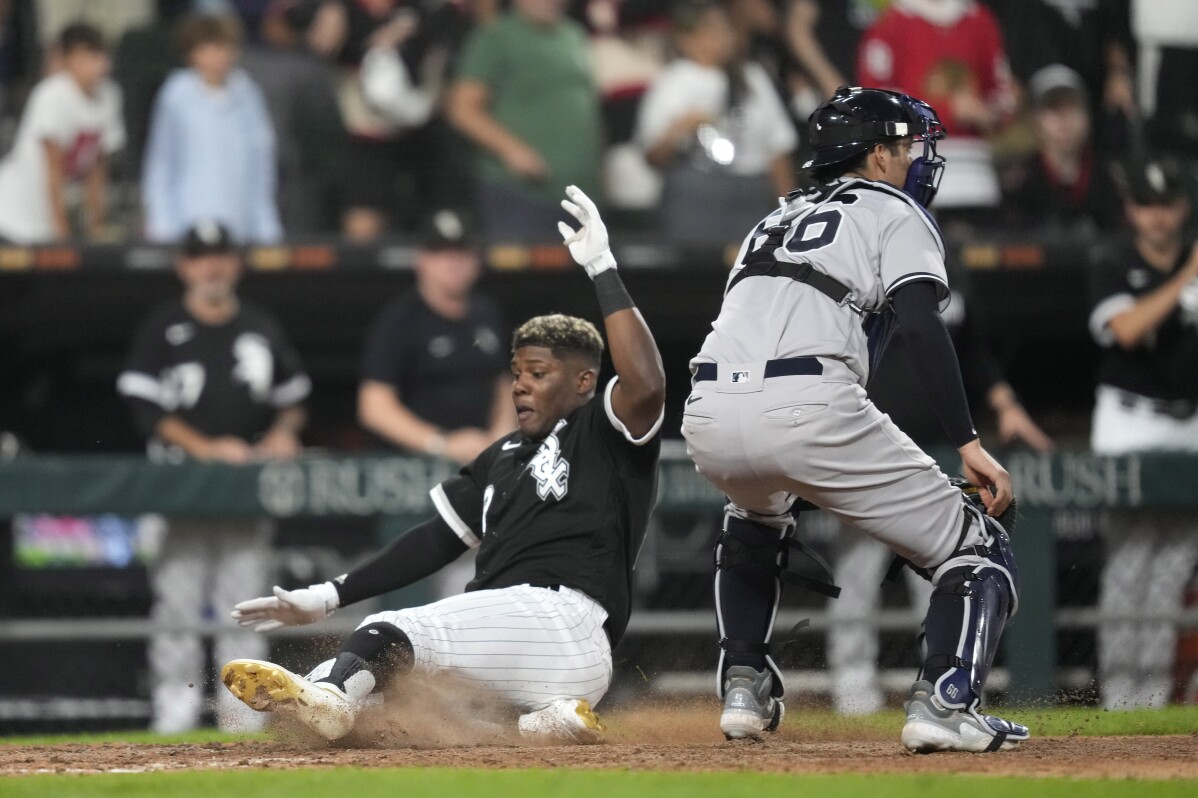 5 of 6

|
Chicago White Sox's Oscar Colas scores past New York Yankees catcher Kyle Higashioka on a double by Elvis Andrus during the eighth inning of a baseball game Wednesday, Aug. 9, 2023, in Chicago. (AP Photo/Charles Rex Arbogast)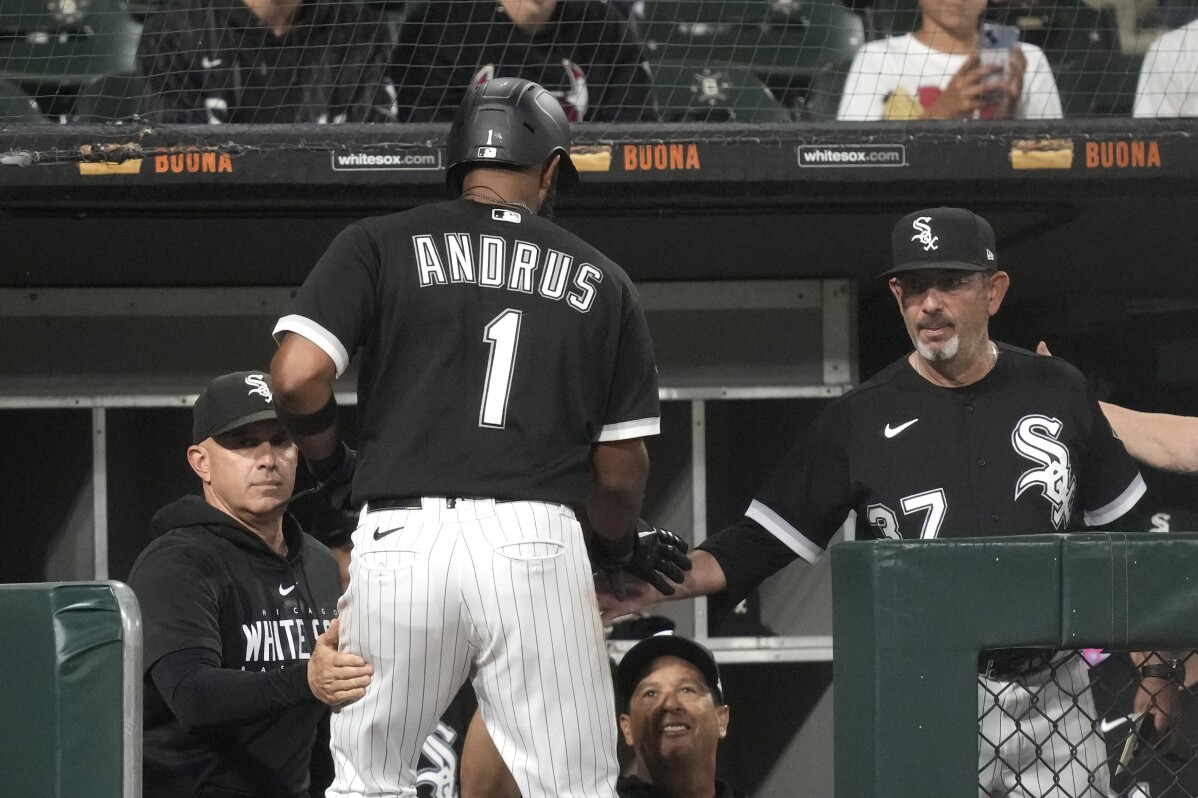 6 of 6

|
Chicago White Sox's Elvis Andrus is greeted at the dugout by manager Pedro Grifol, left, and Mike Tosar after Andrus scored on Tim Anderson's single against the New York Yankees during the eighth inning of a baseball game Wednesday, Aug. 9, 2023, in Chicago. (AP Photo/Charles Rex Arbogast)
White Sox top Yankees 9-2 behind strong outing from Clevinger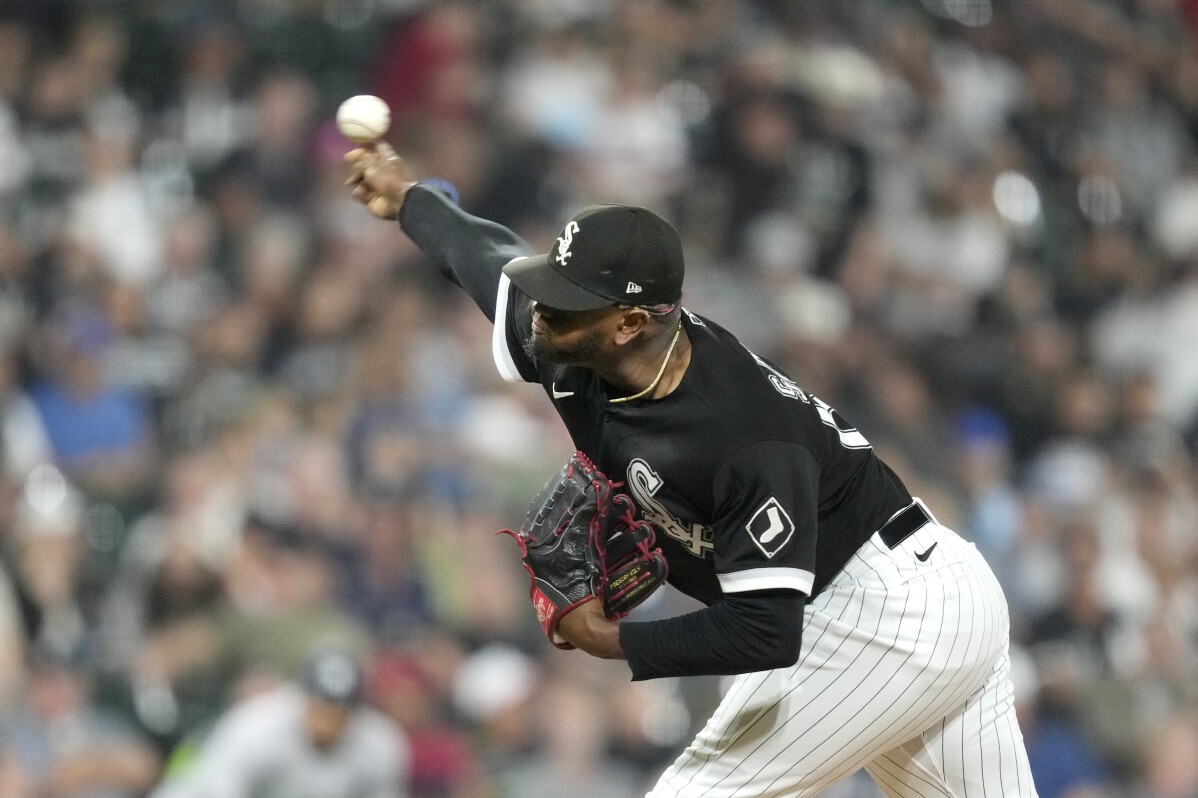 1 of 6

|
Chicago White Sox relief pitcher Gregory Santos delivers to a New York Yankees batter during the eighth inning of a baseball game Wednesday, Aug. 9, 2023, in Chicago. (AP Photo/Charles Rex Arbogast)
1 of 6
Chicago White Sox relief pitcher Gregory Santos delivers to a New York Yankees batter during the eighth inning of a baseball game Wednesday, Aug. 9, 2023, in Chicago. (AP Photo/Charles Rex Arbogast)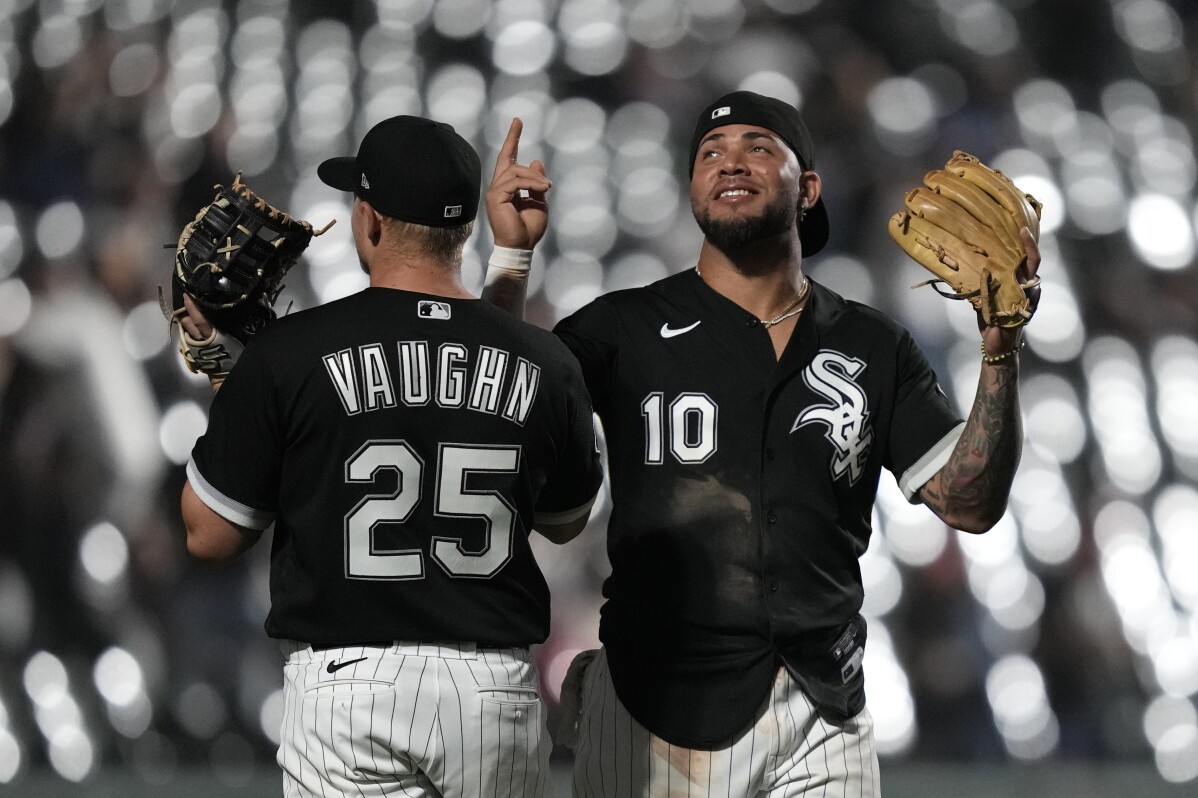 2 of 6

|
Chicago White Sox first baseman Andrew Vaughn (25) and third baseman Yoan Moncada celebrate the team's 9-2 win over the New York Yankees in a baseball game Wednesday, Aug. 9, 2023, in Chicago. (AP Photo/Charles Rex Arbogast)
2 of 6
Chicago White Sox first baseman Andrew Vaughn (25) and third baseman Yoan Moncada celebrate the team's 9-2 win over the New York Yankees in a baseball game Wednesday, Aug. 9, 2023, in Chicago. (AP Photo/Charles Rex Arbogast)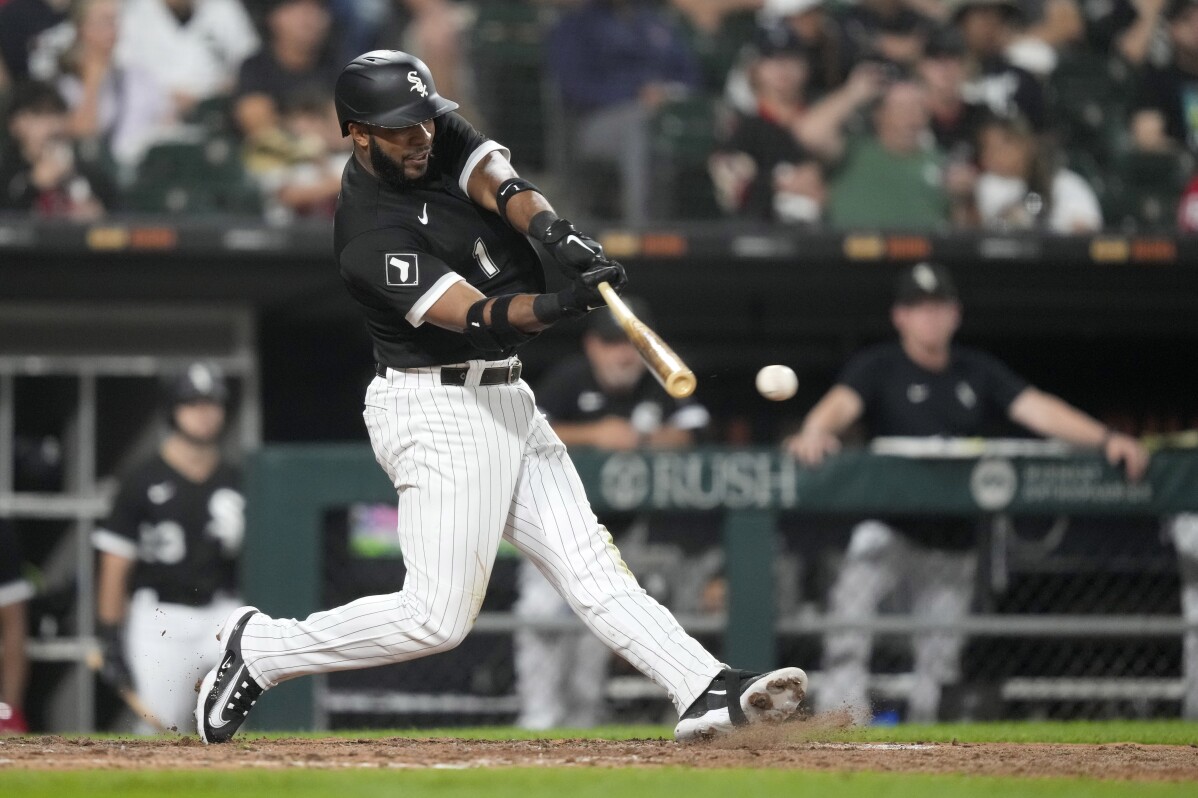 3 of 6

|
Chicago White Sox's Elvis Andrus hits a three-run double off New York Yankees relief pitcher Nick Ramirez during the eighth inning of a baseball game Wednesday, Aug. 9, 2023, in Chicago. (AP Photo/Charles Rex Arbogast)
3 of 6
Chicago White Sox's Elvis Andrus hits a three-run double off New York Yankees relief pitcher Nick Ramirez during the eighth inning of a baseball game Wednesday, Aug. 9, 2023, in Chicago. (AP Photo/Charles Rex Arbogast)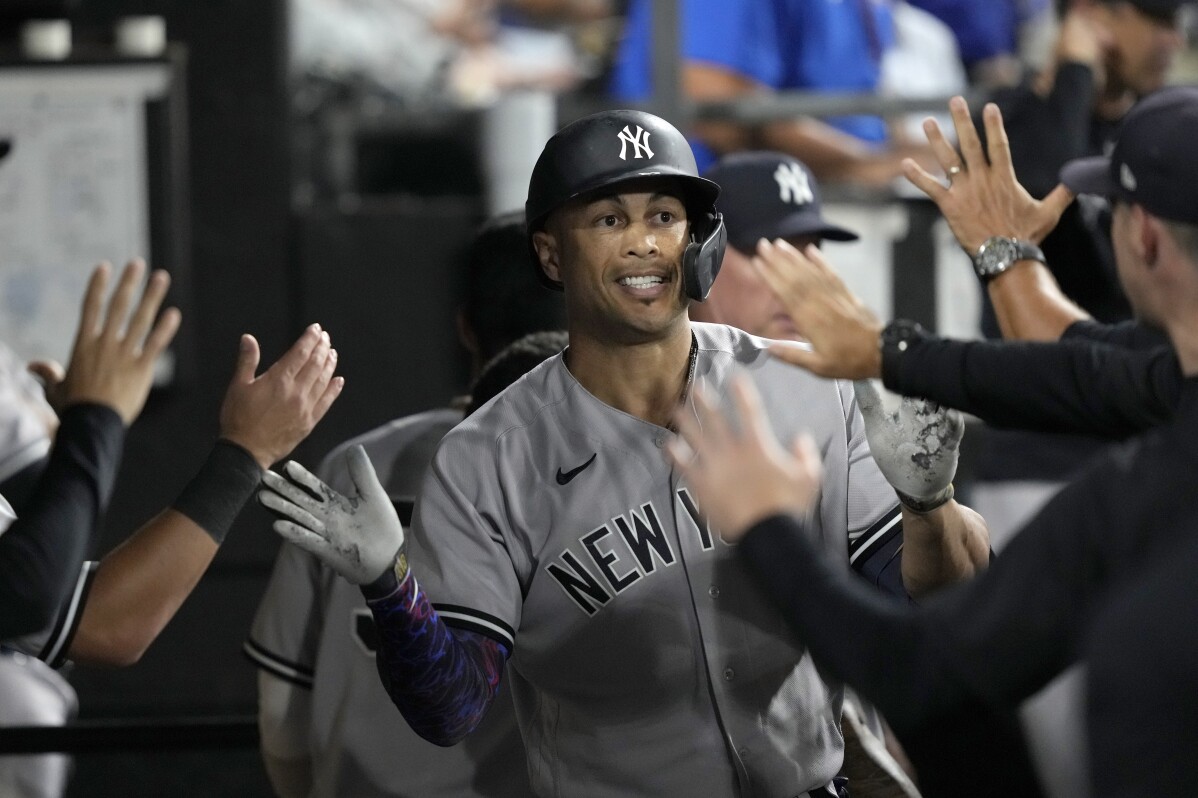 4 of 6

|
New York Yankees' Giancarlo Stanton is congratulated in the dugout after his home run off Chicago White Sox relief pitcher Jimmy Lambert during the seventh inning of a baseball game, Wednesday, Aug. 9, 2023, in Chicago. (AP Photo/Charles Rex Arbogast)
4 of 6
New York Yankees' Giancarlo Stanton is congratulated in the dugout after his home run off Chicago White Sox relief pitcher Jimmy Lambert during the seventh inning of a baseball game, Wednesday, Aug. 9, 2023, in Chicago. (AP Photo/Charles Rex Arbogast)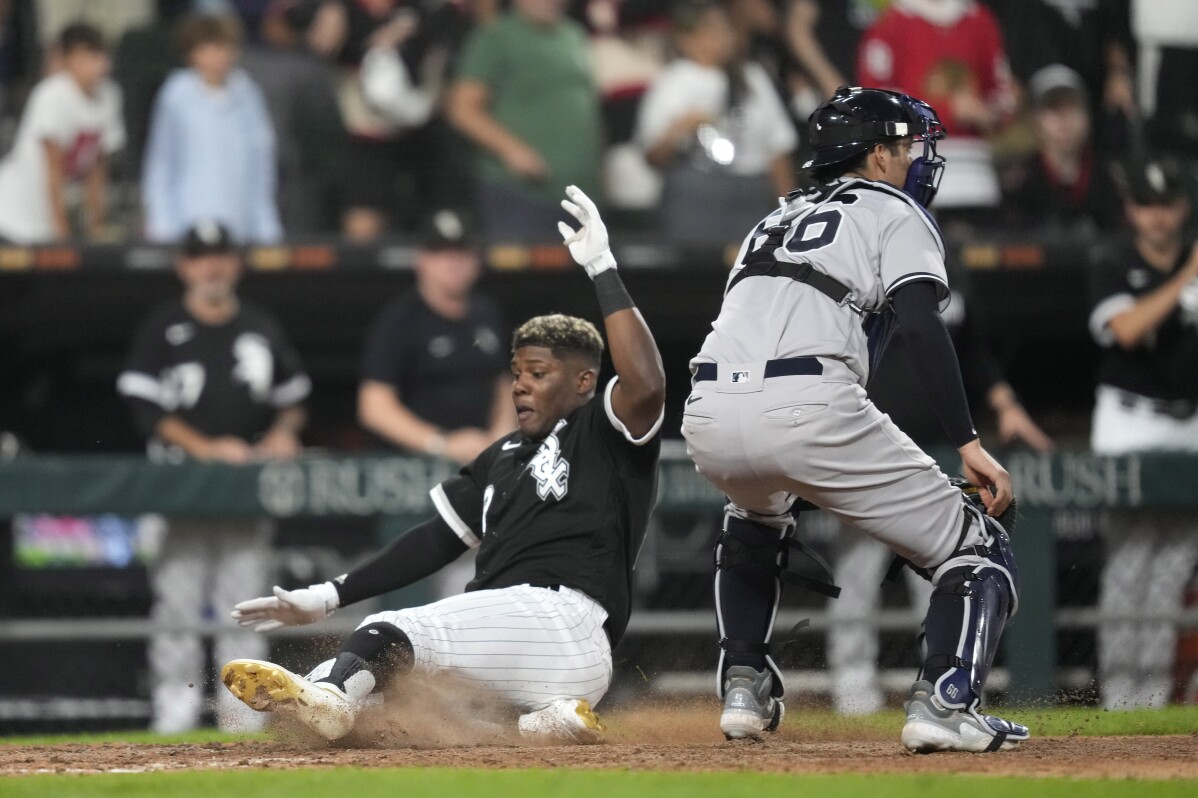 5 of 6

|
Chicago White Sox's Oscar Colas scores past New York Yankees catcher Kyle Higashioka on a double by Elvis Andrus during the eighth inning of a baseball game Wednesday, Aug. 9, 2023, in Chicago. (AP Photo/Charles Rex Arbogast)
5 of 6
Chicago White Sox's Oscar Colas scores past New York Yankees catcher Kyle Higashioka on a double by Elvis Andrus during the eighth inning of a baseball game Wednesday, Aug. 9, 2023, in Chicago. (AP Photo/Charles Rex Arbogast)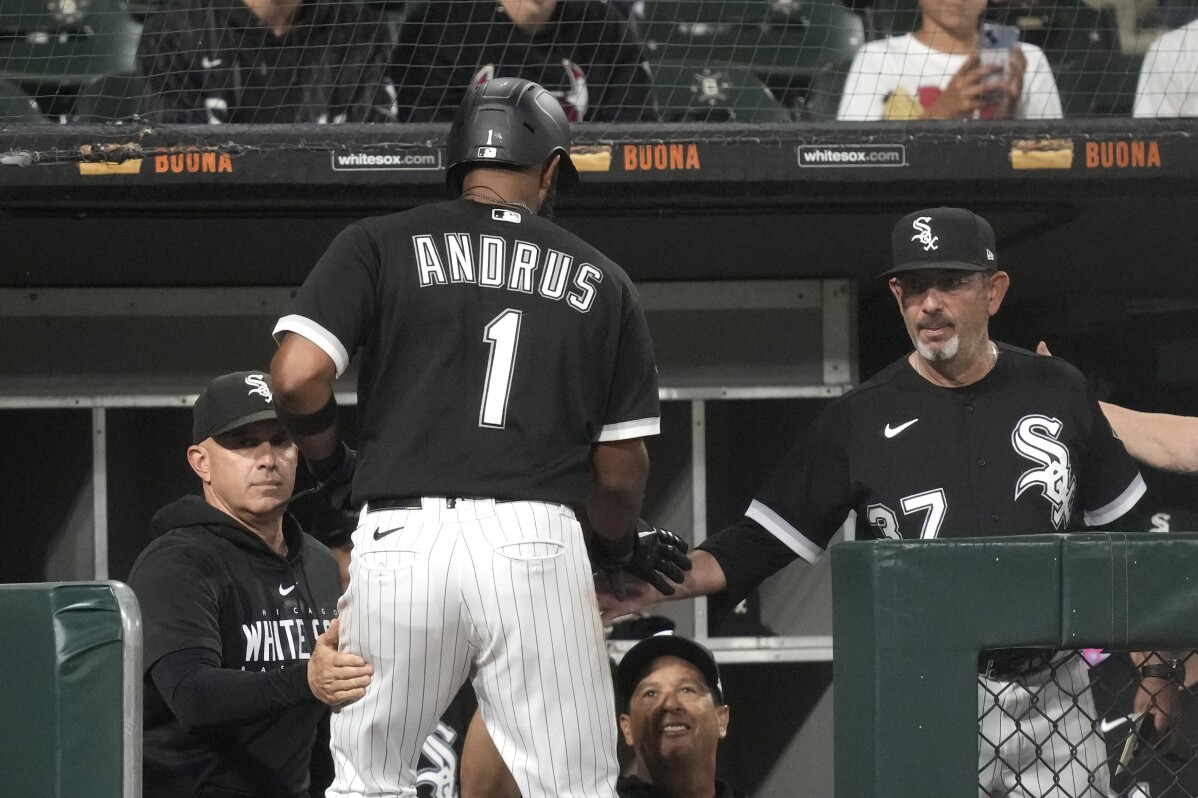 6 of 6

|
Chicago White Sox's Elvis Andrus is greeted at the dugout by manager Pedro Grifol, left, and Mike Tosar after Andrus scored on Tim Anderson's single against the New York Yankees during the eighth inning of a baseball game Wednesday, Aug. 9, 2023, in Chicago. (AP Photo/Charles Rex Arbogast)
6 of 6
Chicago White Sox's Elvis Andrus is greeted at the dugout by manager Pedro Grifol, left, and Mike Tosar after Andrus scored on Tim Anderson's single against the New York Yankees during the eighth inning of a baseball game Wednesday, Aug. 9, 2023, in Chicago. (AP Photo/Charles Rex Arbogast)
CHICAGO (AP) — Mike Clevinger pitched six strong innings, Elvis Andrus drove in three runs and the Chicago White Sox beat the New York Yankees 9-2 on Wednesday night for their fourth win in five games.
Yoan Moncada doubled twice and scored one run while Yasmani Grandal had two hits with an RBI and a run. Gregory Santos pitched two scoreless innings to earn his third save of the season for Chicago (47-69).
After dealing with multiple controversies over the last two weeks, the White Sox expressed optimism about putting their woes behind them.
"It's been a lot of fun to show up here," Clevinger said. "That's something I felt we were missing in the early part of the year. We're just having fun playing baseball, keeping every day within itself and not looking at tomorrow or the next day or two days ago. (We're) just staying present."
The Yankees have now lost seven out of their last 11 games. They went into today five games back from a wild-card spot. Aaron Judge, who went 1 for 3 with a run, said the team is not focused on the standings as it attempts to make a postseason push.
"We got a job to do on the field," Judge said. "You have to focus on the game we are playing and not where we are at. I'll look at the standings right before the postseason starts."
The only offense they could muster against Clevinger was a solo homer by Giancarlo Stanton — his 18th. The Yankees (59-56) were 0 for 7 with runners in scoring position as Clevinger (5-5) held them to three hits.
After Ian Hamilton worked a scoreless first inning as New York's opener, Luis Severino (2-7) gave up four runs on five hits in two innings coming out of the bullpen. Yankees manager Aaron Boone said before the game he hoped the struggling starter could build some momentum by not initially facing the top of Chicago's lineup.
That strategy didn't work as Severino relented an RBI single to Yasmani Grandal in the second inning before Oscar Colás hit a two-run homer to give Chicago an early 3-0 lead. Severino gave up another run in the third inning when Luis Robert Jr. singled, stole second and third and scored on a double by Moncada.
Before the game, Boone did not rule out Severino, whose ERA is now 8.06, starting for the Yankees again this season.
"He's been a really good pitcher in this league," Boone said of Severino. "He's also missed time with injuries and he's a confident and mature guy. But with that said, when you're going through something like this, it's hard. He's searching too."
Robert Jr. left the game in the top of the third after spraining his right pinky finger diving into third base. According to the team, his X-rays came back negative and he is considered day-to-day. Grifol added he expects Robert Jr. to be in the lineup on Friday. Trayce Thompson replaced him in center field and went 1 for 2 with a run.
TRAINER'S ROOM
Yankees: LHP Carlos Rodon (hamstring) threw off flat ground ahead of tonight's game…DJ LeMahieu was scratched from the lineup due to right calf tightness when taking batting practice before the game. Boone said LeMahieu will be evaluated tonight. Isiah Kiner-Falefa replaced the three-time All-Star at third base after he originally was going to start at shortstop. Oswaldo Cabrera was inserted into the lineup to play short.
White Sox: Manager Pedro Grifol said Tim Anderson, who went 1 for 5, was held out of last night's game after the shortstop experienced stiffness in his knee. Grifol mentioned Anderson's knee eventually loosened up and he was available off the bench.
UP NEXT
Yankees: Boone said before tonight's game the team is mulling who its starter will be when it opens a three-game series versus the Miami Marlins on Friday. Jesús Luzardo (8-6, 3.52) is Miami 's probable starter.
White Sox RHP Michael Kopech (5-10, 4.43) will take the mound for Chicago on Friday and will face Milwaukee Brewers' three-time All-Star Corbin Burnes (9-6, 3.42).
___
AP MLB: https://apnews.com/hub/MLB